On an October Thursday evening Ian Wheeler '19 the scholar was among select St. Thomas students relishing a celebratory salute as they were inducted into the prestigious St. Thomas chapter of the National Honor Society.
Twenty-four hours later Wheeler the co-captain was relentless in racking a career-best football performance igniting his Eagle brothers to a convincing – and essential – road victory to launch district competition.
In between Wheeler the editor-in-chief was commanding a team of student journalists within the Aquin yearbook staff while serving as a consistent contributor to the nationally recognized The Eagle online publication.
The force and fervor that fueled Wheeler's determined two touchdown, 226-yard rushing night was equal to how he eagerly attacks his academic work, always dismissing any accomplishment in either short of triumph.
The scholar, co-captain running back, editor-in-chief epitomizes the ideal of the St. Thomas scholar-athlete.
And Wheeler's reward?
"I only wish to make my family proud."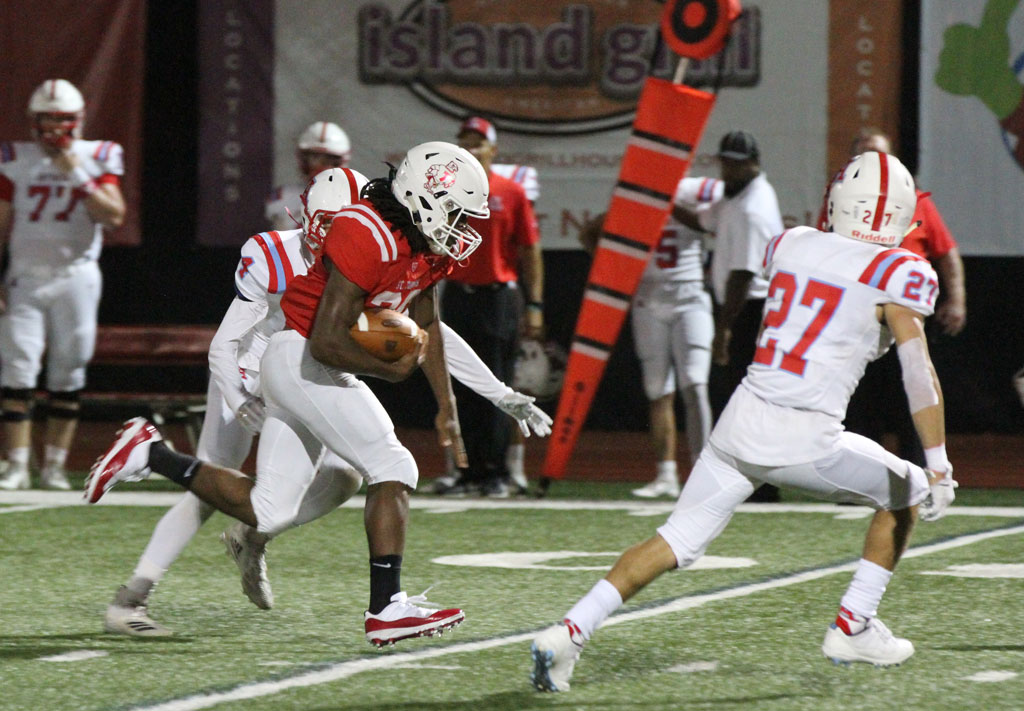 The necessary identity crisis that many teenagers go through in late adolescence occurs less often in the life of the high school athlete, for his milieu gives him a role at age 18, with tempting payoffs to play it. For any schoolboy rollicking in gridworld glory, he can be subtly programmed into being a certain kind of person with a narrow range of traditional career alternatives.
Wheeler's retort – rebel.
"I didn't want to be perceived simply as a so-called jock," Wheeler says. "I have gained a deep understanding of how important it is to be as well rounded as possible. I want to have a conversation with whomever I come across … to learn something about that person … where they come from … who are they as people. It truly makes the world a smaller and more enjoyable place. And means you're not restricted by artificial boundaries."
Before Wheeler reached elementary school his mother Beaura was greeted with a telling forecast into the not-so-distant future, a story that is often repeated and never without emphasis.
"When I was growing up and I wanted to learn Spanish so I would better interact with some of the kids in my neighborhood," Wheeler says. "I wouldn't take no for an answer so my mom finally placed me in an immersion school so I could better communicate with my friends. I just wanted to understand where they were coming from. I think I've always had that particular drive to relate to people."
Wheeler arrived at St. Thomas as a freshman from Lanier Middle School primarily as a two-sport football-track enthusiast. Soon he was encouraged by faculty members, particularly yearbook advisor Will Nash, to broaden his perspective, pursue a genuine college preparatory experience and engage challenges wide, deep and unfamiliar.
The result for Wheeler has proven to be a Rorschach test for his value system.
"I discovered a range of interests and skills I didn't really know I had within me," Wheeler says. "I really give St. Thomas so much credit for providing that opportunity. Now it's my responsibility to make the most of my talents.
"English has always been my sweet spot … a way of escaping the day-to-day routine. Diving into a novel can suddenly transport you to another place, another time. Our English department is particularly strong and I have especially enjoyed learning from Mr. Nash.  I have also come to really appreciate physics. It's completely different from biology and chemistry. Here are the tools, now go solve. Science is not one of my strengths but I welcome the process."
Throughout his senior year, Wheeler is embracing a rigorous series of Advanced Placement courses … Literature, Spanish, Calculus A/B and Physics 2. In the spring he'll exchange Advanced Economics for AP Government.
As he prepped for his football finale Wheeler also readied for his lead role with Aquin. He completed a second summer workshop at Texas A&M sponsored by Balfour Yearbooks with sessions that included comprehensive design coupled with software training, advanced photography, and multimedia and video editing.
"I didn't realize how much fun it could be to communicate to the campus community and also those outside of St. Thomas what we're about as a student-population," Wheeler says.
When the calendar turns into 2019 Wheeler will close out his acclaimed athletic career on the track where he has previously excelled in the sprint events, the long jump, the 4×100 and 4×200 relays.
And pole vault – where Wheeler captured second-place at the previous TAPPS state event.
"Originally I took up track only to get faster for football," Wheeler says. "Then the vault really intrigued me. It takes a ton of core strength. The precision technique is critical. You have to be locked in. It's incredibly liberating … clearing that bar … and then falling from the sky into the mat. Just an awesome feeling."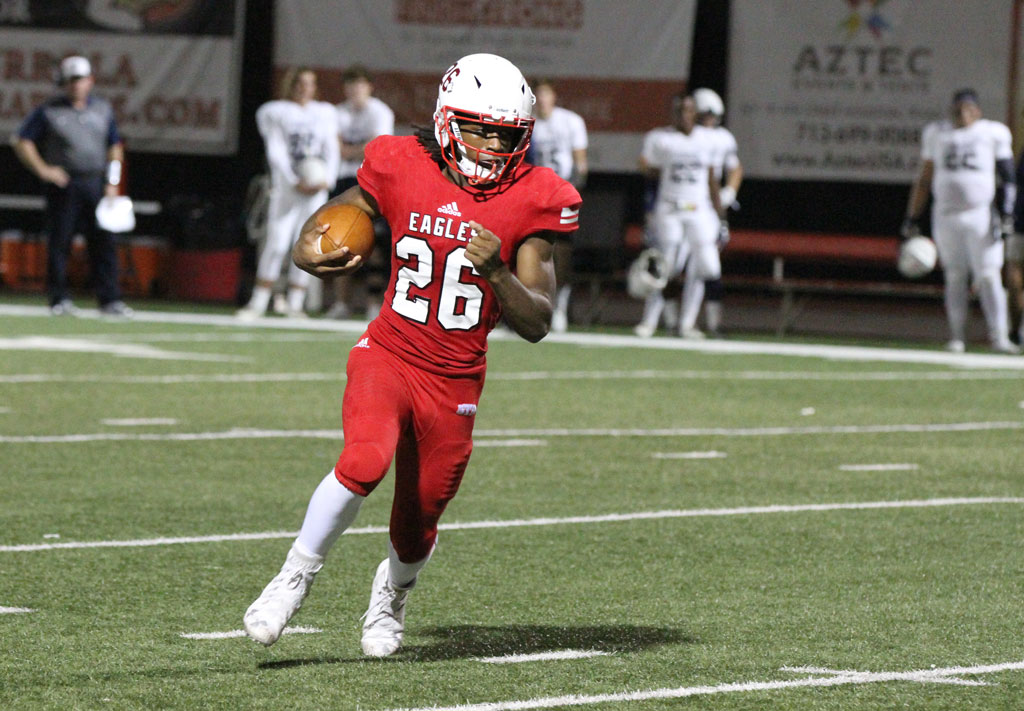 The same competitive spirit that Wheeler has flashed so often on the track and on the field manifests itself in his classes and academic extracurriculars. It's ingrained in his DNA to always demand his best effort, regardless of the discipline.
Wheeler's time-intensive fall routine begins almost rudely with a 5:40 a.m. wake-up alarm. By 7:00 a.m. he's delivered his 13-year-old brother Ethan to middle school, reaching St. Thomas for a quick breakfast before absorbing his full academic day without a study hall. The two-hour football workout concludes by 6:00 p.m. and he's then picking up Ethan before returning home by 7:15 p.m. Next, dinner, homework, sleep. Repeat. Monday-Thursday.  And into Friday Night Lights.
Those within Wheeler's outer circle find him studious, ambitious, popular and respected by his peers; yet there is nothing humble or polite about Wheeler's will to achieve.
"Duke is my primary university choice after graduation but Georgetown, Stanford, Columbia, Tulane and the University of Texas are also very much in the mix," Wheeler says. "I plan to major in psychology likely within a pre-med track."
The St. Thomas backdrop for Wheeler's renown and his chapel deacon's deportment off the field and track are beguiling images that obscure the power of his drive. Meeting his own expectations, and grappling with still higher ones spawned by his success, channel Wheeler into a demanding role as scholar-athlete.
All while making his family immensely proud beyond all measure.
Catholic. Basilian. Teaching Goodness, Discipline and Knowledge since 1900.