Within days of Gary Hall becoming the new leader of Eagle Basketball, he put into motion his desire to establish a culture of accountability and toughness to jump-start the dormant program.
The first priority in constructing that identity was adding a consistent strength and conditioning element that would mirror Hall's own driven personality. He previously had produced a steady stream of championship caliber contenders in the highly competitive college prep ranks in Northern Virginia, and to do the same at St. Thomas would require an outside resource to help achieve this aim.
Hall's daring hoop dreams were realized when the primo perfecto candidate outrageously emerged without even the slightest nudge of encouragement.
"How many high school programs in Texas, or anywhere in the United States for that matter, can say they have an NBA strength and conditioning coach working with their players," Hall asks in almost disbelief. "The exact sport-specific drills and techniques that the best players in the world are utilizing… right here at St. Thomas."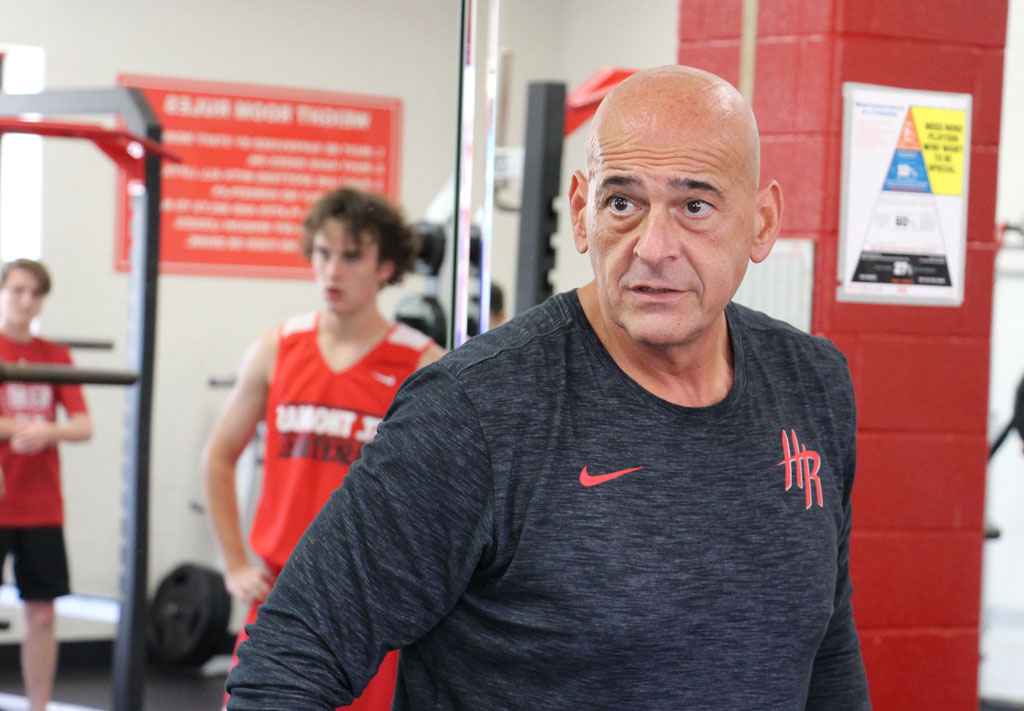 And simply because Jimmy Vidas chose to bring his accomplished, forward-thinking expertise from the Houston Rockets in a grand pay it forward gesture – a staggering development as likely as a nuanced political discourse.
Vidas became familiar with the Eagle hoopdom during the 2018 season when he was approached to consult on the injury rehab of Everett Vaughn '18 (Texas A&M) and Max Vosloh '18. Vidas implemented individualized treatment strategies and then assisted throughout the remaining weeks to assure complete recovery.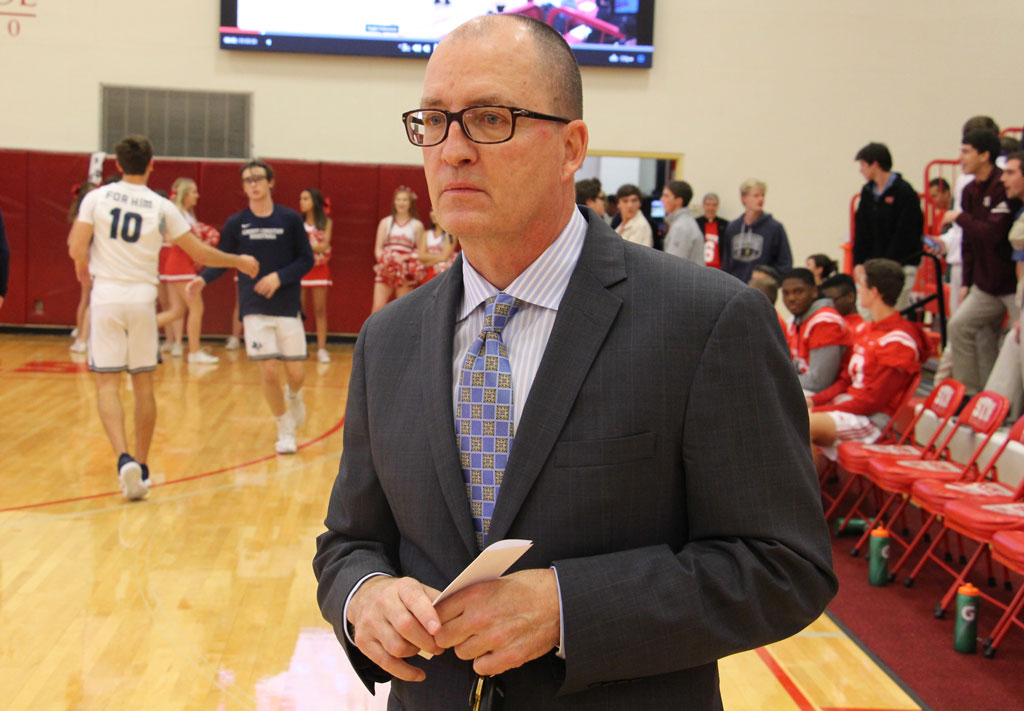 Hall was hired in May 2018 just as Vidas would soon accept a prominent support role with the Rockets. Hall immediately reached out to Vidas to explore recommendations to address the St. Thomas needs. They met for discussions in the bowels of the Toyota Center, and the more Hall shared his vision and aspirations, the more Vidas became engaged. He quickly determined and shockingly suggested the best possible candidate for the role was Jimmy Vidas.
Hall was overwhelmed with the possibilities but with one chief concern – the price. Vidas confirmed almost casually there would be no cost. None.
"Jimmy simply wanted to help St. Thomas basketball," Halls says in stunned amazement.
Vidas explains that he's "been involved in basketball for more than 25 years and I see the game losing ground at the high school level. The AAU circuit opens a lot of doors but the fundamentals, the strength and conditioning aspects, are being neglected. I've worked with this age group and know the value of building a routine and building a body the right way to meet the demands and support success."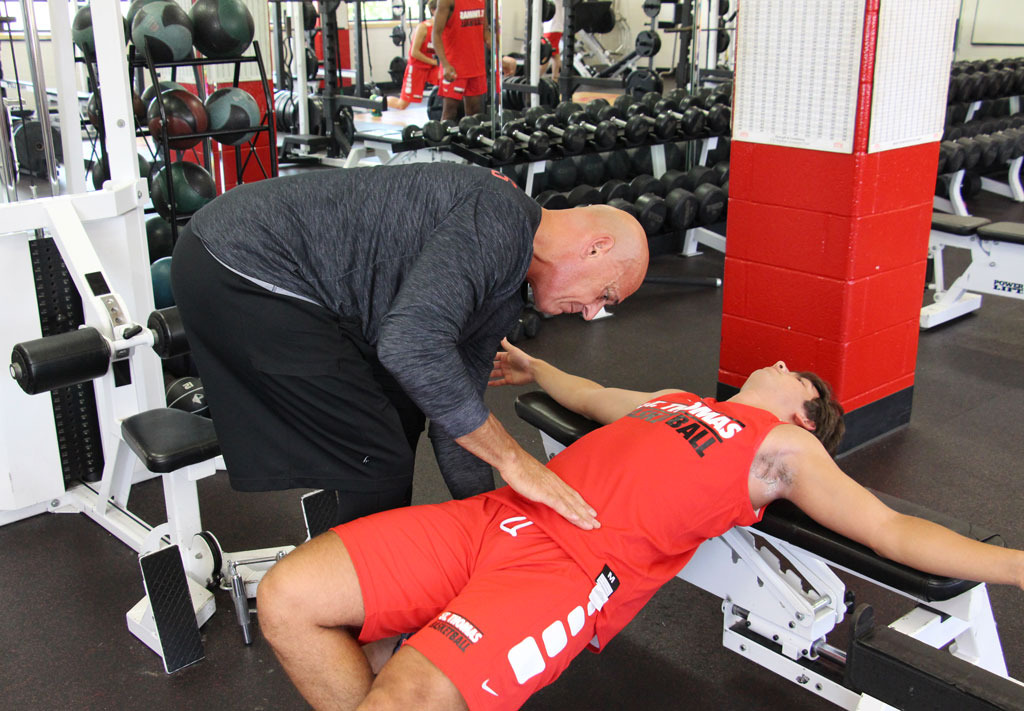 Vidas was on campus regularly at the beginning of the 2018-19 academic year before the Rockets entered the turbo blast launch to their season. His clear, concise, up-tempo sessions emphasized core strength, total body balance, flexibility and range of movement, all to help improve athleticism and endurance, develop formidable physical and mental resilience, and prevent injury. The Eagles were also educated on the importance of sports nutrition, sleep science and in-season maintenance, all with a single objective – reach untapped potential and best navigate the grind of a 30-plus game campaign that would include definite designs on a deep run into the postseason.
Not surprisingly, Vidas commanded instant credibility and rapport with the Eagle varsity while receiving an immediate buy-in to the no-nonsense regime.
"I could see the confidence and performance levels of our players gaining that very first week," Hall says. "This wasn't about bench pressing for bulk strength. This was how to best perform in a quick-twitch explosion sport."
Vidas' rise to the elite ranks of his profession has been aided by well-positioned NBA connections more than two decades in the making: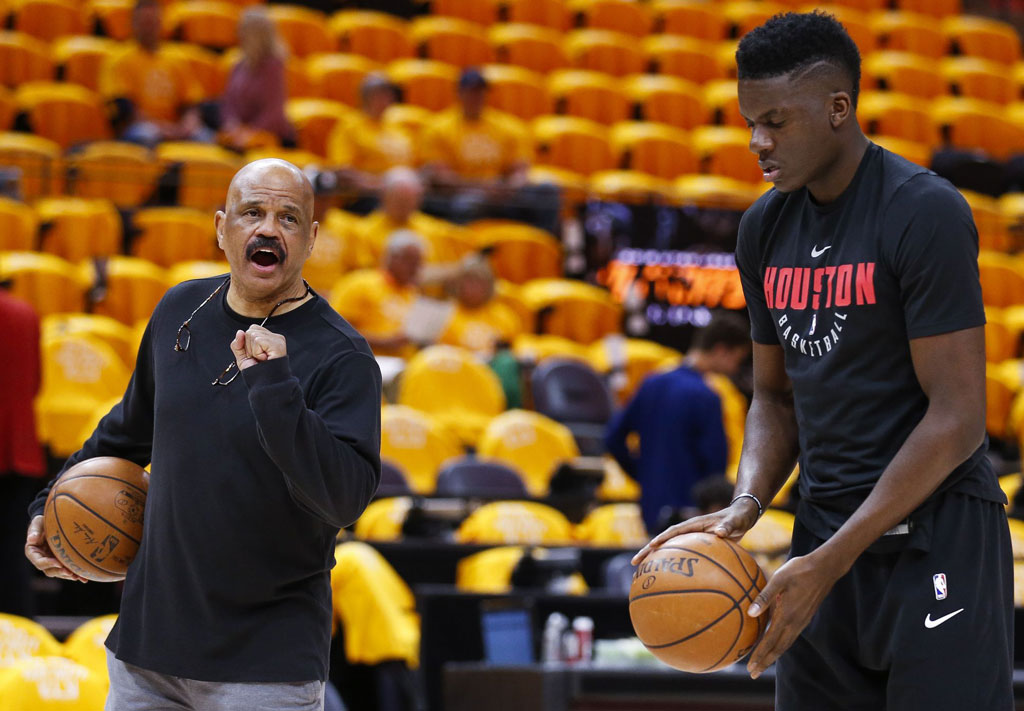 John Lucas, the city's basketball godfather and the Rockets head of player development
Keith Jones, the Rockets senior vice president for basketball operations
Anthony Falsone, the strength conditioning coordinator with the San Antonio Spurs since 2014 after 10 years in the Rockets lead position and serving as the personal strength and conditioning guru for sublime Hall of Famers Hakeem Olajuwon and Yao Ming
The bedrock of support began to take shape when Vidas joined Lucas when he was the head coach of the Cleveland Cavaliers in 2001. The relationship then continued at Lucas' renowned Houston-based wellness and aftercare program for athletes undergoing substance abuse recovery.
Later the tight ties with Falsone and Yao allowed Vidas an entry to various Chinese professional leagues to further expand and hone his craft from 2009-16.
The sum of which was the grandmaster plan (more or less) Vidas concocted when he surrendered his six-figure salary in 1999 for a dramatic career move that initially promised only ground zero opportunity with minimum wages. Decades later the self-satisfaction has paid more than proper dividends.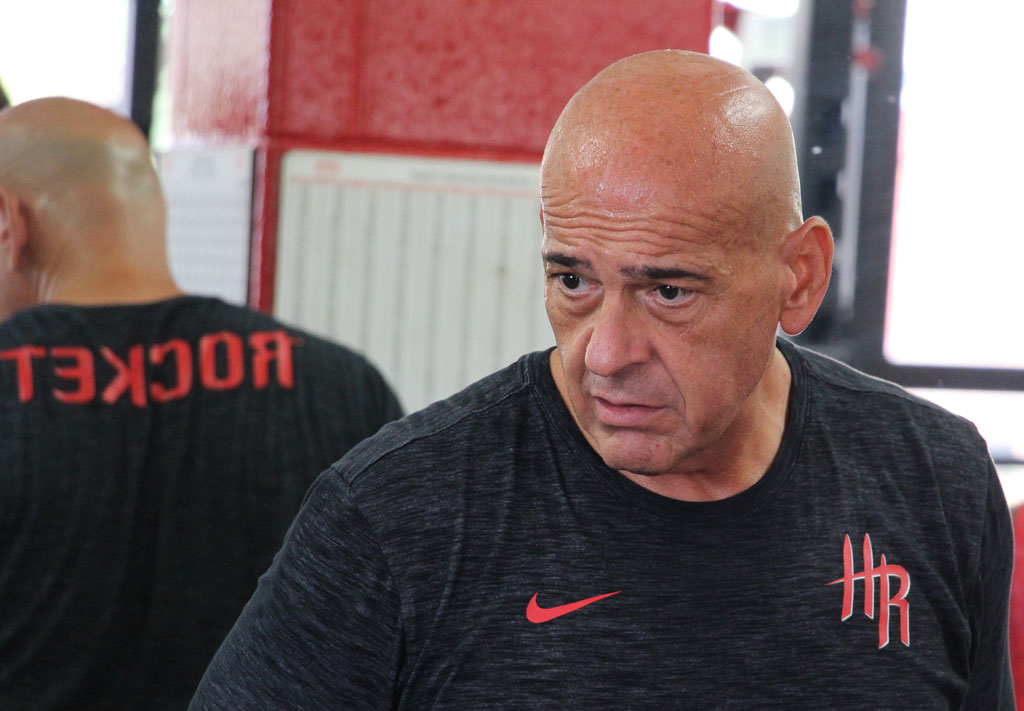 "I was in sales crushing million-dollar quotas but I knew something was missing in my personal and professional life," Vidas says. "I had someone advise that I should go into some sort of teaching, that I possessed a great soul and a want to serve others. I understood that life is a long play. But the key was to be unafraid of the unknown. No fear. Take the leap."
A sermon Vidas preached emphatically while advancing Hall's debut Eagle season. Vidas conducted weeks of two-a-day workouts every Monday, Wednesday and Friday beginning at 5:45 a.m. at the St. Thomas track. He reconvened with the team in the afternoon as players split into groups for weight room conditioning and half-court sessions for individual improvement.
"The first day I get a call on my mobile at 5:30 in the morning," Hall says. "It's Jimmy. He's at the track roaring to go. Ice chests filled with Gatorade. Protein and power shakes already mixed. Every detail mapped. He couldn't wait to get started with the team. That enthusiasm is incredibly contagious."
For Vidas, promoting the necessary physical fitness to represent the base for Hall's preferred style of play was not the only motivator. Just as critical for Vidas was establishing genuine, lasting relationships with student-athletes and relating the totality of his real-world experiences. He believes the process in preparing for an upcoming season also translates to important life lessons – "succeed first as an individual, make the correct choices, possess the habits to take full advantage of those decisions, make the most of gifts and talents."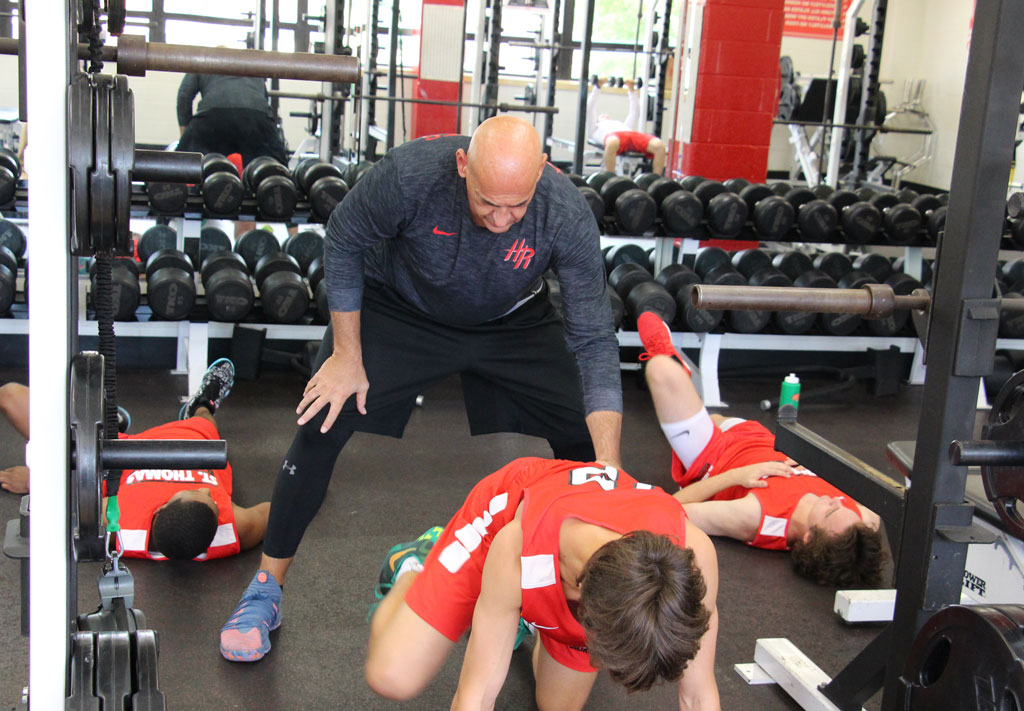 In essence, Vidas sought to have Hall's student-athletes benefit for having been involved in the program regardless of whether their basketball careers extended beyond St. Thomas.
"We're building discipline, a passion and intensity," Vidas says. "It's about organizational skills, time management, extending outside their comfort zone. I want to challenge them in a healthy way to establish goals and fight for accomplishment. That experience will certainly serve them as they mature.
"I would hear the guys say that basketball is really important to them. I told them if that's the case, make the commitment, jump off the cliff, pay the price and live with the results. Don't be afraid. That's what I did in 1999 when I started at the bottom and began working with John and later Anthony. There will be setbacks. Expect failure. It's temporary. Learn and move on."
Hall needed only those first encounters with Vidas to detect that two "are cut from the same cloth. Jimmy brings no alternative motives, no agenda. And I absolutely believe that as we move forward our players will believe they have earned the right to win because of what they've invested with Jimmy. No team in Texas has worked as hard as our guys have worked."
Before the Eagle season rolled from a promising start into the December portion of the schedule, Hall paused to offer an observation that borders on his disbelief.
"Think about this … throughout the fall Jimmy left St. Thomas after working with our student-athletes before sunrise … headed straight for the Toyota Center to train James Harden and Chris Paul … and then returned to St. Thomas in the afternoon. We are blessed to have this relationship."
Eagle Fight Never Dies!