Eagle Football flashed a stretch of outcomes in 2018 that no one could have possibly foreshadowed. Through trial, torment, talent and, mostly, sheer perseverance, St. Thomas defied every expectation and prognosis.
But the magic to produce a miracle finish deep into the TAPPS postseason fell short of a Hollywood script turned scripture.
After consecutive disappointing and dispirited lopsided defeats to close out 2017, the Eagles stumbled out of September with but one win. A recovery to relevance appeared as likely as holding back rushing water with your hands.  But individuals didn't opt for a fit of pique. They instead embraced an all-hands-on-deck mentality while discovering relentlessness was a not a trait with an on-off switch. The defense didn't transform itself, but it limited back-breaking big plays and provided just enough resistance to allow the pyrotechnic offense to short-circuit scoreboards. Collectively the group kept working for a rebirth and was rewarded with an opportunity for redemption.
The turnaround tour first surged forward with four wins in six games as the Eagles took an undefeated district record into the series with St. Pius X that again culminated with the regular-season closeout determining the district championship.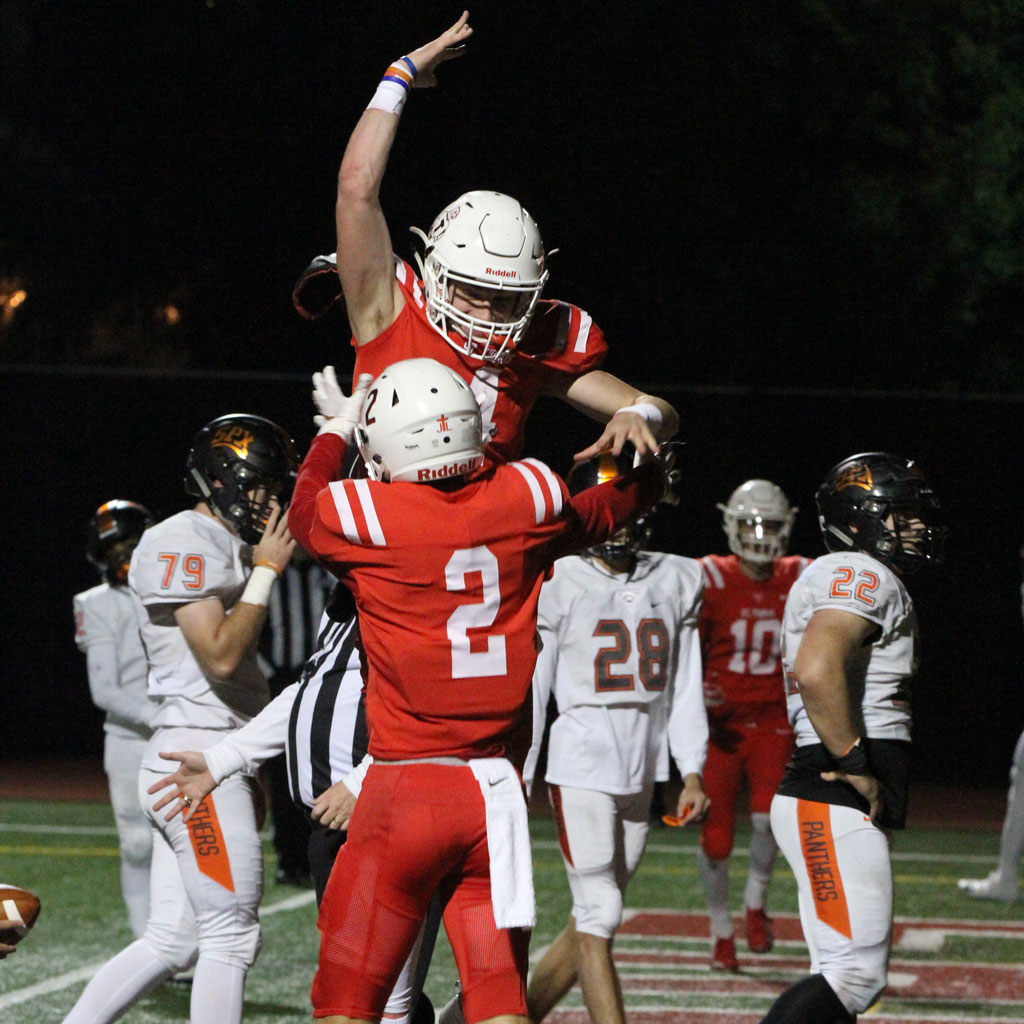 Teams with animosity in their hearts and glory on their minds collided at Hotze Field inside Granger Stadium in the kind of game that left throats sore and words scant.  The flurry of drama led to a myriad of heroes, none more magnificent than quarterback Peyton Matocha '19 who put on a dazzling display of skill and precision, will and want.
In his 33rd consecutive start and final regular-season game at home, Matocha the maestro orchestrated one of the more memorable and improbable Eagle triumphs with a primo performance that ranks among the best and brightest in the generational rivalry. His seven touchdowns included four in a whirlwind third quarter when Eagle Football seized control and rallied for a stunning 52-49 shootout that reclaimed the district championship, a fifth in seven years.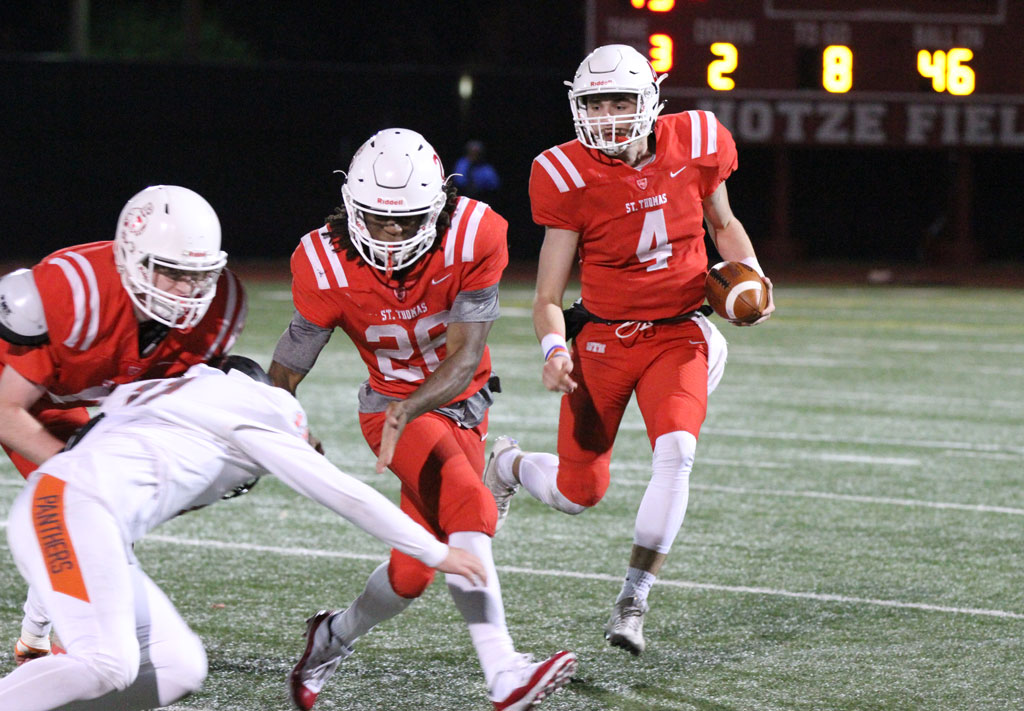 Matocha managed the game like a stunt driver, aggressive at every turn, making onlookers gasp at where this thing might be headed. He sizzled for 416 total yards with a pair of first-half touchdowns, then broke for a 64-yard scoring burst out of halftime that ignited a 29-point third-period eruption. The first of his four rushing scores in the period was part of 22 unanswered points and tied the game at 21-21 after a two-point conversion pass to receiver Josh Crissmon '20.
Two plays into the fourth stanza Matocha lasered a strike to Crissmon running away from the Panther secondary. The 50-yard lightning bolt gave the Eagles a 49-35 advantage with their fifth touchdown in five second-half series.
Later Mr. Bigfoot Paul Langemeier '20 booted a 36-yard field goal with 7:22 remaining that increased the count to 52-42 and provided the eventual winning margin.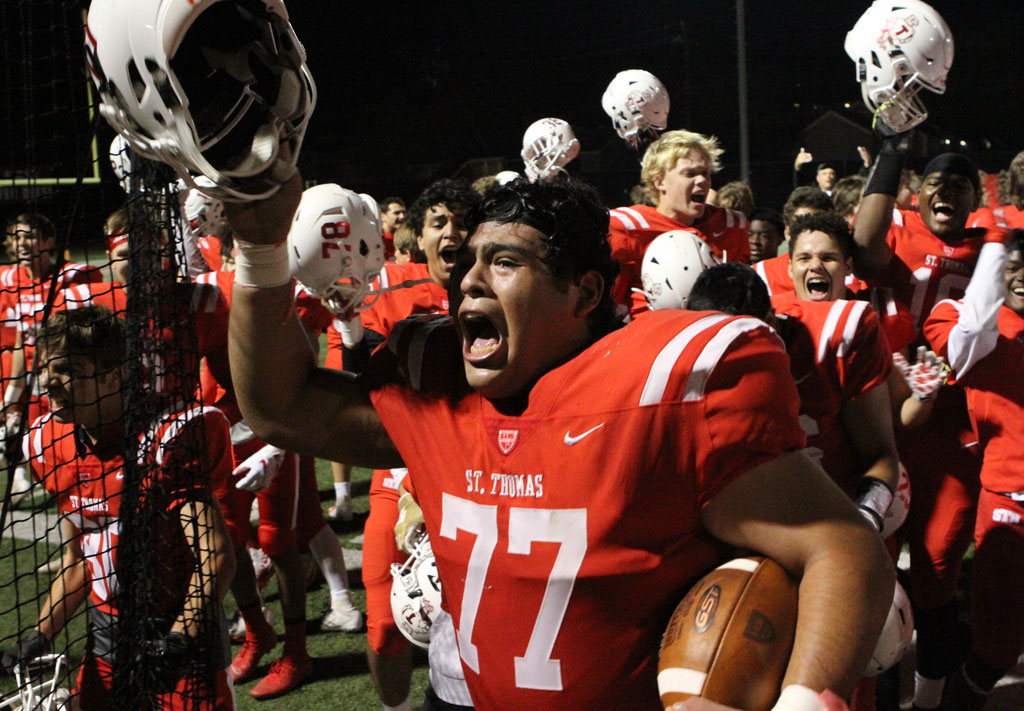 However, the decision wasn't decided until the closing maniacal moments when two-way dynamo Dylan Dixon '19 abandoned his designed coverage and dived inches from the turf to secure a clutch interception in Eagle territory. The game-saving title-clinching defensive stop was the third SPX turnover of the game and spawned a stream of vital, raucous and eminently Instagrammable moments.
The Eagles prevailed to again emerge as the district kingpin, and the full-frontal force of four straight victories included taking a sledgehammer to their rival's pride. The immediate prize for the pulse-pounding result – home turf to open the TAPPS gridworld sweepstakes against Plano John Paul II.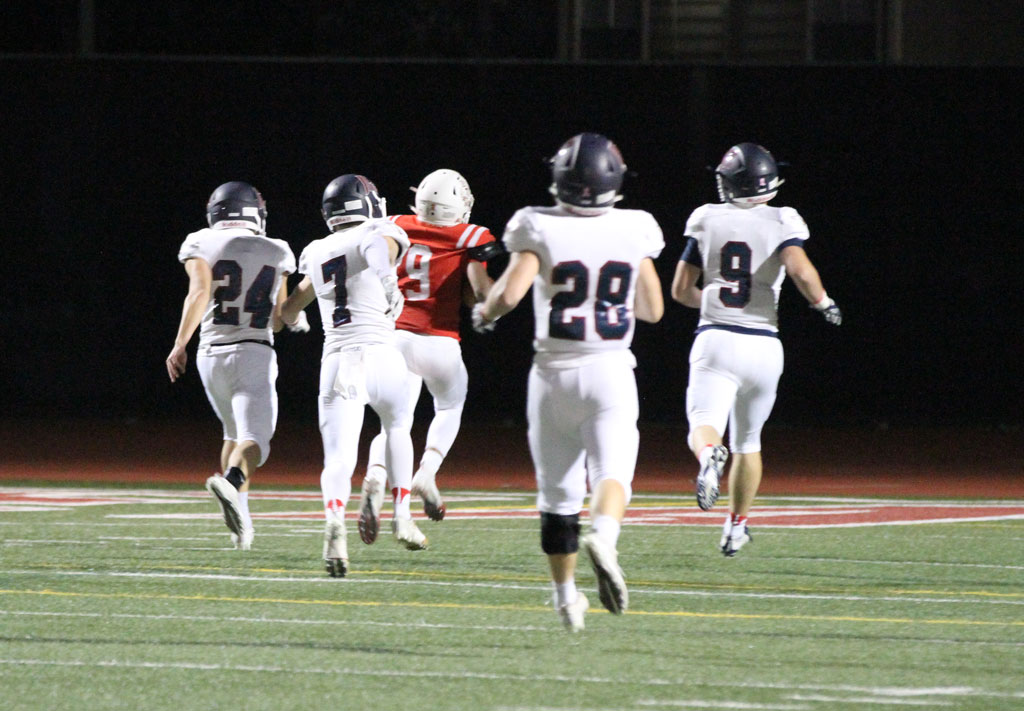 The Eagles twice built three-touchdown cushions in the first half after Josh Madden '19 returned a first-quarter interception 46 yards for a 21-7 advantage. On the first series out of halftime, the Eagles churned nearly half the third quarter clock with Matocha finding Jordan Augustine '21 on a quick-striking slant route for a 21-yard score to move out front 42-25.
Matocha shredded the visitors for 435 yards and four touchdowns while Ian Wheeler '19 proved harder to tackle than Social Security reform with 196 rushing yards and two reservations for six.
The 52-32 scoring spree wasn't necessarily pretty, but it was pretty emphatic. It was far from perfect but it was perfectly clear. The Eagles didn't care how it looked. They only cared about advancing after their fifth consecutive victory and the first St. Thomas playoff win since 2015.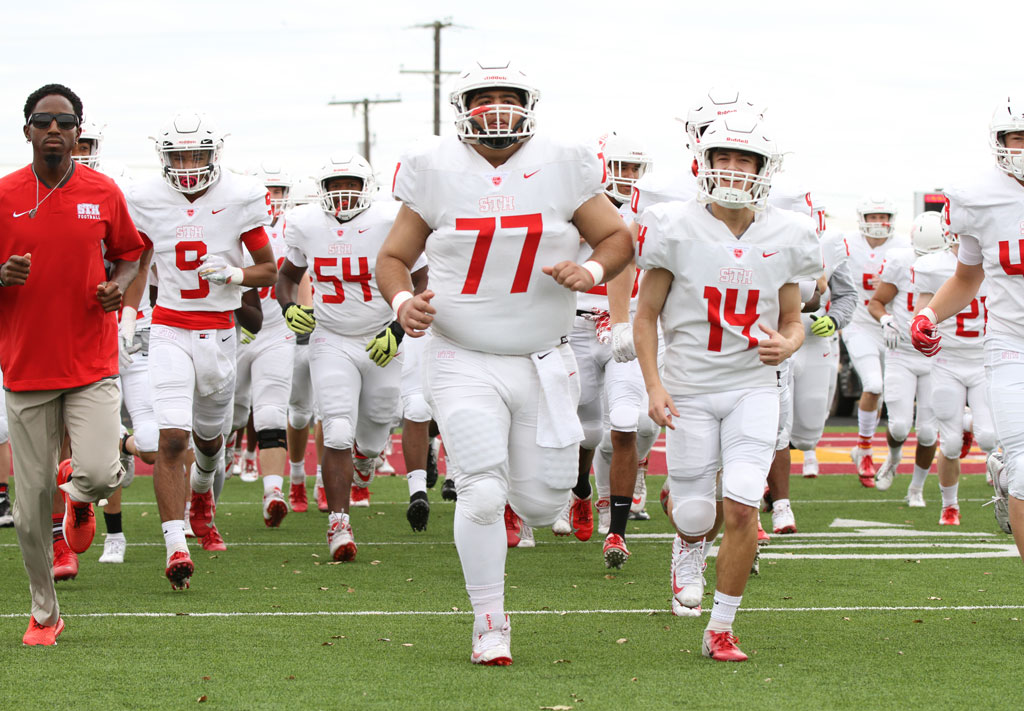 The regional showdown in Fairfield against Dallas Bishop Lynch was the fourth postseason meeting between the programs in seven seasons.
The Eagles were gashed on their first defensive snap for a 58-yard touchdown and twice trailed by 14 points in the first half.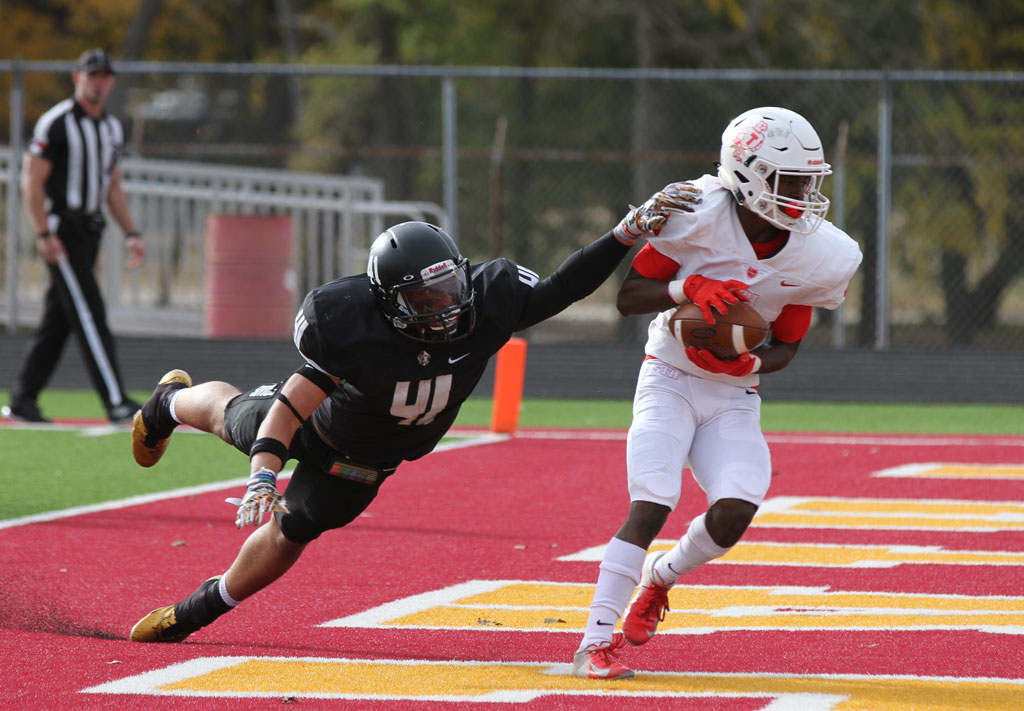 The bounce back began with Matocha twice finding Crissmon for scoring throws to slice the deficit to 21-14 at the break.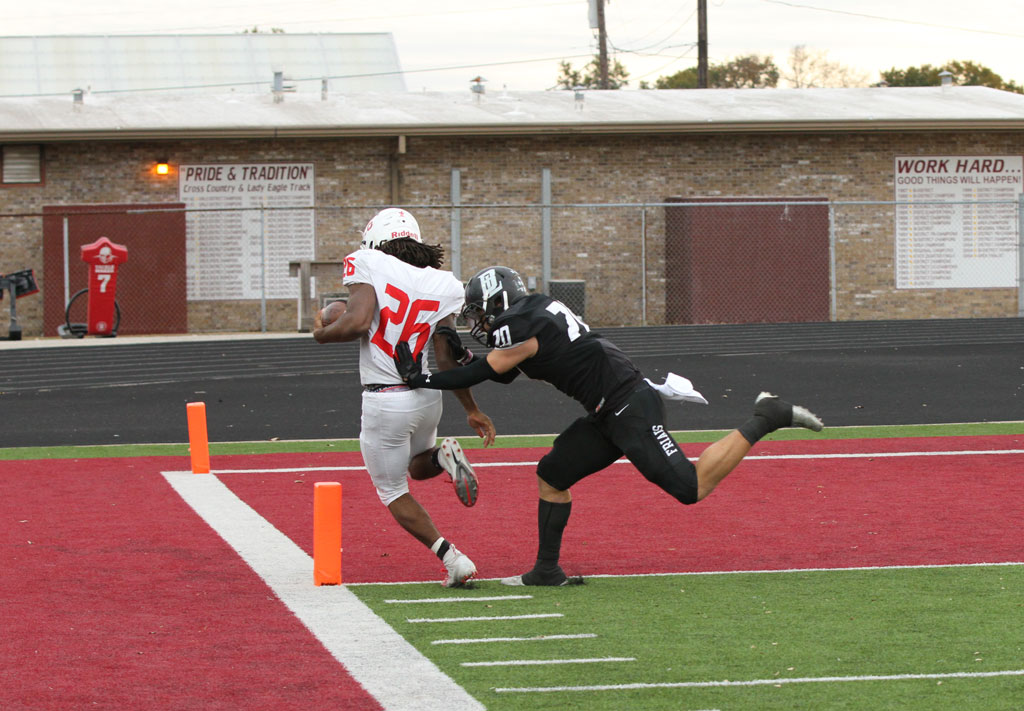 Then on the first play of the fourth period, Matocha escaped a collapsing pocket and spotted Wheeler alone on the left sideline. He took the toss in stride for a 30-yard pitch-and-catch touchdown to bring St. Thomas within 34-21.
After a Cooper Thomas '20 fumble recovery in plus territory, Matocha again relied on Wheeler. First, a 19-yard connection in the middle of the field. Then, three plays later the tag-team partners combined on a 34-yard screen pass for the touchdown to shrink the deficit to 35-28. The Eagles gripped new life with 9:28 remaining in the game.
Hopes soared then quickly soured.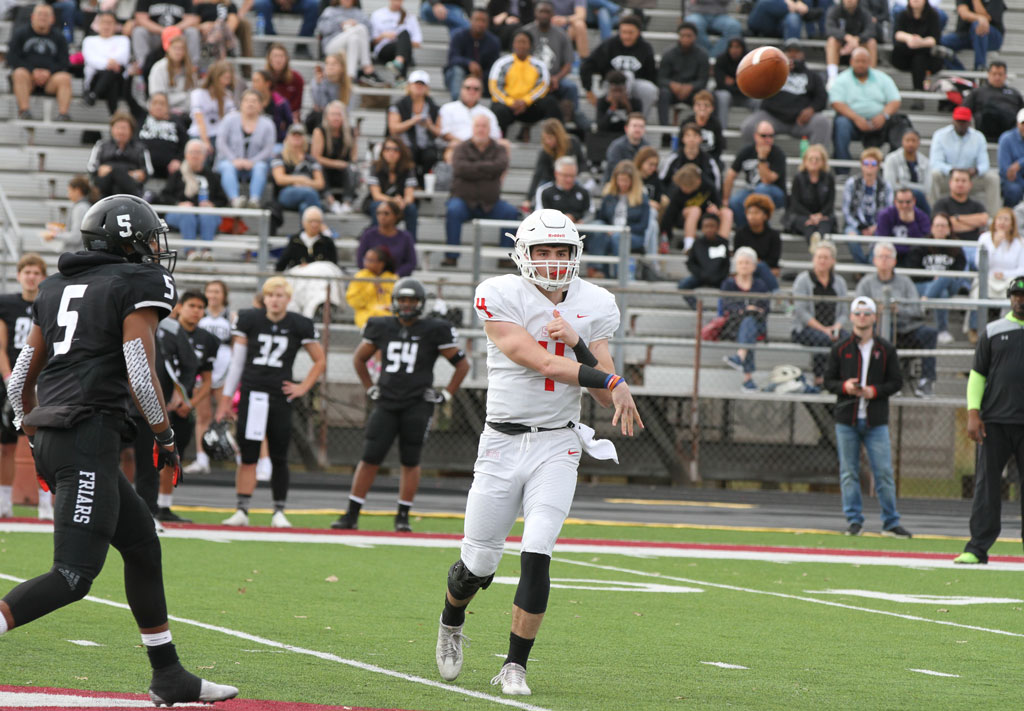 Matocha's four touchdown finale was not grand enough. Eagle Football fell 42-35 to end with a 6-6 record, a state championship drought extended to the 21st year.
The sky may not have been falling when the Eagles dropped their opening three games and five of their first six but it was raining butcher knives.
Yet from the lowest ebb came the turn of the tide.
The Eagles devised a strategy to shore up the defensive lapses and the high octane scoring machine kept mesmerizing at PS4 levels. Head coach Rich McGuire had preached culture, service and process. His simple explanation for the team's rousing upturn: "Execution. That's all it comes down to at the end of the day."
And now two seasons into his tenure the program's foundation appears to be stable and the floor has lifted. These Eagles may have fallen short of their own 2018 expectations but McGuire says "it's hard to deny there wasn't a ton of progress throughout the season We feel really good about the direction we're heading and how we're heading there."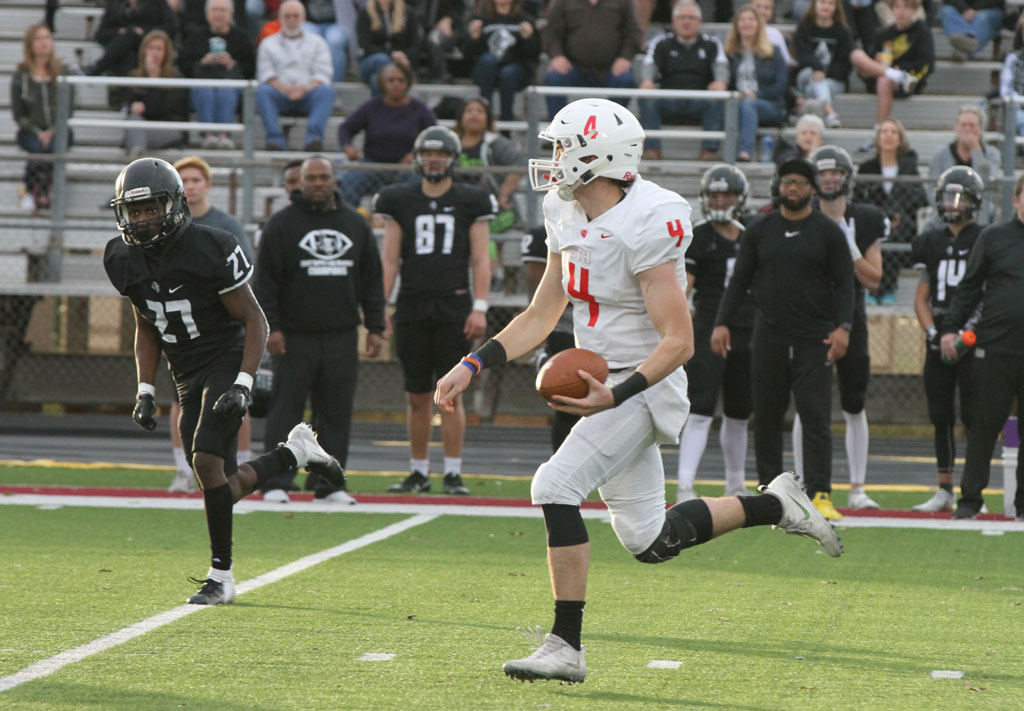 And Matocha leaves Eagle Football as the most prolific dual-threat slinger in school history.  His staggering senior season suggested life imitating PlayStation – a single-season school record 3,692 passing yards with 35 touchdowns plus 804 rushing yards and 14 more scores. The onslaught included:
489 total yards and eight touchdowns against Kinkaid
573 total yards and six touchdowns against UIL Needville
362 total yards and three touchdowns against UIL China Spring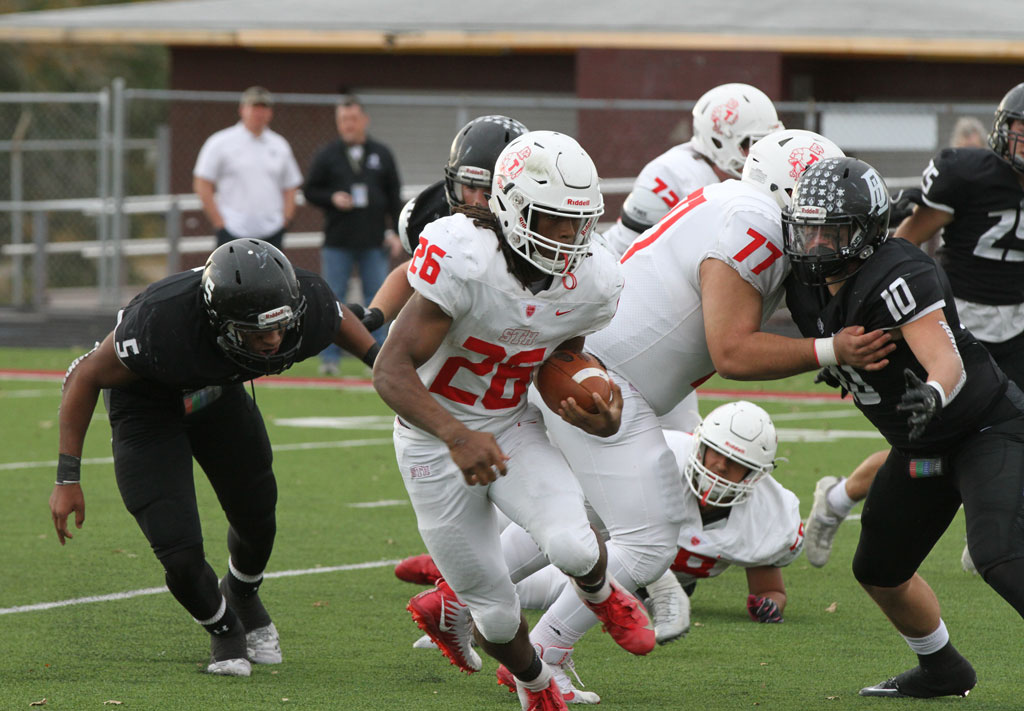 He and Matocha were recognized by the Houston Touchdown Club as finalists for the private school Offensive Player of the Year while Dixon was nominated for Ironman of the Year.
The saturated offensive stat columns included sensational skill-position receivers Crissmon (56 catches for 809 yard and 10 touchdowns), Augustine (left, 54-738 and 12 TDs), Hunter Cheek '19 (right, 48-767 and 4 TDs), Spencer Kryger '20 (35-490 and two TDs) and Dixon (20-340 and 4 TDs).
Eagle Fight Never Dies!