Grow as many, unite as one.
Understanding that the current college preparatory enrollments are inundated daily … academically, socially, personally and spiritually … with untold pressures and challenges … St. Thomas developed a five-day orientation program for incoming freshmen during the first week of the academic year that infused the traditions and values of the 118-year Basilian institution while creating an accepting support system that allows students to forge relationships and embody the Eagle spirit.
The learning liftoff launched in the form of Camp Aquinas 75 miles north of Houston outside of Livingston.
Unplugged from electronics and technology, students developed character, community and culture. And most importantly, gained an authentic understanding that a leader's greatness is found in bringing out greatness in others.
Faculty members Andrew Quittenton, Grover Green '04 and Casey Johnson '05 crafted the blueprint for Camp Aquinas at the urging of former St. Thomas President Fr. Kevin Storey, CSB.
The intent was to infuse Catholicism and faith-based components rooted in the Basilian credo Teach Me Goodness, Discipline and Knowledge with heavy academic elements and challenging team-building activities.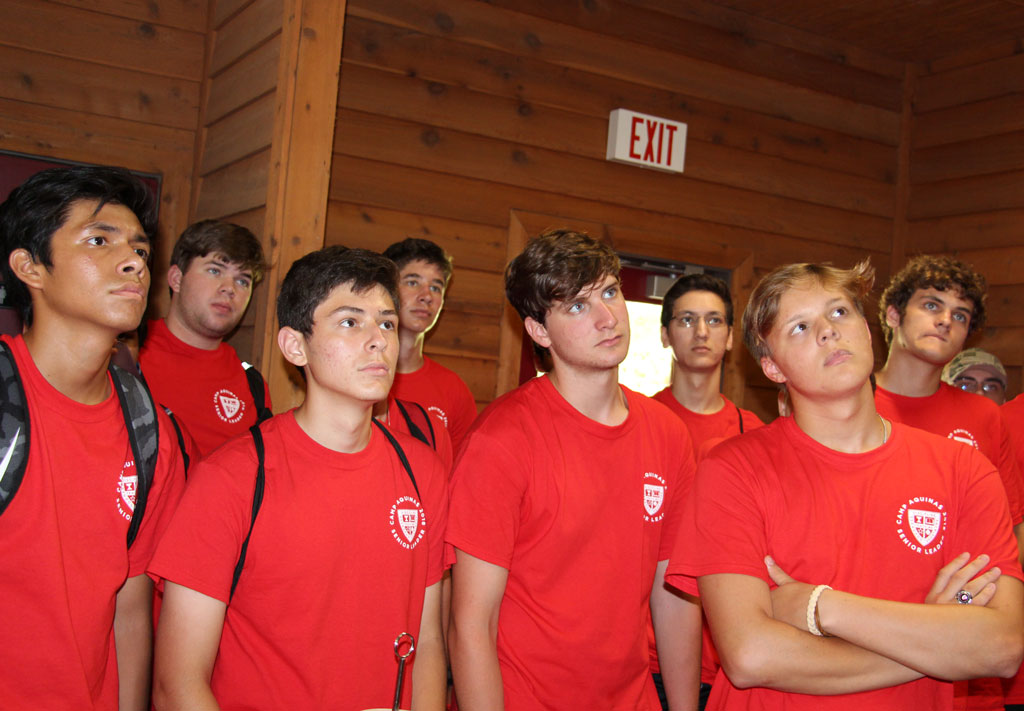 "To me, Camp Aquinas was a defining advancement of what St. Thomas has always been about," Green says. "An enrichment … conveying the true meaning of GDK … and how that relates to students in 2018 and beyond. There was a truly collaborative energy … students trusting students and trusting teachers … problem-solving in real time. Seniors delivering on what they've learned as undergraduates … how that will aid freshmen to navigate their new environment and gain an understanding of who they are and the place they have at St. Thomas."
Quittenton saw "a number of freshmen who were reserve in those first few days open up as the week progressed. They built friendships with their Eagle brothers and faculty that have been maintained through the semester, and that has proved invaluable as they deal with issues and struggles. The unexpected bonus was the growth among the teachers. We shared aspects of our personal lives and discovered more about each other. That greater understanding has enabled us to become more comfortable and confident with each other, and has had a positive ripple effect for the students."
The priority in establishing Camp Aquinas was igniting and increasing personal connection, dramatically raising students to meet expectations for behavior and attain their God-given potential.  Eagles were clustered on the Camp Cho-Yeh grounds in eight groups or 'houses'  named for notable St. Thomas Basilians and gained a perspective of their lifetime commitments to the mission and their legacy within the school.
Three dozen faculty members participated along with 40 Eagle student leaders who orchestrated and captained a series of competitions that accumulated team points throughout the week. Seth Deitz '19 is a multi-year National Honor Society member, Eagle Football letterman and prominent presence within the senior class who delivered a direct message that has resonated long after Camp Aquinas concluded.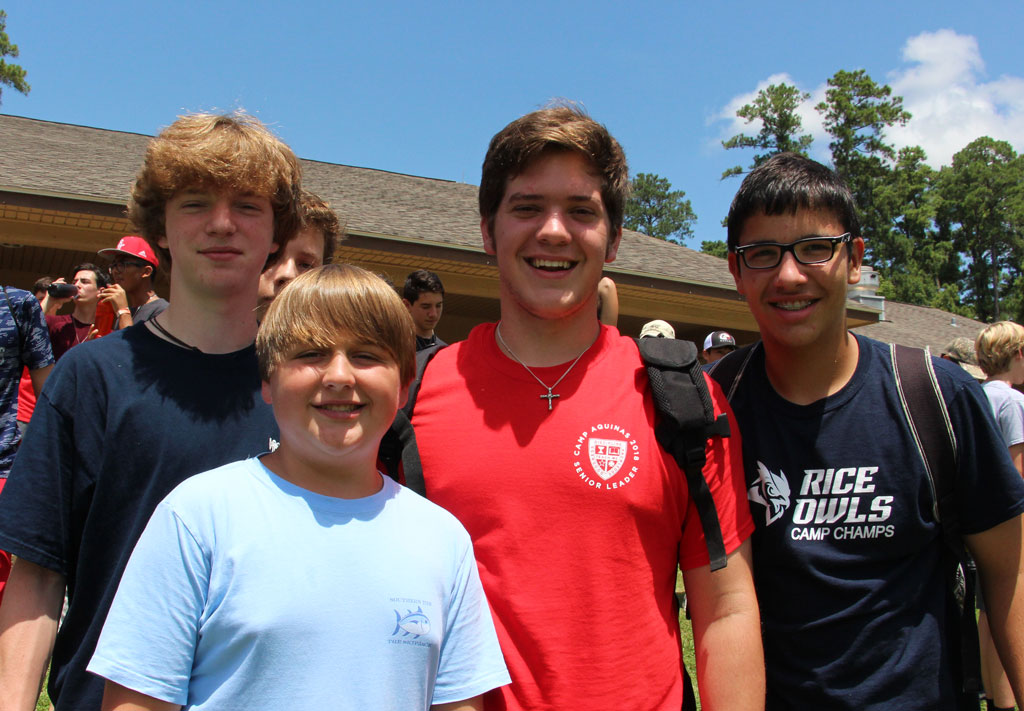 "I told the members in my cabin … I'm not here because I'm obligated … not getting paid. I'm only here to help you understand what it means to be a Man of St. Thomas. I urged you to rely on each other in times of need," Deitz says. "Don't reach your senior year and suddenly feel that you're alone. It took months my freshman year to begin the process. I look back and see I could have had an even deeper support group with this kind of experience from the start."
At the foundation of Camp Aquinas was the causal relationship between outdoor activity with increased social interaction and decreased stress and anxiety.
The tech-free methods encompassed a range of pedagogical goals and promoted a myriad of developmental benefits including better physical health and wellness which may often lead to lower rates of depression.
But the deepest dividend of Camp Aquinas was establishing how that true Man of St. Thomas measures well beyond mastering mottos and the school's alma mater. Students captured the value of working effectively in groups, better managing conflicts, cooperating in a more effective manner, taking risks responsibly in a safe context and exhibiting an improved comprehension of nonverbal emotional cues.
"Without questions our freshmen were pressed and pushed out of their comfort zones, both physically and mentally," Quittenton says. "That was the intent. And they failed at times. They learned it wasn't devastating to have a bad day. Figure it out. That's life. And they also realized they have skills they didn't necessarily know they had."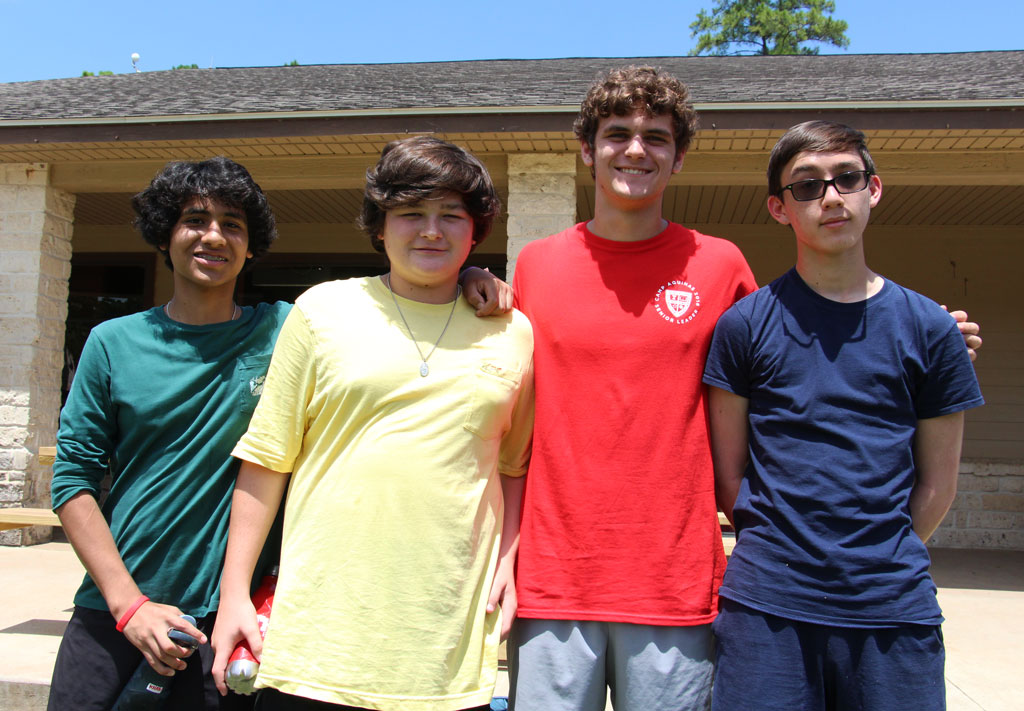 John Evans '19 entered St. Thomas as a freshman from the Annunciation Orthodox School. He worked at Camp Cho-Yeh during the summer of 2018 and was a valuable resource to the St. Thomas organizers. His prime motivation throughout Camp Aquinas was infusing a "spirit of camaraderie and personalizing the message of goodness, discipline and knowledge. One night I asked the group to reflect on a particularly challenging day … how were we good, knowledgeable and disciplined … and how can we apply that tomorrow for an opportunity to improve. The response wasn't verbal nor was it immediate but I've seen positive examples throughout the semester that tell me they got it. Ultimately it's all about respect … for each other … for themselves."
Zach Blice '19 enrolled as an Eagle from Holy Spirit Episcopal School near The Villages. On the surface he seamlessly assimilated in large part to an acclaimed soccer career that has rocketed to elite tiers. But Blice revealed some subtleties to his story that he hopes have been beneficial.
"I came from a smaller grade school and got a big boost from athletics but there are so many ways at St. Thomas to show your skills if you get involved," Blice says. "You make the move, that was the takeaway I wanted for my freshmen. And throughout the last few months, I've seen many of them take the initiative. It's similar to being an older brother."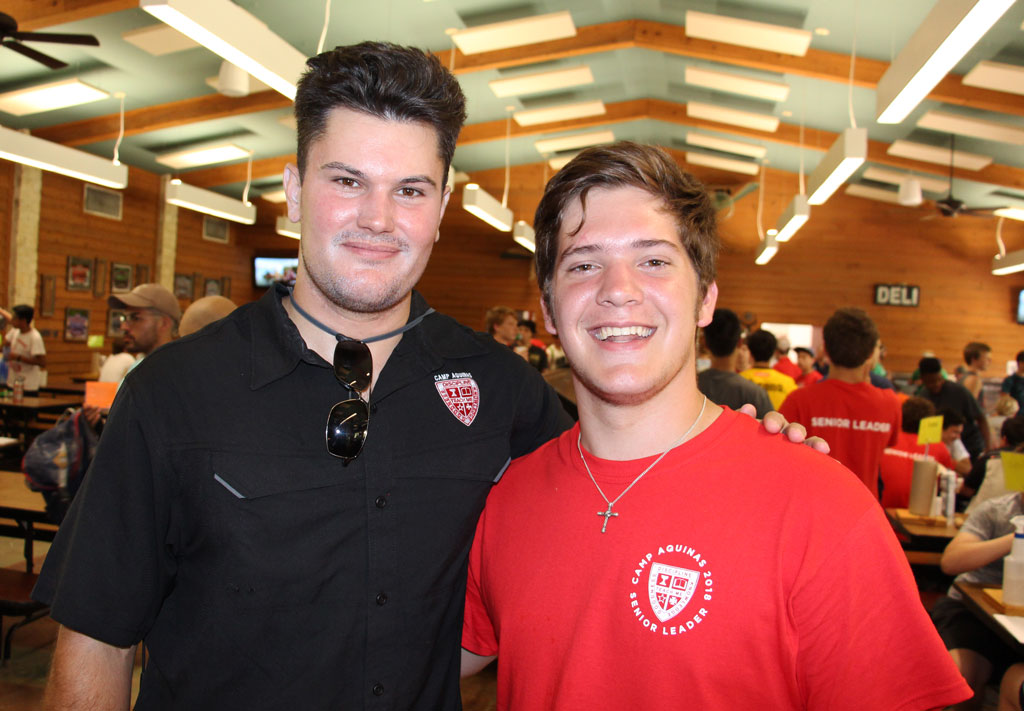 Quittenton applauded the select senior group who "displayed a great maturity and learned that being a leader is not easy. You have to be patient and committed to finding unique ways to reach younger peers to help them grow through the process."  He believes those collective efforts enabled the Class of 2022 to leave Camp Aquinas "with the necessary bedrock beneath them to be successful contributors to their community. They know what the standard is, in the classroom, in the hallways, and when no one of authority may be watching. We have so many incoming students arriving from all over Houston from so many different backgrounds who didn't necessarily know the St. Thomas culture."
Being a St. Thomas student means being part of a long, proud history – of academic rigor, of ethical living, of being educated in the Catholic Basilian intellectual tradition. Camp Aquinas extended the St. Thomas obligation, the passion, the goal to provide a supportive, safe environment for students to thrive.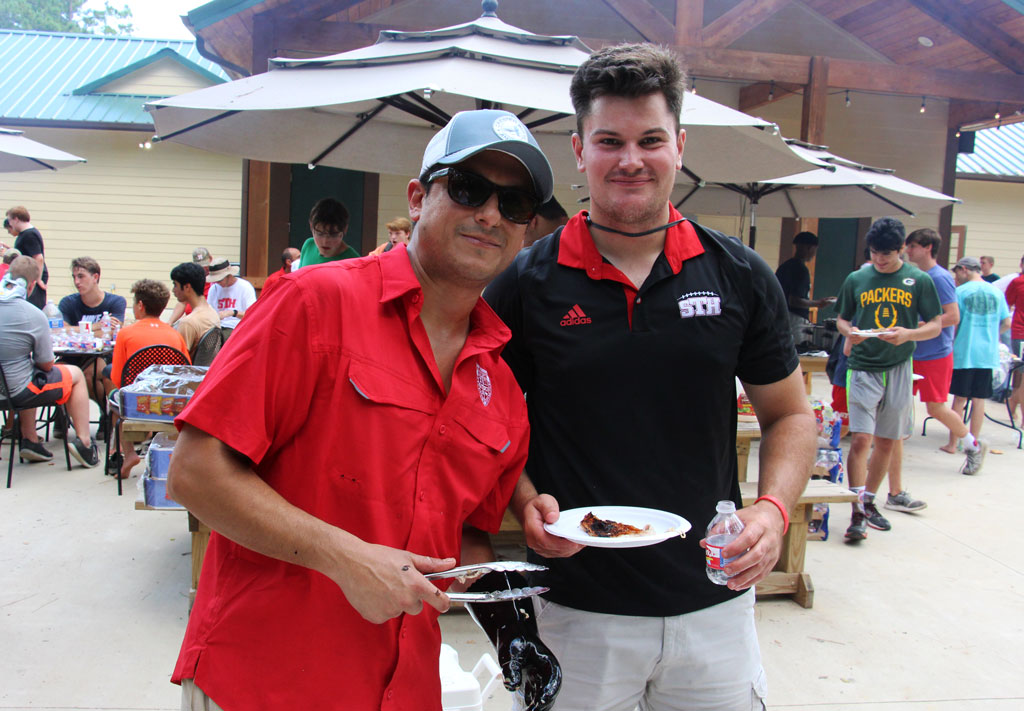 "There are ideas that may live within organizations for years but only emerge when the right combinations exist for them to come to fruition," principal Aaron Dominguez '96, Ph.D. says. "Andrew, Grover and Casey were invigorated by the concept and served as the catalysts. We were determined to make Camp Aquinas happen, to provide a powerful impact on our students and campus community. The first encounter could not have been a more emphatic success."
Grow as many, unite as one.
Catholic. Basilian. Teaching Goodness, Discipline and Knowledge since 1900.