In an era of boundless offensive football, quarterback Peyton Matocha '19 cemented new St. Thomas standards.
Throughout a rocklicking record-smashing career charged with a series of electrifying Friday night lights, he tested limits and expanded the imagination. And the last mark of distinction for Matocha came courtesy the Touchdown Club of Houston who honored him as the 2018 co-Offensive Player of the Year at the seventh annual Private High School Awards Dinner presented by Houston Methodist Orthopedics & Sports Medicine and the Hildebrand Foundation.
Matocha shares the acclaim with St. Pius X quarterback Grant Gunnell, the all-time Texas high school leader in career passing yards.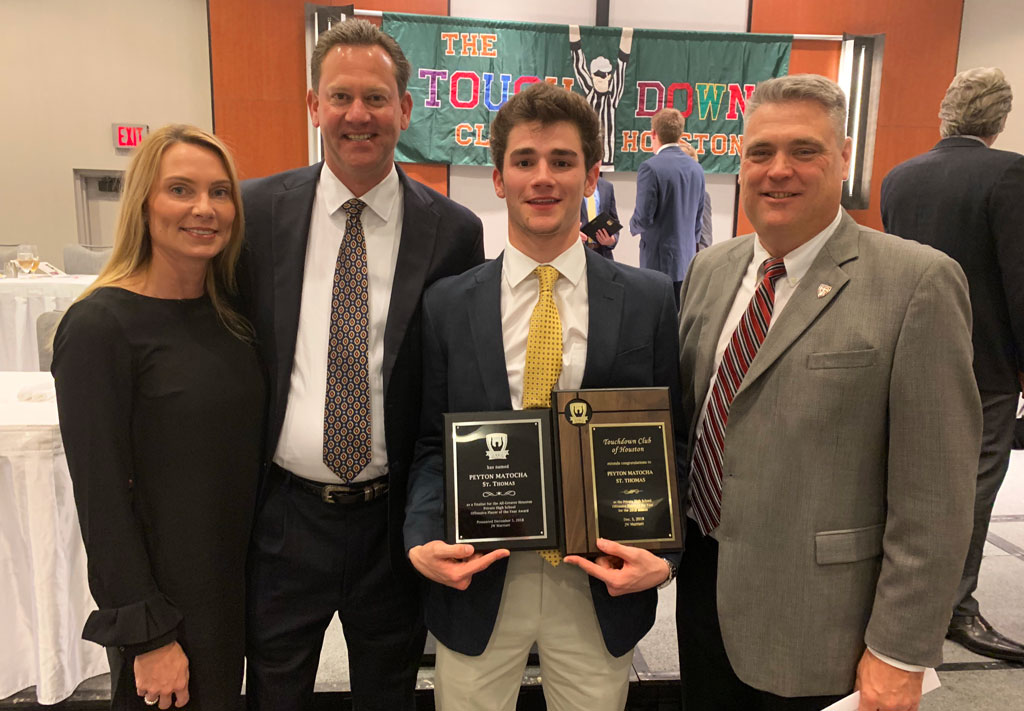 "I want to thank an awesome group of coaches who trusted me and gave me the freedom to play to my strengths," Matocha said. "And also to the Touchdown Club for a great honor. But what means the most to me is to have my parents here tonight. There's no way I'm in this position without all the sacrifices they made for me to be successful. I love them so much and accepting this award is really for them. They are who I play for."
Matocha was recognized along with a pair of notable Eagle teammates. Running back Ian Wheeler '19 also earned POY consideration after his breakthrough smash and dash senior season ended with 1,309 rushing yards (more than eight yards per carry) and 15 touchdowns, plus 503 receiving yards and three TDs. And two-way dynamo Dylan Dixon '19 was a finalist for Ironman of the Year.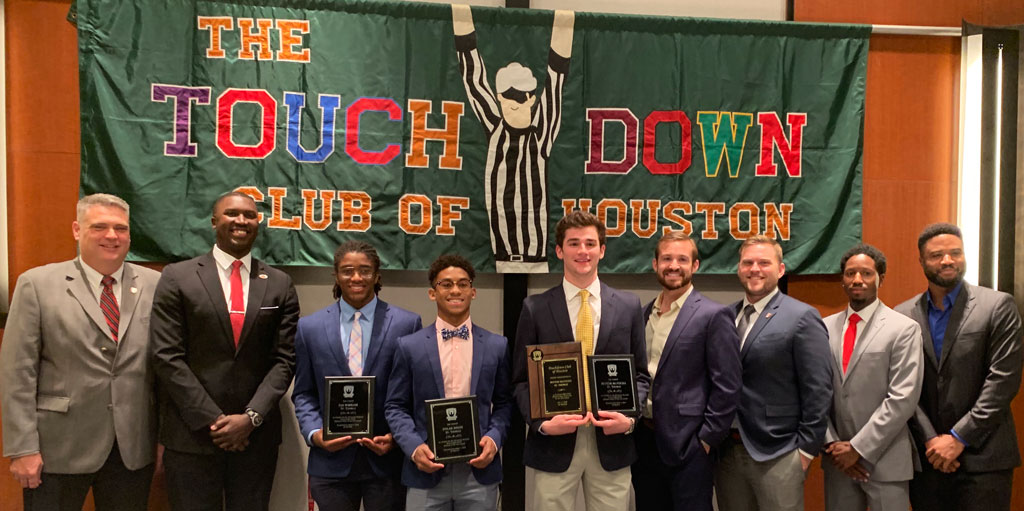 "I can't say enough about our team and especially (head) coach (Rich) McGuire," Matocha says. "We all had so much respect for him and the staff. Coach (Josh) Hooten, coach (Jerrod) Johnson and coach (Matt) Houston. They put the right mix together and gave so much belief."
Matocha's staggering senior send-off suggested life imitating PlayStation – a single-season school-record 3,692 passing yards with 35 touchdowns plus 804 rushing yards and 14 more scores. And he was never more majestic than in his 33rd consecutive start and final regular-season home game with the stakes stacked highest against Gunnell and SPX.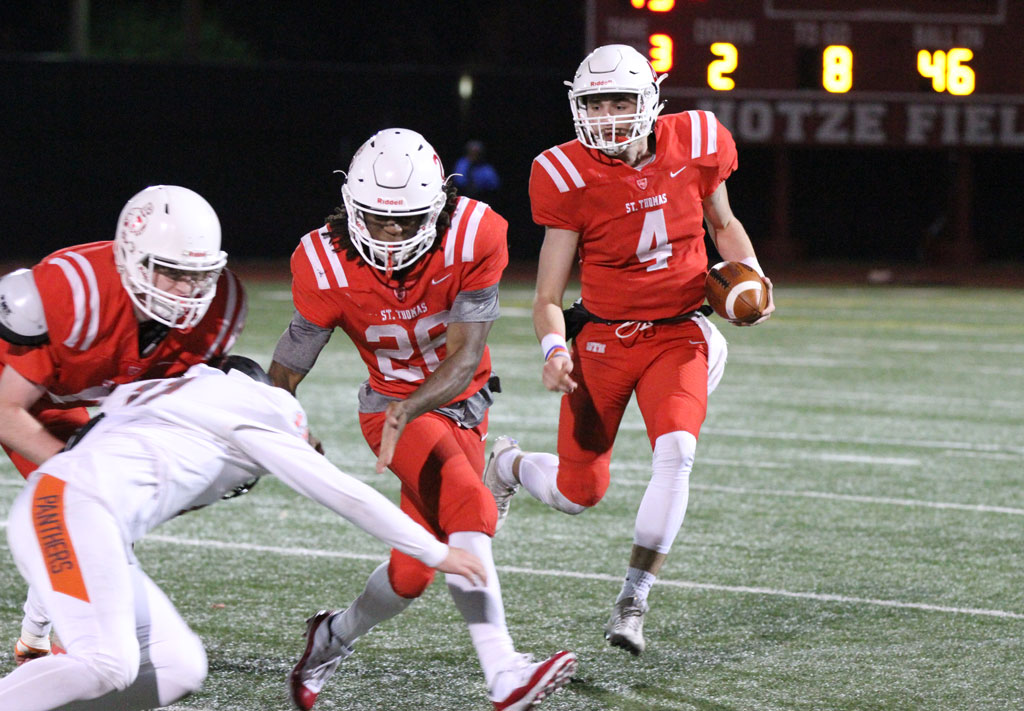 Matocha the maestro conducted one of the more memorable and improbable Eagle triumphs. His primo performance fronting a full orchestra of versatile playmakers ranks among the best and brightest in the generational rivalry – 416 yards and seven touchdowns. The pyrotechnics included four scores in a whirlwind third quarter when Eagle Football seized control and rallied for a stunning 52-49 shootout that reclaimed the district championship, a fifth in seven years.
Matocha continued to sizzle to open the TAPPS Division I tournament. He shredded Plano John Paul II for 435 yards and four touchdowns. The 52-32 scoring spree produced the first St. Thomas playoff victory since 2015.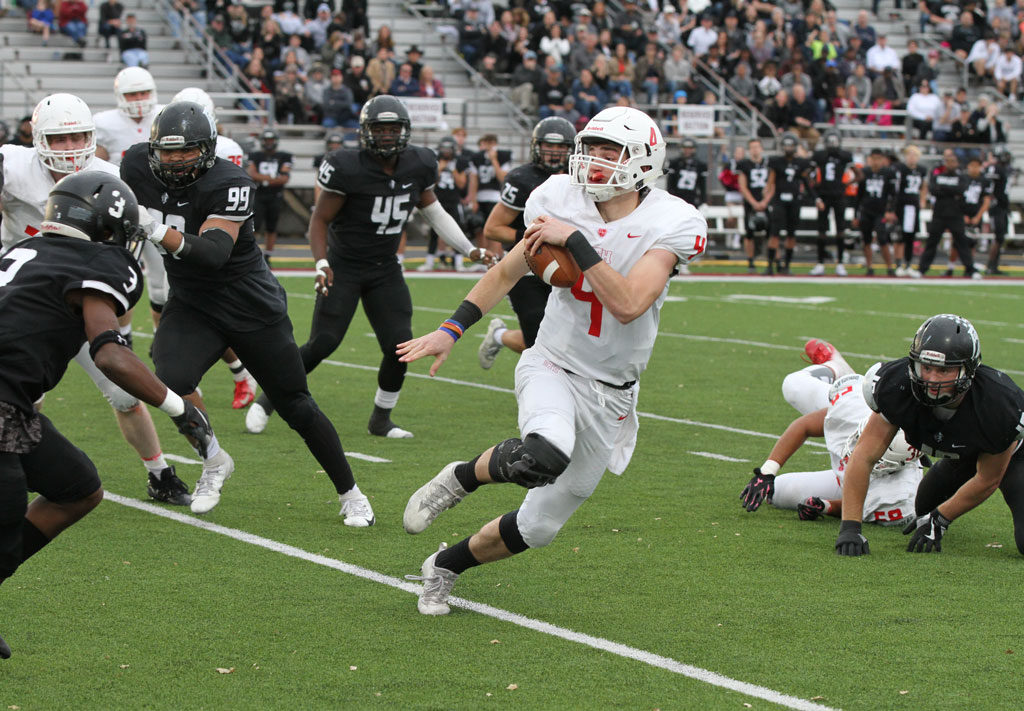 In the regional final against Dallas Bishop Lynch, Matocha rolled out a 326-yard four-touchdown finale that wasn't quite grand enough to thrust Eagle Football deeper into the postseason. The 42-35 verdict was the closing act in Matocha's scintillating career and concluded 2018 with a 6-6 record.
Throughout the explosive campaign, Matocha played majordomo to a crew who proved to be difference-makers in different moments. The offensive onslaught included:
"Records and awards don't happen, and the season our team just had doesn't happen, without all the work in the off-season," Matocha said. "Not only on the field but the video breakdown and the whiteboard sessions. Attention to every detail. Coach Johnson and I put in so many hours. That's what the college coaches are going to expect from me next season and I believe I'm already so far along in that process. For sure that translated into what we were able to accomplish this season."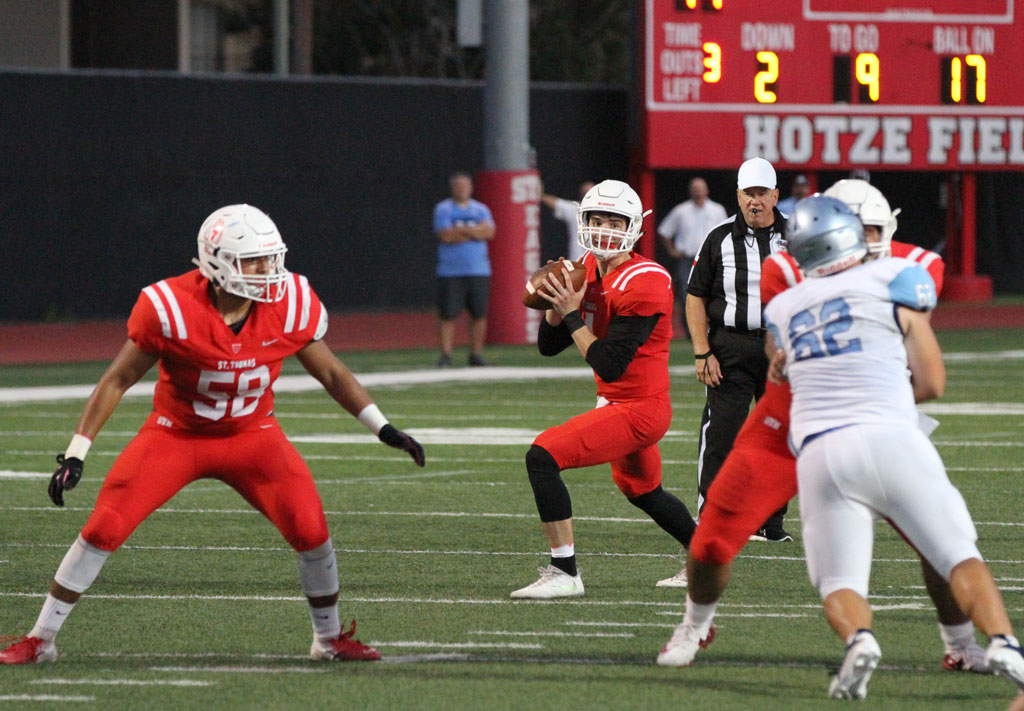 Without hesitation, McGuire rattles off reasons that Matocha "is as good a high school quarterback as any I have seen. His standard of play as a senior, especially during our second-half surge (five wins in seven games) was comparable to guys who have gone on to play in Power 5 conferences. He showed great progress in reading route progressions … touch on the deep ball … accurate in the precision routes … scrambling out of pressure … limiting the hits … understanding the zone read. He did it all. And he was a presence within our locker room … fearless with great internal confidence … and that belief extended to his teammates. Peyton is the total package … ability, charisma, enthusiasm."
In his first two varsity seasons, Matocha racked more than 3,000 passing yards with 27 touchdowns and nearly 900 rushing yards with 10 touchdowns. Now he applies his full fixed focus to the future, the next stage in continuing his career wherever that opportunity best presents itself.
Previously Eagle Football standouts Parker White '13 (2012 Lineman of the Year), Joseph Lowery '14 (2013 Lineman of the Year), Charlie Vatterott '16 (2015 Lineman of the Year) and David Jones '16 (2015 Ironman of the Year) received Touchdown Club distinction.
Eagle Fight Never Dies!