Patrick Ryan '99 has been selected by Sports Business Journal for its prestigious Forty Under 40 Award 2019, an annual list of 40 executives recognized for excellence and innovation in their careers, all before the age of 40.
Ryan is honored among a select group representing a broad cross section of the sports business field, bringing an entrepreneurial spirit to their work in media; at leagues, teams and colleges; as agents; with corporate partners in technology, ticketing and finance; in marketing and sponsorship; in e-sports and in new sectors such as sports betting.
Eventellect co-founder Patrick Ryan is one of the most influential ticketing executives that most fans don't know about.

While most of their attention is typically focused on favorite teams or major ticketing companies such as Ticketmaster and StubHub, Ryan and Houston-based Eventellect have quickly and quietly built a powerful position within the sports industry.

Working with dozens of teams, Ryan has become a trusted resource on ticket distribution, pricing, sales strategy and inventory management, in effect becoming a key source of best practices around the industry.

"We've seen teams lean on us and seek our guidance beyond just the secondary market, and that's allowed us to pollinate best practices in a unique way," Ryan said. "We're being leaned on for ideas, and the result is that we've begun to engage in what I consider true consulting relationships. And that's because our goal remains to supplement and complement what the teams are doing themselves."
Ryan and his fellow class members will be celebrated April 4 at Monarch Beach Resort in Dana Point, California, an annual gala saluting outstanding young executives and their accomplishments.
In a brief Q&A for the 20th anniversary of Forty Under 40, Ryan shared with the Sports Journal …
Profession you'd most like to attempt: There is a lot of opportunity for disruption and advancement in the world of buying, selling and collecting baseball cards. Many of these cards are true investment grade commodities, but a real trading platform hasn't been launched (yet).

Guilty pleasure: Going on eBay and negotiating deals for PSA 7 graded cards of players from the 1950s as well as PSA 10 rookie cards of players from the 1980s (cards are professionally graded and authenticated by the publicly traded company Collectors Universe).

Something your friends would consider "so you": Spending the first part of an evening organizing baseball cards before spending the second half of my evening at a Jay-Z concert.

Could not go a day without: Email.

Sports industry needs to do a better job of … : Asking fans age 20-30 short and quick questions about what they want in order to attend more games.

Ideal day off: I think like everyone else on the list there hasn't been a day in the past 10 years where we didn't do at least a little bit of work every day. So it may be interesting to spend a weekend with no connectivity whatsoever (so long as I have time to prepare/plan).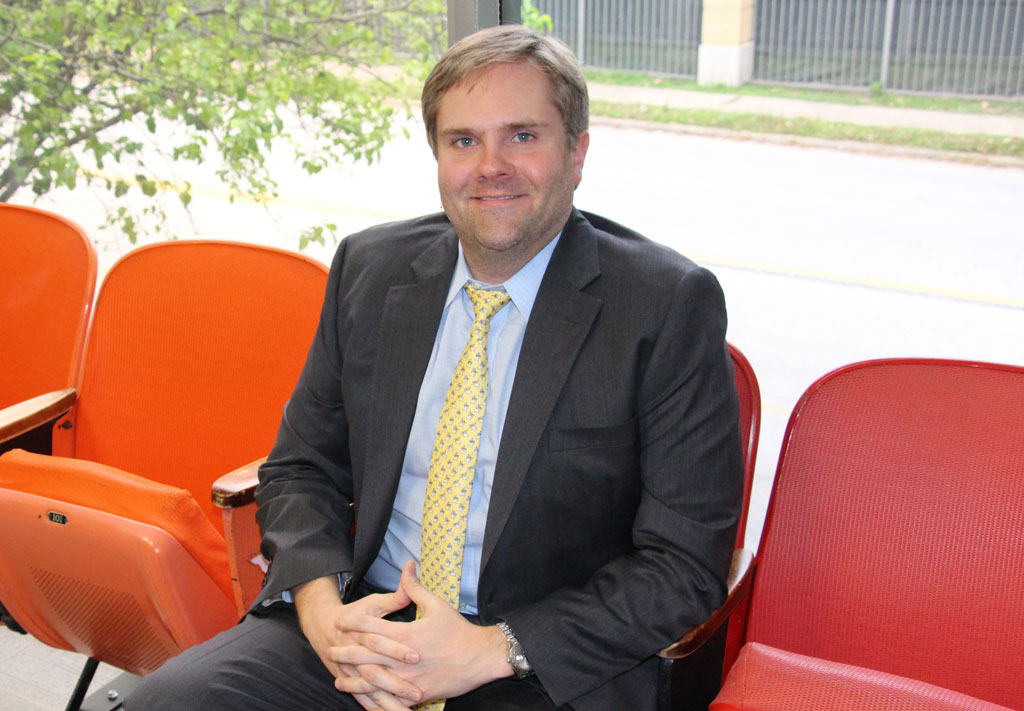 Ryan was the focus of a Eagles' Nest Winter 2016 feature that detailed his business launch, prominent role in establishing the Silver Spur Alumni Association as an undergraduate at the University of Texas, and the value of his St. Thomas experience that proved meaningful in helping him establish the firm foundation for his profound professional success.
Catholic. Basilian. Teaching Goodness, Discipline and Knowledge since 1900.