For nearly two decades the St. Thomas campus community has remained steadfastly committed to short-term student mission trips that collide with long-play social justice.
Eagle scholars devoting a second consecutive spring break to aid the under-served in Honduras delivered an authentic re-connection with children and a community in need. The undeniable goal was supplying sustainable growth and restoring dignity.
Most striking to foreign language dean and mission organizer Danny Hernandez '08 was again the decisive display of the St. Thomas group living the Basilian motto that has served as the institution's divine compass for more than a century – Teach Me Goodness, Discipline and Knowledge.
"What I cherish about these efforts is the outpouring of our Basilian DNA," Hernandez says. "This is the tangible impact of goodness. Every day in the academic year I focus on knowledge and discipline. There are also spontaneous life lessons that emerge but goodness is never as clearly defined. I see that quality in our students throughout the mission trips and that's incredibly rewarding."
Hernandez again collaborated with Eagle fathers Rafael Garcia and Ed Cordes as the driving forces in leading 24 Eagle students representing diverse religious backgrounds to a region of unmatched aesthetic beauty buffered by the most unsavory of underbellies.  Honduras owns a decidedly dangerous identity with a long history of military rule, corruption and lethal crime which has rendered the country one of the least developed and most unstable in Latin America.
Garcia grew up attending the American school in Tegucigalpa before finishing his senior high school year in Jacksonville, Florida, then enrolling at Georgia Tech. He was exposed to a Catholic retreat center that doubles as a boarding school for abandoned and abused Honduran children. The loving enriching Casa Madre Teresa haven (approximately 45 minutes south of the capital city Tegucigalpa) advances education and prospects for future employment. Garcia has supported the facility financially for years and intrigued Cordes with compelling reasons to pair the passion with a St. Thomas pilgrimage. The two along with Hernandez agreed that maintaining the partnership that spawned 12 months ago was imperative.
"When you complete a mission as we did in 2018, there's often a promise to return to follow through on that experience but rarely is that promise fulfilled for a wide variety of practical reasons," Hernandez says. "Rafael, Ed and I were adamant for our Honduras brothers to see St. Thomas reaffirm that relationship. It tells the people that we deeply care. And we felt so much genuine joy from them in response to that dedication."
Routinely more than 60% of the nearly nine million Hondurans live in poverty while more than 40% exist in extreme poverty, many in rural areas, outside of the two most populous cities, Tegucigalpa and San Pedro, where farming is the main source of income and survival.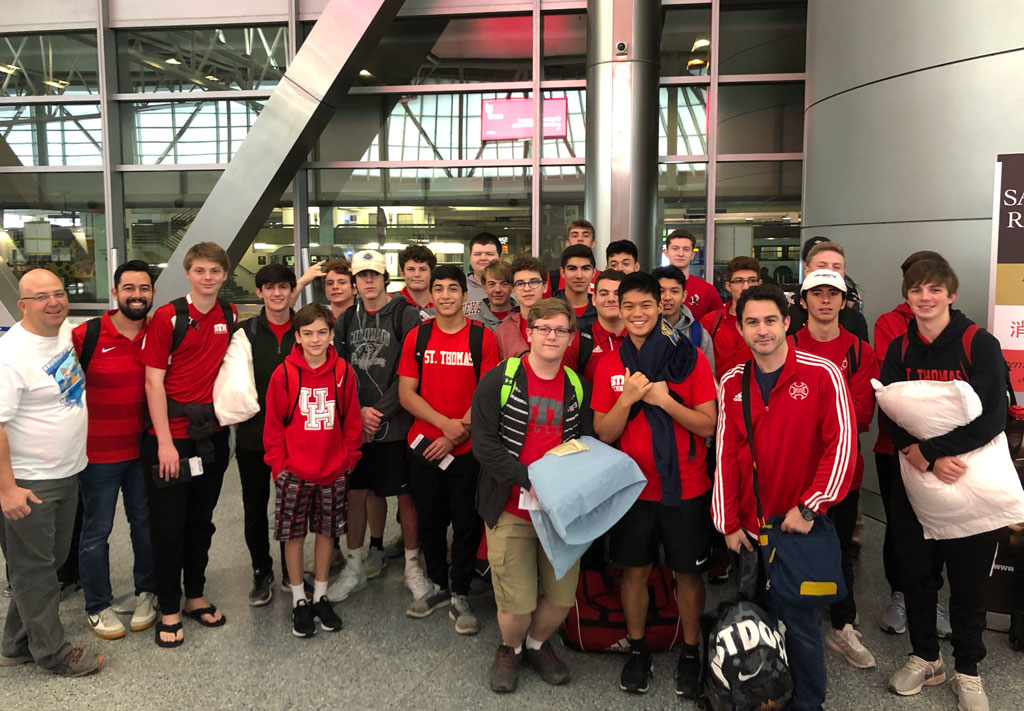 The St. Thomas contingent which included faculty member Dr. Marino Segura arrived fully aware of the country's social upheaval and economic inequality. They were emphatically and warmly welcomed back – a culture clash united by faith and purpose, communal meals and bilingual interaction, work and recreation, harbored safely where the division of language, history and lifestyle was immediately dissolved.
"Last year St Thomas built a bond which transcended the projects we accomplished," Cordes says. "This March the Honduran students were thrilled that their friends had actually come back to spend another week. The greetings were from the heart. That reunion with the students and staff made the stay even more special."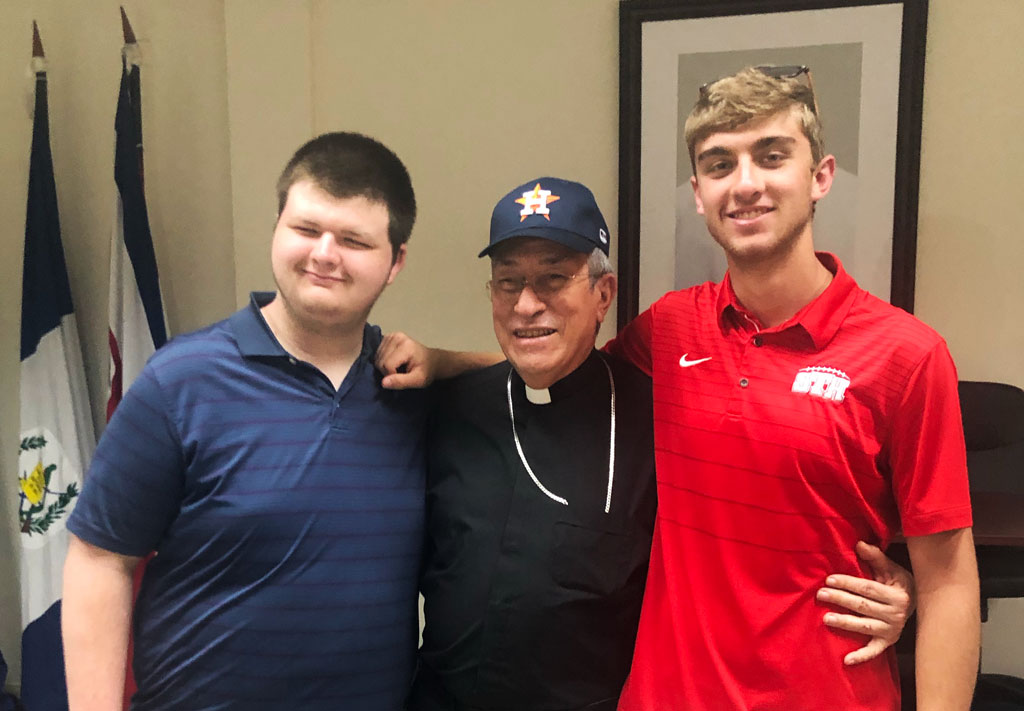 Among the half dozen returning student leaders were Cordes' son,  John '19 (family members of All Saints Catholic Church in the Heights), and John Lucas '20. The two have made humanitarian relief a way of life.
"The last two years have been eye-opening experiences that I believe will affect me for many years to come," says Lucas who enrolled at St. Thomas from St. Helen Catholic School in Pearland.  "You learn not to take what you have for granted, that you're blessed and that there's so much you can do to help people who are less fortunate. It's a true motivator to take action. I feel as though I have left a part of myself in Honduras and have brought a part of that community back home. I think about those children all the time, the challenges they face every single day, and I pray for them."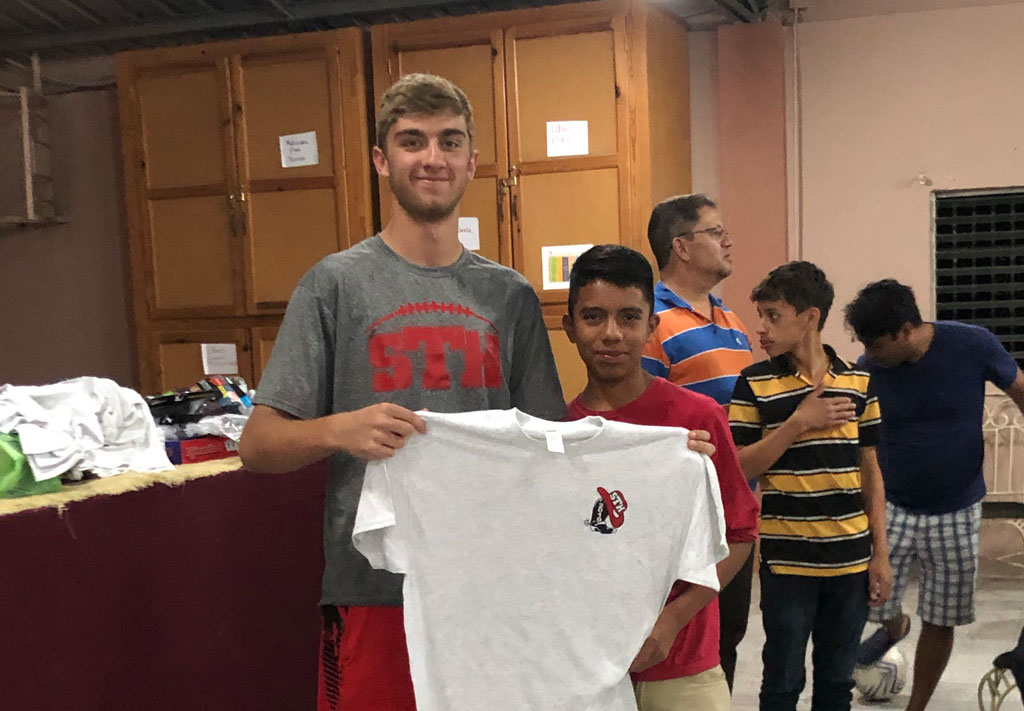 Cordes was introduced to mission trips during his freshman year and a Habitat for Humanity activity in North Texas. He readily admits that his prime incentive  to participate was to rack service hours and help fulfill the mandatory St. Thomas requirement. He then quickly discovered the value of "reaching out and helping people."
In 2017 he was part of a St. Thomas visit to Cuba, an educational and cultural exchange that placed a priority on just talking to people, extending kindness and sympathy to other human beings.
"I think I've always appreciated what I have, the advantages, graduating from St. Thomas and now preparing for college," Cordes says. "But the missions have caused me to reflect and be even more grateful for what I've been afforded. I don't have to work fields every day just in order to eat. I really found a connection with the people in Honduras and looked forward to going back."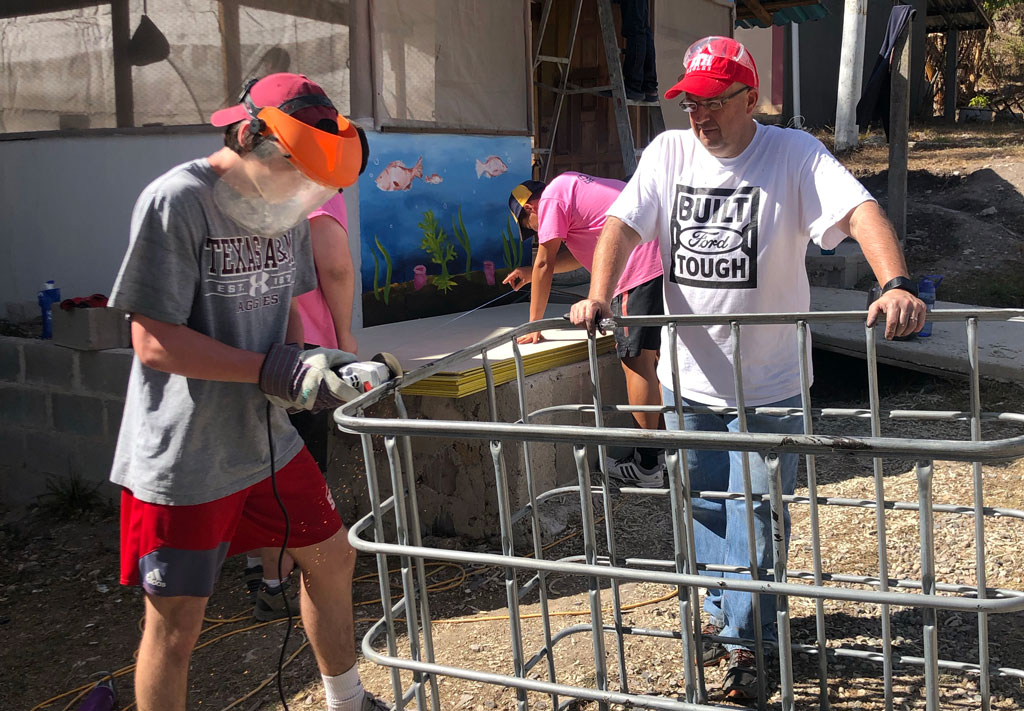 Ed Cordes believes that "joining John the last two years in Honduras has provided me with a precious week without technology, work or academic distractions. Caring for the well-being of others and advancing science are obviously essential … and so is spending quality time and working closely with my son to achieve something important."
That measurable is most clearly calibrated as contributing to an immediate and permanent difference in the lives of those in need, delivering manpower and construction assistance, building materials, tools and expertise (Cordes is the leader of the Science + Technology practice for acclaimed architecture and design firm Perkins + Will).
The latest Friday-Friday excursion to Tegucigalpa included a dicey landing at Toncontin International Airport, one of the most dangerous in the world due to short runways and proximity to mountainous terrain.
Saturday was dominated by a substantial planting of king grass that will furnish a natural wind barrier for crops. Next were four full labor-intensive days expanding the aquaculture projects that were established during the initial St. Thomas involvement.
Aquaponics is a neologism that combines water-based planting and fish cultivation for an alternate way of growing a recurring food supply, leaving earth – that is, dirt – behind.
The 2018 St. Thomas group created an aquaponics pond stocked with tilapia. What feeds the crops is recirculating water from the mega-gallon tanks and the waste generated by the fish. The pond itself fertilizes the growing farm, making the entire project a complete ecosystem.
"The students are involved in truly an immersion experience," Hernandez says. "They embraced the needs of the community … what was similar rather than what was different.  There were no charter companies and scenic tours and posh hotels. They accepted the simple things in life … a hot shower after a long day shoveling, digging and lifting . No television … no WiFi … no streaming … nothing on demand. But there was the pleasure that can be driven from a late afternoon soccer match after an exhausting day farming or building. There was the revelation that it doesn't take so much 'stuff' to make you happy."
The stay included Sunday Mass at the Basílica de Suyapa, an evening enthusiastically sharing in a meal of pupusas (the traditional breakout dish of thick tortillas typically filled with cheese, herbs and meats), and a meeting with Cardinal Oscar Andres Rodriguez Maradiaga of Tegucigalpa, whose nephew attended St. Thomas with Hernandez.
"We couldn't have been received more graciously," Hernandez says. "Marching bands, performances, food and full activities. It was overwhelming."
John Cordes will study next year at Creighton University ("accounting or a science curriculum"), a decision partially based on the strength and depth of the school's volunteer options particularly with at-risk populations. He has already made contacts within the program who coordinate the many outreach projects to facilitate his involvement.
Ed is predictably proud yet humble in equal measures when he says he recognizes "John's leadership and ethic. I know the mission trips have had a pronounced effect on him and provided all of our sons with a unique opportunity to not only understand how fortunate their lives are but also how rewarding reaching out to others can be. Seeing the dedication of these students has absolutely confirmed my steady belief in the spirit of St Thomas.
"The week was exhausting but we accomplished something meaningful. The friendships gained through shared work, meals, bonfires and conversations have inspired me to begin planning a third trip for next year."
Eagle scholars attending the 2019 mission trip to Honduras included Cordes, Alexander Arellano '19, Gabriel Lenz '19, Cole Letlow '19, Seth Macias '19, Brendan Murray '19, Matthew O'Connor '19 and Nico Pivnik '19 … Lucas, Carlos Copello '20, Isaiah Garza '20, Sam Gentle '20, Spencer Kryger '20, Adrian Marquez Avila '20, Daniel Ostrom '20, David Steffes '20, Hunter Stewart '20, Colin Tabrizi '20, George Varcados '20 and Alexander Wise '20 … Aidan Bierman '21, Alexander Kinsel '21 and Kamal Zeidan '21 … and Alexander Ostrom '22.
Catholic. Basilian. Teaching Goodness, Discipline and Knowledge since 1900.