One of the wittiest of American musicals, Guys and Dolls remains a rich classic that never skimps on wit or charm, an indelible gem from Broadway's Golden Age.
Yet St. Thomas Theater Director Dan Green was wise to how his Spring 2019 Musical would be interpreted in the now and presented a masterclass that could be called How to Make a Vintage Production More Accessible to Modern Audiences.
This show about a Save-a-Soul Mission that wanted "to do good on Broadway" burned brash, bright and adorable at Cemo Auditorium – a funny, gaudy, dance-happy revival featuring modern twists on exaggerated expressions and sweeping gestures.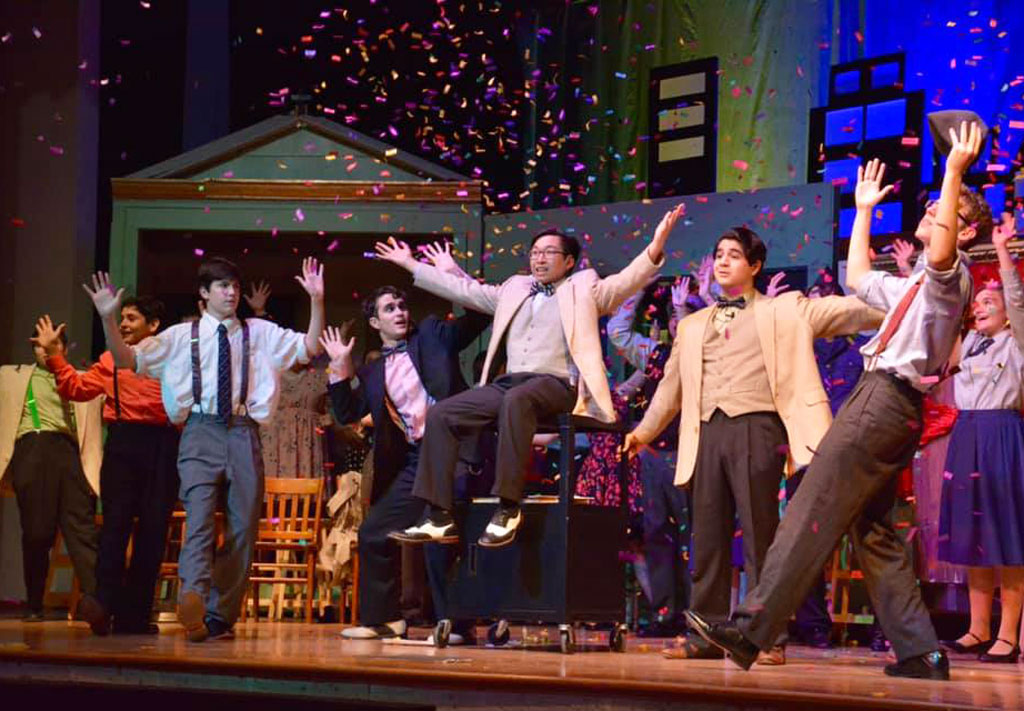 "The character movement and presentational theater were larger than life," Green said. "It took some intense rehearsal to get it right but once our actors reached that full understanding, they did it beautifully."
The production resuscitated and made relevant for the Netflix generation streetwise denizens created by newspaperman Damon Runyon – louts, touts and their dames, petty thieves, gamblers and grifters with names like Benny Southstreet (Dante Segura '19), Rusty Charlie (Jacob Lara '19) and Nicely-Nicely Johnson (Daniel Tran '19).
This was a New York underbelly and chivalric Broadway underworld ("in the devil's own city on the devil's own street") with a double dose of dolls ultimately seeking to save their guys and woo them from their degenerate ways.
In one corner was high-rolling Sky Masterson (Carl Collins '19) dating pious Salvation Army officer Sarah Brown (Caitlyn Gilliam, St. Agnes Academy '20). And in the next, nightclub queen Miss Adelaide (Suzanna Marbach, Incarnate Word Academy '19) was paired with lovable scoundrel Nathan Detroit (Daniel Griggs '19), proprietor of the oldest established permanent floating crap-game in the five boroughs, much to the chagrin of his long-suffering fiancee of 14 years.
These were the couples and citizens of Runyonland where trickery turned into love, lies led to marriage and comedy ensued.
Musical director Josh Wilson infused verve and energy that saturated the senses with a nonstop hit-parade of songs from Frank Loesser that included "Luck Be a Lady" and "Sit Down, You're Rockin' The Boat."
The leads proved all aces and pumped out more winners than hot slots. In the roles made famous by Marlon Brando and Frank Sinatra in the 1955 film, Collins commanded both the presence and magnetism that truly elevated the Masterson character skyward. His smooth dance moves, unending charm and easy smile resulted in the audience's ability to disapprove of his actions but adore the person nonetheless.  Griggs proved endearing as the ever-scheming Nathan and neatly epitomized the anxiety-driven small-time hustler.  He was perfectly partnered by Marbach who supplied the yang to his yin. The gregarious anxious moll Miss Adelaide captured not just the comedy but also the pathos of a woman who realizes the proverbial clock tick-tick-ticking away.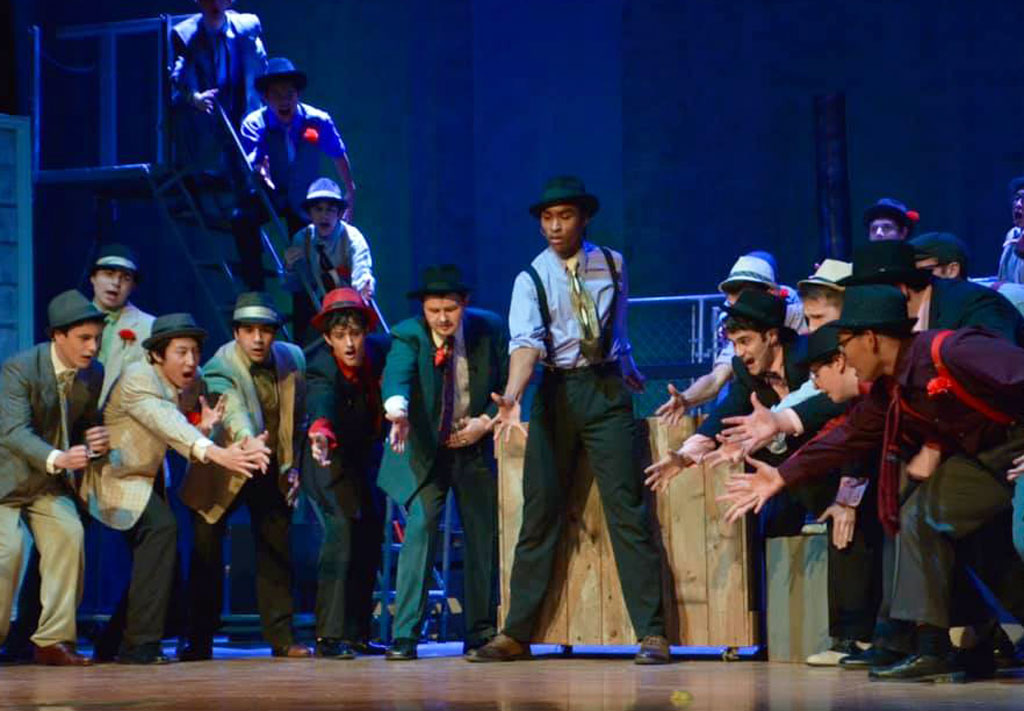 "It's always rewarding to take classic work and put your own mark on it," Collins says. "There are definite expectations of Sky because he's familiar and it's fun to play with it. I didn't really consult previous videos … wanted to build primarily from the text … brought some grit to that character … more of a contemporary spin."
Green says with Griggs "you have an actor with great heart. He's constantly searching for ways to be amused by the story he's telling himself. I need that component in a comedian … tells me he cares that what he's relaying to the audience is interesting."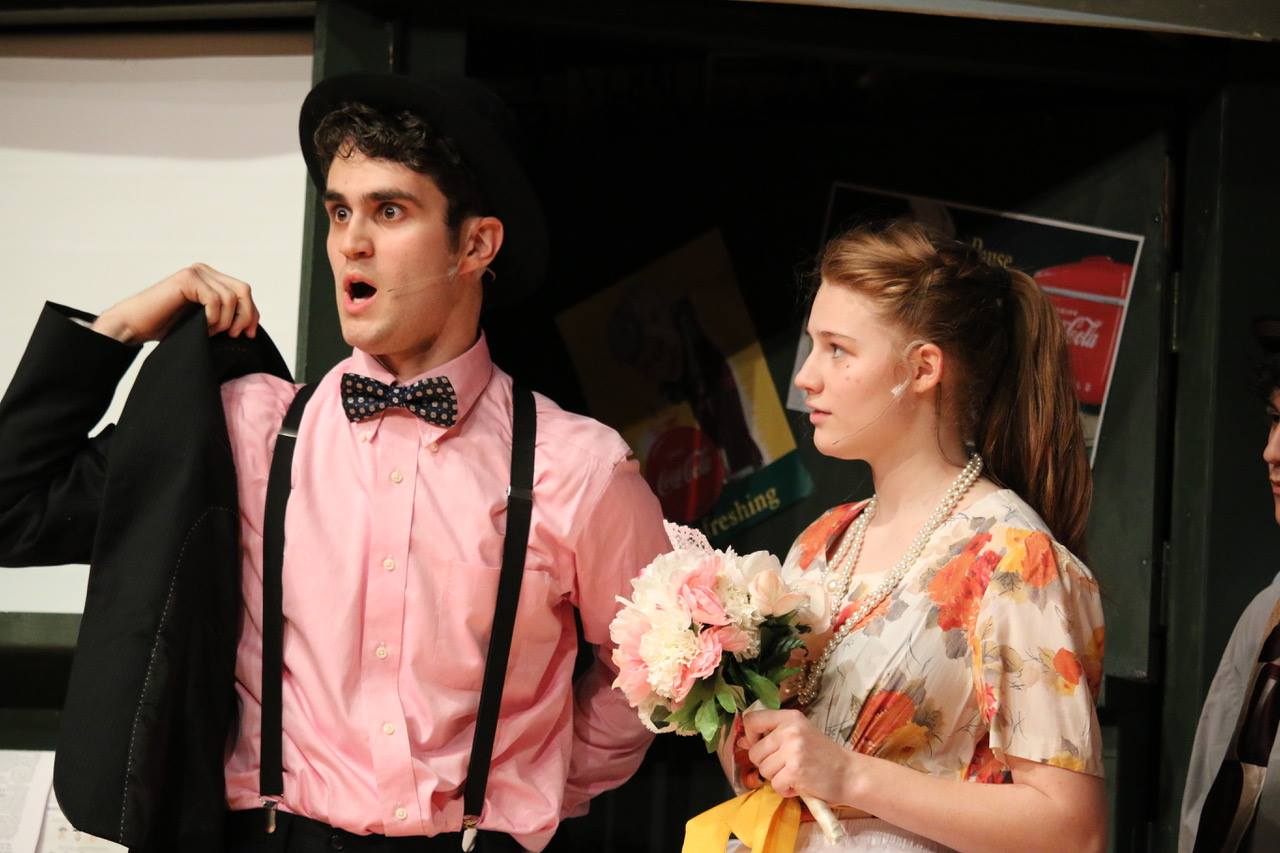 "The frantic nature of Nathan was most appealing to me," Griggs says. "He was trying so hard to make the world work when it wasn't. The relationship with Adelaide shouldn't have worked. And it did. There were lessons learned that apply to 2019. Women trying to change men and men not wanting to change but once they do it's all for the better."
The outstanding choreography of Iris Lacsamana and faculty member Elizabeth Schaeperkoetter was a seamless melange of ballet, jazz and modern that dovetailed with Green's burnished direction in  steep collaboration with Teresa Stranahan.
Faculty members Phil Gensheimer and Dan Bryant '93 teamed with St. Thomas Chief Engineer Duane Fuchser to design and construct a dynamic and colorful set which perfectly complemented the bold lighting choices from Ben Haworth and audio/visual coordinator Chris Hodge. The bright, gaudy and natty costumes defined each character and added a significant boost to every scene.
Beginning with his first school production in 2003, The Caine Mutiny Court-Martial, the litmus test for Green is always "the one or two moments when you know you have something special. Collins and Gilliam were singing beautifully from the beginning. The choral arrangements were top shelf. But would be punch the humor? Then during rehearsals, Tran improved a perfectly timed exchange with Segura absolutely appropriate within the characters. And most importantly Tran gave away the punch line. That's when I realized we had it. This was going to be a good show."
Griggs and Collins consistently held the stage with ease in old-style, over-the-top Broadway performances that often declare an actor a very big theater star. The execution was made all the more impressive given the stark contrast to their roles in the Fall 2018 production of Frankenstein when Collins portrayed the Creature and Griggs the role of Frankenstein's friend and accomplished surgeon, Henry Clerval.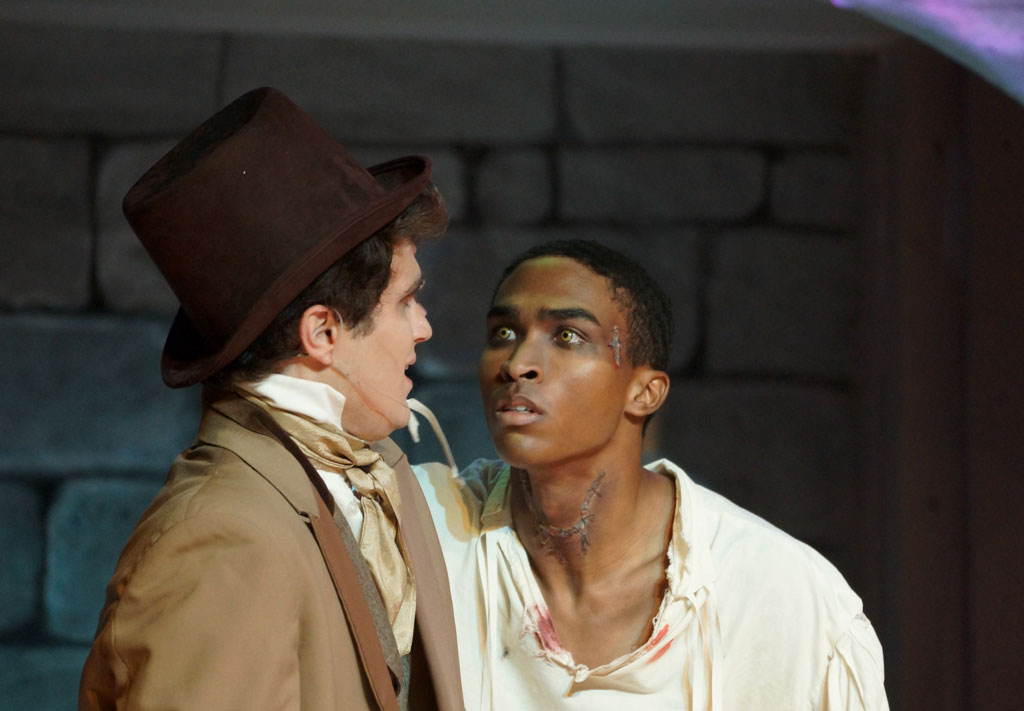 "That's a tribute to the theater program here at St. Thomas, to have such diverse opportunities, and to be able to work the process as an artist without inhibition," Collins says. "There was plenty of room for me to fail as the Creature and the same with Sky but you have to explore and step out of yourself … strip the insecurities. Frankenstein was actually the most comfortable I've ever been on stage and that experience was invaluable in moving on to Guys and Dolls."
Green believes the ethos within the department is forever about "challenging the student-actors. Once I see that they are successful in one genre, let's flip it and see how they react … from Gothic to slapstick vaudeville comedy. Stretch and test performers … have them enjoy not knowing the next step and discovering the direction of where characters are headed."
Green has established an expansive program emphasizing a comprehensive knowledge of every aspect of the process, from acting to directing to stage management, with the experience coming together to collaborate.  At the bedrock of the steady streams of success is fostering talent and inspiring dreams, nurturing aspiring thesps to follow in the accomplished footsteps of previous St. Thomas stars.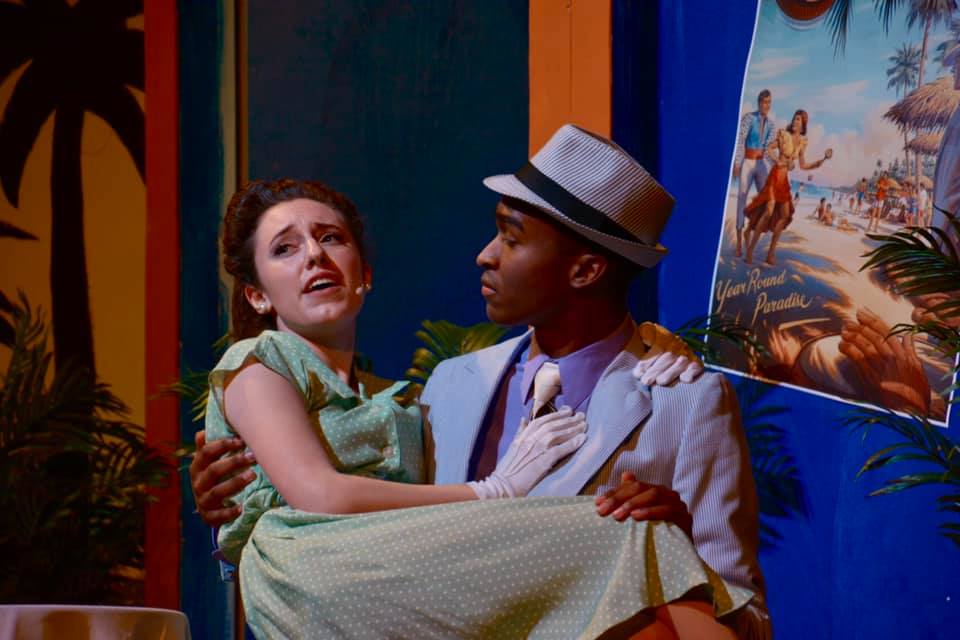 Collins will continue his acting at The Theater School at DePaul University in Chicago. For three years through six St. Thomas productions, he and Griggs delivered tenacious work ethics and what Green calls "great capacities for precision." The rise from supporting to commanding was firmly rooted in equal measures due diligence and delayed gratification.
"My sophomore year in 12th Night, I was a sailor, a musician and a soldier," Collins said. "My only line was 'hut.' And I said it about 30 times. The process is very humbling. But it supplies the necessary foundation. And when I leave St. Thomas for DePaul, the cycle will continue. I'll go back to ensembles, the stage manager roles, understanding why that is so necessary."
Griggs also debuted in 12th Night as a sailor and an understudy for the Sebastian role. "This program absolutely demands commitment before moving into more prominent positions. If you love acting, you learn to love the process. I believed (as a sophomore) I was ready to play Gomez in The Addams Family Musical. But then I quickly saw the reality … there was no way. There's great satisfaction when you are properly prepared to move it forward."
For Green, the sustaining culture is simply about "helping the actors get past the hurdles they're facing to get to the next level. And more often than not, the next level is the next audience. We try to keep everyone in the moment … reviewing and editing … hyper-critical of ourselves in a productive manner because we care about improving … every line, every scene, every show, every year."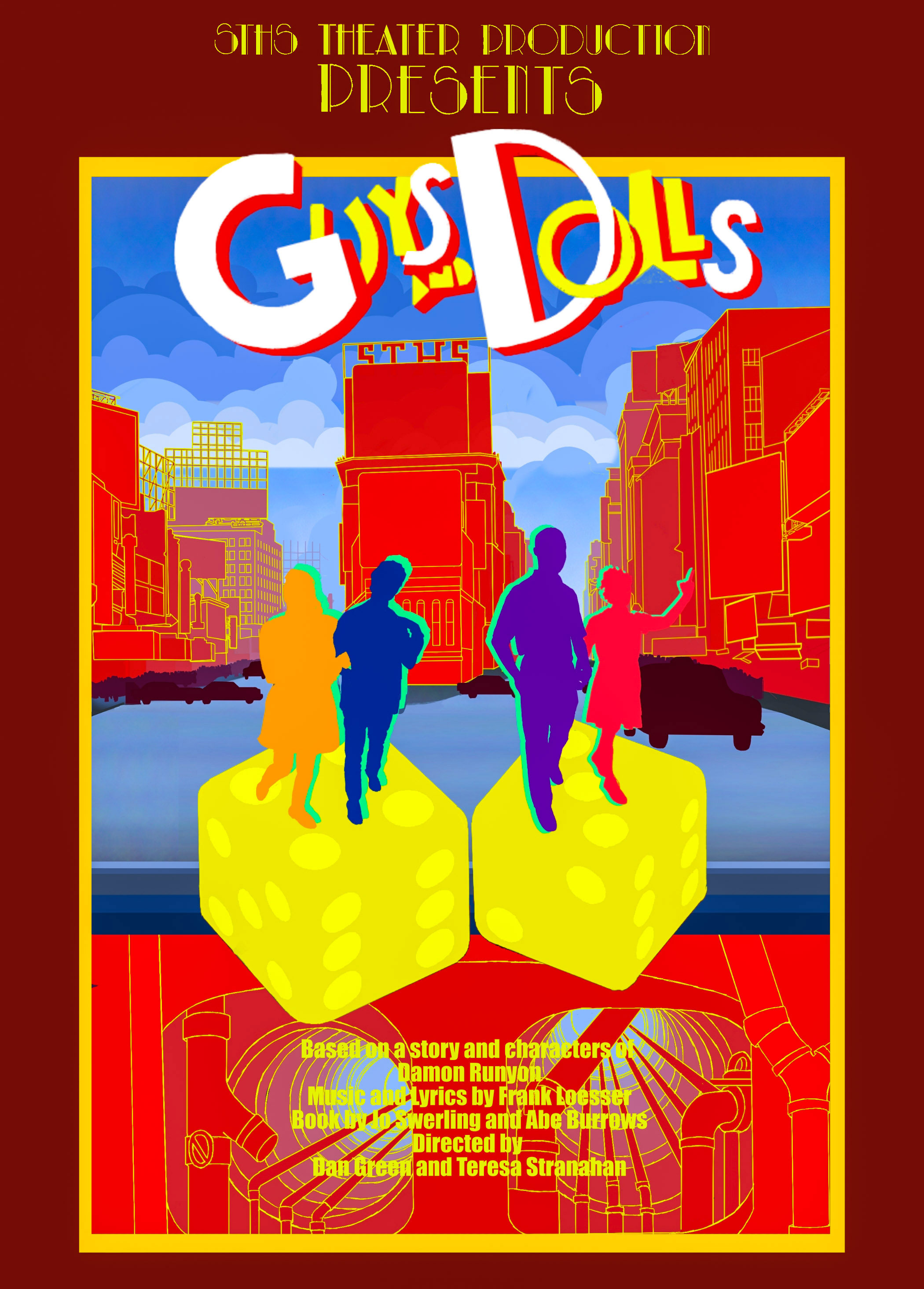 Catholic. Basilian. Teaching Goodness, Discipline and Knowledge since 1900.