The St. Thomas Academic Awards Assembly is an annual celebration of significant academic achievement, a tribute to scholars preparing for a life of purpose and continual exploration.
"This is a joyous occasion where we share in the amazing accomplishments of our students," said principal Dr. Aaron Dominguez '96. "Our administration and faculty are extremely proud of the range and depth of their many accomplishments. We are inspired by their dedication and perseverance. This testament to their talents also continues our upward trajectory as a premier college preparatory institution in the city, the state and region."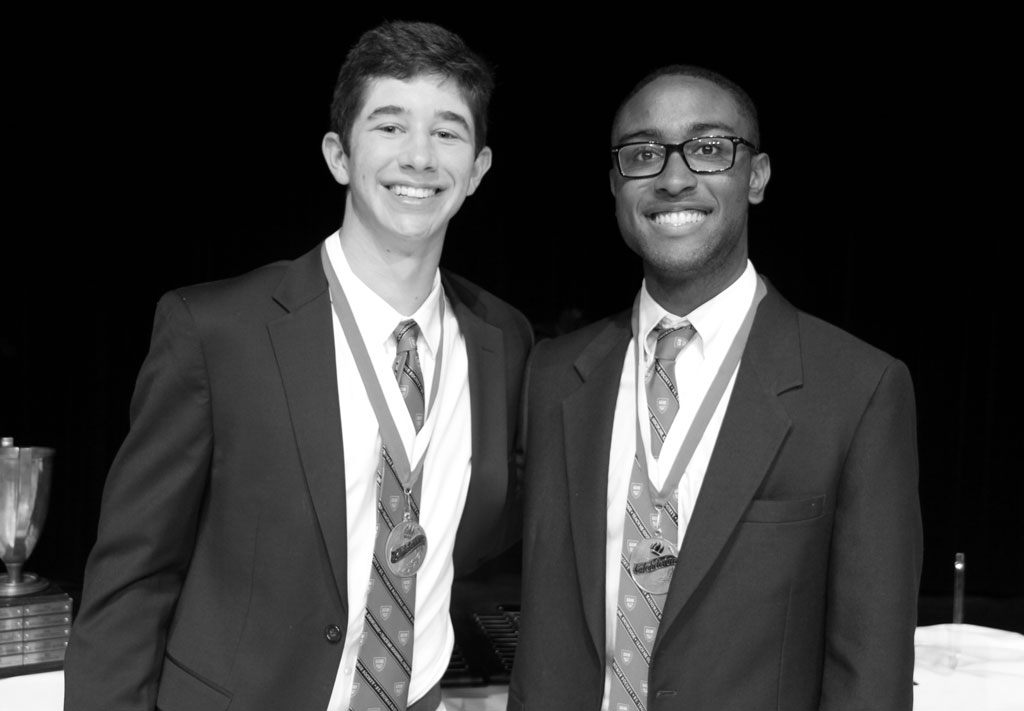 One hundred and fifty-eight acclaimed scholars were recognized, led by valedictorian Kellin McGowan '19 (right) and salutatorian Tuscan Savarino '19, the highest ranking members of their class based on the calculation of their four-year grade point averages.
Savarino graduates as the president of the St. Thomas chapter of the National Honor Society and a multi-sport scholar-athlete state champion. He is next considering the University of Texas-Austin and the United States Air Force Academy.
McGowan (NHS secretary) will enroll at the University of Chicago to pursue an emphasis in political science with designs on attending law school.
The two joined Armando Amador '19 (NHS treasurer), Jarrod Brown '19, Joseph Chavez '19 (NHS vice president), Hunter Henderson '19, Gabriel Lenz '19, Angel Sosa-Yanez '19 and Maxwell Voltz '19 in gaining permanent membership into the prestigious St. Thomas Club – elite students with a minimum 4.0 grade point average for seven consecutive semesters.
Previously the National Merit Program acknowledged Amador, Chavez, Brandon Jackson '19 and Plato Pappas '19 as National Merit Hispanic Scholars and awarded Griffin Wilkins '19 with a Letter of Commendation acknowledging exceptional academic promise.
Select accolades were again reserved for four Eagle scholars who not only excelled in a rigorous college preparatory environment but also separated through a civic identity beyond campus.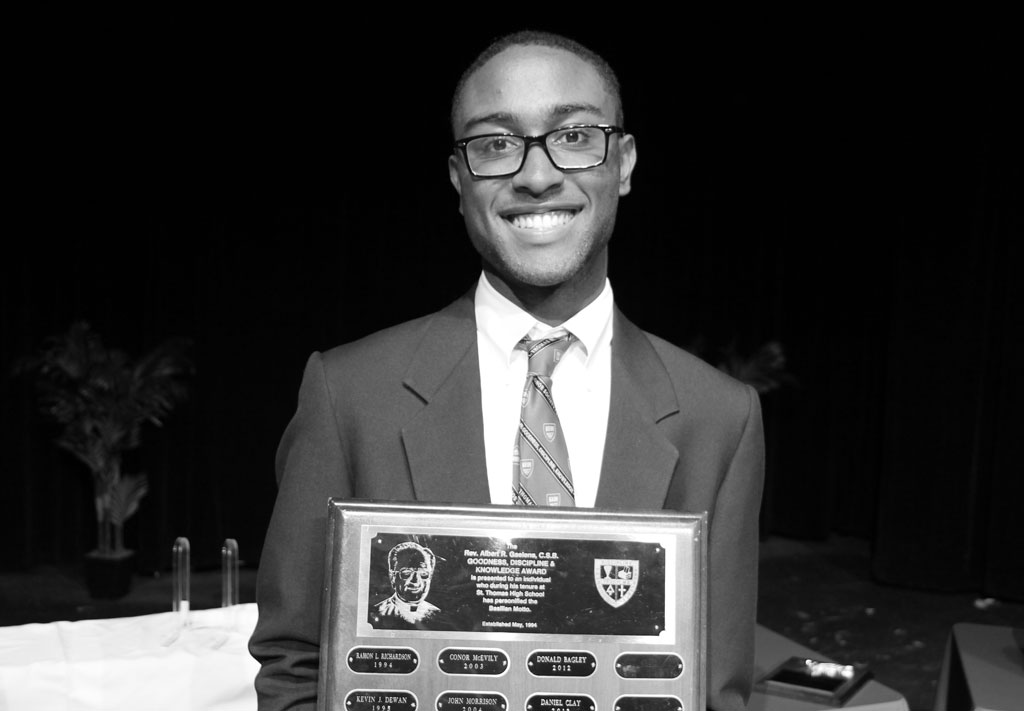 McGowan was selected for the Albert R. Gaelens Award, given to the senior student who best embodies the school motto of Teach Me Goodness, Discipline and Knowledge.
The GD&K Award is named for Fr. Gaelens, CSB, the 21st principal of St. Thomas who deeply served the school in a variety of capacities for a quarter century before retiring in 2007. Seniors are nominated by their peers for this distinction and the faculty then votes on those receiving the most nominations.
English faculty member Darrell Yarbrough described McGowen as "a superhero (with) a cloak of humility. You will never meet a nicer person. Jesus tells us that the meek will inherit the earth. This means McGowen will someday own it. But he is so nice, he will allow us to stay. His superpower is his lightning-fast intellect … not quite omniscient … but he invests so much devouring news, facts and the overall goings on in the world that he is close to knowing it all. We don't have to know everything – that is God's job. And Kellin McGowan is God's superhero."
For the first time the GD&K recipient was also granted the inaugural Fr. Ronald Schwenzer Goodness, Discipline and Knowledge Scholarship in the amount of $2,500, the financial stake generously funded by an anonymous former St. Thomas teacher in the spirit of the Basilian motto. Fr. Schwenzer, CSB was named in 2006 the first president in St. Thomas history after eight years as principal, working tirelessly to develop citizen scholars and leaders during his tenure.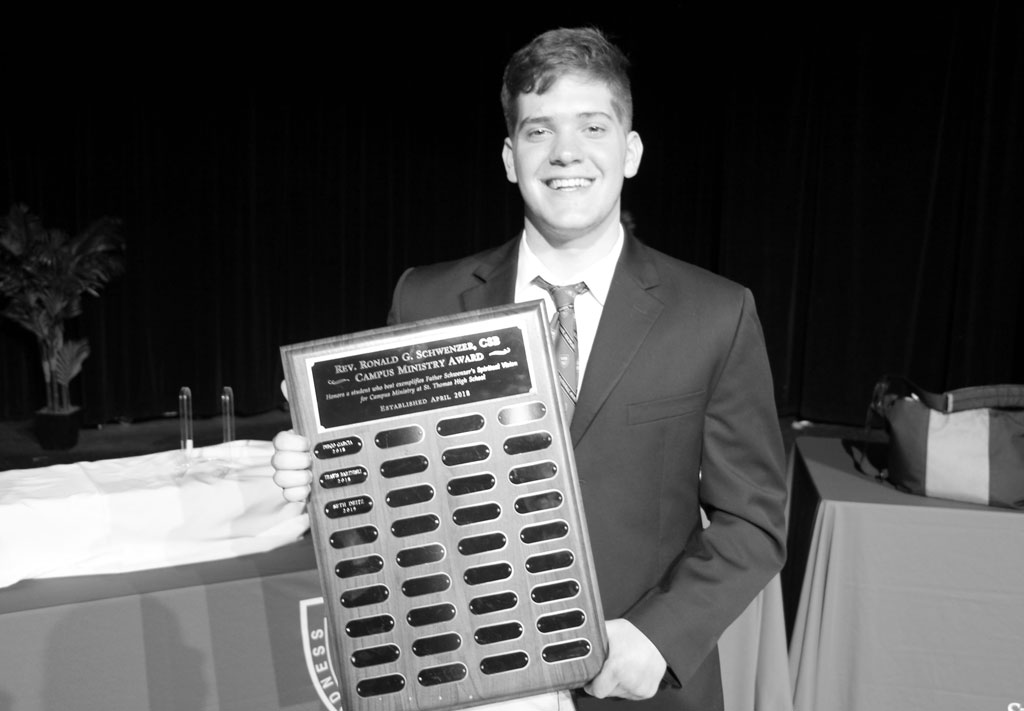 Seth Deitz '19 was given the Fr. Schwenzer Campus Ministry Award for most exemplifying the Man of St. Thomas motto of Faith, Service and Leadership. He was applauded for "consistently placing others ahead of himself … embracing those around him … with an attentive soul and caring heart … always eager to lend a hand to those in need with an eye for who may be struggling." Deitz plans to study psychology at Stephen F. Austin University.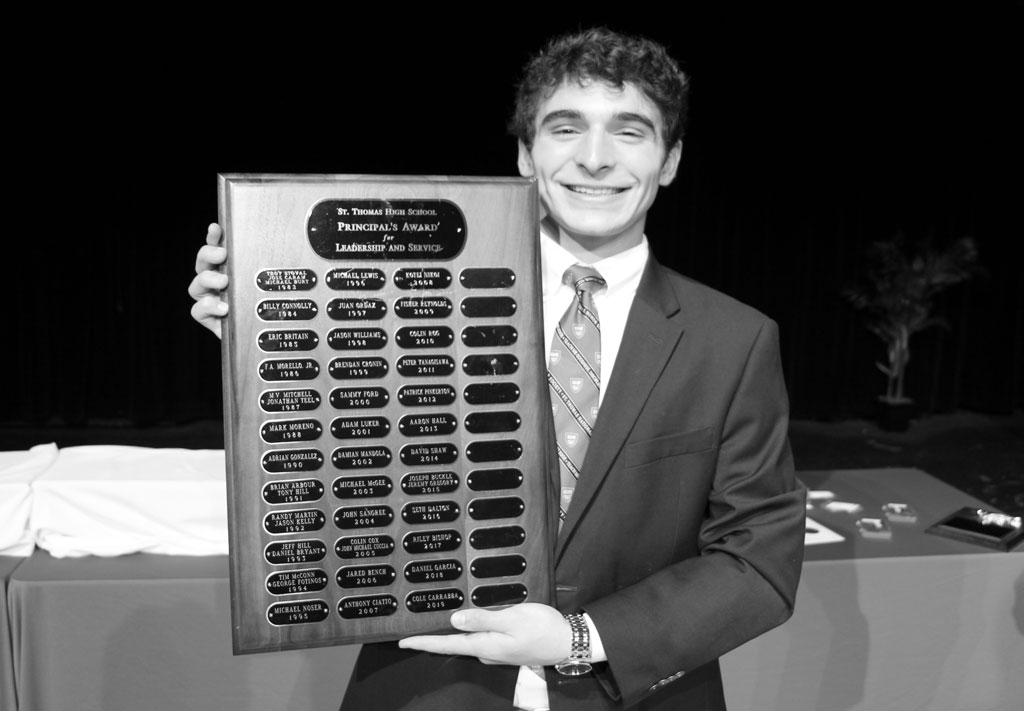 The Principal's Service and Leadership Award winner was Cole Carrabba '19, valued for the brand of integrity defined as "doing what is proper and appropriate even when no one is paying attention … consistently displaying humility and kindness to everyone he encounters … with enthusiasm, joy and a broad smile … and an uncanny charisma that is simultaneously sincere and warm … marked by an internal motivation for excellence." Carrabba intends to study geology at the University of Texas-Austin.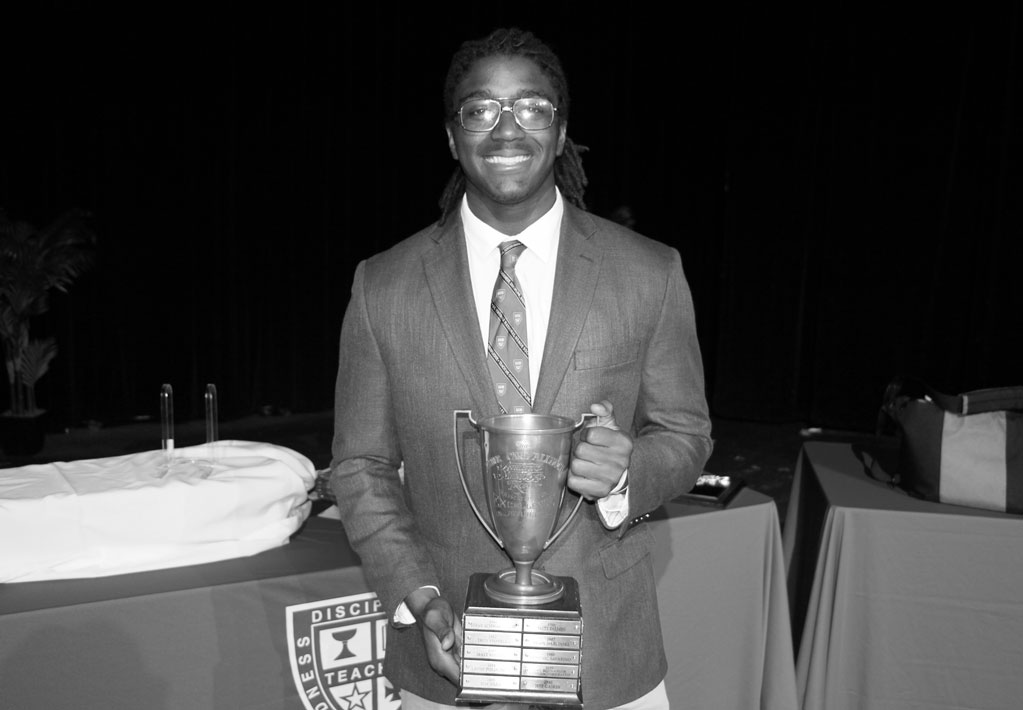 Ian Wheeler '19 was saluted with the Carl Mitchell Allnoch Athletic Memorial Trophy for Excellence in Academics, in honor of Fr. Allnoch, CSB, the 16th principal of St. Thomas. Wheeler followed Parker Rzasnicki '18, Sam Yeboah '17, 2016 TAPPS Male Athlete of the Year David Jones '16, Campbell Clarkson '15 and Joseph Lowry '14 as the most recent recipients.
Wheeler was a dual sport multi-year varsity letterman with academic all-state distinction. His sultan of smash-and-dash senior football season ended with 1,309 rushing yards and 15 touchdowns, plus 503 receiving yards and three scores. In 2018, he was a TAPPS all-state pole vaulter while contributing to multiple sprint events and was named the team's most valuable performer.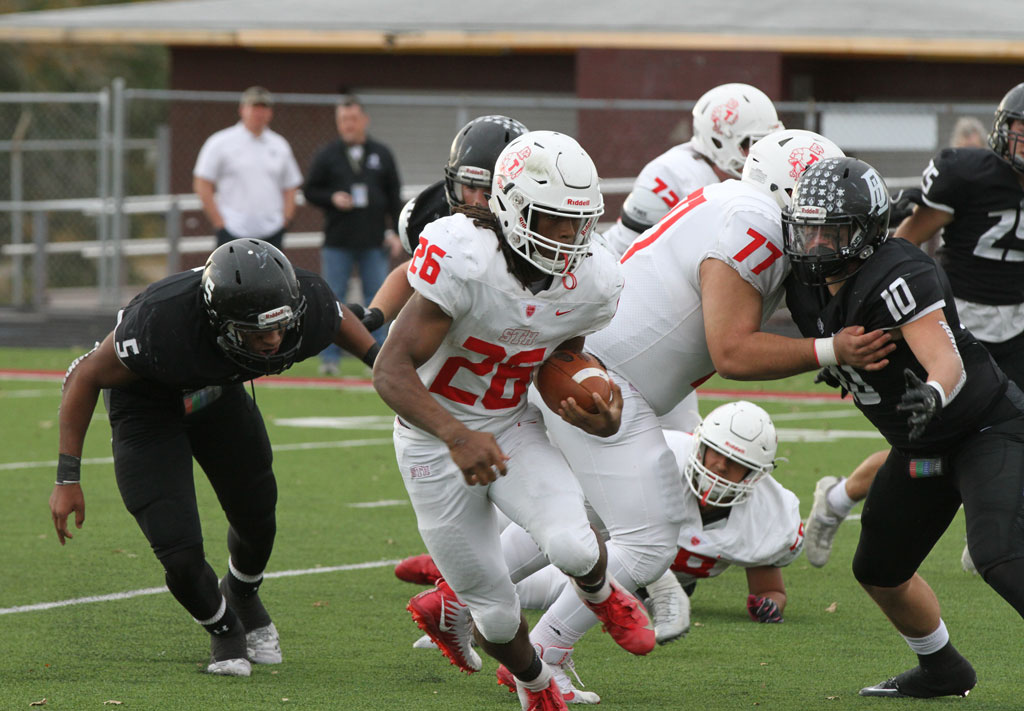 Wheeler was described as a student with an extreme sense of discovery who "remained unsatisfied after a long discussion … not necessarily to improve his grade but for his own knowledge. He has an insatiable appetite to be better … carries himself with an unflappable positivity … guided by a love for his family, his friends and fellow man … (qualities) that will serve him moving forward as well as any of his many other talents."
Catholic. Basilian. Teaching Goodness, Discipline and Knowledge since 1900.