The 2019 TAPPS state track and field encounter came equipped with a warning whether the competitors were operating with or without a mirror.
Objects are closer than they appear.
In particular, an undaunted band of Eagles lurking deep in the distance but on the verge of unleashing a fast and furious surge to the finish.
Inclement weather surrounding Midway High School's Panther Stadium forced officials to flip the meet's Friday script and postpone the field events to the back of Saturday's format. At a critical juncture St. Thomas trailed Dallas Bishop Dunne by a presumed insurmountable 89-29 deficit.
Unwavering head coach Nathan Labus proved prophetic when sizing a potential rally for the ages. "I knew we could put up 50 points from the field events and get our total into the 80s. But something special was needed for us to reach the 90s."
Something special emerged in the mammoth form of 6-1 260-pound Eli Carter '20 and his tag-team power partner Cooper Thomas '20.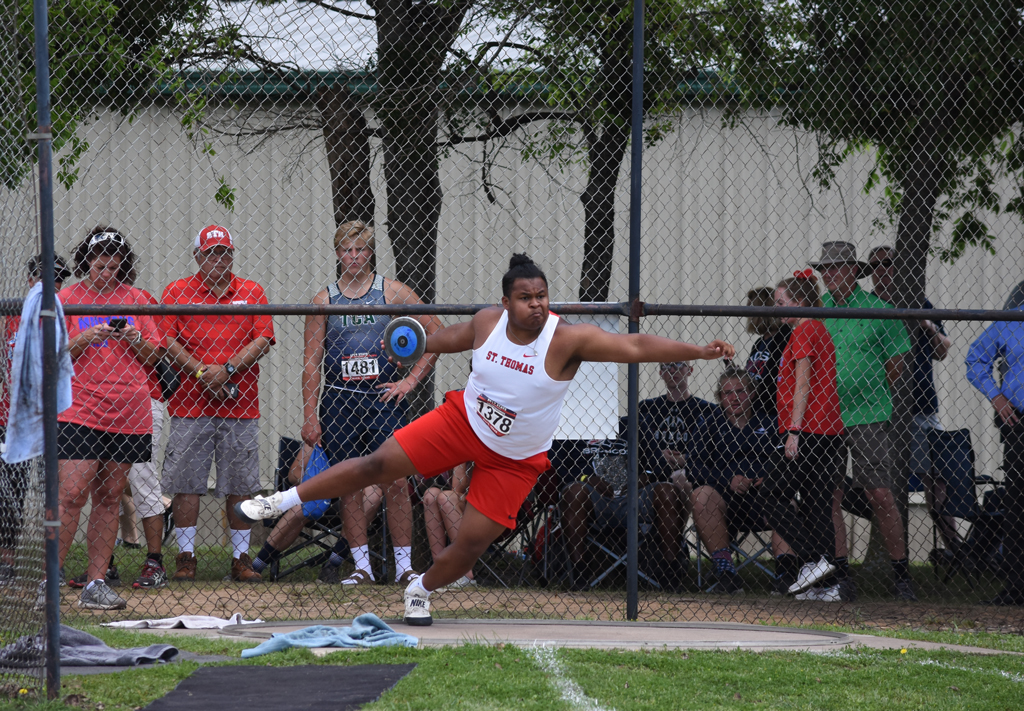 The seismic shift in the championship landscape began with Carter twisting, turning, hurling the discus 152-02 to stake first place.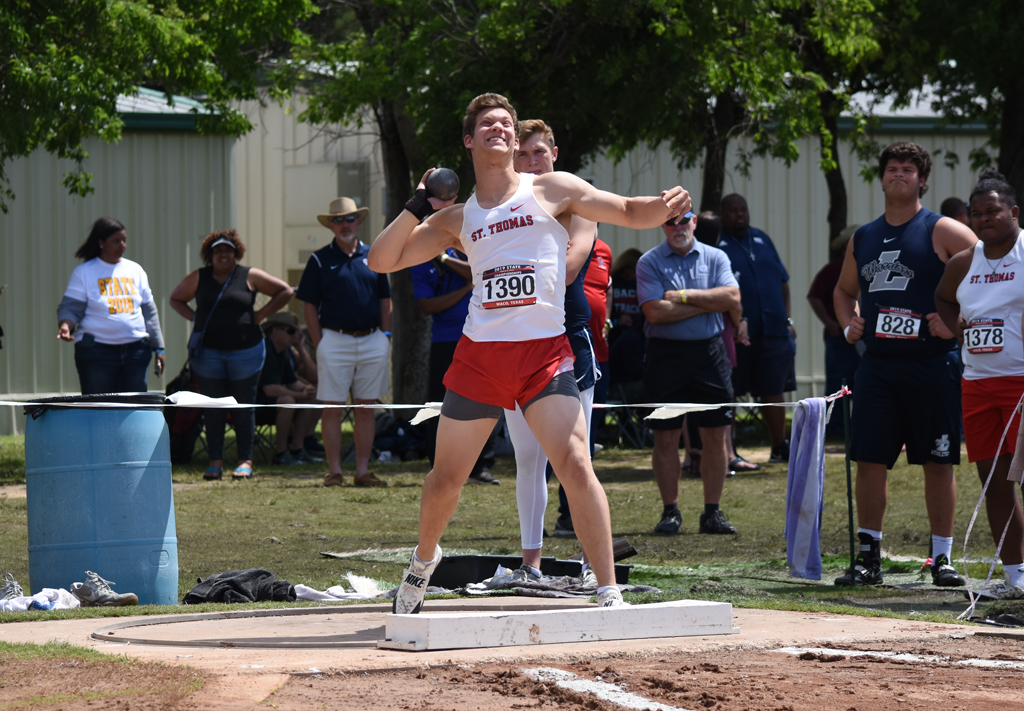 He and Thomas then stepped into the ring for a pair of shot puts heard all around Waco. Thomas was seeded eighth but promptly unleashed a personal record of more than four feet to 48-06.50. The shock and awe heave shoved him to an unexpected third-place result.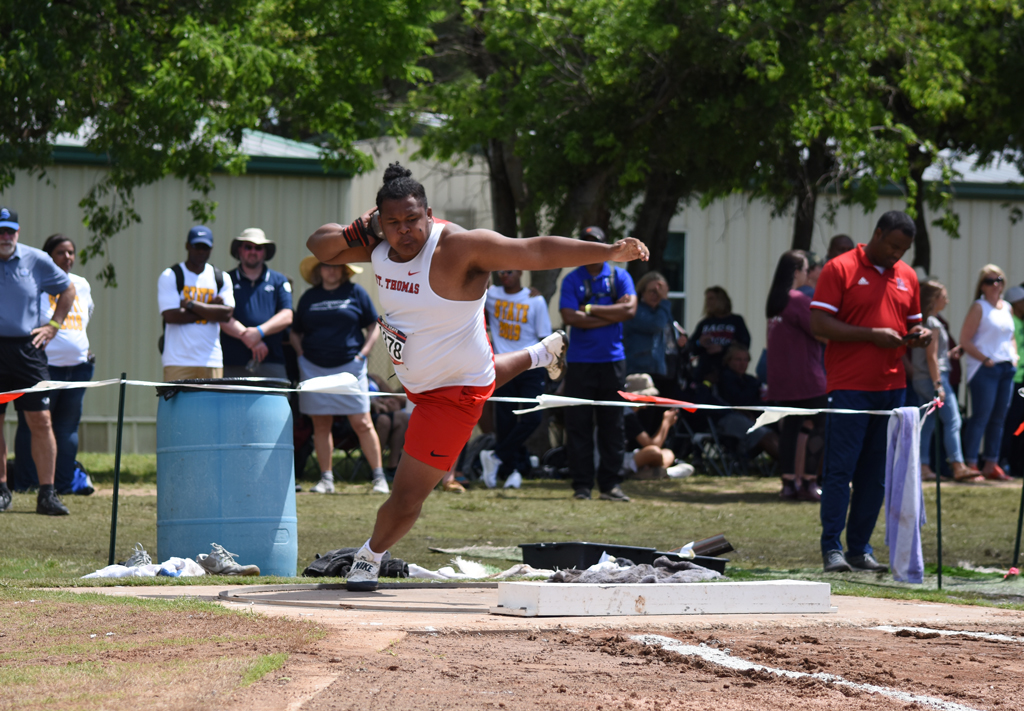 Carter then applied a simple physics equation of angle and velocity to muscle a throw of 50-08.25 for his second gold medal in a matter of minutes.
The tide had turned and was ready to engulf.
The wave of Eagle momentum swept to the pole vault pit where a personal record from Ian Wheeler '19 (13-6) carved a 2-3 finish with Luke Pane '20 (12-0).
St. Thomas had not so suddenly soared to second place with all eyes riveted on the high jump area for the climatic event. The Eagles needed 14 points to forge a tie and 15 to seize a title thought to be well beyond their collective reach. Peyton Matocha '19, the 2017 state champion and two-time state runner-up, and Alex Rivero '20 represented the last hopes.
Wheeler reconvened with his teammates following his pole vault finale. "We were all doing the math. I think Peyton knew he was going to win. He wasn't concerned with the scoring. He wasn't going to lose."
Matocha arrived at the stadium around 1:30 p.m. expecting to compete within 90 minutes only to have the event's start time later delayed nearly two hours. Navigating the waiting game presented the day's first sizable obstacle to overcome.
"I think one of my strengths is boosting the morale of the guys around me … and they brought it big when it was time to go," Matocha says. "Then all I needed was about 10 minutes to be primed for what I had to do. I live for that kind of moment."
Assistant coach Joe Malouf serves as a cognoscenti in the event as well as a long-time Matocha family confidant.
"Coach approached (Alex and me) and said if one of you finishes first and one of you places … we're state champs," Matocha says. "He knows me. I don't get rattled. That did nothing but put a smile on my face. When competition is staring me down … that's what excites me."
A jolt from a Travis Scott-heavy playlist provided the final solitary dose of mojo before Motocha entered his own sicko mode. He easily cleared 5-8, 5-10, 6-0 and 6-2 as the competition was scaled down to four jumpers. Rivero managed 6-2 to secure fourth meaning his mate Matocha would have to max out for the necessary championship-clinching margin.
A hush rushed through the ranks when Matocha missed his first attempt at 6-4. Unshaken he quickly made contact with Malouf.
"I got this."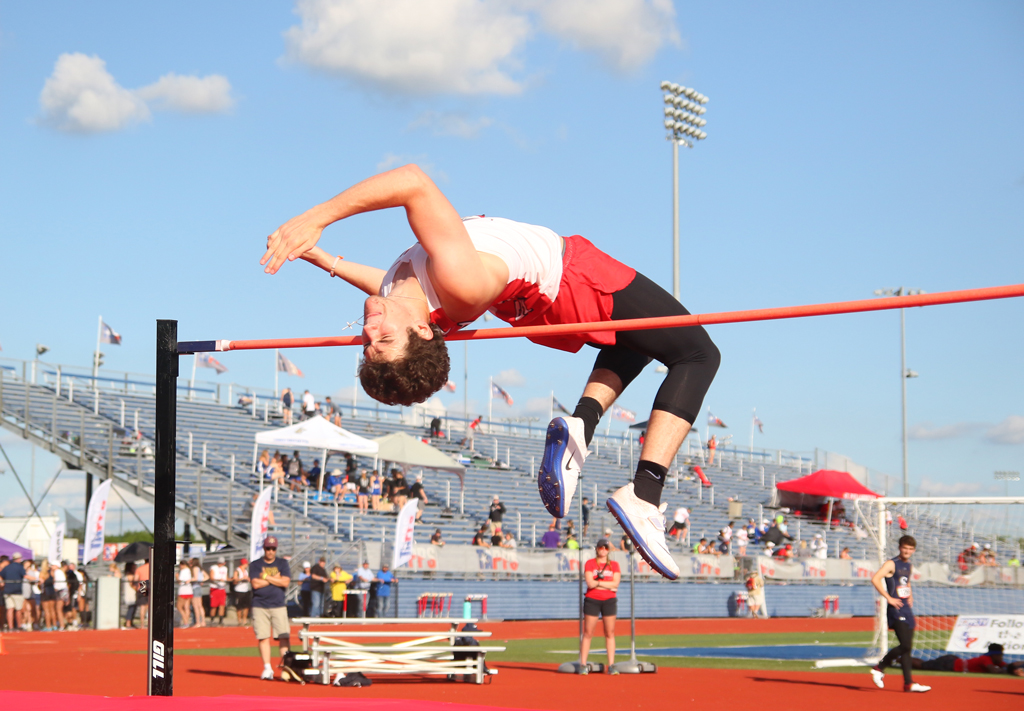 Matocha calmly summoned his true raison d'être. He locked in on the distant bar, attacked from his trance, leaped, tumbled backward and defied the dreadful inertia long enough to leave the rod undisturbed at 6-6 – the highest jumper in TAPPS history.
Matocha's pivotal exclamation point pushed St. Thomas into command position. With light fading, there was no doubt who owned the sunset. The official announcement soon reverberated throughout the near empty confines.
The 6A state champions … St. Thomas High School.
A delightfully dizzy conclusion in the way Howard Finster's paintings or Sonny Landreth's slide-guitar solos are enjoyably insane.
"Peyton can handle the pressure. He has just a great desire to win regardless of the circumstances," Labus says.
And the crescendo moment was so near to never materializing.
Matocha had maneuvered into the spring fresh from National Signing Day commitment to the University of Miami after a record-smashing football season set the standard for which all future Eagle quarterbacks will be measured. His intent was to fixate the focus on training for his summer entry to The U, until a not so subtle motivational nudge from his sister Kirby (St. Agnes Academy '16 and a high jumper at Texas A&M) pushed him fatefully back to the track.
"She sat me down and said I don't really care what you want … you're going to jump," Matocha says.
Malouf was equally emphatic. "I told him the team needs you and this is your last hurrah. Go out with another state championship and leave a legacy. Obviously, he cared deeply about his school and his team."
Matocha believes to be "blessed for what I was able to contribute to our school this last year. St. Thomas has done so much for me. I've developed as a person and a student as well as an athlete. There's so much pride in what the last four years have meant to me. To give back is what really matters most."
In claiming the title in the 14th season under Labus' steady leadership, St. Thomas enjoyed an outrageous 62-2 edge in field-event points. Every last drop of contribution from depth spread throughout the roster was required to produce the program's second state triumph in four years.
Juan Vasquez '19 recovered from a fall injury that wiped out his final cross country season and ran personal records for valuable third and fourth place finishes in the 1600 (4:35.6) and 800 meters (2:00.04).
Four dual-sport athletes teamed for fifth in the 4×100 relay – Hunter Cheek '19 (Incarnate Word football), Dylan Dixon '19 (Navarro College football), Wheeler (Howard football) and Brandon Hondros '19 ripped a 43.87 to keep the Eagles within reach.
Even Wheeler's nondescript sixth in the 100 meters (11.16) was two slots ahead of his seed and worth three points that proved essential at the end.
"This is so apropos given how our track team is truly emblematic of what defines St. Thomas," athletic director Mike Netzel says. "Taking so many different types of individuals … jumpers … hurdlers … runners … throwers … vaulters … a complete mix of talent … speed and strength … all coming together in a unified effort to complete the championship result. This group represents a wide variety of personal backgrounds, complementary skills and single purpose. That's the fabric that is St.Thomas."
Two nights before the meet Labus and Malouf had assembled the team, crunched the projected numbers and laid out the law of the land.
'We went to all our guys and told each one of them … this state championship comes down to you … and you … and you … all the way down the line," Malouf says. "Everyone scoring and not trying to do more than what you're capable but absolutely producing your best. They knew what was expected of them."
The unassuming Labus marveled that "this was a team accomplishment in absolutely every respect. I'm very fortunate to have a coaching staff that emphasizes the technical aspects of each event. We can't rely on speed. In the field, the technique is a premium and that's where we excel. That's where we won it."
In 2016, Malouf's son Landon '16 (Texas A&M) provided the irresistible force behind the Eagles dramatic run to the state throne.  One of the most versatile and acclaimed track competitors to wear the Red & White racked four individual championship performances, his dynamo swirl of results proving to be the catalyst for the program's first state triumph since 2005.
The track and field encore was the 103rd state prize in the rich and storied history of Eagle Athletics and the second in the academic year following a first-ever for Eagle Swimming. The crown is the 17th since Netzel was named athletic director in 2008 – including four in rugby (2009, 2011-13), four in baseball (2010, '11, '14 and '17), three in wrestling (2011-13), two in basketball (2008 and 2011) and one in golf (2012), with Labus the one constant as the senior member within the Eagle coaching ranks.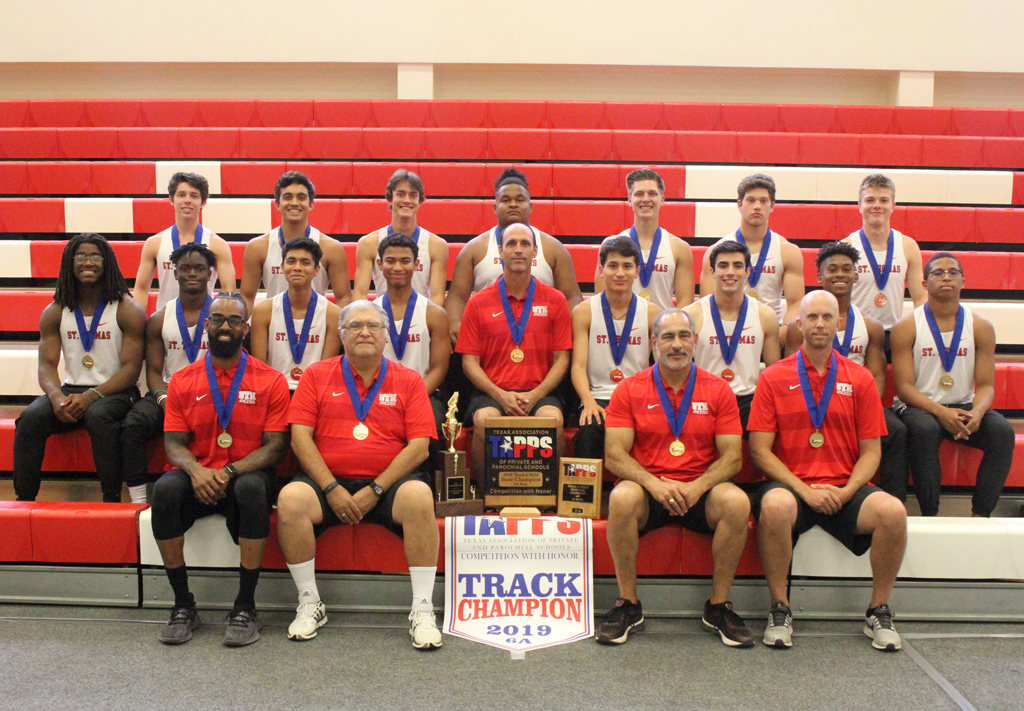 (Top row left to right)
Alex Rivero, Luke Pane, Scott Pharr, Elijah Carter, Hunter Cheek, Thomas Cooper, Drake Martinez
Ian Wheeler, Joshua Crissmon, Juan Vasquez, Lake Anderson, coach Nathan Labus, Emilio Castaneda, Brandon Hondros, Dylan Dixon, Evan McGhee
coach Johnathon Williams, coach Henry Mancha, coach Joe Malouf, coach Dave de Jonckheere
Eagle Fight Never Dies!