For 119 years St. Thomas has primed its graduates for a life of purpose and continual exploration – young men empowered to bridge divides and engage in public service, poised to pursue human aims and define true worth in the eyes of God.
The latest commencement exercises proved triumphant, a reverence to Basilian principle in lockstep with rightful respect to a particular milestone moment utterly unique in the institution's history – all in celebration for the exceptional achievements of 157 graduates who were awarded nearly $11 million in merit-based scholarships to renown colleges and universities throughout and outside the United States.
Former St. Thomas president and faculty member Fr. Kevin Storey, CSB, Superior General of the Congregation of St. Basil, delivered the keynote address, offering personal insights reserved primarily for the Class of 2019, those who rose to embody the value of a formative college preparatory experience rooted in the Basilian ideal of Teach Me Goodness, Discipline and Knowledge.
With the threat of inclement weather forcing the exercises from the traditional Granger Stadium venue to Reckling Gymnasium, Fr. Storey shared advice from an African proverb "which says if you want to go fast, go alone, if you want to go far, go together. You already intuitively know this. You have gone far at St. Thomas because of all the people here (today). Thank everyone that came … they love you! Most of the people (in attendance) have had your back since the day you were born and they will be there for you always. Don't forget that. Lean on them when you struggle and don't neglect to let them lean on you when they need your strength."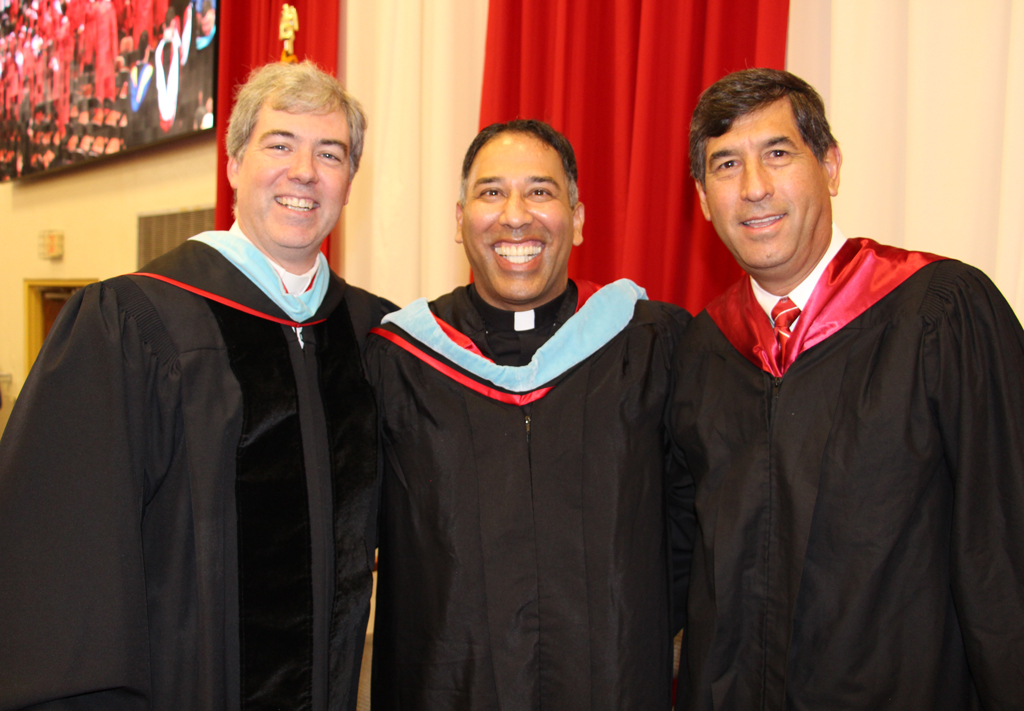 In July 2018, Fr. Storey (above, center) accepted a four-year term as the lead position within the Basilian Fathers, and was succeeded in February 2019 by Fr. James Murphy, CSB (above, left). Fr. Storey discovered his most recent return to campus particularly poignant.
"This is much more emotional for me than I expected," Fr. Storey explained following the exercises. "I distinctly recall this group arriving as freshmen and to see how they have matured, even since my being away for not quite a year, to see how their lives are lunging forward, really strikes me. There's a great satisfaction to be here and be a part of their salute."
Fr. Storey initially joined the St. Thomas faculty beginning in 2004. After earning his Master of Education, Administrative Leadership from Basilian University of St. Thomas in 2011, he followed Fr. Ronald Schwenzer, CSB, the school's inaugural president and invaluable influence who had served in that role since 2006 after eight years as principal.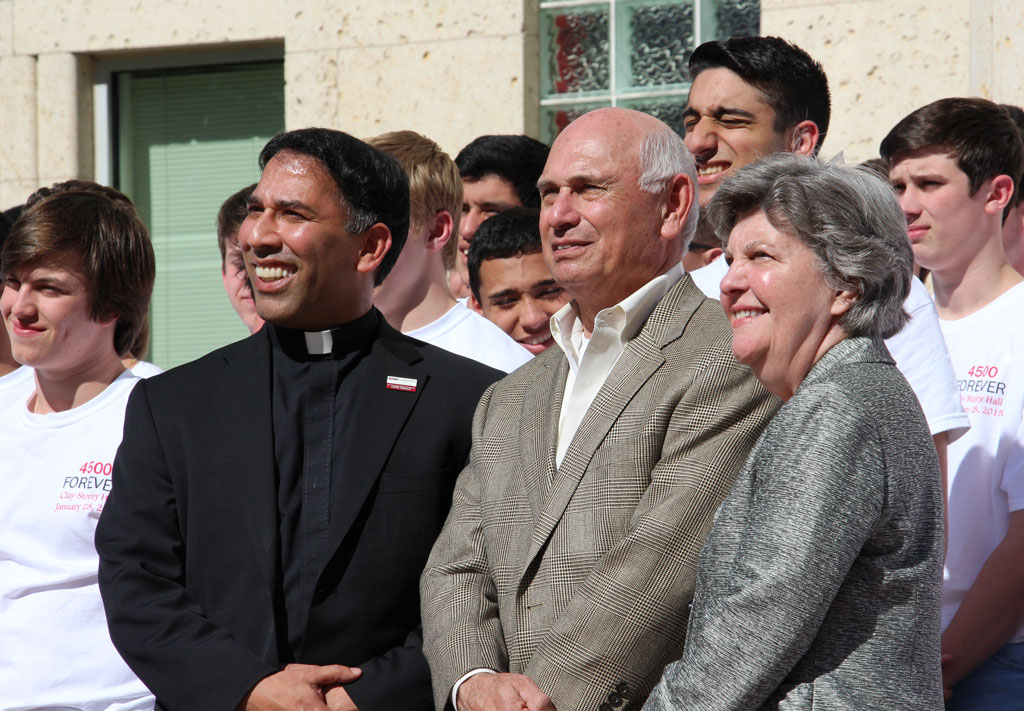 During his term as president Fr. Storey played an essential influence in elevating St. Thomas for future growth, including a prominent and pivotal position in the most ambitious capital campaign in school history – the $66 million 4500Forever included the single-largest donation in the institution's history – a $10 million transformational gift from Dona and Al Clay '61 that resulted in the naming of Clay-Storey Hall on the St. Thomas main campus, honoring both Clay and Fr. Storey, two inspired leaders who boldly stepped out to help advance an extraordinary period in St. Thomas history.
Under Fr. Storey's stewardship in June 2017, Aaron Dominguez '96 was named in a breakthrough appointment the 27th principal and first layman to assume that role in the school's illustrious history.
While Fr. Storey's introduction was met with a emphatically warm welcome, the most stirring ovation of the evening engulfed senior Kellin McGowan – the first African-American valedictorian in the school's history.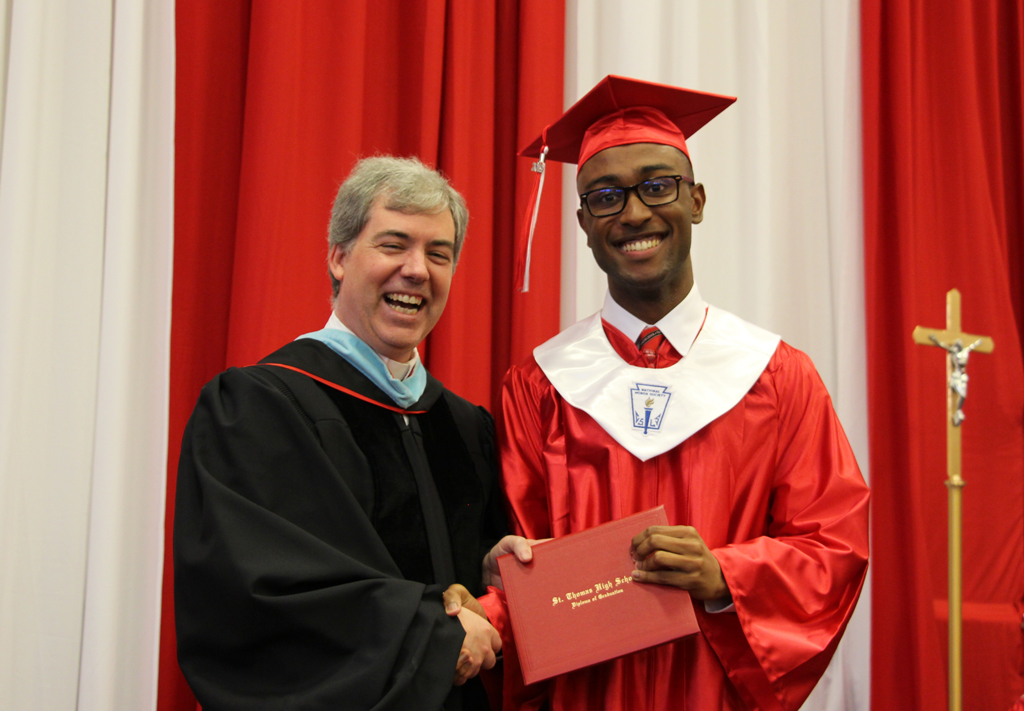 The compelling story of McGowan's distinction was shared extensively in recent weeks by local network television affiliates in Houston and spread on various media platforms throughout the United States. Houston Public Media News 88.7 was in attendance for the graduation ceremony to showcase McGowan in a National Public Radio feature.
McGowan challenged his classmates "to live lives as authentic individuals because doing so will enable us to achieve true happiness. Obviously, this does not mean that we are to bury our friendships and live by ourselves; rather, this means that we are to build upon the moral foundation established at St. Thomas and use it to navigate the world and to develop our future friendships.
"As we have done during these past four years, we must associate with those who have our best interests at heart and those with whom we will form fulfilling lifelong relationships. Some of us will be going east. Others will be going to the west. Regardless of how far apart we are, we will always be united by the bond that exists between us all."
McGowan will enroll with an extensive scholarship at the University of Chicago with the intent to attend law school. His litany of academic acclaim and rewards include a National Merit Corporate Scholarship, a Phi Beta Kappa Scholarship, the Mitchell-Beall-Rosen Memorial Scholarship and the St. Thomas Rev. Albert R. Gaelens, CSB Goodness, Discipline and Knowledge Award.
In his closing remarks, McGowan envisioned "of where the class of 2019 will be in 10 years … I think of men in an emergency room saving lives as doctors. I think of men working for major news organizations as journalists. And I think of men guiding their children along the sidewalk as fathers … Whether the road you're on leads you to the Oval Office or to a small business, always remember where you came from, sit down, be humble, and complete every task ethically, thoroughly and honestly."
Two weeks earlier Andre Hence '67 was on campus attending the 2019 St. Thomas Sports Hall of Fame induction. He along with Tom Gray '67 represents the first African-American graduates of St. Thomas. With no direct connection or familiarity of McGowan, Hence embraces the extension of what he actively established more than 50 years ago.
"I'm very proud to have been that trailblazer," Hence said. "I have seen so many African-Americans who followed here at St. Thomas. I hope that some of what I contributed, what I did and did not do during my years, allowed what was started to move forward. And now we have a valedictorian as part of the extensive accomplishment in academics, athletics and everything that defines St. Thomas. It's extremely gratifying to have played a role."
McGowan and salutatorian Tuscan Savarino were the highest ranking members of their class based on the calculation of their four-year grade point averages.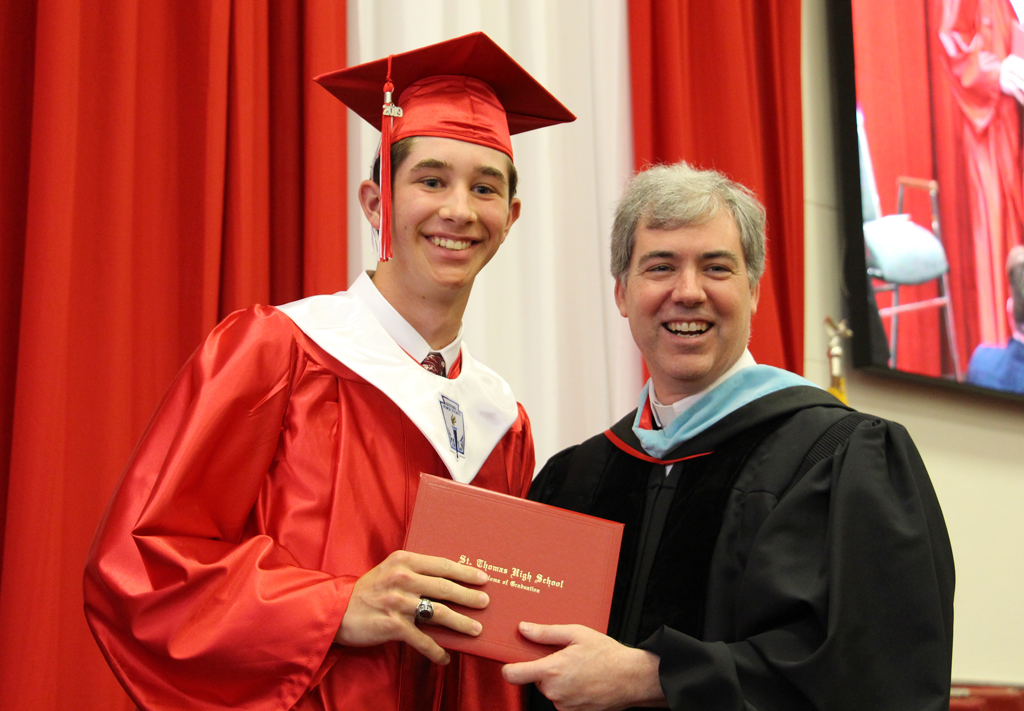 Savarino leads another large St. Thomas contingent of graduates attending the University of Texas where he will study engineering. The president of the St. Thomas chapter of the National Honor Society was also a two-sport scholar-athlete. He was named to the 2019 TAPPS Division I baseball all-state tournament team and was a contributor to the school's first-ever state swimming championship. Savarino received the Texas A&M University Opportunity Scholarship, a scholarship from the United States Air Force Academy and a Colorado School of Mines merit scholarship.
A legacy graduate following his father Dominic '88 and uncle J.J. '94, Savarino related that "the time we all spent here at St. Thomas will be remembered not just for our collective successes … because when we failed a test or lost a game, we will remember that our Eagle brothers were there to pick us up and motivate us to keep going. Whether it was here on campus or beyond the school walls, this place is made special by the people – past, present and future – who have lived the life of a Man of St. Thomas. Everyone struggles, this place definitely showed us that reality.  More importantly, it showed us how to overcome those struggles together.
"The journey to this point has been sometimes painful, sometimes funny, sometimes sad, but through it all, we have grown into Men of St. Thomas and are all stronger because of it. I've enjoyed my time here with each and every one of you and I wish all of you the best in whatever comes next. Congratulations class of 2019!"
Savarino and McGowan were previously among nine members of the Class of 2019 gaining permanent membership into the prestigious St. Thomas Club – elite students with a minimum 4.0 grade point average for seven consecutive semesters. The elite group includes Armando Amador, Jarrod Brown, Joseph Chavez, Hunter Henderson, Gabriel Lenz, Angel Sosa-Yanez and Maxwell Voltz.
Griffin Wilkins was recognized as a National Merit Commended Scholar while Amador, Chavez, Brandon Jackson and Plato Pappas were named National Hispanic Scholars, all among 33 senior members in the National Honor Society.
In addition to the University of Texas, significant numbers of Eagle graduates are enrolled at Texas A&M, Texas A&M-Galveston, Texas Tech University, the University of Houston, Rice University, Baylor University, Creighton University and the University of Mississippi.
Eagle scholars are also attending DePaul University, Embry-Riddle Aeronautical University, George Washington University, Howard University, Louisiana State University, Loyola Marymount University, New York University, Seton Hall University, Southern Methodist University, Tulane University, the University of Alabama, the University of Cincinnati College-Conservatory of Music, the University of Colorado, the University of Miami, the University of Michigan, the University of Missouri and Washington University in St. Louis among many other prestigious institutions.
Twelve St. Thomas scholar-athletes across six sports seized opportunities to extend their careers at the collegiate level, including six to Division I programs, increasing the number to 131 since 2012.
Collectively the Class of 2019 provided superior leadership to fuel yet another remarkable Round-Up fundraising effort which produced more than $525,000 in raffle ticket sales. The resounding total means Eagles scholars crashed the half-million dollar mark for the fourth consecutive year, raising the recent seven-year mark to $3 million, with all monies annually and always devoted to St. Thomas tuition assistance, a Basilian practice which dates for 92 years.
Fr. Storey was the latest in a recent succession of dedicated and vibrant advocates for St. Thomas who have engaged as keynote commencement speakers including legacy benefactor Clay and essential 4500Forever capital campaign contributor Vincent Giammalva '80, along with Houston Texans head coach Bill O'Brien in 2016, Weldon Granger in 2017 and Tom Vaughn '85 in 2018 – all long-time champions for Catholic education in Houston.
Catholic. Basilian. Teaching Goodness, Discipline and Knowledge since 1900.