With every end, a new beginning.
Twelve St. Thomas scholar-athletes across six sports are the latest Eagles to relish their childhood dreams becoming a starburst reality.
The opportunity born of skill, passion and serendipity to extend athletic careers to the collegiate level came during the spring for Tucker Alch '19, Zach Blice '19, Alex Jacobs '19, Anderson Kopp '19, Jack Schell '19, Ian Wheeler '19 and Shane Williams '19.
And previously during the academic year when quarterback Peyton Matocha '19 signed with the University of Miami, pitcher Josh Wolf '19 with Texas A&M, center fielder Brody Logsdon '19 with Sam Houston St., receiver Hunter Cheek '19 with Incarnate Word and receiver Dylan Dixon '19 with Navarro College.
Six Eagles are advancing to Division I programs and the overall college bound total from Eagle Athletics since 2012 increases to a robust 131.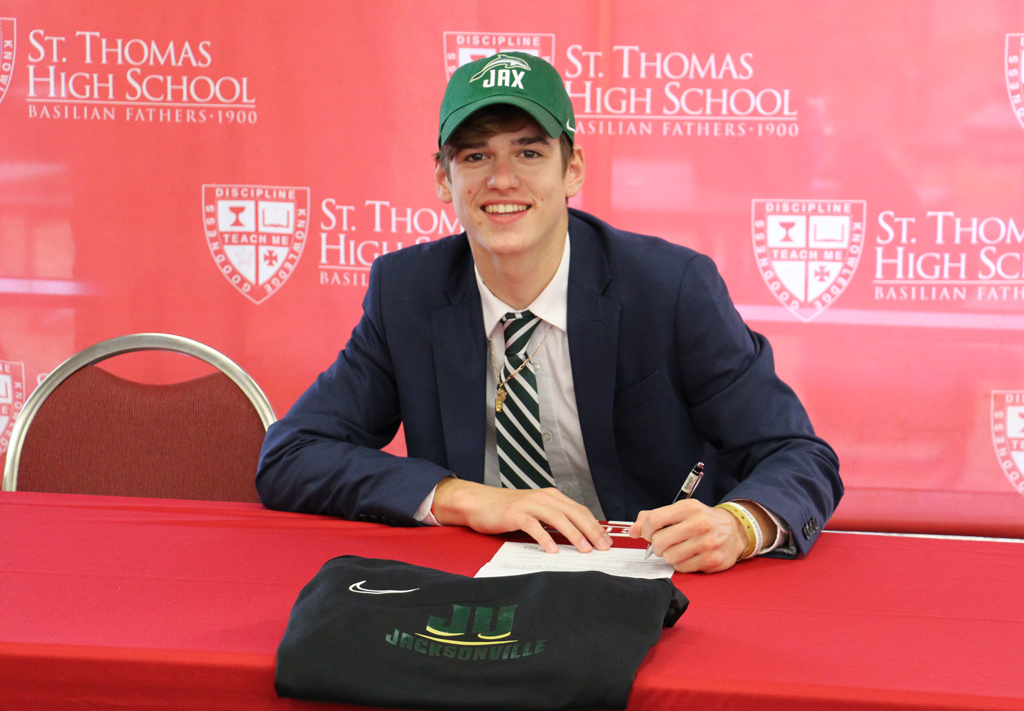 Blice to Jacksonville University represents the first D-I soccer commitment from St. Thomas in more than two decades. Even though he wasn't introduced to the competitive game until his freshman year, Blice impacted with an immediate gut burn to be great, a two-time all-state selection inside the most successful three-year stretch in school history.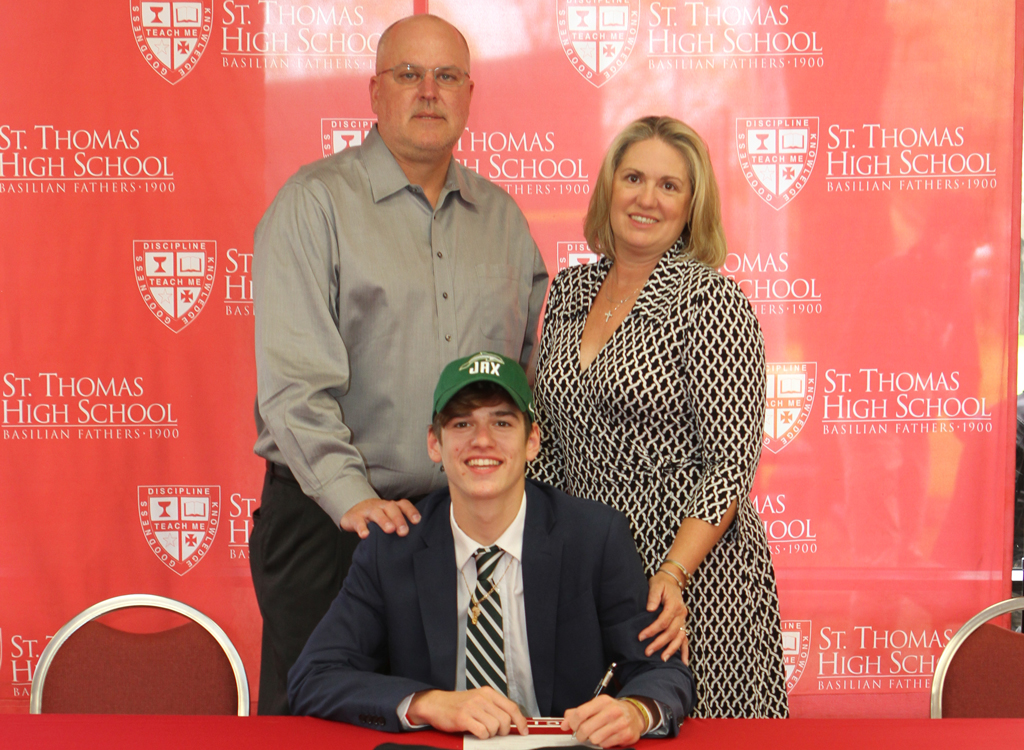 Blice's father Jeff is a member of Angleton High School Sports Hall of Fame after a standout basketball career led him to Sam Houston State University. Two years ago he relocated to Colorado as a senior power trader for Xcel Energy. Blice had the option of following and joining a gorilla program in the midst of nine consecutive state championships. But he instead elected to remain in Houston with his mother Danielle, loyal to St. Thomas and his band of Eagle brothers, determined to leave a legacy.
"I wanted to show that we could give St. Thomas soccer an identity," Blice says. "I couldn't have asked for a better group of teammates and coaches. They were my family. They watched out for me and I watched out for them. I grew up here … became a man here … learned from my mistakes. And now I'm ready to take it to the next level."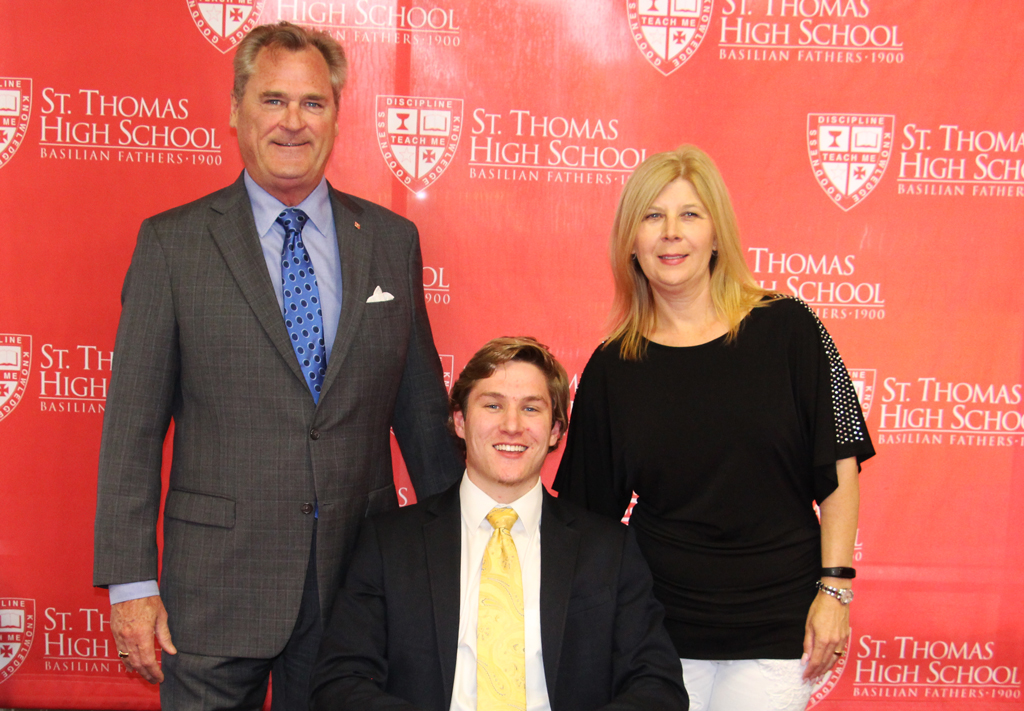 Williams is packing his sweet swimming stroke to Division III Gustavus Adolphus College in Minnesota where his family owns deep ties to the state and region. His lasered determination and unbridled enthusiasm that began in youth swim clubs in the Lake Jackson area fueled the intensity to shatter school records and ignite a first-ever St. Thomas state championship drive in his grand Eagle finale.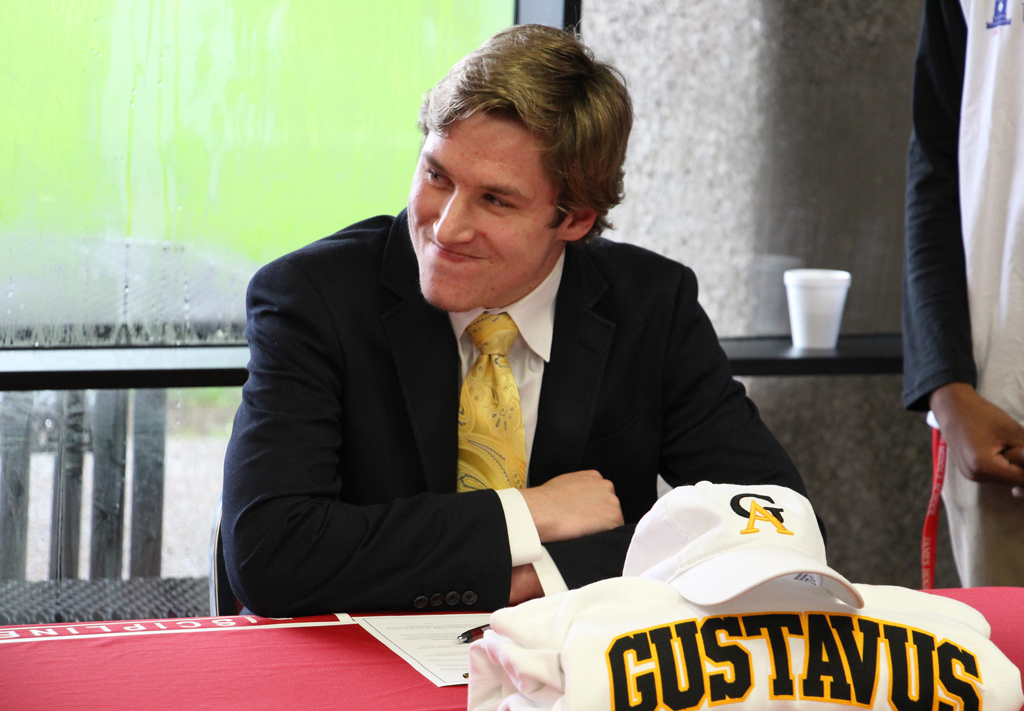 "I had to take a proactive approach in developing the relationship with the college," Williams says. "Turns out they needed a sprint freestyler … my specialty … so it's made to order. This move forward is not so much about ability but the ability to work hard. That's what has propelled me and will continue to do so. It's what my parents have instilled. And I wanted a destination that provided first class academics and embraced me as a person the way St. Thomas has. Finding this next challenge is exciting."
Two-sport standout Ian Wheeler '18 also ended on an equally rewarding state championship stage where Eagle Track and Field branded a mind-numbing comeback in securing the program's second crown in four years. He contributed invaluable points to that effort in the wake of racking nearly 2,000 all-purpose yards as a workhorse running back for Eagle Football and was awarded the 2019 Rev. Carl Mitchell Allnoch, CSB Athletic Memorial Trophy for Excellence in Academics.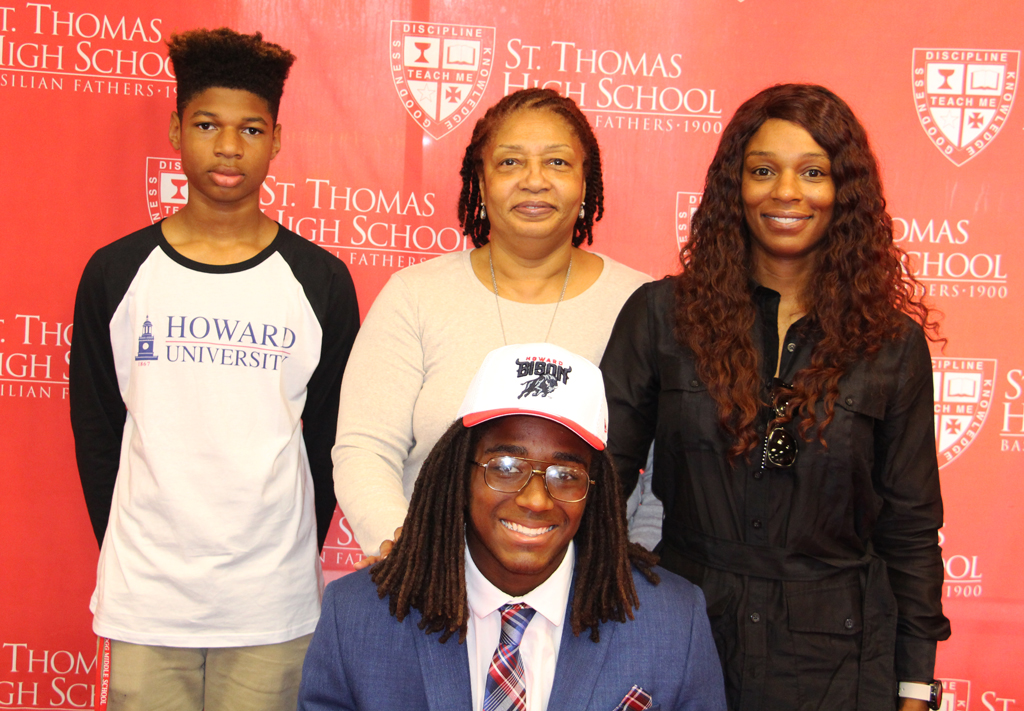 Wheeler methodically evaluated his available options and ultimately tapped into the wisdom of his grandmother in deciding on Howard University, a historically black university in Washington, D.C.
"She suggested to make the decision based on where I would rather attend and not so much on football," Wheeler says. "This a a fresh start and I see myself growing in different ways in that environment. It's one of the most prestigious (HBCUs) in the country (ranked in the top 40 overall in the Bloomberg Businessweek college rankings). I see this as once in a lifetime potential.  I've had my prayers answered."
The whirlwind single-season for Kopp with Eagle Basketball concluded with a scholarship offer to Lamar University. He struck a particular chord with head coach Tic Price who was an assistant at Tennessee-Chattanooga in the 1980s when Kopp's father Will was staring on the university's tennis courts.
"(Price) expects me to earn freshman of the year in the (Southland) conference and be part of the core that takes them back to the NCAA (tournament)," Kopp says. "The style of play … moving without the ball, catch and shoot, pick-and-pop, isolation match-ups … plays to my strength."
Kopp's arduous journey to upper echelon hoopdom required a fully charged industrial strength GPS. His own promising tennis talent first took him to the Advantage Tennis Academy in Irvine, California. He decided to flip his focus to basketball, opting for home school academics in Houston and full court tutoring under the city's resident godfather of dribble-drive John Lucas.  Kopp then bouncing to the Wasatch Academy in Utah where an ankle injury forced surgery and prompted a second return home.
With one year of high school eligibility remaining, Kopp enrolled at St. Thomas. The demands included an abrupt transition to not only the rigorous college preparatory curriculum but also unfamiliar teammates who themselves were adapting to the culture shift of first-year head coach Gary Hall. Yet despite the turbulence Kopp emerged calm and collected, poised and primed for his shot.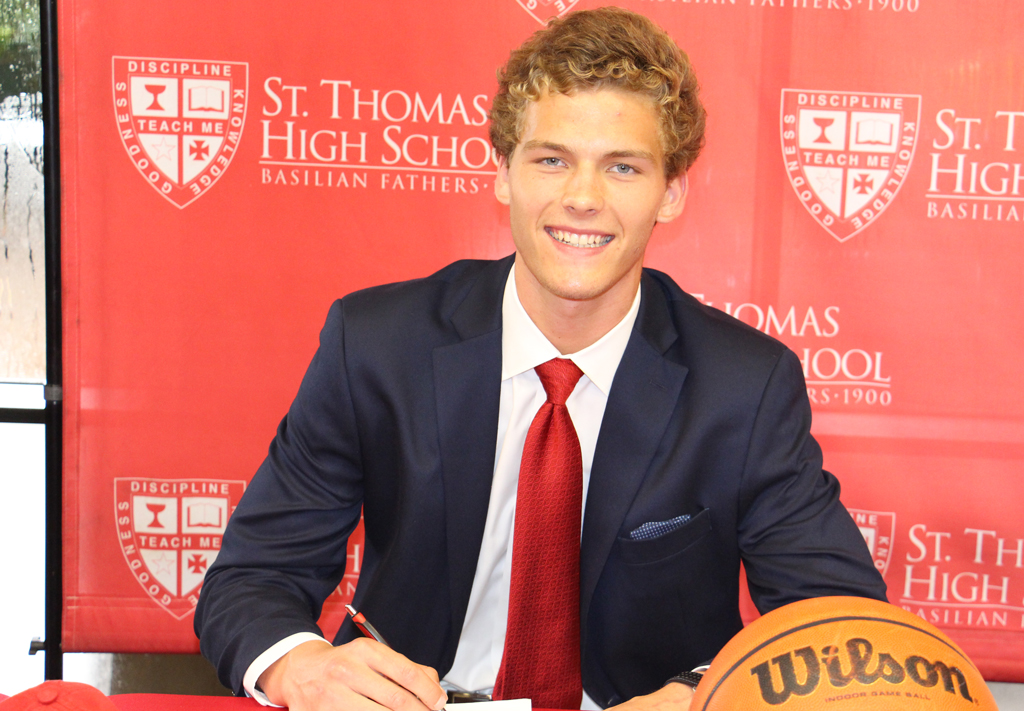 "My decision to come to St. Thomas couldn't have played out better," Kopp says. "I love this school. The academics have me absolutely prepared (for college). And I wouldn't be this position without coach Hall. His ability to connect with players is his greatest strength. Fighting through the injury … being a part of 25 wins … the team aspect … so rewarding. I'll never forget how I was welcomed by everyone in this campus community … an outsider here for just one year … couldn't have asked for more."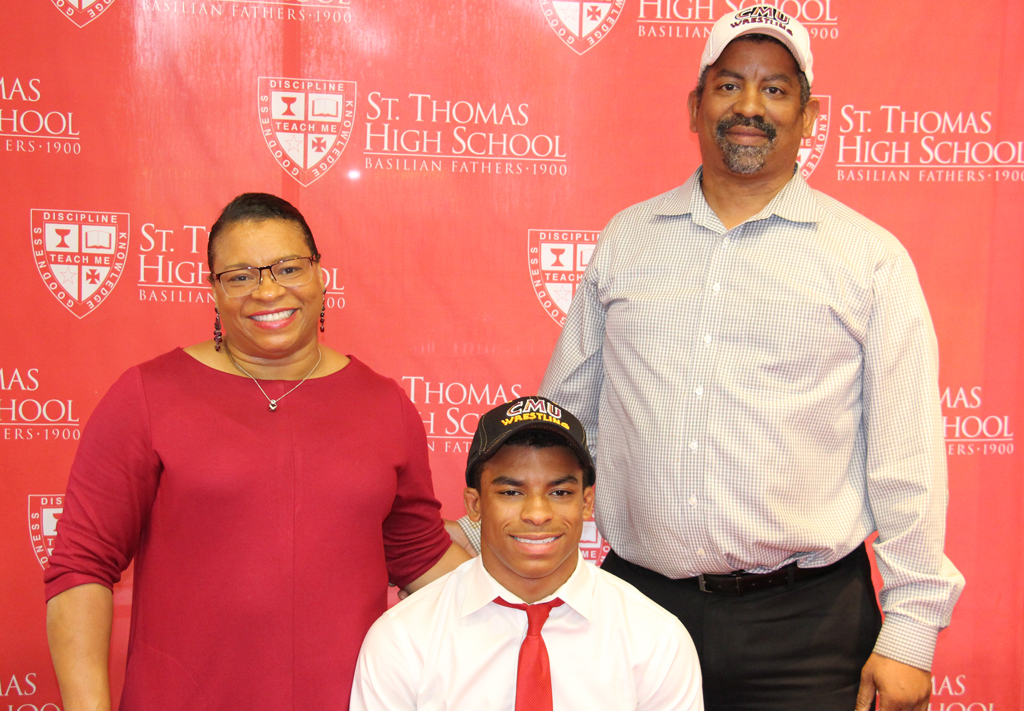 In four years, Jacobs morphed from mere wrestling novice to accepting a promising role at Central Michigan. He flushed football after his freshman campaign and redirected his high octane drive and desire to the mat where he was an important catalyst in a revitalized Eagle Wrestling program that came within one point of the 2019 TAPPS state title.
Jacobs rose to a two-time state champion and 2019 all-american at 145 pounds. In February, he dramatically capped his three appearances at Prep Nationals – biting through his upper lip during competition and requiring emergency room treatment only to return to the tournament and place among the elite performers.
"The chance in the college arena … larger stakes … more awareness of the sport … is really exciting," Jacobs says. "The individual nature of wrestling has a definite appeal for me. There's a persistence and discipline required that brings out my best. The key is not to overthink and stress … just go out and have fun. But our team success this last season means as much to me as anything."
Second baseman Schell and pitcher Alch were key contributors in Eagle Baseball earning the TAPPS state Final Four for the ninth time in 10 seasons. Schell was named the 2019 team most valuable player and to the all-state tournament team after St. Thomas reached the state championship final. He'll continue his career at Division III Millsaps College in Jackson, Mississippi.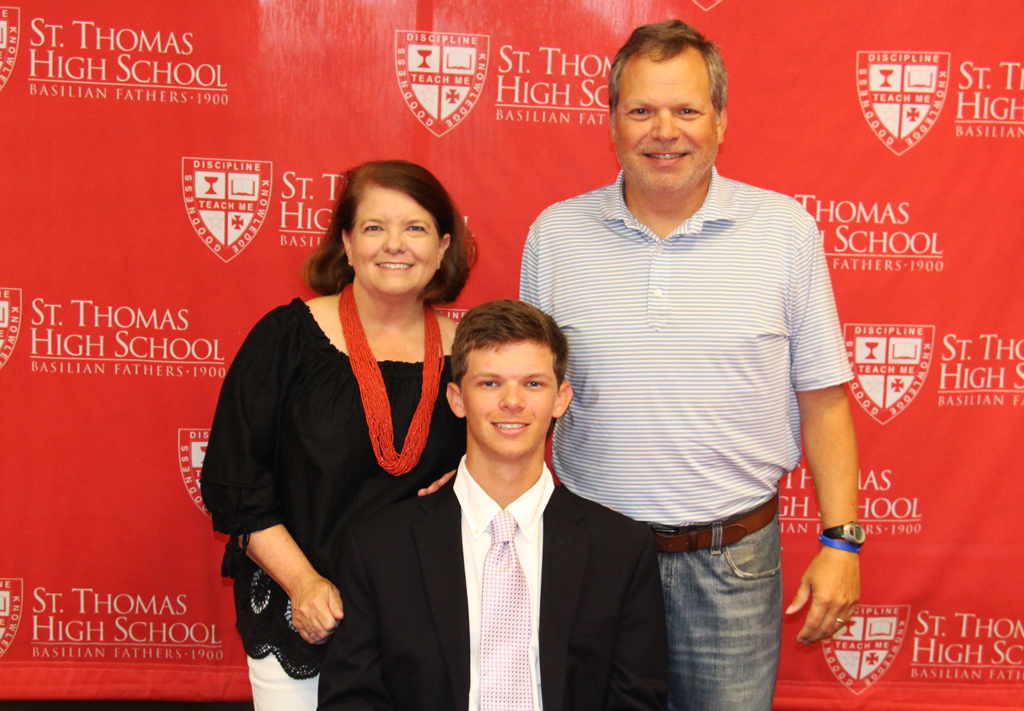 "This has been my dream ever since I started with Bellaire Little League," Schell says. "I love the game and this chance means so much to me. Everyone looks for that right fit and I knew right away after meeting with the coaches on my visit that Millsaps represented a great opportunity."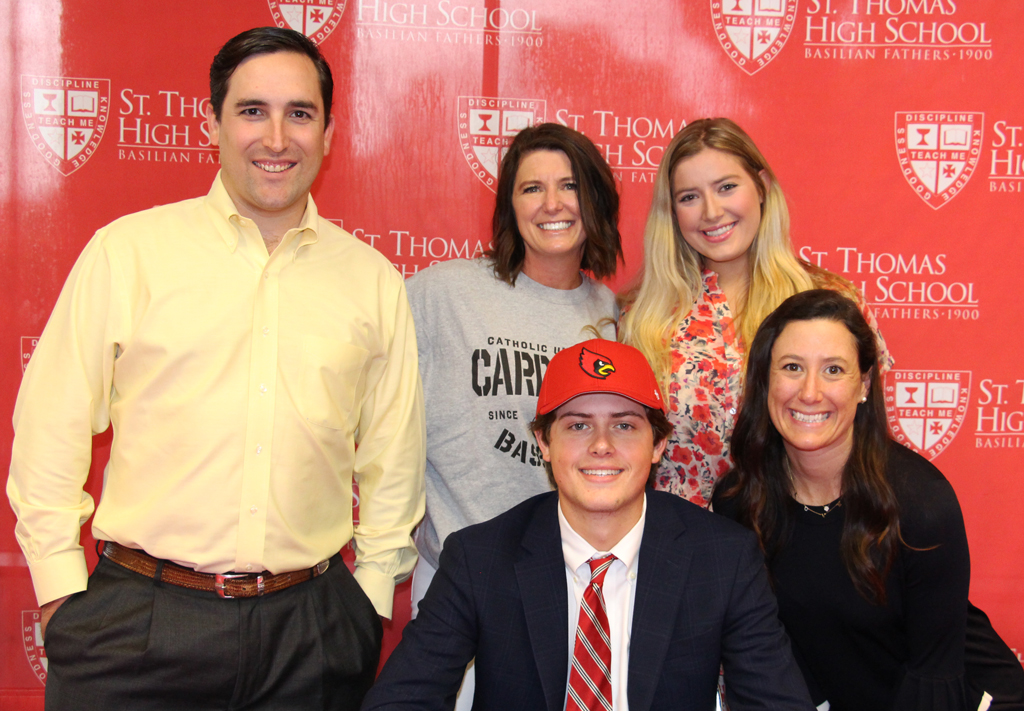 Alch took a decided aim last summer on continuing his career beyond St. Thomas and a number of destinations were in the mix. Once a mutual interest with Division III Catholic University in Washington, D.C. was confirmed, he sought out former Eagles Nolan Lundholm '16 (2019 second-team all conference) and Eric Moore '16 for an inside view of the program. A rousing endorsement settled Alch's decision.
"Nolan and Eric have really valued their time at Catholic and that made an impact on me," Alch says. "There's a network of connections for internships all over D.C. I wanted to experience another part of the country and this is an awesome chance to keep playing. It's really the complete package."
The collective individual acclaim punctuated a power point within a phenomenal year for the Eagle Athletics that spiked with a pair of state championships, three state runners-up, a second Final Four team and two regional finalists.
Eagle Fight Never Dies!