GAMEDAY CENTRAL
WEEK TWO – BARNHART STADIUM
Eagle Football 27
Kinkaid 10
WHAT YOU NEED TO KNOW
Quarterback Maddox Kopp '21 threw for 244 yards and two touchdowns, receiver Cameron Bonner '21 grabbed two scores and a rejuvenated wrecking crew defense rarely bent and never broke in a 27-10 road victory over Kinkaid (0-3) for the first St. Thomas win of the season.
TURNING POINT
The Eagles (1-2) held a cosmetically close 20-10 advantage early in the fourth quarter when they took possession at their 35 yard line and decided on a "Unicorn" sighting …
… the play call for Kopp to connect with receiver Spencer Kryger '20 in the left flat with a lateral that caused a confused Kinkaid secondary to overcommit and allowed Bonner to escape deep for a 65 yard catch and run touchdown that effectively sealed the outcome just inside the 11:00 mark.
RAPID REACTION
FRIDAY NIGHT FIVE
1. In an astounding reversal of fortune, the Eagles defense fired a broadside at the Kinkaid bona fides, not allowing the Falcons an offensive touchdown just one season after surrendering 70 points in the matchup.
Eagle Football allowed only 172 total yards, four rushing yards, seven first downs, and not a single solitary third down conversion (0-9). It was the stiffest St. Thomas defensive stand since shutting out Pasadena on the road in Week 6 of the 2016 campaign.
2.  After stalling on the first two offensive series, Kopp dialed up Bonner in stride running away from coverage in the right seam for a 37-yard touchdown and a 10-0 lead with :43 left in the opening stanza. Kinkiad drew within 13-10 with a second half kickoff return for a touchdown. But Kopp remained controlled and confident in his third varsity start.
Aggressive and accurate he orchestrated a 71 yard counterpunch drive, pairing with Josh Crissmon '20 for a 16-yard score on a third-and-12 to increase the cushion to 20-10 midway through the third period.
3.  Kicker Paul Langemeier '20 drilled a 27-yard field goal with 4:10 remaining in the first period and then salvaged a second quarter opportunity that stalled on the brink of the Kinkaid red zone with a boot from 39 yards and a 13-0 margin.
4.  Eagle Football perhaps felt the effects of a bewitching Friday the 13th, short circuiting on a number of first half possessions that kept the count only 13-3 at halftime.  Under the glow of a full bad moon rising, wild shotgun snaps from center effectively killed three of their first six series with a fourth set ending with a tipped ball that was intercepted three plays after Bonner was overthrown alone in the Kinkaid busted coverage on a post route.
5.  Daniel Coco '20 created early momentum swiping his second interception in two weeks, a left sideline snag and short take back that gave the Eagles ownership at the Kinkaid 18-yard line and led to Langemeier's first field goal.
ARE YOU NOT ENTERTAINED?
Kopp spread 25 completions to five receivers. Bonner made the most of five receptions for 120 yards, Crissmon 10 for 87 and Kryger 6 for 59. In the midst of 442 total yards and 26 first downs, running back John Fontenot '21 battered and bruised Kinkaid defenders for 115 pound-and-ground yards on 22 carries and his first hundred yard game as an Eagle.
SETTING THE SCENE
The private school programs met for the fifth time in six years. Eagle Football posted three consecutive season-opening victories over the Falcons by a combined margin of 109-51 before the series was interrupted in 2017 by the aftermath of Hurricane Harvey.
The 2018 shootout at Hotze Field inside Granger Stadium included an onslaught of 489 total yards and eight touchdowns from quarterback Peyton Matocha '19 (University of Miami).
PREVIOUS INSTALLMENT
Kopp shredded Needville for 343 yards and three touchdowns in his second varsity start while Crissmon and Bonner provided a cluster of  magical moments but Eagle Football surrendered the deciding points in the final 90 seconds in a 35-34 defeat at Hotze Field inside Granger Stadium.
Crissmon's career best night included 11 receptions for 156 yards and a touchdown.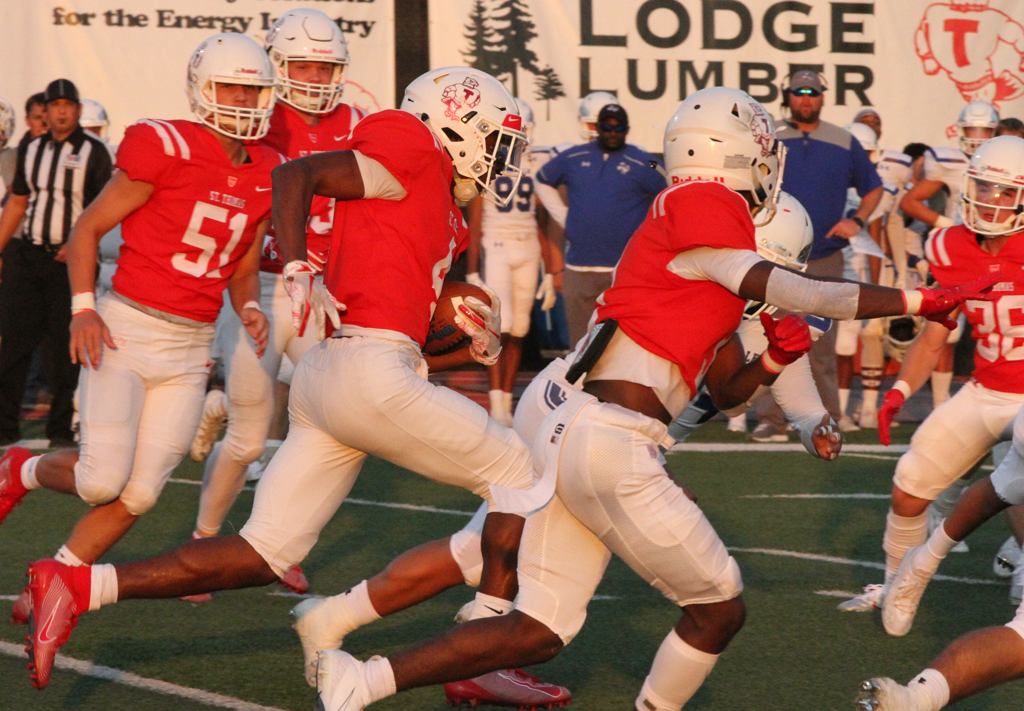 Bonner bolted 90 yards in a first quarter slice-and-dice, spin-and-spurt kickoff return score. He ended with four clutch catches for 76 yards.
The Eagles erased a 21-7 first half deficit and took their only lead of the game when Kopp found Kryger on the first snap following a Coco interception that he returned to the Needville nine yard line. Kryger slanted left to right for the grab that put St. Thomas in front 34-27 with less than six minutes remaining on the clock.
WEEK THREE || FIRST HALF
WEEK THREE || SECOND HALF
STATE OF PLAY
If St. Thomas is going to reach its ceiling this fall, if it's going to make an honest charge at a deep TAPPS postseason run, it's players like Kopp, Bonner, Crissmon, Coco, offensive tackle Travis Taylor '20, linebacker Cooper Thomas '20, and defensive linemen Max Garcia '20 and Jackson Phillips '20 who must provide the fuel. And they did. The question is now more about the engine that must drive St. Thomas where it wants to go.
Rather than arrested development, there was plenty of learning for the Eagles for the third consecutive week to feel good about where this season can still go. But that's only if the offensive line continues to mature and the defensive unit maintains its attacking posture.
UPCOMING
The Eagles return for the annual Homecoming weekend and the first leg of its only two-game Granger Stadium stand of the season. St. Thomas aims to duplicate their 2018 success over Stafford when Matocha took part in all four Eagle touchdowns including a stunning 98-yard hook up with receiver Hunter Cheek '19 (University of Incarnate Word). And a revitalized defense delivered drive killing sacks, game altering turnovers and two essential fourth quarter stops in a 28-21 win.
Eagle Fight Never Dies!