COUNTDOWN TO KICKOFF
WEEK NINE – HOTZE FIELD INSIDE GRANGER STADIUM
WHAT YOU NEED TO KNOW
Eagle Football (5-3, 2-0) hosts San Antonio Central Catholic (4-3, 1-0) October 23 aiming for a commanding 3-0 position in the district, the first four-game winning streak of the season, and a sixth win in seven games.
SETTING THE SCENE
The Eagles conclude their home slate with a contest that has pivoted from non-district to district competition since 2017.
Eagle Football owns consecutive head-to-head wins. Two years ago quarterback Peyton Matocha '19 (University of Miami) connected with receiver Hunter Cheek '19 (University of the Incarnate Word) with an ad lib touchdown in the right corner of the end zone in the final five minutes to complete a frantic fourth period comeback and a 31-28 victory.
The return to Bob Benson '66 Stadium in San Antonio featured the most complete effort of 2018 – a 49-21 body slam that included an offensive tsunami of sustained touchdown drives and quicksilver scoring strikes and a suffocating defense that set the big play tone with its first touchdown of the season for the first points of the game.
PREVIOUS INSTALLMENT
Quarterback Maddox Kopp '21 threw for 314 yards and two touchdowns in a first half detonation where St. Thomas plastered points on its first four series and coasted to a convincing 41-27 dismantling of San Antonio Antonian in a game not nearly as close as the final indicated.
The blazing Red & White roadshow featured more MCs than the Wu-Tang Clan as the Eagles flipped two turnovers into a pair of first quarter touchdowns. A 40-yard interception return to the end zone from All-State safety Daniel Coco '20 rushed the advantage 17-0 as Antonian was losing equity faster than Lehman Brothers in 2008.
The third St. Thomas "Unicorn" sighting this season flashed with 2:06 remaining in the opening stanza – the perfecto play call and execution that cemented earlier wins over Kinkaid and Stafford.
Kopp again delivered a dart in the left flat to receiver Spencer Kryger '20 for a lateral that caused a confused Antonian secondary to overcommit and allowed Bonner to escape deep into isolation coverage. Bonner (4 catches for 121 yards) secured the grab, spun away from a lone tackler, and pulled into the end zone to complete a 51-yard touchdown and a commanding 24-0 advantage.
The gnarly, ornery, oppressive Eagle defense came within a minute of posting its third straight first half shutout, forcing five punts around Coco's takeaway return before surrendering the only Antonian first half points on a short field following a blocked kick.
WEEK EIGHT || FIRST HALF
WEEK EIGHT || SECOND HALF
STATE OF PLAY
The newly forged salty defensive identity led by marauding linebacker Cooper Thomas '20 is not the byproduct of emotional blitzing and exotic pressures. To determine how the Eagles have rehabbed their reputation with a nasty body of recent work doesn't require analytical biomechanical trackers. They keep it simple, avoid confusion from formations and pre-snap movement, and in the most stringent primal terms, get stops and get off the field.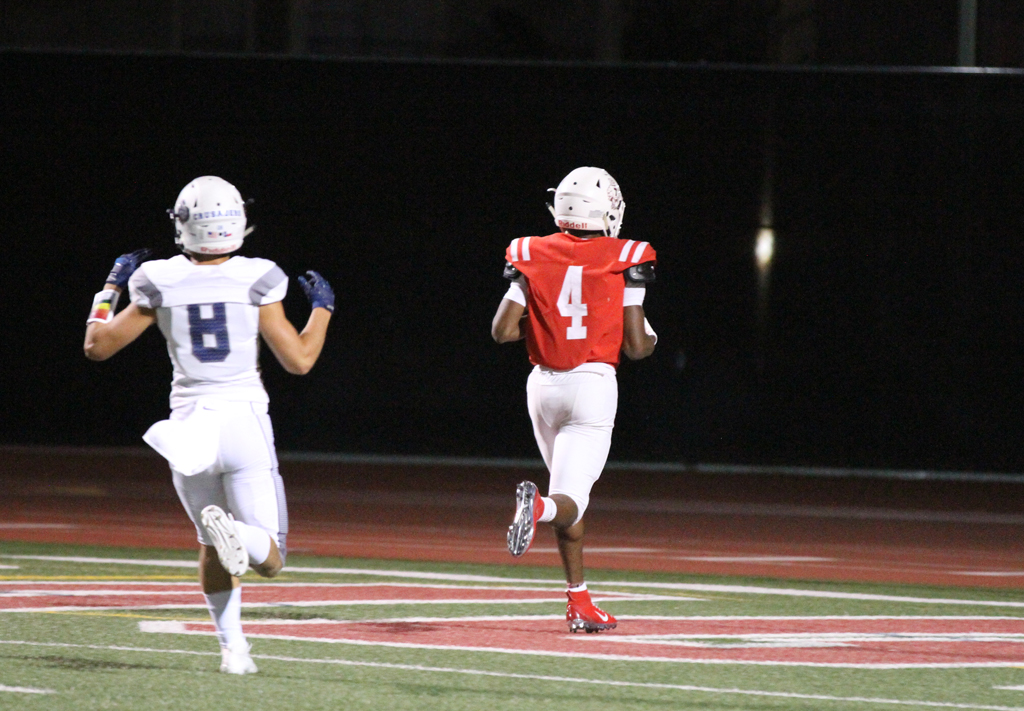 Similarly, the lethal passing attack is operating under the ethos of "get the ball to the fast guys in space." Against Antonian the Eagles averaged more than 21 yards a completion and featured three touchdown series that required all of seven snaps.
St. Thomas has recovered and stabilized from an 0-2 start to the campaign. The path to this point might be different than expected but high school football is a destination game and not one necessarily reliant on the journey. The reminder of the fragile state of a season remains only one kickoff away where tumbling results could strike with so little warning. Stringing together weeks of winning is when the belief becomes embedded, how the real magic happens. Now is the time to "Go."
In the winter time, when the day is long
You're halfway there, the field is bare, and the fire is gone
Are you all alone? Are you feeling cold?
Find your flame … and hit the road
UPCOMING
Following an open date, the Eagles will conclude the regular season with the clash November 8 at St. Pius X that has traditionally determined at least a share of the district championship.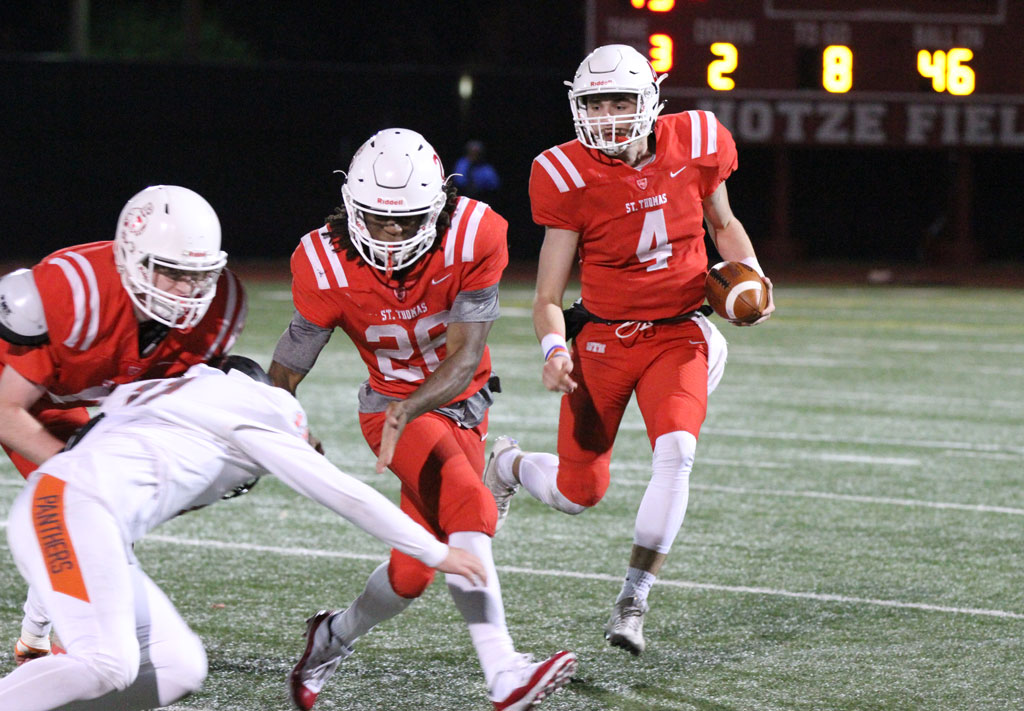 In 2018, Matocha put on a dazzling display of talent, skill, precision, will and want with seven touchdowns, including four in the third quarter when Eagle Football seized control to rally for a stunning 52-49 shootout to reclaim the district crown, a fifth in seven years.
From 2012-15, the Eagles captured four straight regular-season finale showdowns with the district title at stake by a combined score of 144-62. In the stretch dating to 2011, Eagle Football enjoyed five straight head-to-head wins and six victories in seven games.
Eagle Fight Never Dies!