St. Thomas annually honors the spiritual bond that unites Eagle scholars with their fathers with the traditional Father/Son Mass on All Saints Day, a morning liturgy and affirmation of faith which speaks to the very fabric of the school's Basilian identity.
Father Mitch Dowalgo, CSB served as the principal celebrant and authored an inspiring homily for a devout gathering in Reckling Gymnasium that included many second generation Eagles as well as supportive grandfathers in attendance.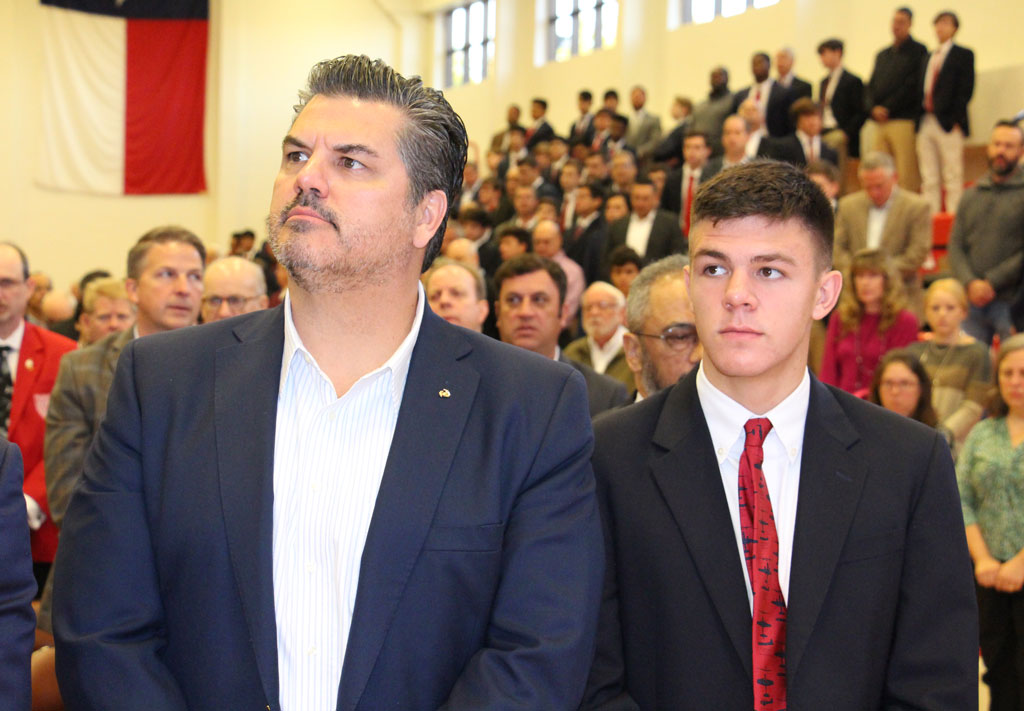 President Father James Murphy, CSB concluded the solemnity with a tribute to those who have gone before us, destined to judgment, and how they lived to enter their heavenly homes, some renown but countless others simple and hidden who through everyday holiness helped carry the world forward.
Today we recognize the pinnacle of what we are called to be as children of God. All Saints Day is the roll call for those who made our sacred Hall of Fame … the first ballot, induction ceremony, the bronze plaque, the best of the best. Saturday (November 2) is the feast of the faithful departed (All Souls Day), those who considered the possibility of playing the game, and we beseech on their behalf.

We proclaimed today those Eagles who are no longer with us on earth. Many of us know names on that list. Someday we will know more names. And someday we will all, in fact, be on that list. Our prayer is that they become saints, having lived justly as Eagles and are now eternally close to God. We pray that they intercede on our behalf because we have that profound connection as St. Thomas brothers and they may take a prayer that is unique to a Man of St. Thomas to God. Let us pray that as a community that we may be father figures for each other, reaching out to become men of compassion, security, and wisdom for any who need us.
Catholic. Basilian. Teaching Goodness, Discipline and Knowledge since 1900.