COUNTDOWN TO KICKOFF
WEEK 10 – Parsley Field at Kubiak Stadium
WHAT YOU NEED TO KNOW
The Eagles (6-3, 3-0) close at traditional rival St. Pius X (2-7, 1-2) in a rare instance where the regular season finale doesn't directly determine the outright district kingpin.
Eagle Football has already clinched at least a share of the championship, the sixth title in eight years, and the district's top seed into the TAPPS Division I postseason. A St. Thomas victory would cement a second consecutive undefeated crown.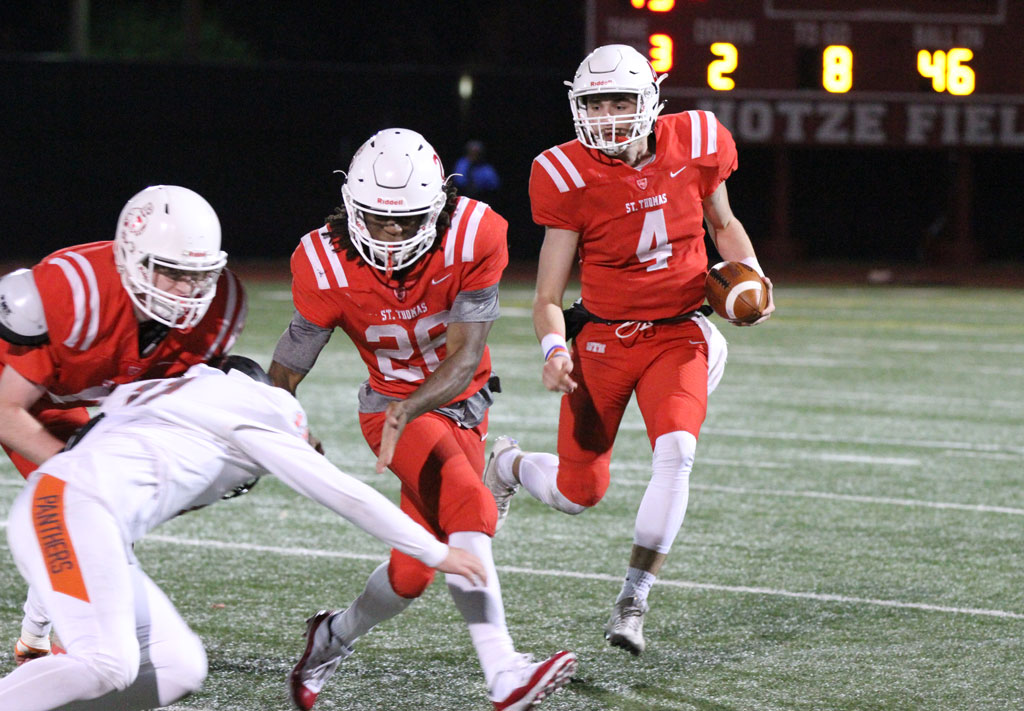 In 2018, quarterback Peyton Matocha '19 put on a dazzling display of talent, skill, precision, will, and want in one of the signature performances in the history of the series. His jaw-dropping seven touchdowns, including four in the third quarter, rallied Eagle Football for a stunning 52-49 shootout.
From 2012-15, the Eagles delivered four straight series knockouts by a combined count of 144-62 with the district title at stake. In the stretch dating to 2011, they feasted on five head-to-head wins in a row and six victories in seven games.
SETTING THE SCENE
After a wobbly 0-2 entry to the campaign, the Eagles discovered adversity is a companion of the champion and an enemy of the weak. They have proceeded as honest and determined as Aldo Raine, rugged and ornery, with four straight wins and six in seven games, playing each possession as if their postgame pizza depends on it.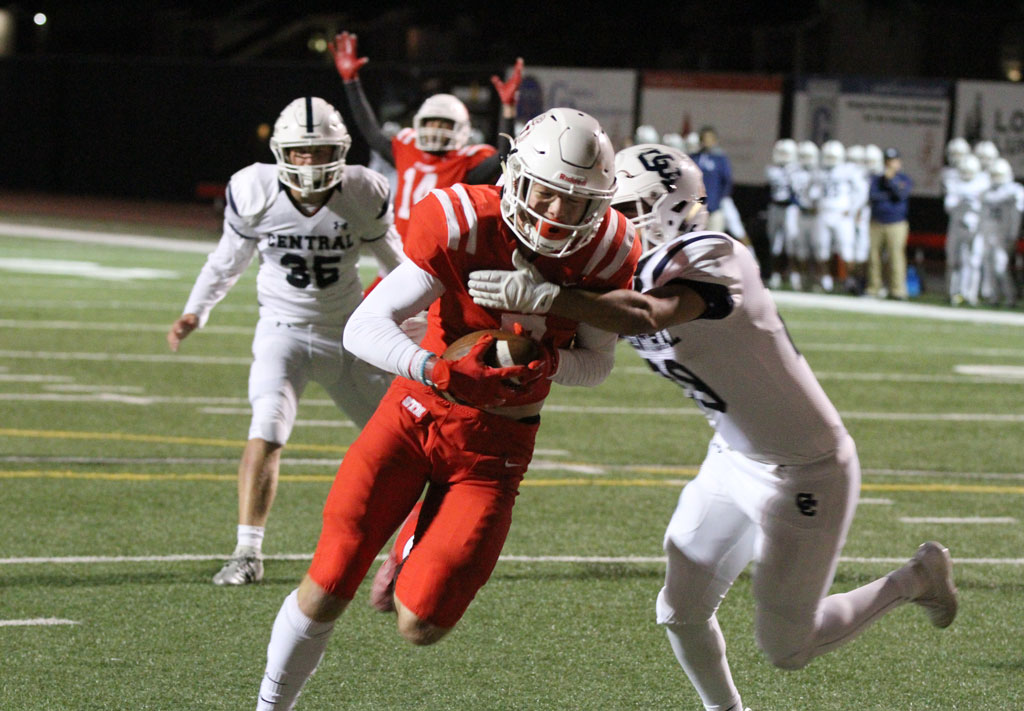 The success feels sustainable. The present holds a future worth watching.
PREVIOUS INSTALLMENT
In the last regular season home call, Eagle Football set an ominous early tone against San Antonio Central Catholic with a ruthless precision that seemed like the stuff of sci-fi cyborgs. A dominant line and dynamic running game early, a doomsday defense late, a season best four-game win streak to the bank.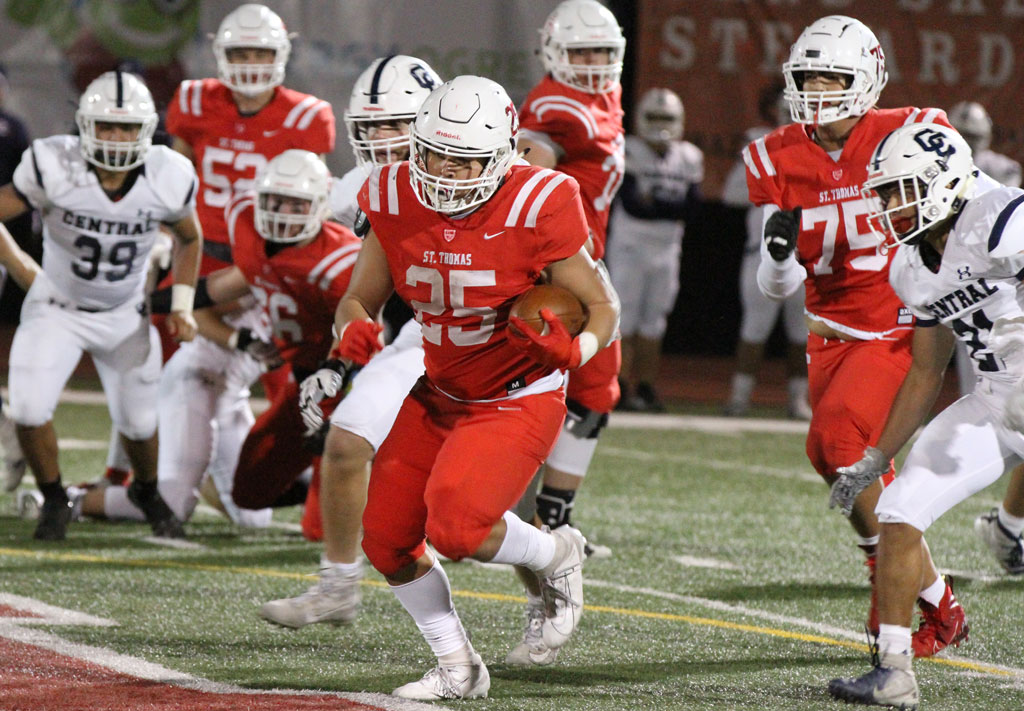 Running back John Fontenot '21 left defenders flailing on the ground like gored matadors on his way to 215 bruising yards and two short range touchdowns. A snarly, salty St. Thomas defense responded with two essential fourth quarter stops in a 21-19 escape to keep the surging Eagles unscathed in the district race.
The Eagles saw their commanding 21-0 edge shrink to eight with Central Catholic threatening again midway in the final stanza. Linebacker Vince Lee '21 forced a fourth down incompletion from the St. Thomas 25-yard line to turn the ball over on downs. On the next defensive series with less than 3:00 remaining, the margin was narrowed to 21-19 but the Eagles stoned the two-point conversion after a Central Catholic procedure penalty.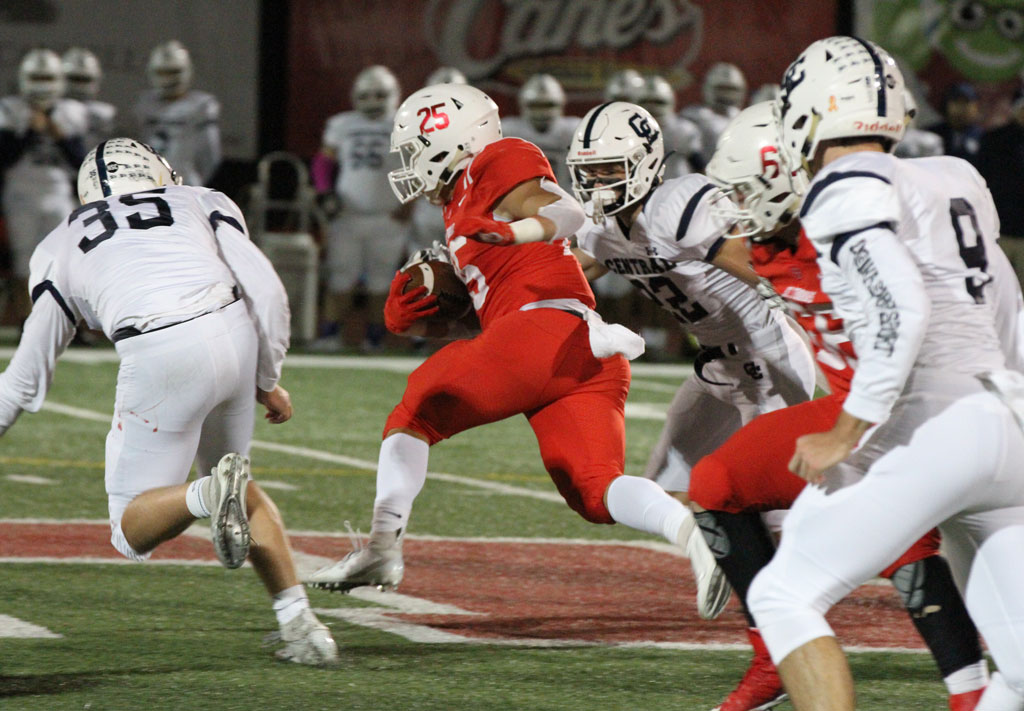 Fontenot then followed with rib racking runs of seven, 18, and 26 yards to complete his wrecking ball night. St. Thomas drained the remaining seconds to seal the verdict and rejoiced in a thunderous hallelujah chorus second only to Kanye's "Jesus Is King."
Fontenot flashed the best entrance since strutting James Hardin paired a Helmut Lang ensemble with a Lil Baby (featuring Meek Mill) singalong. The first Eagle scoring session mandated seven physical touches worth 75 yards including an 18-yard gain on a pass in the flat and a 32-yard romp to the brink of the end zone. His touchdown on the first snap of the second quarter gave the Eagles a lead they would not relinquish.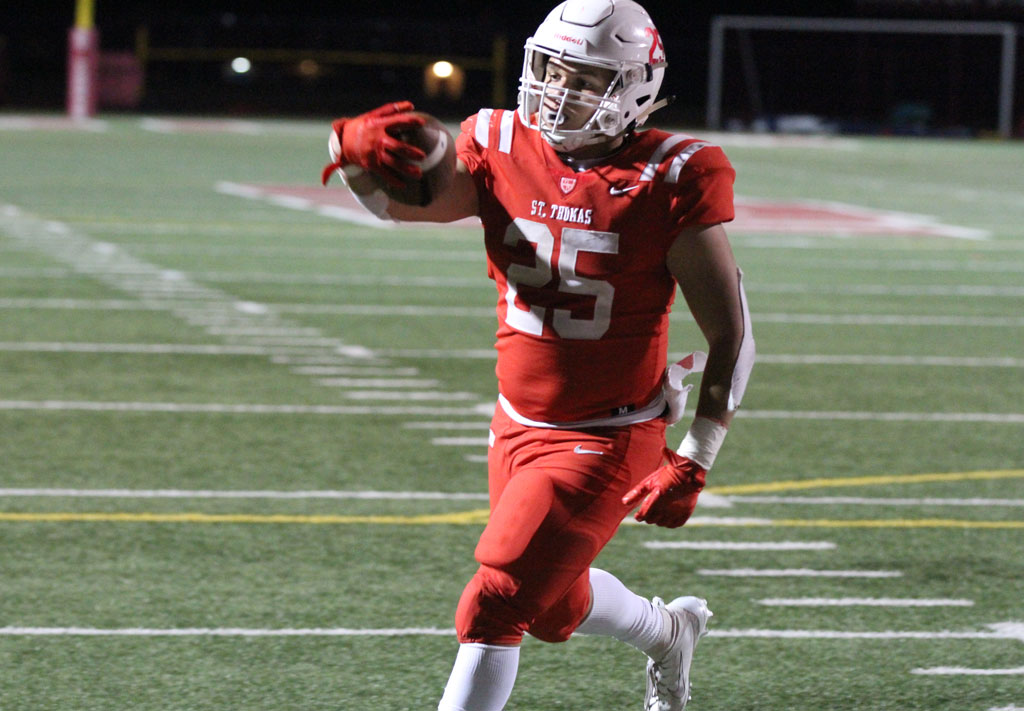 The Eagles carried the count to 21-0 with Fontenot banging consecutive carries for 23 yards. After a one-play reprieve, he crashed the goal line 90 seconds before the break for an insurmountable advantage.
WEEK EIGHT || FIRST HALF
WEEK EIGHT || SECOND HALF
STATE OF PLAY
The Eagles have recovered with a "We'll Be Back" vengeance that Sarah Connor would savor. They've paraded a gratifying series of sizzling results that matched their preparation, grinding and concentrating only on the next moment to yield the desired outcomes. An outfit that focuses only on today has become a team that gets more and more dangerous with each tomorrow.
The program-wide cohesion over an extended period has proved the proper antiserum for distractions. And as the Eagles embrace for the big bacchanal of the postseason, they take a collective cue from Tom Petty.
Well, I won't back down
No, I won't back down
You can stand me up at the gates of hell
But I won't back down
No, I'll stand my ground
Won't be turned around
And I'll keep this world from draggin' me down
Gonna stand my ground
And I won't back down
I won't back down
Hey baby, there ain't no easy way out
I won't back down
Hey I will stand my ground
And I won't back down
UPCOMING
The Eagles will face Addison Trinity Christian (0-9, 0-3) with head coach and Pro Football Hall of Famer Mike Singletary Saturday, November 16. It's the eighth time in nine years St. Thomas is hosting a playoff encounter at Hotze Field inside Granger Stadium, racking a record of 6-1 with the only defeat 42-23 to eventual 2016 state champion Dallas Bishop Lynch. In 2010, the Eagles fell at ATC 19-7 to open the postseason and finish 6-6.
In 2018, Matocha threw for three touchdowns, ran for a fourth, and running back Ian Wheeler '19 added two more as the Eagles enjoyed a 52-32 Surge Knight beatdown on Plano John Paul II. It was the first playoff prize since the 2015 postseason and advanced Eagle Football to the state quarterfinals against Bishop Lynch.
The Eagles twice built three-touchdown margins in the first half. On the first series out of halftime, they churned nearly half the third quarter clock with Matocha finding Jordan Augustine on a quick striking slant route for a 21-yard score to move comfortably out front 42-25 and were never threatened until the clock registered triple zeros.
Eagle Fight Never Dies!