Andrew Locke '03 has consistently demonstrated to be intellectually inspired, morally grounded, globally minded – a world changer igniting positive impact wherever life has taken him.
Particularly in Iraq and Afghanistan as a platoon leader in the elite special ops 75th Ranger Regiment. A call of duty that extended far beyond a gaming console.
Each November Americans from sea to shining sea observe Veterans Day and pay tribute to those brave and skilled who serve and sacrifice for America's freedom.  Locke is among the generations of Good Men of St. Thomas who have participated or are engaging in that collective strength fighting for our basic American rights.
Captain Locke graduated from West Point in 2007. He was deployed to Iraq as a Stryker vehicle platoon leader, followed by three mission-specific Ranger engagements in Afghanistan before retiring from the active Army in October 2017. He credits his parents for embedding a sense of service, of something larger than self. Locke watched the Twin Towers fall on a 10-inch TV while sitting in a sophomore history class, his psyche slapped with the realization that the world is bigger and more dangerous than he'd thought.
Locke visited West Point during his senior year and was greeted "with a rush. At the end of the day, Americans have to raise their hands and serve. If not me, then whom? Who is most capable of leading Americans? If I had the confidence and could generate the respect and trust of others, then why not me? The rewards were beyond measure. The experiences will prove to be the most moving of my lifetime."
—
In 1975, Rev. James F. Wilson, CSB led the effort to establish the St. Thomas Hall of Honor, recognizing Eagle graduates who exemplified the Eagle spirit and personified the Basilian motto Teach Me Goodness, Discipline and Knowledge.  As Locke made his daily four-year campus rounds through Cemo Auditorium, he glanced periodically at some of the initial names of that signature group.  Among the select are William Bernrieder, a 1916 graduate who served in the United States Navy under five admirals including Halsey and Byrd.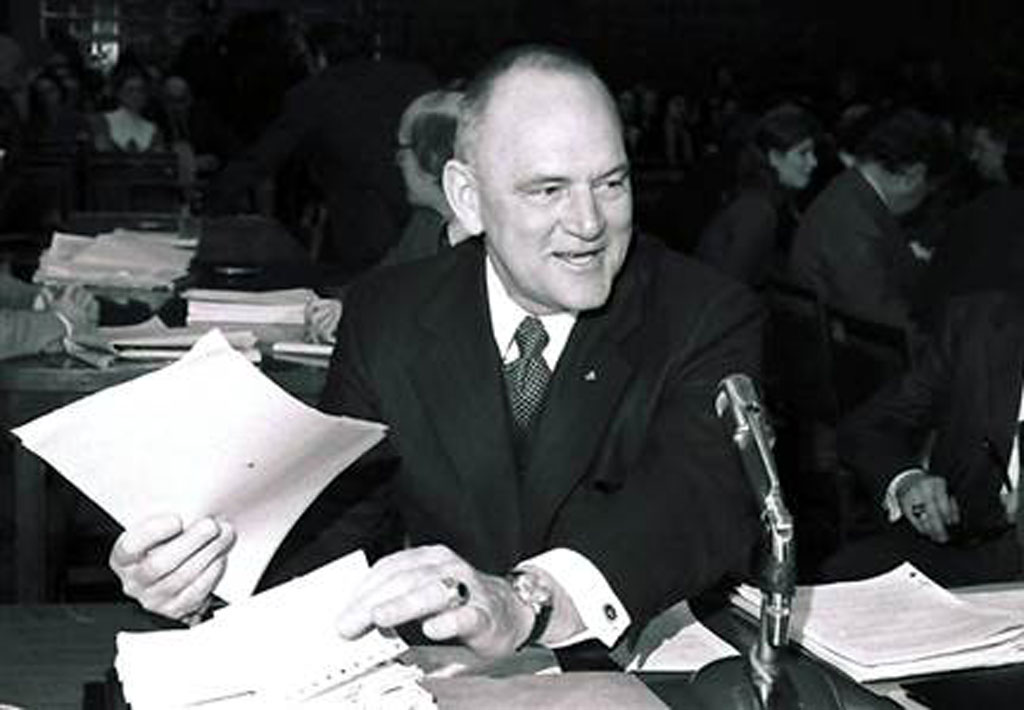 And L. Patrick Gray '32 who advanced to the rank of Navy captain and later was appointed the director of the Federal Bureau of Investigation.
And George Cire '40 who received the Silver Star and Purple Heart while fighting in World War II.
And Lieutenant Colonel Timothy Gatlin '95 who lettered three years in the Black Knights defensive secondary, graduated from West Point in 1999 with an Economics degree, and has remained a career soldier. The commander of 1st Battalion, 37th Field Artillery Regiment has led the Army's sexual harassment response and prevention program, and served for four years as the Company Tactical Officer at West Point. Gatlin holds a master's degree from Columbia University and in 2017 was chosen as a White House Fellow to the Office of the First Lady.
A few feet across the Cemo entryway from their framed distinction was the school's stand-alone glass-encased salute to David McNerney '49.
Following his St. Thomas graduation, McNerney enlisted in the Navy and served two combat tours in Korea. He then enrolled at the University of Houston, attended a class, and quickly joined the Army. He served four tours in Vietnam.
In March 1967, First Sergeant McNerney's unit was ambushed in an isolated region. His company was split, 22 soldiers including the commanding officer killed, another 40 wounded.  McNerney took control of the surviving troops, organized the unit's defense, coordinated their counterattack, cleared a helicopter landing site all the while suffering from a lacerated chest by a grenade. He refused to evacuate until B Company could advance and relieve the following day.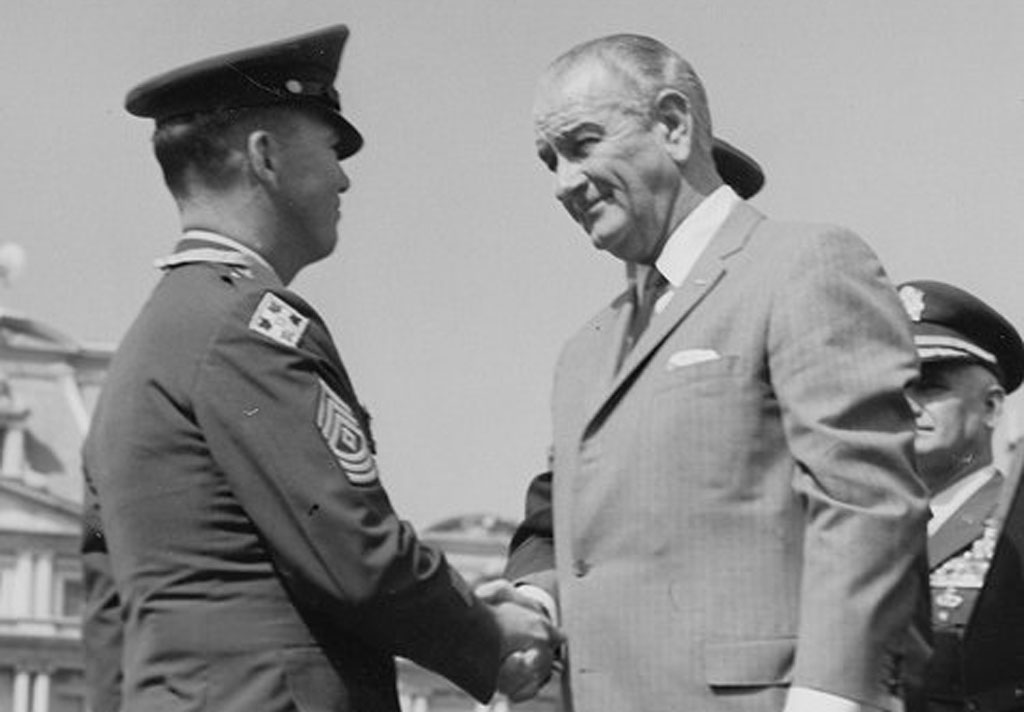 The following year McNerney received the Medal of Honor from President Lyndon B. Johnson at the White House for his outstanding courage at Polei Doc. The decoration is the highest award for valor which can be awarded an individual serving in the U.S. Armed Services.
"You think of how much time has passed since then … half a century," St. Thomas Athletic Director Mike Netzel says. "And how much our country has changed beyond expectation and imagination, all of the options available and distractions that exist. And Andrew chose to follow in those kinds of footsteps, to be associated with those kinds of St. Thomas men. Impressive is not nearly a strong enough description of what he represents."
—
Locke was a stellar St. Thomas scholar athlete who enjoyed state championship renown spread across three Eagle sports. Yet, he held his rugby experience with savory satisfaction. Locke hosted college invitations while keeping the carnival recruiting process highly selective. He was pursued by West Point as a quarterback but had to be convinced by his father to make the official visit.
"It was a free trip so why not take advantage," Locke says. "I showed up, the weather was miserable, and after two hours I was hooked. I couldn't have been more impressed by the highly dedicated Americans choosing to be a part of the Academy, all leaders of character for our military and our country. I was immediately convinced this was the environment I wanted."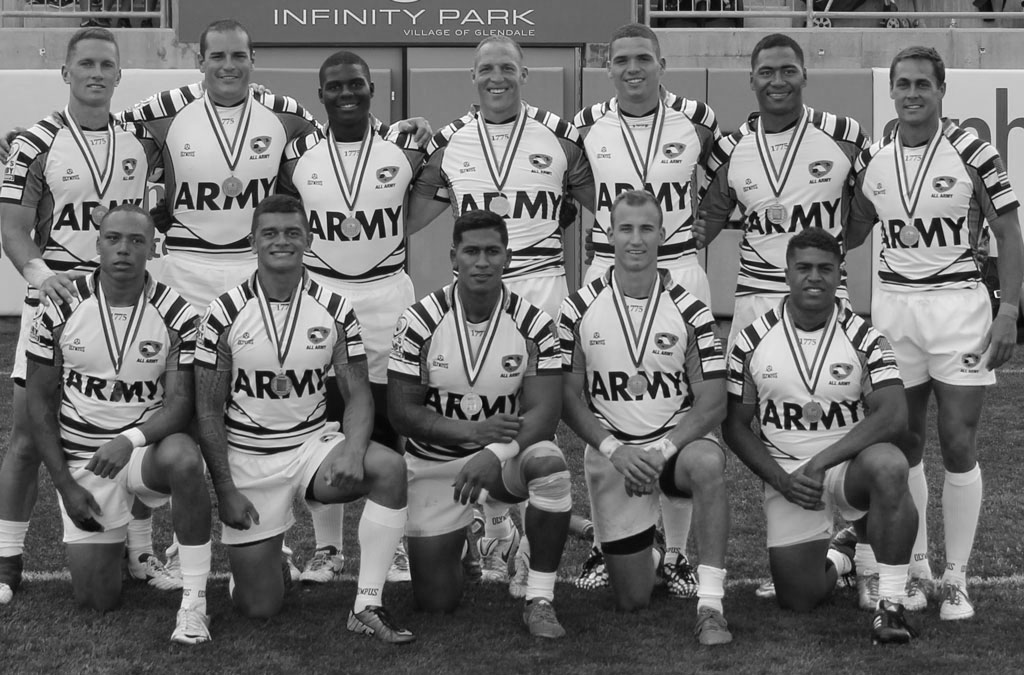 For Locke, National Signing Day represented not so much scholarship but service forged through sacrifice. He transitioned exclusively to rugby as a freshman and emerged as an All-American performer. Locke (first right, back row) later captained extensive championship accomplishment and distinction on the international stage, including a role with USA Rugby at the Summer Olympics in Rio de Janeiro in 2016.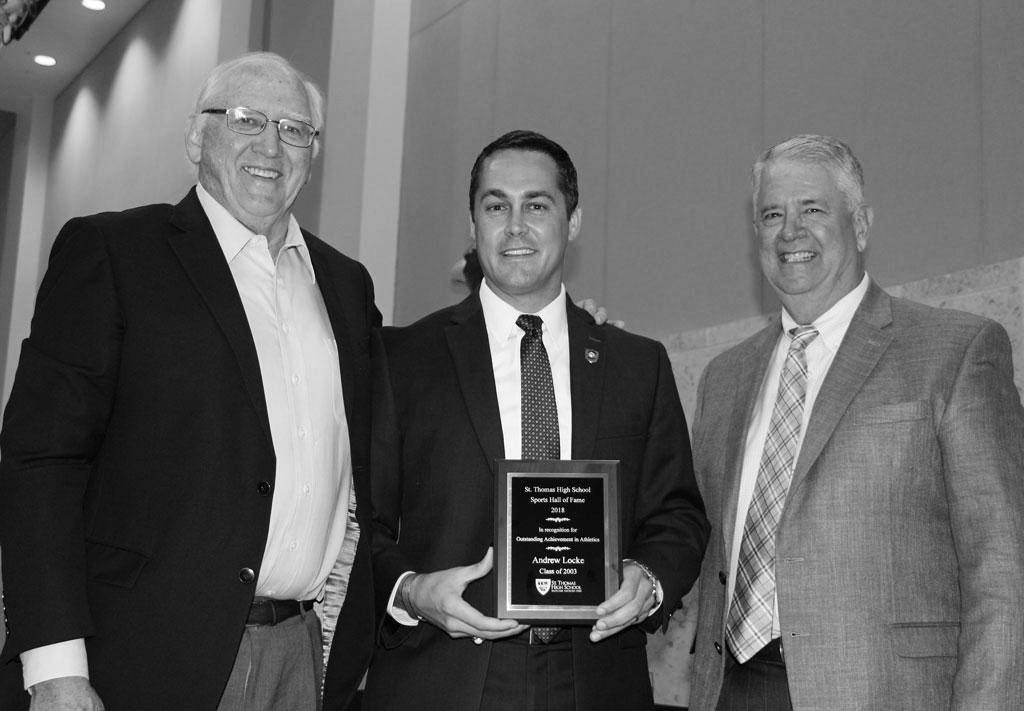 In 2018, Locke was among the luminaries inducted into the St. Thomas Sports Hall of Fame. The celebration delivered a firm affirmation of the "formative four years that greatly influenced my moral and ethical development. Athletics played a major role in terms of my understanding of what is required to be an effective leader and paved the way for what I accomplished at West Point and in the Army. To this day I'm so appreciative of all the opportunities I had at St. Thomas especially through athletics, the many coaches who mentored me."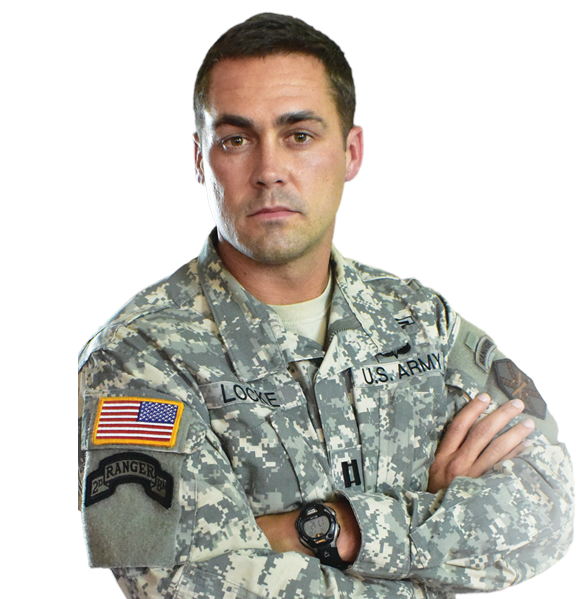 Within weeks of his West Point graduation, Locke was positioned with a platoon that had just returned from a difficult 15-month deployment in Iraq.  "There was a 50% turnover within the unit.  We had to build a new team, new cohesion, and deploy again in 12 months. It was an awesome responsibility to be entrusted at such a young age … 22 years old … and leading an experienced group. To form those relationships was deeply powerful and rewarding."
Locke is now a forward deployed software engineer at Palantir Technologies in Palo Alto, California. He left St. Thomas having given his all to the Eagles, then the same to his unit, forever for his God and country. He chose to join the ranks of those who share a brotherhood and a bond unbreakable, bravery unbridled, an honor unmistakable. Captain Andrew Locke was never Captain America with wanderlust. But his is a name among those immortal without exception, even if relatively anonymous.  Indomitable.  Capable of any challenge they dreamed.
All gave some, some gave all.
Catholic. Basilian. Teaching Goodness, Discipline and Knowledge since 1900.