WEEK 13 – TAPPS DIVISION I STATE SEMIFINALS || FORD CENTER AT THE STAR IN FRISCO
WHAT YOU NEED TO KNOW
Eagle Football (9-3) faces Dallas Parish Episcopal (10-1) Saturday at 6:00 p.m. for a birth in the state championship final.
The Ford Center debuted in 2016 as a 12,000 seat multi-use event center and the first domed high school stadium in the state, all part of the palatial Dallas Cowboys world headquarters in Frisco.  Very Jerry Jonesariffic.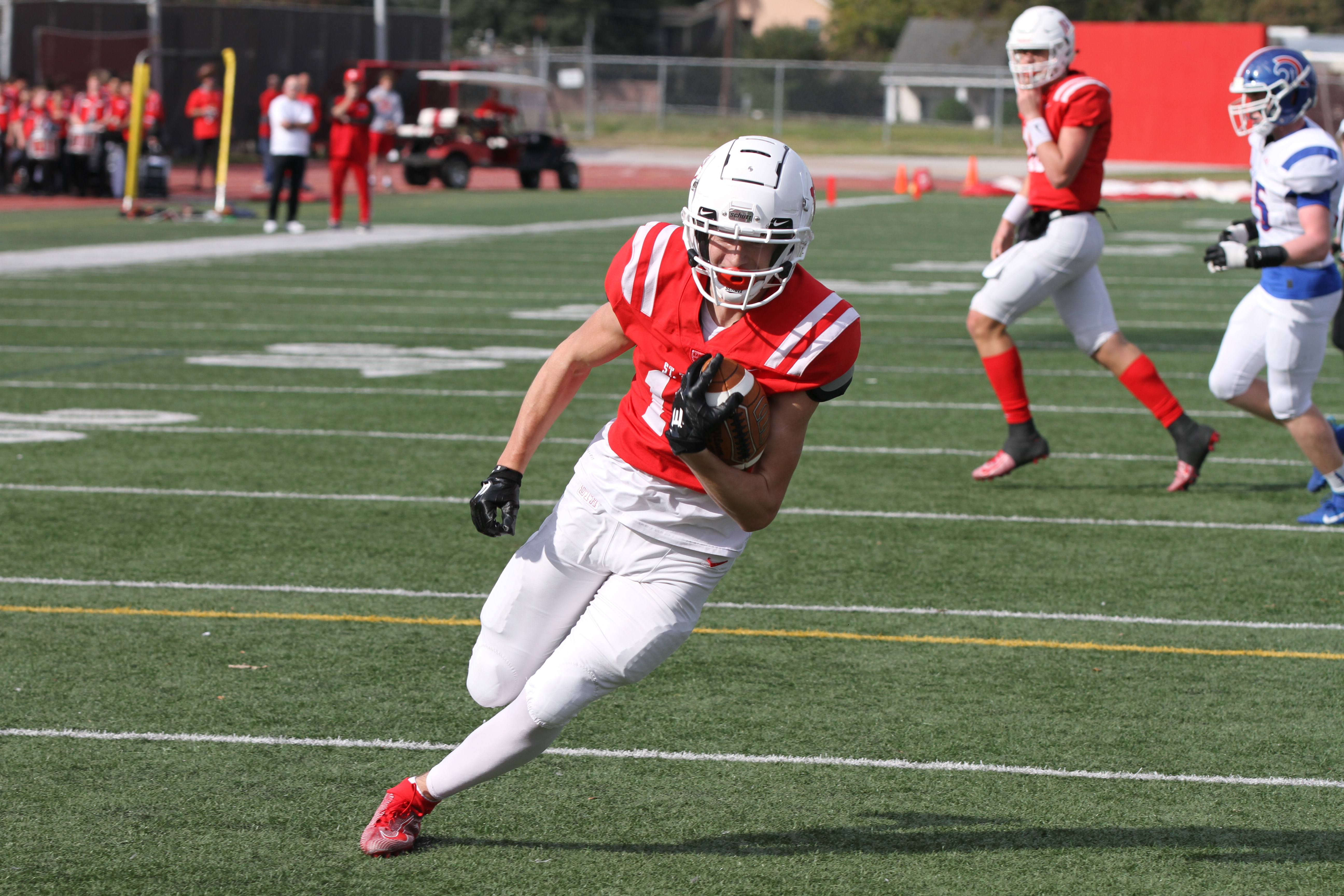 Sizzling St. Thomas has rolled to seven straight wins and nine in 10 games. The two-time undefeated district champions never trailed in disposing of Dallas Bishop Lynch 21-7 to wrap the regional riches and reach the state Final Four for the first time since 2014 and '15. Eagle Football was defeated in consecutive years by Plano Prestonwood Christian, 28-14 in Groesbeck and 49-23 in Palestine.
SETTING THE SCENE
Starting 0-2 and shaky from a 2-3 slap at midseason, the Eagles have recovered with a vengeance and hard reverse thanks to a relentless resolve.
Eagle Football has advanced with a nastier identity and delivered a rugged edge while relying on heart as much as art in owning October and beyond.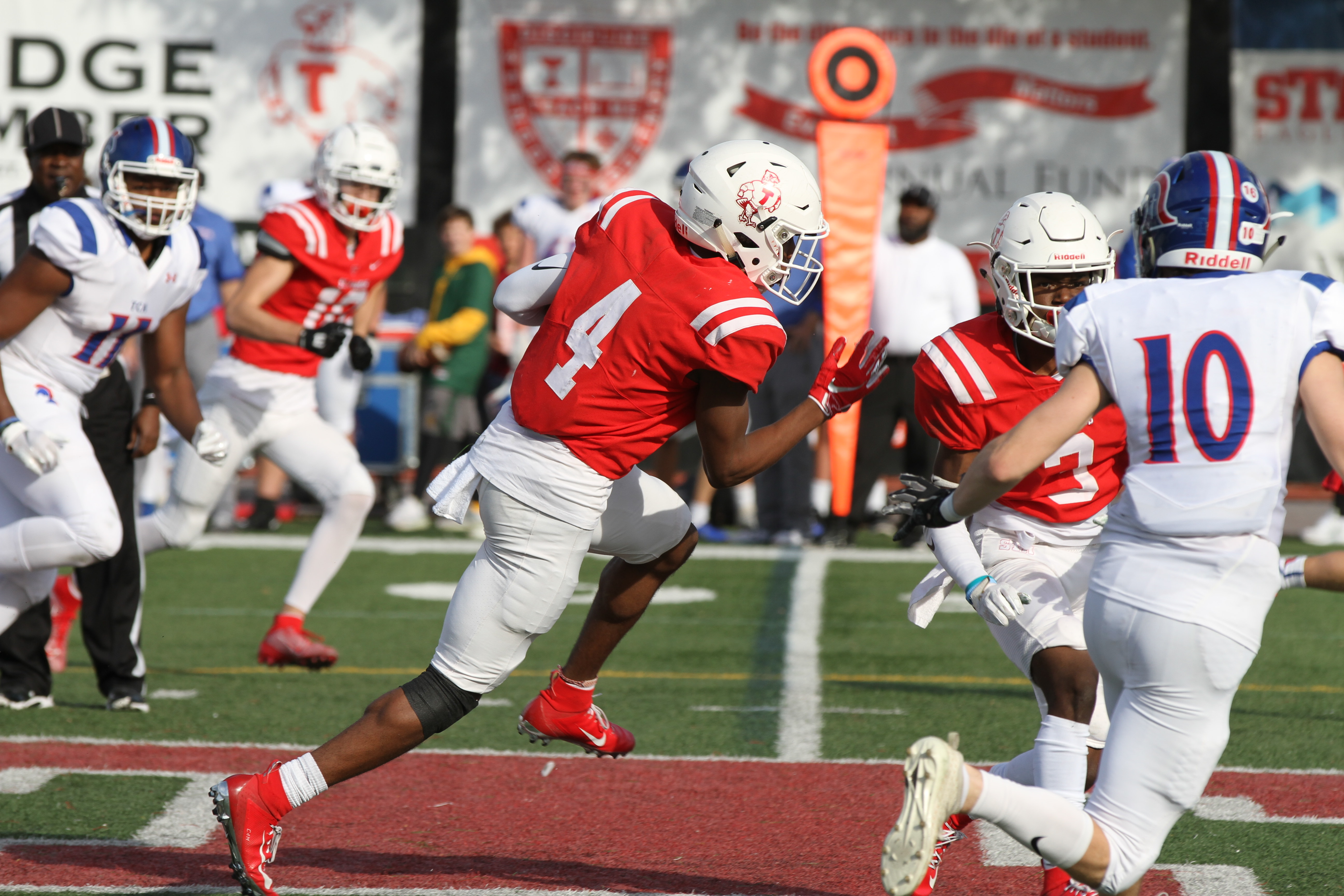 Talent sets the floor, character sets the ceiling.
A young offensive team has reached peak efficiency at just the prime time. The cauldron of the postseason rolls on for a group still maturing yet seemingly loaded with everything it might need – veteran leadership, young playmakers, invaluable experience, and an ethos that nobody will outwork them.  The soundtrack for the highest stakes to date comes from the brassy Corey Henry with a cue to "Keep Steppin."
Parish Episcopal is in the midst of a scorching stretch owning eight straight victories since its lone defeat of the season, a 24-17 loss to Fort Worth All Saints, and are averaging more than 45 points per game while allowing more than 14 only once. They've outscored their last three overmatched opponents 131-13.
The Eagles will contend with dual threat quarterback Preston Stone who accounted for 350 yards and three touchdowns in the 44-6 regional runaway route over Midland Christian. Parish Episcopal rolled for 473 yards on only 46 offensive plays.
PREVIOUS INSTALLMENT
Game breaker deluxe Cameron Bonner '21 bolted in Usain fashion for electrifying 94 and 79-yard touchdown receptions and added a critical fourth quarter interception in the regional playoff in Rusk.
St. Thomas needed emergency quarterback relief from starting defensive back Aidan O'Hare '21 whose third period interception set the stage for the first Bonner breakaway moment. On the first snap following the swipe and from the brink of his end zone, Maddox Kopp '21 connected with Bonner on a high arcing throw up the right sideline. Bonner timed the completion perfectly and raced untouched for a 14-0 advantage with just under 7:00 remaining in the period.
On the fifth play of the fourth quarter, Bonner leaped high for a catch in the right seam, quickly landed, and turned on the jets leaving defenders chasing with no chance for redemption. His second scintillating score raised the count to the eventual final margin.
NO RETREAT NO SURRENDER
The gnarly, ornery, oppressive Eagle defense has developed a bond almost telepathic – a subtle glance, a quick look, or a nod in the heat of the mayhem. The unit is locked in and playing off each other on that same detonating wavelength.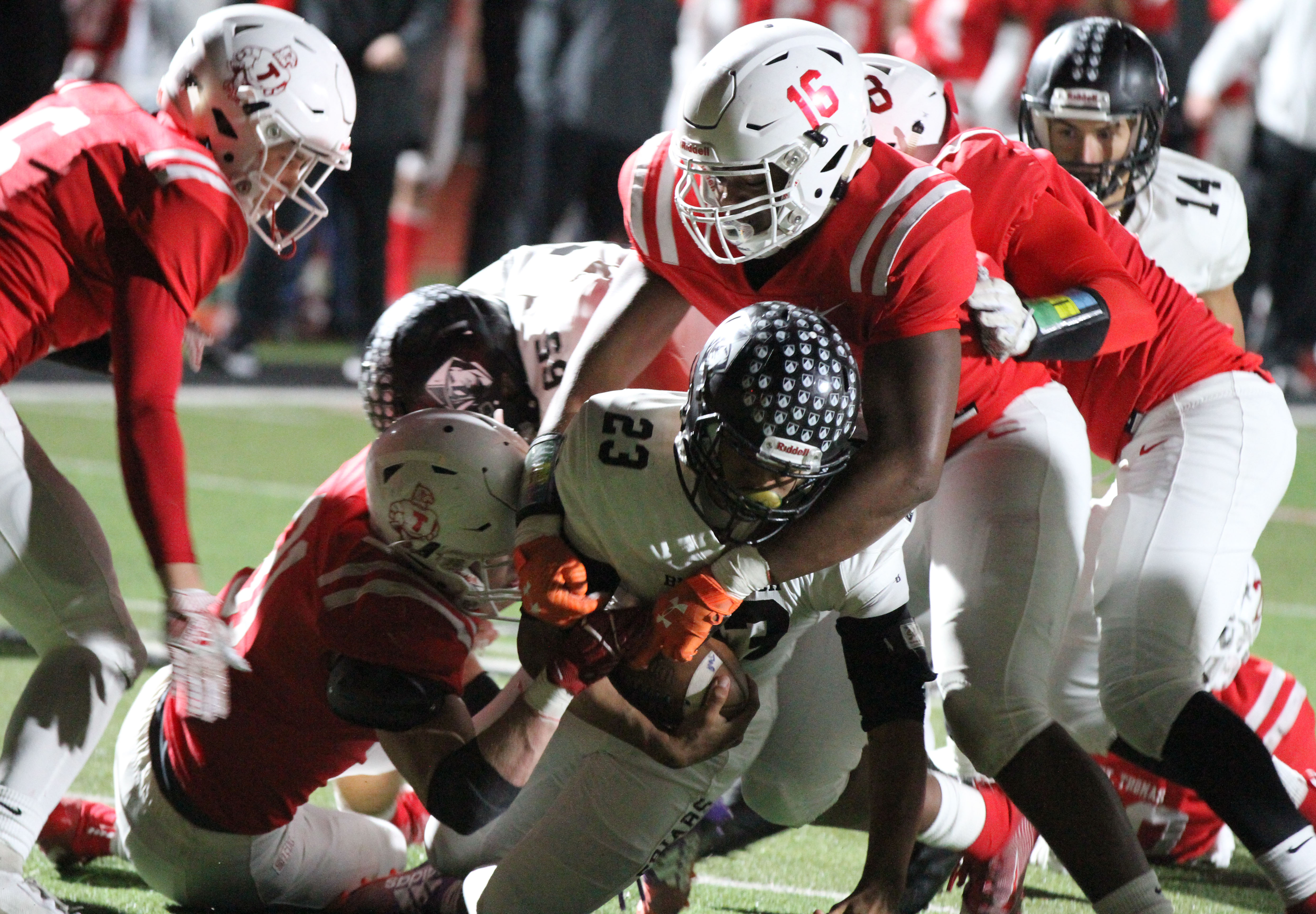 The partners in run and hit proved bulletproof forcing a first half Friar fold up of five straight punts and then pilfered three interceptions in the second half. It was the fourth first half shutout of the season after China Spring in Week 6, Tomball Concordia Lutheran opening district in Week 7, and San Antonio Central Catholic in Week 9.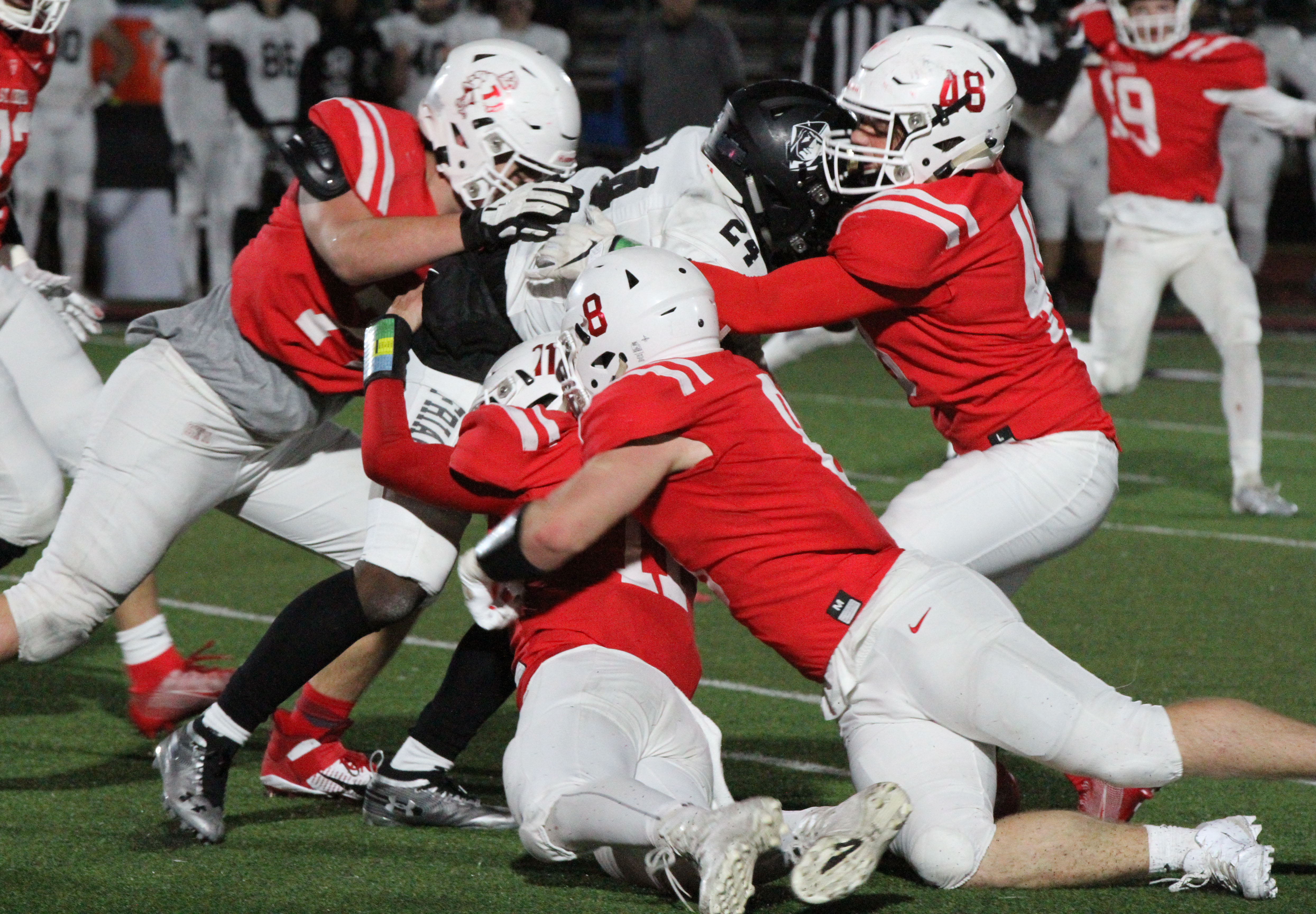 Bishop Lynch was smothered to only one single solitary first down in its first four possessions, converted but one third down in eight attempts, wheezed to a lone scoring drive aided by a face mask penalty, and was pronounced DOA when linebacker Vince Lee '21 collected the third St. Thomas takeaway with 2:22 remaining in the game.
WHOLE LOTTA LOVE
Five Eagles and head coach Rich McGuire were nominated by the Touchdown Club of Houston for postseason recognition at the 8th annual Private High School Awards Dinner presented by the Hildebrand Foundation and Houston Methodist Orthopedics & Sports Medicine.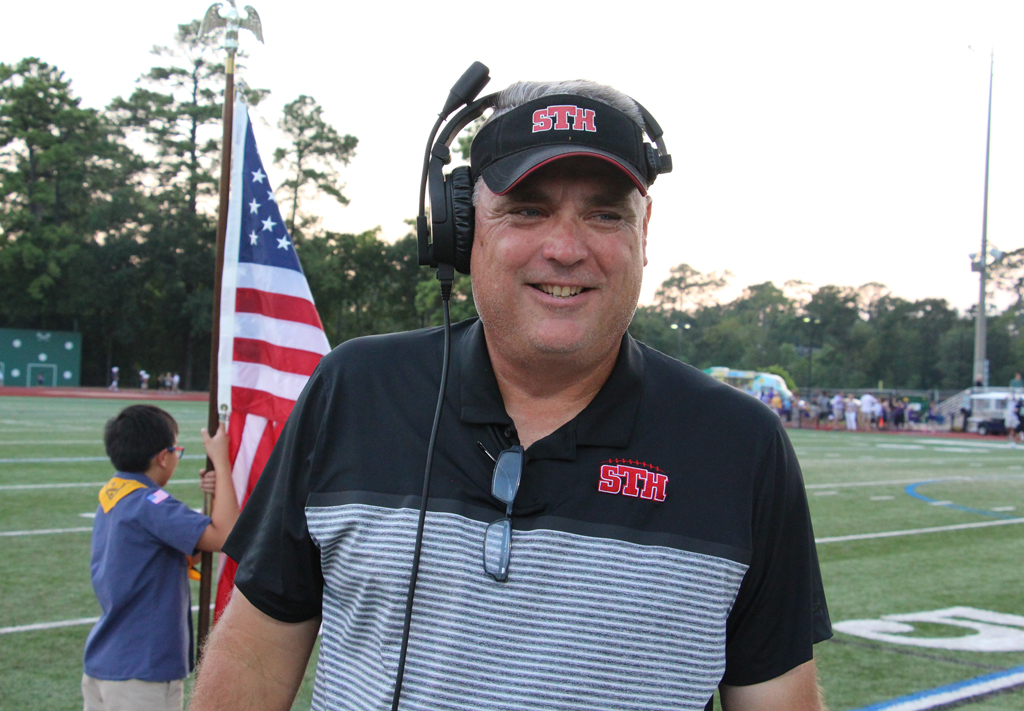 McGuire will be considered for Coach of the Year in his third year leading Eagle Football. All-State safety Daniel Coco '20, receiver Josh Crissmon '20, kicker Paul Langemeier '20, defensive lineman Chidera Umeh '20, and linebacker Cooper Thomas '20 were selected for individual distinction.
WEEK 11 || FIRST HALF
WEEK 11 || SECOND HALF
UPCOMING
A victory over Parish Episcopal would move Eagle Football into the state championship showdown against the winner of Plano John Paul II and San Antonio Antonian.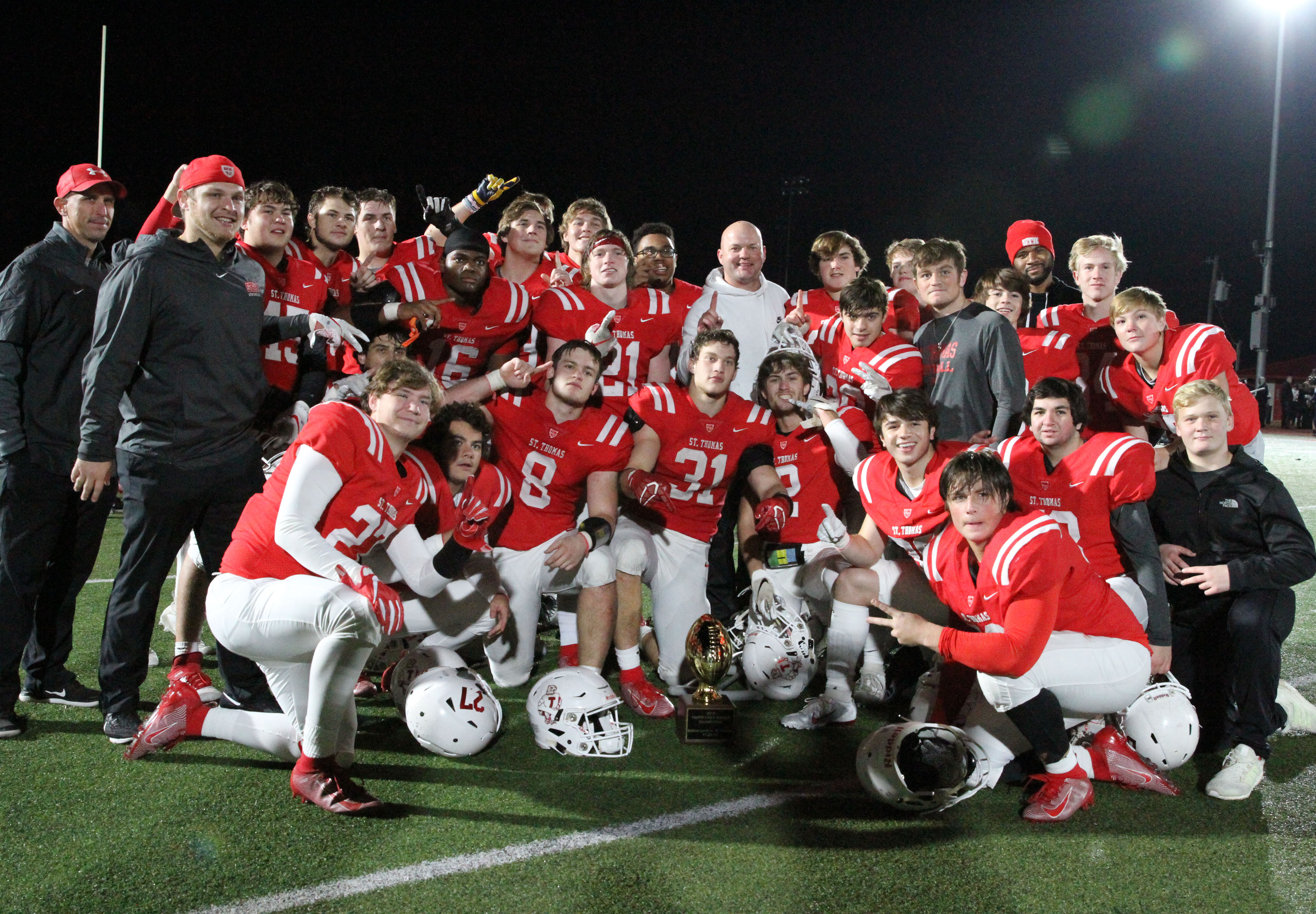 The Eagles are chasing the program's 18th state crown and first since 1996 when they outscored defending champion Dallas Jesuit 34-31 in the title tilt.
St. Thomas was clinging to a 20-17 lead in the third period when Greg Gatlin '97 emerged as the man of the moment returning a momentum seizing interception 98 yards to push the advantage to double digits. Brian Orlando '97 and Mike Orr '97 then tag-teamed for a 79-yard touchdown to double the count and effectively put the outcome out of reach. Wes Rucker '97 rushed for 107 yards with a pair of short range scores in a 20-point second period Eagle explosion that erased a 17-7 deficit.
The championship returned Eagle Football to the TCIL throne after capturing six titles during the 1980s, including a 1983-85 three-peat and consecutive crowns in 1988-89.
Eagle Fight Never Dies!