The holiday season traditionally closes distances and unites family and friends. But Eagle Basketball braced for an absolute about-face. The contingent bounced from Christmas day flights for dribble drives along the Atlantic coast, a business trip drenched in purpose for big picture dividends rather than immediate gravitas.
For the first time in program history, the Eagles engaged in one of the most prestigious hoopathons in the United States – the 39th annual Beach Ball Classic in Myrtle Beach, South Carolina.
"This was for our school and our student athletes, to represent St. Thomas on a national stage, and create an awareness unlike ever before," head coach Gary Hall says. "We're a program that believes in competition. We're a program that believes in being grateful for every opportunity that we have. This was a springboard for enthusiasm to energize our guys … a special week for everyone involved."
Hall is in his second season reestablishing Eagle Basketball. He built his championship coaching legacy at Herndon High School in Northern Virginia and his deep relationship with tournament executive director John Rhodes was responsible for the 2019 invitation.
"John understood the reputation of our school and how our young men would conduct themselves," Hall says. "He recognized St. Thomas is a great match in many ways with the other schools who are routinely involved. We're certainly grateful for John's consideration and what this will mean for St. Thomas moving forward."
The Eagles played four games in six days starting December 26 with 71-60 defeat to Chicago Whitney Young and Duke signee DJ Steward. St. Thomas then dominated Buchtel (OH) 53-29 with Maddox Kopp '21 scoring 21 points with nine rebounds.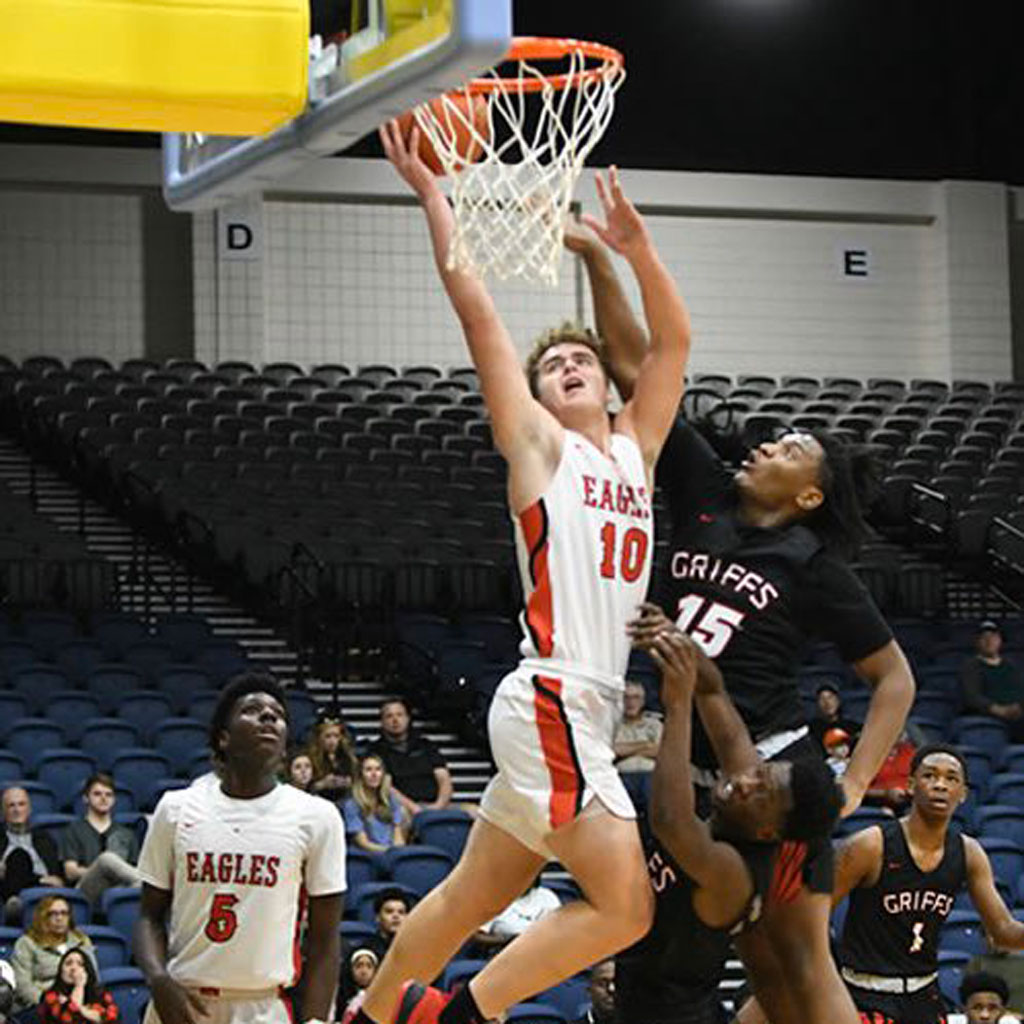 Kopp's 23 point-13 rebound outburst wasn't enough in a 70-52 loss to Izard County (AK). But the Eagles closed out with their most complete effort of the tournament. The 90-78 verdict over host Myrtle Beach included 56% shooting and a +21 rebounding edge. Johnathan Massie '21 erupted for 26 points (14-16 free throws) and Dillon Lowe '21 drained six bombs from beyond the three-point arc on his way to scoring 22. Kopp added 21 points to wrap his all-tournament selection.
"Credit coach Hall for putting us in that position. It was up to us to make the most of it," Kopp says. "We were confident as a team and ready to show St. Thomas basketball to other parts of the country."
Dorman (SC) captured the Classic championship with a 69-60 victory over St. John's College from Washington, D.C. for the first in-state champion since Eau Claire won the BBC title in 1986. The 16-team field also featured New York's famed Long Island Lutheran, consolation champ Los Angeles Harvard-Westlake, along with Myrtle Beach and fellow host school Socastee.
Massie valued the Classic as "a way to measure ourselves against some of the best of the best. Our focus is always on one game at a time, building, and improving. The tournament helped determine how far we still have to go to get better for important games."
Hall's first coaching encounter at the Classic was during the 1989 season assisting at Reston (VA) South Lakes led by future Duke legend and Naismith Basketball Hall of Famer Grant Hill. Their first assignment was against famed Archbishop Molloy from Queens, New York flashing point wizard supreme Kenny Anderson. Molloy would eventually capture the tournament championship over Toledo Macomber and Jimmy Jackson, a future two-time All-American at Ohio St. and 15-year NBA veteran.
The Classic has continued to showcase sublime talent for decades, from Kevin Garnett to Kobe Bryant to four of the first 16 selections in the 2019 NBA Draft – Zion Williamson, RJ Barrett, Jaxon Hayes, and Chuma Okeke. The event was founded in 1981 by then high school honcho Dan D'Antoni, the brother of Rockets bench boss Mike and now the head coach at Marshall University.
Such was the deep historic hoop dive for the Eagles as they push and pressed into the new year.
"What we talked about as a team was leaving each of those games with an all out effort and no regrets," Kopp says. "Who knows when or if we'll ever be in that kind of position again."
In many ways, the full definition of the Eagle ensemble is just emerging at the midway milepost.
The 6-5 Kopp has made an immeasurable impact – scoring, rebounding, leading – since joining the starting lineup after quarterbacking Eagle Football to the TAPPS Division I state semifinals.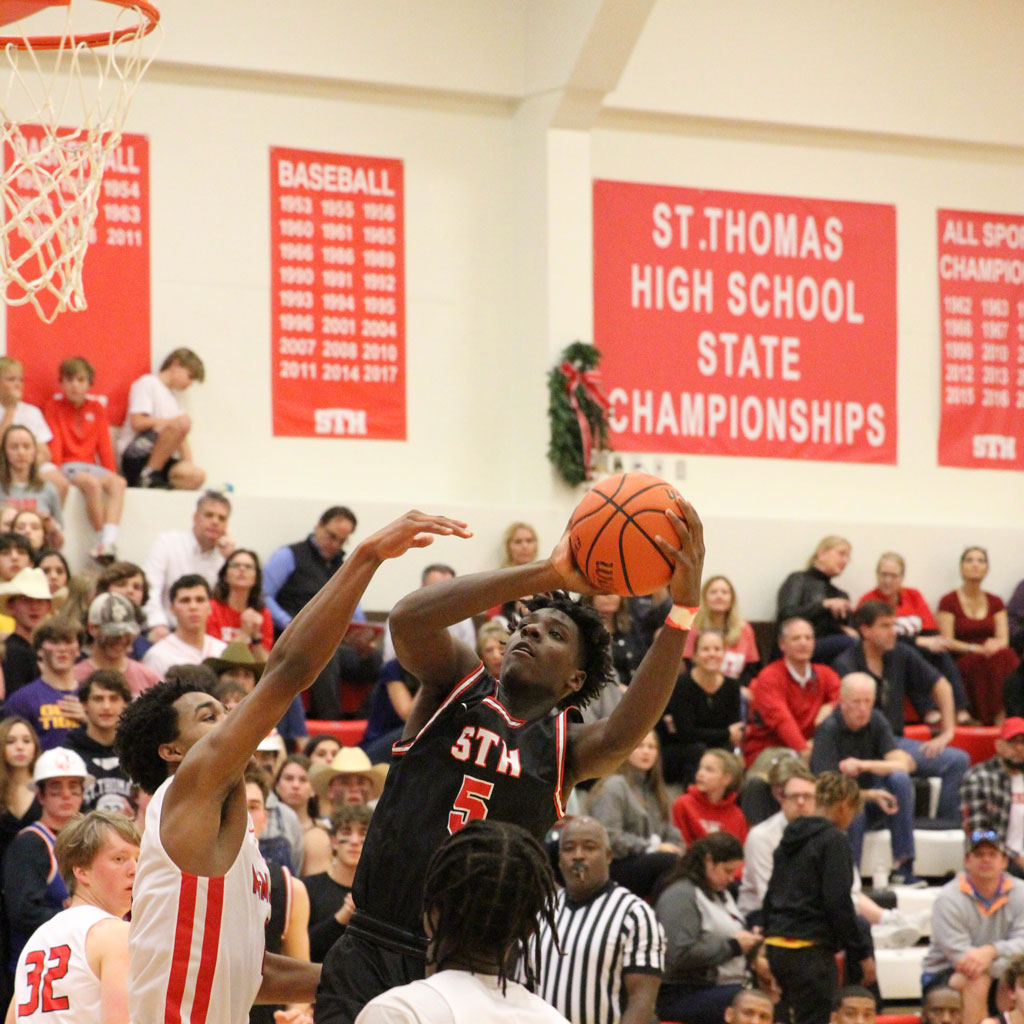 Massey continues as a dynamic creator both in free flow transition or when orchestrating half court sets. He negotiates and leverages tiny openings, whether the shot is a runner, a fader, a drive, a move to the rim, a leaner, a spot-up, whatever. He and Kopp are surrounded by a mix of suburban-tough graduates of Our Lady of Perpetual Release and Swish who hoist a whole lot of treys. The flame-throwing Lowe scorched four buckets in the second half from beyond the arc in the 56-47 comeback win over Memorial that raised the record to 9-7.
"Everything we do as a team is to be prepared for the situations that will determine our season," Hall says. "I don't want to call a timeout in late February when the season was on the line, look into the eyes of the players, and see fear. That Myrtle Beach competition is a huge part of that maturation. We're ready for any challenge ahead of us. Our goal every season is to win the last game."
The Classic featured a nationally televised slam dunk contest and 3-point shootout. The two off days allowed Hall and his players time to explore the Lowcountry's natural beauty and hospitality. The capital of South Carolina's Grand Strand offered the Myrtle Beach Boardwalk, the birthplace of Carolina beach music, and the many virtues of fried chicken, boiled shrimp, red rice, deviled eggs, and decadent fudge pie.
"Each team was assigned ambassadors, usually a husband and wife from the community," Hall says. "Jim and Tammy Church served as our escorts and tour guides during the entire stay. They were on our bench during the games and became a part of our team in a personal way. That's just one of the aspects that makes the Classic so unique. Regardless of the basketball results, years from now these are the kinds of experiences that are most memorable. It won't necessarily be about wins and losses but the camaraderie, discovering an unfamiliar part of the country, and our guys broadening their individual growth – that's what will likely mean the most to the group."
Eagle Fight Never Dies!