Eagle Soccer carried a decided rude mood throughout the holiday season that has extended into the new year.
Head honcho Kenny Martin '01 and his sure striking mates would have it no other way.
Most ungracious, as hosts and guests, ornery and snarly. And why not unruly, given the most welcoming of results in what is expected to be another championship contending stampede through the TAPPS postseason.
High school soccer is often characterized (if not criticized) for blandness and uniformity. The Eagles have blown that complaint to bits by blitzing its opponents 74-12 while racking 18 wins and a tie in 21 outings, an undefeated 9-0 at home, and a 4-1 jump start to the district race.
Included in the carnage was a superb showing in the Jacksonville (FL) Soccer Showcase where midfielders Nico Prioli '21 and David Steffes '20, along with goalkeeper Robert Vara '20 were named to the All-Showcase team.
But the signature knock came in late December courtesy an under-manned lineup that out-fought UIL regional 5A power Sharpstown 1-0.
"It's all been a little bit of a surprise," Martin says. "A good surprise."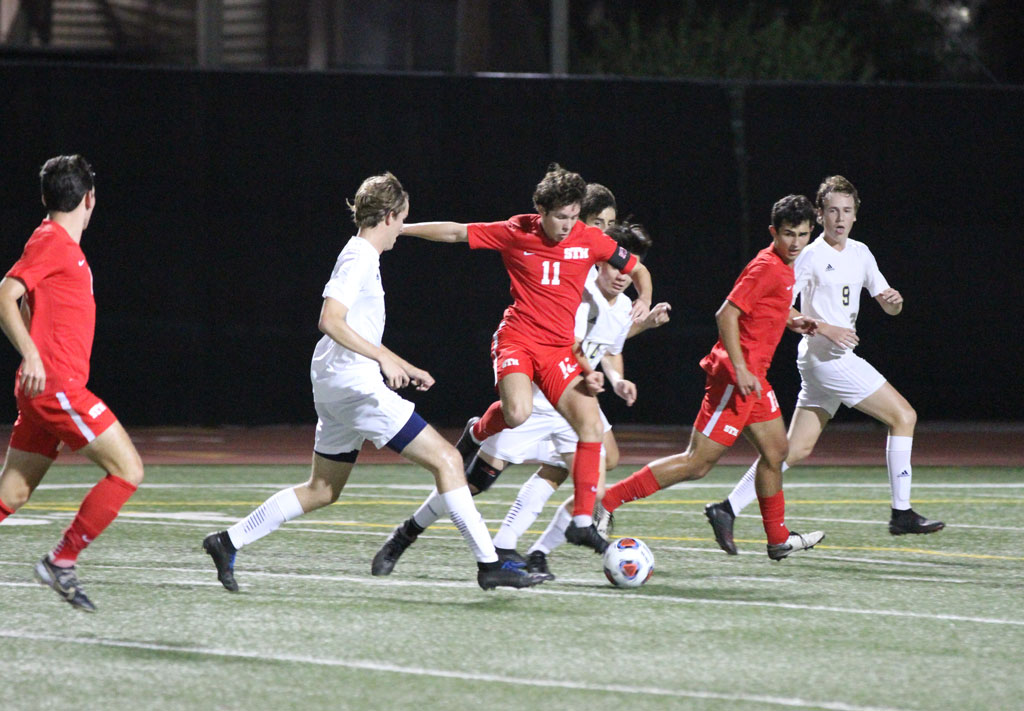 Captain Alex Rivero '20 is staging a scintillating senior sendoff arming again with Pablo Tager '21 for a tag-team high octane offensive. Rivero has racked 21 goals (and counting) after emerging as the program's single-season scoring king with 38 in 2019 and 84 points. Tager has generated 11 goals seizing individual momentum from a sizzling summer circuit where he was selected as the top forward at the invitation only EXOS Southwest Showcase.  In December he was named an EXOS Select 50 Soccer All-American.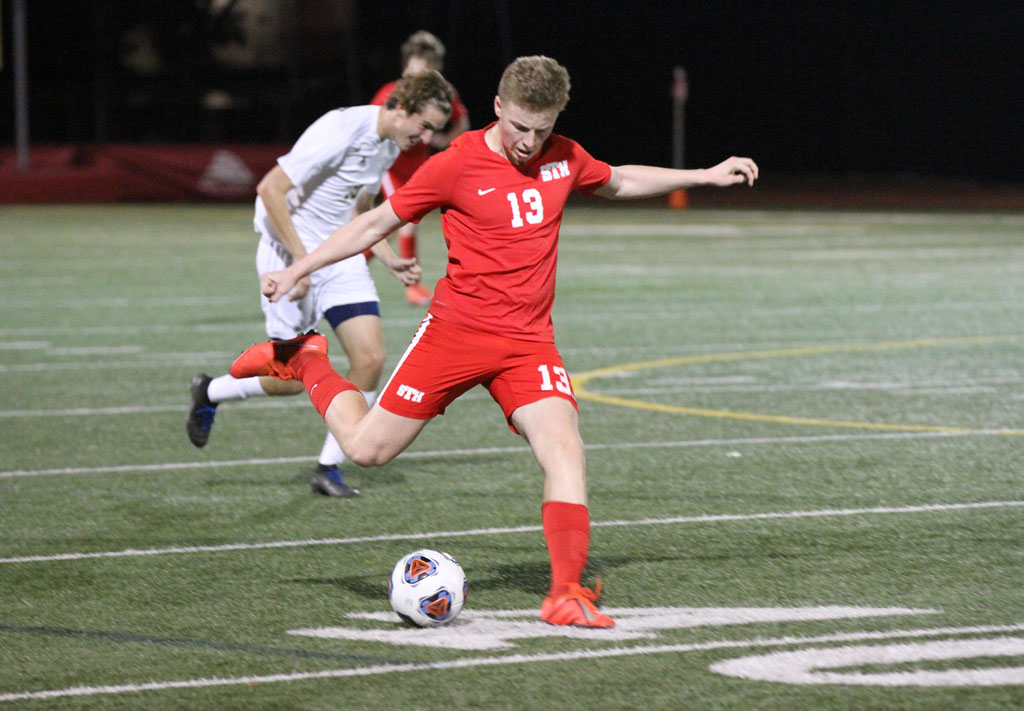 Steffes gives the Eagles a third prime threat (11 goals) in an array of weapons while Santiago Labarthe '22 is even with Rivero with eight assists for the team lead.
"Steffes and Tager have added strength and muscle," Martin says. "Both are attacking with more confidence and physicality to their game that wasn't as evident before. I want that element. As you move deeper into the season, deeper into the playoffs, you have to assume the role of the bully to knock opponents off the ball. Otherwise, you're being bullied."
And the Eagles have enjoyed an added jolt from midfielder Paul Langemeier '20 fresh from acclaim from the Touchdown Club of Houston and his thunder foot finale with Eagle Football that ended in the TAPPS 6A state semifinals.
"I love how different contributors are stepping up when they're needed," Martin says. "We're continuing to tweak lineup combinations. We'll play Nico more at forward. He's showed how he can hold off defenders with the ball and that allows Alex and Pablo to better exploit their speed from the wings. It's opened a new dimension. (Sophomore) Ruben Vara has filled in at the midfield alongside Steffes and Santi. It's a complete package."
Vara has stifled opponents while posting a 16-2 mark, allowing only 10 goals in his second season as the most suitable of replacements for supreme stopper Jacob Manley '18.
"Robert doesn't have Manley's physical frame but is just as quick and just as savvy as a shot rejector by every measure," Martin says.
The biggest unknown for Martin entering the campaign was reestablishing a backline identity with deluxe defender Zach Blice '19 moving on to Jacksonville University of the Atlantic Sun Conference. Jamil Qasem '21 and Cade Delagarza '21 have emphatically answered the call shrinking their collective learning curve despite limited time playing together before this season.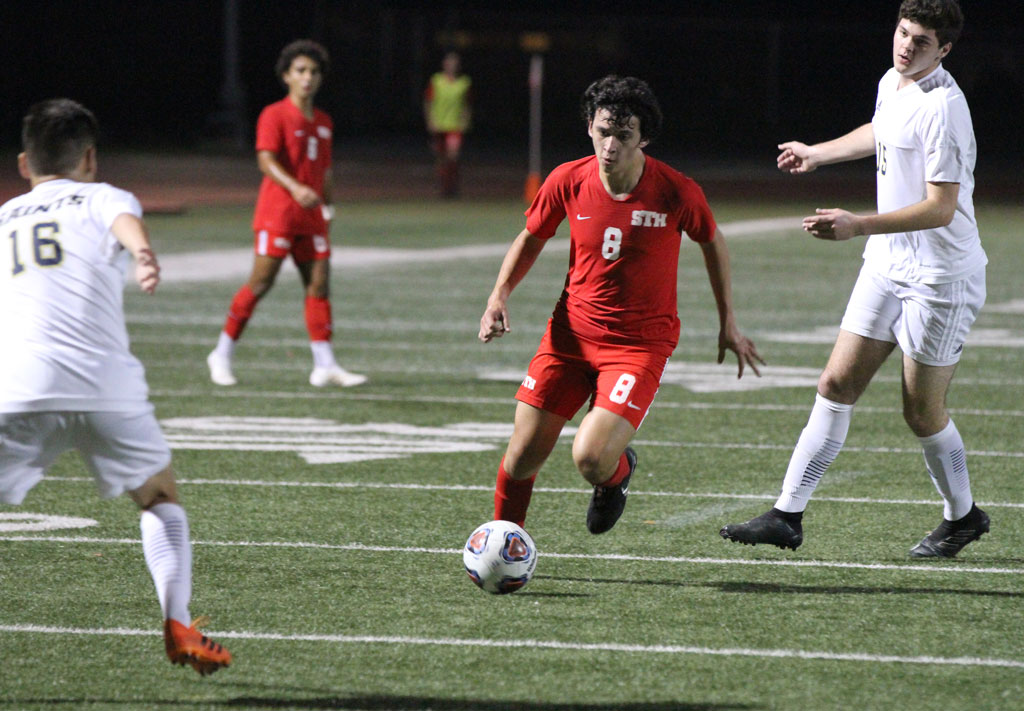 Eagle Soccer is in the midst of a four-year tour de force pulsed with runaway wins and emotional intensity. Martin is the majordomo in his 19th year and ninth as head coach, the mastermind behind 79 victories and only 14 defeats in the previous 101 games.
The culture change began decisively in 2016 with a renewed commitment to player development. The transformation was also brought from a tougher team mentality, a high pressing style, and occasionally the freakishly competitive catalyst – Rory Hogan '17, Manley, Blice – who will exert everything possible to gain an advantage and just win, baby.
Yet the wild thrill ride has also included excruciating setbacks to San Antonio Central Catholic to end consecutive seasons, first in the 2018 state final, then in the follow-up semifinals, both when the winning margin was the width of a shoelace. The inability to match the program's single solitary state title, circa 1981, is a void that has hung over the program like a specter.
Now the undaunted Eagles have embraced a 'united pursuit' mantra. The challenge through the end of February is to flash enough poise, swagger, and skill to make a sword-juggling tightrope-walker jealous.
Perhaps steal a verse from 'Stronger Than I've Ever Been' by Kaleena Zanders. And command the elusive throne.
I've been chasing a road to glory
Driven since I was a child
Sweat and tears fall to push me forward
Pride and fear fuel the fire
They tell you life is a game, but it ain't a game to me
The lights are calling my name
Yeah, I got the energy
To put it all on the line
I'm feeling larger than life
If you knock me down
I get up again
I get up again
Born unstoppable
I get up again
Now I'm stronger than I've ever been
Stronger than I ever been
Stronger than I ever been
"You don't forget the taste in your mouth when you fail and when you lose a chance at a championship," Martin says. "And I think there's a little bit of that that definitely acts as a motivation for this group. We'll always play to win and to never have that feeling again.
"As good as we have been (since 2017), this team seems to have a different attitude, maybe more resilient, hopefully more relentless, to better handle the championship caliber setting. There's an internal hunger that we'll need if we want to finish the job."
Eagle Fight Never Dies!