Sebastian Ortiz '20, Dylan Michaels '21, and Josh McLean '22 teamed for three top-two individual results while igniting valuable relay finishes in leading Eagle Swimming to a second consecutive TAPPS Division I state swimming championship at the Josh Davis Natatorium in San Antonio.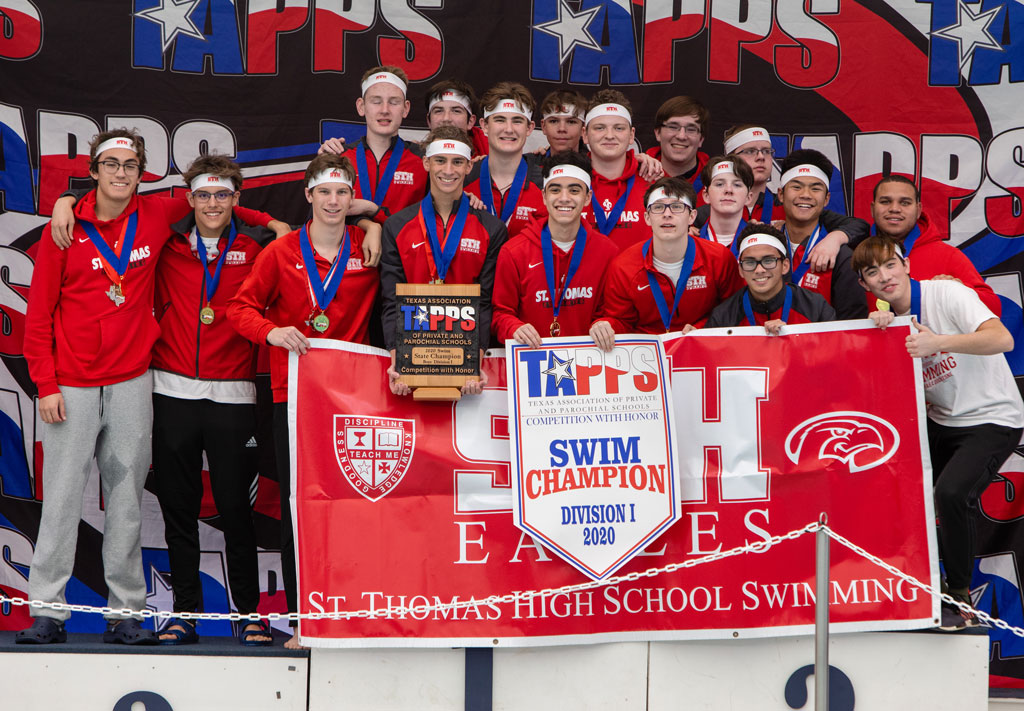 The Aqua Eagles in the first season with head coach Van Jones successfully defended their first ever title outpacing perennial kingpin El Paso Cathedral for the second straight year. St. Thomas racked 303.5 points for a winning margin of 29.5 raising the total to 105 state titles in the rich annals of Eagle Athletics. It was the eighth top-four state outcome for Eagle Swimming in 11 years.
The versatile Ortiz (1:47.94) followed Michaels (1:47.03) in racing to a 1-2 Eagle finish in the 200 yard freestyle and then blistered a runner-up result in the 500 free.
Ortiz sizzled with McLean and Michaels in the 200 free relay that took second (1:30.92). He then capped his acclaimed Eagle career with the anchor swim for fourth place in the 400 free relay finale (3:25.88) that included Michaels as St. Thomas clinched the crown by reducing its entry time by more than 10 seconds.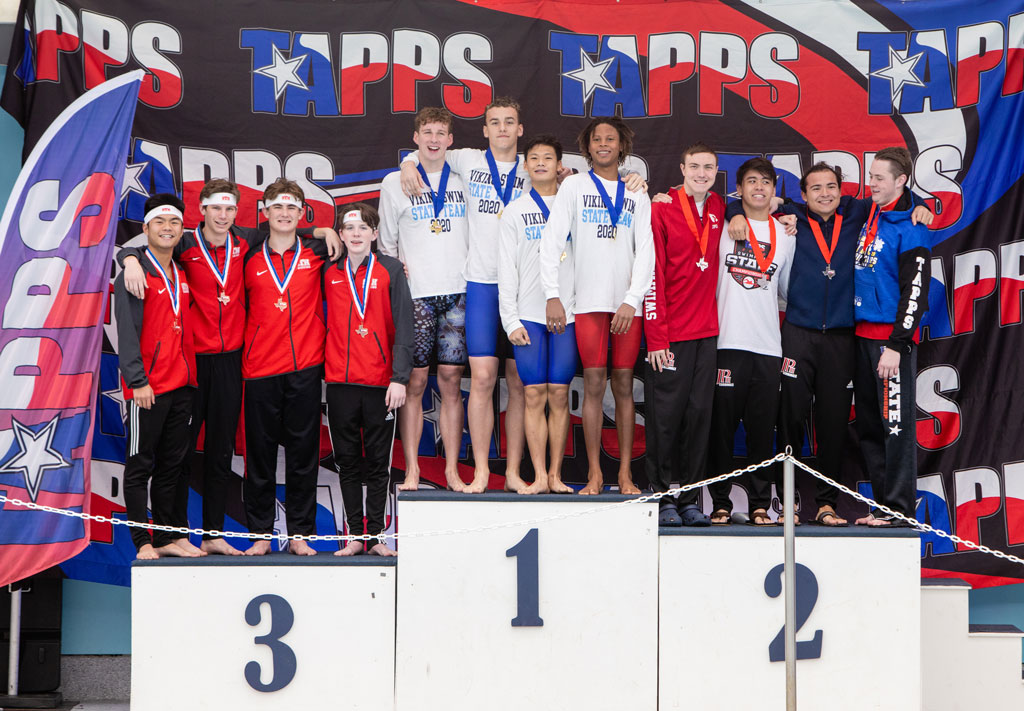 McLean swam the lead leg in the 200 medley relay that took third (1:41.38), then captured fourth in the individual medley (2:05.86) and fifth in the 100 breaststroke (1:04.20).
Notable Eagle Swimming results include:
McLean, Griffin Gregory '21, Patrick Pham '21, and Carrick Brogan '22 finished 3rd in the 200 medley relay
Michaels 1st and Ortiz 2nd in the 200 free
McLean 4th and Charlie Ramirez '22 9th in the 200 individual medley
Brogan 9th and Dylan Sandrock '22 15th in the 50 free
Pham 5th, Patrick Greaney '21 9th, and Ramirez 10th in the 100 butterfly
Michaels 7th in the 100 free
Ortiz 2nd, Aiden Brelinsky '20 11th, and Ethan Armenta '20 15th in the 500 free
McLean, Brogan, Michaels and Ortiz 2nd in the 200 yard free relay
Pham 8th, Max Kasse '23 9th, Sandrock 10th, and Brogan 12th in the 100 backstroke
Pham 8th, Sandrock 10th, and Brogan 12th in the 100 backstroke
McLean 5th and Gregory 7th in the 100 breaststroke
Brelinsky, Greaney, Michaels and Ortiz closed with 4th in the 400 free relay
The state championship success comes after St. Thomas earned a third straight regional title, its fifth in six years.
Eagle Fight Never Dies!