How do we remember our contributors?
Some leave indelible impressions through tenure over years or even decades, thereby becoming part of an institution's fabric through their dependable presence. Others shine brightly, creating unforgettable memories regardless of their longevity. Others still permeate our consciousness for their role as selfless facilitators, whether lifting colleagues or the community at large.
A rare few check off each box. One way or another, though, our stakeholders make an impact. And this is the genesis of the series we're continuing throughout February.
20 in '20 celebrates the most moving measures and moments, agents and participants within our extended campus community who represent the totality of the St. Thomas mission since 2010. Twenty stirring examples each within Eagle academics, athletics, and alumni.
Enduring. Dynamic. Inspirational. Invaluable.
This is the second in a series.
Athletics
Payton Matocha '19
His rollicking raucous football career was charged with a series of electrifying Friday night lights where he tested limits and expanded the imagination. Yet, the closing act in Matocha's scintillating stay registered on the Richter far away from the gridworld.
Matocha played majordomo in an era of boundless offensive football. His staggering senior send-off suggested life imitating PlayStation – a single season school mark of 3,692 passing yards with 35 touchdowns plus 804 rushing yards and 14 more scores.
And Matocha the maestro was never more majestic than in his 33rd consecutive start and final regular season home game with the stakes stacked highest against generational rival St. Pius X when he conducted one of the more memorable and improbable Eagle triumphs.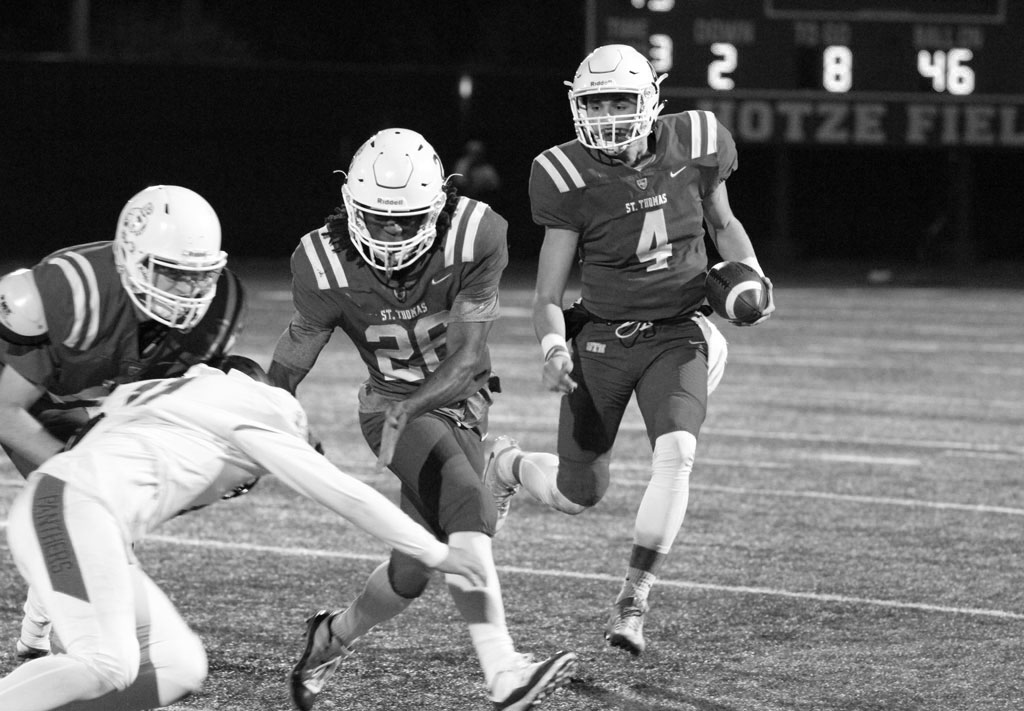 Matocha long performed as if born for the storm, commanding calm in the tsunami of defensive duress essential to football's mission critical position. As if he were somehow destined for a future in the swirl of Hurricanes.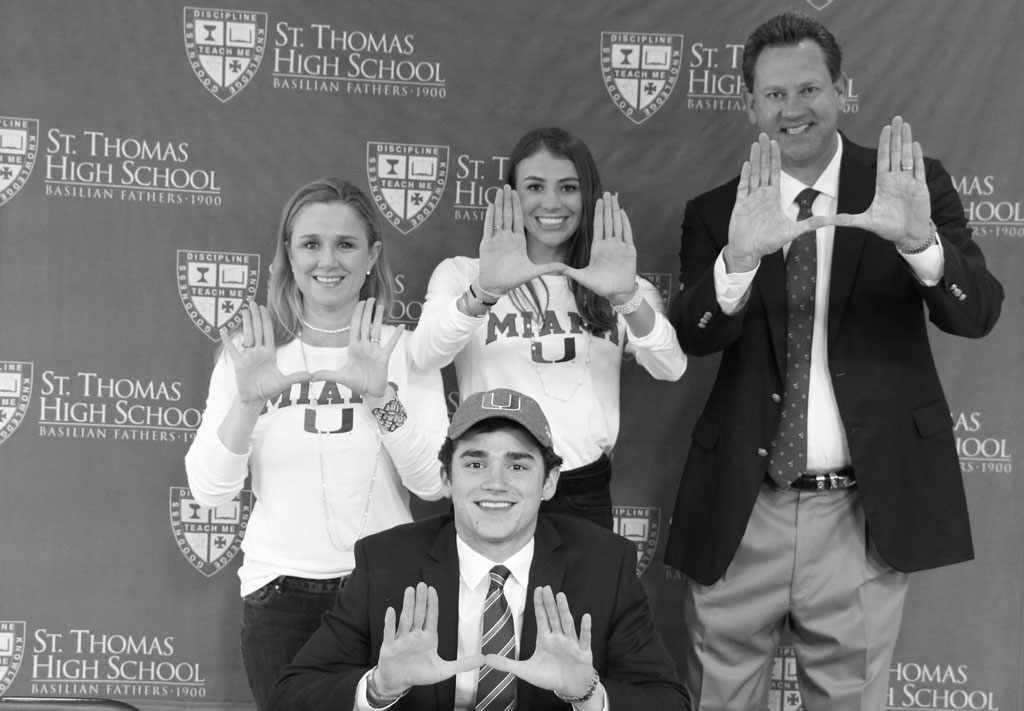 CLICK HERE FOR MATOCHA SIGNING WITH THE UNIVERSITY OF MIAMI
At the 2019 TAPPS state track and field championships, an undaunted band of Eagles unleashed a fast and furious surge to the finish.
With all eyes riveted on the high jump area for the climatic event, Matocha calmly summoned his true raison d'être. He locked in on the distant bar, attacked from his trance, leaped, tumbled backward, and defied the dreadful inertia long enough to leave the rod undisturbed at 6-6 – the highest jumper in TAPPS history.
Matocha's pivotal exclamation point pushed St. Thomas into command position. With light fading, there was no doubt who owned the sunset. The official announcement soon reverberated throughout the near empty confines.
The 6A state champions … St. Thomas High School.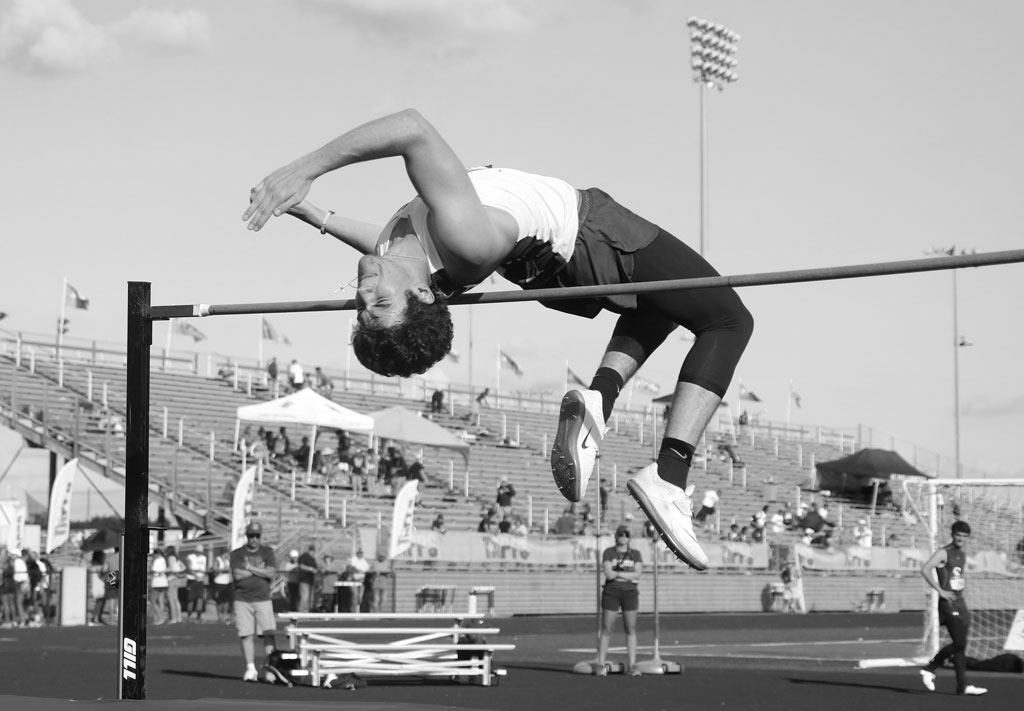 Landon Malouf '16
One of the most versatile and acclaimed two-sport competitors to wear the Red & White navigated an endless succession of races and jumps as if the track were a theater and he was Hamilton. His season-long multi-event assault included a victory in the 110 meter hurdles at the 89th running of the Nike Clyde Littlefield Texas Relays, the first ever Eagle to capture an individual event at one of the most prestigious track and field events in the nation.
The uber talented Malouf then provided the irresistible force behind the Eagles dramatic charge to the 2016 TAPPS 5A track and field championship. He paired power and grace to re-establish one state mark he had already owned while continuing his dynamo swirl of results. And a sport which often occupies an obscure corner of athletic life will forever carry the distinction of stamping the 100th state title in the rich and storied history of St. Thomas athletics.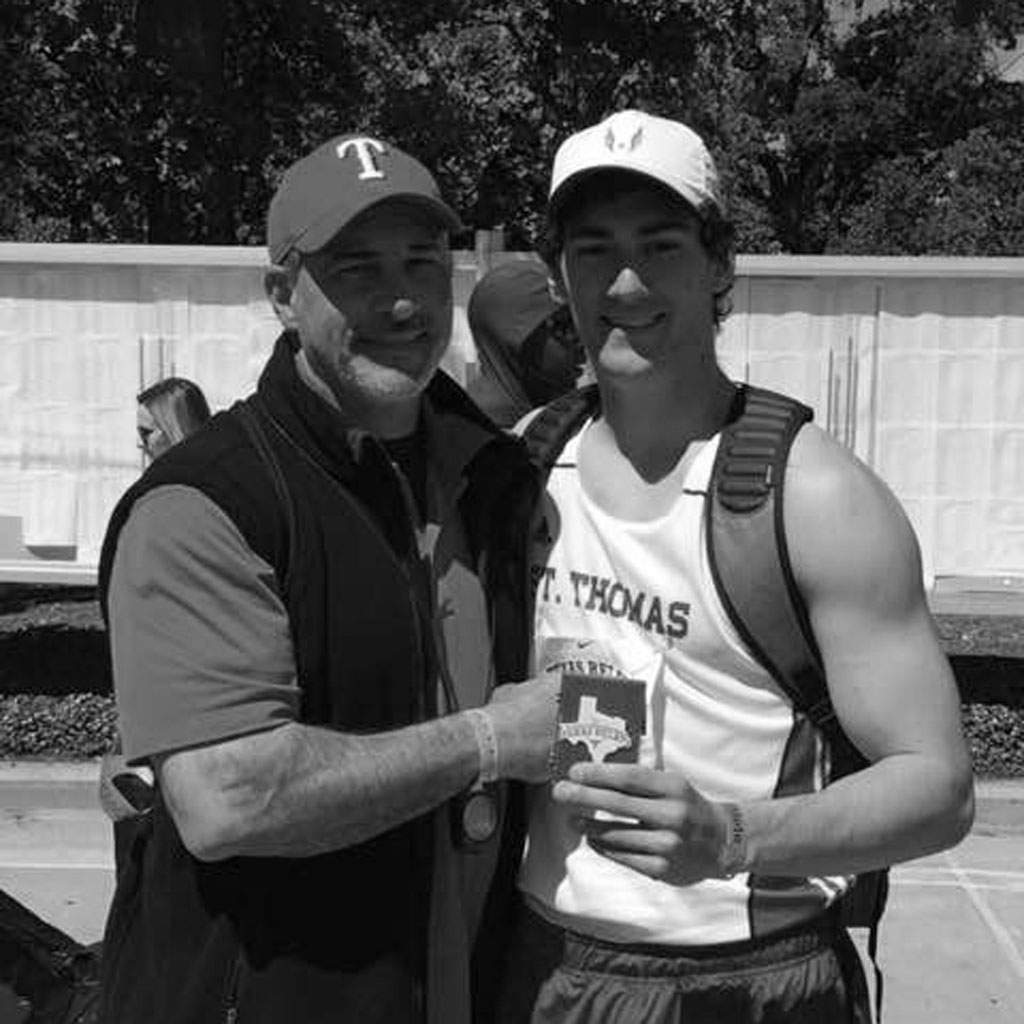 A year and a half earlier, Malouf's mojo produced a special dose of madness that will live long in the annals of the football rivalry with Strake Jesuit. His 47-yard weaving left-to-right catch-and-romp through and past four defenders with four seconds remaining gave Eagle Football an against-all-odds verdict and their second consecutive stun-at-the-gun victory at Crusader Stadium.
Josh Wolf '19
The two-time TAPPS All-State pitcher struck out 126 in 69 innings during his stellar senior season with a microscopic 1.52 ERA. And Wolf saved his most wicked for last in propelling the Eagles to their ninth state Final Four and sixth championship final in 10 years.
Then in the late evening hours of June 3, 2019, Wolf saw his professional promise receive the necessary seal of approval from a savvy pragmatic brain trust believing in his baseball gifts and believing in them more than almost anyone else's. He was taken in the second round of the MLB Draft by the New York Mets, making him the highest selected player in the illustrious history of Eagle Baseball.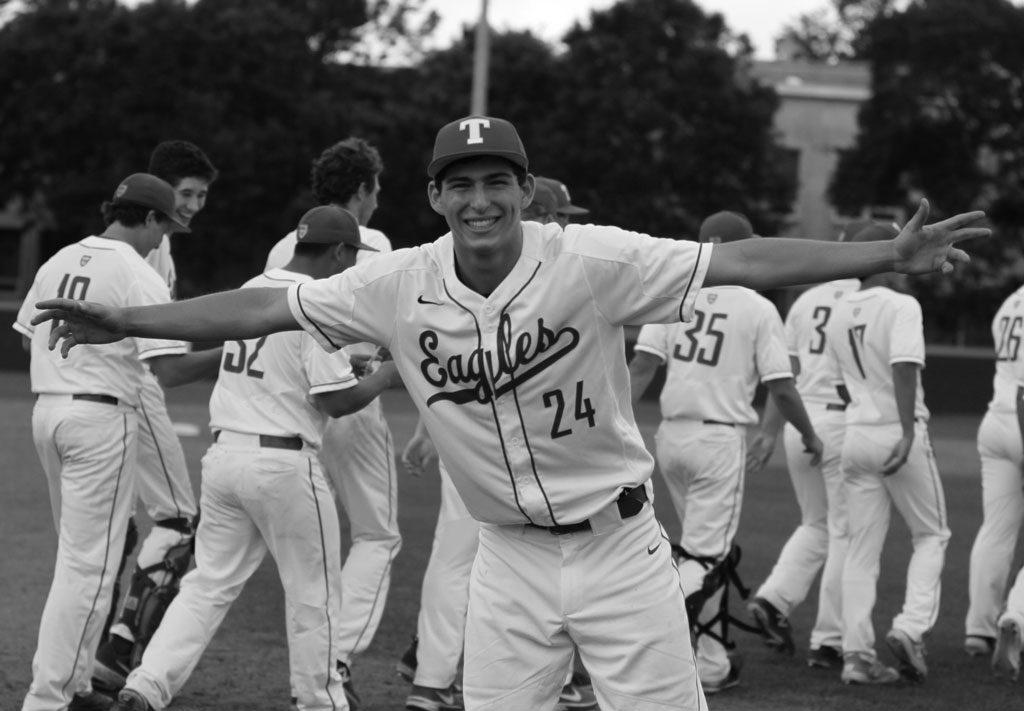 Chase Brogna '11, Ian Hurley '11, and Christian Sanders '12
St. Thomas was the decided underdog in the 2011 TAPPS 5A showdown with Plano Prestonwood Christian Academy. But a flurry of far flung threes from the trio of long distance assassins produced 60 points and reduced the defending champions to a collapsed building. Just a hole surrounded by broken bricks and mortar strewn all over the road.
Brogna led the barrage with 25 including a deep bomb from beyond the arc with five seconds remaining in the second quarter that tied the score at 27-27. Sanders, who would later complete a solid four-season career at Stanford, poured in 22. His dagger trey early in the third period gave the Eagles a 36-30 advantage.
St. Thomas overcame a double digit deficit in the first quarter, held Prestonwood sophomore manchild Julius Randle (future one-and-done at Kentucky, 7th overall selection of the 2014 NBA Draft, and current New York Knick) to 14 points, and captured sizable momentum from two Prestonwood technical fouls in the decisive third period swing. The 76-57 runaway rout secured the second state title for Eagle Basketball in four years and remains the most recent in program history.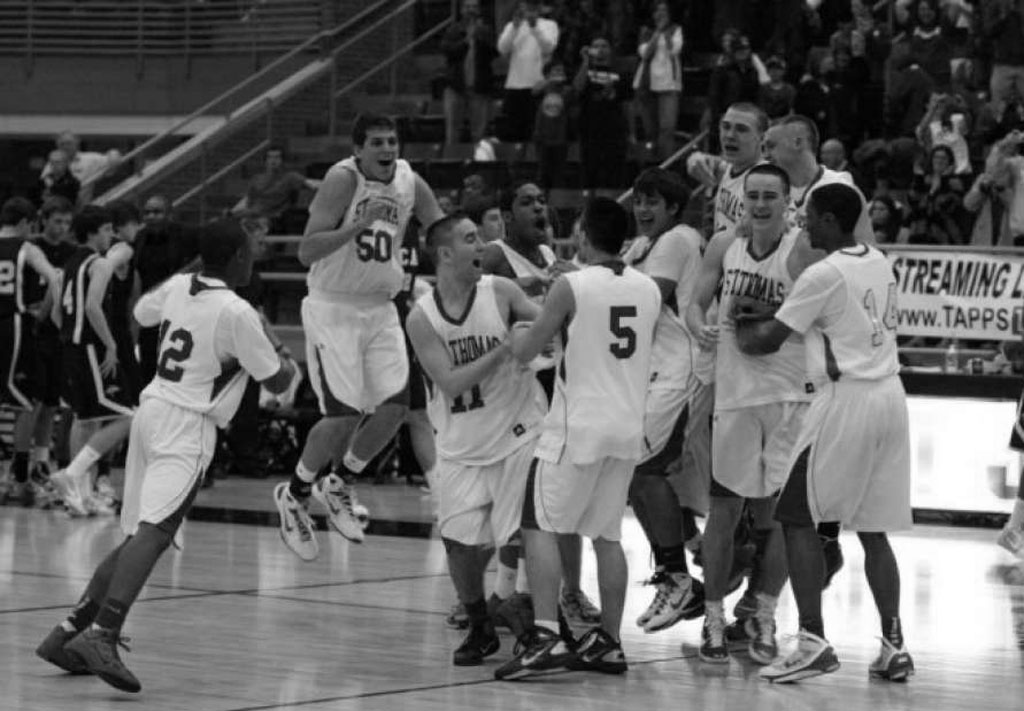 Shane Williams '19
A promising swimmer from the age-group club scene near Lake Jackson chose St. Thomas in small part "because they had never won the state championship and I wanted to make history." Which he did in the most outrageously robust fashion, a record-smashing slam finish to make any Hollywood screenwriter jealous.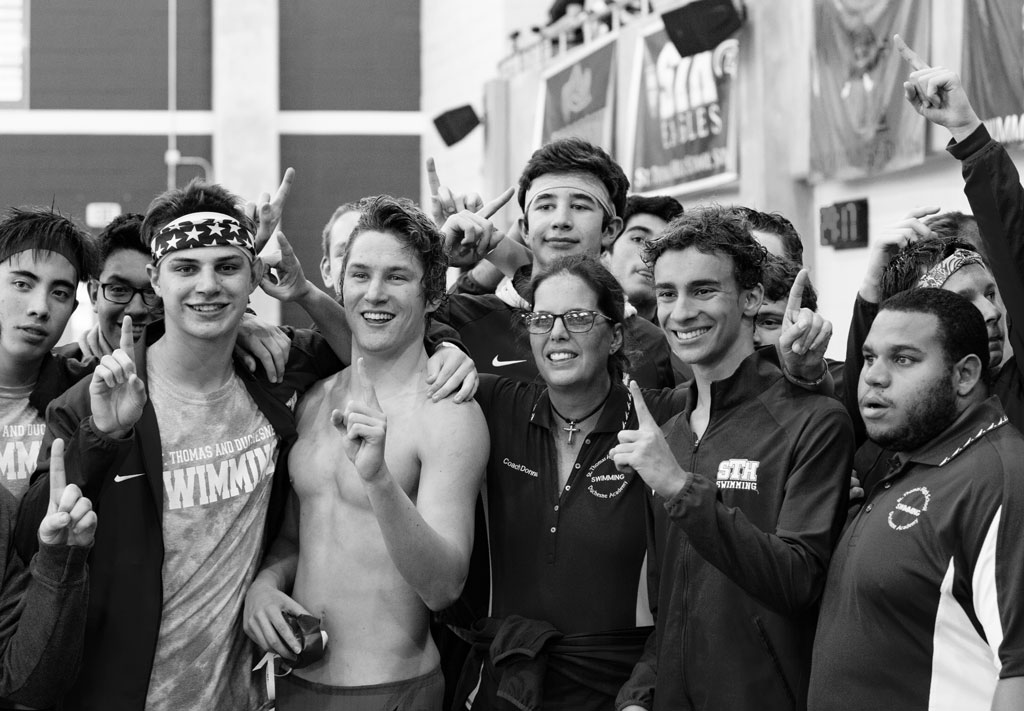 CLICK HERE for Craig Biggio, Cavan Biggio '13, Michael Keating '16, Ben Condara '14, and Mike Netzel
CLICK HERE for The Most Impactful Identities in St. Thomas Academics and Development Since 2010
CLICK HERE for The Most Impactful Identities Among St. Thomas Alumni Since 2010
The 20 in '20 showcase continues throughout February.
Catholic. Basilian. Teaching Goodness, Discipline, and Knowledge since 1900.