This story was originally published in November 2018.
There are forever bright new stars bursting on the Broadway and Hollywood scenes interpreting iconic roles, only to soon vanish from sight, seemingly cast in a meteor shower radiating from one point in the night sky, yet with a descent as rapid as the rise, never reaching the heavens.
Jordan Craig '07 appears positioned for a steady celestial stay.
His grand homecoming was stamped by his National Tour debut with the legendary The Phantom of the Opera.
Andrew Lloyd Webber's Phantom.
The world's most popular musical.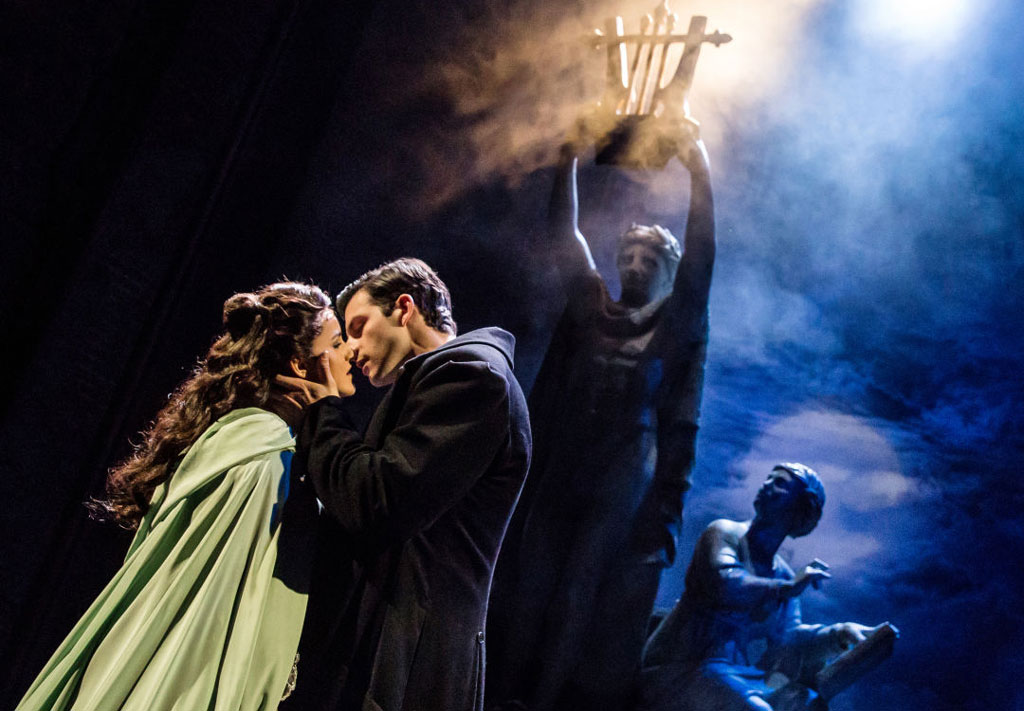 Jordan Craig playing Viscount Raoul de Chagny, protagonist Christine Daaé's childhood playmate and would-be lover. And the Phantom's chief rival for her affections.
The 30-year-old actor-singer wowing sellout audiences near and far and returning to the city of his youth where he trained and performed beginning at age five.
Now serving up a sturdy Raoul with deep resonant vocals as the voice of reason who steps into the hero role with just enough edge to make the darker aspects of the character work.
This return is surreal. My roots are Houston … family … friends … great memories of St. Thomas. I grew up attending shows at the Hobby Center saying to myself … one day … one day I'm going to be here. On that stage. And that day is now. To see (St. Thomas theater director) Dan Green and say, 'You helped form me … and now here I am … coming home.' There are no words strong enough to describe all the emotions.
The precocious Craig captured a half dozen lead roles showcased in eight St. Thomas productions under Green's masterful guidance. Craig's youthful exuberance was also molded in the Houston Grand Opera's children's chorus and multiple performances at the Alley Theater.
Two things about St. Thomas. First, well-rounded education. I've never had an acting job where my education hasn't impacted in some way. I play a myriad of characters, obviously all with unique identities and backgrounds and motivations. I learned so much base material or became familiar with those stories as a student at St. Thomas. That exposure has impacted my character development in so many ways.

Also, discipline … embracing the work … being told no again and again in this business, you're not good enough, and keep coming back, never giving up on that dream. I learned that ethic at St. Thomas.
Craig preceded brothers Taylor '11 and Keaton '15 to campus, then graduated from Sewanee: The University of the South after pursuing a double major in English and Theatre Performance. Craig's career skyrocketed after relocating to Atlanta where he thrived as a virile, tenacious presence in a series of scintillating shows.
In January 2016, Craig's agent called him to audition for the national company of Broadway's longest running box office. He was chosen first for the ensemble, then as Raoul's understudy, and in October 2016 he secured the coveted part for himself. For the national tour.
In a Broadway contract, you have about two weeks to learn the role. You show on the first day of rehearsal with the script memorized because you don't want to be that guy who doesn't know his line. When I first joined the Phantom tour, I had nine small roles in the ensemble. I was with the dance captain every night learning the choreography in the basement of the theater while the show was touring. It feels as though you've been shot out of a cannon.

Then after a few weeks, I was called in during the day to learn Raoul and from there I had to be ready when called on as the understudy. Someone gets sick 30 minutes before the show, you're the principal. It's not easy. When the role opened for the national tour, I had to audition in New York … no special treatment … and I ended up booking it.

What I did was trick the greatest theater producer in the world to pay me to do something I would gladly have accepted for free. The grandest thing you can do with your life is feel as though you're not working. I've been (acting) for fun since I was a kid and now I'm collecting checks. That's the trick in life … discover what you're passionate about and go for it. You'll be constantly rewarded in ways you cannot imagine. I'm excited every single day I wake up and just as excited to recount the day once it's complete.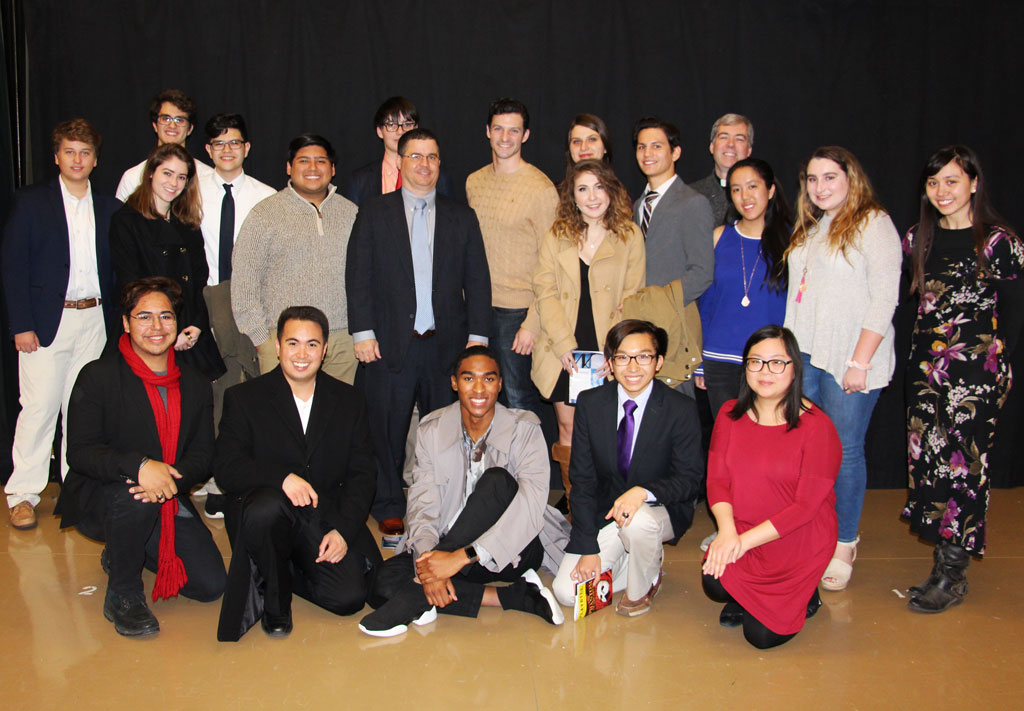 Craig's Thursday night curtain call wasn't complete until an impromptu gathering with Green, president Fr. James Murphy, CSB, and of an awe-inspired group of St. Thomas scholar-actors, proud to share in the common path that has led Craig from promise to powerhouse.
The best advice for aspiring actors is work in the theater … doesn't matter what job … doesn't matter where you attend college. I started professionally when I was 10 years old and gained from so many experiences that you couldn't duplicate at Julliard (New York City's famed private performing arts conservatory). Actual work experience directly translates. Unless you see how the process operates, you'll never fully understand how to apply the theory.
The last bow is reserved for Craig's mother Karen after savoring another opulent helping of her son center stage in the tragic love story engulfed in a dazzling romantic score.
For him to be in Hobby's Sarofim Hall warmed his heart. He couldn't wait. I've never seen him when he was that passionate on stage.

His last St. Thomas performance was Harold Hill in The Music Man. He never missed a line … never missed a word … never missed a note. Someone in the audience asked, 'Was this show written specifically for Jordan?' He was never intimidated, always prepared, even then. That was the night at St. Thomas when I believed tonight in the Hobby Center was a possibility. And he did it.
Catholic. Basilian. Teaching Goodness, Discipline, and Knowledge since 1900.