How do we remember our contributors?
Some leave indelible impressions through tenure over years or even decades, thereby becoming part of an institution's fabric through their dependable presence. Others shine brightly, creating unforgettable memories regardless of their longevity. Others still permeate our consciousness for their role as selfless facilitators, whether lifting colleagues or the community at large.
A rare few check off each box. One way or another, though, our stakeholders make an impact. And this is the genesis of the series we're continuing throughout February.
20 in '20 celebrates the most moving measures and moments, agents and participants within and beyond our campus community who represent the totality of the St. Thomas mission since 2010. Twenty stirring examples each within Eagle academics and development, athletics, and alumni.
Enduring. Dynamic. Inspirational. Invaluable.
This is the second in a series.
Academics and Development
Kellen McGowan '19
The 2019 commencement exercise proved triumphant, a reverence to Basilian principle in lockstep with rightful respect to a milestone moment. And the most stirring ovation was reserved for the first African-American valedictorian in the institution's 119-year history.
McGowan enrolled with an extensive scholarship at the University of Chicago with the intent to attend law school. His litany of academic acclaim and rewards include a National Merit Corporate Scholarship, a Phi Beta Kappa Scholarship, the Mitchell-Beall-Rosen Memorial Scholarship and the St. Thomas Rev. Albert R. Gaelens, CSB Goodness, Discipline, and Knowledge Award.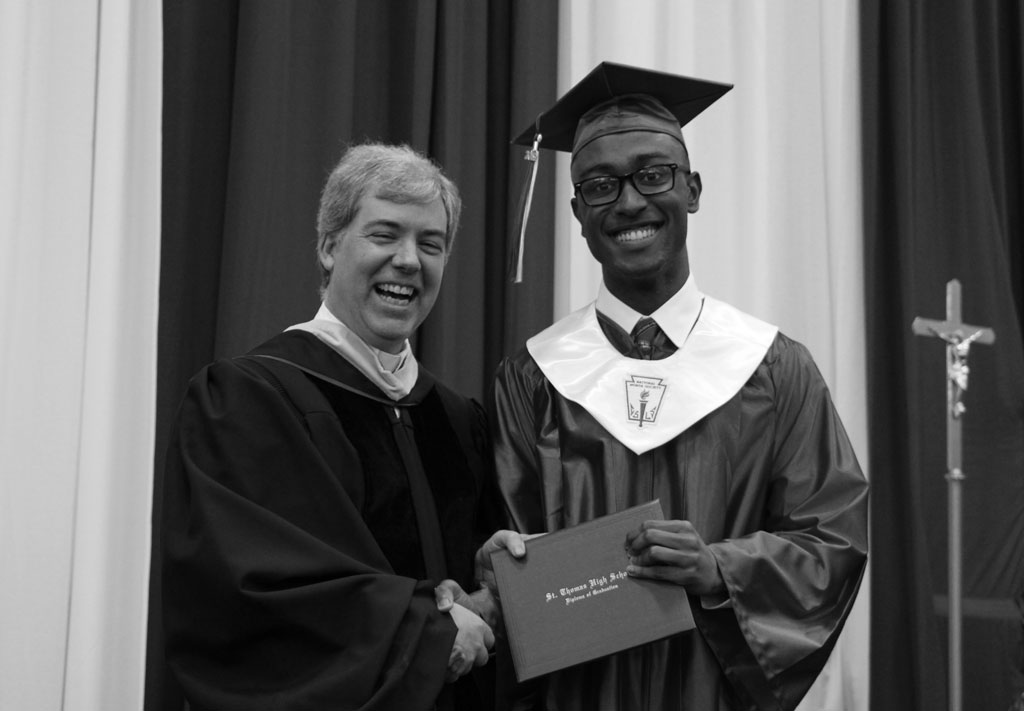 David '17 and Brendan Hotze '21
For generations Eagle scholars have demonstrated the Round Up fundraising tradition to be an unmatched student initiative.
Incredible and genuine and organic.
And during an outrageous seven-year stretch with more than $3.6 million raised in raffle ticket sales, there was truly no heavy Round Up hitter like a Hotze.  David '17 established the pulsating sales pace each of his four years, punctuated by a jaw dropping $62,970 total as a freshman.  In his immediate wake, Brendan '21 commanded consecutive campaigns with the same dream big, no limits charge. His $23,240 in sizzling 2019 sales followed a $22,469 total to head the 2018 parade.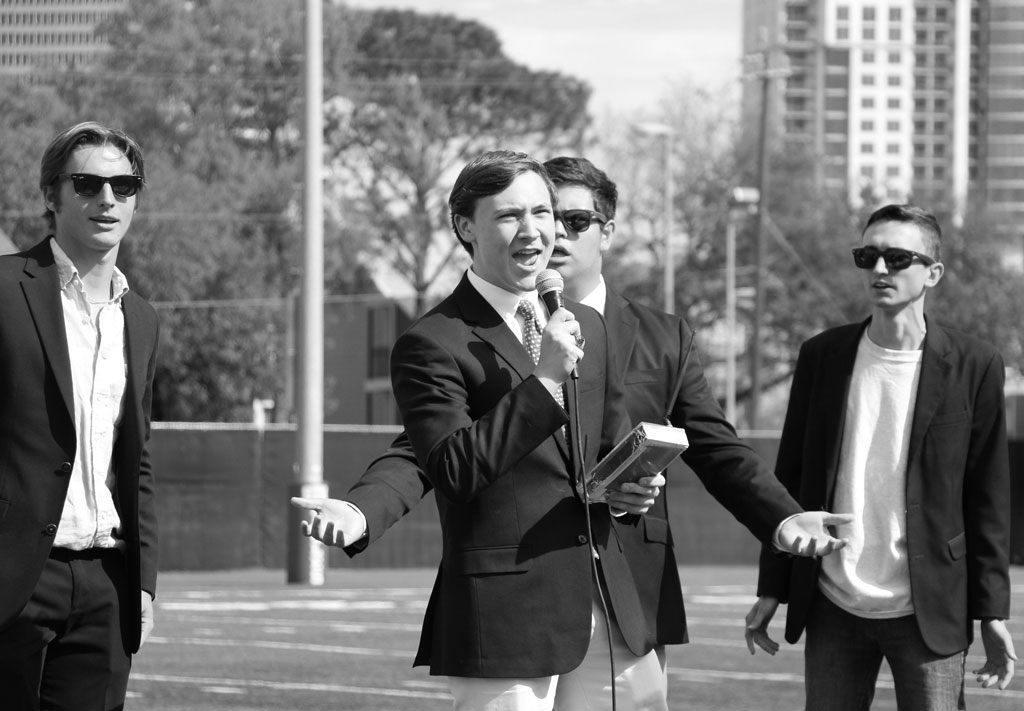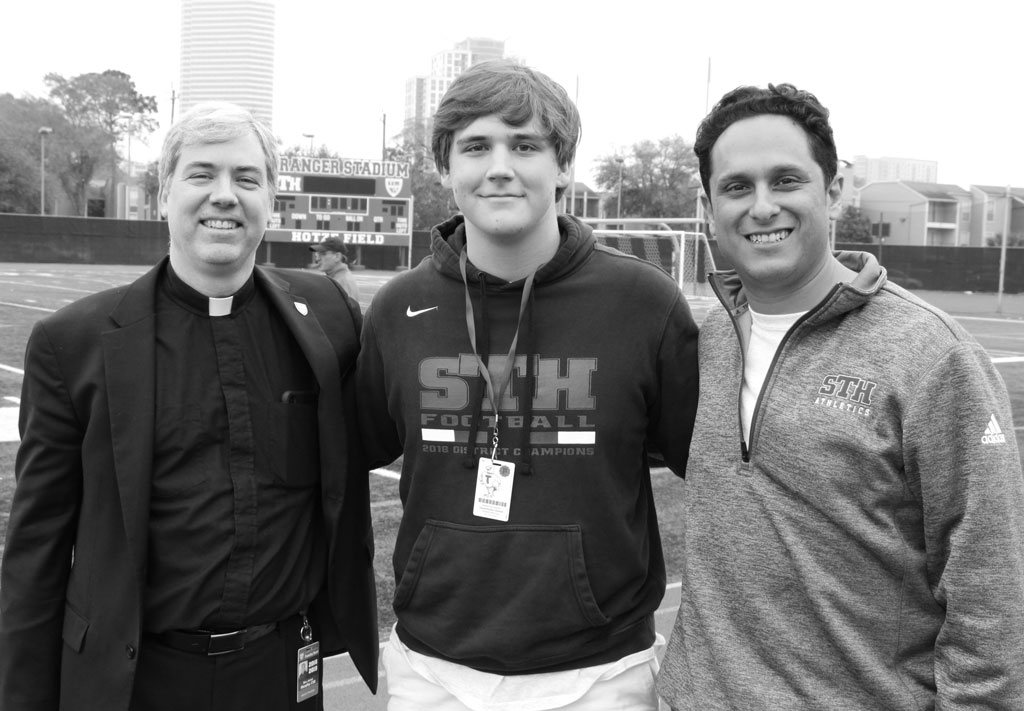 Danny Hernandez '08
His was a seamless transition to the St. Thomas integrated approach to teaching and learning that fosters a premier academic experience.
Hernandez' expertise was immediately measured as the foreign language dean and then as a member of the theology faculty. But his true passion for the credo Teach Me Goodness, Discipline, and Knowledge is revealed by his committed efforts in organizing student mission excursions to Honduras.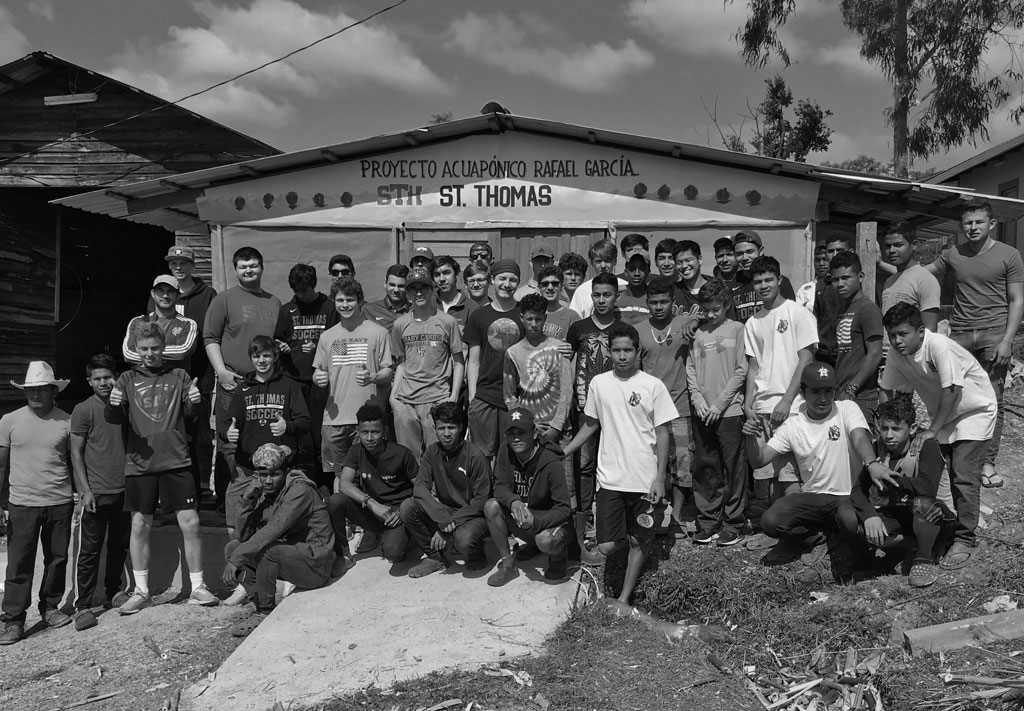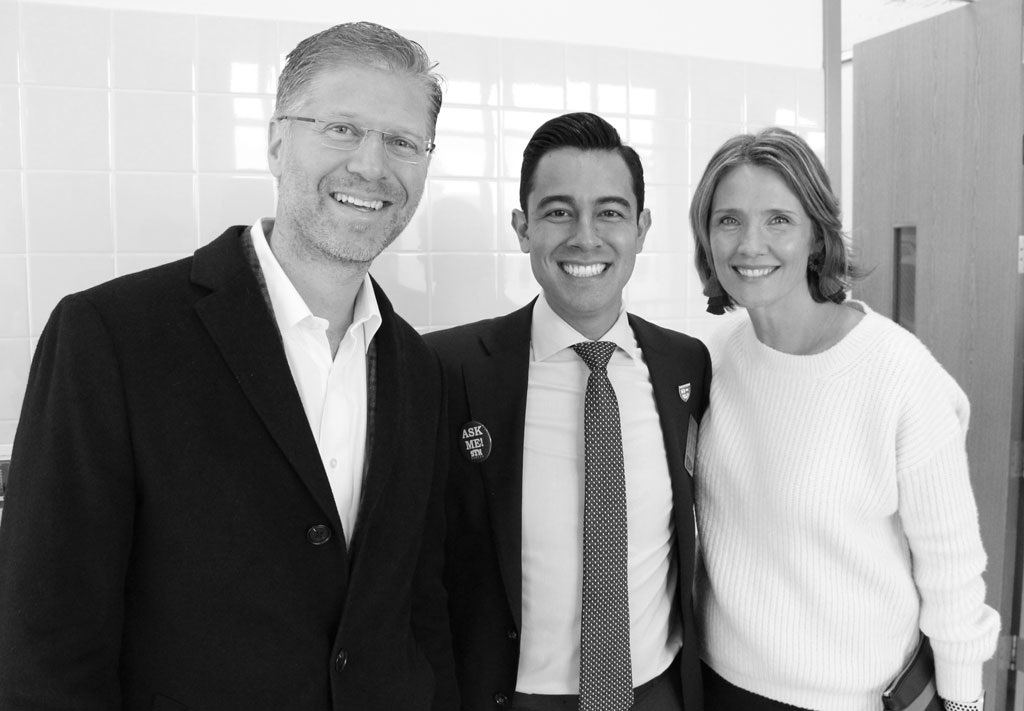 CLICK HERE FOR MORE ON DANNY HERNANDEZ '08
Meryl and Doug Gregory '87, and their sons Jeremy '15, Barrett '18, and Griffin '21
On the evening of August 25, 2017, Hurricane Harvey made landfall in Texas as a category 4 storm, spawning a flood event on an entirely different scale than what Texas, and the United States, had before seen, soaking parts of the Greater Houston area during a four-day deluge with more than 50 inches of rain.
What the city might expect in an average year.
The flood damage – biblical in proportion, frightening to behold.
As the effects of Harvey's unmerciful entry to the Gulf Coast continued to create life threatening havoc and destruction, the Gregorys represented the face of the St. Thomas resolve through the arduous aftermath, theirs the voice from the storm, a flood of emotion.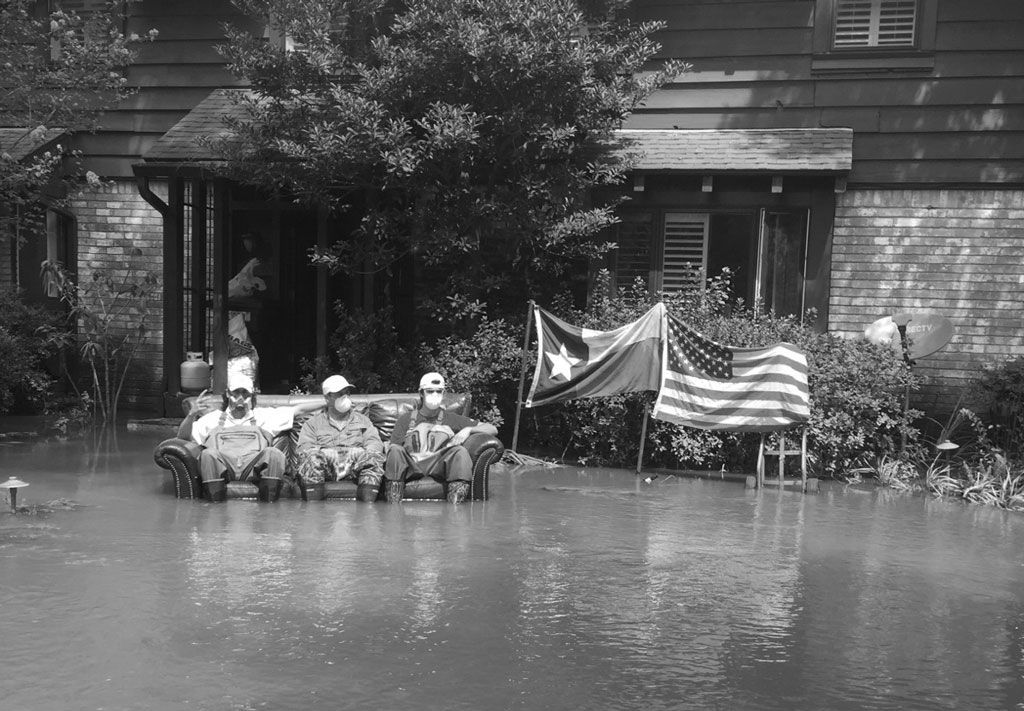 The Eagles' Nest Winter 2017 vividly recounted the compelling personal trials and accounts from the St. Thomas community during the shattering developments of an unprecedented weather crisis.
Rescue Recover Rebuild Rejoice – Eagle Strong In The Year Of Hurricane Harvey was recognized by the prestigious National School Public Relations Association (NSPRA) – the only private school among five honorees to accept Honorable Mention distinction and one of only three private institutions nationally to receive acclaim in the Magazine category.
Seth Dalton '16
The valedictorian and National Merit commended student was an equal study in service to community.
There was likely not a corner on campus nor individual within the St. Thomas ranks Dalton did not impact, influence, or inspire after arriving as a freshman.
His elite accomplishment as a supreme scholar and complete Man of St. Thomas, including the 2016 Principal's Service and Leadership Award, were all the more magnified given that he dealt daily with Caudal regression syndrome, a congenital disorder that impairs the development of the lower half of the body.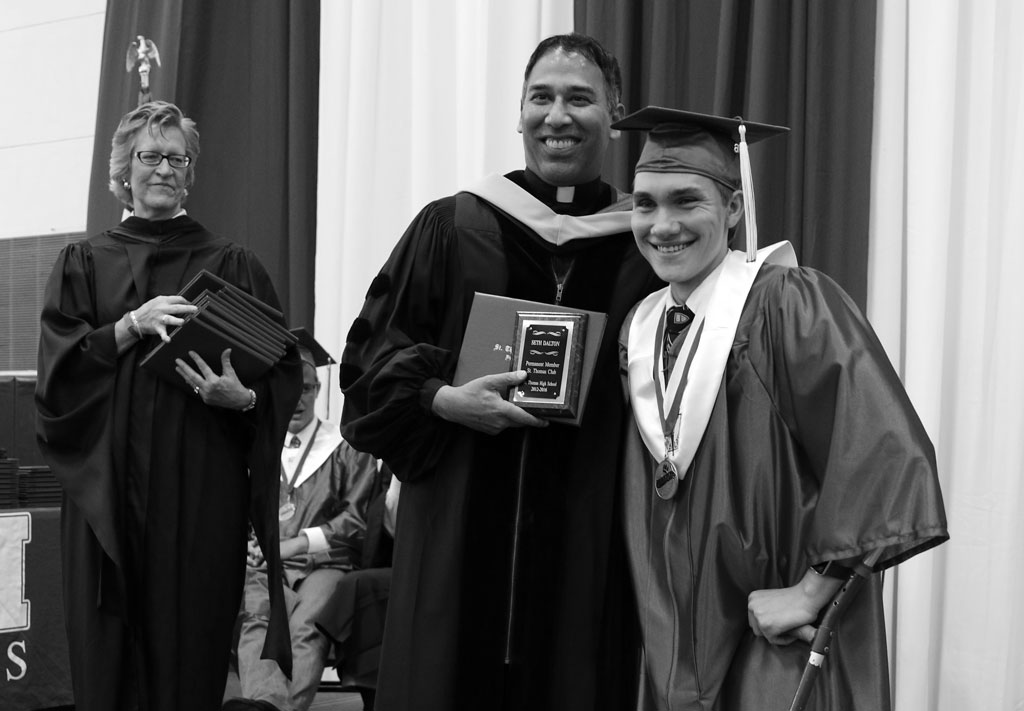 CLICK HERE for Very Rev. Kevin Storey, CSB and Fr. James Murphy, CSB; Dona and Al Clay '61; Jane and Bill Joplin '54; Glenda and Russell Gordy; and Dr. Aaron Dominguez '96
CLICK HERE for The Most Impactful Identities Among St. Thomas Alumni Since 2010
CLICK HERE for The Most Impactful Identities in St. Thomas Athletics Since 2010
The 20 in '20 showcase continues throughout February.
Catholic. Basilian. Teaching Goodness, Discipline, and Knowledge since 1900.