This story was originally published in February 2015.
First Monday With Mike features St. Thomas athletic director Mike Netzel on the first Monday of each month throughout the academic year to provide depth, background, and insight into all things Eagle Athletics and other random areas of interest.
The latest conversation takes place at Gatlin's BBQ on West 19th St. in the Heights.
Nice to see you've invited an illustrious alum from the Class of '98 to join in the fun and frolic. And it's always a plus when he also serves as host. And just happens to be serving some of the absolute best barbecue in the state.
Netzel: And when that state is Texas, that's rather strong stuff.
Amen from the congregation. First Monday with Greg Gatlin could be every Monday.  And Tuesday through Friday.  Looks like he's bringing out the entire blackboard.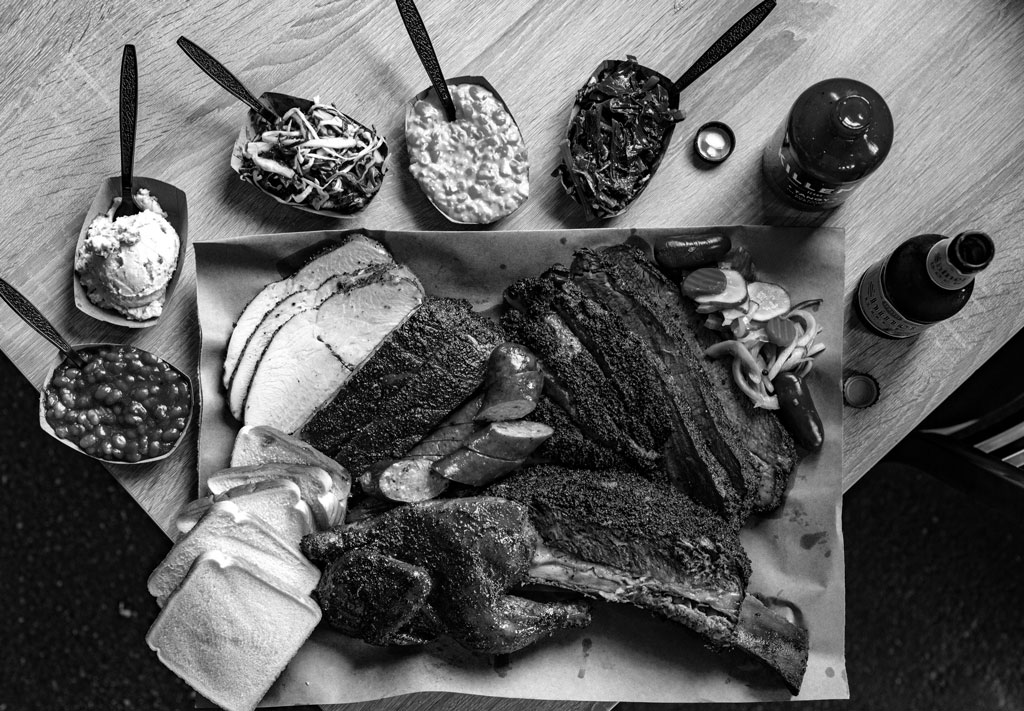 Netzel: Brisket, three kinds of sausage, turkey. Look at that crust on those ribs. Potato salad, slaw, beans.
What are you having?
Netzel: So, Greg, what started you in the business?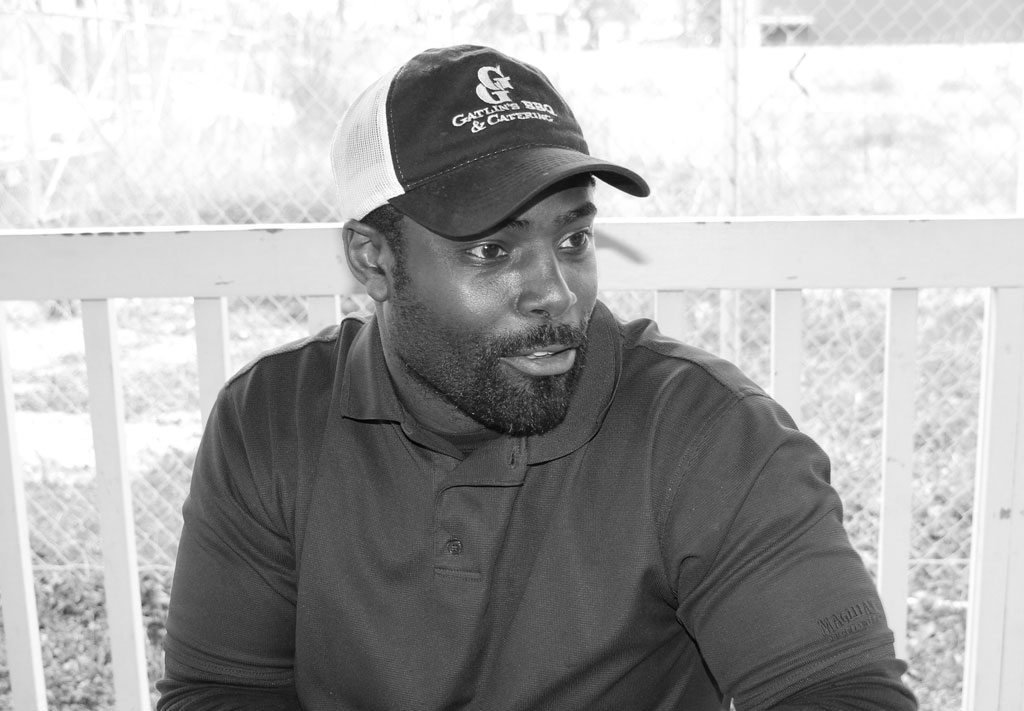 Gatlin: Goes back to my football connections at Rice. The alumni would get together at the stadium before home games. Former teammate Scott Huffman's dad (Royce) had a pit on a trailer. I'm not sure why but one weekend I said, "Next time I'll do the barbecuing." Royce said, "You don't know what you're doing." It got friendly competitive. And I got a pit
Laughing
Gatlin: And I got a trailer
Laughing
Gatlin: It just got bigger. The response was good. Started catering some events. Enjoyed it. Thought that if I can make money doing this, why not go for it. Our timing in 2010 was perfect. Before the barbecue boom. We're all-school … taking the time … hickory … in-direct heat … not cutting corners. And you can't put a price on doing all this with my mom and dad (Mary and Henry).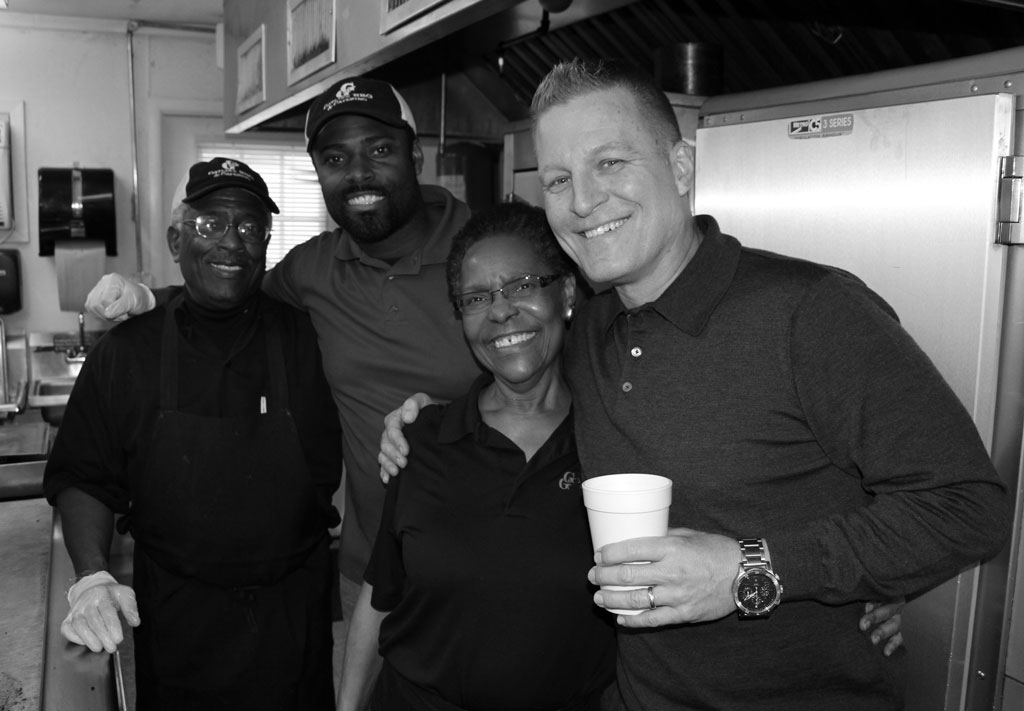 Netzel: And now you've outgrown your original location here and you're on the move.
Gatlin: Sometime in May. Ella Boulevard and 34th Street in Garden Oaks. We had a great run here but it's time. The new location is five times the space we have here. But this spot will always be special.
And you're tag-teaming with Brian Caswell (Class of 1991) downtown near Minute Maid Park.
Gatlin: That should open by April.
You're becoming quite the barbecue baron.
Gatlin: It's crazy. So many St. Thomas guys are in food. Brian and I got acquainted at various events. We're different but at the end of the day, it's all about good food on the table. I'm excited about getting a presence downtown, exploring that market. (Business partner) Bill Floyd is savvy. Keeps us young guys grounded. Should be fun.
Netzel: There has to be a great pride that comes with having your name out front on everything you do. Your name has become the brand. What else keeps all this fresh and interesting now that you've established yourself?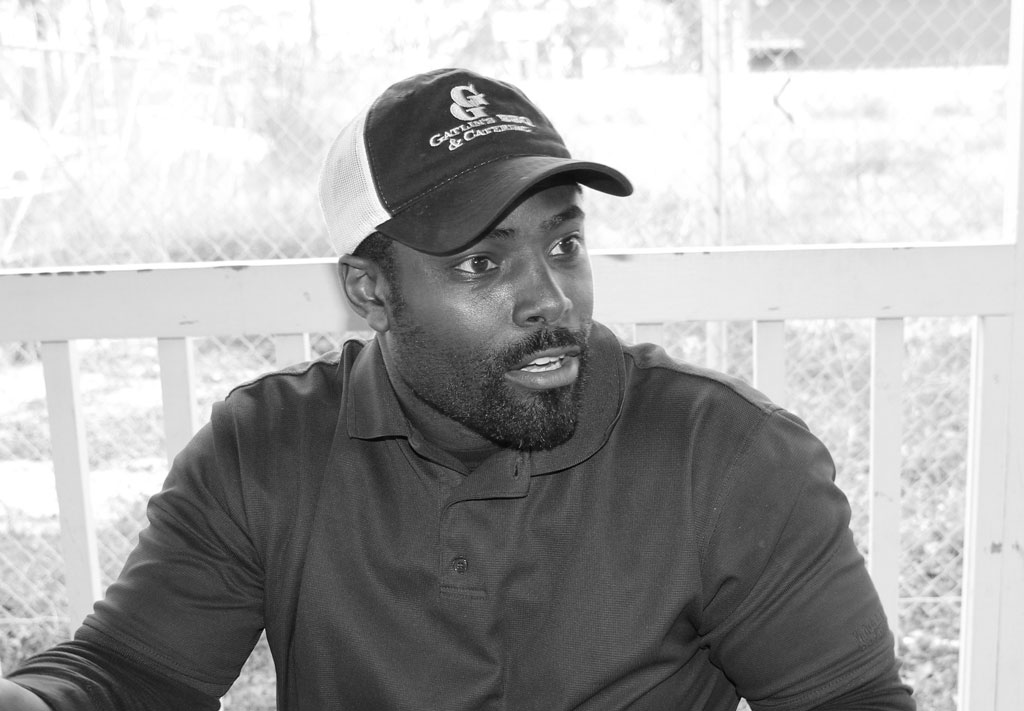 Gatlin: Not thinking you know everything. I think our food is really good now. But I also thought it was good four years ago. There are so many subtleties which make such a difference. Seasoning … temperatures … allowing the meat to set. Always looking for an edge. Maybe we will introduce a bone-in pork chop. I don't want to do it anymore if I'm not trying to beat you.
But the biggest thing, once you've had some success, what you get out of all this is … how do I help someone else? How do I become a better person? To my friends, our customers, my family, myself. That's more than enough motivation to keep going.
The Basilian Fathers would be nodding. While consuming. (Principal) Fr. (Patrick) Fulton is requesting a to-go platter.
Netzel: Was it more difficult finding this original location or deciding on where to expand?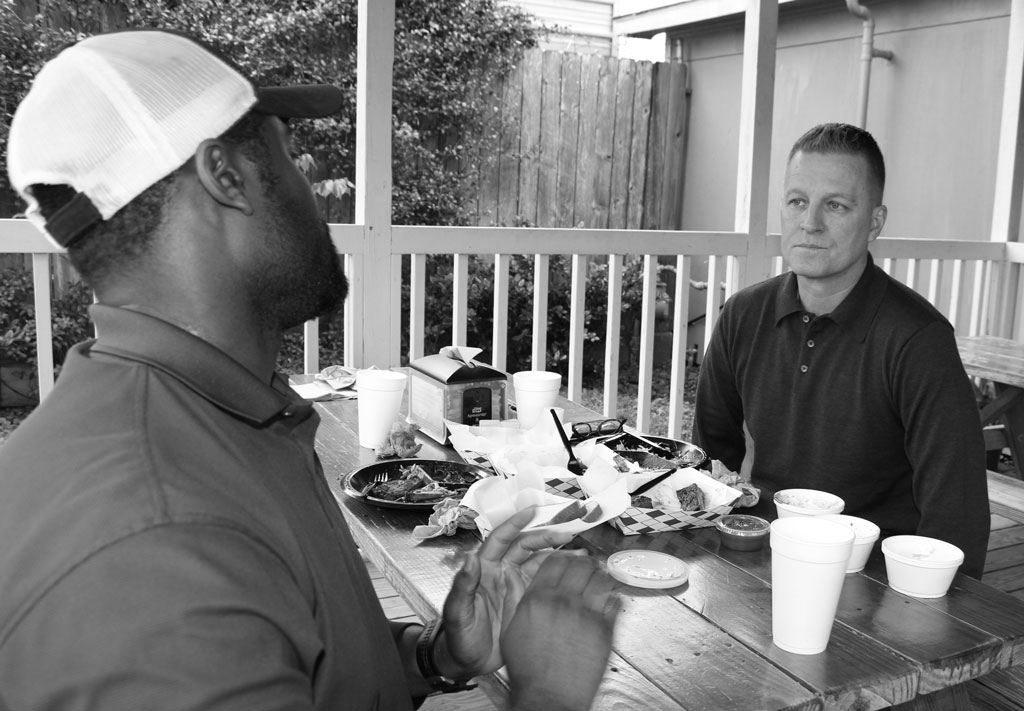 Gatlin: The expansion. We knew we had to find something that would be right now and meet all the needs moving forward. We wanted to stay in the Heights. This is our customer base. It's where we fit. I've moved back into my old neighborhood (Shepherd Park). We've really seen it change. You wouldn't be caught here at night when I was going to St. Thomas unless you were looking for trouble. It's great to see these neighborhoods come back and it's great to be a part of this change.
Speaking of … what's still vivid about your time at St. Thomas.
Gatlin: It's a big ball of relationships. The guys I went to school with. The guys who I didn't go to school with but feel as though I know them because I've heard all the stories about them. My older brother (Tim '95) went to school there but I didn't want to go because there were no girls. I was like, 'Do I really have to go?'
Netzel: Big surprise, Greg. We still get a lot of that.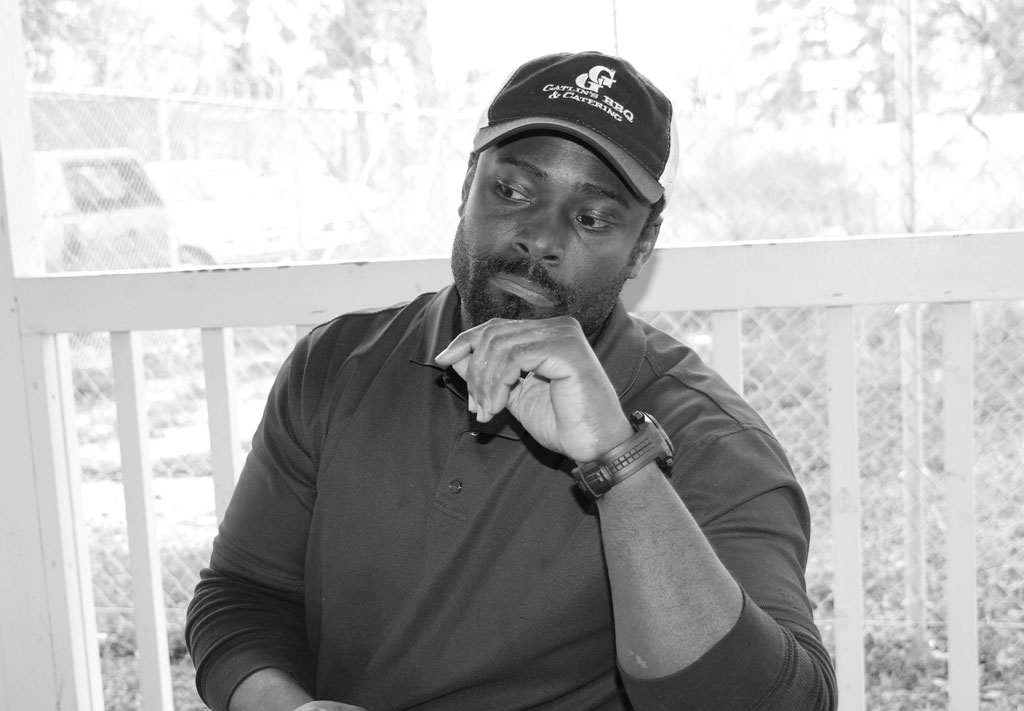 Gatlin: Once I got to campus I really enjoyed it. And looking back I wouldn't change it for the world. The academic foundation. The brotherhood. The exposure to guys from different walks, different backgrounds. That was the beauty. If every kid could experience that, especially men, we would be living in a different world
You played on the last St. Thomas football team to win the state championship. The lasting memory appears to be rather obvious but fill in the blank from 1996?
Gatlin: State final against Dallas Jesuit. Our home field. They're on our six-yard line. Third down. Our scouting indicated they like to run a quick slant play near the goal line.
Netzel: Where have we seen that before? (note:  The New England Patriots just completed frantic finish in Super Bowl XLIX over Seattle).
Gatlin: I'm in the secondary. The quarterback eyeballed the receiver. I jumped the route.
Netzel: Where have we seen that before?
Gatlin: Just had to catch the ball. Ninety-six yard touchdown.
Netzel: That play is no more successful now than it was then.
Gatlin: Still have a black-and-white photo framed at the house of me running to the end zone.
Classic. Tim Fitzpatrick was on that coaching staff. You defensive coordinator. Sixteen years before he became the Eagles head honcho. What kind of coach was he back then?
Gatlin: He was out there … in your face. He's calmed down quite a bit since then.
That would make for an interesting conversation trying to convince some of the current constituents that Tim Fitzpatrick has calmed down.
Gatlin: You could hear his voice all over the field. Awesome staff. (Former Oilers) Willie Tullis and Johnny Meads. Robin Kirk (now at HISD Austin). Stephen Dickson (now at HISD Reagan). Donald Douglas, who played quarterback at Florida and UH. The practices were intense. The coaches were intense with each other. They would challenge each other. 'Why are we running that?' Tullis really helped me get ready for the next level. Techniques. Mental toughness. He played a big role in pushing me forward.
Another National Signing Day has come and gone. Maybe the most hyped-up narcissistic display in sport. A much quieter scene in your day. In 1998 David Givens at Humble (and later Notre Dame) was the biggest name in Houston. What do you remember from your signing day?
Gatlin: Just making it official. No theatrics. Knew where I was going. Came down to Texas, the Naval Academy, SMU, and Rice. Was really interested in UT but then Mack Brown came in and I didn't know him much. Tim had already gone the military route (West Point). Rice was the right fit. A lot like St. Thomas. The relationships made it special. The contacts in this city. (Teammate and classmate) Isaac Allison ended up coming with me. Lived those moments for a reason. No regrets.
No regrets from Mike on the menu selections. And no leftovers. That's fast becoming the drill on First Monday.
Netzel: Waste not, want not. You can never underestimate the power and strength of consistency.
No better example of that Gatlin's. Do we have an invitation for the grand opening in Garden Oaks?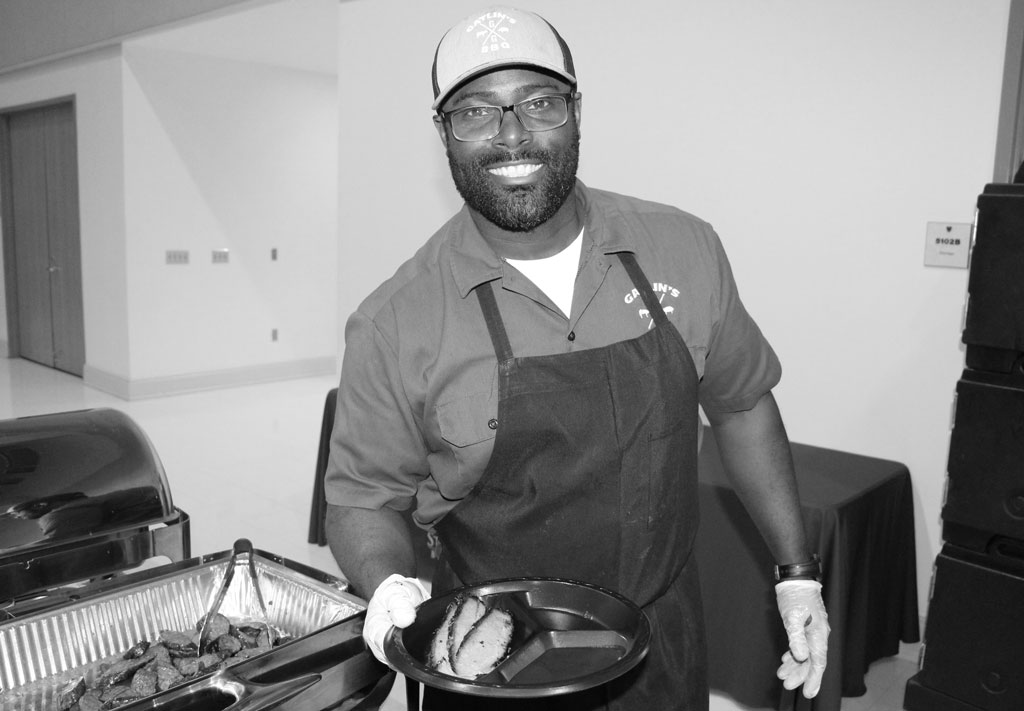 Gatlin: Always a spot saved up front for St. Thomas.
Just the way we like it. Mike promises to bring his appetite. And to save room for the bread pudding.
Catholic. Basilian. Teaching Goodness, Discipline and Knowledge since 1900.