How do we remember our contributors?
Some leave indelible impressions through tenure over years or even decades, thereby becoming part of an institution's fabric through their dependable presence. Others shine brightly, creating unforgettable memories regardless of their longevity. Others still permeate our consciousness for their role as selfless facilitators, whether lifting colleagues or the community at large.
A rare few check off each box. One way or another, though, our stakeholders make an impact. And this is the genesis of the series we're continuing throughout February.
20 in '20 celebrates the most moving measures and moments, agents and participants within our extended campus community who represent the totality of the St. Thomas mission since 2010. Twenty stirring examples each within Eagle academics, athletics, and alumni.
Enduring. Dynamic. Inspirational. Invaluable.
This is the fourth and last in a series.
Athletics
Lorenzo Neal '16
The 300 pound-plus run-stuffing dynamo owned one of the most desired traits in defensive football – collapsing offensive lines all on his own. He regularly overpowered pairs of double-teaming linemen, strong enough to lock out and chuck blockers aside as he chased quarterbacks and ball carriers. His slew of sacks and tackles for loss are still spoken of in hushed tones.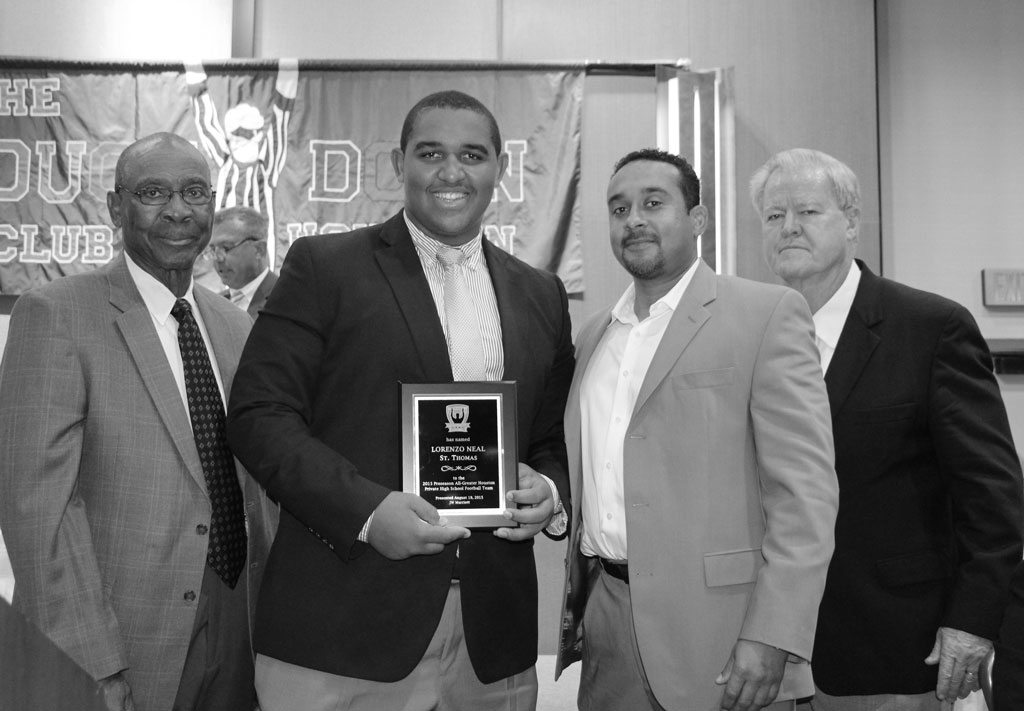 The two-time All-State performer received two-year recognition from the Touchdown Club of Houston. He was a key contributor to Eagle Football within a power packed group that racked 30 wins in three varsity seasons with consecutive appearances in the TAPPS state semifinals while extending the win streak at Hotze Field inside Granger Stadium to 26 straight games.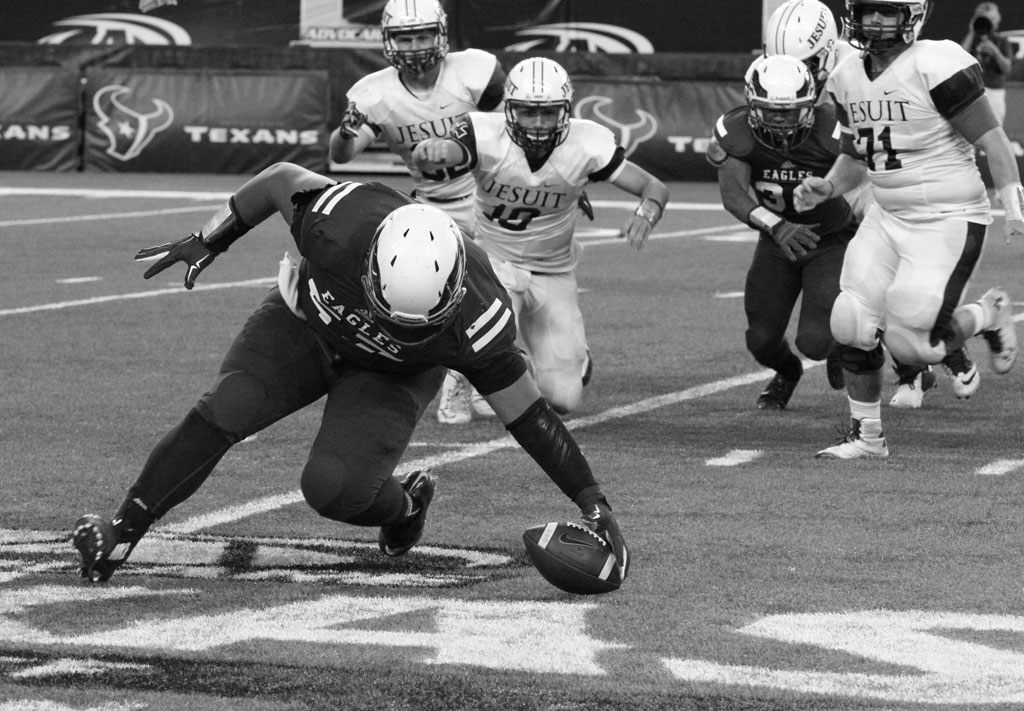 Neal chose Purdue University in the tradition soaked Big Ten Conference while pursuing an equally rewarding academic challenge. He proudly extended his family's football legacy established by his namesake and fullback father who played 16 NFL seasons with four Pro Bowl appearances. Lorenzo Neal Sr. was recognized on the NFL 2000s All-Decade team after serving as a sledgehammer lead blocker for 11 straight 1,000-yard rushers.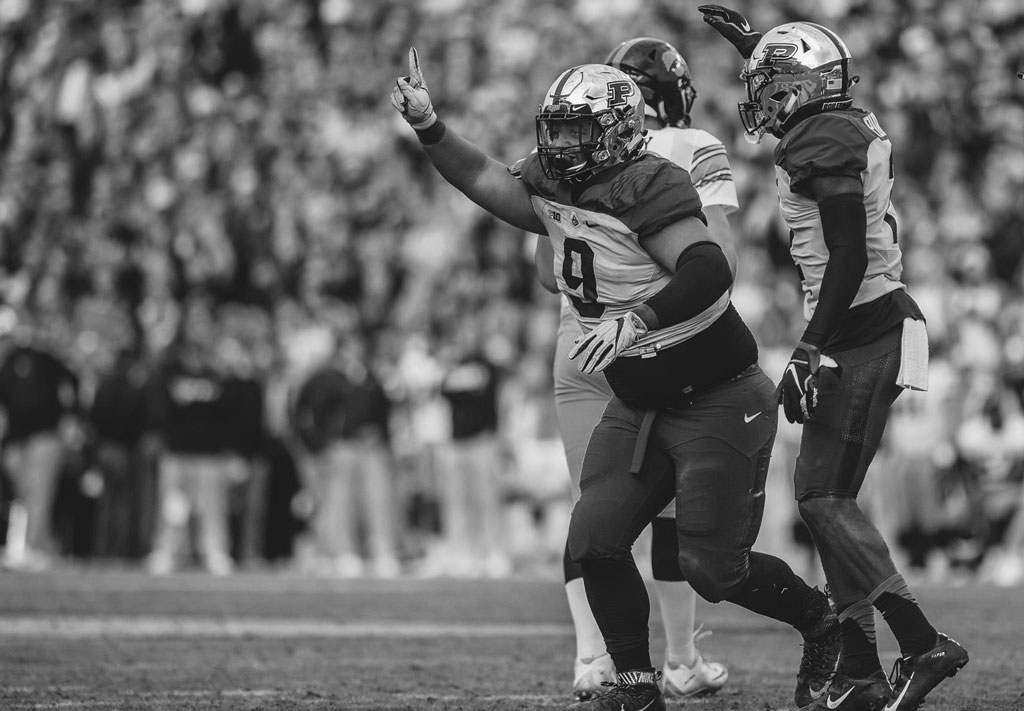 Ian Wheeler '19
Inexhaustible force and fervor fueled the scholar, the co-captain running back, the track and field state champion, the editor-in-chief. The 2019 recipient of the Fr. Carl Mitchell Allnoch Athletics Memorial Award for Excellence in Academics always dismissed any accomplishment short of a triumph. He epitomized the ideal of the complete St. Thomas student before accepting a football opportunity at Hampton University.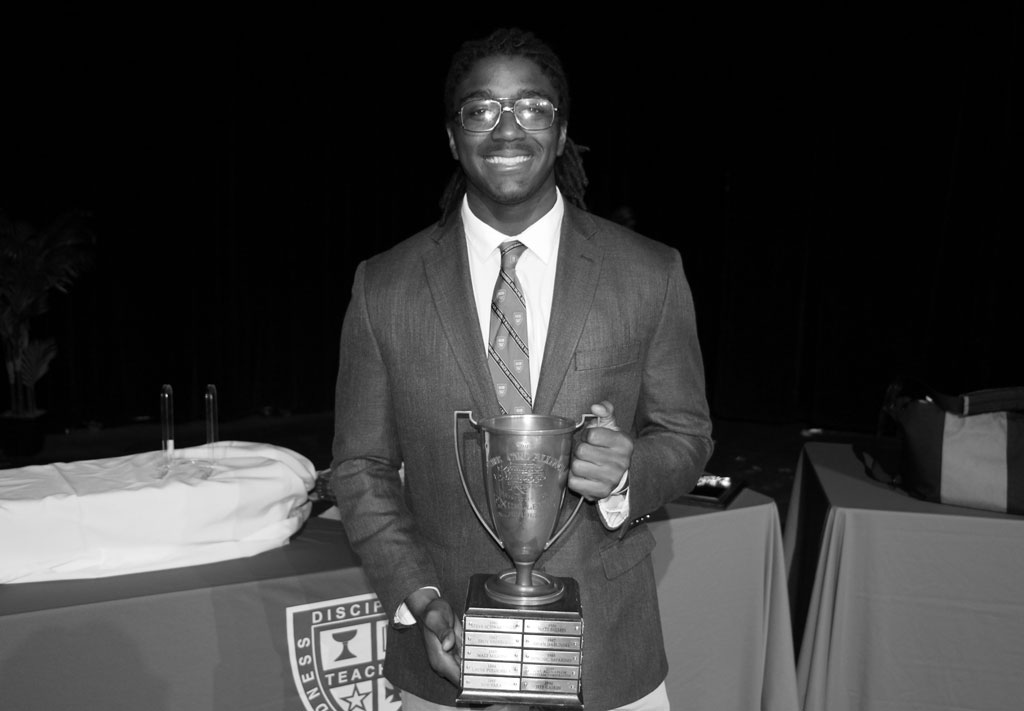 BMOC – Big Muscle On Campus
A down and dirty ab fab five – big, bruising, and bone-crushing two-sport bullies, all as personable as they were menacing who understood what it took to be great from every sprint, every squat, every power clean, every drill since they arrived on campus. And all were as acclaimed in the classroom as they were in the gridworld and beyond.
The celebrated foundation supporting the resurgence of Eagle Football began with Parker White '13, the first in a series of behemoths and the linchpin in the program's first undefeated regular season since 1939. The 2012 Touchdown Club Lineman of the Year for private schools was also Eagle Rugby's 2013 MVP in a three-peat state championship closeout. The Commended National Merit Scholar accepted a football scholarship to Miami, Ohio.
Joseph Lowery '14 immediately seized the torch as the Touchdown Club's private school lineman par excellence. For fun he slam-danced as a four-time state medalist for Eagle Wrestling. He closed his acclaimed St. Thomas career earning state recognition in fine arts and receiving the Fr. Allnoch Award.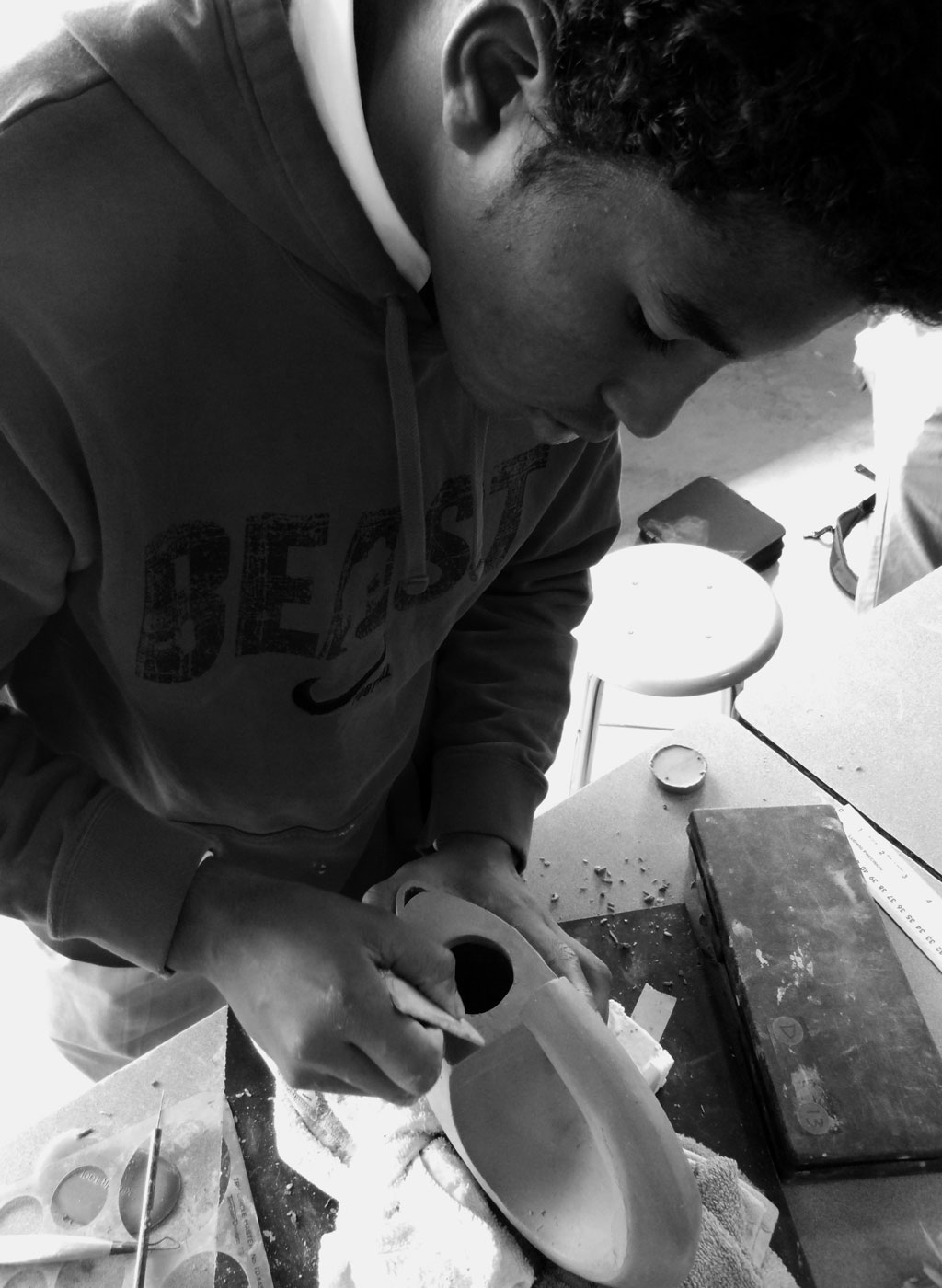 Lowery's deep and distinguished accomplishments at St. Thomas could not have come with a more understated demeanor. His commitment to the United States Military Academy was a natural progression, joining a collective where no words speak louder than the actions of a soldier.
Multi-year multi-sport multi-state champion Campbell Clarkson '15 produced a scintillating string of All-State and Academic All-State superlatives.
For three seasons at left tackle – or anywhere along the offensive front if needed – the 6-4 250 pound Clarkson relied more on athleticism, skill set, technique, and body position than overpowering brute strength. When demanded he would work the defensive trenches and push the pocket or twist outside to prowl after quarterbacks or bat down their attempted passes.
Clarkson doubled as a two-time state heavyweight champion for Eagle Wrestling and followed Lowery at the Fr. Allnoch Award winner. He initially accepted an appointment to the United States Air Force Academy and later graduated with honors from Louisiana Tech University.
6-4 270 pound manchild Charlie Vatterott '16 had the strength to power-run with the best tackles in Texas, the reach to keep the best pass rushers from the quarterback, and the skills to rarely be beaten to the outside.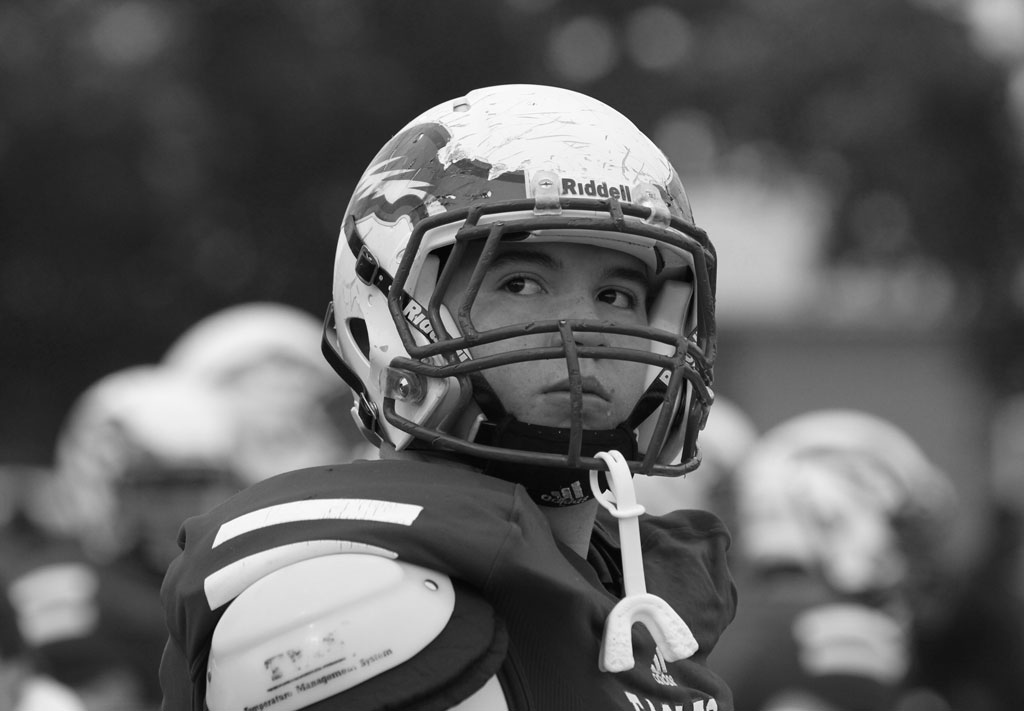 Vatterott moonlighted with Eagle Rugby as a junior to enhance his football profile and was promptly named the program's third Touchdown Club Lineman of the Year in four years. The second generation Eagle then followed in the footsteps of his formidable football father to attend Texas State. Vatterott '82 was part of the second of consecutive Bobcat national championships with coach Jim Wacker and later played the 1987 NFL season with the St. Louis Cardinals.
Tenacious on the turf. Fearless on the faceoff. The linebacker Pete Huggins '16 racing at screaming speed toward another body and colliding. To mash.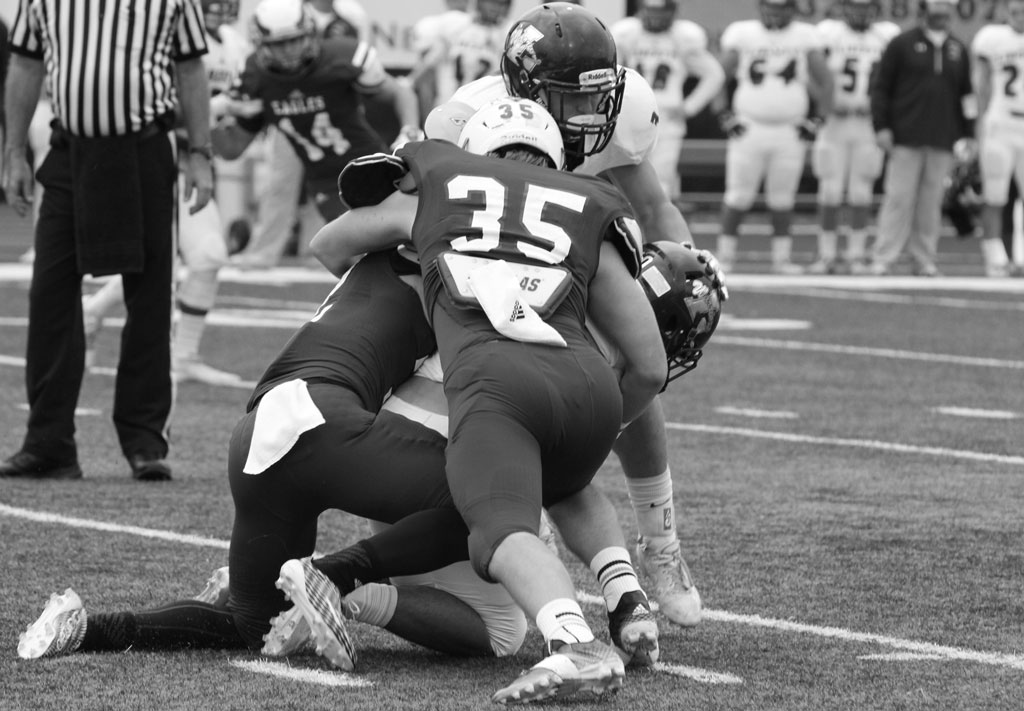 Did you hear the crack? And see Huggins get off the ground, help his target up with an outstretched hand, and smile as he jogged back to his teammates. A two-year core contributor during a stretch of 20 wins in 24 games for Eagle Football, including the back-to-back TAPPS state semifinals.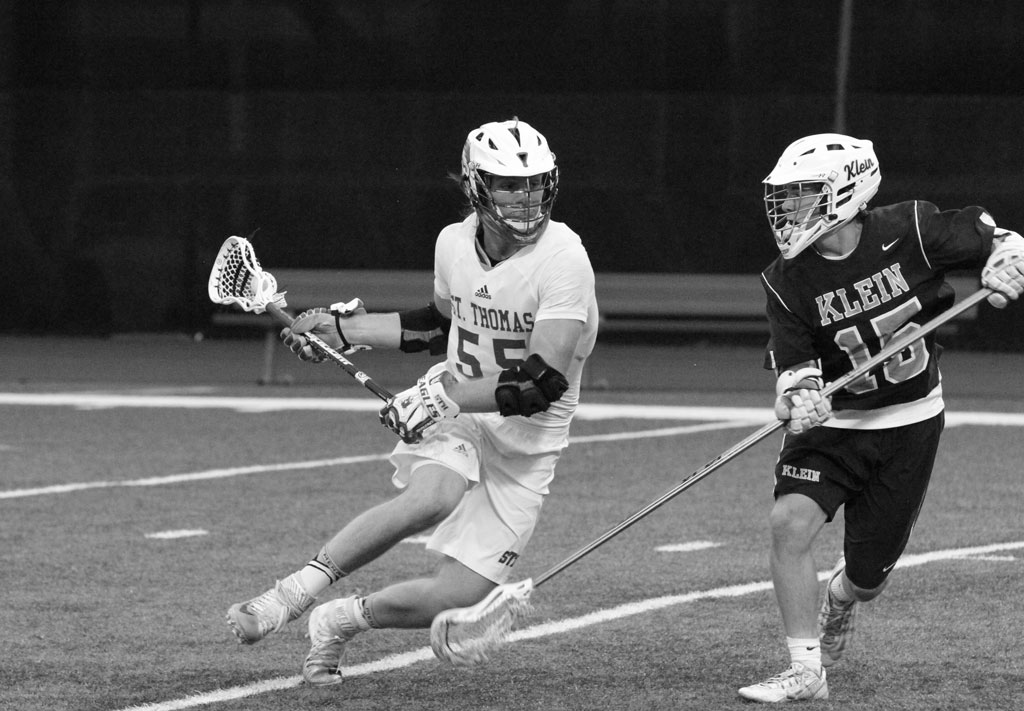 The midfielder Huggins surging the lacrosse field in a wave of pure energy. Fast. Strong. Roaming sideline to sideline, upfield and downfield. Building puzzles on the field. Winning physical chess matches. Inspiring the Eagles as their 2015 Most Valuable Player to unprecedented heights – a first-ever district title, a first-ever playoff victory to the state quarterfinals, and 10 straight wins en route to a 14-3 campaign.
Huggins was the game in its truest form. Two games. And then darted to Division III Middlebury College.
Alex Jacobs '19
Out front of the revival tour for Eagle Wrestling within the state's premier private school ranks.
The specialist at 145 pounds led the 2019 team assault in a commanding senior season capping one of the most acclaimed careers in program history that saw him morph from wrestling novice to two-time All-State and 2019 All-American to accepting a collegiate offer at Central Michigan.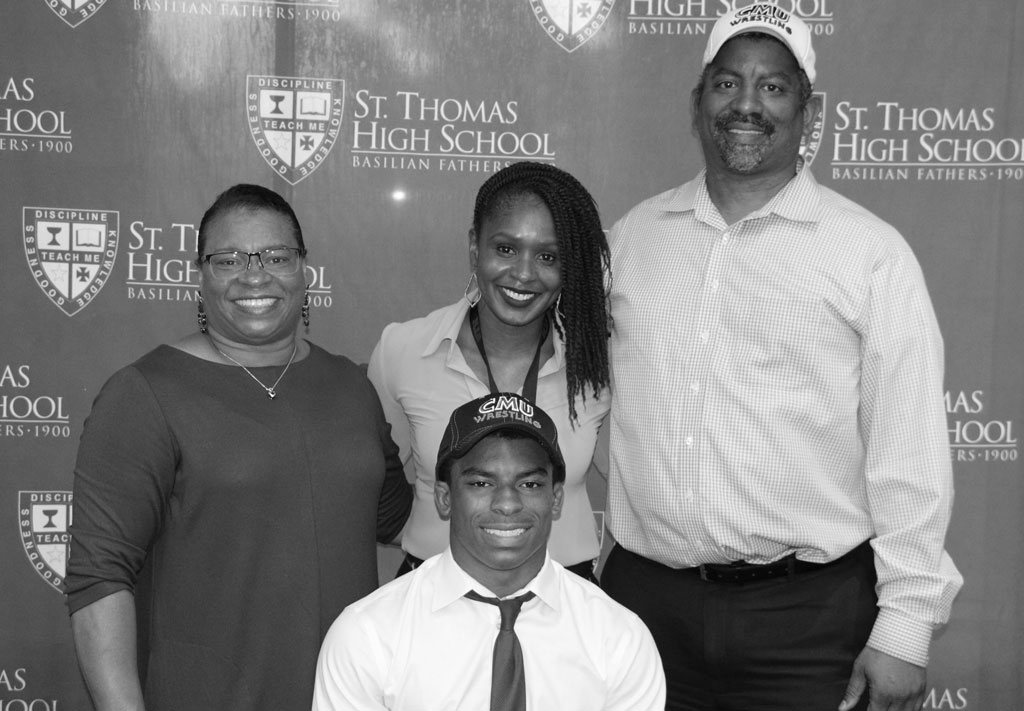 The TAPPS gold medalist took second at Prep State and then produced a memorable finish at the 84th National Prep Tournament. The grand finale of his three appearances on the most challenging stage included biting through his upper lip during competition. Bryant required emergency room treatment only to return and win All-American honors among the elite performers.
Zach Blice '19 and Jacob Manley '18
A deluxe defender. A goalkeeper supreme. A pair without parallel as Eagle Soccer soared to heights never before realized.
Program pillars in 2018 when St. Thomas finished 22-5-2 after advancing to the TAPPS Division I state title game, crashing the postseason final four, and claiming the district championship – all for the first time since 2008.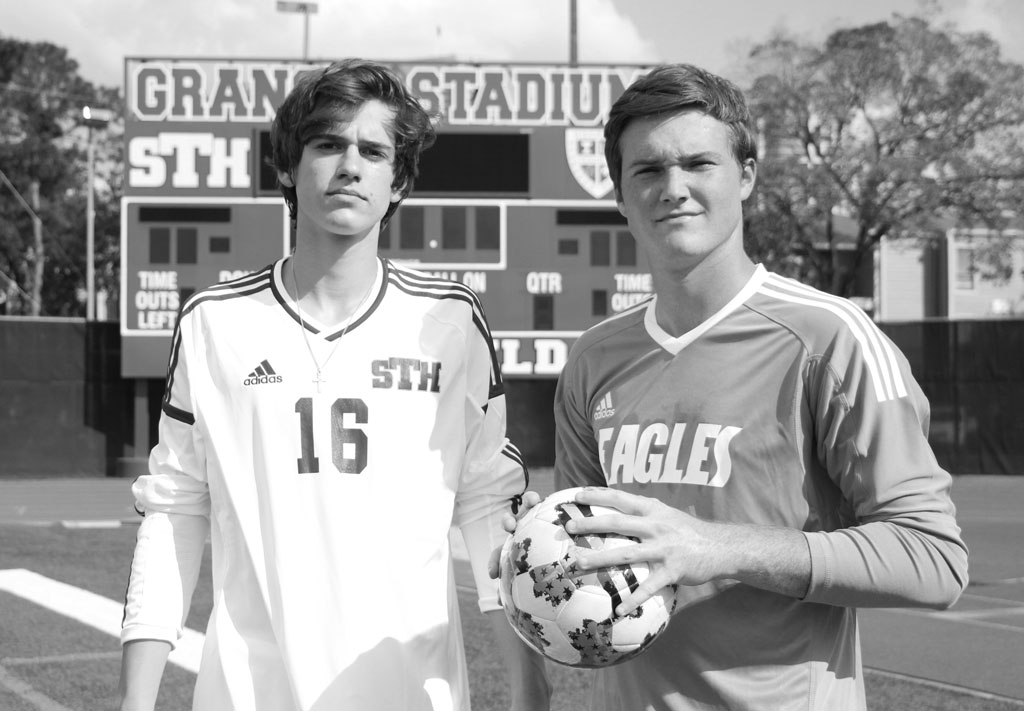 Manley was sensational throughout his St. Thomas senior sendoff, never more so than in the title tilt against defending champion San Antonio Central Catholic flashing a series of superior saves and rapid-fire rejections in a 1-0 defeat. The sublime Blice blistered an immediate impact with a gut burn to be great, a two-time All-State selection inside what was then the most successful three-year stretch in school history. He was the 2019 catalyst in a commanding 25-3-2 season igniting a return to the state semifinals and a deja vu redeaux dealt by Central Catholic.
Blice signed with Jacksonville University to become the first Division I soccer commitment from St. Thomas in more than two decades, one of 131 Eagle scholar athletes who advanced their careers to the university level since 2012.
CLICK HERE for Craig Biggio, Cavan Biggio '13, Michael Keating '16, Ben Condara '14, and Mike Netzel
CLICK HERE for Payton Matocha '19, Landon Malouf '16, Josh Wolf '19; Chase Brogna '11, Ian Hurley '11, and Christian Sanders '12; and Shane Williams '19
CLICK HERE for David Jones '16, Harrison Grant '14, Owen Meaney '18, Henry Fisher '16, and Jim Wolfinger and Brett Mills
CLICK HERE for The Most Impactful Identities in St. Thomas Academics and Development Since 2010
CLICK HERE for The Most Impactful Identities Among St. Thomas Alumni Since 2010
Catholic. Basilian. Teaching Goodness, Discipline, and Knowledge since 1900.