Stevie Wonder and John Williams.  Tony Bennett and Beyoncé.  Henry Mancini and Yo-Yo Ma.
U2 and Take 6.
Bruce and Ray and Aretha.
Grammy Award Winners all, richly recognized during the previous seven-plus decades for recordings that balanced innovation and timeliness in a way that made them widely resonant.
And Josh Wilson, the St. Thomas choral director and fine arts faculty member.
Seriously.
Wilson reached the rarefied air in January as a member of the Houston Chamber Choir cashing the industry's most coveted distinction in its first-ever nomination – Best Choral Performance for Duruflé: Complete Choral Works.
"I still cannot believe it," Wilson says with wonder. "There was no expectation within the group to win on the first nomination. That just doesn't happen. But it did. It was simply the right recording at the right time that struck listeners."
Wilson is engaged in his 16th academic year at St. Thomas. In 2009 he joined the Chamber Choir that was founded in 1995 by artistic director Robert Simpson.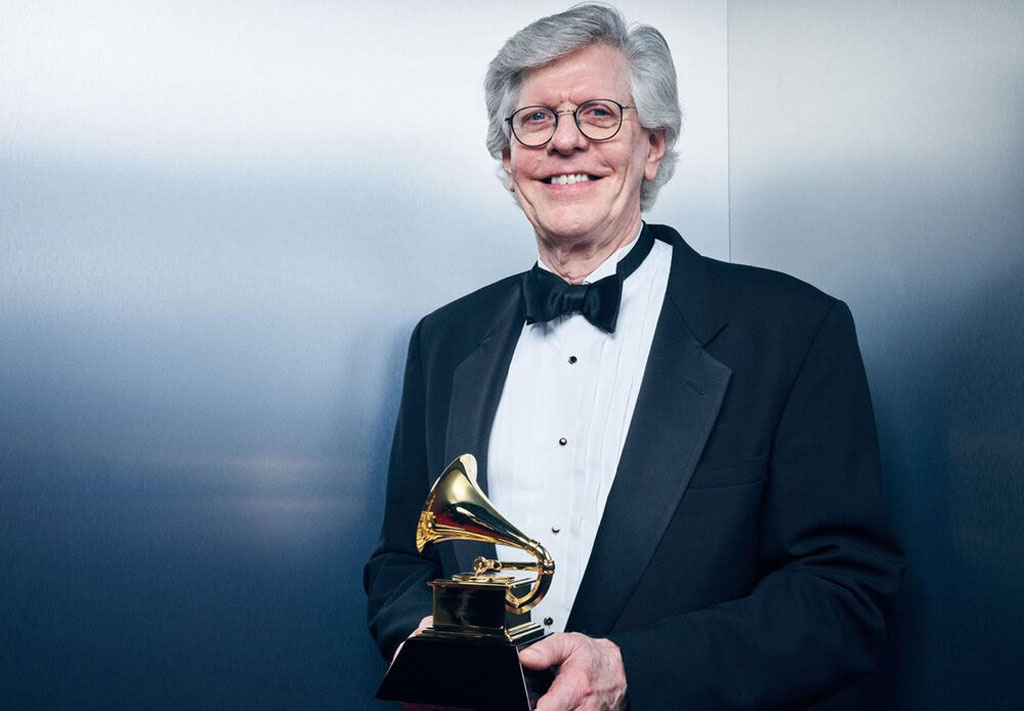 Wilson collaborates with two dozen devoted Houston-based musicians who embrace a fearless approach to works familiar and not, blending charm and vitality, precision and passion.  The Choir's break-through recording was produced by Grammy winning Blanton Alspaugh and released with British label Signum Classics in April 2019. Their competition included two previous Grammy pace-setters, Conspirare from Austin and Philadelphia's The Crossing (nominated twice in 2020).
"During the recording and after the post-production, we knew we were a part of special music making," Wilson says. "The external validation of a Grammy is the highest compliment. Throughout the years we never imagined we were on this track, to reach that tier of accomplishment."
The historical perspective suggests Maurice Duruflé was a phenomenon, a 20th-century French composer and the greatest organist of his day. He composed a surprisingly small amount of music, working slowly and diligently with a focus on detail that required years of revision before a piece entered the public repertoire. His greatest work, Requiem, was published in 1948 and anchors the Choir's recording.
"I sang Requiem my freshman year at Houston Baptist University so the work has been with me for years," Wilson says. "We performed this complete set at a concert at Rice University (to open the 2016-17 season) and Bob had the vision that we needed to make a recording, something special was developing that needed to be captured. Our organist Ken Cowan (professor of organ at The Shepherd School at Rice) was incredible. The lead selection is an all-male vocal that sets a unique tone for the rest of the album. It all came together. It's thrilling to perform with an amazing group of vocalists."
The path to a Grammy has long been opaque, even to the music industry. The candidates must survive through an avalanche of submissions separated by category, then whittled down by thousands of eligible voting members. That shortlist goes to Academy-organized review committees, which narrow the slate of nominees to be sent back for a final popular vote that chooses the winner.
The Choir had previously carved an identity in its tight musical orbit. In 2018 they were selected for the Margaret Hills Award for Choral Excellence by Chorus America, the nation's principal all-purpose organization for the advancement of choral music. They've also received the American Prize for Choral Performance, and the American Prize for Choral Conducting.
"In many ways, we have been one of those best kept secrets," Wilson says. "We have a strong subscriber base, supporters and donors who respect our work. But the Grammy elevates our profile beyond measure. It's a privilege to be recognized with this group."
Wilson will not receive a personal gilded Gramophone trophy but will nonetheless forever share a slice from the 62nd annual extravaganza with adopted Houstonian Lizzo, Billie Eilish, Tayna Tucker, and Cage The Elephant.
Details began to surface in the early evening hours of January 26. While Simpson and his wife Marianna were among the Staple Center glitz and glamour in Los Angeles, Wilson and the Choir were hosting its 21st annual Hear the Future at South Main Baptist Church, an invitational concert for exemplary elementary, middle, and high schools musicians.
On stage the ensemble collectively inhaled and exhaled for a few beats, resembling nothing so much as a yoga class, when the internet buzz flipped official from the National Academy of Recording Arts and Sciences.
"The stand-in conductor announced to the crowd that the Houston Chamber Choir was the Grammy winner," Wilson says. "The audience cheered and we all soaked it in together which otherwise wouldn't have been the case. We represent Houston in every way, musicians with everyday jobs who live in the city. We recorded the album at Rice (the Edythe Bates Old Recital Hall). It's cool to help put Houston on the map in the art world."
Catholic. Basilian. Teaching Goodness, Discipline and Knowledge since 1900.