Everett Vaughn '18 toils in quasi-anonymity, even when reaching and extending up and over his measured six-foot and 10-inches, sweating and bleeding maroon and white for the revitalized fighting Texas Aggie hoopsters.
His is not a glorious Disney produced Hollywood version of life inside the power elite dribble drives of big campus college athletics. Not for a walk-on where every day, every drill is a proving ground for acceptance, for busting and beating long odds for zero guarantees beyond a coveted roster spot.
"I truly believe what I'm doing will make me a better person in the long run," Vaughn says. "And isn't that what college is most about? The game minutes are not my motivation. It's about investing and trusting this experience with teammates for a common goal. I'm discovering the value of how to work. I'll take that understanding into the real world where results are not negotiable. You either produce what is required or someone else moves in front. Every day in this program starts early and ends late. I'm pushing and competing every day to be the best in everything I do."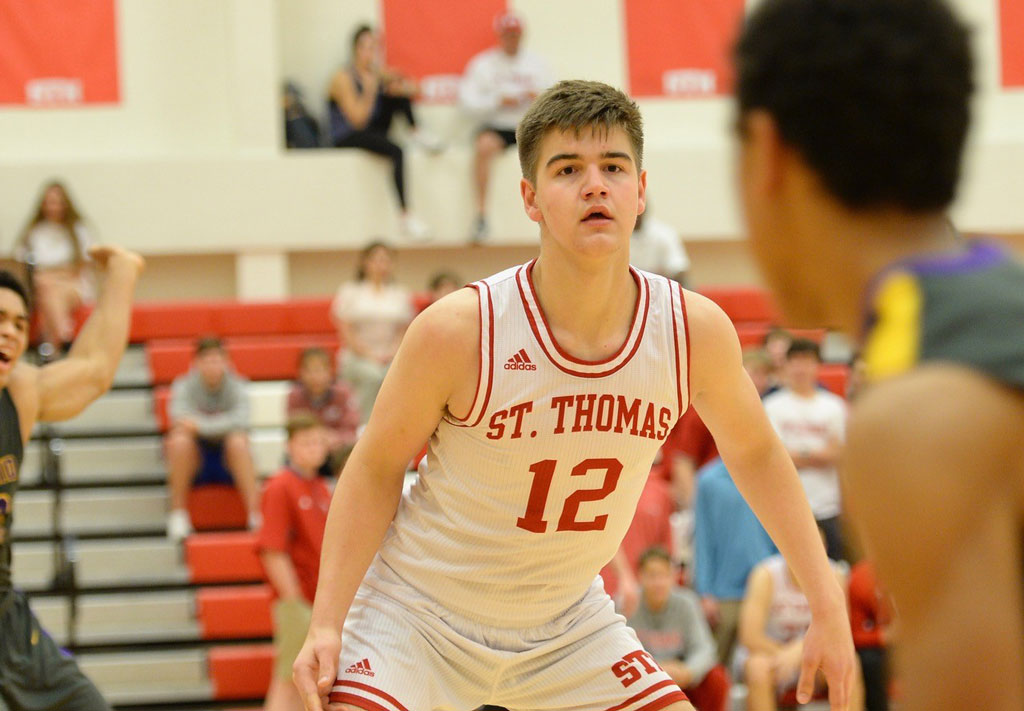 Vaughn was a three-year letterman for Eagle Basketball who averaged a double-double, points and rebounds, as a senior while earning TAPPS Academic All-State distinction. He rejected opportunities to play at a variety of Division II and Division III schools in large part to his deep devotion to the Vaughn family legacy at Texas A&M.
Vaughn arrived on campus with a body and a game still developing. He immediately impressed head coach Billy Kennedy with an exhausting ethic. Vaughn devoured the demands of half-court and up tempo offense plus pass-pressure defense. When a coach asked a question, he knew the answer. He accepted he wasn't as tantalizingly equipped or quick-twitch explosive or backboard-pounding strong as the teammates A&M spent hundreds of thousands of dollars to recruit, but he wouldn't allow anyone to outwork him.
But when the coaching leadership flipped from Kennedy to Buzz Williams after a 14-18 season in 2019, all of Vaughn's progress was erased. Time to begin anew. If he was wanted. If he decided to stay.  Williams began a shock-to-the-system takeover by conducting one-on-one interviews with every returning player.
"We had a good discussion," Vaughn says. "Coach had a very specific culture that he wanted to develop from the start and he wanted to make sure I was the right fit, what I wanted out of basketball. My grades were the first thing he picked up on, had my ACT score in front of him. Intelligent basketball was a priority. We talked about my motivations to be at A&M. He said to come back for the summer and then we would reassess going into the academic year."
An introduction to the can't-waste-a-half-second hyper-focused Williams is blunt force trauma from the start. He also revealed a personality outside Angry Coach performance art, on assorted topics not associated with basic defensive foot positioning.
"Once a week during the summer we had three-hour sessions totally unrelated to basketball," Vaughn says. "How to change a tire, or open and manage a checking account, or apply for a credit card and not ring up a huge debt. I learned that Coach Buzz and his staff cared more about me as a person than any other coach I've been associated with, and genuinely cared about each guy on this team so much more than their contributions on the court."
Vaughn aced the summer hardwood tests, survived a boot camp "week of hell" in the fall, and returned to resume his Aggie career having won over Williams' confidence, a perfect match for the Buzz-sawed mentality.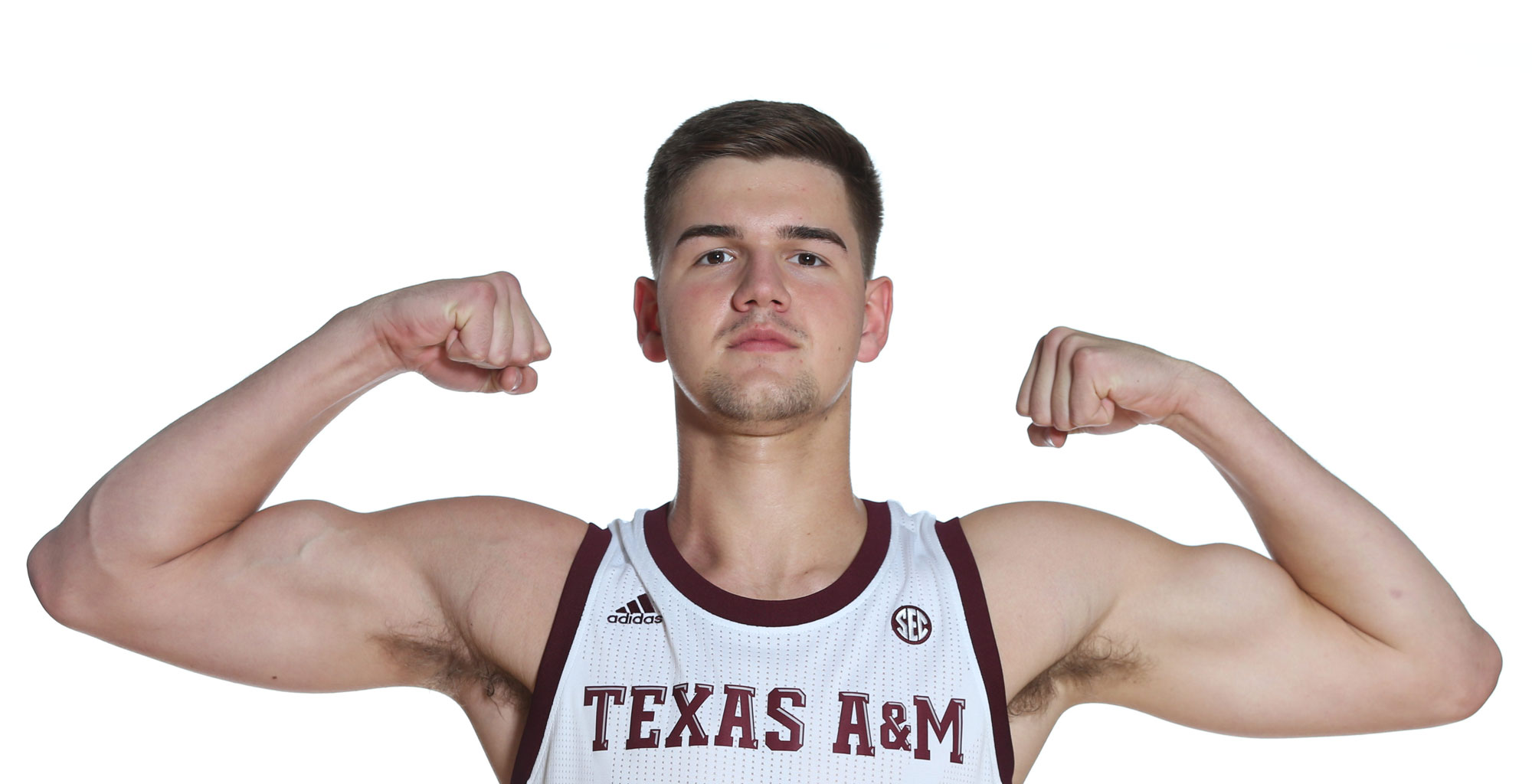 "I had only one thought and that was to make it as hard as possible for him to kick me off," Vaughn says. "Let's be honest, for me to have any chance here, I had to stack up with my teammates physically, get in the weight room five-six times a week. If the lift was scheduled for 5:00 a.m. I was here an hour earlier getting up shots. Then I would seek out assistant coaches for individual workouts. Coach Buzz wants those who will stay in the fight and keep throwing punches."
Vaughn's family connections aren't etched in stone on the A&M campus or regaled on student tours but they are as firmly rooted as any. Everett's father Tom Vaughn '85 received his Bachelor of Business Administration with honors before embarking on his acclaimed professional career. He succeeded his father and Vaughn Construction founder Joe Vaughn '62, serving as president or CEO for two decades with brothers Bill '87 the vice president/preconstruction director and Mike '89 the president.
Everett's mother Suzanne was a distinguished member of the A&M Class of '89 paving the way to an extensive career in the nonprofit stratum, including a decade of relentless leadership in a series of high-profile fundraising efforts and brand enhancing initiatives for St. Thomas worth more than a million dollars.
Everett's brother Jay '15 was the first to follow the kingpin's A&M lead and boat-raced through the Construction Science curriculum in less than three years. He strategically plotted a business presence in Austin's tech sector as an undergraduate and is currently earning his Master's at the Harvard Business School.
But family ties and fandom weren't enough for Everett to secure a roster role inside Aggie basketball. He seized it on individual merit. Ball don't lie.
"Coach Buzz is really big on workers, guys who are in the gym when he's not looking and working to improve in some small way every day," Vaughn says. "That may have been one way I made a positive impression. And I've discovered that the difficult way is absolutely the best way. It's changed how I look at my life going forward."
Under Williams, the Aggies don't skip steps. They focus on progress rather than a protracted process, the worth in substance and structure. Satisfied and complacent is unacceptable. Entitlement and hubris are pathogens that kill.
Don't judge a journey before it's over. If you trust the promise, you have to trust the path…

— Buzz Williams (@TeamCoachBuzz) March 2, 2020
The Buzz Brigade closed the regular season with a surge, stunning 20th ranked Auburn 78-75 on the road and returning home three days later to rack a decisive 77-69 win over Arkansas. The first rodeo with Williams wrapped with a 10-8 record in the SEC, A&M's best conference record since claiming the 2016 co-championship, and earned him SEC Coach of the Year honors.
https://twitter.com/aggiembk/status/1235659585178001411?s=20
Vaughn performed an unheralded but vital role in the Aggie resurgence. His selfless max-out energy reverberated throughout Reed Arena as if Travis Tritt's "I'm Gonna Be Somebody" caromed off the rafters at eardrum-mangling volume. Through one physically draining practice after another Vaughn's relentless charge was channeled with one single solitary intent – make each opponent scouting session and skill station the most difficult for the Aggies starters.
"Coach Buzz has a hashtag – #getBETTER – and that's exactly what we did throughout the season," Vaughn says. "It's remarkable to see the arc, where we are right now from where we started. I believe we spent more time in the weight room and in video study than any other team in the SEC. And it showed."
Vaughn is almost a full semester ahead as he accelerates toward his degree in Construction Science. His basketball path is unlikely, his impact not defined by obscure statistical footnotes, his character and sacrifice helping solidify the culture Williams so desperately sought. For Vaughn, capitalizing on an opportunity, then gaining respect and distinction by any clear definition, is precisely satisfying beyond tangible measure.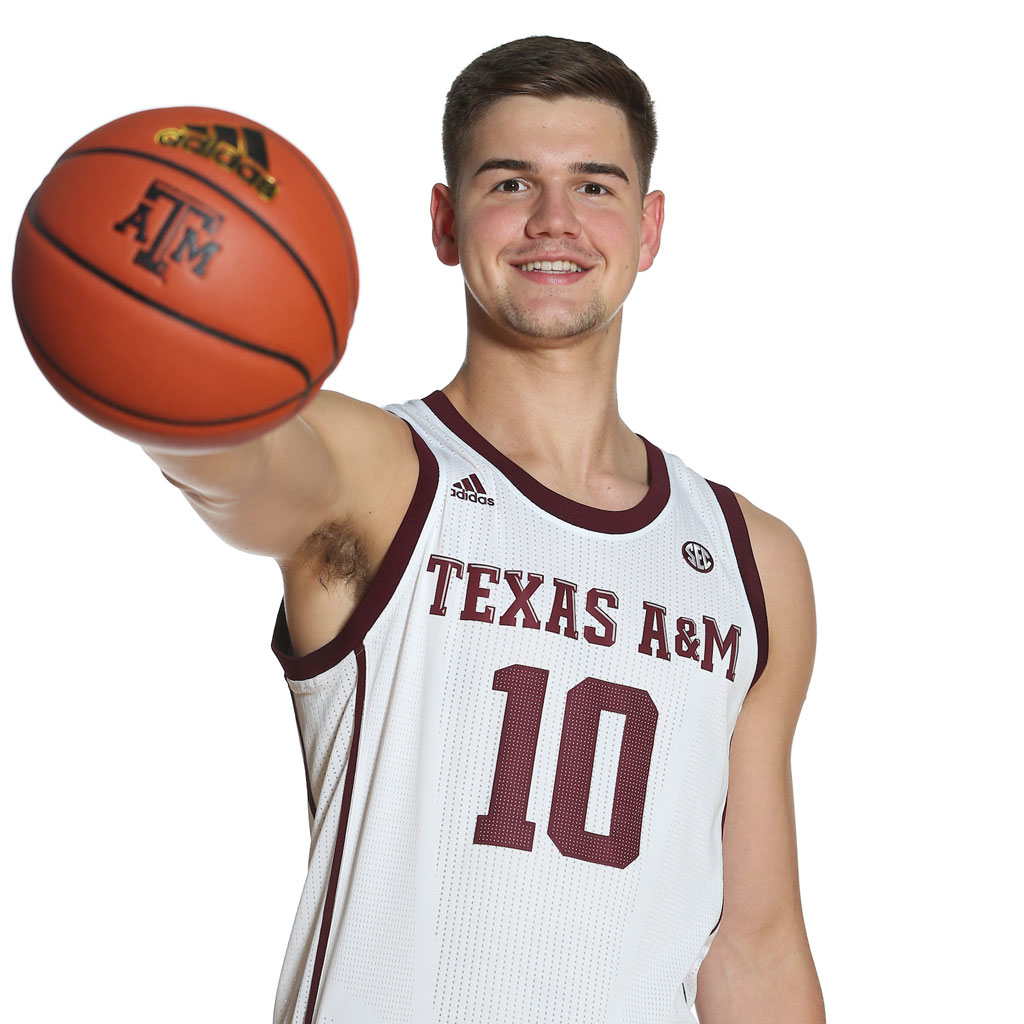 "I have a genuine love for A&M that overpowered any other option I had leaving St. Thomas," Vaughn says. "And I always dreamed of being in that uniform on the court representing the university. Whether it's in front of our fans or on the road in the SEC, to share this chance with this group means more than I can describe. I'm blessed to be in this position."
https://twitter.com/TeamCoachBuzz/status/1237517309536653312?s=20
Eagle Fight Never Dies!