If you don't know where you're from, you don't know where you're going.
For the previous decade Fr. Clark Sample '01 has navigated a clear, convicted, if unconventional course. He is rooted from his past, restless for grand future designs, trusting God's Providence to better propel Houston Roman Catholics on their holistic journeys.
"I had to be away from home to discover that home is where I should be," Fr. Sample says. "I was studying to be a priest in Washington, D.C. with the possibility to land anywhere in the United States. But I sensed God wanted me to be in my home city for a reason and every day that reason is unfolding."
The first time pastor describes his nine-month debut at St. Thomas More Parish as "a captain jumping on a moving boat, replacing the previous captain, figuring out what I have, and what direction the boat is moving." His constituents separated by generations and origin and culture "are surprised to hear I'm from Houston and even more surprised to know I grew up five miles north of here."
Fr. Sample sprang from an Irish Catholic family deeply devoted to the St. Michael the Archangel Church and strong parochial education – mother and father Donna and Don Sample, brother Stephen '11, and sister Allison who graduated from St. Agnes Academy. Fr. Sample's life-altering about-face decision in 2009 was in obvious contrast to the steep decline of incoming priests, a radical remove from the careerist track of his generation. He set aside marriage, family, and a traditional oil and gas success path with a degree from the University of Texas for a commitment to the priesthood.
His wasn't Moses meets the burning bush sky-opening call to the priesthood. For Fr. Sample it was more of a whisper, a sense, a consistent tap on the heart, a simple enough realization that motivated him to pivot. At age 26 he entered the process of vocational discernment and emerged embodying the commitment and purpose of spreading the Catholic faith.
In a world of zigging, Clark Sample zagged. "There's something countercultural about going into the priesthood. It's a complete surrender of self. But there's this state of pure joy when you're immersed that is beyond description. I remember thinking once during my years at St. Thomas that I could never be a priest. It was likely the only time I ever gave it any thought at all. But I've never been more fulfilled than I am right now. It doesn't mean it's easy. Fulfilling? Absolutely. Amazingly so."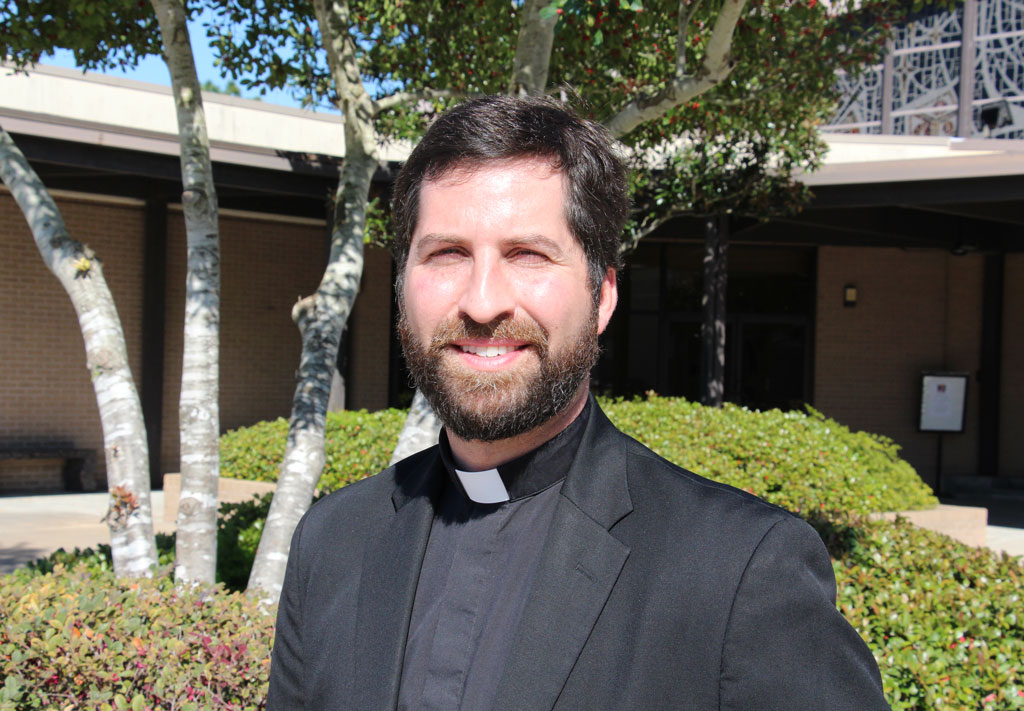 Fr. Sample is now the spiritual anchor for roughly 3,500 parish families and 400 students in the Maplewood subdivision on the west edge of Bellaire and the Meyerland community. His core aspirations are not altogether unique but ambitious: fostering a diverse, equitable, connected congregation … advancing innovative teaching and learning … building relationships as a counselor and confidant … embracing the word of God to craft his spirit and shape his soul.
"This is a traditional parish with younger families joining on a regular cycle," Fr. Sample says. "We represent Houston – large Hispanic, Nigerian, and Filipino legions bonding with many founding members (1965) who were here before we had a church building. We're in transition in a good way.
"Our school, teen confirmation, and youth formation are some of our primary missions. I want to see the kids in the hallways also in the pews on Sundays. Many of our parents recommit to their faith through their children.
"The potential here is out of sight. My goal is to actualize that potential and make St. Thomas More the best it can be."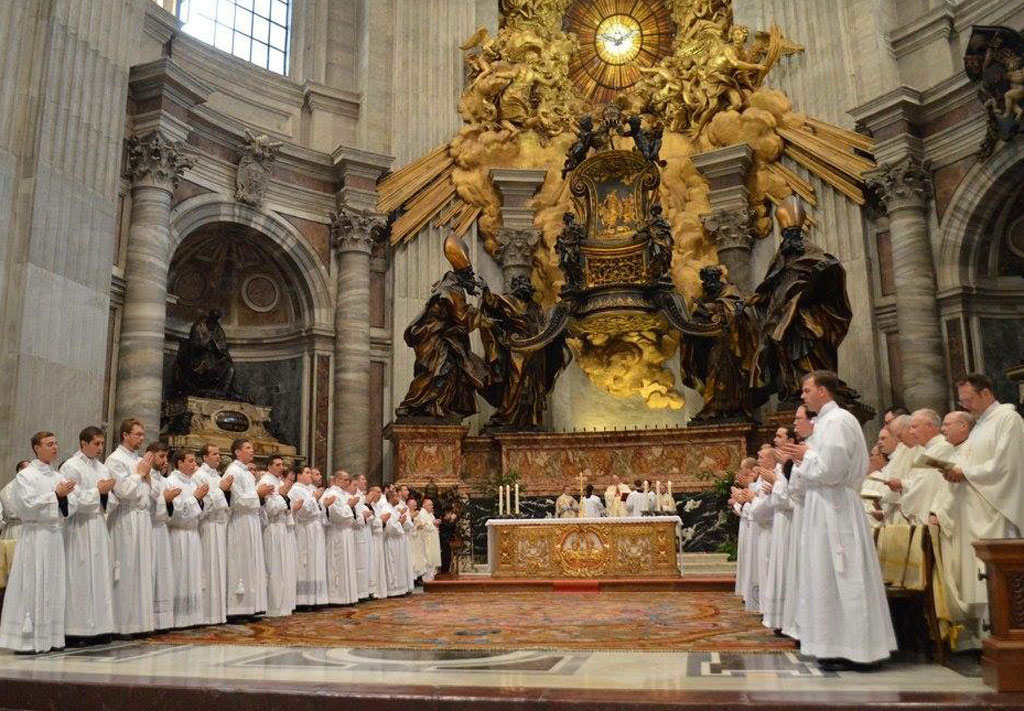 Fr. Sample's intense and thorough theology study concluded at Gregorian University in Rome. He was ordained to the transitional diaconate October 1, 2015, at sacred St. Peter's Basilica at the Vatican, accepting a lifelong dedication in service to God with promises of celibacy, prayer, and obedience. As a priest for the Archdiocese of Galveston-Houston, Fr. Sample is assured a sacred life servicing the broad parameter of his youth which was of particular personal importance.
The first assignment for Fr. Sample was parochial vicar at St. John Vianney Church under the leadership of pastor Fr. Troy Gately, a two-year indoctrination not unlike the football gods influencing (placing?) wonderboy quarterback Patrick Mahomes with the Kansas City Chiefs for a right place, right time career launch.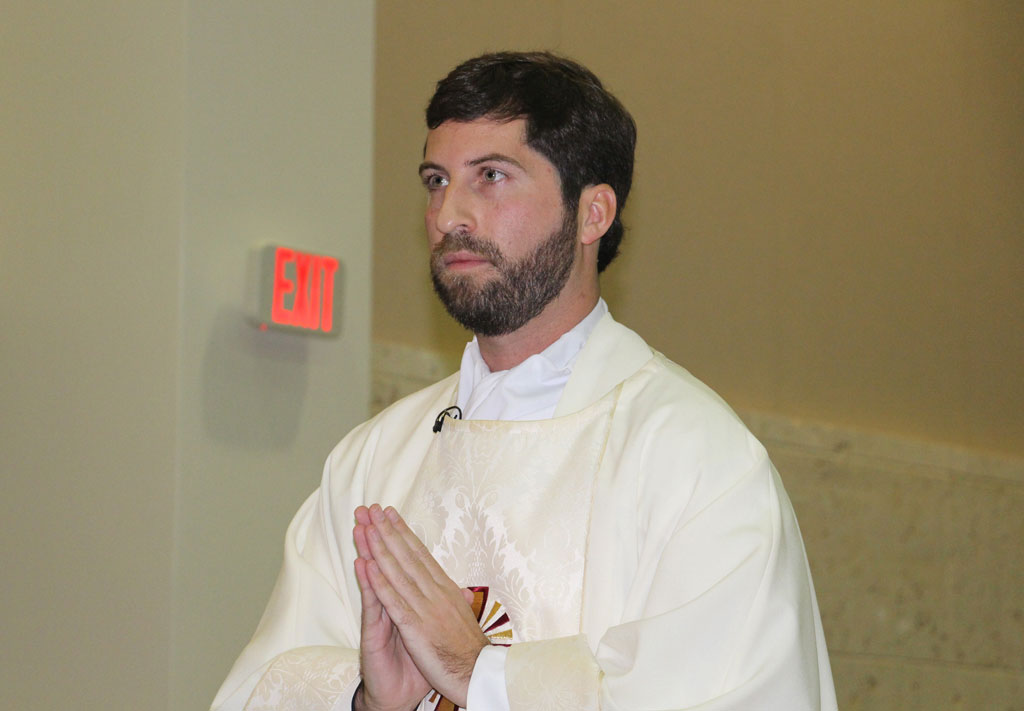 "Father Troy is one of the most accomplished priests in the diocese," Fr. Sample says. "He's deeply driven and shrewd. I learned from him that all of us are answerable to God to give our best. He does that and his example enforced a work ethic I've tried to duplicate, to live life as a sacrifice but also at full throttle. I had a great vantage point of how a parish can come together and thrive. I want that for St. Thomas More."
Unlike his tutelage at St. John Vianney, Fr. Sample's work as pastor is much more a mix of secular responsibilities and administrative duties, overseeing staff and finances within the rhythm of a daily faith connection. He draws on his real world professional business experience, even the rush captain years for his fraternity at UT, for practical application. At times the pragmatic learning curve resembles an aspiring energetic law school graduate embracing those initial courtroom clashes only to discover the stark difference between paper law and trial law.
"They don't teach you building maintenance in Rome," Fr Sample says with sly humor. "The roof of the school is years past its replacement date. How does that play within the fiscal budget? A water pipe bursts at 3:30 a.m. and floods the church. I get that call. I didn't have air conditioning in my room last summer. In Houston. In July. A large air vent but no cold air. Those are not group topics in Rome but I've become well versed."
Fr. Sample is also presented with the occasional crossroads of his former life intersecting with his almost sudden lifelong Catholic pilgrimage.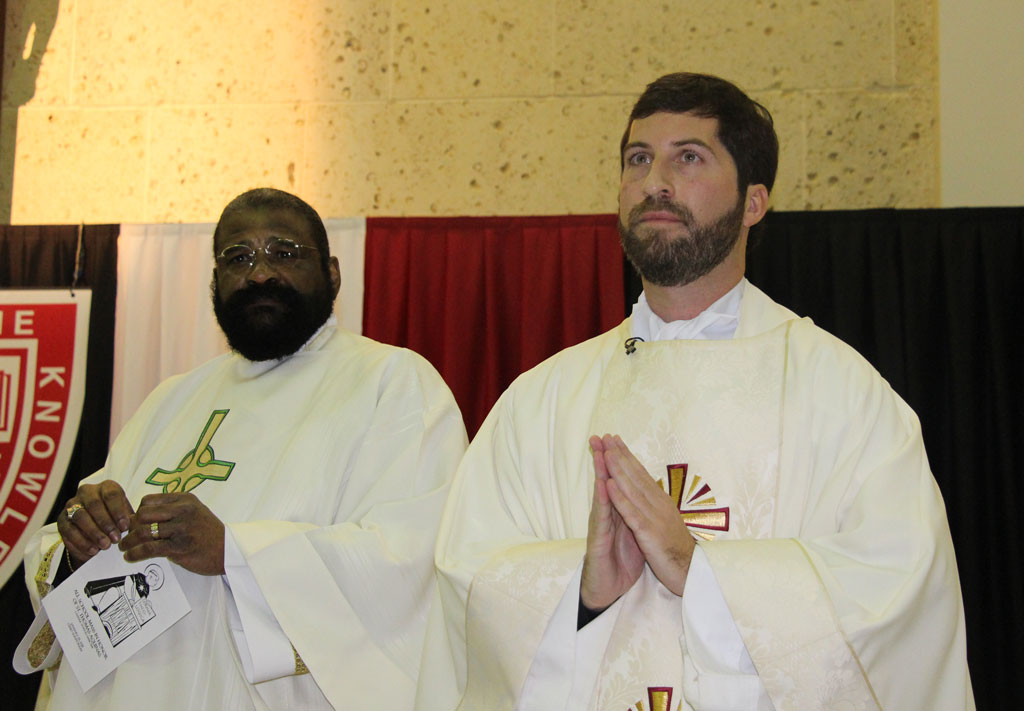 "I recently celebrated a wedding with some high school friends in attendance," Fr. Sample says. "They were incredibly respectful of me and the Mass. But their reaction afterward was What happened to Clark? How different is he? What happened? Well, I'm the same. I'm also a priest. I could see it caused them to pause and think outside their box a bit.
"This is what it all comes down to – living our faith is very human. And when we do that we can become exactly who God created us to be. There was a time when I envisioned living your faith as the super pious person in constant prayer, that's not what holiness is all the time but it can be for some."
Full speed ahead, captain. Damn the torpedoes.
Catholic. Basilian. Teaching Goodness, Discipline and Knowledge since 1900.