On Wednesday, March 11, the World Health Organization declared the coronavirus a pandemic – an outbreak of a serious new disease with sustained transmission throughout the world.
St. Thomas stakeholders and academic executives immediately began planning a response to the global outbreak of COVID-19. President Fr. James Murphy, CSB and principal Dr. Aaron Dominguez '96 instructed faculty and staff to prepare a remote learning delivery system. All classes were suspended for the week following spring break and beginning Monday, March 30, St. Thomas will implement online teaching for all students with the campus closed until Tuesday, April 14.
These are unprecedented decisions for a college preparatory institution that prides itself on nurturing scholars through a multidisciplinary curriculum while serving in Basilian fellowship.
"The movement to online classes was paramount to protect our students and their families," Dominguez says. "We are continuing to provide a St. Thomas education. The transition isn't without its challenges, and it demonstrates how our campus community stepped up in times of trial. I continue to be inspired by the devotion of our educators and the perseverance of our students. I am awed by the selfless efforts of everyone to keep St. Thomas moving forward."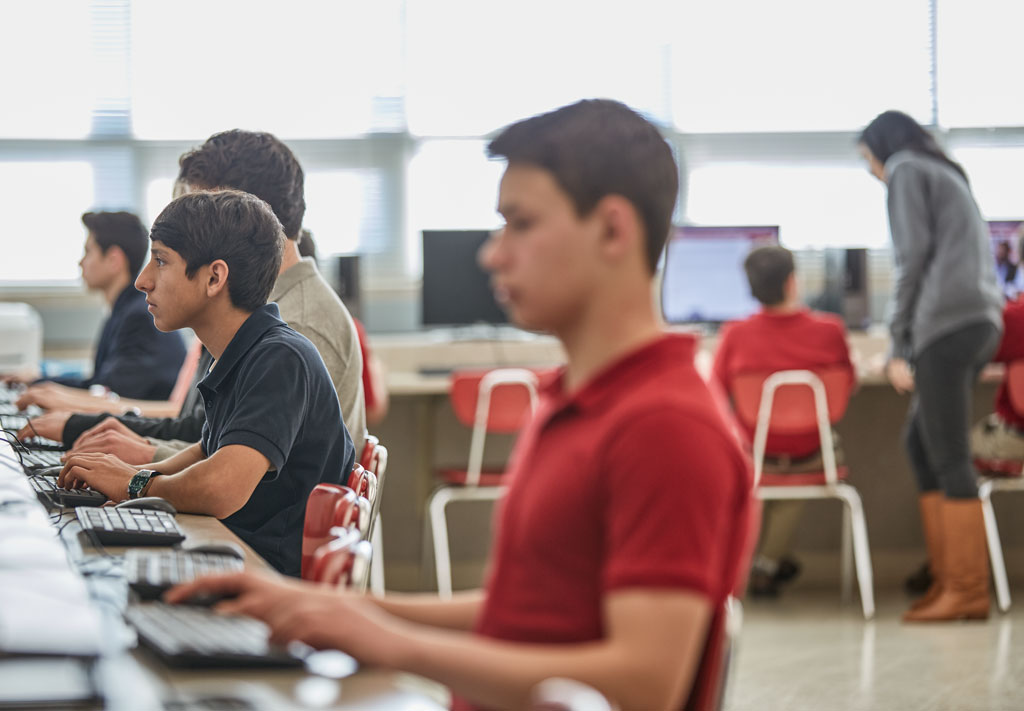 Because St. Thomas embraces optimal technology as an integral element of the modern college preparatory classroom, the sudden conversation to distance learning was met with less disruption than might have been expected.
"I've been thoroughly strengthened with the entirety of the St. Thomas response," Dominguez says. "Our challenge is balancing the desire to give students an academic experience that is as similar as possible to what they would receive on campus while understanding the impact that the coronavirus is having on other aspects of their lives. Our goal for excellence is always with flexibility and compassion as our students are trying to juggle so many things they have going on in their lives right now."
St. Thomas support offices such as the Counseling Department, the Learning Enrichment Center, the Dean of Students Office, and Campus Ministry will be fully engaged to assist Eagle scholars throughout the spring semester in what is a rapidly evolving public health and economic crisis.
"Our faculty and staff have accepted the most difficult of situations with professional maturity and grace," Dominguez says. "The concern on display demonstrates their deep commitment to meet and honor our educational mission. We cannot replace the presence of person-to-person interaction. But we are steadfast in making decisions in the best interest of our students and families, and keeping them informed as best we can. I have complete confidence that standing together, we will meet the demands before us."
Catholic. Basilian. Teaching Goodness, Discipline and Knowledge since 1900.