The mission of St. Thomas Fine Arts is to create a curiosity for scholars to explore their intuitive talents, navigate their inquisitive journeys, and express themselves while possibly gaining national recognition.
One of the most complete and diverse programs in Texas is shepherd by faculty member Mike Nebel. And the next breakthrough example extending the firmly established St. Thomas reputation within Ceramic Arts belongs to Travis Froboese '20.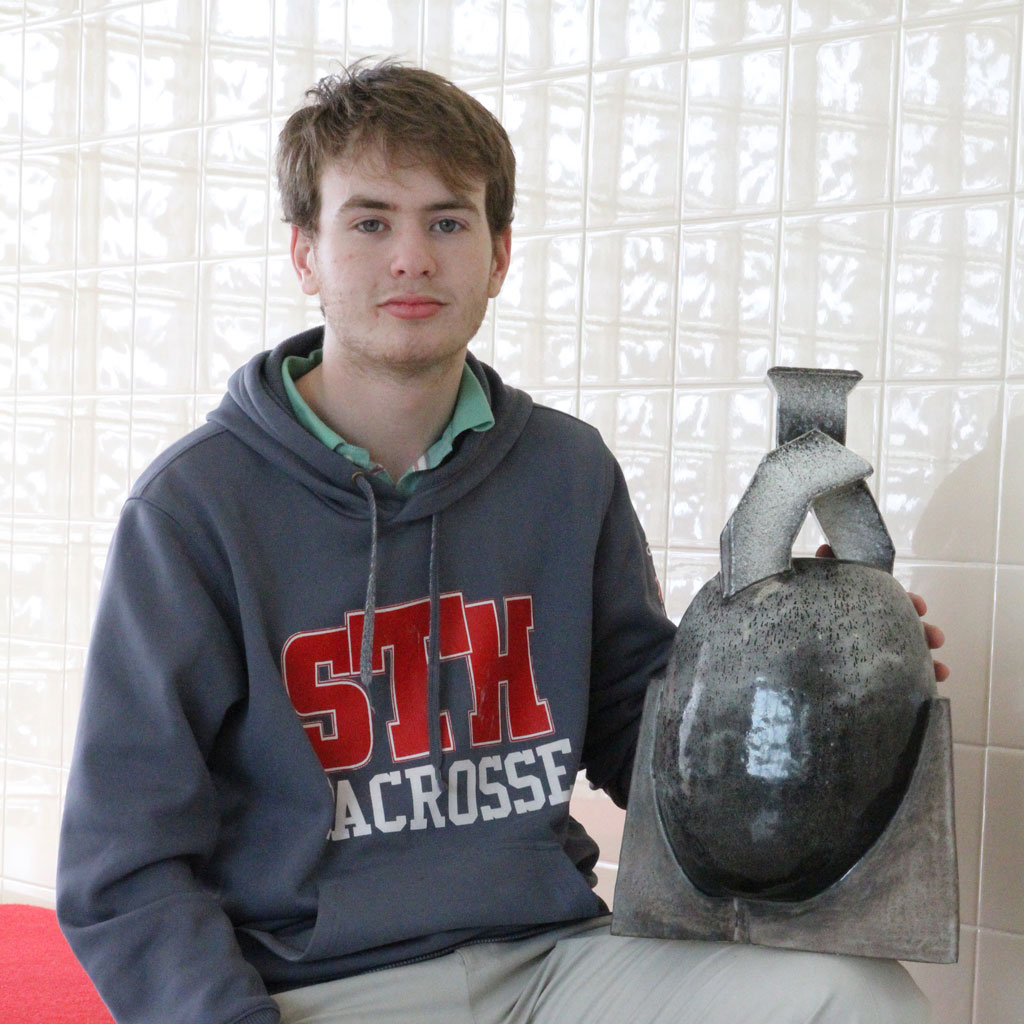 His entry entitled Racial Discrepancy captured Gold Key distinction at the National Scholastic Art Competition. Froboese is the first ever Eagle scholar artist to earn such merit and was the only gold standard student from Harris County recognized in ceramics. He was also selected as the K-12 Alfred University Marion L. Fosdick Memorial Scholarship recipient after his award-winning original was displayed at the 23rd annual National K-12 Ceramic Exhibition.
Froboese was saluted by the prestigious upper New York state university for talent "at the highest tier among your peers. … Your work demonstrates vast potential and showcases your artistic talents, setting you apart from an already exceptional pool of candidates. Your work exhibits a wide range of innovation and promise which impressed the committee. We look forward to having you and your work grow and develop here at Alfred University."
The praise is particularly striking given that Froboese admits to "no experience (in the discipline) before coming to St. Thomas. I started my junior year and discovered confidence when I put my intent behind it. Most artists feel comfortable about their work but the outside awards are satisfying. I was quite pleased with the outcome."
Nebel immediately saw vast potential from Froboese's design if he could apply his imagination and execute beyond the concept.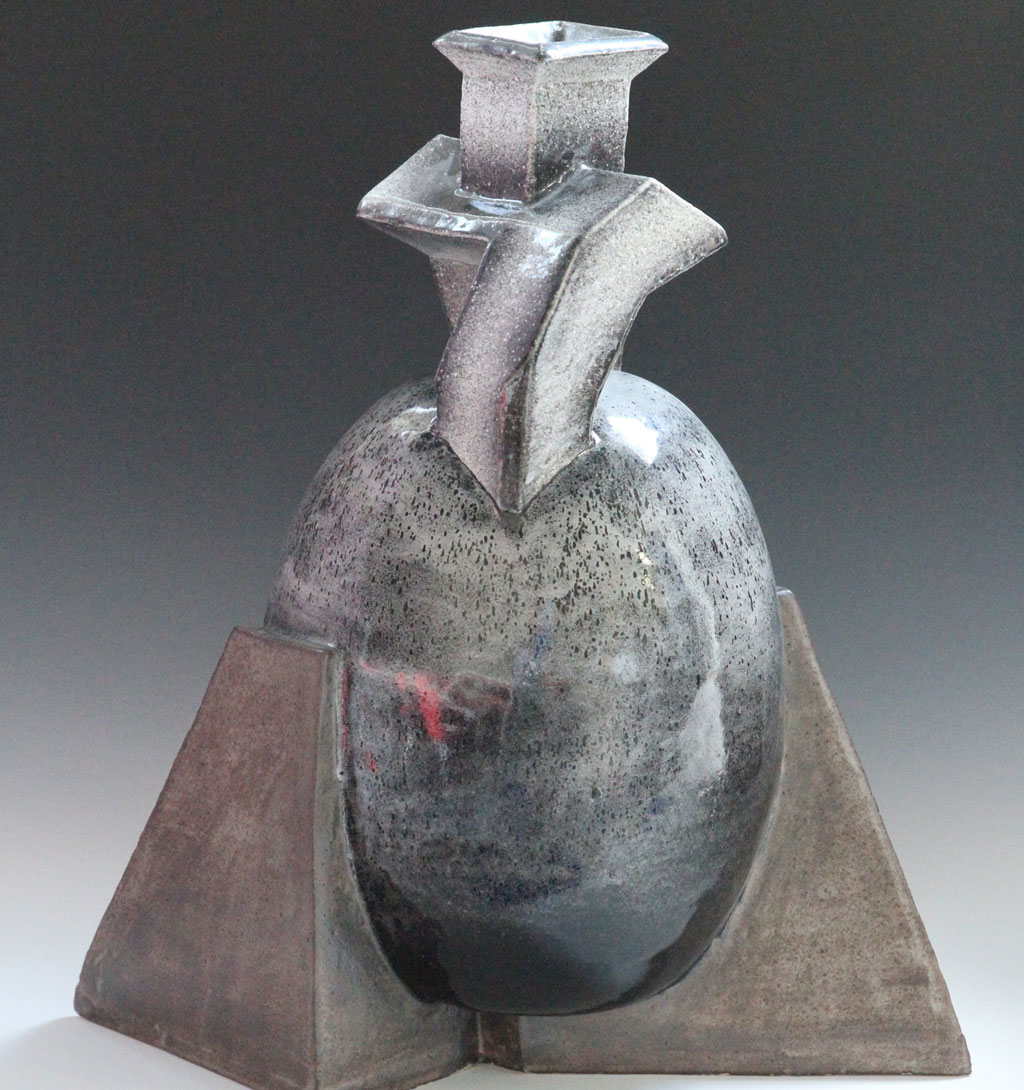 "Bold beginnings and then the twist – the neck and spout allow your eye to move around the piece which is the intent of 3D art … in the round … height, width, and depth. The legs jet out geometrically with different angles, a counterbalance. There's almost a prism effect … a different interpretation depending on the view. Dramatic Shino glazing … high gloss on the body and matte on the legs. The contrast from top to bottom. Phenomenal work."
St. Thomas represented 17 of the nearly 300 Scholastic entries. Lake Anderson '20, Kyle Rzasnicki '20, and Sterling Smith '20 earned Silver Key status, and Anderson added Honorable Mention merit with Travis Taylor '20 and a pair from Thomas Sage '20.
Froboese's acclaimed piece will be displayed among the best in the United States at the K-12 Exhibition and reviewed by renowned professionals from across the country. His selection is one of 45 from more than 700 11th-12th grade entries. Jurors determine national superiority based on three criteria: originality, technical expertise, and the emergence of a personal vision or voice.
"I like working with sharp angles," Froboese says. "Once the piece started taking shape I didn't consult the design, just worked by feel and instinct. There's no printout, no spinning to keep it balanced. Each of the small details can take one-two hours to complete. It's those features at the top that make it special, not simply stacking smaller or bigger pieces together."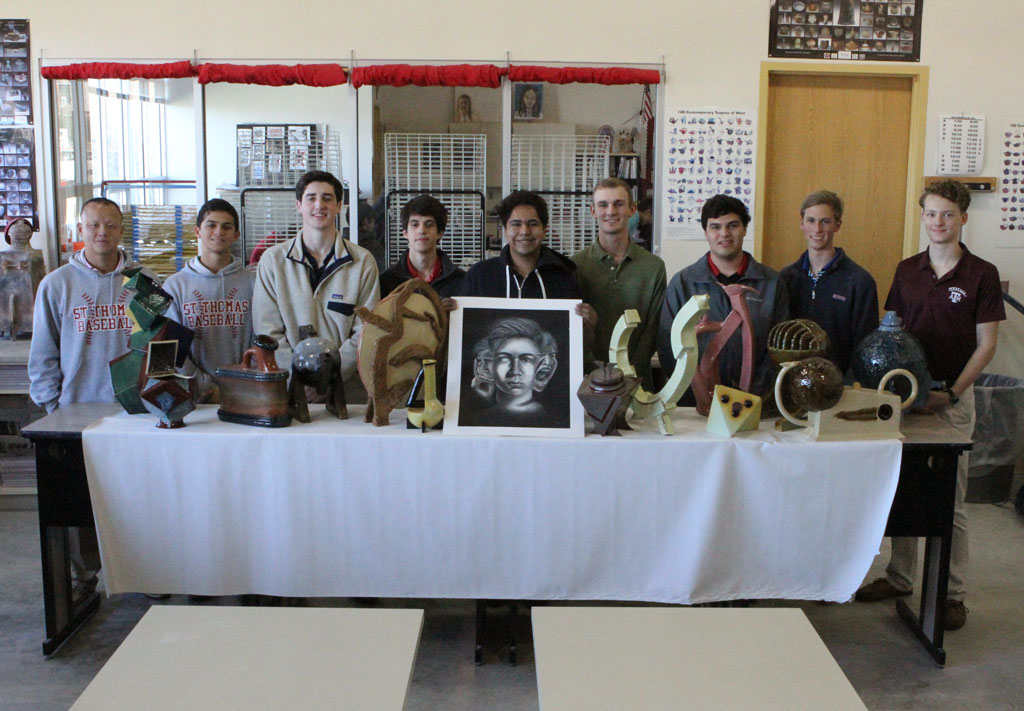 Nebel's lab serves as an incubator for a particular aesthetic that relies on equal parts wonderment and due diligence. Students are exposed to a wide range of traditional and contemporary techniques. Critiques are productive vehicles for understanding other's work and discussing tangents relevant to all aspects of art making.
Under Nebel's direction, the manipulation of three-dimensional materials is a means of developing the psychological and intellectual flair often colliding with a society driven more and more by technology. His scholar artists continue to thrive as self-expression morphs into self-esteem. "I had great belief in Travis before the judging. I told him I would love to have his piece in my home. That's as strong as I have ever felt about any work that has come through our department."
Joseph Lowery '14 launched the legacy with a popping portfolio that remains unmatched during Nebel's watch.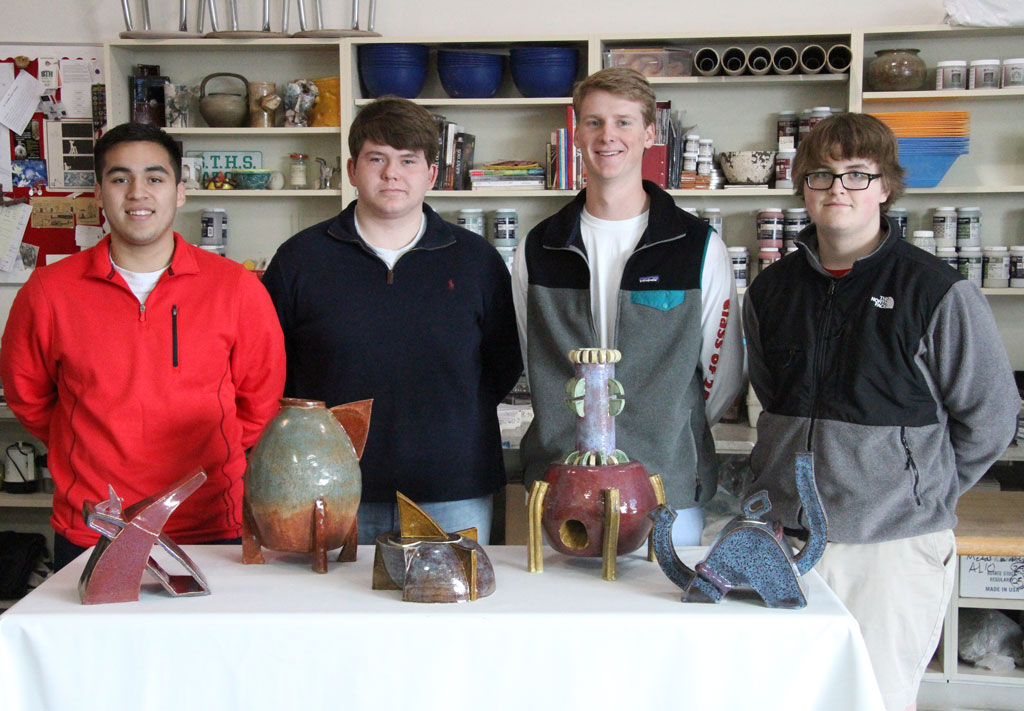 In 2015 seniors Logan Vitela, Joe Minnis, Jack Schrimsher, and Ben Kluksdahl became the first Eagles in St. Thomas history to earn regional Gold Key recognition, and the Scholastic results have remained rich year after year. In 2019 William Castillo '19 became the first-ever Eagle honored in Drawing and Illustration, one of only 80 Gold Keys awarded among more than 1,500 entries from private and public schools.
Froboese is the latest to live in the limelight.
And while the regional and national praise is a clear validation of talent, persistence, and promise, Nebel admits that isn't the program's prime motivation. "The goal is to have these guys break out of their comfort zones, identify talent, have them take pride in what they do, whatever they do. And enjoy it along the way. That's why these students are at St. Thomas. They can carry that discipline with them for the rest of their life."
Catholic. Basilian. Teaching Goodness, Discipline and Knowledge since 1900.