As the novel coronavirus pandemic rocked the country into lockdown, St. Thomas was forced to evolve into an institution of remote learning.
But even in the face of difficulties and hardships unprecedented in modern times, affirmations of the power and resilience of the Basilian spirit emerged. In moving examples that shared such hope, the annual St. Thomas Academic Awards continued minus the customary assembly in Cemo Auditorium but with enhanced fervor in honoring strong intellect, scholarly achievement, and the capacity for community with compassion.
"It is always with extreme pride that we acknowledge the intense dedication and excellence of our senior scholars," Principal Dr. Aaron Dominguz '96 said. "But we celebrate the range and depth of these latest accomplishments with perhaps a deeper appreciation given the outbreak. Our seniors unselfishly faced a difficult situation with maturity and grace. Our faculty found inventive ways to inspire and challenge. I could not ask for a more committed group of academicians who encountered adverse circumstances without compromise. St. Thomas often shines its brightest in times of adversity. The Class of 2020 exemplifies that ideal and will always have a special place in the hearts of all who are part of our school."
More than 150 prestigious students were saluted, led by valedictorian Grant McCoy and salutatorian Grayson Drinkard. The two exemplary scholars ranked as the highest members of their class based on the calculation of their four-year grade point averages.
McCoy was also among four Eagle scholars receiving exclusive accolades, excelling in a rigorous college preparatory environment while also separating through a compelling identity beyond the curriculum.
McCoy accepted the Rev. Albert R. Gaelens, CSB Goodness, Discipline & Knowledge Award given to the senior student who best embodies the school motto of Teach Me Goodness, Discipline, and Knowledge. The award is named for the 21st principal of St. Thomas who deeply served the school in a variety of capacities for a quarter century before retiring in 2007. Seniors are nominated by their peers for this distinction and the faculty then votes on those receiving the most nominations.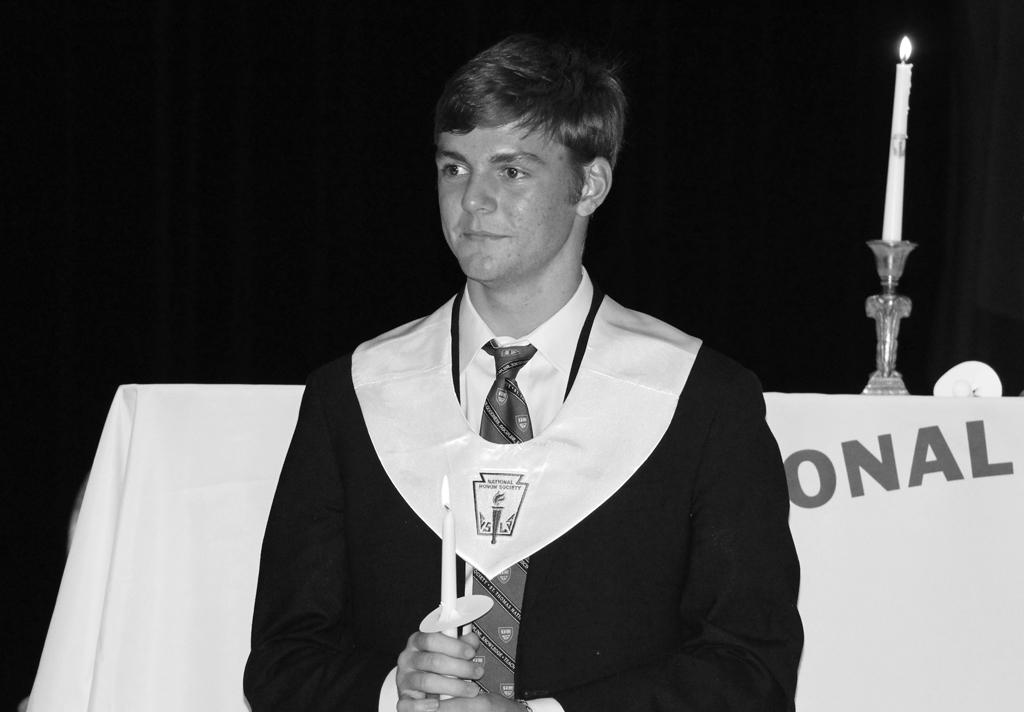 McCoy was commended for this dedication and providing a "superlative example to his fellow students. From his first day as a freshman, he strove for excellence. Every academic year he challenged himself with a rigorous course load and consistently exceeded his own ambitious goals. As a four year letterman with Eagle Golf, he received the program's Eagle Spirit award in 2018. He is an esteemed scholar, an emphatic leader, and a good friend to those who know him."
Previously McCoy was named president of the St. Thomas Chapter of the National Honor Society. He also earned Mathematics Achievement in AP Calculus AB and Social Studies Achievement in Advanced Economics/AP United States Government.
Drinkard was described as "instrumental to the success at Camp Aquinas (the innovative off-campus immersion for freshmen rooted in the Basilian GDK credo). As a leader, he was easily approachable and extremely hard working. He pushed himself to excel in every area – especially with new challenges. His positive attitude and infectious smile was evident in every corner of our campus."
Drinkard and McCoy were also among those scholars who earned renown in the National Merit Scholarship Program, along with seniors Harrison Held, Adam Dunn, Nathan Lee, and Wade Swan, and Hispanic National Merit Scholars Trent Butler '20, Charles Boutte '20, NHS vice president Ryan Mercado '20, and Mason Ritchie '20.
McCoy and Drinkard were joined by seniors Dunn, Swan, Douglas Beirne, Will Gardner, Daniel Jones, Zach Kroencke, Ryan Moore, Kyle Rzasnicki, Anthony Schlak, Edward Sprigg, William Sterner, and Charles White in gaining permanent membership into the prestigious St. Thomas Club – champion scholars with a minimum 4.0 grade point average for seven consecutive semesters.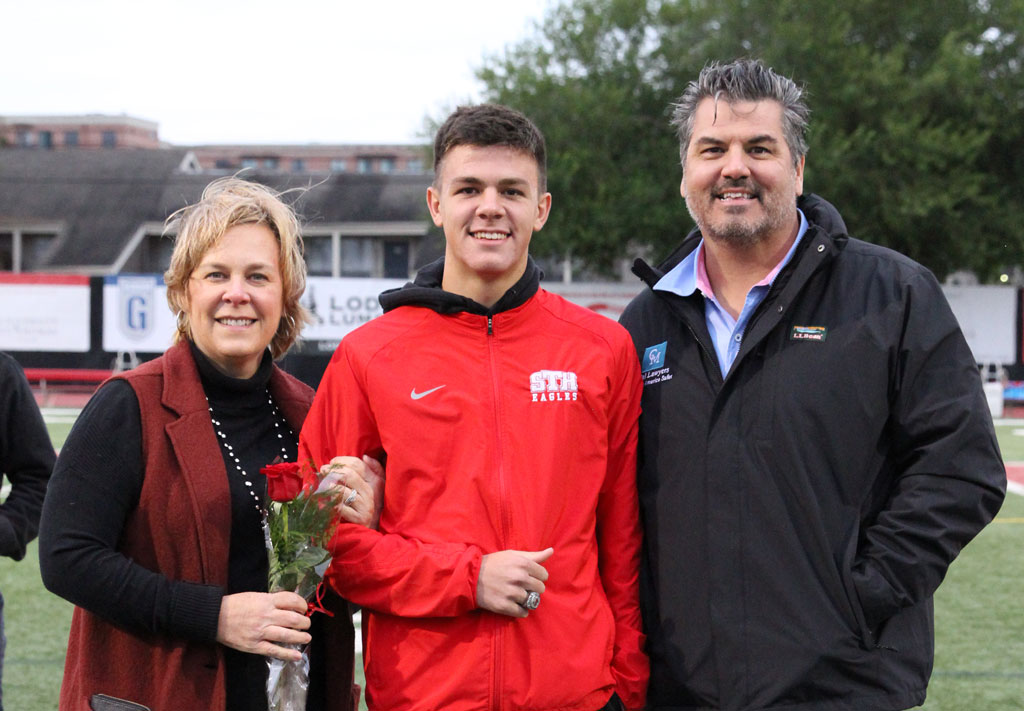 The Principal's Service and Leadership Award winner was Nicholas Chandler '20. The student body president was "defined by more than academic prowess and athletic accomplishments with Eagle Cross Country. He enhanced the classroom culture with his engagement, inquisitiveness, and wit. … and always treated his teachers and Eagle brothers with dignity and respect. He was a leader not through ego but by uplifting others for success … and doing what is proper and appropriate even when no one was paying attention." Chandler also received Social Studies Achievement in U.S. in World Affairs.
Adrian Marquez '20 was given the Rev. Ronald G. Schwenzer, CSB Campus Ministry Award for most exemplifying the Man of St. Thomas motto of Faith, Service, and Leadership. An Eagle Ambassador and Senior Leader, Marquez "was a commanding presence in every sense of the word … quick to know that leadership begins with listening and learning and then serving to the best of his ability. He represented as a true Man of St. Thomas, always knowing that God is there watching with perfect love."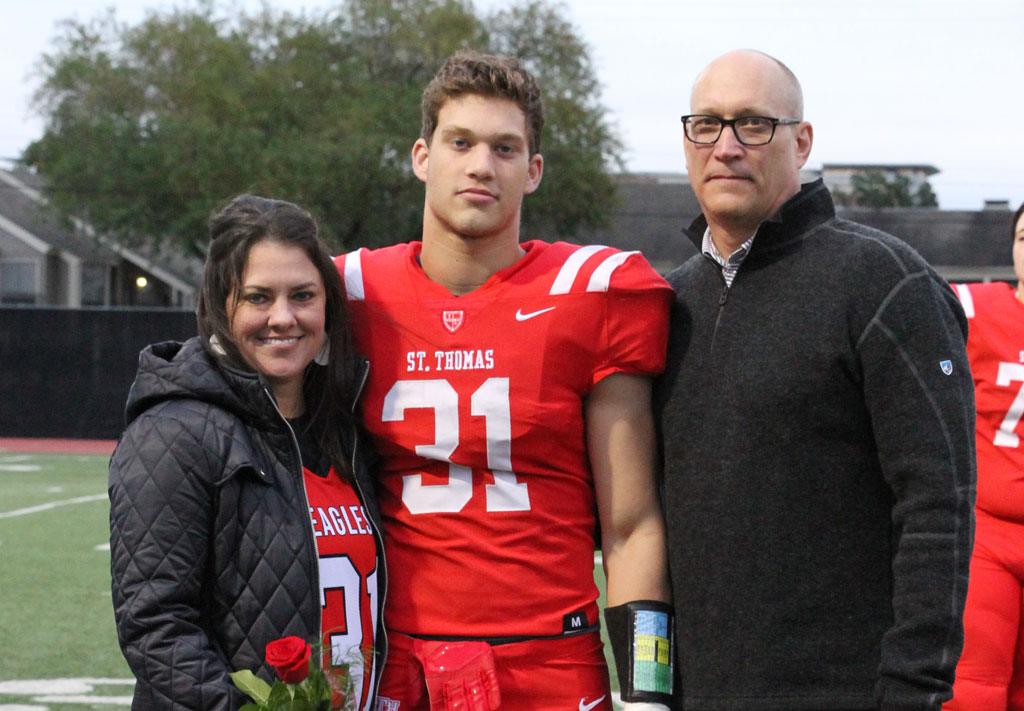 Two-sport scholar athlete Cooper Thomas '20 was saluted with the Rev. Carl Mitchell Allnoch, CSB Athletic Memorial Trophy for Excellence in Academics, in honor of the 16th principal of St. Thomas. The relentless TAPPS All-State and Academic All-State linebacker was a catalyst in returning Eagle Football to the state semifinals for the first time since 2015. The team Most Valuable Player racked an outrageous 63 individual tackles and shared in 96 others including 19 for loss.
Thomas was recognized by the Touchdown Club of Houston for postseason distinction at the 8th annual Private High School Awards Dinner. He'll continue as a student athlete at Columbia University.
Catholic. Basilian. Teaching Goodness, Discipline and Knowledge since 1900.