The lives of St. Thomas graduates are uniquely fortified by their four years of Basilian college preparatory. But rarely in the 120-year history of the institution has a graduating group been changed in unanticipated ways as the Class of 2020 – those who rallied with the resilience, determination, and adaptability throughout the continuing threat of the novel coronavirus.
In March, social-distancing measures were mandated to reduce the spread of COVID-19. All instruction became virtual. Traditional commencement exercises were postponed and proceeded with various health and safety restrictions.
Through separation, the St. Thomas' spirit intensified. Collective optimism, inspiration, and innovation impelled the campus community to soar to greater heights.
St. Thomas President Fr. James Murphy, CSB, Principal Dr. Aaron Dominguez '96, Assistant Principal Mary Criaco, and Board Member Hector Herrera '79 welcomed a limited but exuberant audience of family, faculty, and supporters assembled in Granger Stadium June 12. The celebration saluted the exceptional achievements of 130 graduates who overcame unprecedented trials to be awarded more than $13 million in merit-based scholarships to renowned colleges and universities throughout the United States.
Student body president and master of ceremonies Nicholas Chandler asked for a moment of silence to recognize weeks of massive social unrest across the country, as many thousands raised their voices in outrage at the killing of George Floyd by Minneapolis police.
Dr. William P. Sage '61 delivered the keynote address, a two-sport Eagle team captain and prominent scholar-athlete who earned a track and field scholarship to Rice University where he contributed to the Owls 1965 Southwest Conference team championship. Sage graduated from the University of Texas Southwestern Medical School in 1969 and followed with a three-year commitment with the United States Navy. He then established a thriving private otolaryngologist practice for nearly four decades in Victoria, Texas, performing more than 15,000 procedures. Sage is a member of the St. Thomas Sports Hall of Fame and an ongoing contributor to the St. Thomas Board of Directors.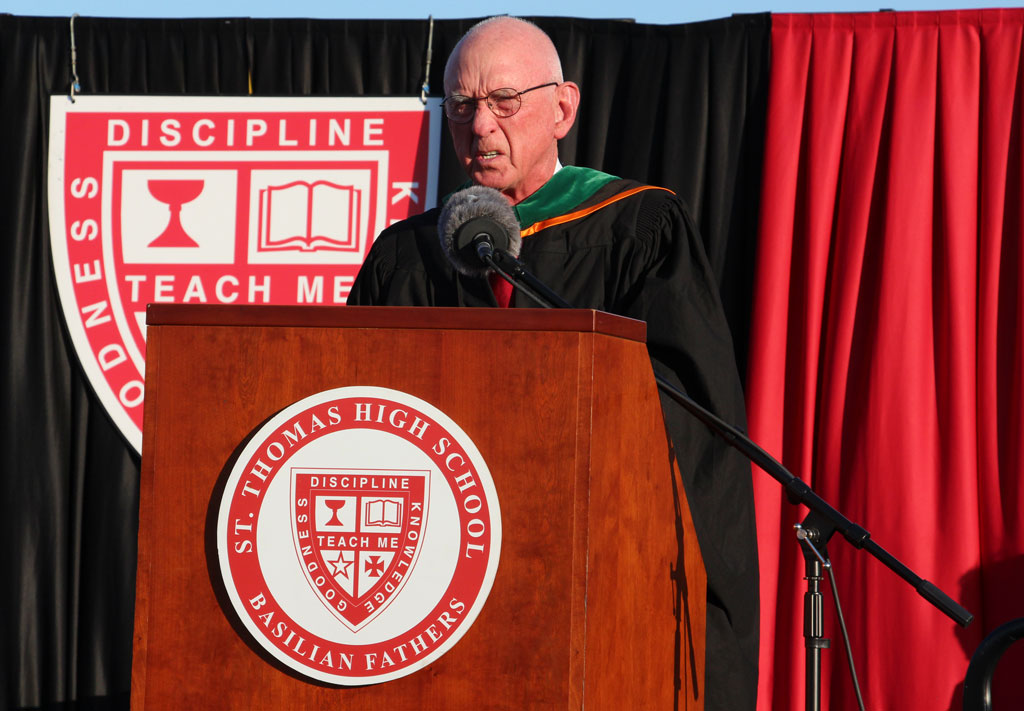 The 77-year-old was chosen because of his "love and loyalty of St. Thomas … and my family tradition (that) is deeply embedded in this school. As of tonight, when my grandson Mac receives his diploma, eight of us have graduated over the last 61 years … with a few more to come."
Sage attributed much of his significant personal and professional success to "the formation of faith and ethics I learned at St. Thomas, the lessons of goodness, discipline, and knowledge resulting in choices that led to a substantial life."
Sage referenced the writings of Aristotle, St. Augustine, and the influence of his beloved mother, all relating to "the value of lasting, loving relationships … and the value of friendship leading to the pursuit of happiness. A person must be able to love and be loved … kindness begets kindness, honesty begets honesty, trust begets trust … virtuous behavior leads to relationships that lead to fulfillment. I would advise you, seniors, to take proper care of your friendships. Stay in touch with those here today. … What has led to (my) richer and more satisfying life were loving relationships maintained with family and friends."
Sage concluded that "St. Thomas sends men of character into the world … Eagle grads who have made valuable lasting contributions to their communities. I'm sure you will uphold this heritage of excellence because you are St. Thomas men. Remember, you are Eagles. Fly high, gentlemen, fly high. Eagle Fight Never Dies! God bless you. And God bless St. Thomas High School."
Valedictorian Grant McCoy will enter the Heider College of Business at Creighton University where he received the Magis Award based solely on academic achievement. He was a National Merit Finalist and president of the St. Thomas Chapter of the National Honor Society. McCoy also received the Rev. Albert R. Gaelens, CSB Goodness, Discipline & Knowledge Award, given to the senior student who best embodies the school motto of Teach Me Goodness, Discipline, and Knowledge.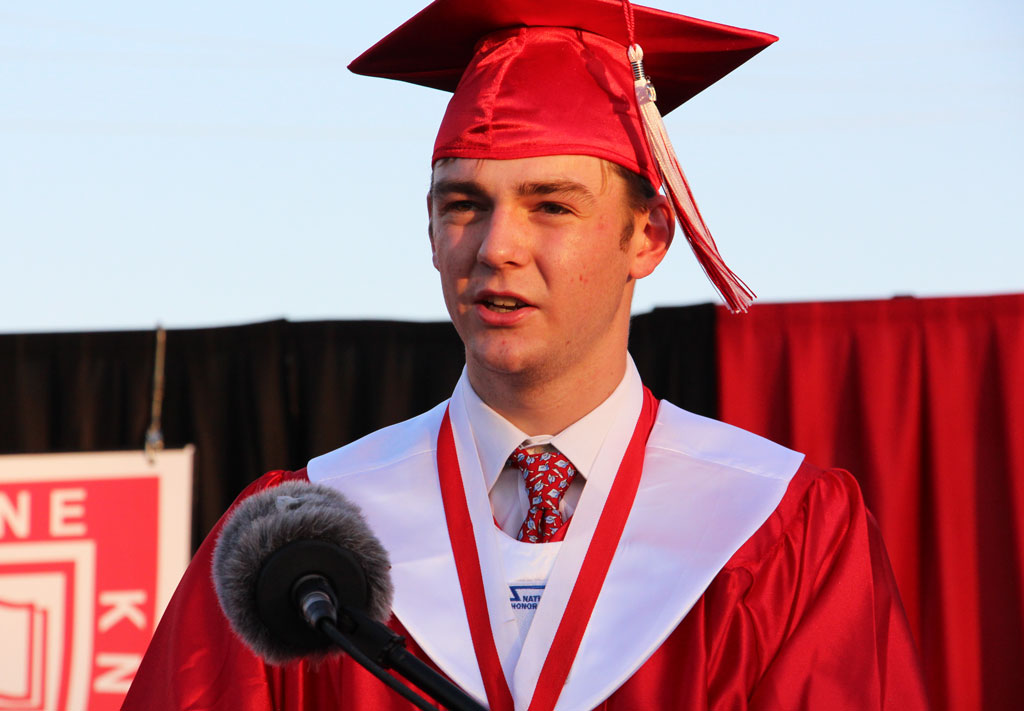 The valedictorian encouraged the Class of 2020 to seize the challenges of this moment with "an eye to the future. It is good to be informed … to know the possibilities that may lie ahead, but it isn't healthy to let that consume you … in fear and anxiety. St. Thomas has provided us with a foundation to navigate our way through the uncertainty that lies ahead. We are a part of a community that loves and cares for us … and while graduation certainly feels like we are exiting … we are just getting started. … We will never stop being Eagle brothers. We will always have each other and will always be a part of this very special senior class."
McCoy and salutatorian Grayson Drinkard were the highest-ranking members of their class based on the calculation of their four-year grade point averages.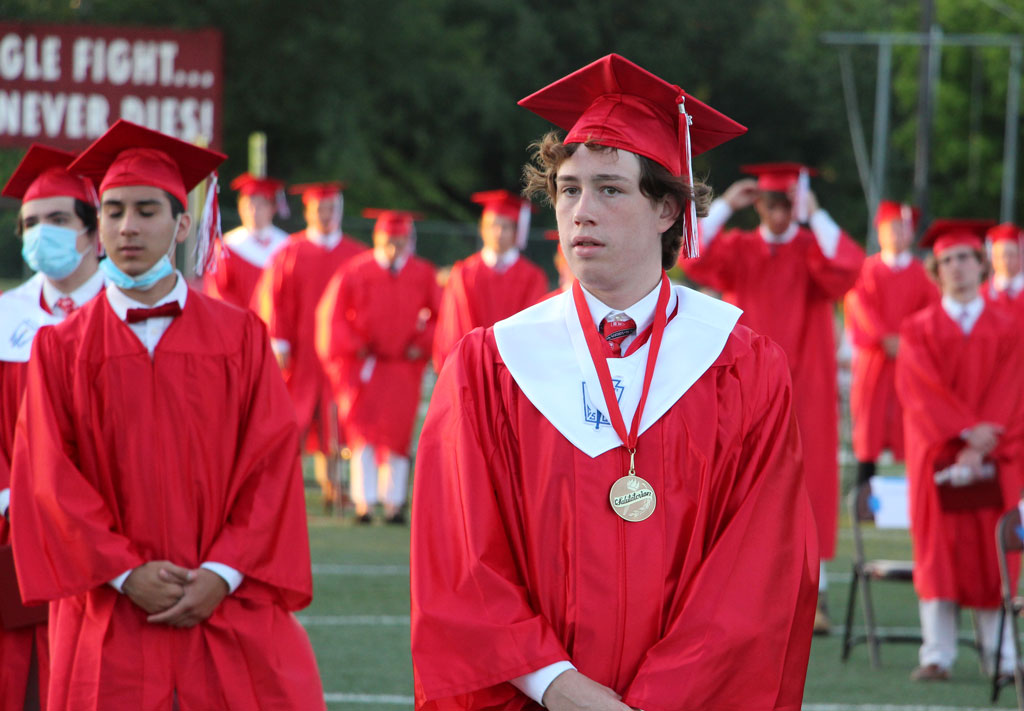 Drinkard, a National Merit Commended Student and National Honor Society member, was accepted into the University of Texas at Austin, Cockrell School of Engineering. He is "forever grateful for everything that St. Thomas and the community have done for me. Seeing the past four years coming together, I realize how real the brotherhood is. When I look out (today), I know every face and have memorable moments with every single person … (and) realize that struggles all shaped our time at St. Thomas."
Drinkard and McCoy previously joined 12 other champion scholars from the Class of 2020 gaining permanent membership into the prestigious St. Thomas Club – elite students with a minimum 4.0 grade point average for seven consecutive semesters. The exclusive group included Douglas Beirne, Adam Dunn, Will Gardner, Daniel Jones, Zach Kroencke, Ryan Moore, Kyle Rzasnicki, Anthony Schlak, Edward Sprigg, William Sterner, Wade Swan, and Charles White.
Dunn, Swann, and Nathan Lee were also recognized as National Merit Commended Scholars while Mason Ritchie was named as a National Hispanic Scholar, the four among 31 senior members in the National Honor Society.
Harrison Held was a National Merit Semifinalist who plans to study computer science at Texas A&M University. He is one of 19 Eagle graduates heading into the A&M system, including 14 at the flagship College Station campus. Drinkard and five other Eagle scholars are moving on to the University of Texas with nine more in the UT system. Thirteen graduates each are advancing to Texas Tech University and the University of Houston.
Eagle scholars are also attending Baylor University, Columbia University, Georgetown University, Southwestern University, Swarthmore College, St. Mary's University, Texas Christian University, Trinity University, The Catholic University of America, Auburn University, Clemson University, University of Colorado, Louisiana State University, University of Louisville, University of Minnesota, University of Mississippi, University of Missouri, and the University of Oklahoma among many other prestigious institutions.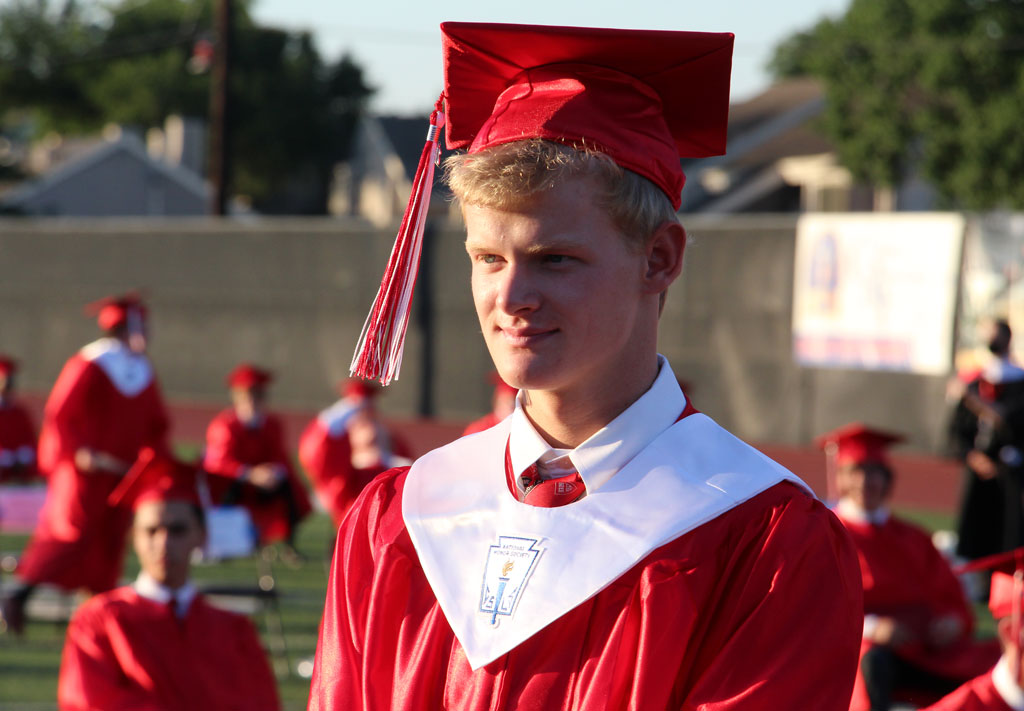 Collectively the Class of 2020 provided superior leadership to fuel yet another remarkable Round Up fundraising effort which produced more than $525,000 in raffle ticket sales. The resounding total was led by Kroencke's absolute resolute individual effort of $35,960 as Eagle students crashed the half-million dollar mark for the fourth consecutive year, raising the recent seven-year mark to $3 million. All monies are annually devoted to St. Thomas tuition assistance, a Basilian practice which dates for nearly a century.
The latest St. Thomas graduates had their lives and academic work upended as the ground was seemingly shifting beneath them. Nonetheless, they now advance their respective journeys just as generations before them, living in curiosity and wonder, strengthened by the shared qualities that bond the Eagle brotherhood – faith, perseverance, and integrity with equal measures of humility and empathy.
Catholic. Basilian. Teaching Goodness, Discipline and Knowledge since 1900.