GAMEDAY CENTRAL
WEEK THREE – HOTZE FIELD INSIDE GRANGER STADIUM

San Antonio Central Catholic 14
Eagle Football 31
WHAT YOU NEED TO KNOW
In hosting its third consecutive socially distanced football game, 2020 Elite 11 quarterback Maddox Kopp '21 (verbal Houston) delivered three touchdown passes and a rejuvenated St. Thomas slam dance defense shut down San Antonio Central Catholic in a 31-14 verdict for the Eagles' first on-the-field victory of the season.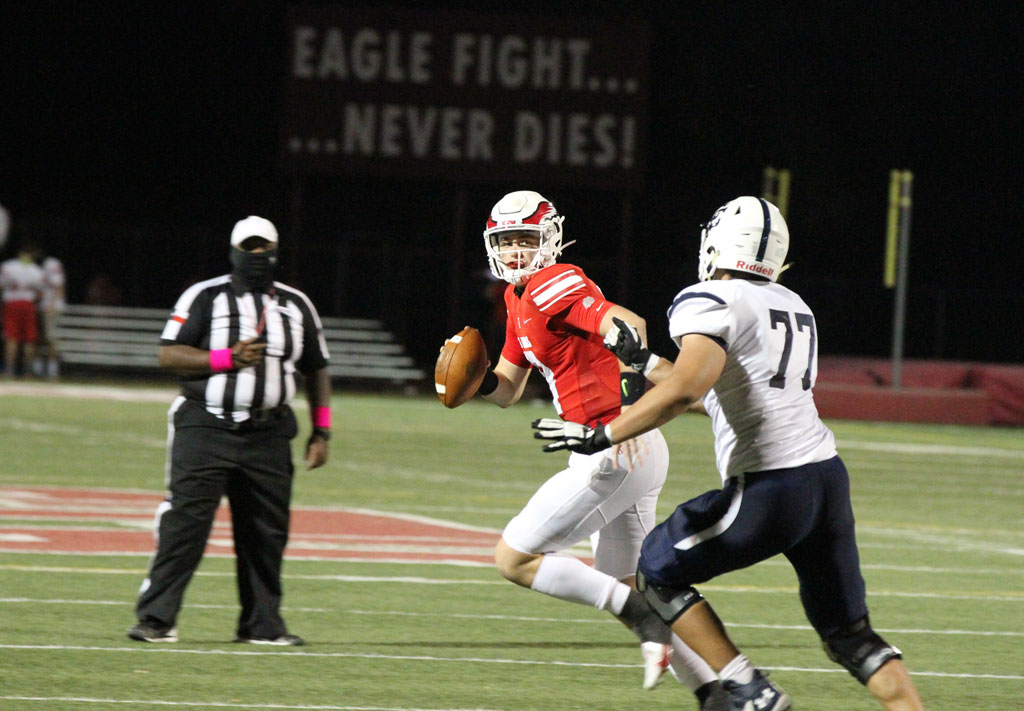 The third-ranked private in Greater Houston by the Houston Chronicle improved to 2-2 and 2-0 after opening No. 1 in the poll for consecutive weeks to start the season.
TURNING POINT
Kopp dialed in Drake Martinez '21 (verbal Colorado St.) for 64 yards and Cameron Price '22 for 46 on consecutive touchdown possessions as St. Thomas scored on three straight first-half series to seize a 21-7 advantage at the break.
Eagle Football continued its attacking posture with Kopp and Price tag-teaming to cap a 9-play, 75-yard drive to begin the second half. Their second two-touchdown game of the season built a commanding 28-7 cushion.
FRIDAY NIGHT FIVE
1. Central Catholic rolled through a methodical marathon drive that consumed nearly 11 minutes of game clock to tie the game 7-7 midway through the second quarter. Kopp needed only three plays and 60 seconds to respond. He found Martinez running alone and splitting the Buttons' deep secondary for his first touchdown reception of the season. The pitch and catch gave the Eagles an advantage that was never threatened.
2. The Price was absolutely right on the next St. Thomas series. Cameron was breaking away in the middle of the field, turned to adjust to the descending spiral, extended for the grab, and secured the completion for points.
3.  John Fontenot '21 (13-90 yards rushing and 152 all-purpose) ignited a sledge-hammer ground-and-pound running game that impacted for the first time this season. He had four touches and finished an opening 77-yard touchdown drive from short range to give the Eagles a 7-0 lead.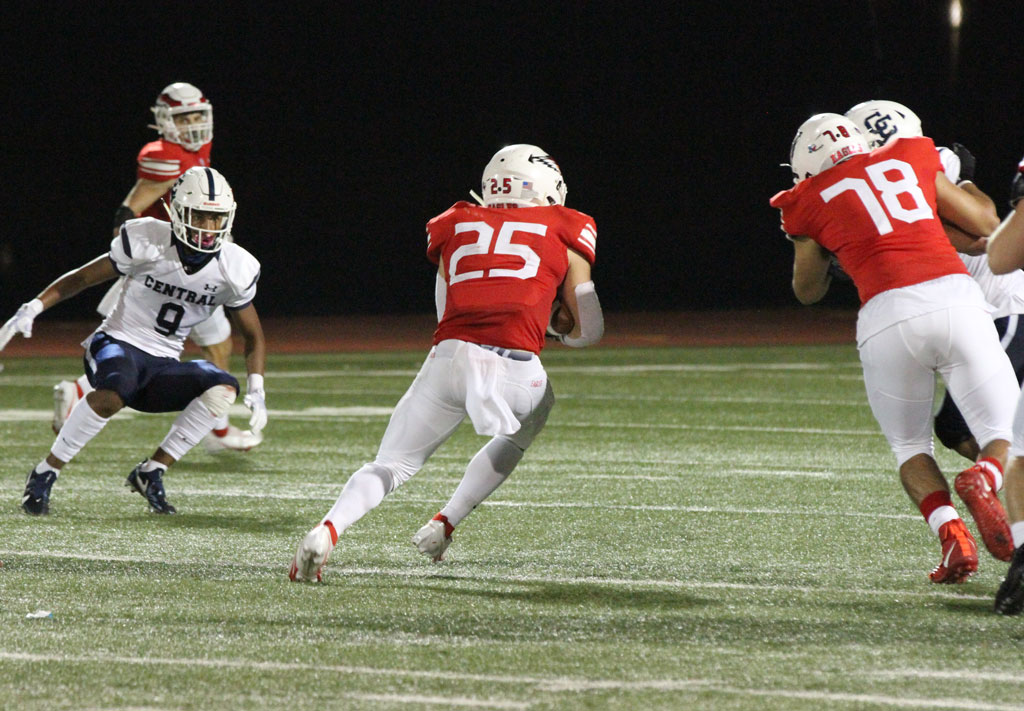 4.  The St. Thomas' defense was in full search and destroy with linebackers Kevin Silva '21 (13 tackles) and Vincent Ori '21 (12 tackles) the strongest rock steady since Aretha. Central Catholic was stoned on four consecutive three-and-out series, not allowing a second-half first down until the final four minutes, and surrendering a consolation score with less than two minutes remaining.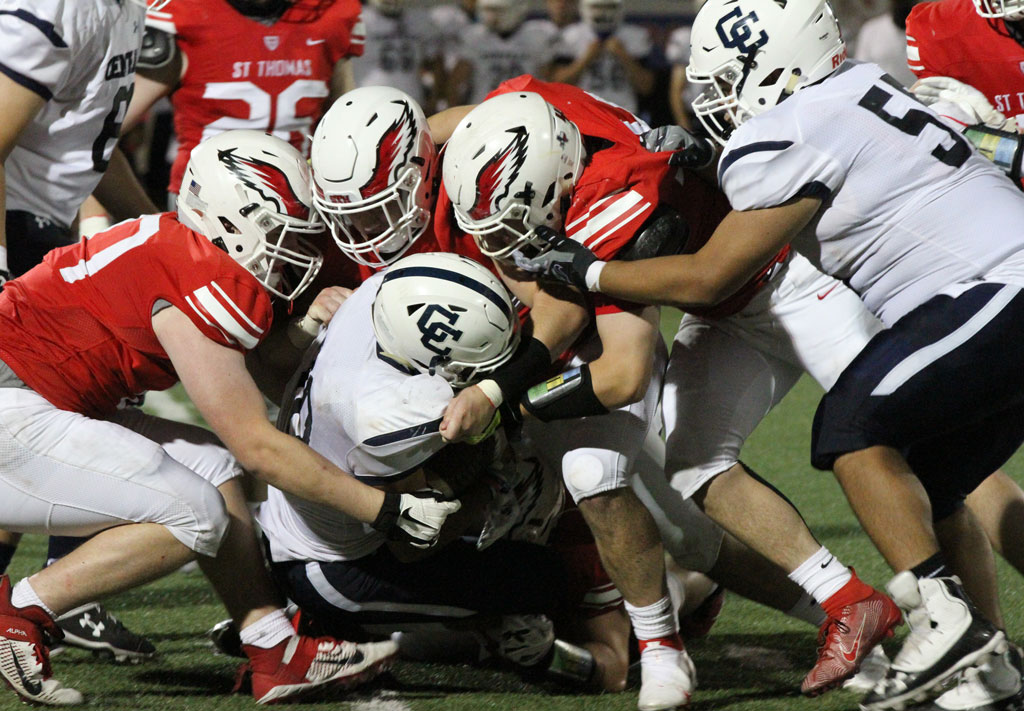 5. For the second week in a row, a holding penalty ripped points off the St. Thomas board. Price took a jet sweep toss from Kopp and turned the left end down the sideline for a 59-yard sprint to the end zone. The drive extended into the final period and stalled inside the 10-yard with a missed field goal, the fourth first-and-goal possession of the season that resulted in zero points.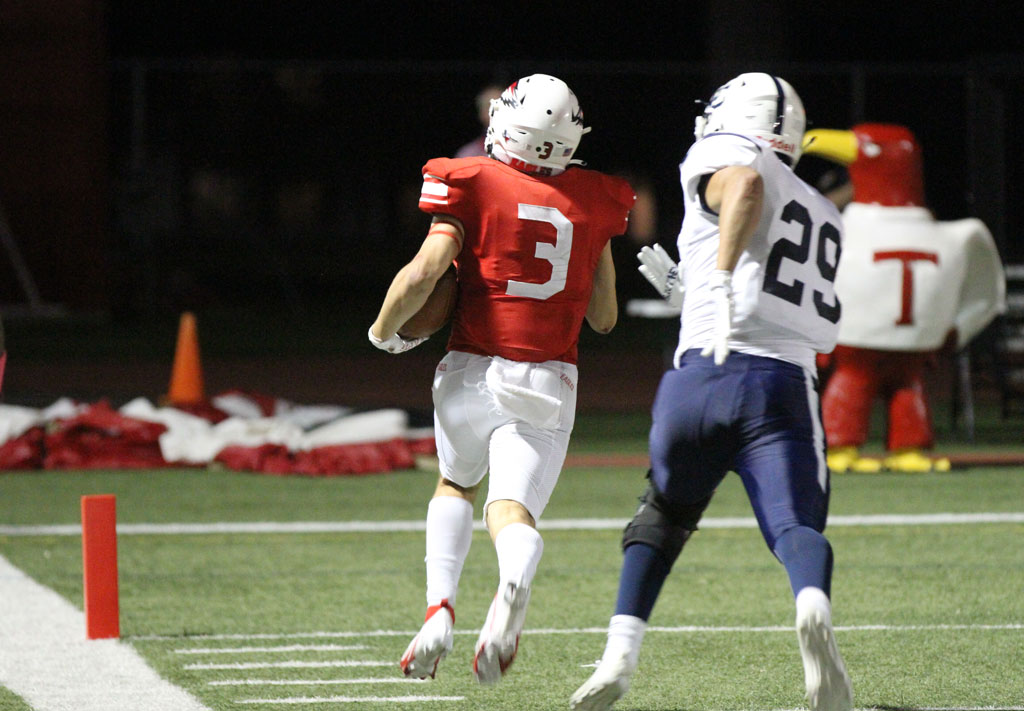 RAPID REACTION
CHECKDOWNS
Kopp completed 23 of 29 for 345 yards to raise his three-game totals to 1,042 yards with 10 touchdown throws in three games.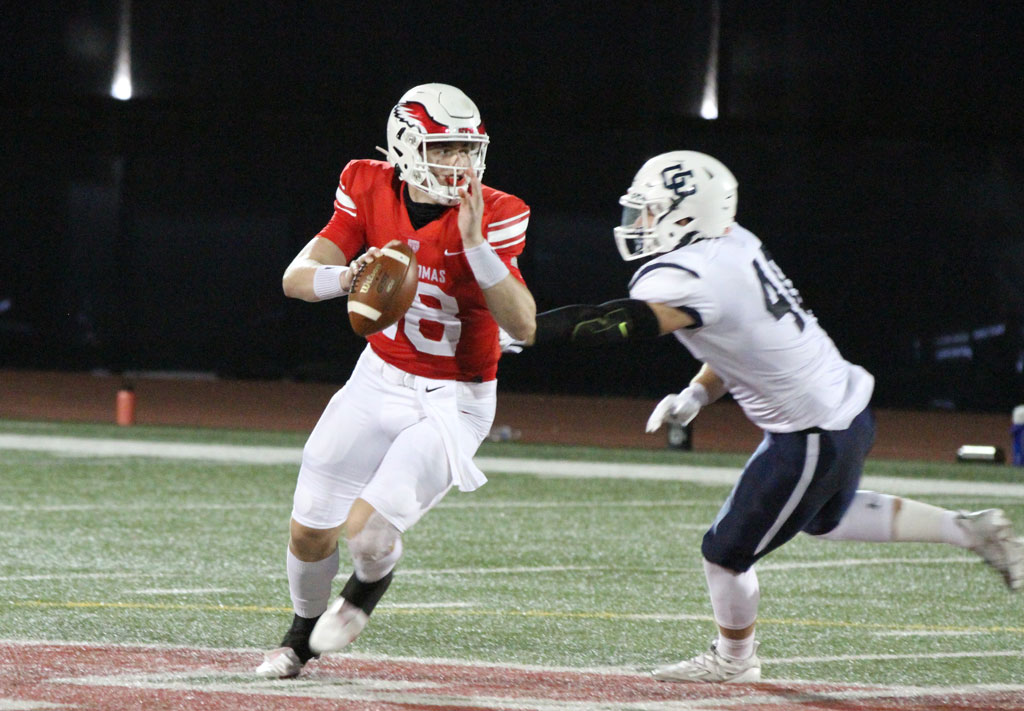 The Eagles outgained Central Catholic 479-252 in total yards.
The Eagles racked its fourth straight win in a series that has pivoted from non-district to district competition since 2017.
The Week Two district match that was cancelled by St. John XXII 48 hours before kickoff for non COVID-19 reasons registered as a forfeited victory for Eagle Football.
STATE OF PLAY
Eagle Football loves the beauty of The Process and The Process finally loves them back. Their process paid dividends. The same team that suffered consecutive defeats out of the gate allowing 37 and 42 points figured out how to rally and resemble last season's second half juggernaut.
St. Thomas brought the fight in all three phases, finding and exploiting the Buttons' weaknesses, showing the state that a previously undefeated TAPPS outfit from its own district was not in its same class. The Eagles might run into a wall at any time. But they don't expect that. They expect a lot more games like they just played.
So, maybe this will go on for a while.
Especially if you identify the central core confidence of this team, this coach staff, and this edition of Eagle Football.
The Eagles' drives went, in order, eight plays (touchdown), three plays (touchdown), four plays (touchdown), end of the first half, nine plays (touchdown), eight plays (fumble on the brink of the end zone), 10 plays (missed field goal), seven plays (field goal), which added up to St. Thomas dominating Central Catholic start to finish.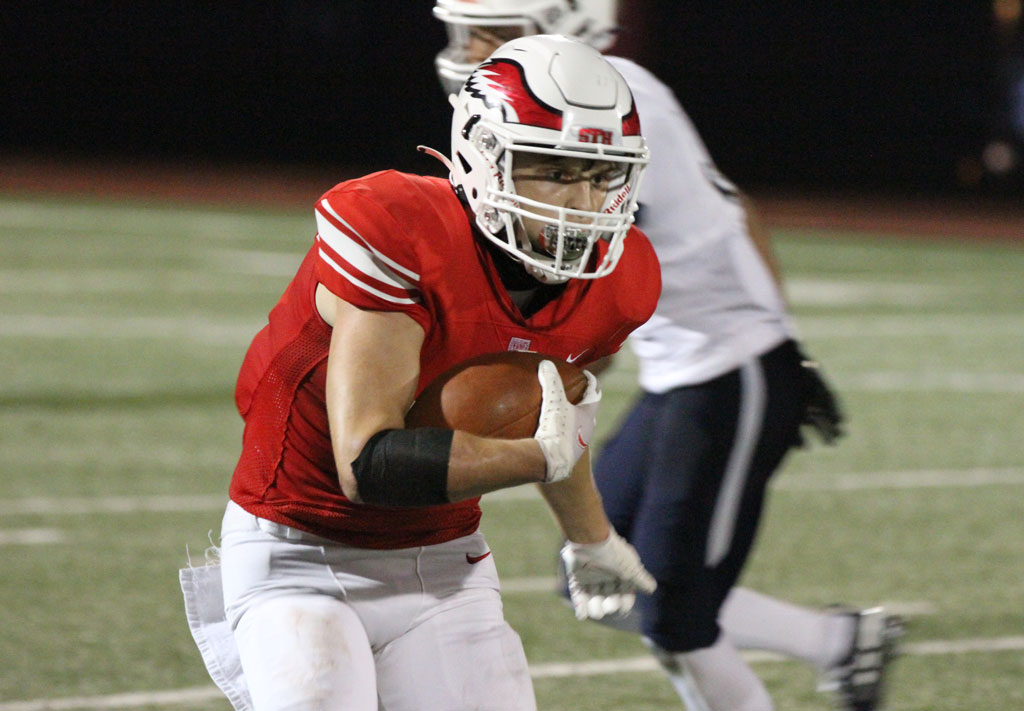 The Eagles were not at all surprised by going into this game and significantly outgaining Central Catholic. They expected this and they didn't mind demonstrating that inner swagger for all eyes to see.
If you're not expecting to do something, you almost never do it, right?
Further note – coaches love this. Especially offensive-minded outfits. Nothing makes an offensive coach happier than calling play after play and watching his unit crunch and collapse the defensive players lined up against it. They'll go on a mammoth drive or strike with a lightning bolt score.
Coaches love this.
And this band of brothers attacks every single solitary challenge. And if you think they are reluctant, they'll come up and display why you're wrong.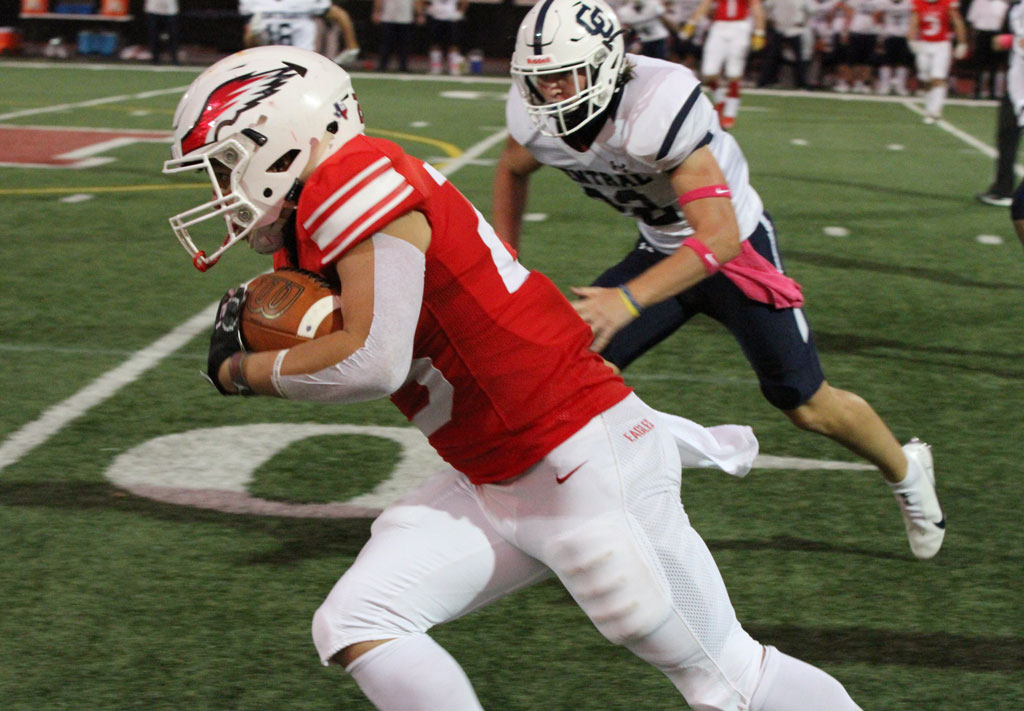 Competition against two high octane UIL playoff threats showed this defense is still very much a work in progress. The special teams miscues that sent the El Campo decision over the edge are proving fixable.
The Eagles took a step forward in this most uncertain of seasons, and with more conviction than in the previous defeats against more talented public school competition featuring some of the premier offensive threats in Texas.
WEEK 3 || FIRST HALF PICS
WEEK 3 || SECOND HALF PICS
MOOD MUSIC
I said a pressure drop,
Oh pressure, oh yeah
Pressure's gonna drop on you
I said pressure drop
Oh pressure, oh yeah
Pressure's gonna drop on you
Now when it drops, drop
Feel it
You make the wrong move
Now when it drops, drop
You gonna feel it
That you've been it doin' wrong
UPCOMING
The first road match of the season is the first-ever meeting with San Antonio Christian, a private, non-denominational Christian school established in 1972.
The Lions are coached by former NFL receiver Henry Ellard who stared for 16 seasons with the Los Angeles Rams, Washington Redskins, and New England Patriots. He was a two-time All-Pro and three-time Pro Bowl selection who finished his career with 814 receptions for 13,777 yards and 65 touchdowns. Ellard later was part of the Rams coaching staff during their stunning Super Bowl XXXIV season. He spent 14 seasons as an NFL assistant including stints with the New York Jets and New Orleans Saints.
¡UNO!, ¡DOS!, ¡TRÉ!
A parade of Eagle scholar-athletes received significant recognition leading into the 2020 campaign. Kopp was selected as the VYPE private school preseason Offensive Player of the Year while Martinez, receiver Cameron Bonner '21, offensive lineman Ryan Hanks '21, linebacker Vince Lee '21, and defensive back Aidan O'Hare '21 were named All-VYPE. Bonner, Kopp, Lee, Martinez, O'Hare, and Fontenot were named by the Touchdown Club of Houston among its preseason private school honorees.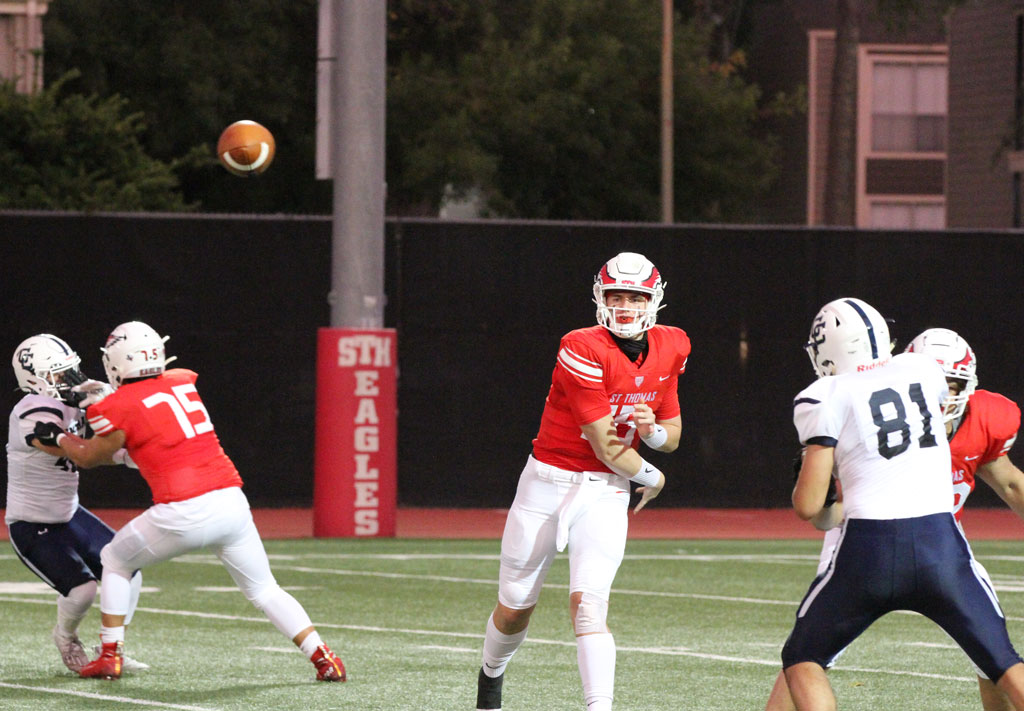 Bonner, Kopp, and Martinez are ranked among the Chronicle Top 100 Class of 2021.
St. Thomas is partnering with HomeTown Ticketing to implement a contactless and cashless solution for fans and guests attending events at Granger Stadium. The priority throughout the current academic year and beyond is to administer enhanced safety protocols and best practices – measures that instill confidence among supporters during the challenges resulting from the pandemic.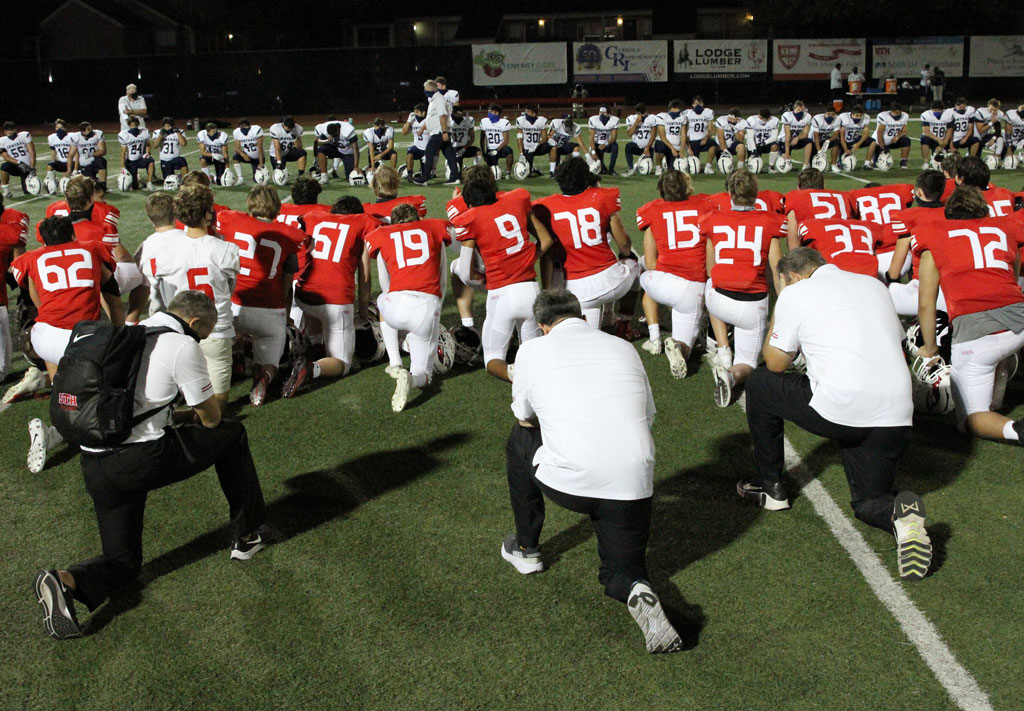 Eagle Fight Never Dies!