Even the chaos concocted by the coronavirus colliding with the circus-like aftermath of a surreal presidential ballot count could not slow tried and true Americana – November National Signing Day. The month's first Wednesday routinely caps the latest coast-to-coast carnival of frenzied recruiting, COVID be damned.
Will Rizzo '21 and Max Chung '21 paired for their individual salutes months after the pandemic shut their junior seasons down and out, and then extremely limited the 2020 summer circuit evaluations. Rizzo will pack his high-rising power pitching prowess and continue a deep family legacy by attending Texas A&M University. Chung and his Swiss Army Knife array of skills are headed to Division III University of Texas at Dallas.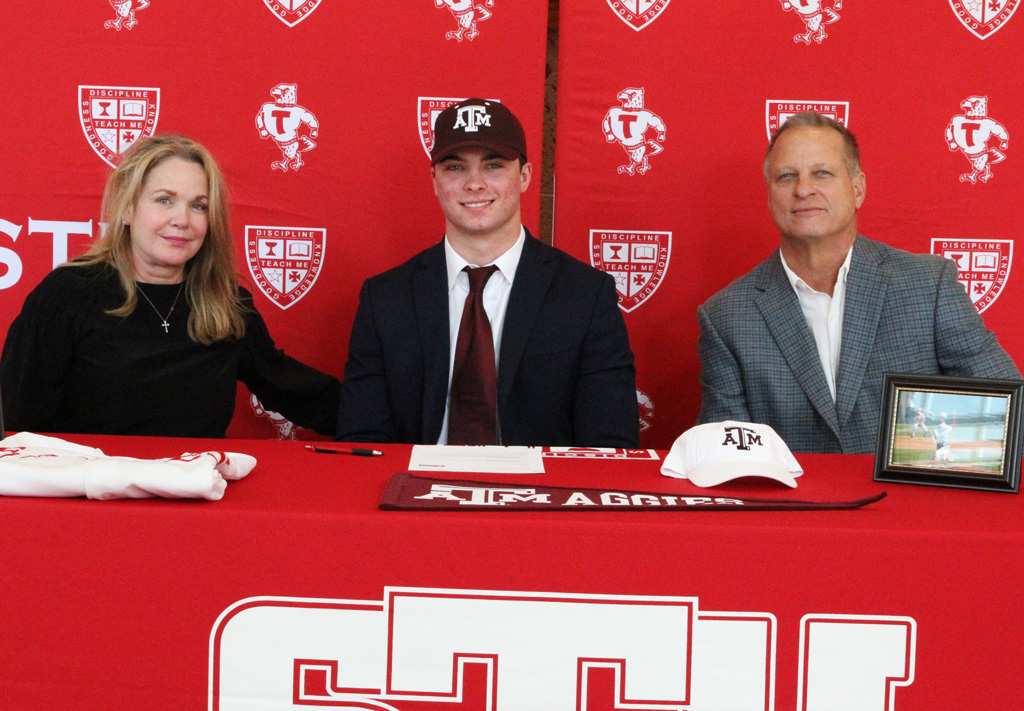 Rizzo reveled with his parents Kristine and Daniel in the Hall of Honor along with St. Thomas Athletic Director Mike Netzel, and Eagle teammates and coaches. "I just think of all the hard work I've put in. So many people have supported me to get to this point. For them to be here today to be a part of the celebration means the most to me. My dad went to A&M, my brother, my sister, lots of aunts and uncles. It's great to be an Aggie."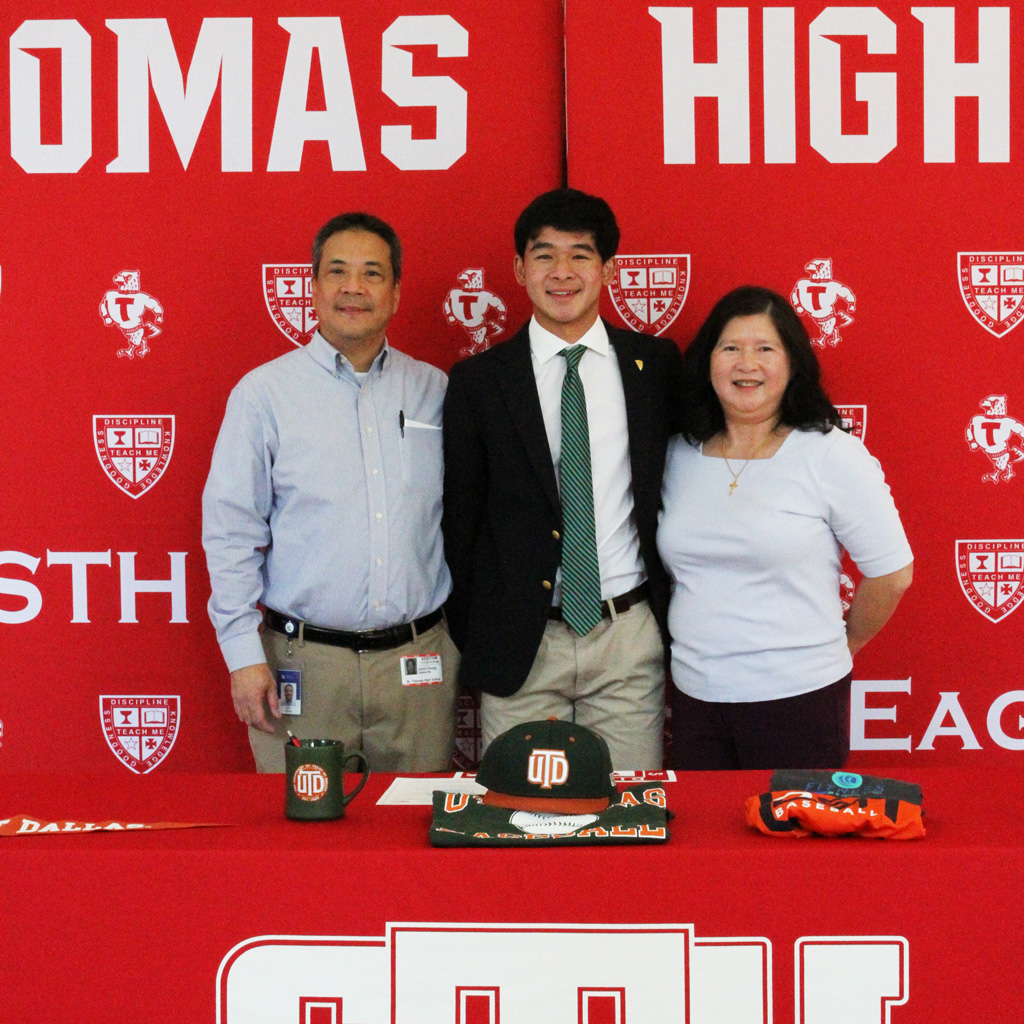 Chung was joined in the festivities with his mother Jane and father John, cementing a June verbal commitment to UTD with the confidence that comes with "a great fit." Head coach Shane Shewmake founded the program in 2002 and has reached the Division III national tournament as recently as 2018.
"I have great respect for the coaches and the success they've built," Chung says. "And UTD's academic programs are everything I would want."
Eagle Baseball head coach Adam Massiatte appreciates the thrill of athletic careers extending to the collegiate level. He launched as a high school state champion catcher to Blinn College and then the University of Louisiana at Lafayette in 2004 and '05.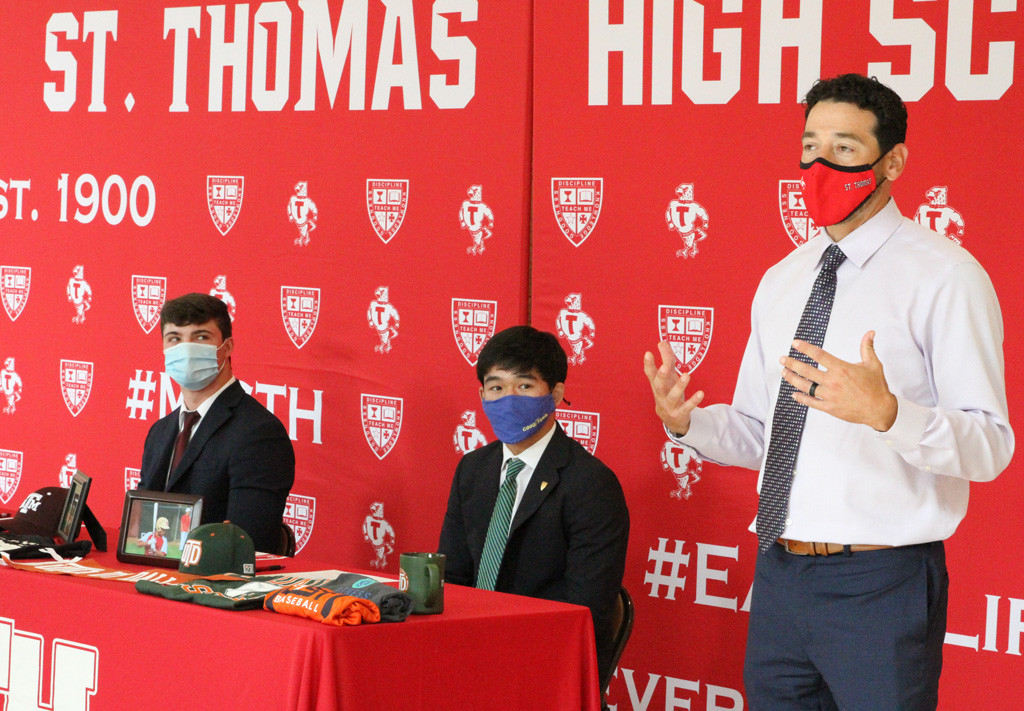 "I'm overwhelmed with pride for Max and Will," Massiatte says. "I know how much they've invested to reach this point. Our program is predicated on development and success with our student-athletes excelling in college, on the field and in the classroom, if that chance is available. One of the missions of St. Thomas is to be a vehicle to help others reach their dreams. This is a great moment for the Chung's and the Rizzo's."
Chung salvaged a solid summer performing with Marucci Elite Texas after the 2020 TAPPS campaign was canceled. Rizzo had to clear another unexpected obstacle that could have derailed his express route to College Station after his verbal nod in June 2019. Elbow surgery put him on the shelf until rehabilitation returned him to a throwing program and a projected 100% return for 2021. Throughout the temporary setback, Rizzo maintained a positive dialogue with A&M head coach Rob Childress and assistant Justin Sealy.
"I contacted them as soon as the surgery was scheduled," Rizzo says. "They were nothing but supportive … knew my work ethic would be there to get back even stronger and better than before. They assured me that the offer would remain. I'm so thankful for A&M's faith in me."
Even before the recent rehab, Rizzo never backed down from a training challenge, whether gaining size or speed, strength or flexibility, fast-twitch explosion or complete-game endurance. He'll leave St. Thomas a robust 6-foot-2, 225 pounds thanks to punishing weight room rituals that became legendary within the Eagle ranks.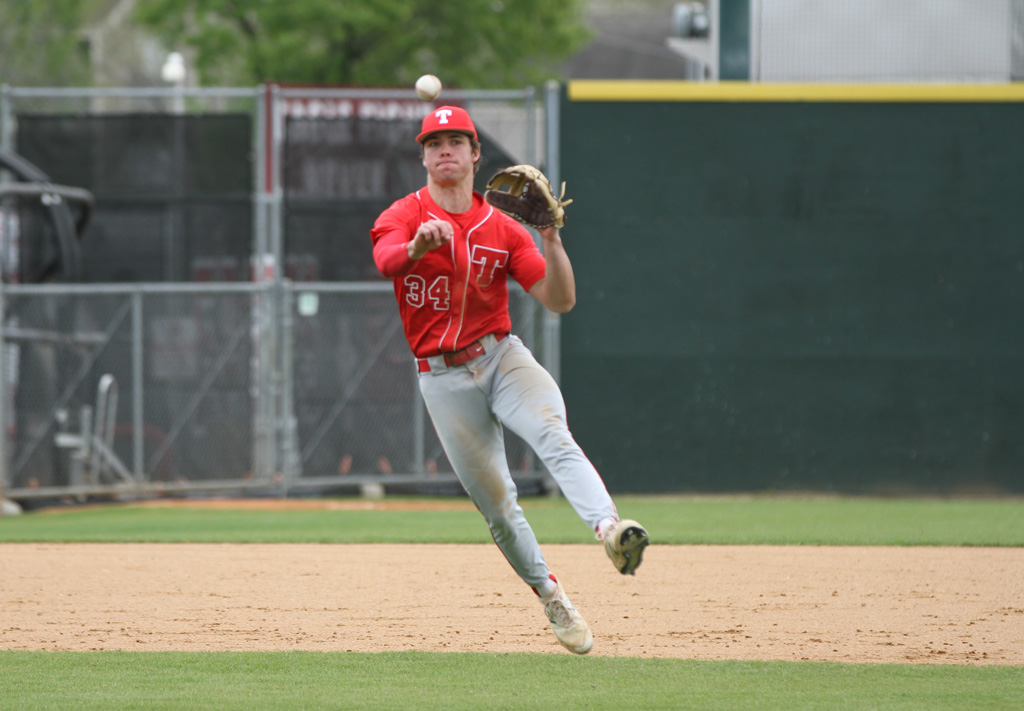 "The drive comes from my big dreams and, ultimately, in my faith in Jesus Christ," Rizzo says. "I'm determined to play for his glory. That's the fuel. I know I have to put in the work every day if I want to accomplish my goals."
Rizzo's maniacal workout warrior routine had a spillover effect on the rest of the Red & White roster. Chung in particular took notice during his sophomore year and adopted the same due diligence and discipline dictated by Rizzo, the foreman of the St. Thomas muscle factory.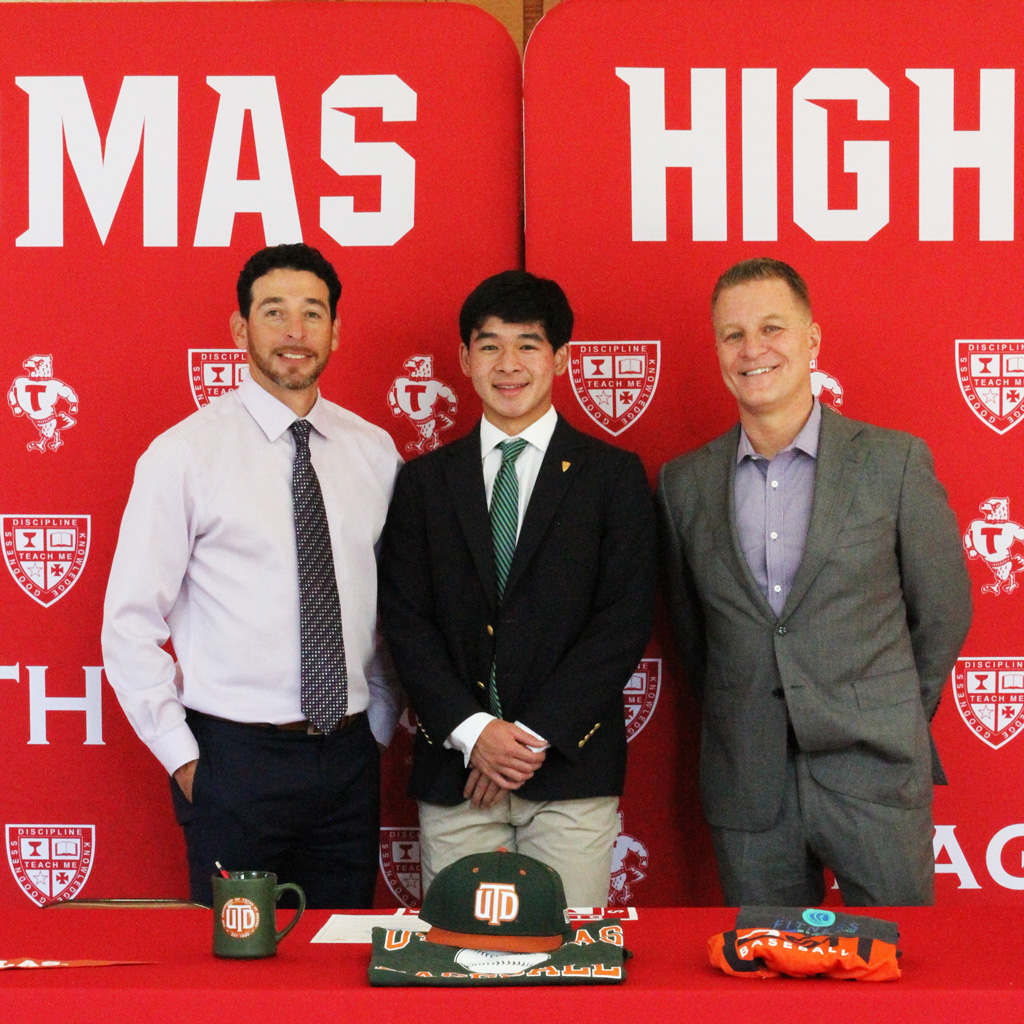 "I fed off his example to be better in everything I did," Chung said. "As I got physically stronger, I also discovered a mental toughness to compete harder. I'm still not the biggest guy on the field by any measure, but I am determined. Baseball is a game of failure. You have to respond to it, get up for the next at-bat or the next pitch, and keep pushing.
"Coming into St. Thomas as a freshman, I didn't know that many students … wasn't sure what was in store for me. But baseball was a way for me to find my talents and aspirations. It's helped me become the person I am today."
Rizzo owns the athletic build and performance measurables that project for a significant impact inside the talent stacked Southeastern Conference. He pounds the strike zone with a high energy delivery and is adding increased velocity and movement plus a deceptive changeup to his lethal weapon repertoire. In addition to Rizzo's exhilarating exhibitions of pitching and purpose, are the nerve and verve that separate in high stakes game-deciding situations.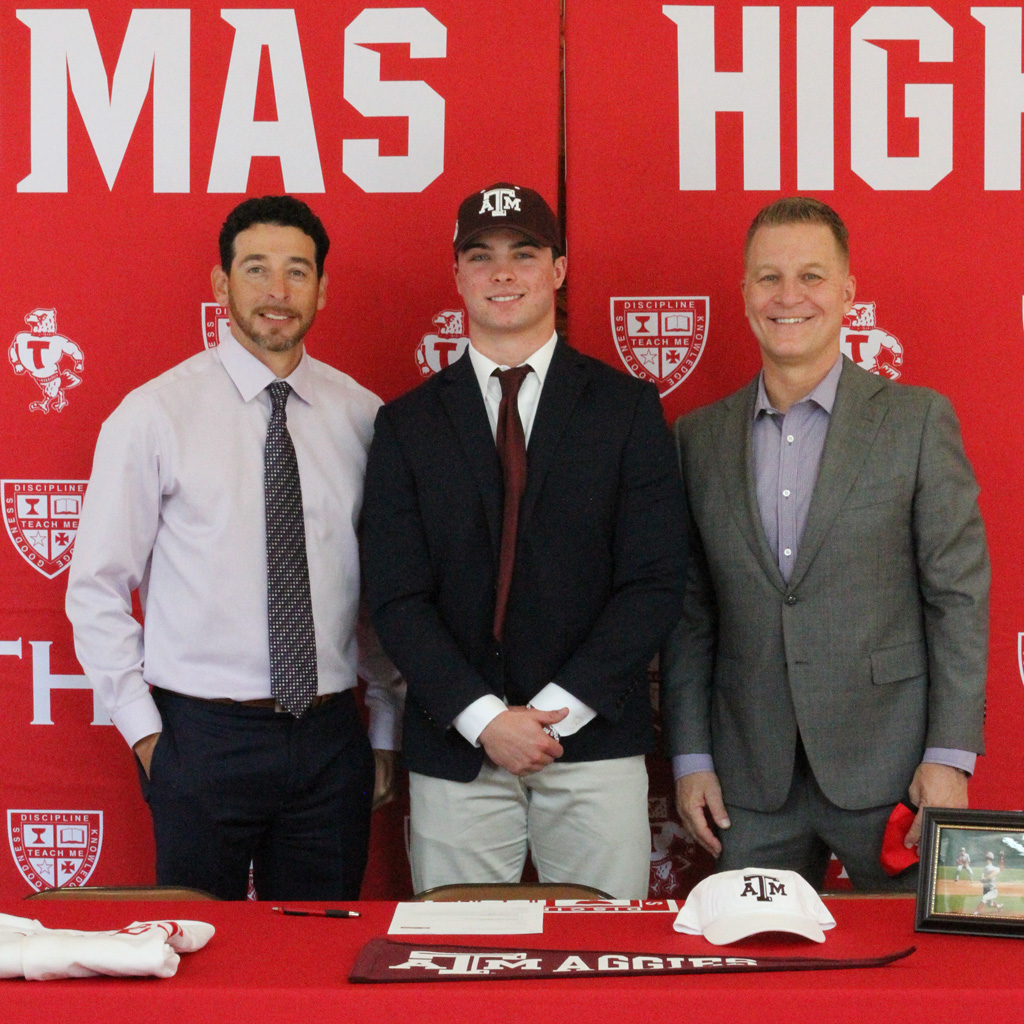 The strong-bodied right-hander joins an Aggie program aiming to pivot within the most hotly competitive SEC. Childress has led A&M to a school-record 13 consecutive NCAA Regional appearances, six Regional titles, two conference regular-season crowns, four league tournament titles, and College World Series appearances in 2011 and 2017.
https://twitter.com/AggieBaseball/status/1326930364942733314?s=20
"I cannot wait to see what the future has in store," Rizzo says. "I'm so excited. I started thinking about playing college baseball in the eighth grade. Coming to St. Thomas was a big move to make that happen. I knew they had a phenomenal program. I made some starts at shortstop my freshmen year. I kept working, building for the best. I'm grateful and blessed to have the opportunity."
Eagle Fight Never Dies!