WEEK EIGHT – CRUSADER STADIUM, TOMBALL

Eagle Football 48
Tomball Concordia Lutheran 17
WHAT YOU NEED TO KNOW
2020 Elite 11 quarterback Maddox Kopp '21 (verbal Houston) rifled three touchdown passes and sudden running sensation Johann Cardenas '24 racked more scores in a 48-17 runaway over Tomball Concordia Lutheran as St. Thomas finished the regular season with a furious flourish.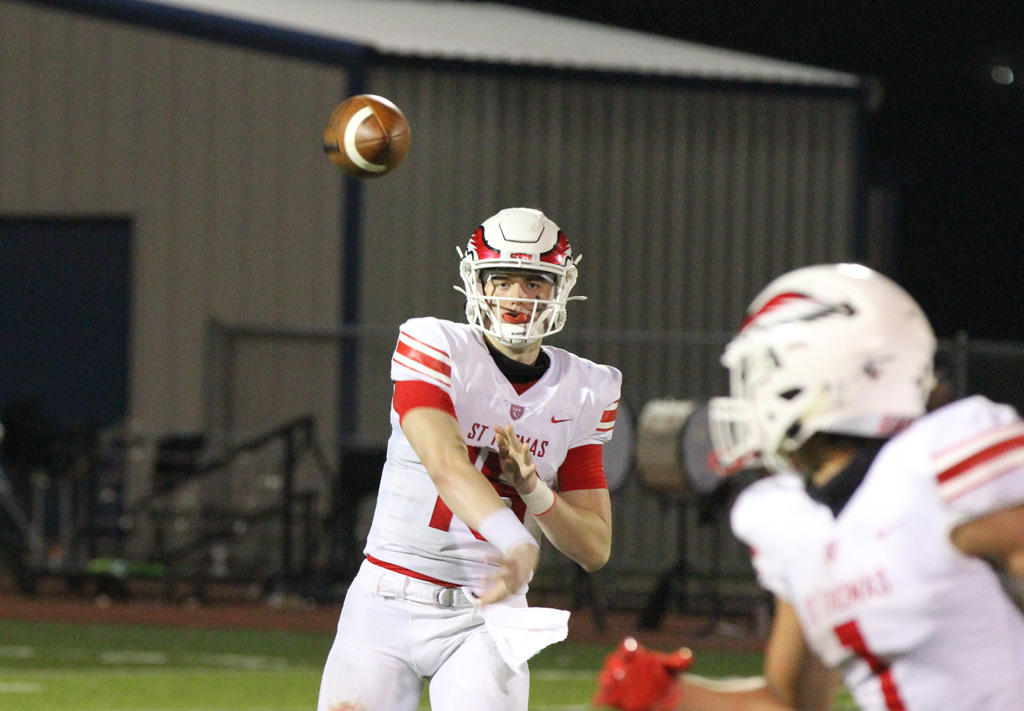 Kopp (23-28, 290 passing yards in three quarters) expanded his season touchdown passing total to 29 after payoffs to receivers Alec Schneider '21, Joe Rick Madden '22, and Cameron Price '22.  Cardenas (20-157 rushing yards) converted a pair of short-range scoring bursts before bolting 25 yards in the third quarter for a commanding 42-10 cushion.
The Eagles (7-2, 6-0) raced to the regular-season tape with their sixth straight on-the-field victory and closed their third consecutive undefeated rampage to the district title (14-0). Previously, Eagle Football cemented its seventh district championship in nine seasons to secure a first-round bye in the upcoming TAPPS Division I playoffs.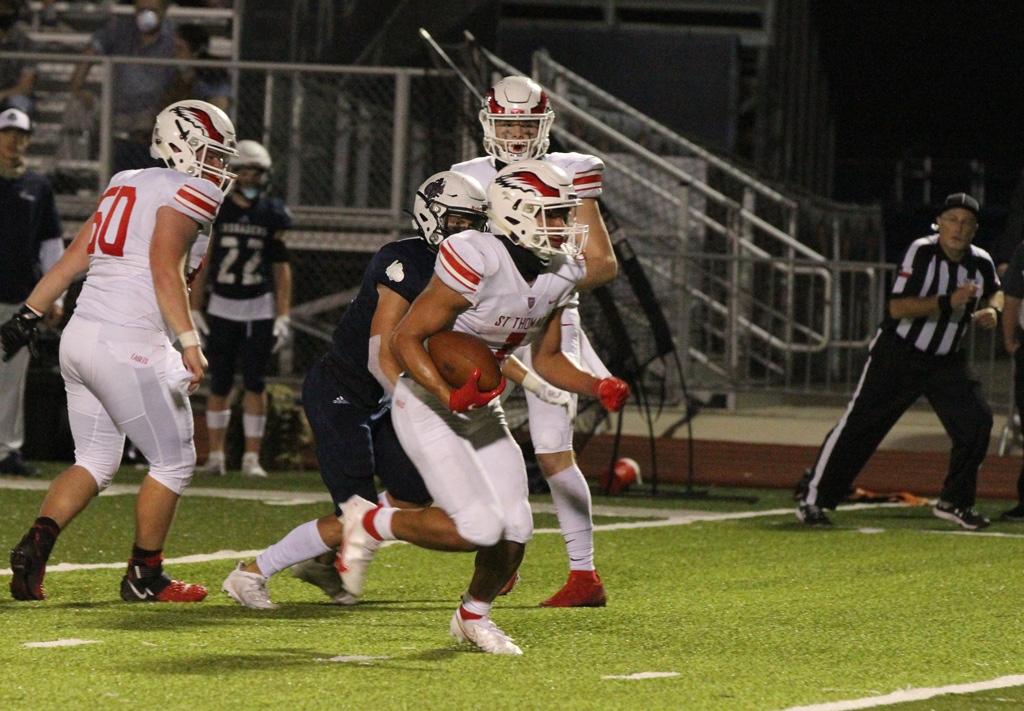 TURNING POINT
The Eagles were crisp, clean, and focused from the start, quickly convincing their hosts that trying to hold back this team would be like trying to hold back water with your hands. Eight plays in 2:07 on the opening series for 7-0. Seven snaps in 1:47 for 14-0. Nine plays in 3:35 to seize 21-0. Seven plays in 2:26 and 28-7. Seven snaps again in 90 seconds for 35-7. A nine-yard Kopp connection with Price (20-102 receiving yards) for 48-10 with 4:00 remaining in the third quarter. Game on and game over.
FRIDAY NIGHT FIVE
1. Eagle Football arrived as the big, bad monolith in delivering ruinous news from on high. They checked all the boxes in owning the first half for a 35-10 advantage … controlling the ball, score, and clock … playing fast, physical, and confidently … consistently winning the line of scrimmage and bringing plenty of pressure. And once the Eagles took control, they never ceded it.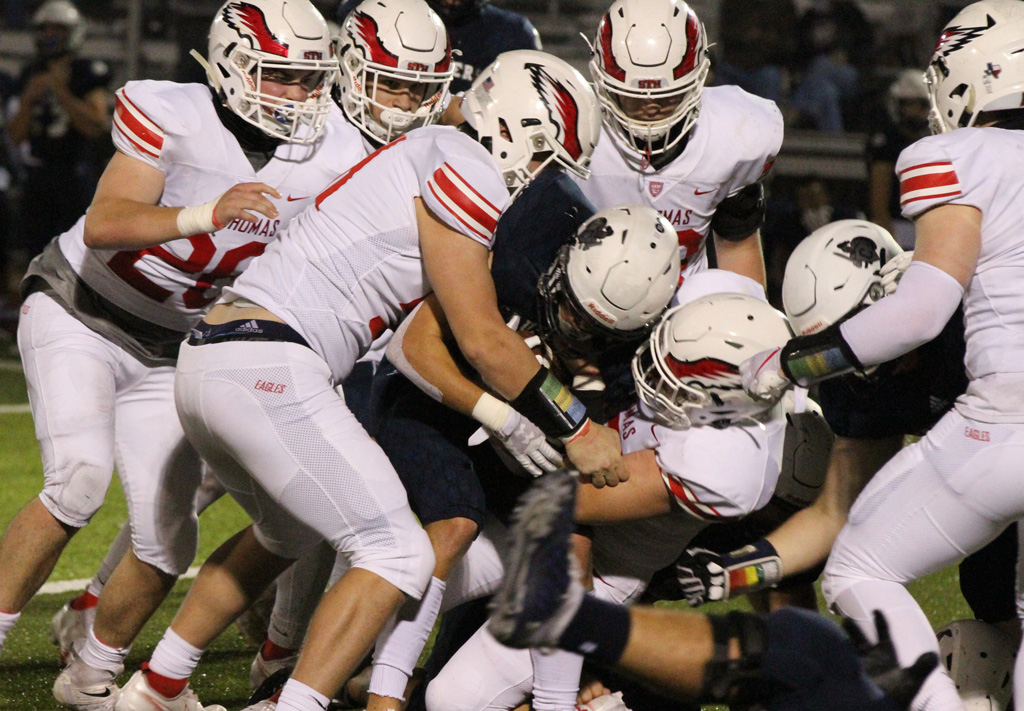 2. The Eagles' offense is predicated on taking what the defense gives, and Kopp will gladly accept horizontal if not vertical green space when generously offered. He consistently took full advantage of the unimaginative TCL pass rush to exploit one-on-one matchups and let his fleet of swift receivers do the rest as fast as a 12 on a Stimpmeter.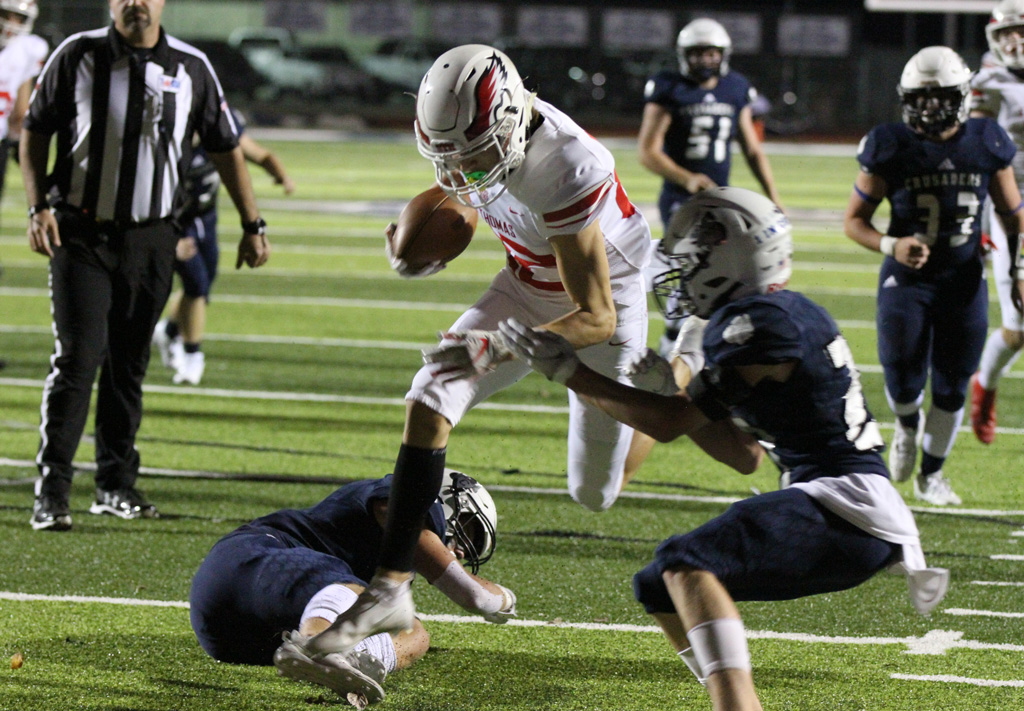 Kopp's 17-yard connection with Price set up an eight-yard touchdown strike to Schneider and a 14-0 lead.  On the third scoring series of the first quarter, Kopp checked down through a series of progressions in the red zone until finding Cardenas in the right flat who carried to the brink of the goal line. Kopp leaned in from extreme short range for a blitzkrieg opening set. He then needed but seven snaps to counter TCL's only first-half touchdown, rolling right and targeting Madden on the near sideline. A quicksilver turn resulted in a reservation for six and a sizzling 38-7 edge.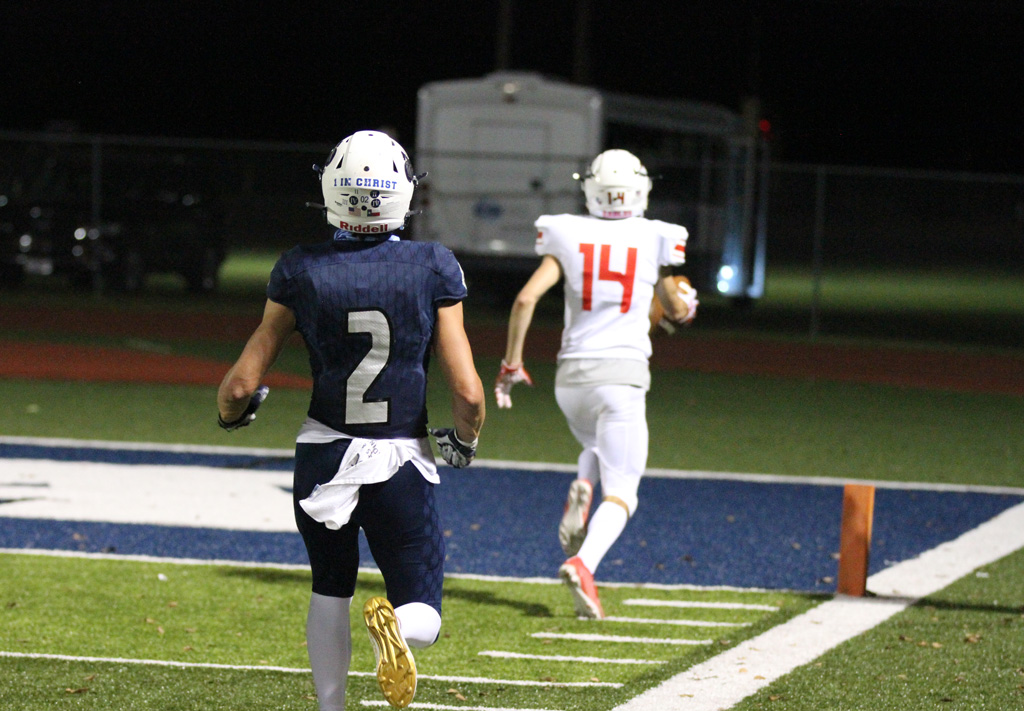 3. For the second straight week, the precocious Cardenas imbued a natural kinetic state that creates the sensation of always moving forward. The freshman phenom rolled up run totals like overripe fruit spinning in the window of a slot machine.  He peeled off a 26-yard run during the initial possession and three plays later capped the drive with a three-yard touchdown.  The Cardenas Craze then all but concluded the carnage with that jolt to the end zone to launch the second half.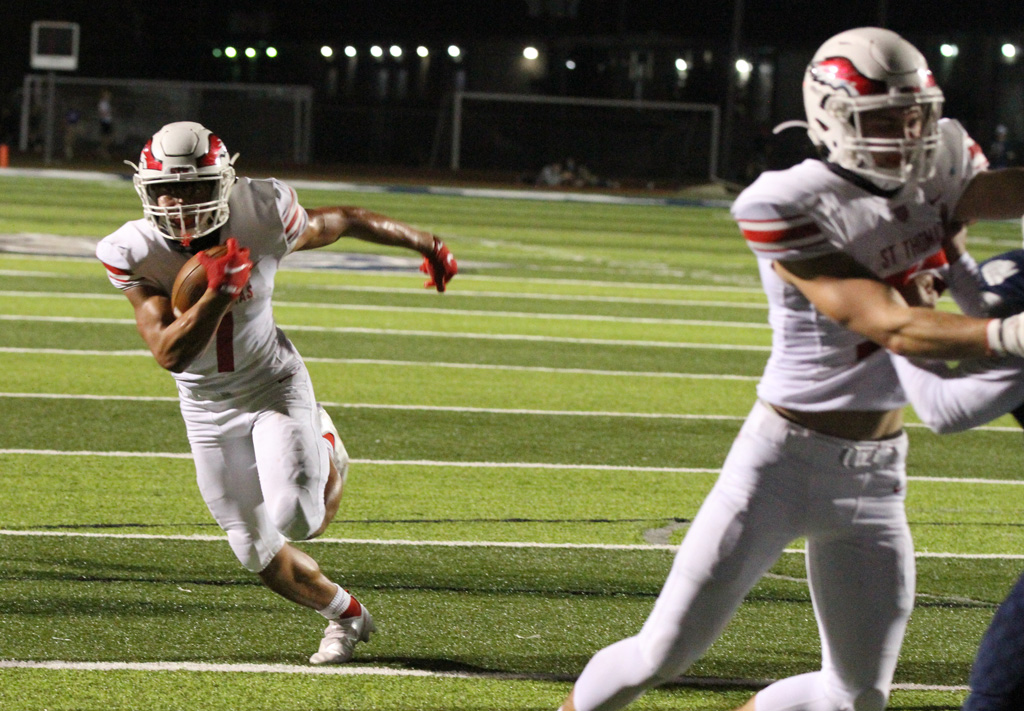 4. A series of explosives detonated the Eagles' volcanic avalanche of dominance.  The second offensive series featured back-to-back 17-yard gains from Price and Cardenas.  The fourth possession ended with Madden breaking free from 30 yards. The second half continued with Drake Martinez '21 (verbal Colorado St., 5-71 receiving yards) muscling a 25-yard catch-and-run to fuel a next play touchdown.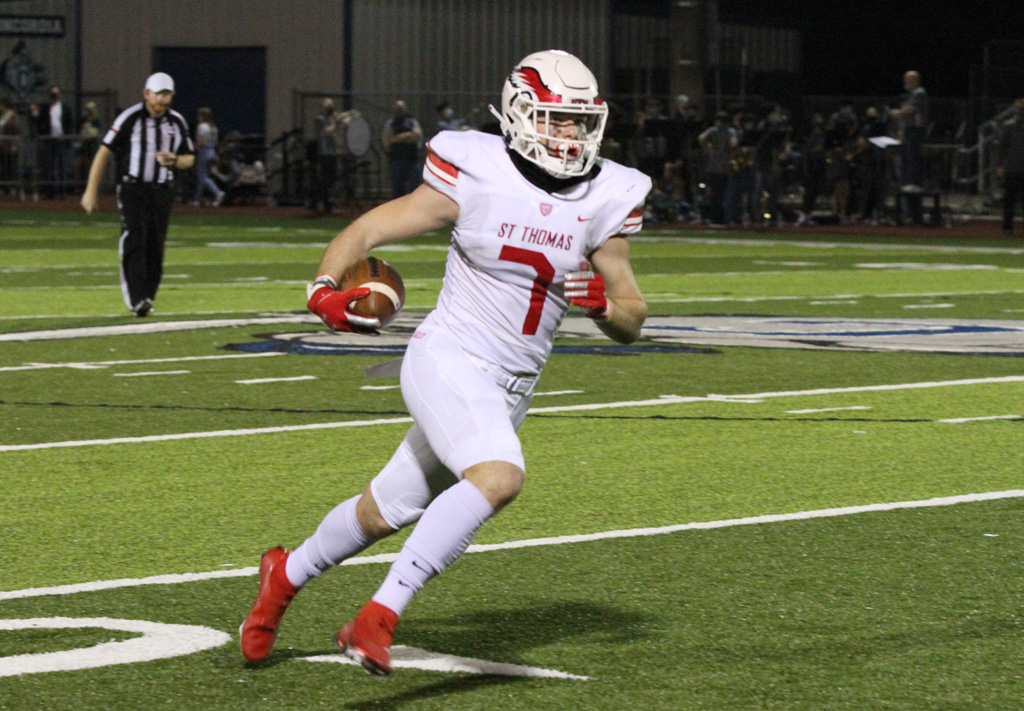 5. Fittingly, the Eagles unleashed a Friday the 13th defense fronted by linebackers Teagan Spencer '22 (10 tackles), Vincent Ori '21 (eight tackles), and Kevin Silva '21 (eight tackles), stalking and menacing with Jason-like mean intentions, minus the machete. The all skill extravaganza was capped by a ricochet rebound interception by heat-seeking defensive back Peter Corbett '21 (seven tackles).  All in all, a tasty evening was rivaled only by the pork belly and pork ribs with cornbread casserole at Tejas Chocolate & Barbecue. And the best is yet to come.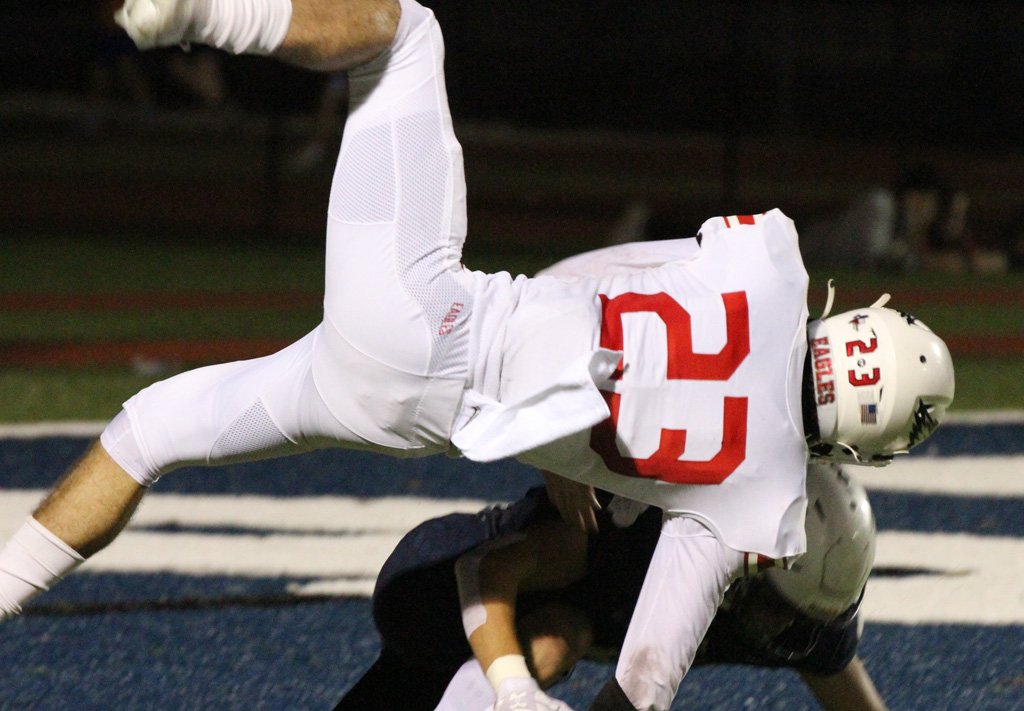 RAPID REACTION
Head Coach Rich McGuire
ROCKIN IN THE FREE WORLD
The emphatic Cardenas' encore came immediately after exploding on scene the previous week for 331 mind-numbing total yards and five scoring bolts against Beaumont Kelly Catholic.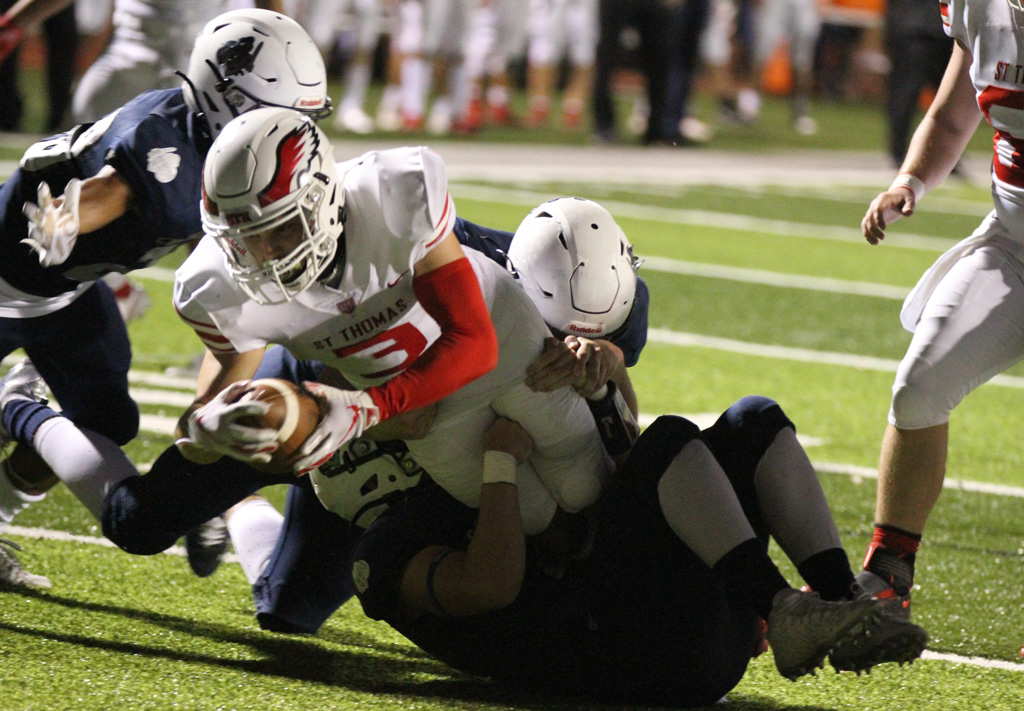 Price now has a team-leading 10 touchdown receptions.
Eagle Football continues to dominate the series with its 10th knock in 11 tries by a combined margin of 292-100.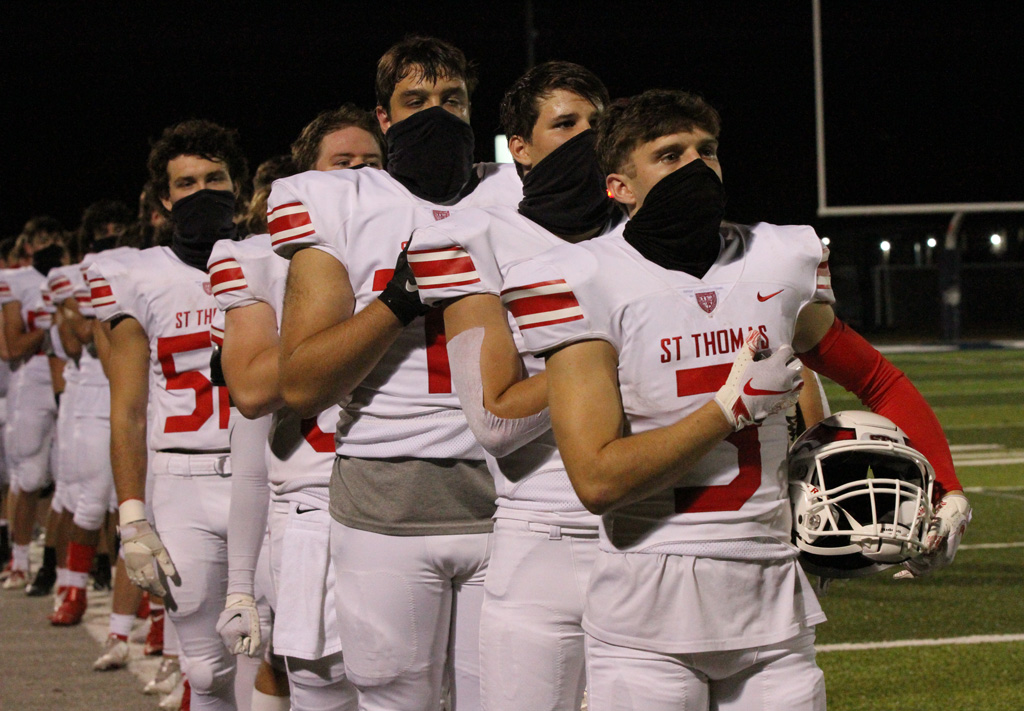 Eagle Football began the night ranked the No. 2 private for the fifth straight week in the Houston Chronicle media poll.
The Eagles' 15th straight regular-season TAPPS victory continues a resounding bounce back after consecutive defeats to open the season against stout UIL competition in 4A El Campo and unbeaten 6A Pasadena Dobie.
The Week Two district match that was cancelled by St. John XXII 48 hours before kickoff for non COVID-19 reasons registered as a forfeited victory for Eagle Football.
STATE OF PLAY
It's been a long road to this, navigating a series of overmatched teams during unprecedented uncertainties. And it's been a long road to get back to this kind of moment, recovering after that 0-2 beginning and now taking direct aim on a deep championship playoff run.
St. Thomas is far from a perfect team heading into the bye week and then the postseason but the Eagles know themselves better than ever. After eight on the field outcomes, Eagle Football has figured out how to play to its strengths while stepping back from its weaknesses instead of trying to constantly correct them.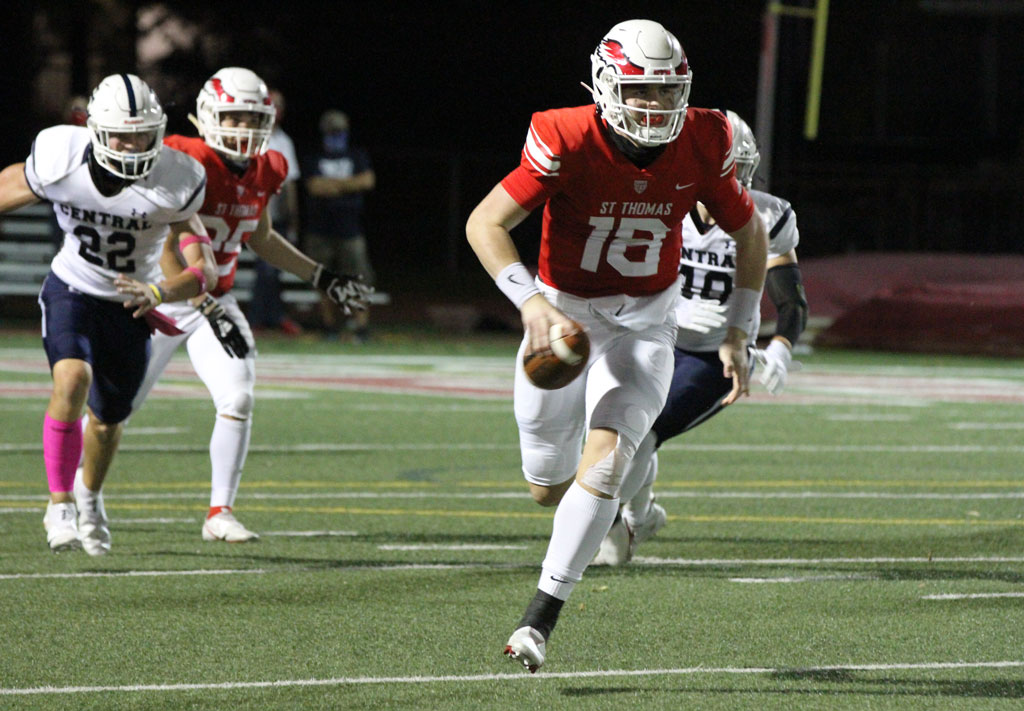 The roster features enough offensive stars to populate a constellation and a passing game that's brutally tough to defend.
The adage that "winning is hard" continues to hold true. But in reality, winning is not hard everywhere. It's not even hard all the time for the Eagles who cruised at times through the second phase of the regular campaign, sometimes getting to fifth gear, sometimes never needing more than third while whipsawing through the district averaging 45 points per game.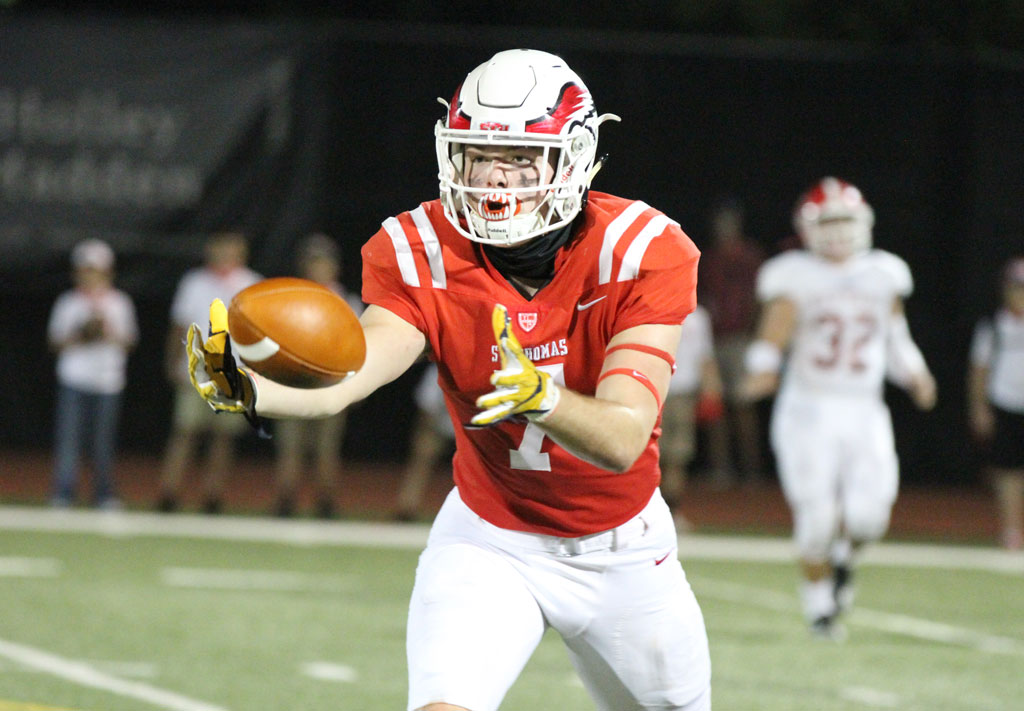 Come the money month of November, make no mistake, winning requires an altogether different dimension of will-not-be-denied desire and determination, precision and purpose. Like Joan of Arc, coming back for more.  That's when winning becomes especially hard.
Whatever happens over the next four weeks, St. Thomas seems ready for it with eyes wide open.
MOOD MUSIC
Baby I'm coming better ready
Yourself
Be looking for me 'cause I'm
The real thing
And I'm coming
Baby I'm coming better ready
Yourself
Be looking for me 'cause I'm
The real thing
And when the smoke clears
Don't say I didn't warn you
(Oh) Need I inform you?
Baby I'm coming better ready
Yourself
Be looking for me 'cause I'm
The real thing
(Oh) and I'mma coming
Baby I'm coming better ready
Yourself
Be looking for me 'cause I'm
The real thing
PREVIOUSLY
Gameday Central || Eagle Football Rocks Business-like 40-28 Beat Down at Beaumont Kelly Catholic
Gameday Central || Eagle Football Plants St. Pius X 49-21 to Clinch Third Straight District Title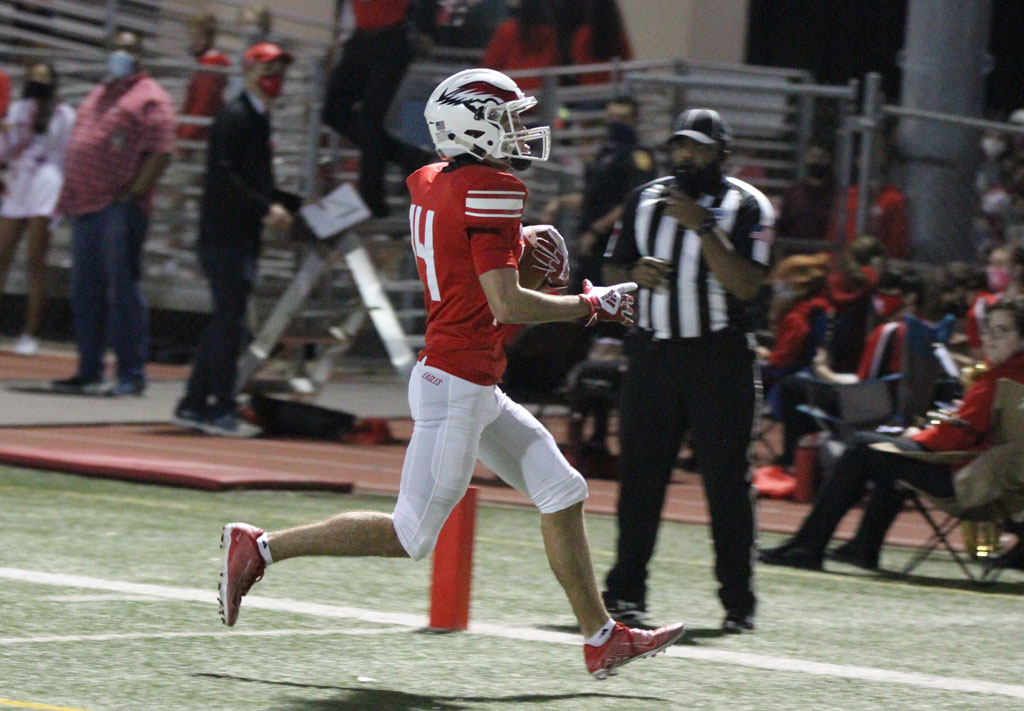 Gameday Central | High Drama as Eagle Football Wins in Overtime to Stay Unbeaten in District
Gameday Central || Record-Smashing Eagle Football Dominates 65-14 to Stay Perfect in District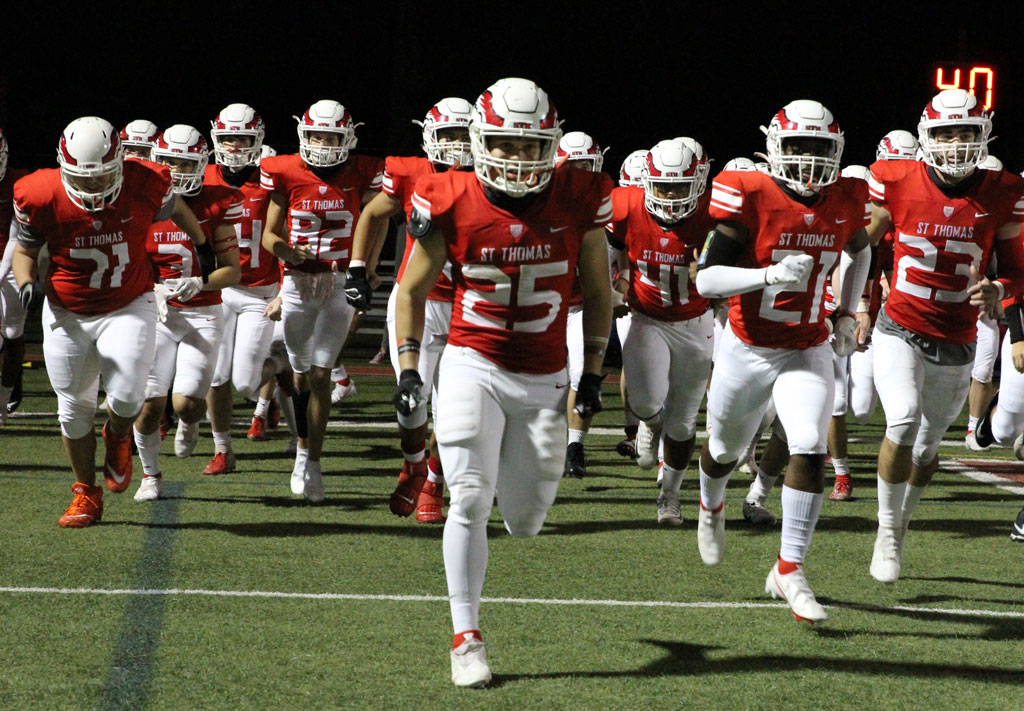 Gameday Central || Eagle Football Remains Undefeated in District after 31-14 Win
Gameday Central || Eagle Football Launches First On-Campus Event of Pandemic Era
¡UNO!, ¡DOS!, ¡TRÉ!
A parade of Eagle scholar-athletes received significant recognition leading into the 2020 campaign. Kopp was selected as the VYPE private school preseason Offensive Player of the Year while receivers Cameron Bonner '21 (more than two dozen Power 5 offers) and Martinez, offensive lineman Ryan Hanks '21, linebacker Vince Lee '21, and defensive back Aidan O'Hare '21 were named All-VYPE. Bonner, Kopp, Lee, Martinez, O'Hare, and running back John Fontenot '21 were named by the Touchdown Club of Houston among its preseason private school honorees.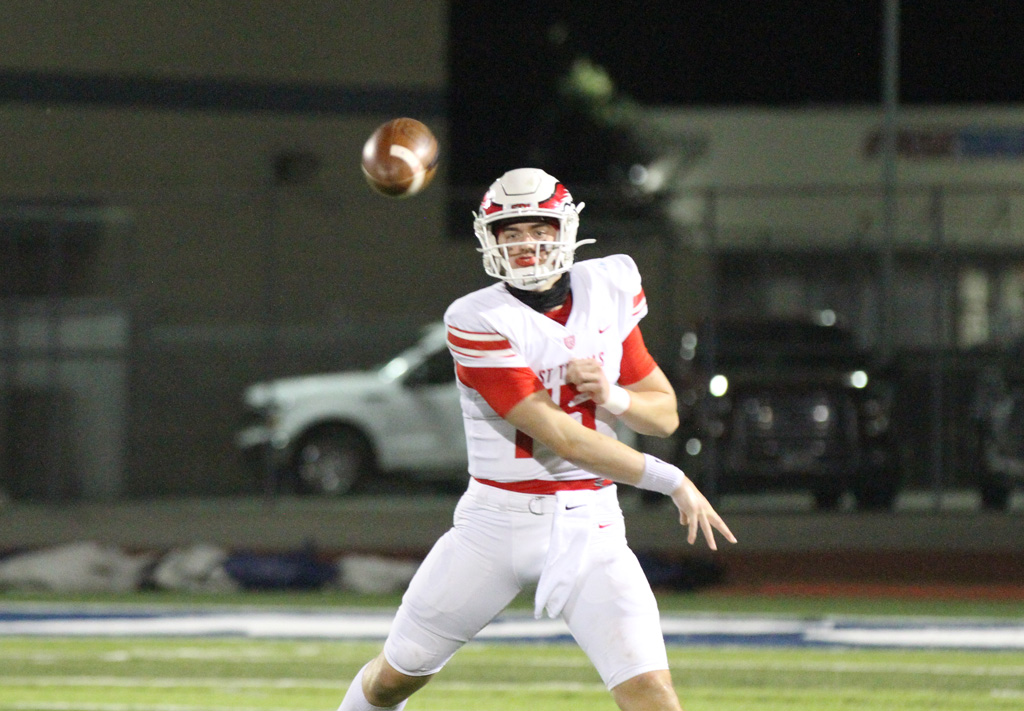 Bonner, Kopp, and Martinez are ranked among the Chronicle Top 100 Class of 2021.
St. Thomas partnered with HomeTown Ticketing to implement a contactless and cashless solution for fans and guests attending events at Granger Stadium. The priority throughout the current academic year and beyond is to administer enhanced safety protocols and best practices – measures that instill confidence among supporters during the challenges resulting from the pandemic.
Eagle Fight Never Dies!