The spring is routinely a welcomed embrace from the winter doldrums, earmarked by fast-paced activity, if not unabashed optimism. Instead, 2020 delivered startling isolation, supreme uncertainty, and unsettling quiet on the St. Thomas campus.
The onset of the coronavirus pandemic seemed like a distant menace when the alarm sounded in late February. No one in academia, not to mention restaurants and retail, athletics and entertainment, Main Street to Wall Street, had any idea that by the Ides of March and into mid-May the United States would be in the sort of footing that anyone under the age of 75 understood only from their parents and the writings of icons like Roosevelt and Churchill.
The colliding climate in every corner and crevice of the country, covering every reaction, counter adjustment, and decision was a seemingly en garde referendum on behaviors, choices, responsibility. On America and how its response to COVID-19 remained the most divisive question in the most divisive of times. In the summer's combustible unrest, the focus of President Fr. James Murphy, CSB and Principal Dr. Aaron Dominguez '96 was on restarting the St. Thomas educational efforts.
The 2020-21 academic year advanced into a sort of COVID-caused suspended animation. Confusion at the core with young people wondering How to make sense in a time of crisis? How to find authenticity and meaning out of upheaval? What now? A quandary so many others have felt before, a Hemingway-esque crossfire that Jake Barnes would fully understand.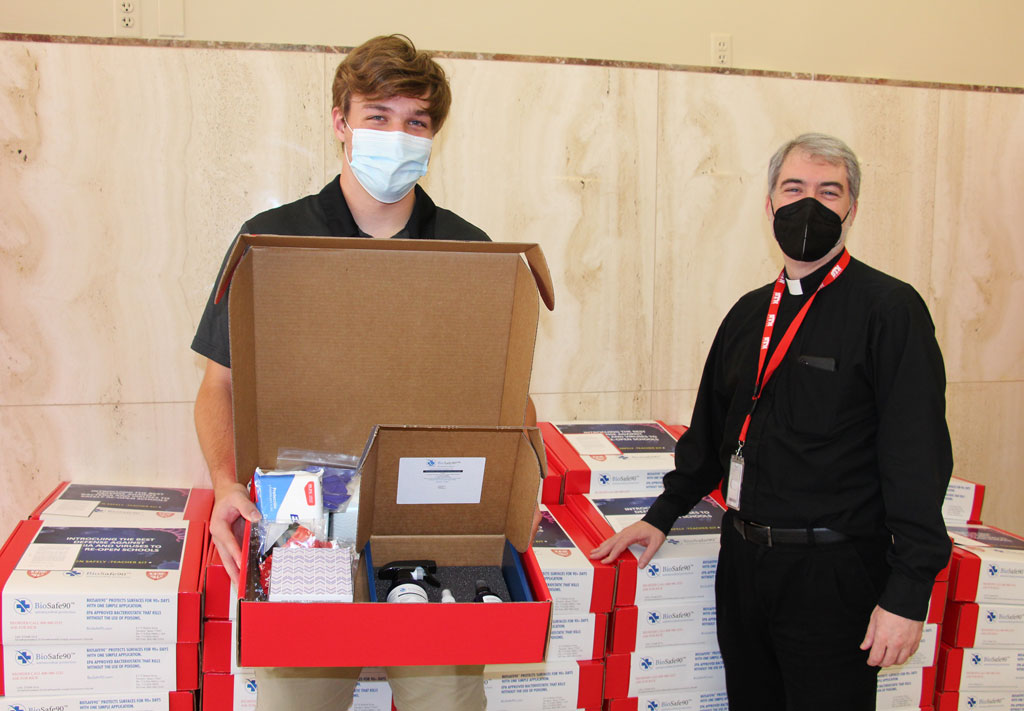 St. Thomas launched the fall semester on August 17 with an advanced version of the remote learning delivery system that closed the previous cycle. And the campus remained essentially closed. In-person classes resumed September 14 with the transition to the Eagle Hybrid Learning model that had students returning for the first time since the mid-March suspension.
The decision was guided by principles that arise from core Basilian goals. First, striving to protect the health and well being of all citizens. Second, to offer an education of the whole person – body, mind, and spirit – with the belief that personal interactions with faculty members and among students are critical to such an enterprise. Finally, to advance human understanding through scholarship and creative expression.
St. Thomas stakeholders and academic executives worked around the clock to incorporate public health guidance and appropriate protocols. All administrators, faculty, students, and staff, as well as visitors, were required to successfully complete the Luminare Quickscreen survey before coming onto the property. Face coverings were mandatory. Six feet of distancing was stressed and enforced to ensure space. Safety measures across campus included creating a contact tracing team.
These were uncharted decisions for a college preparatory institution into its 121st year nurturing scholars through a multidisciplinary curriculum while serving in a Basilian fellowship. Yet, no matter the stringency, Fr. Murphy and Dominguez understood that no one was immune from the complications of COVID-19.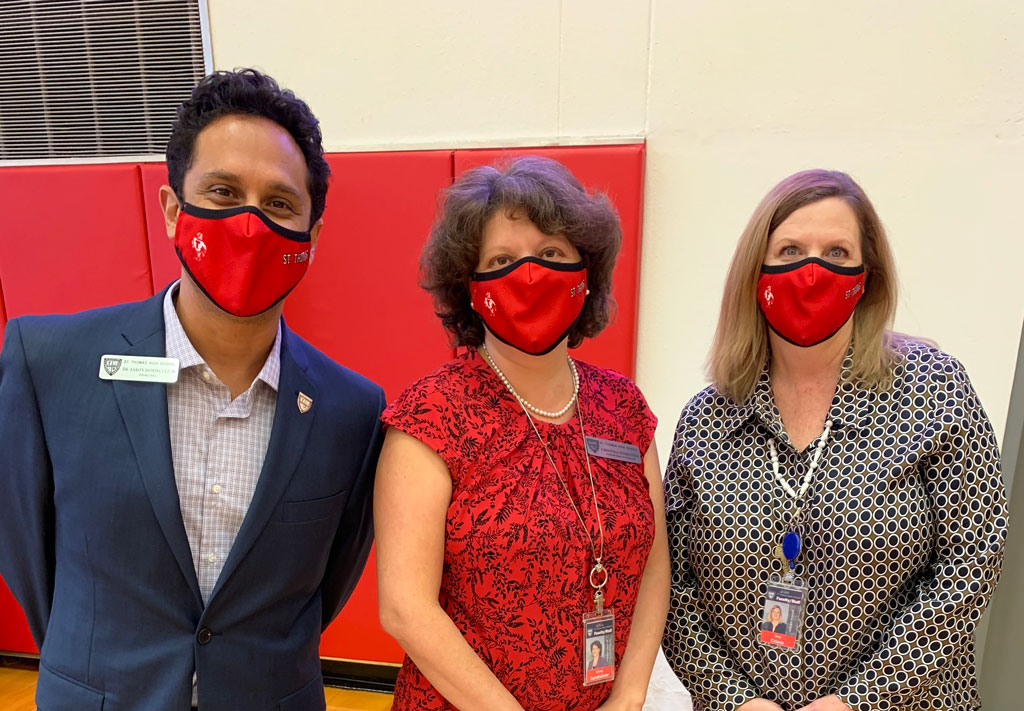 "The movement to online classes was paramount to protect our students and their families," Dominguez says. "We continued to provide a St. Thomas education. While the transitions were not without challenges, they demonstrate how our campus community stepped up in times of duress. I continue to be inspired by the devotion of our faculty and staff, and the perseverance of our students. I am awed by the selfless efforts of everyone to keep St. Thomas moving forward."
And eventually, once the coronavirus abates, once the world returns to normal, or whatever passes for normal, that will be the upshot of the current academic year.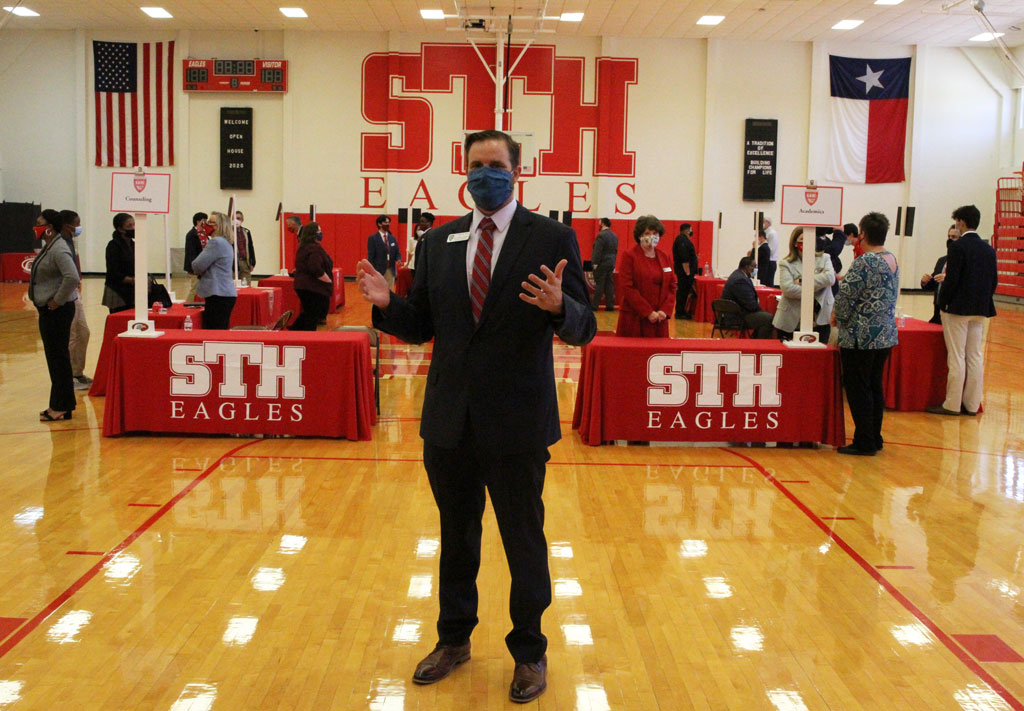 Throughout the fall, St. Thomas Admissions boldly and confidently conducted a series of Open House events – Live and In Person – along with a virtual presentation in December. The response from prospective families was overwhelmingly positive as they discovered in healthy, productive, and fulfilling encounters the distinct benefits of a premier college preparatory experience and the passion of St. Thomas educators.
Consistent throughout the extreme pandemic trial has been the St. Thomas union that extends through generations and beyond zip codes. An unmatched brotherhood remained relentlessly aligned while generously helping those in the greatest need.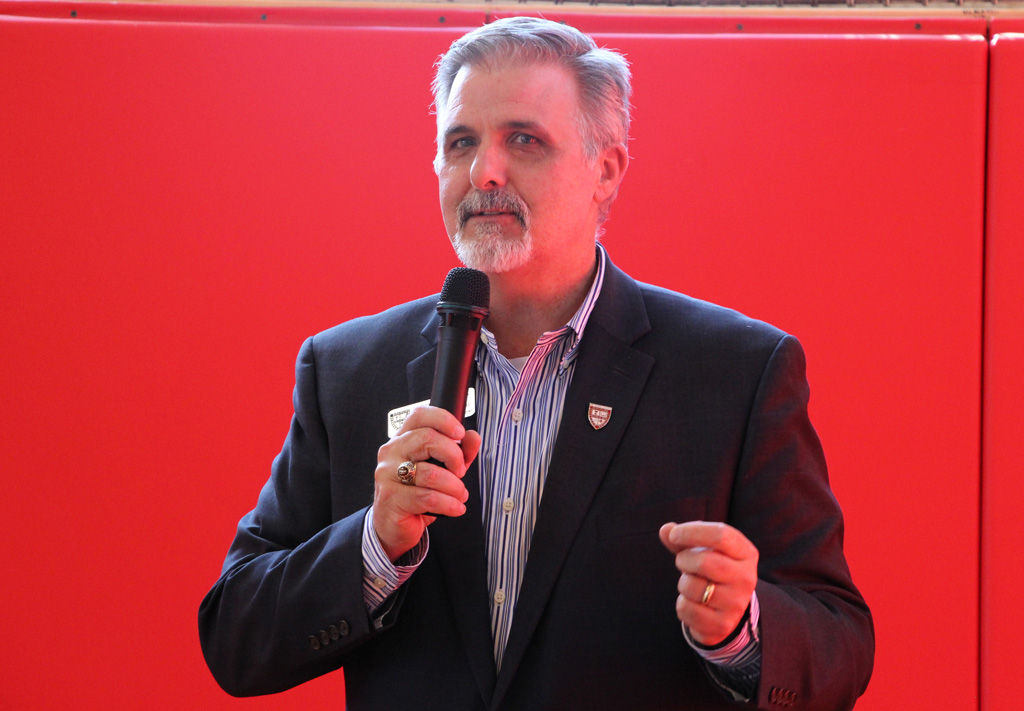 "The Eagle Family answers the call," Vice President for Advancement Mark deTranaltes '83 says. "None of us has endured a situation like the pandemic in our lifetime, and Hurricane Harvey was only three years ago. It gives me immense pride to see how our graduates have again answered with such compassion and sacrifice. Though it's remarkable, I am not surprised at all, that's our identity. It's in our DNA."
As the crisis continued to evolve, St. Thomas maintained a togetherness amid division. deTranaltes and the advancement team were committed to supporting and showcasing exemplary Eagle alumni business owners who continued to adjust their daily operations, adapting as Gov. Greg Abbott implemented a series of reopening plans. The empowered network kept the St. Thomas community resilient in the pursuit of the robust. Every effort counted.
The endless 2020 anxiety created disruption and disorder, but the chaos also provided countless opportunities to reflect on and appreciate how uniquely blessed and positioned is the St. Thomas community. Eagle scholars were driven to develop and improve, to relate, to take a stand. The institution found innovative strategies to advance in the face of the unimaginable, to pursue wisdom in academic ventures, and to unite in building a stronger institution where all may thrive and succeed.
"We have greatly achieved throughout this calendar year while remaining rooted in our Catholic Basilian values," Fr. Murphy says. "We've had to revise our academics and traditions at a moment's notice while staying connected as our campus became a virtual one. At many times in recent months, many of our constituents have been alone in their homes, cut off from physical contact with many of their families and friends. But I firmly believe that by our shared association, we will never be forced to be truly on our own.
"For more than a century, the St. Thomas' allegiance has always compelled us to rise to the occasion. We find ways to remain unified in goodness, discipline, and knowledge."
One year from pandemic ground zero, St. Thomas now moves into another spring, the season where hope is eternal, and the soundtrack comes courtesy Eddie Vedder and Pearl Jam.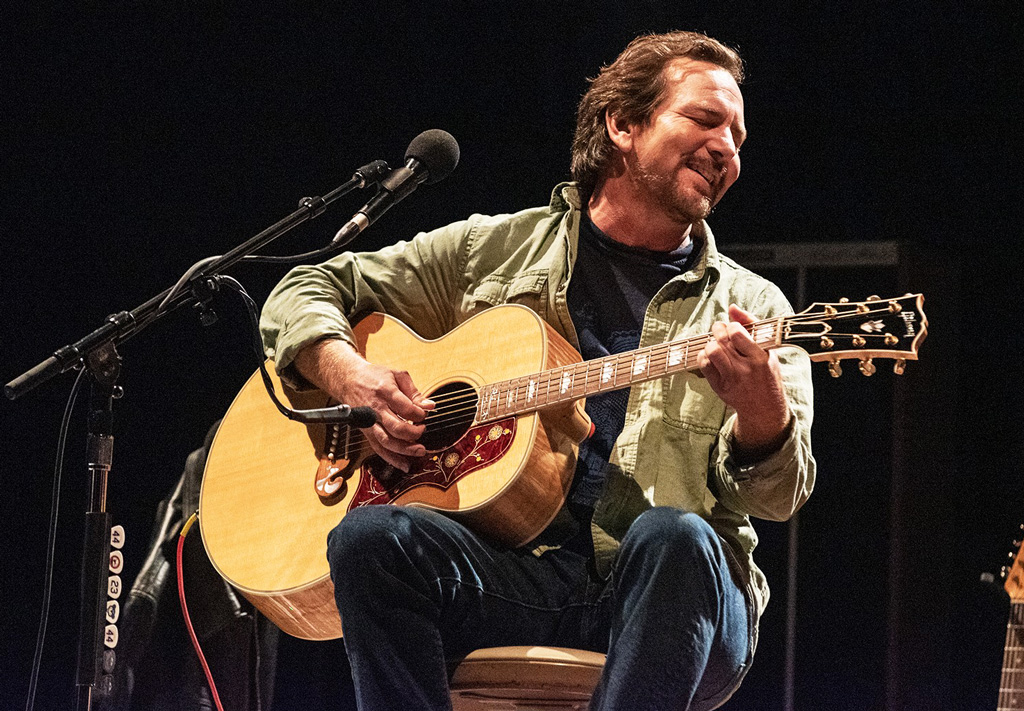 The questions linger overhead
No matter how cold the winter, there's a springtime ahead
I'm thumbing my way back to heaven
Catholic. Basilian. Teaching Goodness, Discipline, and Knowledge since 1900.