The St. Thomas community mourns the loss and celebrates the prestigious life of Tom Braniff '63, a pillar of Catholic ideals and stewardship who impacted a legion of Eagle scholars for decades through his generosity and guidance.
Throughout his acclaimed professional ascent through the elite tiers of insurance brokering and legal services, Braniff embraced mentoring as a core component of his devoted commitment to goodness, discipline, and knowledge. The most vivid example of his living the Basilian standard was a collaboration with 2021 St. Thomas Hall of Honor inductee the Most Rev. George Sheltz, Pat Tamborello, and fellow classmates to establish and fund the Class of '63 scholarship. The philanthropy was inspired to assist St. Thomas recruit, retain, and graduate a talented and diverse learning community.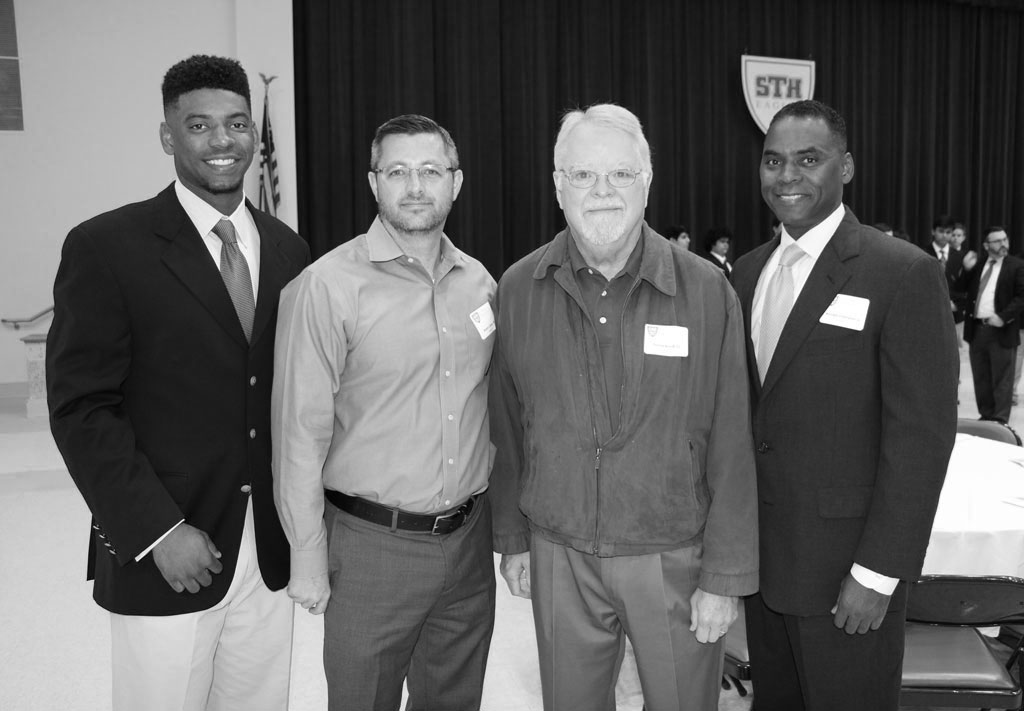 Among the innumerable recipients who were provided access to the depth and width of the St. Thomas experience who otherwise would not have afforded the opportunity were Brandon Carraway '96 (below right) and Wendell Champion '15 (above left). Both advanced to significant baseball careers at the University of Houston and Braniff was often seated at Cougar home games to share in their extended relationship.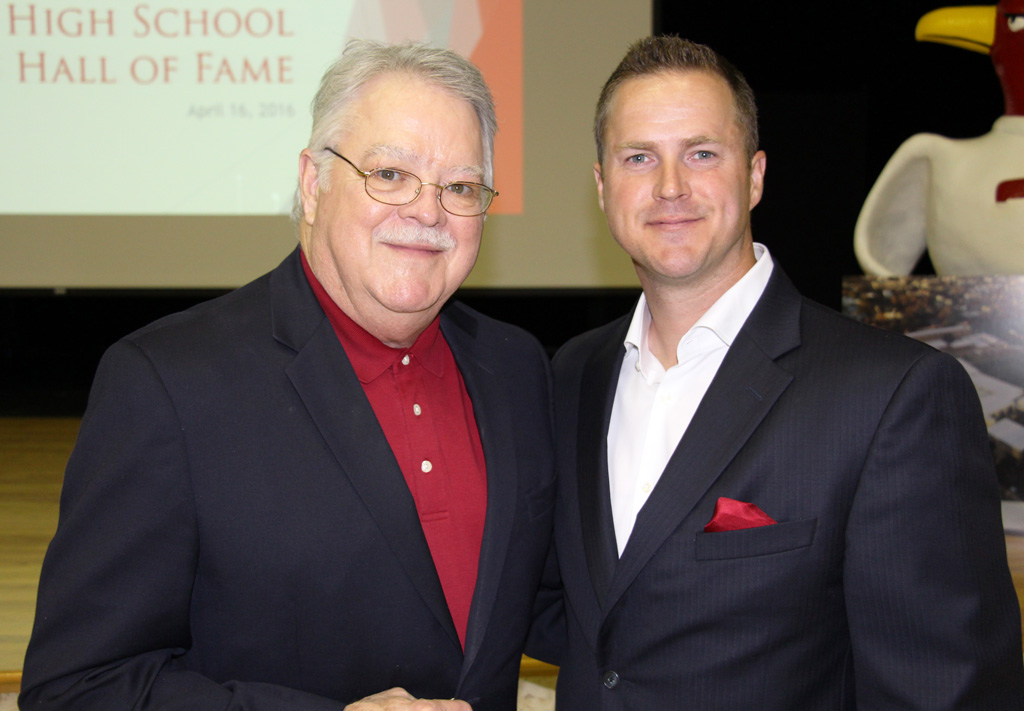 Braniff was a familiar and dynamic presence at the annual St. Thomas Scholarship Breakfast and was particularly proud in 2016 when Carraway was honored as the youngest member inducted into the St. Thomas Sports Hall of Fame.
Caraway primarily attended public schools growing up and was zoned to enroll at HISD Waltrip High School before a recruiting visit to St. Thomas during his eighth grade academic year produced an option that proved to carry life-altering consequences.

"I just had a sense, a feeling this would be the right place for me moving forward," Caraway said the night of his induction. "It was my decision to come here but that didn't mean it was going to be easy. I talked with my father and he was completely honest with me on what it would take for me to meet the academic and financial demands."

Caraway committed to a summer work program on campus while also tapping into a broad tuition assistance program and benefiting directly from the annual Scholarship of '63.

"I wouldn't be here tonight, would not have had the St. Thomas experience without that support," Caraway said with gratitude and respect. "I can't say enough about Tom Braniff. He remains a strong influence today. I thank him every day for all that he's done."

Braniff marveled that "Brandon's athletic ability was always obvious. But his character is what separated him then and what defines him most today. We were introduced before he enrolled as a freshman. He was emphatic that he wanted to be at St. Thomas and later that he wanted to become Catholic. Our scholarship group has never been involved with a better individual."
The Braniff legacy at St. Thomas was embedded by his father James Braniff Jr. '28 and includes brothers James III '57, John '59, and Danny '67, who passed away in 2009. Grandson Finnian Charnquist '23 is extending the heritage into a second century.
Tom Braniff earned his undergraduate and law degrees from St. Mary's University in San Antonio. He then joined James III and John as a major stockholder in Braniff & Braniff, Inc., one of the largest privately-owned independent insurance agencies in the Southwest.
In 1989, Mr. Braniff formed Texas Insurance Consulting, a professional firm that provided technical and operational advice, as well as licensing and regulatory consulting services to insurance companies, insurance agents, and other individuals and entities within the industry. The firm specialized in mergers and acquisitions between insurance entities, and other financial services institutions.
In the mid-1990s, Braniff teamed with his wife Wendy, son Rhett, and son-in-law Steven Charnquist to form Braniff Attorneys | Counselors, a law firm offering legal services including insurance, real estate, and administrative law and consulting services.
During his emphatic career, Braniff earned the Chartered Property Casualty Underwriter professional designation, the industry's most esteemed credential in property/casualty insurance. He was a member of the Independent Insurance Agents of Texas (IIAT), performing an instrumental role in the creation of its legislative committee and involved in its political action committee IMPACT. For this and numerous other contributions to the state association, Braniff received the organization's coveted Paige Iland Political Action Award for political involvement benefitting independent insurance agents.
Braniff was also actively involved in the leadership of the local Independent Insurance Agents of Houston (IIAH). He served on the board of directors, numerous committees, and was elected to a term as its president. In a concerted effort with IIAH members and other Houston insurance professionals, Braniff created an undergraduate degree program at the University of Houston-Downtown to develop industry talent with the ultimate goal of advising young professionals into leadership roles within the Houston property/casualty insurance industry. Wendy served as director of the program and the two partnered with an advisory council of Houston's insurance leadership to develop a property/casualty curriculum uniquely designed to simultaneously provide graduates with academic as well as professional insurance credentials.
Braniff's was an esteemed member of the American Association of Insurance Management Consultants (AAIMCo), an exclusive cadre of insurance experts who provided consulting and expert witness services to the insurance industry throughout the United States. The association led to his service as the association's president for seven terms and recognition within the organization as "Mr. AAIMCo."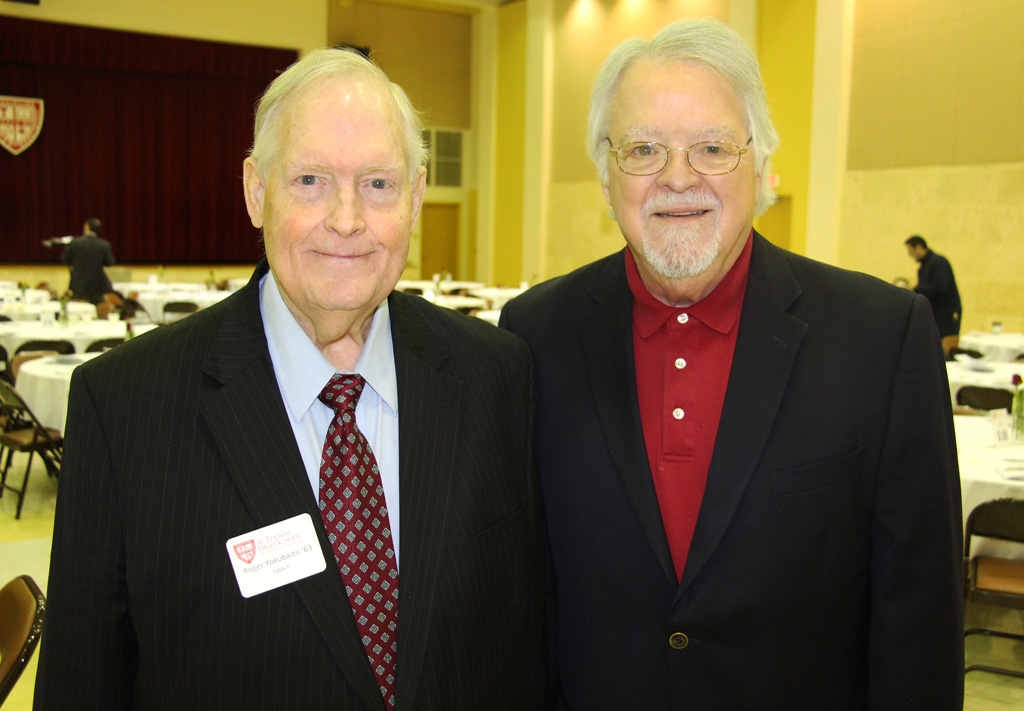 Thomas Matthew Braniff passed away peacefully on February 12 at the age of 75.
Catholic. Basilian. Teaching Goodness, Discipline and Knowledge since 1900.