The resilient St. Thomas Class of 2021 united for exactly this seismic moment: The record. The joys. The triumph amid on-going national uncertainty. They remained relentlessly committed to finish in the same monumental manner as they had started.
The seniors began their Round Up careers learning the essential lessons from those students who preceded them, mastering the ABCs of their March madness.
Always. Be. Closing.
ALWAYS BE CLOSING.
And for the seventh consecutive year, the like-minded and aspirant harnessed a collective and aggressive late surge to trigger an outburst of raffle ticket sales. The Glengarry-esque frantic Friday finish would have had Ricky Roma riveted and Blake ordering coffee for one and all.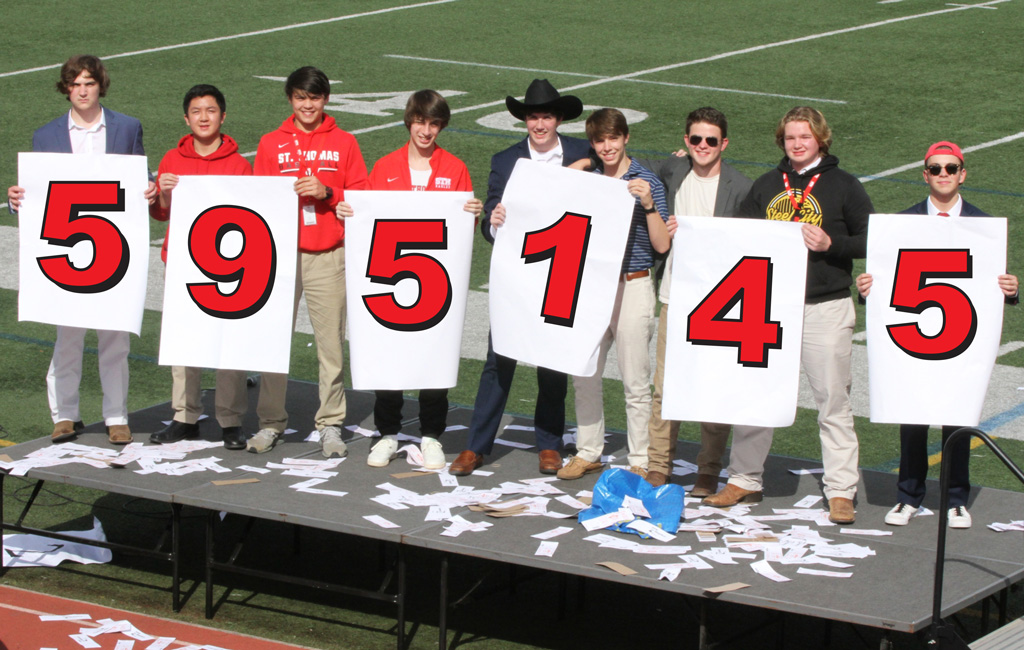 The unwavering student body racked another record-smashing total – $595,145 – with all monies contributing directly to St. Thomas tuition assistance, a Basilian tradition for nearly a century. The half-million-dollar mark crashed for the sixth year in a row. The raucous eight-year sales spike rose to more than $4.2 million.
Roll that figure around your brain for the time it takes to consume the latest TikTok video gone viral.
Yes, $4.2 million.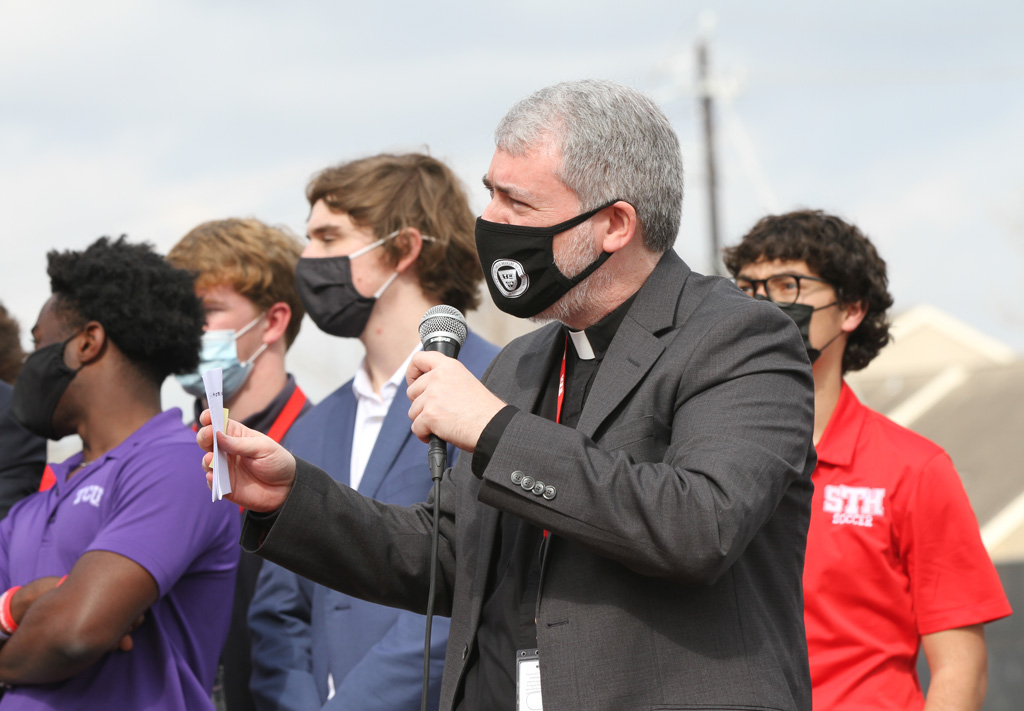 The jaw-dropping developments left President Fr. James Murphy, CSB "genuinely in awe. These seniors are one of the most unified, most generous groups that I have witnessed in all my years of education. Their leadership was part of a collective effort clearly without individual motives to stand alone. It was always about what we needed to do. The dollar number obviously grabs your attention but what cannot be underappreciated is what our students learn in achieving adult work. And they did it all with class and dignity for everyone involved."
Major Gifts Officer Johnny Misleh '00 set an ambitious sales goal of $525,000. To go record-busting for the 16th time in 18 years would mean measuring beyond $574,000. Audacious, if not simply irrational. The scholars had no idea the challenges the next Everest would present. But no ascent worth conquering comes easily, particularly through a pandemic and hybrid learning models, the constant churn of COVID-19 protocols and contact tracing, an unprecedented collapse of the state's electric grids which produced The Great Texas Blackout during a pivotal sales drive, and lockdowns and shutdowns of assorted variety. Their resolve was tested but never bested.
Given the circumstances, a sales result south of what has become the St. Thomas standard would have been understood without alibis. Reasons, not excuses, existed for a commendable Round Up return below a half-million dollars.
But as the late great NBA icon Kobe Bryant wisely observed, "If you don't believe in yourself, no one will do it for you."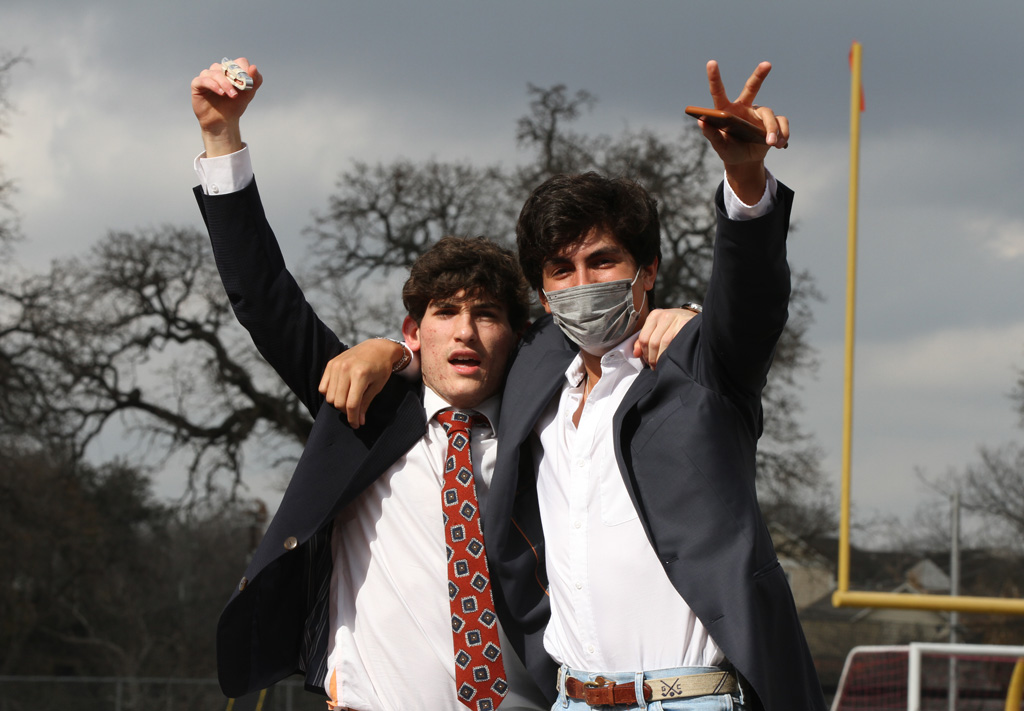 And now a strong argument can be made that the latest Round Up installment represents the grandest of them all. The participants weren't shy in staking their place in history.
"It always starts with the brotherhood," Gus Boettcher '21 says. "I was with Bishop (Vincent) Rizzotto (from the Archdiocese of Galveston-Houston and St. Thomas Hall of Honor inductee) right before he died (in February). We talked about the qualities that make St. Thomas unique, how almost every student believes they're a part of something special, and it brought tears to our eyes. We're genuinely excited to be part of this school and to be a part of Round Up for the good of our brothers."
Boettcher "knew the goal was going to be tough to beat given COVID and the freeze and the lower enrollment. But our senior board was amazing in setting the tone from the beginning and pushing the boundaries. And all through the past year, our class has had a fighting spirit."
Boettcher teamed with Patrick Pham '21 to stage a video series during the Round Up run-up mocking Bill & Ted's Excellent Adventure – for fun and frolic, spirit and inspiration. But, whoa, dude! All nostalgic mind-time traveling phone booth journeys aside, the student sellers required their own bodacious bounce back in the final 72 hours to assure that the Round Up beats would roll bigger, better, and more robust.
Senior Hustle
The student sales team stared down a decided financial shortfall during money week as the March 5 deadline approached. Even with Director of Student Activities Joe O'Brien orchestrating the annual phone-a-thon/letter campaign that generated nearly $90,000. Even with a preposterous Thursday count of $160,000 for the last group sales turn in.
"No seniors were holding back, no alumni waiting with blank checks," Luke McLane '21 says. "We all kept working, literally going door to door, and trying to exhaust every possibility. There was a $10,000 transaction Friday morning and that was a huge momentum swing. (Senior) Joseph Mundell and I approached donors who we thought would be big buyers and they had written checks which honestly were much smaller than we had in mind. We couldn't convince them to go for more. But we all kept pushing and didn't have the totals until 10 minutes before the reveal because the money kept coming in."
The traditional Senior Hustle closed with an almost miraculous six-figure return. Astonishment reigned supreme when the final tally of nearly $600,000 was first disclosed to the senior board assembled in the count room.
"When I saw their excitement, that's what told me we had something amazing," Misleh says. "The reactions were filled with so much pride and accomplishment. They had a game plan ready for Thursday once the dollars were calculated and came in short. They had a game plan for Senior Hustle that had to deliver. They believed. They invested. They stayed positive. The true spirit of the St. Thomas brotherhood was in play every day. Every single seller pushed that record total."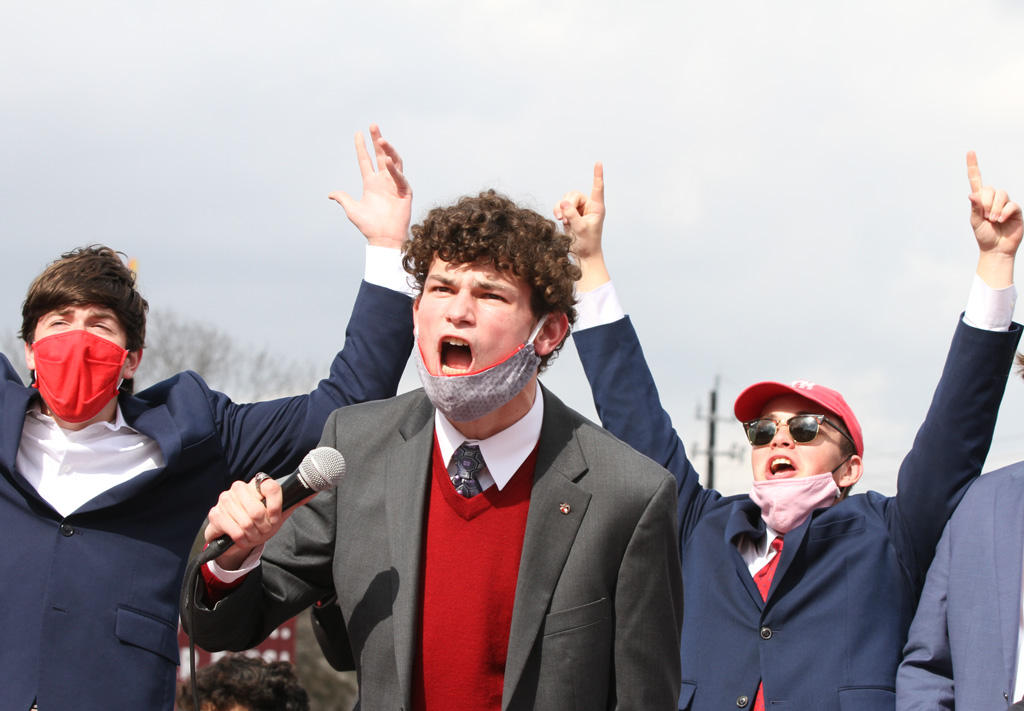 McClain believes the resounding collaborative effort "shows what this student body is made of and we refused to compromise for anything. Mr. Misleh instilled that attitude and the senior board embraced it. He wasn't an administrator. He was in the trenches along with us every step, every up, ever down. He led by example."
And for the seventh time in eight years, the heaviest Round Up hammer was swung by a Hotze – brothers David '17 and Brendan '21 taking turns as the resident teen titan.
The understated Brendan set the individual sales pace with $19,081 and concluded a sensational four-year spree that included tallies of $22,469 to lead 2018 and $23,240 to front 2019. His $19,760 encore in 2020 ranked as the runner-up only because Zach Kroencke '20 crushed one of the absolute single-best individual totals in school history – $35,960.
David had proved Goliath during a staggering four-year cycle posting $132,490 from 2014-17 before Brendan immediately seized the torch and appropriately stamped an emphatic legacy. "The Hotze brothers went out with a bang."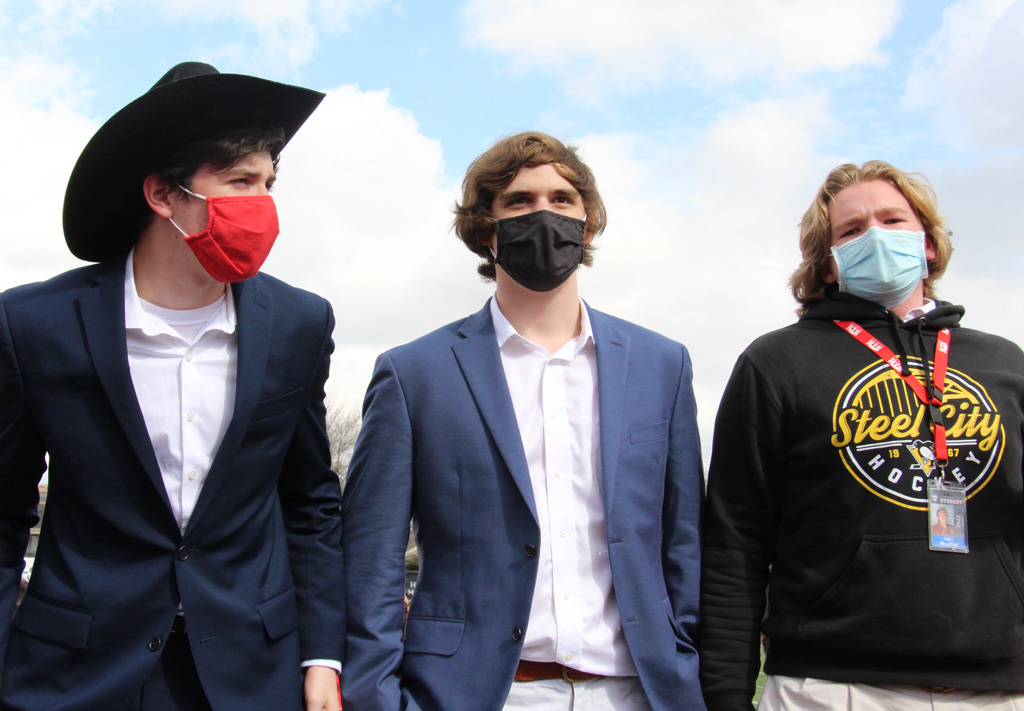 Brendan (above, middle) again paired a savvy strategy with a confident, concise pitch that consistently registered with his targeted audience.
"When I made calls, I said it's my senior year and I want to raise as much money as I can, and I'm hoping you can double what you purchased last year," Hotze says. "I made as many calls as possible in the early stages and put myself ahead of the game. The biggest donors were approached later. I called one prospect 10 times before he picked up. He became one of my biggest checks and said he wouldn't have made such a purchase if I hadn't been so determined. I got his commitment the last Friday. Persistence is key."
[CLICK HERE FOR THE ROUND UP FRIDAY GALLERY]
The Kingpins
Brendan steered a swaggering top-10 pack of enterprisers who generated nearly $122,500. A powerhouse threesome from the Class of 2021 joined Hotze for the third year in a row …
Aaron Schlosser '21 third overall with $12,800 after $10,100 in 2020 and $7,20 in 2019
Rory Gremillion '21 fifth with $11,320 after $7,060 in 2020 and $6,620 in 2019
Aidan Kelley '21 eighth with $9,820 after $9,020 in 2020 and $7,140 in 2019
Hayden Diamond '21 placed a strong sixth with $11,120 and Mundell 10th with $8,500.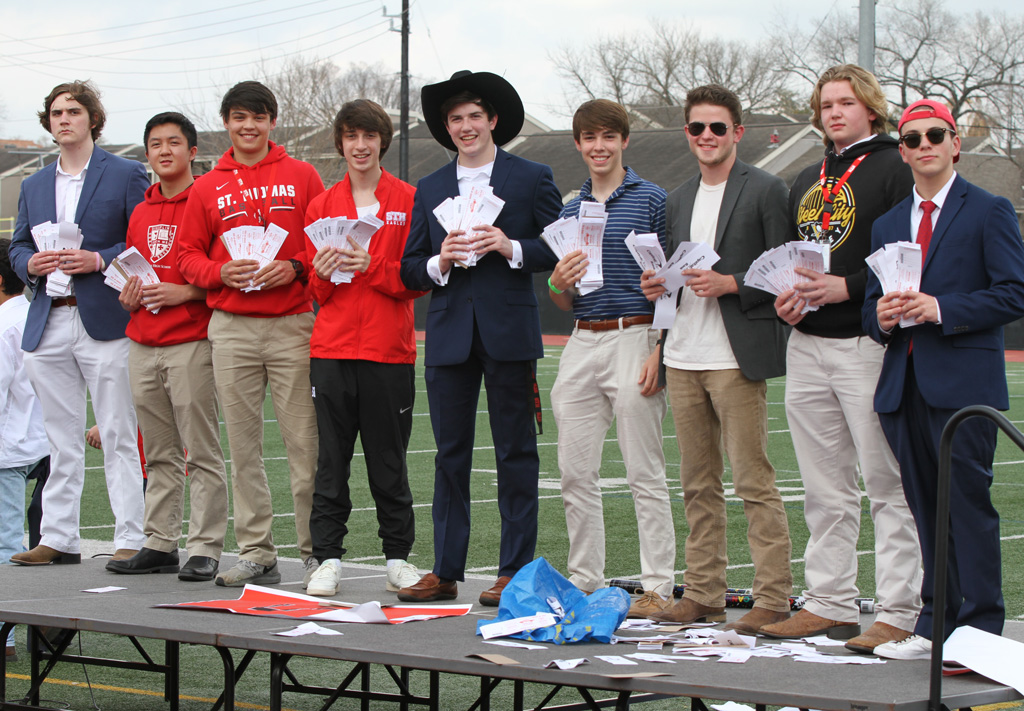 The righteous Round Up ringleaders included precocious Simon Pham '24 who debuted in second place with $18,000. Patrick McCarthy was the only other freshman in the top 10 with $10,330. Caleb Davis led the Class of 2023 with $12,800 for fourth. Peyton Woodlief again emerged as the lone rep from the Class of 2022 posting his third straight top-10 finish with $9,505 following impressive totals of $7,110 and $7,605.
"Let's face it – COVID may prevent some families from providing their sons a Catholic education," says Hotze. "The finances may not be there. Raising all the dollars we did will go to that cause and help people get through this time a little better. I put as much as I could into that objective."
[CLICK HERE FOR ROUND UP DRIVE THRU CARNIVAL GALLERY]
Catholic. Basilian. Teaching Goodness, Discipline and Knowledge since 1900.