Francisco Llamosa '21 and Roman Ochoa '21 are the latest scholar-artists to extend St. Thomas' distinguished history as a center of ceramic art innovation and education. Both earned recognition this spring for the 24th Annual National K-12 Ceramic Exhibition, and for the fifth consecutive year St. Thomas emerged for significant acclaim within the showcase event.
Llamosa's The Cracked Dent and Ochoa's It's Natural were selected for the exclusive national show which was presented virtually because of COVID-19 restrictions.
"It's stunning to have these juried results given the limitations throughout the fall," faculty member Mike Nebel says. "We were able to complete only a couple of projects given the hybrid learning. But these two pieces Francisco and Roman produced are quite innovative."
Under Nebel's celebrated leadership the St. Thomas program is embedded in an intensive learning community where teaching and mentoring meet critical making and rigorous critique. Llamosa and Ochoa received commendation among nearly 700 national entries. Their vanity and serving trays served as prime examples of contemporary ceramic artwork that is both functional and sculptural while flashing whimsical qualities.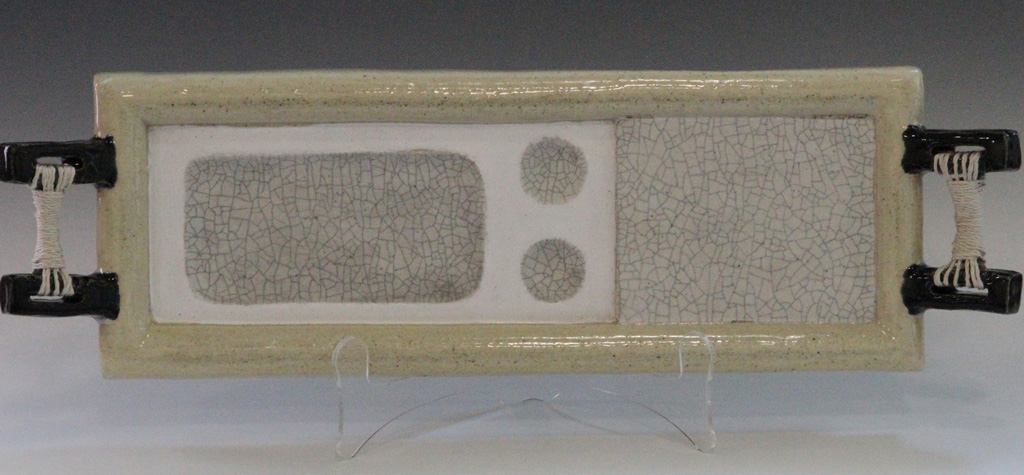 "Francisco incorporated heavy twine on the handles to give the work some unusual texture," Nebel says. "The white crackle glaze (a network of lines in the fired surface) on top of an already white glaze works surprisingly well. It's a beautiful subtle piece.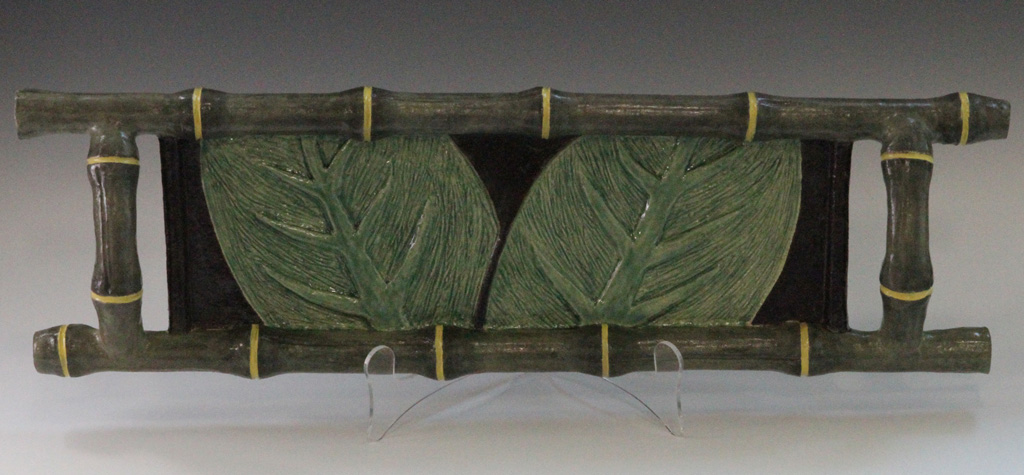 "Roman's work really pops. He applied a set of glazes we don't routinely work with but he used them to great advantage. The clear coat gives the tray that shine, a waxiness that true bamboo would resemble. Same with the handles that he hollowed out. Extensive design and execution sets that piece apart from the field."
For more than a decade, Nebel has fostered much more than a simple appreciation for the ceramic arts within his curriculum. He's orchestrated a seismic shift for the program, providing a rigorous yet supportive environment that relies on persistent curiosity and due diligence, exposing students to a wide range of traditional techniques and contemporary concepts while encouraging their signature style.
Nebel's lab is stimulating and challenging, a fulcrum for artistic and intellectual growth. With the realization that discipline, historical precedents, and freedom go hand in hand with creative activities, he instills a balance between the acquisition of traditional skills and the promotion of independence and innovation. Responsibility is placed on the individual student to find meaningful content and an effective means to express it.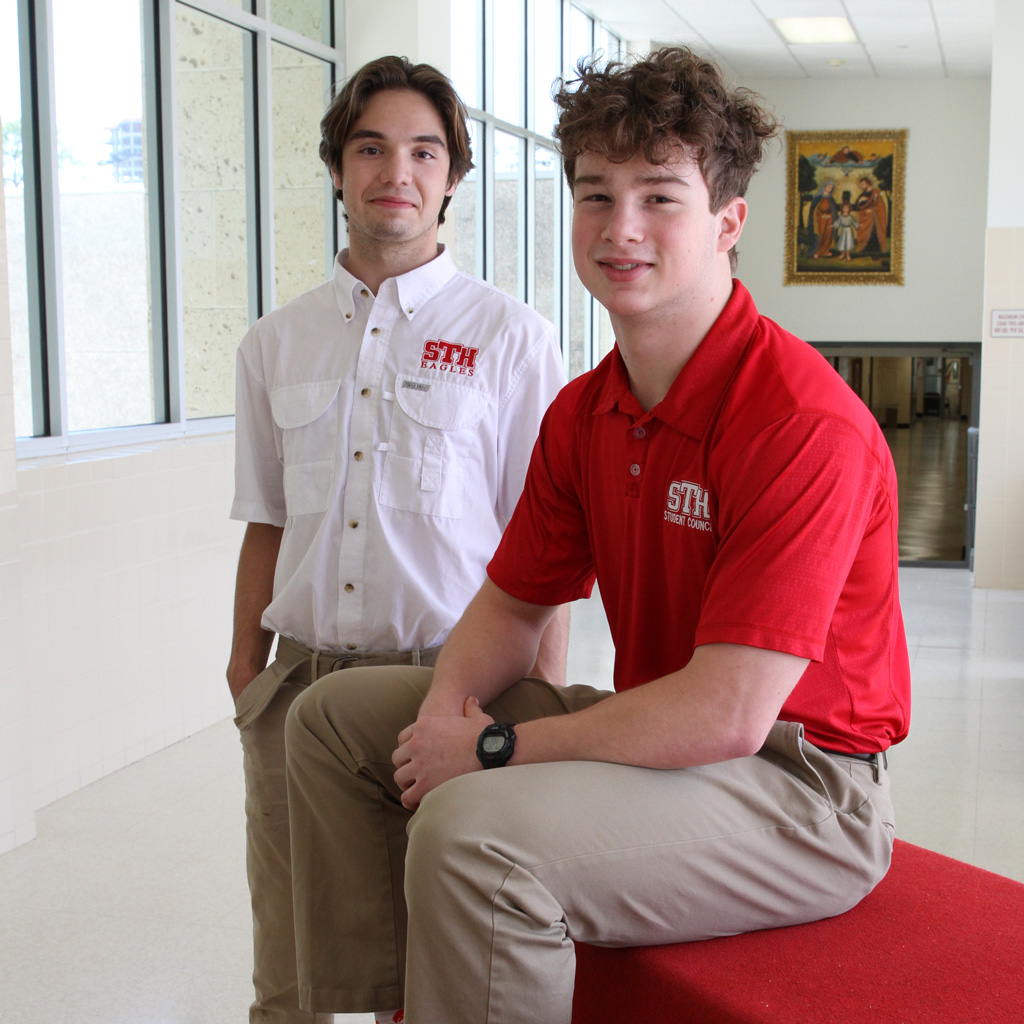 Llamosa and Ochoa both reflect a solid foundation of technical and intellectual skills, while developing a strong personal direction with their work.
"I commend them both for their commitment in the face of the interruptions and uncertainty. They reflect the essence of St. Thomas scholars," Nebel says. "Francisco recently received his Eagle Scout rank. He's the vice captain of the rugby team. Ochoa is a two-year member of the National Honor Society and has been a significant senior leader keeping the student body united during the pandemic response."
Nebel continues to stress the development of concepts through making; the aim to provide the highest caliber of education for students whose talents and aspirations are primed to flourish. They learn a range of techniques and concepts that enable them to develop their own style and specialty in functional pottery form, design, the vessel, the figure, object-based sculpture, installation, and performance.
And the best may yet to come.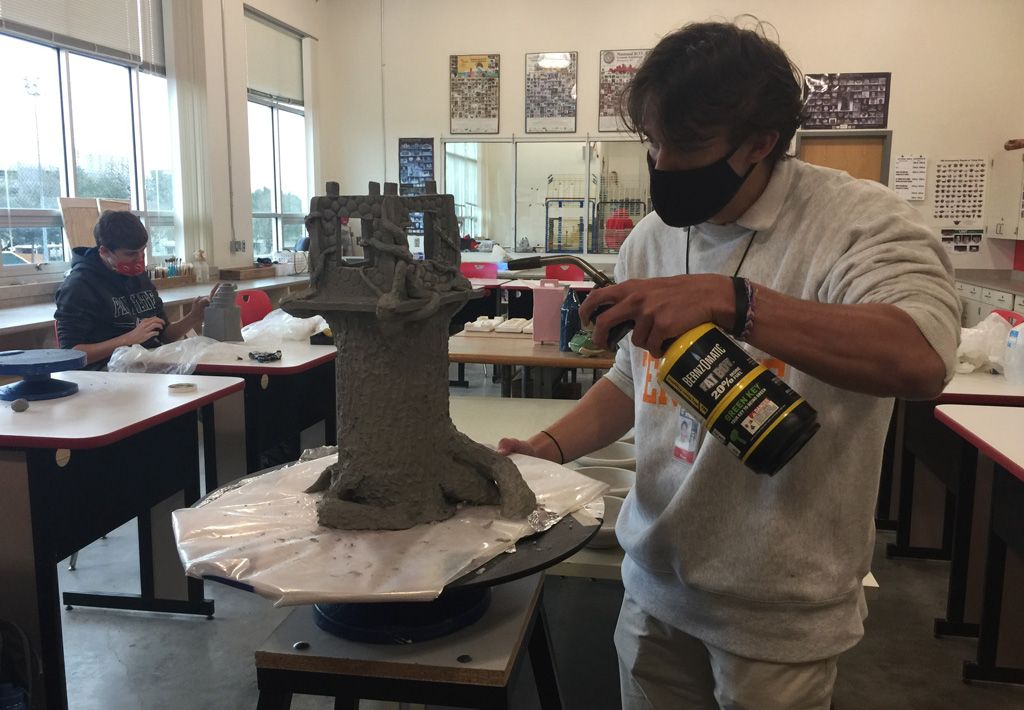 "Next year (2021-22) we are going after the competitions unlike ever before," Nebel says. "We're throwing out the previous strategies and will produce pieces that no one has seen before from St. Thomas. But our standard never changes because excellence is the standard, and the students deserve all that credit. They have to bring the curiosity, the desire, and the dedication. I never know what talent is rising until we go to work. That's when we discover who steps forward and provides the lead for which everyone else aspires."
Catholic. Basilian. Teaching Goodness, Discipline and Knowledge since 1900.