For the first time ever, St. Thomas is offering liturgies from Palm Sunday through Easter Sunday through the school's Facebook Live. Join President Fr. James Murphy, CSB for these holiest of days as the Eagle community unites to conclude the Lenten journey.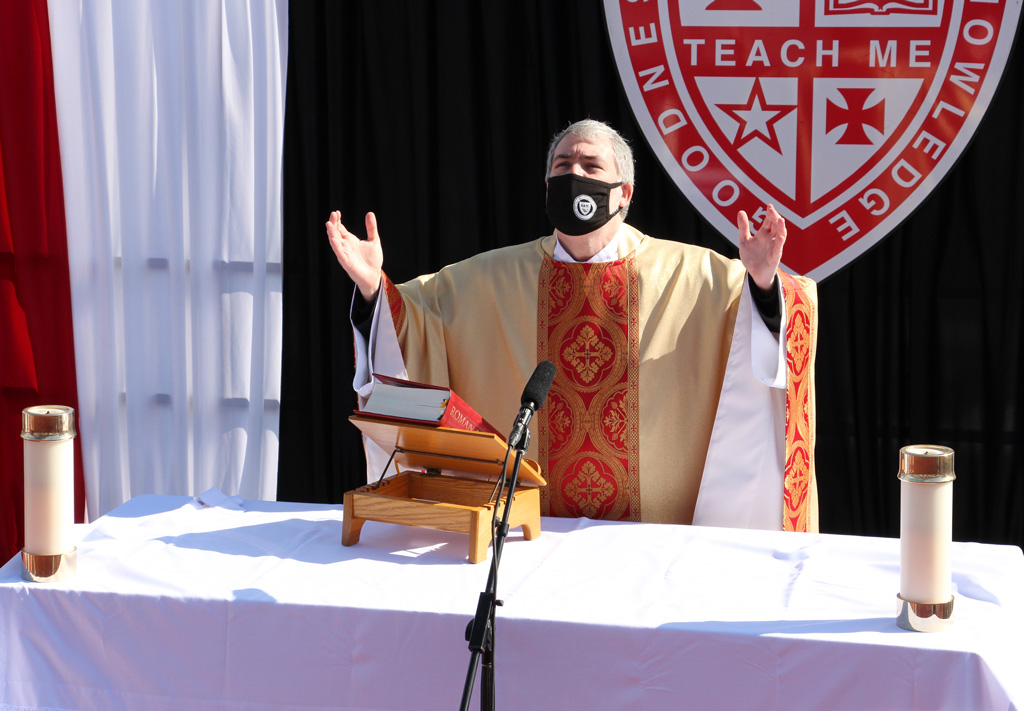 Holy Week began with Palm Sunday when Jesus entered Jerusalem where the crowds hail him as the blessed one who comes in the Lord's name. This kingly acclaim doesn't last.
Holy Thursday – Evening Mass of the Lord's Supper | April 1, 5:30 p.m.
Jesus celebrates the Passover meal with the Apostles. At this last supper, he washes their feet as an example of loving service, and he offers his Body and Blood under the species of bread and wine.
Good Friday of the Lord's Passion | April 2, 3:00 p.m.
Jesus is betrayed, tried, condemned, scourged, crucified, and buried. As God says through the prophet Isaiah, "Through his suffering, my servant shall justify many." Jesus' sacrifice on the cross saves us, making this day "good."
Holy Saturday – Easter Vigil | April 3, 7:00 p.m.
A day of mourning for the entombed Jesus leads to the nighttime celebration of the greatest feast of the year. Jesus, the Paschal Lamb, destroys death and restores life.
Resurrection of the Lord – Mass of Easter Day | April 4, 9:00 a.m.
Christ the Lord is risen! Alleluia! After Evening Prayer, the joyous, 50-day Easter season begins. It includes Jesus' ascension and ends with Pentecost, the coming of the Holy Spirit.
Faculty, staff, alumni, parents, and friends who may not be positioned to attend a Mass in person as part of a congregation are encouraged to celebrate safely by way of the livestream.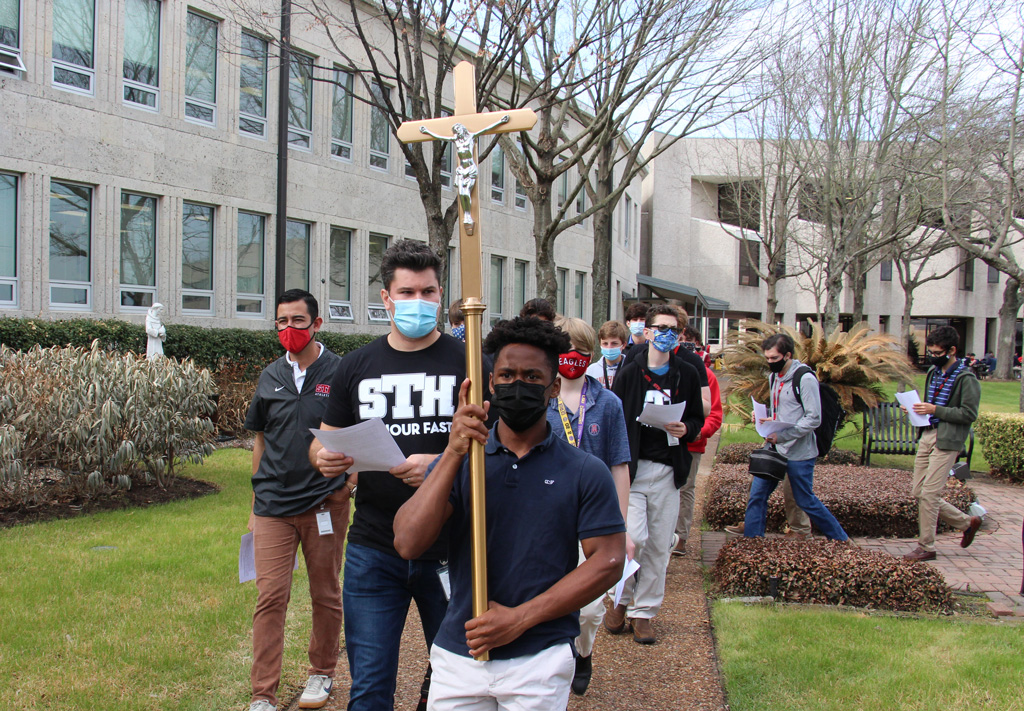 The Lenten worship began with Campus Ministry Director Andrew Quittenton and Theology faculty member Danny Hernandez '08 leading Eagle scholars weekly through the powerful reflections of the Stations of the Cross. Students journeyed the 14-step Catholic devotion on campus and commemorated specific events of the Lord's last day, beginning with His condemnation. Specific prayers were recited at each station until all 14 were completed.
The Lenten season is characterized by three practices – prayer, sacrifice, and charity. The stations are a magnificent meditation representing the Lord's cross on His way to Calvary – His suffering, death, and the trust of His resurrection.
We adore you, O Christ, and we bless you.
Because by your holy cross you have redeemed the world.
The annual Mother/Son Mass, originally scheduled for Wednesday, March 31, has been reset for Monday, April 5, at 1:45 p.m. in Granger Stadium.
The traditional Father/Son Mass, a morning liturgy and affirmation of faith which speaks to the very fabric of the school's Basilian identity, was rebooted into two socially distanced events – one each for the Aquinas and Basil student groups on November 4 and 5.
Catholic. Basilian. Teaching Goodness, Discipline and Knowledge since 1900.