The St. Thomas Catholic Basilian intellectual tradition is the cornerstone of an academic community that develops critical thinkers, strong communicators, and ethical leaders. Students discover passion, path, and purpose supported by renowned faculty in a personalized learning environment.
The Academic Awards Assembly is an annual celebration of not only emphatic scholastic performance and fervent mentorship but also the capacity for charity and compassion.
Elevating learning and yielding insights.
"This assembly is a joyful yet strong confirmation to the overall strength of the St. Thomas experience and the emphasis we place on successful outcomes," says Principal Dr. Aaron Dominguez '96. "Committed students, faculty, staff, and families have tirelessly contributed to making these achievements possible. Vibrant academic accomplishment is a testament to innovative and engaged classroom teachers, building strong relationships, pursuing both independent and team projects. And we collectively approach the pursuit of goodness, discipline, and knowledge as a way to serve our greater society."
The Best of the Best
One hundred and 70 notable students were saluted, led by valedictorian Patrick Pham and salutatorian Hayden Diamond. The two exemplary scholars achieved the highest ranks within their class based on the calculation of their four-year grade point averages.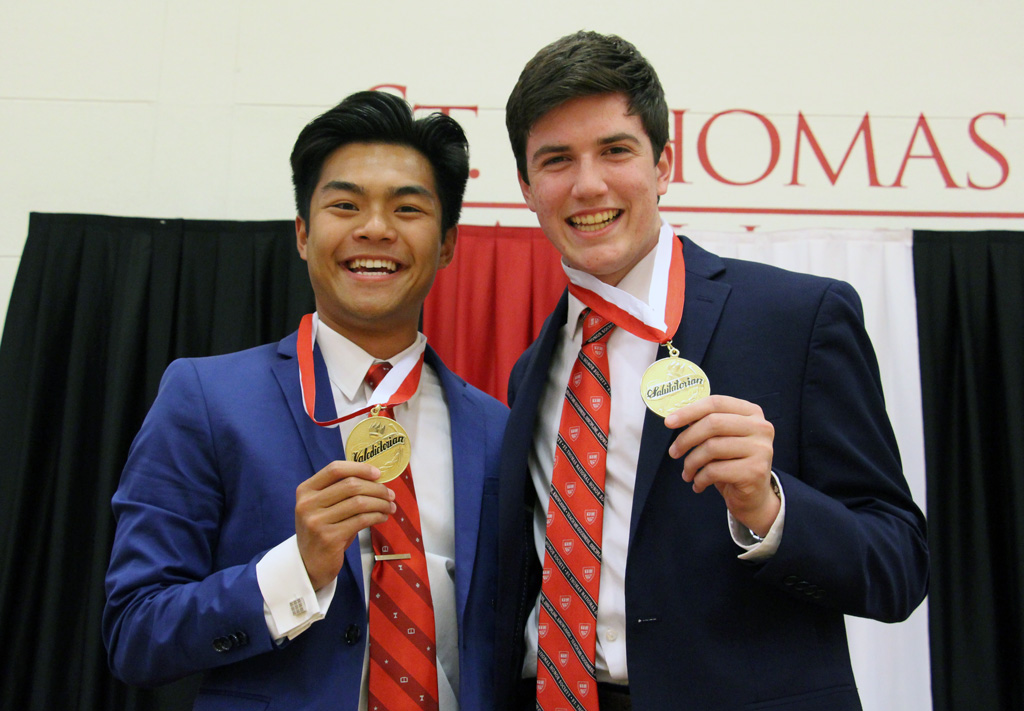 Pham was also among four Eagle coterie receiving exclusive accolades, excelling in a rigorous college preparatory environment while also separating through a compelling identity beyond the curriculum.
Pham accepted the Rev. Carl M. Allnoch, CSB Athletic Memorial Trophy for Excellence in Academics, in honor of the 16th principal of St. Thomas. A gifted presence whose enhanced profile included dynamic speech and debate, signature theater arts, and sterling academics, Pham is a two-sport student-athlete. He was an important contributor during the unprecedented four-year ascent of Eagle Swimming that included consecutive TAPPS state championships in 2019 and 2020. He follows Cooper Thomas '20, Ian Wheeler '19, Parker Rzasnicki '18, Sam Yeboah '17, 2016 TAPPS Male Athlete of the Year David Jones '16, Campbell Clarkson '15, and Joseph Lowry '14 as the most recent recipients.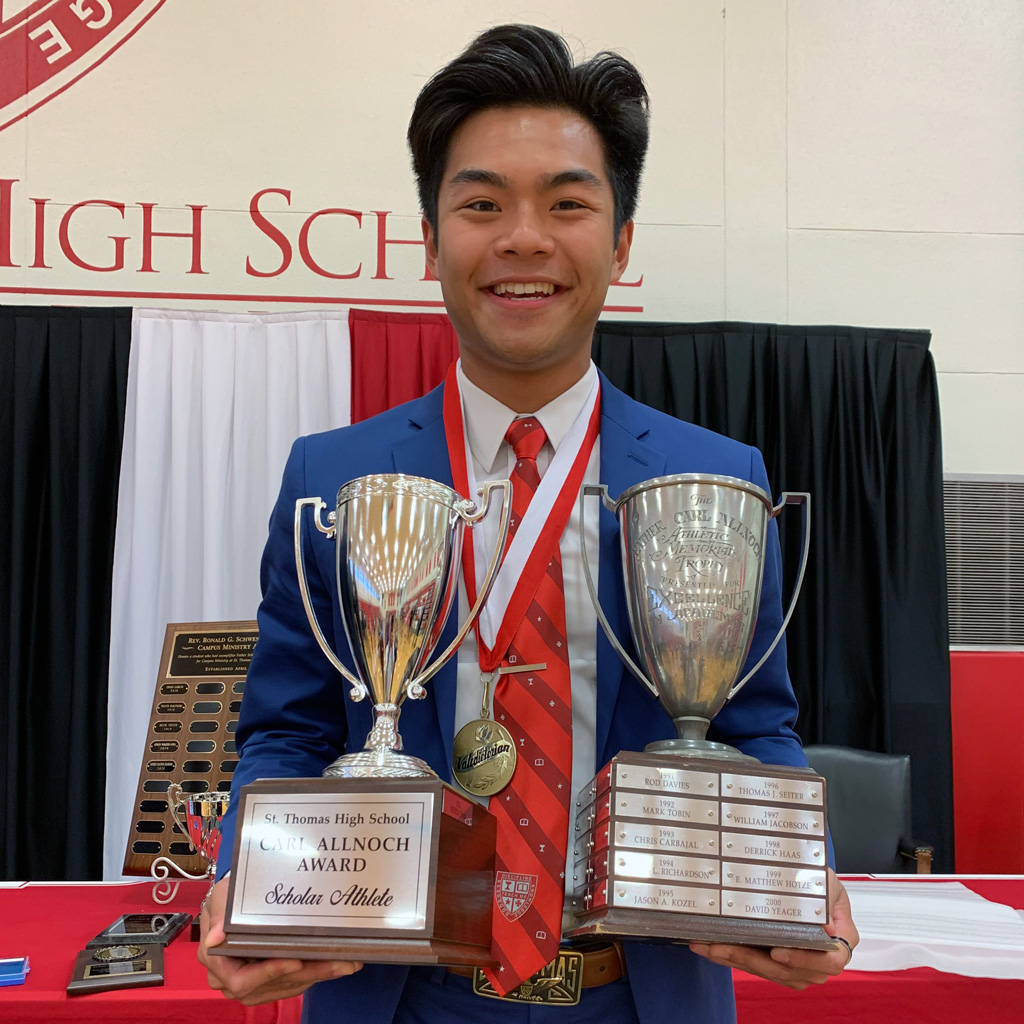 The president of the St. Thomas Chapter of the National Honor Society (NHS) was described as a "fierce giant slayer who strikes fear in his competitors' hearts" … "exuding confidence and striving for excellence" … "driven and focused" … "who seems to know what he wants and how to get it" … "so driven and focused."
Servant Leaders
Diamond received the Rev. Ronald G. Schwenzer, CSB Campus Ministry Award for most exemplifying the Man of St. Thomas motto of Faith, Service, and Leadership.  Fr. Schwenzer was appointed in 2006 the first president in St. Thomas history after serving eight years as principal, working tirelessly to develop citizen scholars and relentless leaders during his tenure.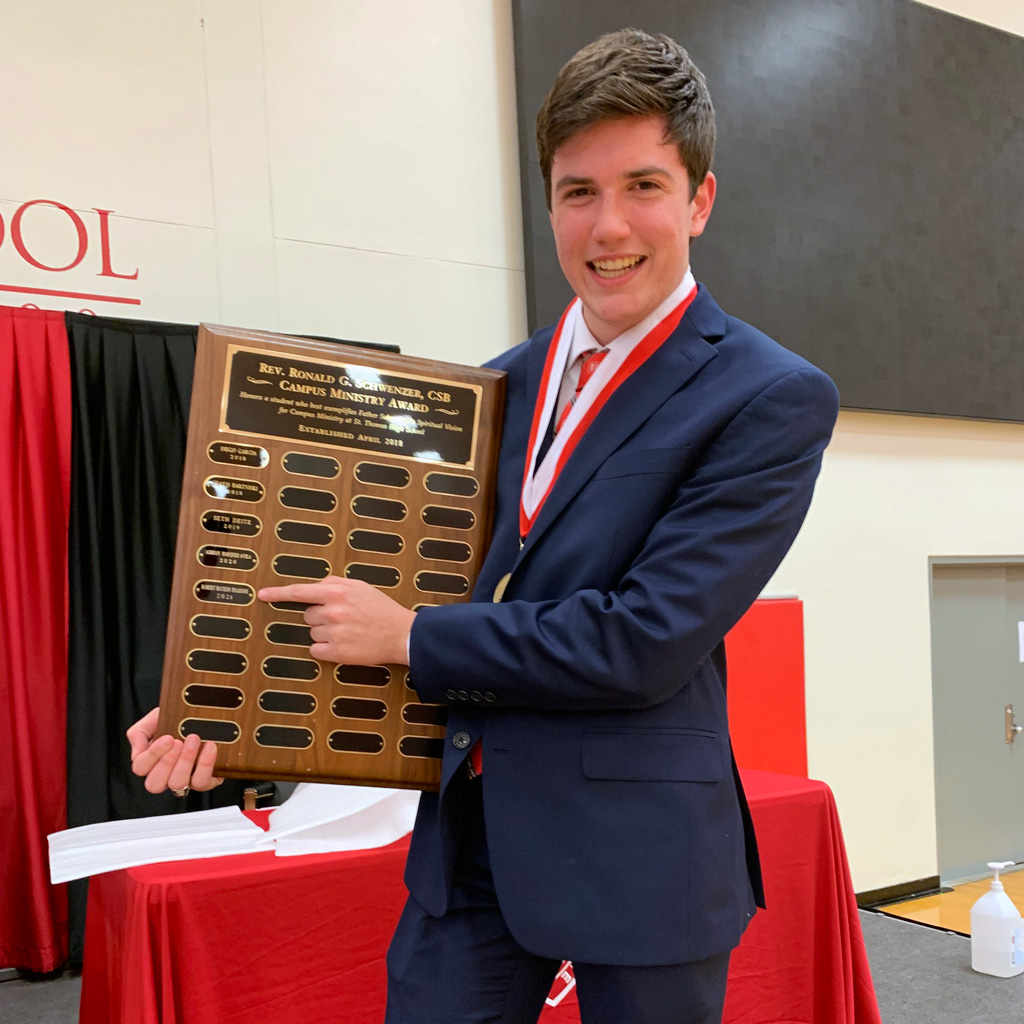 Diamond impressed teachers and administrators by exemplifying "the best of St. Thomas, embracing the brotherhood and academic dedication that sets our students apart. He has consistently shown honor and goodness in his dedication to Christ and the practical application of daily faith, whether orchestrating the distribution of more than 4,000 homeless care packages or proposing a detailed Hurricane Eta recovery effort for Lake Charles. His influence will prevail in his younger peers, and he will continue to serve Christ throughout his life."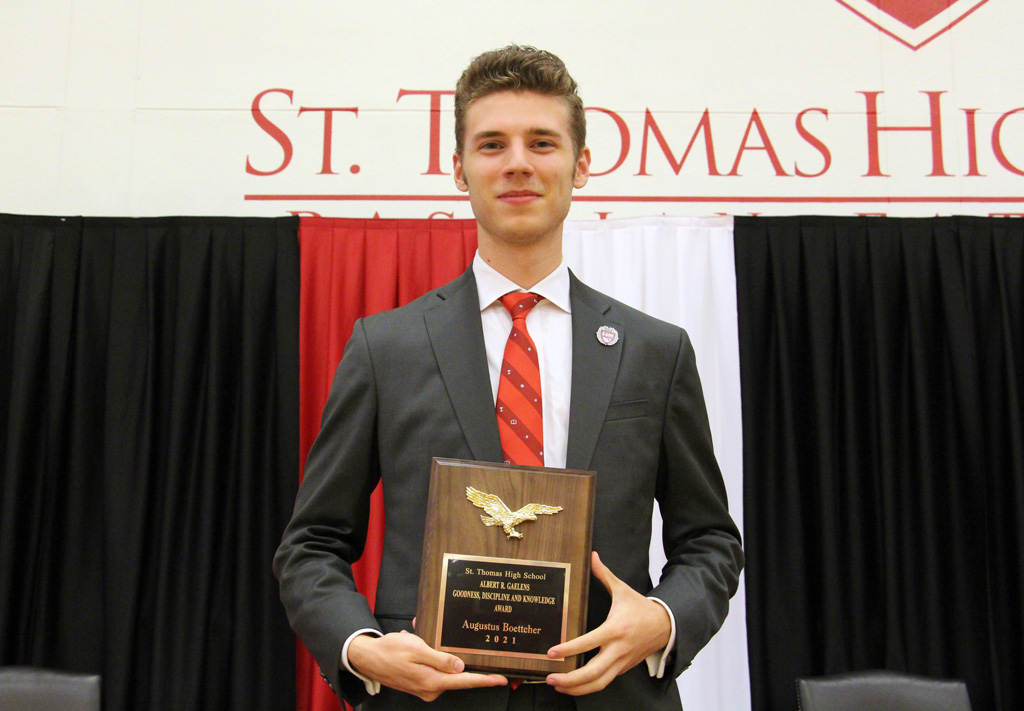 Gus Boettcher '21 was selected for the Rev. Albert R. Gaelens, CSB Award, given to the senior student who best embodies the school motto of Teach Me Goodness, Discipline, and Knowledge. The 21st principal of St. Thomas executed a variety of roles on campus for a quarter-century before retiring in 2007. Seniors are nominated by their peers for this distinction and the faculty then votes on those receiving the most nominations.
The student body vice president was said to display the GDK pursuits not only through academics but "student government, National Honor Society, speech and debate, and theater during the previous four years. "A natural with people" … "always enthusiastic and engaged" … an example of "grace and humility with a spirit of service" … "an honorable model for future men of St. Thomas."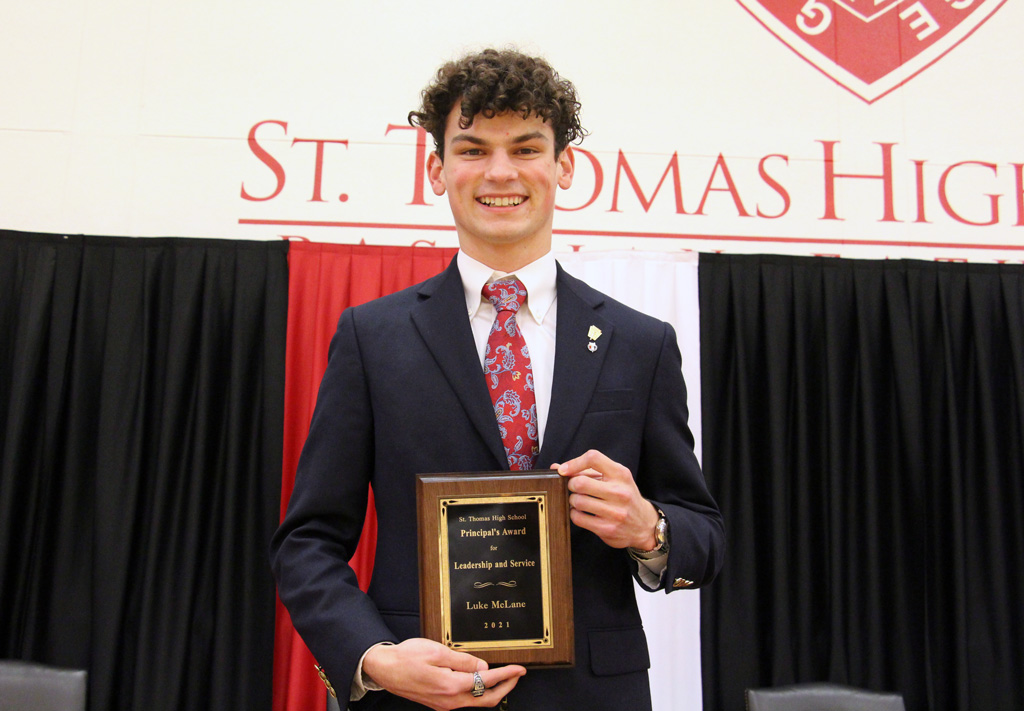 The Principal's Service and Leadership Award was given to Luke McLane '21. The student body president led his fellow students during the pandemic with "hope, humor, enthusiasm, and action" … "spared nothing in his determination to make this academic year the best it could be" … "advocating for student events so that all students could experience the full scope of what St. Thomas has to offer" … "focusing on what was possible rather than what could not be offered" … "leading with joy, humility, determination, and action."
Robust Scholarship
The National Merit Program previously announced that Zach Bryant '21, Dylan Michaels '21, and Zachary Voltz '21 had earned finalist acclaim in its 66th annual scholarship program. The three quintessential scholars represented among the top one percent of scores taken nationally from the PSAT. Noah Mims '21 qualified as a National Merit semifinalist, raising the number of elite St. Thomas students who reached at least this phase in the nation's long-standing academic competition to 34 since 2010.
Adam Gensheimer '21 and Roman Ochoa '21 were both named as esteemed National Merit Commended and National Merit Hispanic Scholars. They joined Commended Scholars Boettcher, Travis Cummins '21, Jacob Hulvey '21, Raphael Mamaradlo '21, Creighton Ward '21, and Johan Webster '21. The bevy of National Merit Hispanic Scholars also included Andrew Balance '21, Diego Garcia Nunez '21, Vince Lee '21, Benito Moreno-Garza '21, Michael Requenes '21, Thomas Valdes '21, and Bishop Yokubaitis '21.
Yokubaitis and Ochoa each received the Alexander Briceño '02 Endowed Scholarship which is awarded to two graduating seniors every four years. The gift was created by the Briceño family to honor Alexander who died tragically in an automobile accident in 2011. His legacy lives with a special award of $20,000 a year for four years. Applicants responded with an essay prompt and were ultimately chosen winners by the Briceño family.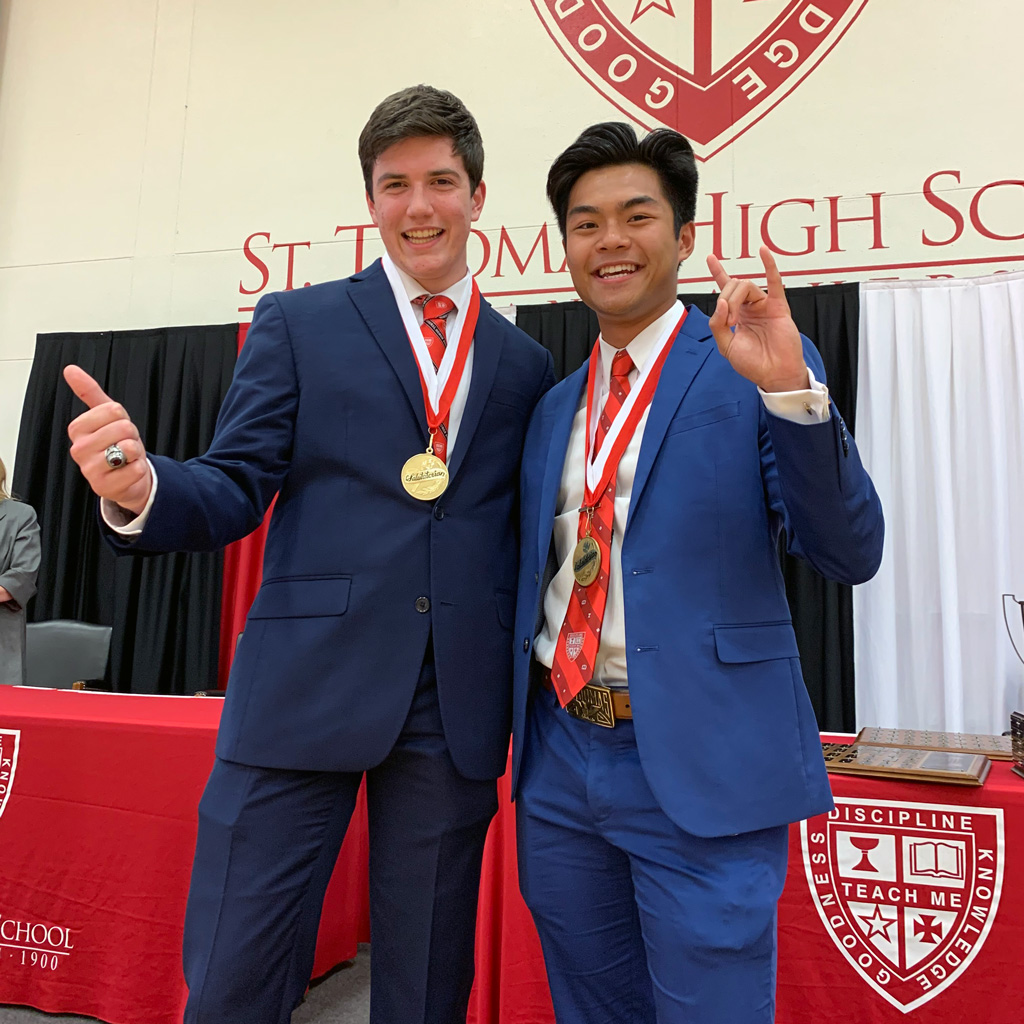 The valedictorian Pham and salutatorian Diamond gained permanent membership into the prestigious St. Thomas Club – champion scholars with a minimum 4.0-grade point average for seven consecutive semesters. That exclusive group now also admits Boettcher, McLane, NHS treasurer Bryant, Cummins, Gensheimer, Hulvey, Lee, Mamaradlo, Michaels, Moreno-Garza, Ochoa, Requenes, Valdes, Voltz, Ward, and Yokubaitis along with seniors Evan Benavides, NHS vice president Brady Bourgoyne, Arthur Clarke, Christopher Guzman, Aidan Kelley, Leonardo Morales, Luis Reyes, Will Rizzo, Aaron Schlosser, Chris Tan, and Zach Wilson.
Benavides is the NHS secretary and earned select distinction in an impressive series of departmental including AP Calculus AB, AP Biology, Advanced Sacred Scripture, and Fine Arts Drawing 2, while Brett Koehn '22 also gained plaudits in AP English Language, Creative Writing, Advanced Mandarin 3, and Introduction to Journalism.
Elevating learning and yielding insights. Developing critical thinkers, strong communicators, and ethical leaders. Discovering passion, path, and purpose. The St. Thomas Catholic Basilian intellectual tradition in full force.
Catholic. Basilian. Teaching Goodness, Discipline and Knowledge since 1900.