A line drive RBI single from center fielder Max Chung '21 (UT-Dallas) broke a 1-1 tie and keyed a four-run sixth inning to give St. Thomas a 5-1 decision over St. John XXIII at Fr. Wilson Field to clinch the outright district championship in the third season with head coach Adam Massiatte.
Catcher Vincent Ori '21 added a sacrifice fly and the soaring Eagles (18-10-1, 9-2) took advantage of a two-run error to back the shutdown pitching of Colin D'Elia '21 and Grant Stringer '21. The two combined for nine strikeouts, permitting only three hits and no earned runs to seal the three game series sweep.
Previously flame-throwing Will Rizzo '21 (Texas A&M) cruised through another commanding complete-game performance while D'Elia and right fielder Peter Corbett '21 each drove in a pair of runs as Eagle Baseball crushed St. Pius X 8-3 at Fr. Wilson to stake at least a tie for the title.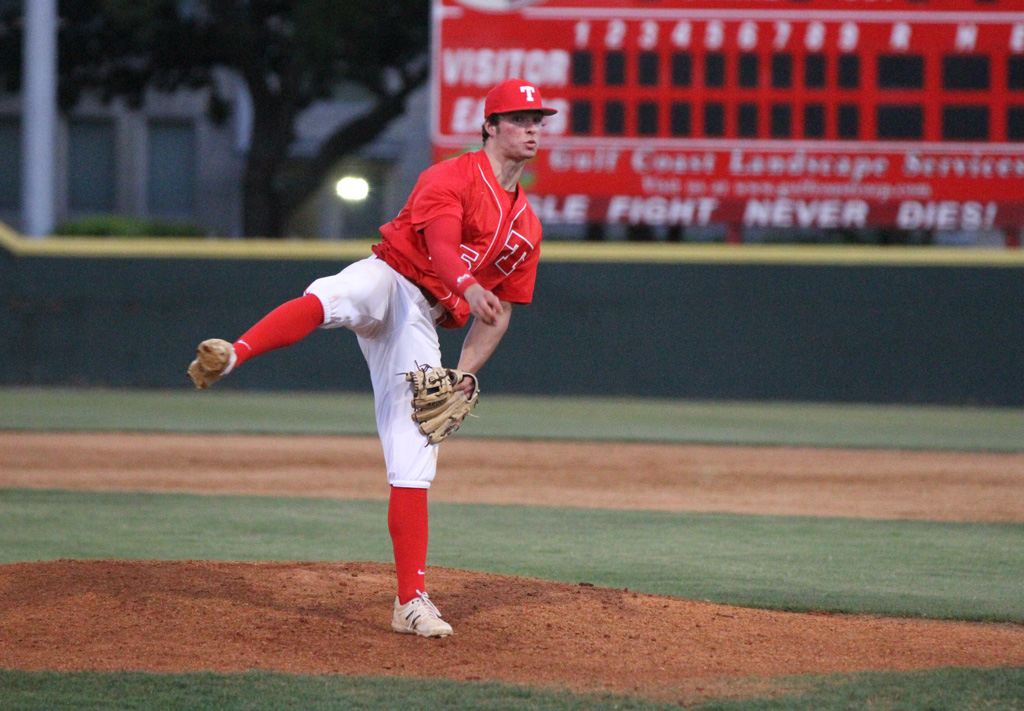 Rizzo (112 pitches, 66 strikes) powered through nine strikeouts and was touched for only two earned runs. An avalanche five-run first inning provided more than enough support. The big blows were D'Elia's RBI to right field and a two-run single to left from Corbett who racked two hits, two runs, and two stolen bases to go with the run production.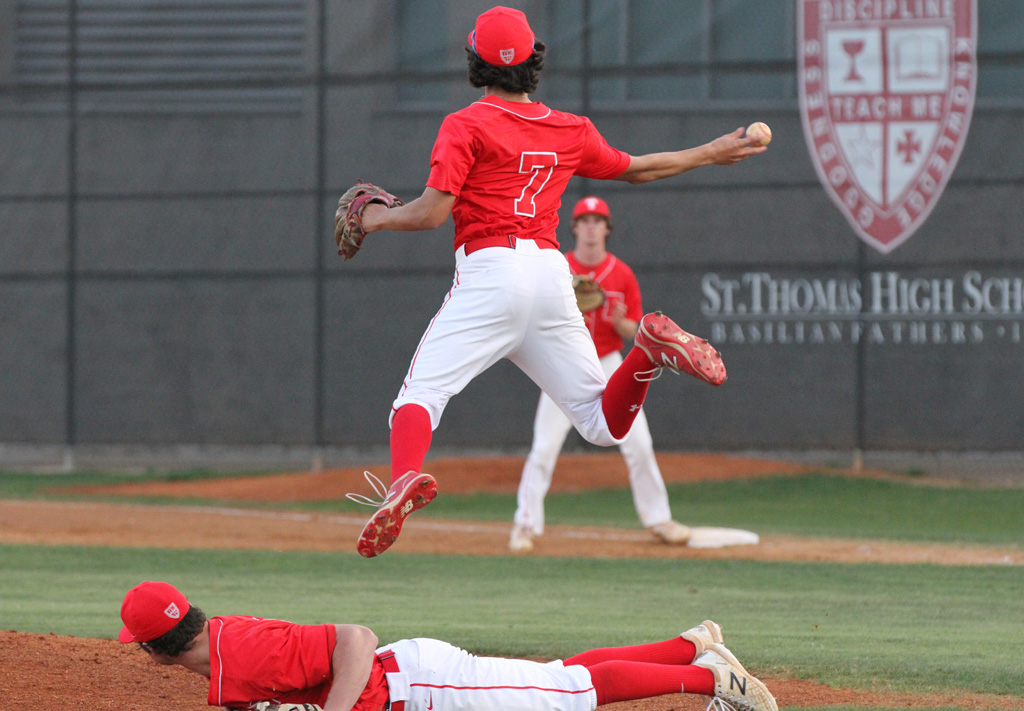 The recent St. Thomas surge included a convincing three-game smash of Beaumont Kelly Catholic who were outclassed and outscored 30-8. D'Elia knocked in two runs and tossed three innings of two-hit shutout relief in a 10-0 5-inning pounding to wrap another season series.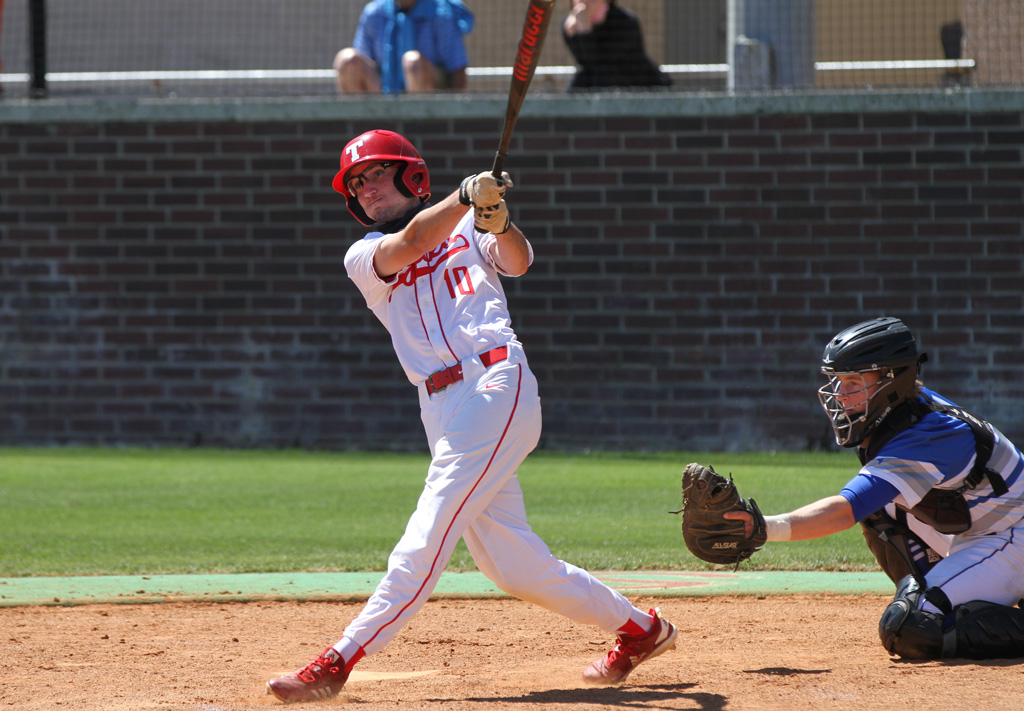 Eagle Baseball previously defeated TCL with a dramatic 3-2 road verdict on a ninth-inning RBI single from shortstop Eddie Villeges '21. The Tuesday night final completed a suspended contest from Monday and ended with D'Elia retrieving an errant throw to first base and gunning down the potential tying run at the plate to seal the outcome.
Rizzo set the stage pitching at his breathtaking best. The scorching right hander (87 pitches, 55 strikes) struck out 12 in five and 2/3s shutout innings while allowing only three hits and three walks. The game was stopped due to threatening weather.
The victory continued a torrid pace for the Eagles, out-muscling their opposition 66-26 during the 8-2 stretch. Ori drove in four runs while Rizzo and Stringer combined to allow only one earned run as Eagle Baseball collected back to back wins over SJXXIII, 5-1 and 10-2.
Rizzo (110 pitches, 74 strikes) struck out eight dealing into the seventh inning on the road. Two two-run innings staked Rizzo with Ori delivering a sacrifice fly in the second and a sharp RBI single in the fourth. Third baseman Jacob Cueva '22 also rocketed a double to score Corbett.
The Eagles immediately secured the follow-up contest at Fr. Wilson. They led 5-0 after two at bats and doubled their total with a five-run fifth. Ori and left fielder Braydan Salinas '23 each knocked in two runs while Corbett, Chung, and catcher Bradley Batterson '21 stashed RBIs in the runaway. Stringer cruised through five innings (82 pitches, 48 strikes). He faced only 21 batters and punched out six. Chung tossed two scoreless innings of relief with two strikeouts.
To open the district race, D'Elia had set the stage in the 8th inning for the game-deciding run and Rizzo followed with a scintillating shutout as St. Thomas defeated Kelly in consecutive outings.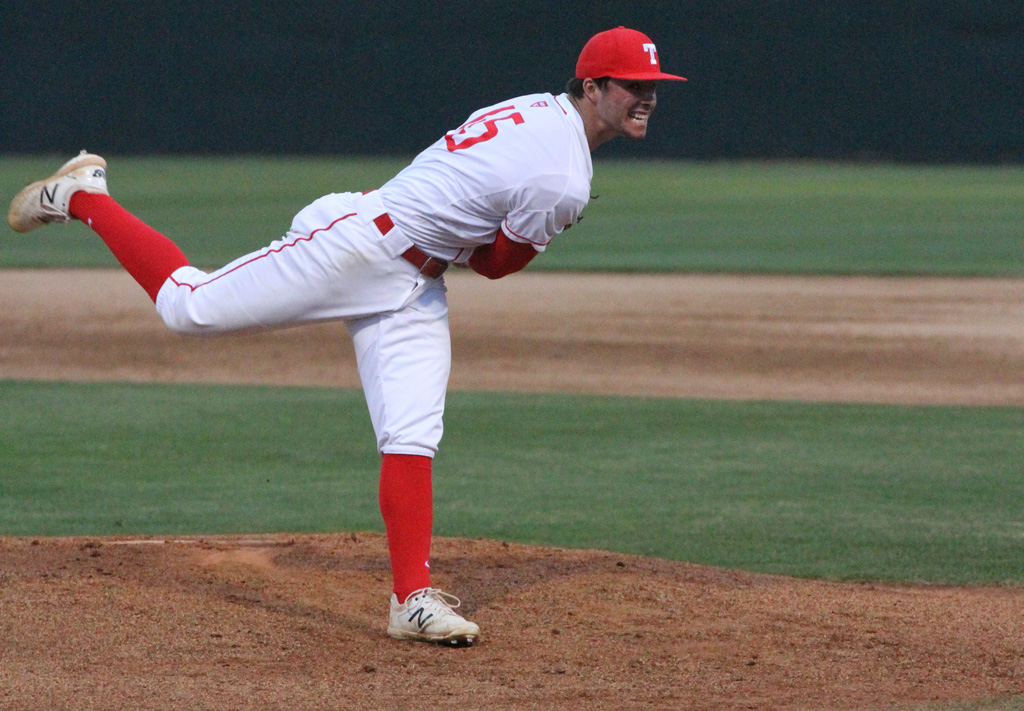 Rizzo (73 pitches, 46 strikes) punched out eight and was touched for only one hit over five innings at Fr. Wilson. The bludgeoning support started with a four-run assault first inning and an 11-0 avalanche margin after three.
Ori and catcher Batterson combined to drive in four runs. Stringer and Chung each delivered an RBI. The Eagles also took full advantage of four walks and three Kelly errors for a third straight victory.
In the series opener, St. Thomas built a 7-0 cushion with Batterson racking an RBI single in a three-run first inning and a two-run base hit in the third to score Ori and Corbett. Third baseman Drew Tolson '21 (Beloit College) added a clutch two-out RBI for the emphatic count before requiring the extra inning rally. Villegas scored four runs and Chung contributed two hits plus an RBI.
Eagle Fight Never Dies!