As the pandemic bore down in March 2020, educators responded with heroic efforts to haul the profession's use of technology into the future. The result was a coerced experiment in distance learning and pedagogical improvisation.
Virtual classrooms may have left much to be desired, as a screenful of boxes oftentimes offered only a dimmed sense of who was on the other side, but the St. Thomas educational mission remained and moved unflinchingly forward.
In the Socratic dialogue Republic, Plato famously wrote that "our need will be the real creator." And the essential needs within the Eagle academic community during the tumult of COVID-19 brought the opportunity for wider change and an untimely, unwanted invitation to pursue new directions.
Now.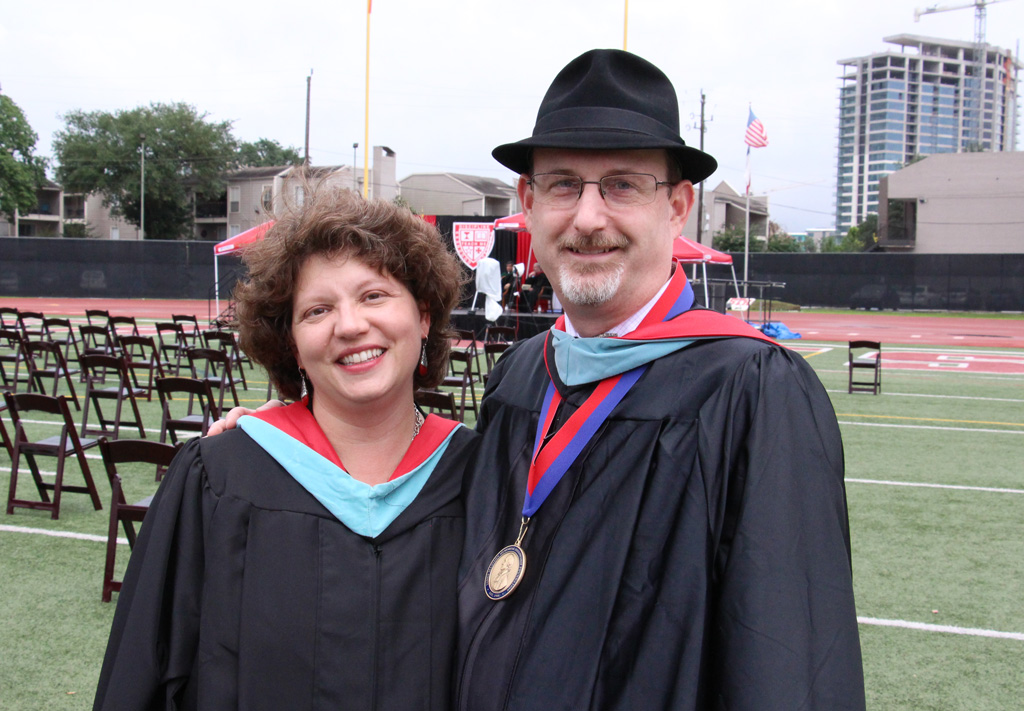 Chrissy and Phil Gensheimer have totaled nearly 50 years of combined leadership experience within the St. Thomas faculty. Before the COVID-19 onslaught, Chrissy also expanded her responsibilities to include dean of instruction, working with Assistant Principal Mary Criaco in the academic program in various areas such as course selection, admissions, and on-boarding new parents.
Claudia Mundell was in the midst of her sixth academic year in the St. Thomas English department when the coronavirus roiled the country and rocked individual worlds.
Their first-person accounts offer insight into the reality of distance and hybrid learning, the myriad of trials and tribulations that required vision, action, resolve – and an endless navigation of web logins. The perspective includes the strains, pains, and gains of their senior sons. Adam Gensheimer followed his older brother Josh '18 to St. Thomas and will next attend the University of Tulsa.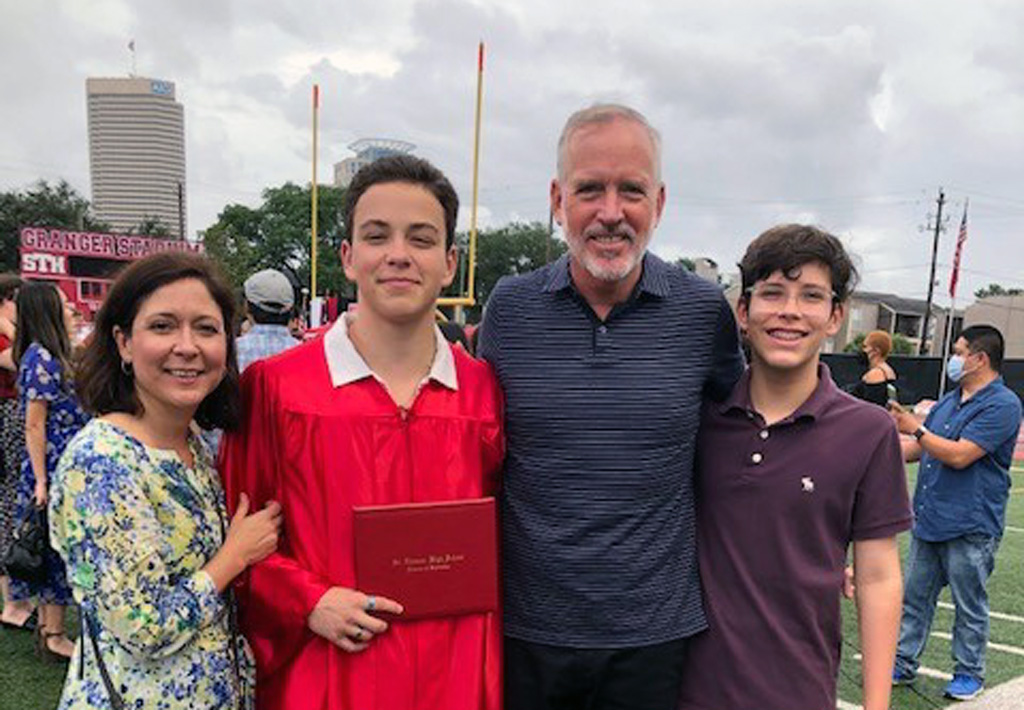 Joe Mundell is opening a path for his younger brother Ben, a seventh-grader at St. Theresa Catholic School, and is advancing to the University of Houston.
Phil Gensheimer (26th year at St. Thomas):
Once the outbreak took effect, we were confronted with dramatic changes with a large learning curve on technology, student management, and adopting new materials. The immediate challenge was keeping remote students engaged and on topic. I knew I had to hold their attention when I most needed their focus. The first few weeks of the spring were rough. It was assignment-driven, breaking into group discussions. There were mistakes but you adjusted and moved forward.

Chrissy Gensheimer (20th year at St. Thomas):
I'm not a tech person so this was an immediate crash course in transitioning to the remote model. I had never used Microsoft Teams or Zoom. I was uncomfortable but learned how to implement it. All my teaching plans had to be completely reworked. Nothing that I utilized before was directly applicable. I worked more hours on actually teaching than I ever have.

In the afternoons, I switched gears to work on bigger picture objectives with the senior staff. Just the matter of mass scheduling demanded four-five times more effort and hours to meet the various needs. Freshman students and parents had no previous high school experience to draw from. It was a relentless cycle of adjustments.

Claudia Mundell (seventh year at St. Thomas):
I admit I'm somewhat old school, pen to paper, and to make an almost overnight transition to a fully digital world was a stiff challenge. It demanded utilizing the laptop and desktop computers simultaneously, incorporating the document camera, an array of tech variables I never had to rely on during traditional settings. At that point, my comfort zone was irrelevant. I had a deep dive with (assistant director of technology) Uriel Cortes, then summer workshops on campus to custom particular needs – Google Classrooms, Microsoft Teams, Zoom, whatever fit my students' needs the best. I had to embrace the new world on all the various platforms. Same for my students. There were no excuses.
The coronavirus pandemic surged into a summer of discontent and fall of further disconnect as quarantine fatigue grew in proportion. St. Thomas launched the new semester on August 17 with an advanced version of the remote learning delivery system that concluded the previous cycle. And the campus remained essentially closed. In-person classes resumed September 14 with the transition to the Eagle Hybrid Learning model that had students returning to campus for the first time since the mid-March suspension.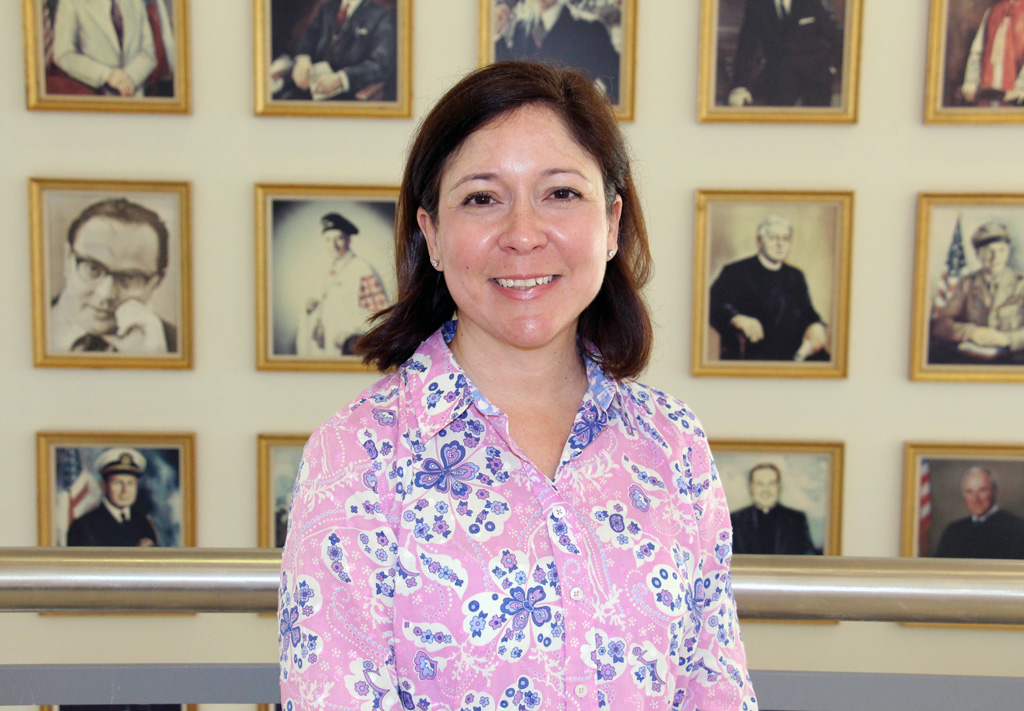 Claudia:
For six years I taught English I (freshmen). In 2020-21, I moved to two sections each of Advanced English II (sophomores) and AP Literature (seniors). I had one clean semester before the pandemic. My particular curriculum plugged into a Zoom or a hybrid model but the challenge was making sure the students were staying with me in the class session. It's them and the text. In a classroom setting, I know who's attentive, not so much with a screen and all I see are multiple heads. In the hybrid, it was funneling enough attention to the students at home as well as those here in the room.
For both Mundell and the Gensheimers, career and family care were suddenly conducted under one roof. Working at home meant working more than ever within the echoing din of each other's zoom rooms. And the persistent question forever lurking – Are you muted?
Chrissy:
We had four people in our home all draining the WiFi at the same time for hours. Phil was in the dining room with his mission control set-up. I was in a breakfast area. Adam would leave his room for the home office. And Josh would work from his bedroom. Somehow we managed to stay out of each other's way long enough to be productive.

Phil:
I like to control my environment. I had two monitors, built a stand so my laptop camera would be face-height, added an extra keyboard, and customized a bookshelf for materials. Everyone had their space but there were days when Chrissy and I would operate out of St. Thomas just for a change of scenery and to relieve some of the internal traffic.

Claudia:
I had a high school senior at home. A seventh-grader at home for periods because of quarantine protocols. And my own commitments. It wasn't the most practical teaching space. Mentally, I had to leave the house for my classroom at St. Thomas to create as professional an environment as possible. We seemed to be adapting and revamping every day, every week.
It was one proposition in the spring of 2020 when teachers moved online with students they already knew, who knew them, and who knew one another. It was another in a fresh academic year when so many were strangers to one another.
Among the avalanche of sizable hurdles to clear was re-creating the rapport teachers naturally had in the classroom, where they would read signals regardless of how small for clues to comprehension and mood. Emotional connections matter because they facilitate learning, motivation, and belonging – all for successful student outcomes.
Phil:
I felt some frustrations as we progressed deeper into the fall semester. It was much more difficult to get to know my students, that familiarity was not nearly the same. In that first spring, we had built some common ground during the fall. I knew them, knew their work, knew their cues. When we started in August (of 2020), some students had a tough time working online and it was extremely difficult to identify the root causes.
The Gensheimers and Mundell quickly understood the value of students in shared class time working together, forming groups to work on activities, breaking off into smaller chat rooms, or holding group discussions. And they proceeded in lockstep with their St. Thomas colleagues in refusing the temptation to narrow their lessons or limit their content to the essentials. They covered the same amount of rigorous material online they once did in the classroom.
Phil:
When we moved into the fall semester, there was much more emphasis on live instruction. I was fortunate that I largely had high-performing seniors in Advanced Economics and AP Government. They understood the worth of the curriculum and were consistent in doing their business, bringing depth and details to discussion boards. The more they carried conversations, the less I talked, and the more I measured their buy-in.

I also had a United States history class for juniors in the fall and a government course in the spring with a legal studies elective. Some of that material I had not taught in years. The approach had changed from chronology to thematic. I invested more prep time in that junior history course than the other classes combined.

Claudia:
My AP students and advanced sophomores all responded and worked as hard as in previous years. They owned an internal desire and motivation to invest whatever effort was required to reach the goal. So many times during remote, students would reach out and ask if they could stay on a few additional minutes for questions, or Zoom later. They showed a self-advocacy that wasn't as evident in person. That attitude and discipline were remarkable. And their cooperation and results gave me confidence in moving forward.

Chrissy:
I was fortunate to have three sections (of AP U.S. History) with upperclassmen who had an intrinsic motivation. I was still forced out of my box to incorporate new ideas, become more creative to reach students at home and in the classroom in the same way at the same time. I shared some of the stress the students were experiencing with so many moving parts. How to test remotely that was a fair assessment of what the students learned? How to test remotely and in the classroom simultaneously that was equitable to different groups of students because you cannot give them the same test?

I saw that it was much harder to measure how much the students were learning. I couldn't rely merely on traditional models, that wasn't going to tell me what I needed. Every other day I customized emails to each student on the upcoming agendas, what was due, constant reminders. There was never a day to relax.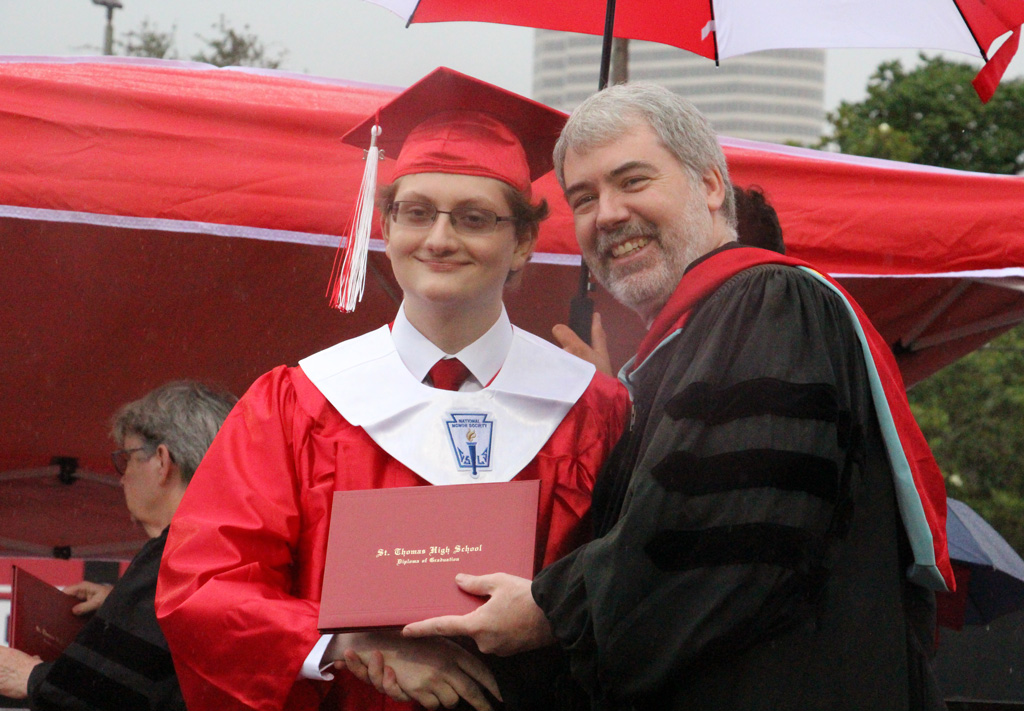 Adam Gensheimer was undaunted in completing an acclaimed academic career – National Merit Commended Scholar, National Merit Hispanic Scholar, a two-year member of the National Honor Society, and set crew coordinator within the prestigious St. Thomas Theater program. Joe Mundell overcame the periods of social isolation and emerged as a vibrant senior leader in a diverse series of student initiatives, including ranking as a top-10 raffle ticket seller (nearly $9,000) in the 2021 Round Up event that produced a record-smashing $595,145 for St. Thomas tuition assistance.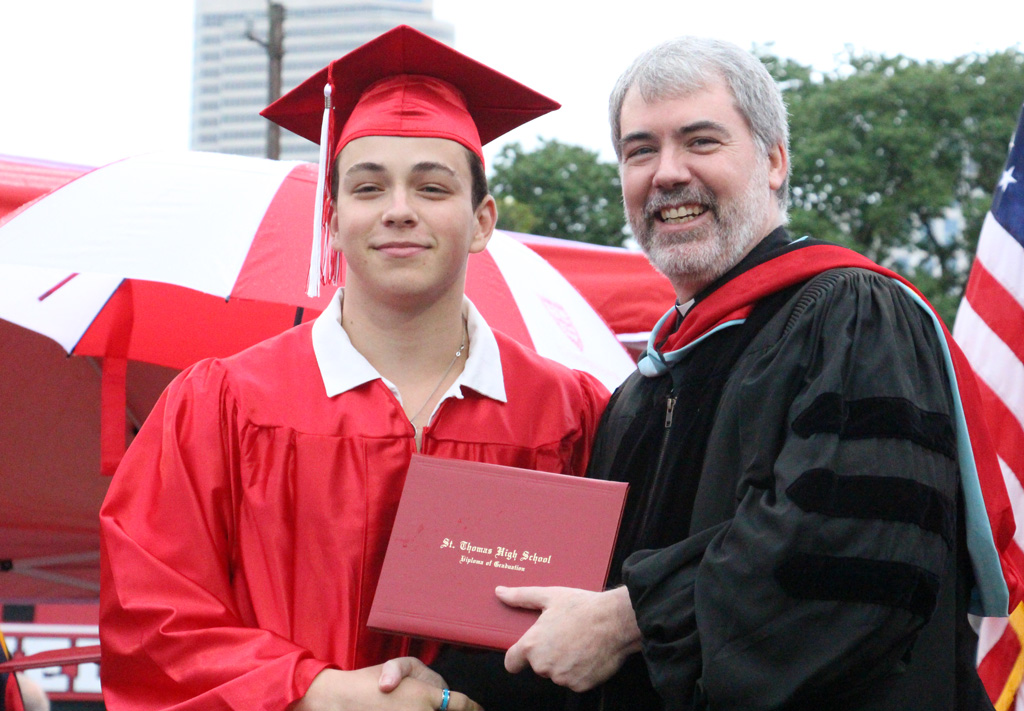 Claudia:
Joe and Ben both proved to be so resilient. And honestly, they were an inspiration for me. They maintained optimism that I was losing. As the pandemic restrictions continued with seemingly no defined end in sight, I had gone from hopeful to disappointed. I didn't see the 2020 seniors graduate. I didn't see my freshmen in the fall. And then we started (the academic year) in remote, then hybrid, then back to remote to close the fall and open the spring semesters. I was asking myself, when are we really going to be back? But Joe and Ben just rolled and didn't fight it. They always sensed it was going to be OK. I can't describe what their example meant to me.

Phil:
Adam took everything in stride. His personality is like his mother, very task-oriented. He'll do whatever is demanded and do it well even if it's something he doesn't like to do. He's comfortable in his zone and for that reason, I think he performed and adapted better than most high school kids.

Chrissy:
I knew Adam was a strong, organized, thoughtful young man. I knew that before COVID but his response during the ordeal was a true confirmation. He was always diligent and he again rose to whatever challenges.

Phil:
What I do regret for Adam was the restrictions on his college search. We planned to visit campus last spring and into the summer. That all blew up because of the lockdowns. There were several destinations I believed would have been good fits. But the only way to evaluate was virtual tours and that didn't prompt a spark of interest. He decided on Tulsa and is excited about that choice.
St. Thomas welcomed its student body back to campus in January to resume daily in-person instruction. The percentage of students electing to remain in remote learning dwindled to a single-digit percentage by mid-semester. As the 2021 academic year reached its finish line, life had slowly inched toward more normalcy with the arrival of vaccines and the lessening of social distancing. The majority of what was accomplished within and outside the strict St. Thomas academic structure was due in great part to the extraordinary efforts and sacrifices of an administration, faculty, and staff. Their exhaustive hours and collective ethic were required to respond to the turmoil forged by the pandemic, all while managing personal lives, childcare, eldercare, and homeschooling.
Phil:
It certainly wears on you. It's a slog. The most challenging cases were the students who didn't respond to the remote models. I could tell they weren't involved. In a normal class situation, I would go directly to that student and bring them back into the group. But in a remote setting, that option is unavailable. Some students didn't have the discipline to take care of their business and were literally out of my reach.
The endless anxiety created by the pandemic caused unmeasurable disruption and disorder, but the chaos also provided countless opportunities to reflect on and appreciate how uniquely blessed and positioned is the St. Thomas community. Eagle scholars were driven to develop and improve, to relate, to take a stand. The institution found innovative strategies to advance in the face of the unimaginable, to pursue wisdom in academic ventures, and to unite in fortifying a stronger institution where all may thrive and succeed.
Claudia:
I was reminded that I love learning and learning literature. And I'm a problem solver. During the last weeks of the spring semester, I was excited every day to see students in class, in the hallways, and around each other. There was an appreciation for personal interaction, and to some extent, re-learning those abilities, face to face, eye to eye.

Chrissy:
Through it all, I discovered that I was meant to be an educator. I love working with young men. I had to find ways to connect with them that were unusual but it proved to be incredibly gratifying. This group of students from 2020 and 2021 will always be a special group for me because of our shared experiences and what we overcome together.

Phil:
When I first arrived at St. Thomas (for the 1995-96 academic year), my plan wasn't necessarily to make teaching a career. I had great enthusiasm for the material, related well to people. I was young, single, out of college. The routine allowed for travel during the summer, camping and hiking. I decided to invest, see how it developed, but I wasn't convinced this was the start of a 30-year journey. When I look at what we as a professional group accomplished through the pandemic, there's great pride in knowing we did the absolute best we could for the benefit of the students. And that is always the sole purpose of what we do.
Simple strategy. Sublime execution.
Catholic. Basilian. Teaching Goodness, Discipline and Knowledge since 1900.