Whatever its impact, the pandemic didn't derail them. Or defeat them. And it certainly didn't define them. The 121st graduating class from St. Thomas wouldn't let it. And neither would their campus community.
The relentless Class of 2021 emerged triumphantly. Through the COVID-19 shutdowns and lockdowns and the forced migration to remote learning. Through hybrid academic models and social isolation and unending uncertainty. Through the Great Texas Blackout throwing much of the state into the dark and cold. Their prevailing journey through the endless epoch to diploma day required steadfast resilience and will, unwavering resolve and faith.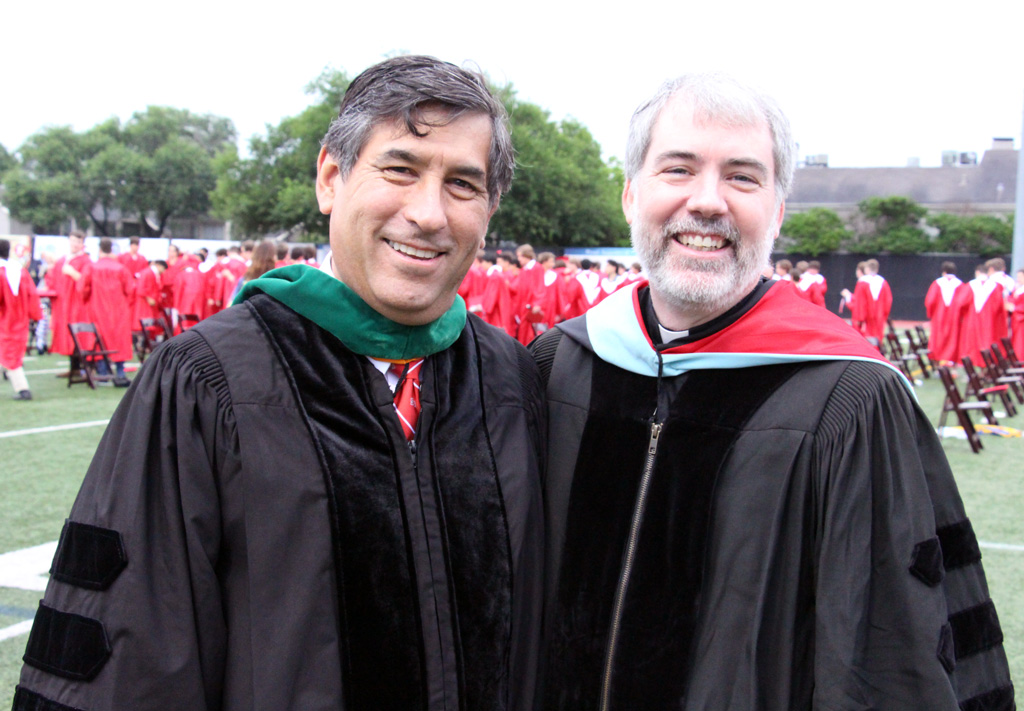 The St. Thomas commencement celebration welcomed an exuberant audience of family and supporters assembled in Granger Stadium under overcast skies. President Fr. James Murphy (above, right), CSB, Principal Dr. Aaron Dominguez '96, Assistant Principal Mary Criaco, and St. Thomas Board Chair Hector Herrera '79 (above, left) led the salute for exceptional academic fulfillment. The 151 graduates overcame unprecedented trials to be awarded nearly $13 million in merit-based scholarships to renowned colleges, universities, and academies throughout the United States.  Most importantly, the freshly minted Eagle alumni elevated to embody the value of a formative college preparatory experience rooted in the Basilian ideal of Teach Me Goodness, Discipline, and Knowledge.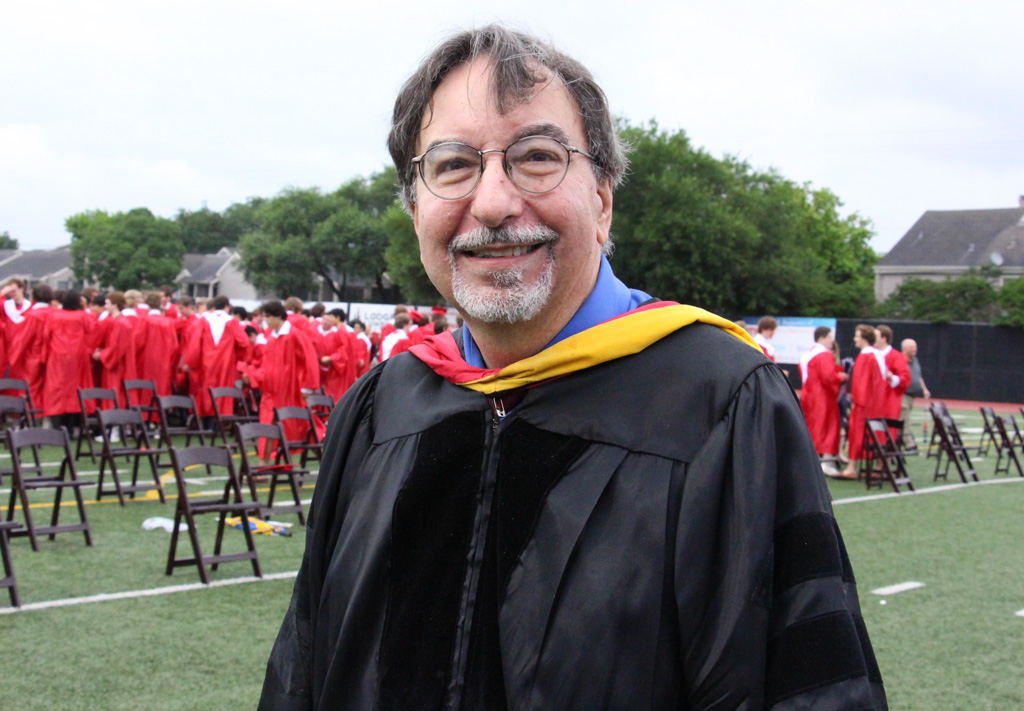 Words From The Wise
Acclaimed former St. Thomas faculty member Dr. Edward J. Marintsch delivered the keynote address. Drawing on his acumen gained from more than three decades in academia, Dr. Martintsch related a series of invaluable habits for the Class of 2021 in crafting future success with references to Albert Einstein, poet and civil rights activist Maya Angelou, rock-drilling expert Greg Hall – and Woody Allen.
Consider your words. Their impact may be far greater than you ever imagined. Set your priorities. … If you follow what you know is right, people will value you and positive results will follow. Constantly question, not only others but yourself. Positive thinking and belief in yourself attracts positive outcomes. … If you're going to develop and advance, you cannot dwell on honest mistakes. If you're not failing now and then, it's a sign you're not doing anything innovative. No matter how smart you think you are, remember that every person you meet knows something you don't.

Every year St. Thomas men have left (this campus) prepared, not only academically but with a sense of right and wrong. It's one of the school's defining characteristics. Each of you holds a special talent. Discover what you're passionate about. I conclude with a remark from (entrepreneur and business magnate) Elon Musk: 'There have to be things in life that people find inspiring and make life worth living.' Class of 2021 – pursue your passions. Inspire others. And change the world.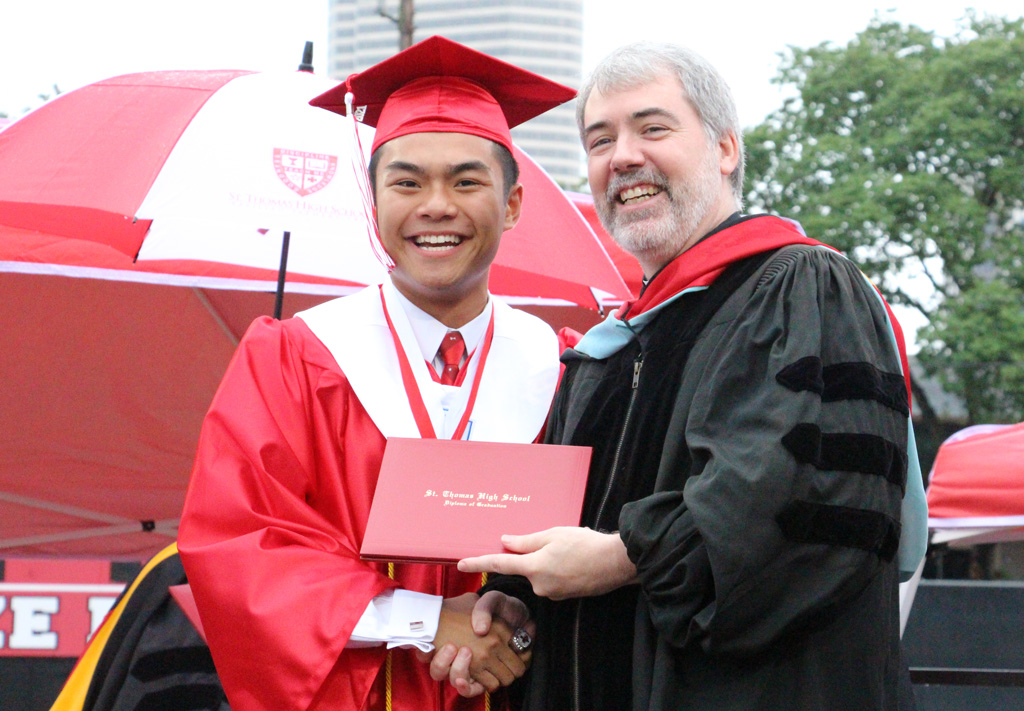 The Best of the Best
Valedictorian Patrick Pham was accepted into the Canfield Business Honors Program at the University of Texas at Austin after crafting a stellar career arc spiked with wide-ranging and roaring achievement. Among the myriad of successes, Pham was a nationally recognized speech and debate performer gaining significant distinction in the most prestigious competitions in the country. He served as president of the St. Thomas Chapter of the National Honor Society to cap his two-year membership and is a permanent member of the St. Thomas Club – elite intellecturals with a minimum 4.0-grade point average for seven consecutive semesters. Pham also received the 2021 St. Thomas Rev. Carl M. Allnoch, CSB Athletic Memorial Trophy for Excellence in Academics as a state champion contributor to Eagle Swimming as well as Track and Field.
The word valedictorian comes from the Latin vale dicere or "to say goodbye." The consummate St. Thomas scholar and ultimate showman delivered a sensational final farewell that captivated the audience with insight both rare and incandescent.
Pham conjured a milestone moment into manhood – going to the bank "without my mom." After providing the necessary information to open a personal account, Pham was informed that he was, much to his amazement, "a millionaire." He was instructed to peer into the computer screen that revealed a seven-figure total that rushed wonderment through his consciousness.
"Thirty 30 million, 500 thousand and 54. I'm rich! I'm a millionaire! But as I looked at the amount a little bit closer, I saw the number ticking down. 'Hey, someone is stealing my money.'" Much to his dismay, Pham was informed that the account didn't reflect financial assets but rather a much more valuable currency – time banked for this life. Pham was advised that such a commodity was the most valuable because "it is the most finite, so spend it wisely."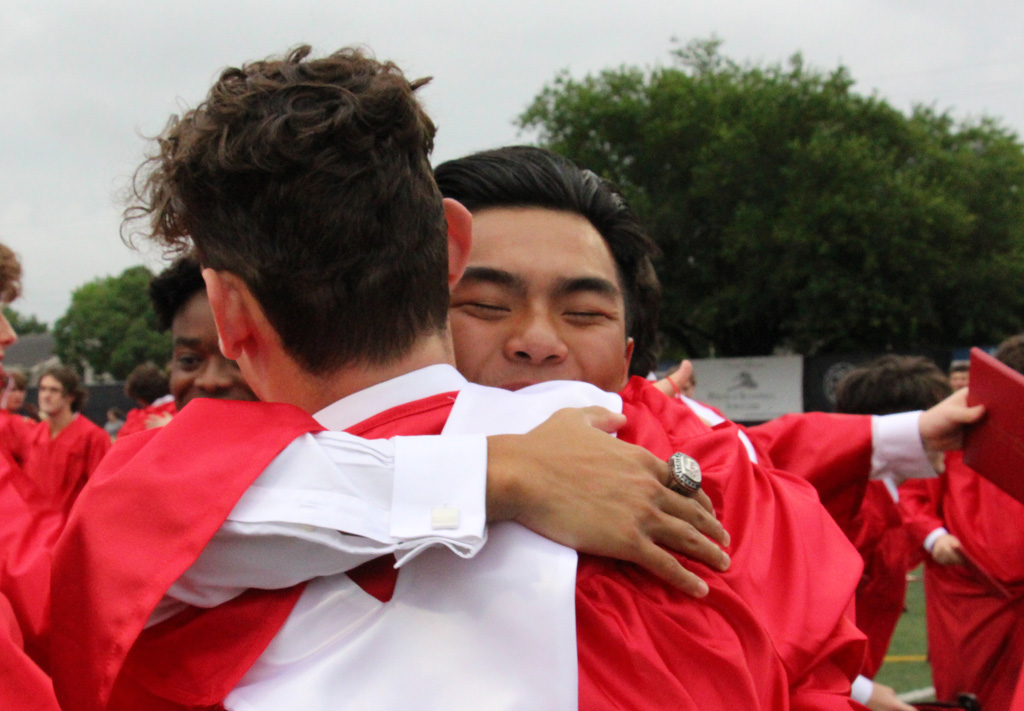 Pham then advised his Eagle brothers with signature oratorical style to "manage your time like it's your money. … You never know how much you have left. It turned out I had no real money to my name but I have what millions of people wish they had right now. More time. In that sense, we are all millionaires. Embrace every moment of the present because it is a gift. … You have a chance to live a life without regret. Chase it. Whether you're eight, 18, or 85, do it. Start that new career, ask that girl out, travel the world. The sand will start sinking regardless of what you do. Don't live with regret. Live with purpose. Chase that passion. Be someone. Be hungry. Be bold. Be great. Be inspirational. Be remembered. Be authentic. Be phenomenal. Be courageous. Be someone. Not just a footnote, but the headline. Be the person a younger version of you would look up to. There is not enough time in this world for you to be mediocre. So be – someone. And never forget to be kind. To be compassionate. To be grateful. At the end of your time, you will be able to look at your heavenly Father and say, 'I am proud of the life I have lived.'
"Class of 2021 – we are joining an elite company of alumni of St.Thomas High School. … We're all millionaires with millions of minutes in our pockets and a whole world of opportunity in front of us. Let's go do something special."
Pham and salutatorian Hayden Diamond were the highest-ranking members of their class based on the calculation of their four-year grade point averages. The two champion achievers shared NHS and St. Thomas Club distinction. Diamond received the 2021 Rev. Ronald G. Schwenzer, CSB Campus Ministry Award for most exemplifying the Man of St. Thomas motto of Faith, Service, and Leadership. He was accepted into the Honors Program at the Mays School of Business at Texas A&M University.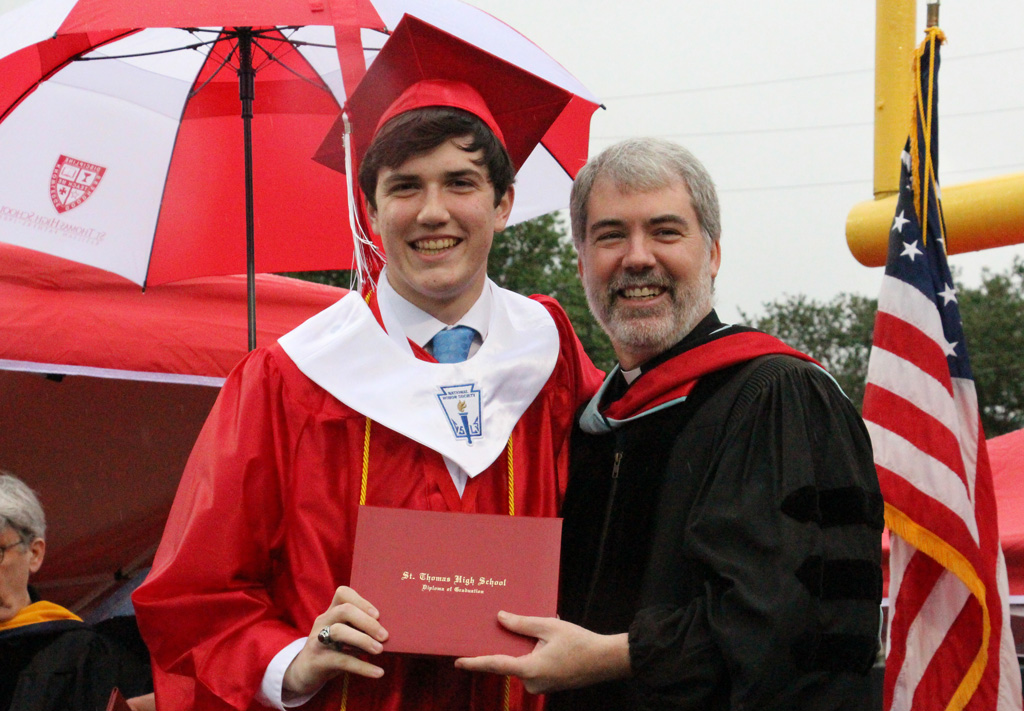 Diamond was introduced by student body president Luke McLane '21 as a "brilliant student, a devout man of faith, a best friend, and a brother. He transforms the learning environment and brings the classroom to life. He is truly a man of St. Thomas."
Diamond detailed a series of student experiences, all of which "made a specific impact on me, adding unique detail to who I am. The memories we make today are the people we become tomorrow. Those memories are the building blocks of our souls … and dictate who we are and where we go from here. So, let's create some good ones. Not just memories that cause us to laugh or think back to good times. Memories that build character, experiences that better ourselves … and form us into men of goodness, discipline, and knowledge."
Diamond is among more than 30 Eagle scholars entering Texas A&M with two others attending Texas A&M at Galveston. Eleven graduates will study at Texas Tech University, 10 at the University of Houston, and four at the University of Texas at Austin.
Onward and Upward
The Class of 2021 is also represented at a wide range of academic destinations including Baylor University, Southern Methodist University, Texas Christian University, Trinity University, The Catholic University of America, Clemson University, Louisiana State, Marquette University, New York University, Purdue University, Rice University, Syracuse University, Tulane University, the United State Naval Academy, and the U.S. Military Academy at West Point.
Lasting Identity
Collectively the Class of 2021 provided superior leadership to fuel yet another astounding Round-Up fundraising effort which produced a record take of nearly $600,000 in raffle ticket sales. The resounding total means Eagle students crashed the half-million dollar mark for the fifth consecutive year, raising the recent eight-year mark to more than $3.5 million. All monies are annually and always devoted to St. Thomas tuition assistance, a Basilian practice that dates for nearly a century.
One for the Ages
Perhaps more than any generation in recent memory, and not since the World Wars and Great Depression of the 1930s, has a graduating class had to overcome such trauma and adversity to reach such a moment. The trauma and adversity of global events swirling within the trauma and adversity of self.
Yet, through the hardships rose a sense within their campus community of shared responsibility and unity.  The Class of 2021 was forged in the fire of history to excel and lead. A host of dreamers and doers, pioneers and visionaries and change agents. More than graduates, they are thinkers living in curiosity and discovery, fortified by the shared qualities that bond the Eagle brotherhood – faith and integrity, ambition with humility, giving cause for optimism about the future during a still turbulent present.
[CLICK HERE FOR LEGACY GALLERY]
Catholic. Basilian. Teaching Goodness, Discipline and Knowledge since 1900.