For generations, St. Thomas has attracted scholars from across dozens and dozens of zip codes spread throughout the Greater Houston expanse in large part because a religious faith and ideals, not geography, defines its community.
Rigorous curriculum, a proven college admissions process, thriving alumni involvement, and prominent post-graduate opportunities are all distinctive St. Thomas selling points. But no objectives arrive at the expense of remaining true to the strengths of its Catholic Basilian bedrock and the teaching of goodness, discipline, and knowledge. Scholar-athletes comprise nearly 70% of the enrollment and are encouraged to integrate into the campus community, developing meaningful relationships with peers and an identity beyond the realm of sport.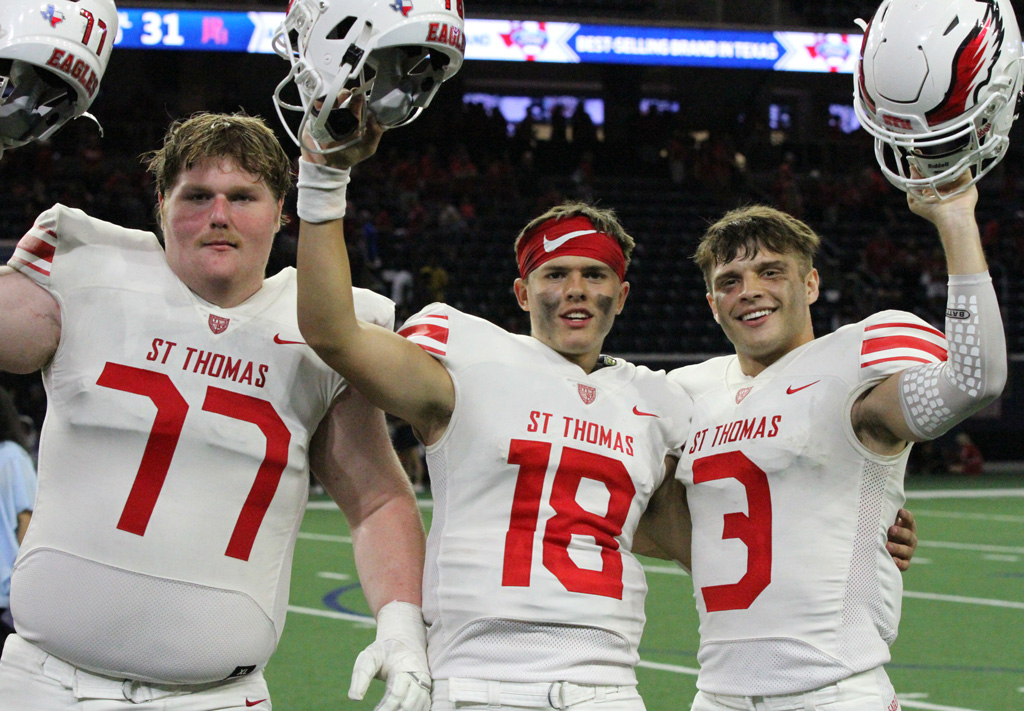 That dynamic ethos more than a century in the making made an exclusive invitation to help launch the inaugural Catholic Bowl a prime opportunity to be seized. The joint venture staged at the state-of-the-art indoor facility of the Dallas Cowboys included two other rising TAPPS powers and Little Rock Catholic from Arkansas. The marquee match-making was the genius of Patrick Steenberge, the founder and president of Global Football, a company that arranges for high schools and small colleges around the United States to play internationally. His supremely optimistic vision and exhausting due diligence with a small group of stakeholders brought the deal together.
Media technology has turned the loftiest echelons of the schoolboy gridworld into one big regional, if not national, neighborhood. Made-to-order neutral-site extravaganzas and live telecast/streaming battle royales routinely connect high-rep schools throughout Texas beyond the borders to California or Florida or New Jersey. But the Catholic Bowl was strategically crafted with a much stronger purpose – a cultural exchange that saluted genuine religious identity while celebrating faith, freedom, and football.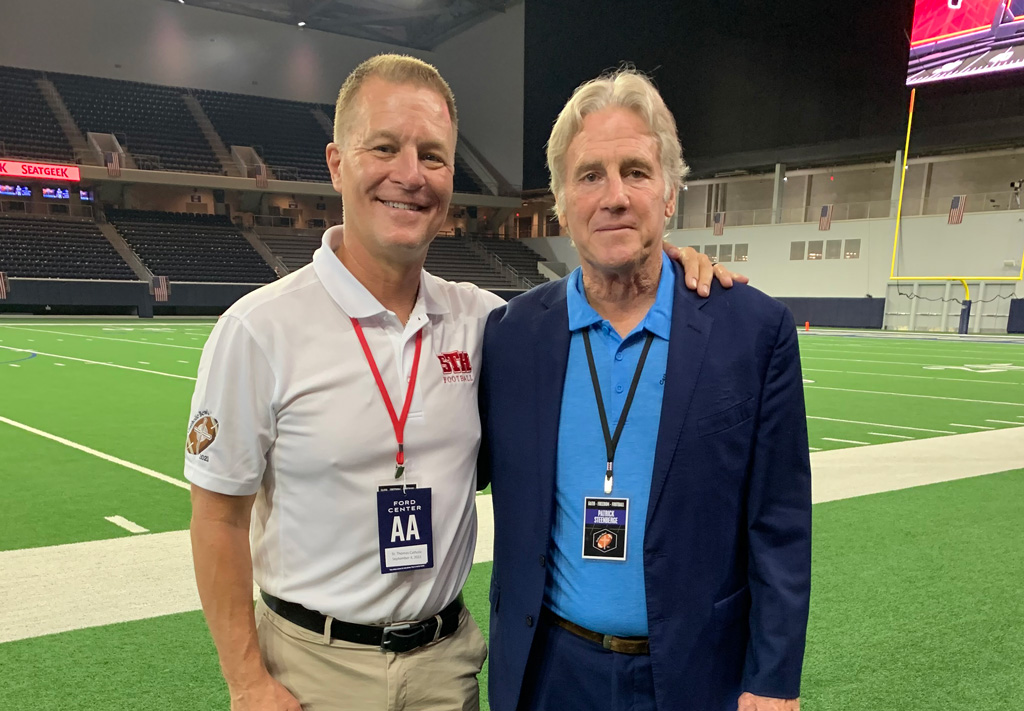 "I knew immediately the vast potential presented by this collaboration, and we are grateful and thrilled beyond words to have been a principal partner," Athletic Director Mike Netzel says. "Patrick and Global Football delivered above and beyond expectations to create a deepy memorable experience for all of us. 'More than a game' may sound cliche but it's the adpt description. The trip will be cherished by our program and families for years to come."
The Labor Day weekend doubleheader commemorated the 20th anniversary of the horrific 9/11 terrorist attacks that killed 2,977 people and injured thousands at the World Trade Center, the Pentagon, and in Somerset County, Pennsylvania. Lives were lost and millions forever changed by the deadliest terrorist act in world history. The Catholic Bowl was designed to climax a series of distinctive events and activities held to mark the occasion, including a stirring testimonial from forever Notre Dame icon and four-time Pittsburgh Steeler Super Bowl champion Rocky Bleier, honored with the Bronze Star and Purple Heart following his tour in Vietnam. COVID-19 protocols forced a streamlined Friday night agenda, including cancelation of a communal Mass to be concelebrated by St. Thomas President Fr. James Murphy, CSB at Riders Field, the home of the Texas Rangers AA affiliate. But Bleier wasn't prevented from addressing Eagle Football at their team hotel with a powerful account rooted from his personal trials.
The Fighting Irish team captain and member of the 1966 national champions was drafted into the United States Army after his rookie season with the Steelers. Three months into his deployment, Bleier was shot through the thigh while on patrol in the Hiep Duc district and suffered a grenade blast to his foot, more than 100 pieces of shrapnel maiming his legs and right foot. Doctors told him that he would be lucky to walk properly again. But Bleier then defied even greater odds, returning as a star running back with the iconic Steel Curtain teams of the 1970s.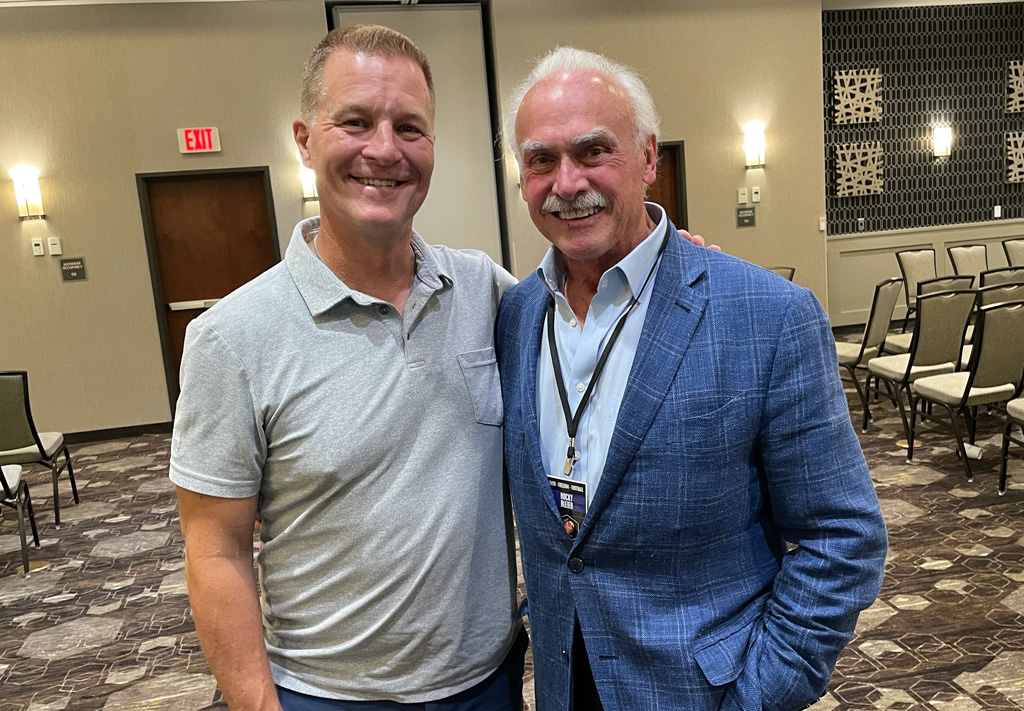 Bleier's riveting narrative made a profound impression on Netzel and reinforced how the Catholic Bowl would pay real life, residual benefits for his traveling party.
"I often share this sentiment with our coaches and student-athletes," Netzel says. "We have about five choices in our life. We can be bad at what we do. We can be average at what we do. We can be good at what we do – which may be the least of God's expectation for whatever ability He gave us. Or, we can be excellent. Or, we can be elite.
"We all have that choice as to what we say we want to do and how we claim to go about executing our plan. But if you're going to be excellent or elite, you have to do special things. You have to have special intensity, you have to have a special focus, you have to have a special commitment, drive, and passion to do things at a high standard all the time. God given ability may make you good. But without the rest of it, I'm not sure you will become excellent or elite. And that's what we're trying to teach at St. Thomas, what we want every single day in every aspect. And that's why I was raptured by this Catholic Bowl participation – what great reaffirmation to our core beliefs."
Game day outside the Ford Center at The Star in Frisco was strikingly similar to that infamous Tuesday 20 years ago, sunny and spectacular. Inside was the type of energy, hope, and optimism that comes with a showcase confrontation coming uncorked at the opening kick. And for the second consecutive contest to start the season, Eagle Football discovered a way to close out a raucous, never retreat outcome as if standard operating procedure, displaying an unflinching resilience that no doubt made Bleier particularly proud as the game's honorary chairman.
In the kind of afternoon that leaves throats sore and words scant, St. Thomas staged a see it, still don't believe it escape from a 10-point deficit late in the first half behind workhorse production from running back Johann Cardenas '24, game-breaking jolts from receiver Cameron Price '22, and a sudden late-tick takeaway from sledgehammer linebacker Jack Ward '23 to seal a 38-31 thrillarama over Plano John Paul II.
St. Thomas trailed 20-10 less than 3:00 before halftime when quarterback Jake Wright '22 (13-19, 216 passing yards) bought time in the pocket, rolled comfortably to his right, and confidently found Price, who turned and bolted up the near sideline for a 25-yard touchdown to shrink the count to three.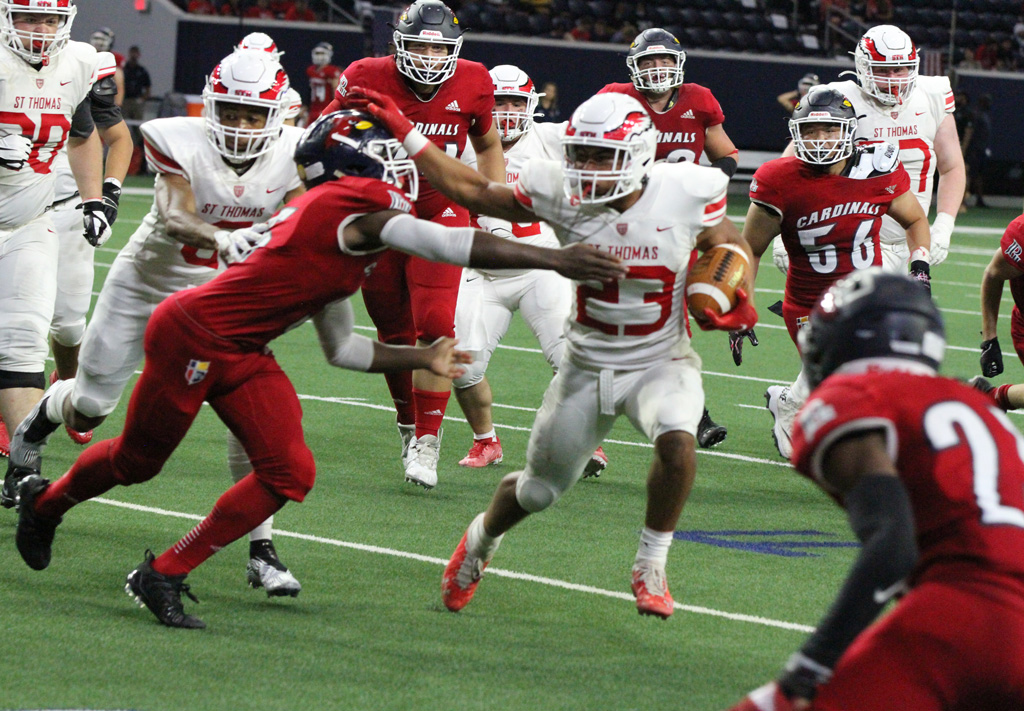 In the second half, Cardenas continued to flash a vision, patience, and physicality beyond his years. He racked relentless yards after contact, shook the unblocked defender, and jumped inside or out to reach the second level seemingly with ease. He finished a 10-play touchdown drive in the third quarter with his second short-range score to give St. Thomas a 24-23 advantage. And those gains on the ground and in the underneath passing games were part of a larger dominance in the trenches behind tackles Wyatt Green '22 and transfer Patrick Wallace '22.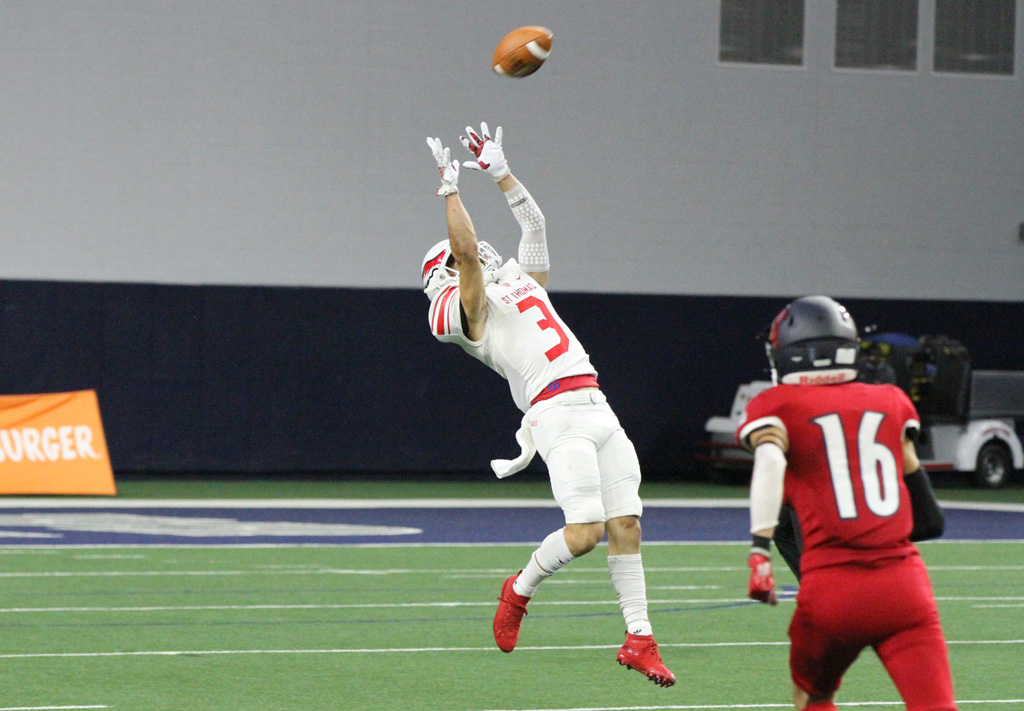 In only his second St. Thomas start, Wright displayed poise and command without a single sliver of panic despite trailing by double digits. With the senior transfer at the controls, the Eagles converted third downs, didn't turn the ball over, thrived in the red zone, and feasted on opportunities. Late in the third period, he dialed up Price alone deep in the left seam for a twisting, dazzling two-handed grab worth 38 yards. Five plays later, Wright crashed a read option through the left side to push the advantage to 31-23.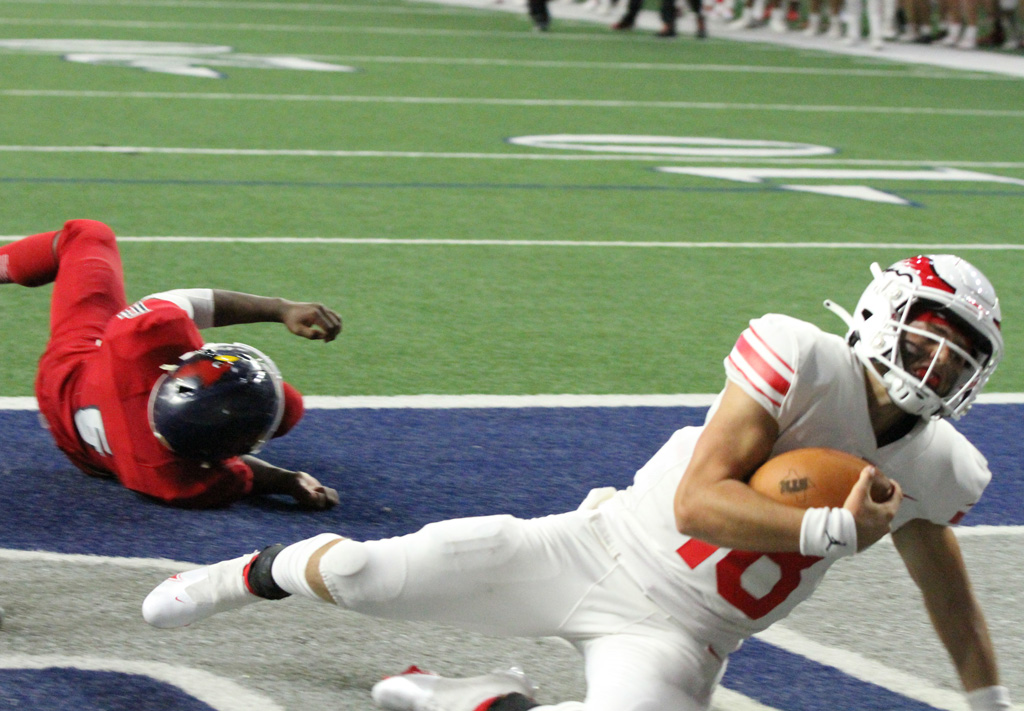 After JPII knotted the score in the final stanza with a time-crushing possession that bled nearly 9:00 of game time, Price injected his third crucial adrenaline shot, igniting the final bounce back with an explosive 56-yard kickoff return to the Cardinals 33-yard line. Five touches from Cardenas carried to the brink of the end zone. Wright plunged in for the game-winning margin with 1:44 remaining.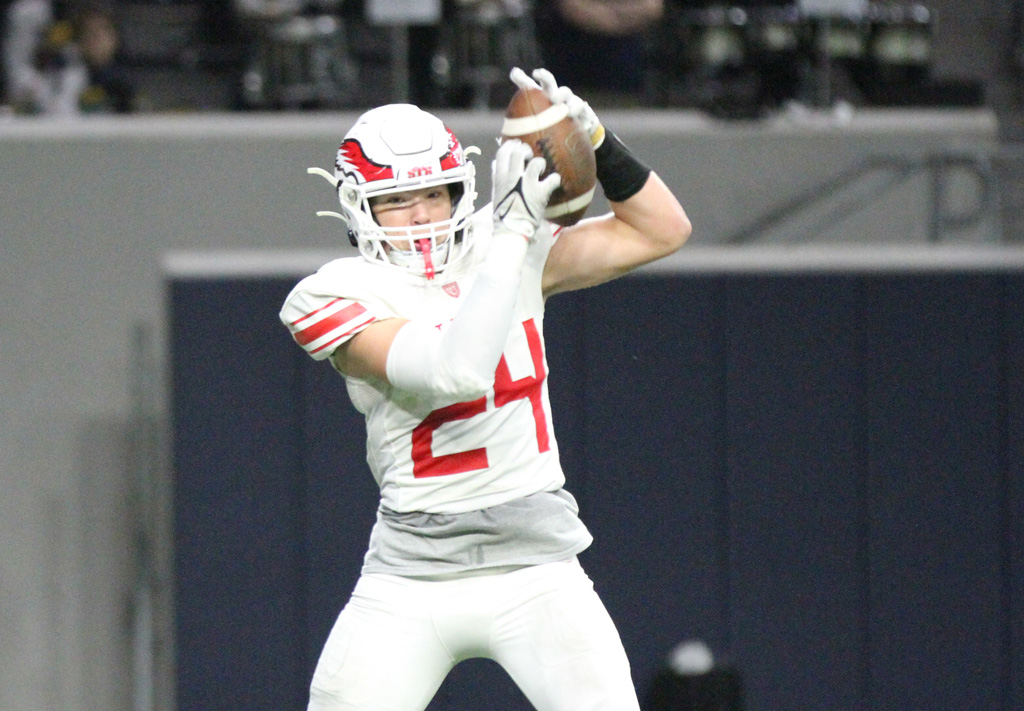 But piling up points on all six of its offensive possessions was oh so close to not quite enough for Eagle Football. JPII countered and reached the St. Thomas 12-yard line before the Eagle defense pressured a last-chance throw into an area more crowded than a rogue vaccine site. With the collective fingers of the St. Thomas faithful likely calloused from all the work rolling rosary beads in the waning seconds (a Catholic Bowl, after all), Ward played the part of hero, cradling the game-clinching interception in the shadows of the end zone to save Eagle Football's Saturday and, maybe, its sense of self.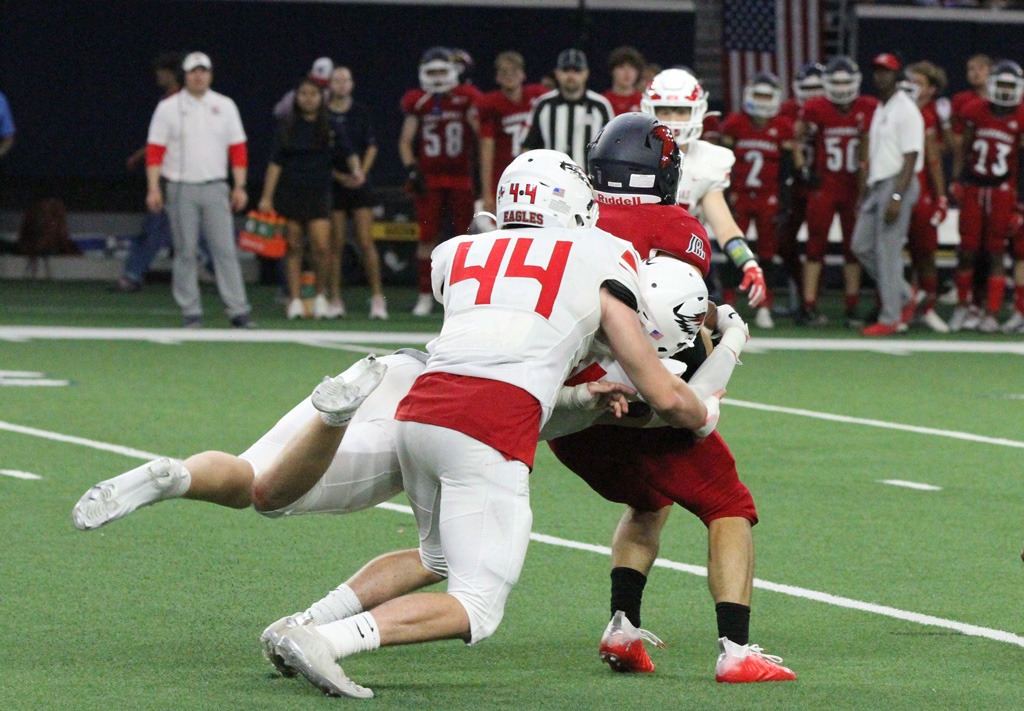 The menacing performances from linebackers Zach Rocha '23 (14 tackles) and Tegan Spencer '22 (11 tackles) led a marauding crew auditioning for the next set of Cowboy Bebop bounty hunters. Ward's bad intentions included 10 takedowns before his momentous and magnified late-game moment, the sort that is eminently Instagrammable and remains incandescent for a lifetime, which explains why we watch, why we pour so much energy into a sport that exists ostensibly to take our minds off more important matters. We watch to witness the purest joy, the truest intent, to see young men test the limits of what is possible and forge a model for adult success. To paraphrase Teddy Roosevelt, to risk failing while daring greatly.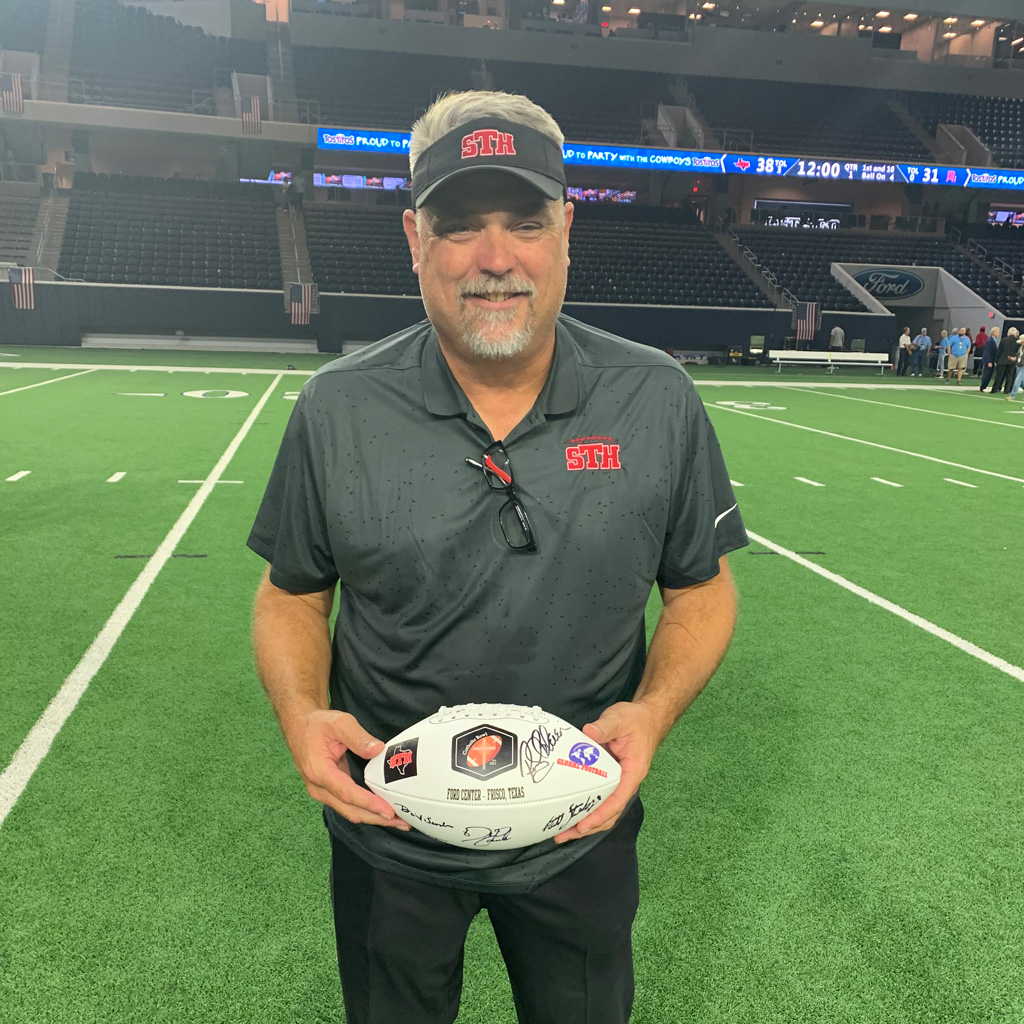 "Our guys represented St. Thomas in every way we would expect, on and off the turf," St. Thomas Head Coach Rich McGuire says. "They executed a solid game plan and fought hard to the last whistle. But this weekend was so much about understanding to have faith in each other, faith in God, and recognizing the freedoms we all have in this country that so many others don't enjoy across the world. We told them to take advantage of that, play high school football in a great environment, and have fun."
The indelible marks embossed on memory were capped with St. Thomas featured during a Fox & Friends segment on the most-watched morning show on cable news. The priceless exposure  originated from the Ford Center with more than million viewers on Sunday morning. Eagle student-athlete Joe Rick Madden '21 was included in the feature along with Bleier and Steenberge, all joining hosts Rachel Campos-Duffy, Will Cain, and Lawrence Jones.
From its founding in 1900, the leaders of St. Thomas have believed that vigorous athletic competition plays a perfect parlay to the educational mission of the institution. The fervor of Eagle Athletics is to inspire and facilitate all its scholar-athletes to embrace championship-caliber pursuits with steadfast resolve, to triumph in character as well as spirit regardless of the scoreboard results.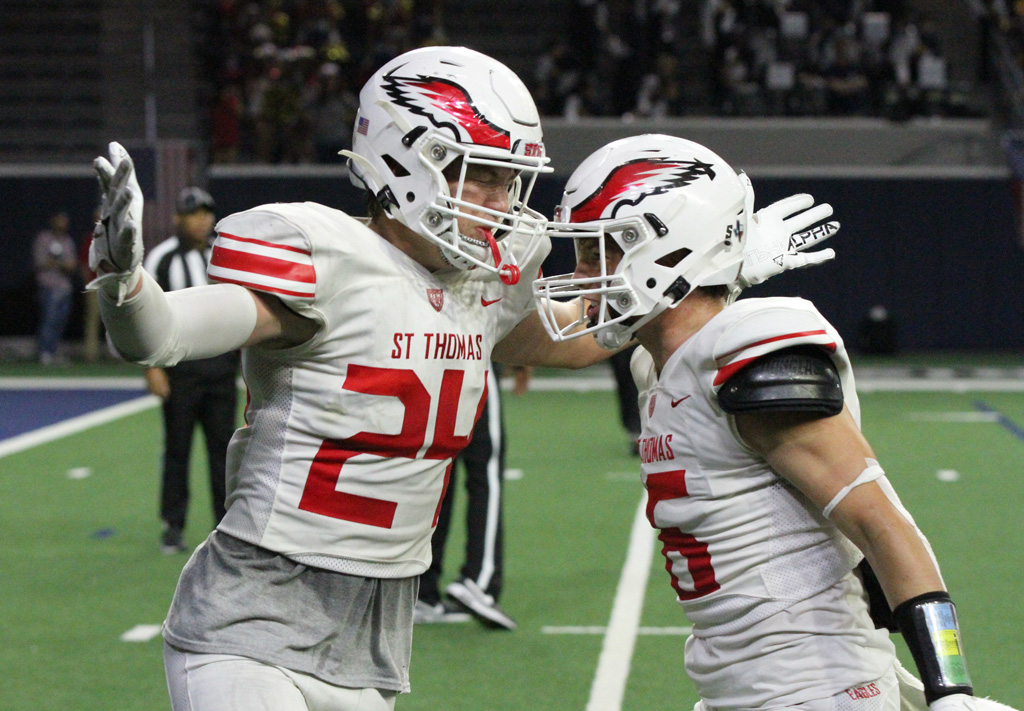 The first-ever Catholic Bowl offered yet another glimpse of Eagles performing with integrity, intelligence, and balance – a life lesson that lasts long beyond the deserved, but ephemeral, euphoria of victory.
Eagle Fight Never Dies!