GAMEDAY CENTRAL
WEEK TWO – FORD CENTER AT THE STAR IN FRISCO

Plano John Paul II 31
Eagle Football 38
WHAT YOU NEED TO KNOW
In the kind of afternoon that leaves throats sore and words scant, Eagle Football escaped from a 10-point deficit late in the first half behind workhorse production from running back Johann Cardenas '24, game-breaking jolts from receiver Cameron Price '22, and a late-tick takeaway from sledgehammer linebacker Jack Ward '23 to stake the inaugural Catholic Bowl.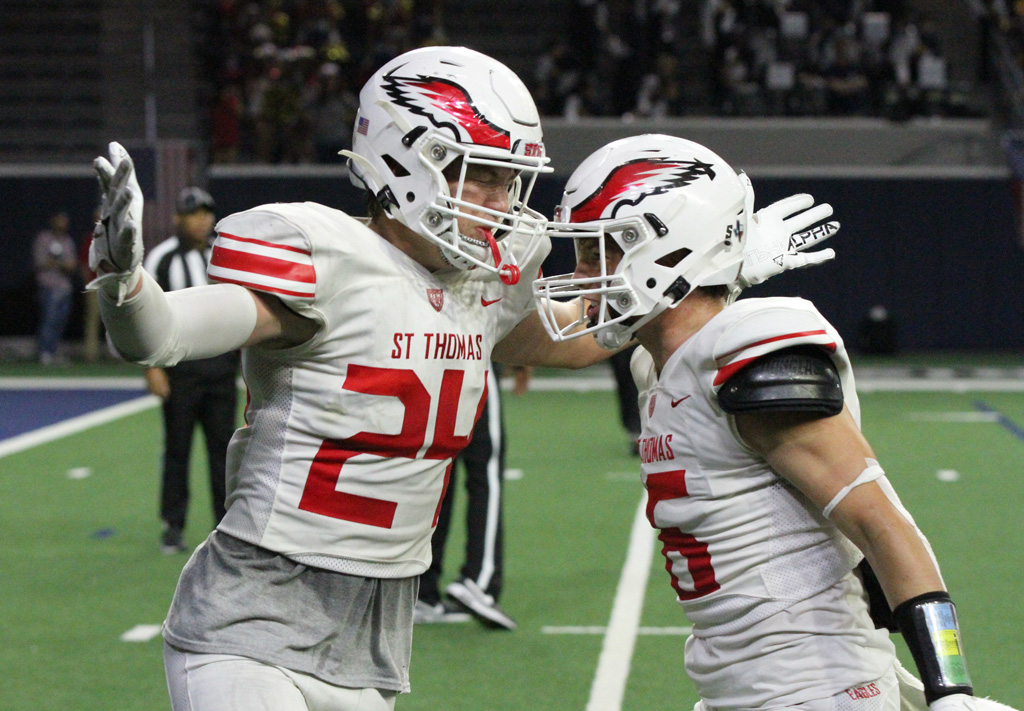 The second consecutive pulse-pounding verdict to launch the season gives St. Thomas its first 2-0 start since the 2015 Eagles started the campaign with three straight wins.
TURNING POINT
The Eagles piled up points on all six of their offensive possessions to push in front 38-31 in the final 2:00 of the game. JPII countered and reached the St. Thomas 12-yard line but the Eagle defense pressured a last-chance throw into an area more crowded than a rogue vaccine site. Ward played the part of hero, cradling the game-clinching interception in the shadows of the end zone to save Eagle Football's Labor Day weekend and, maybe, its sense of self.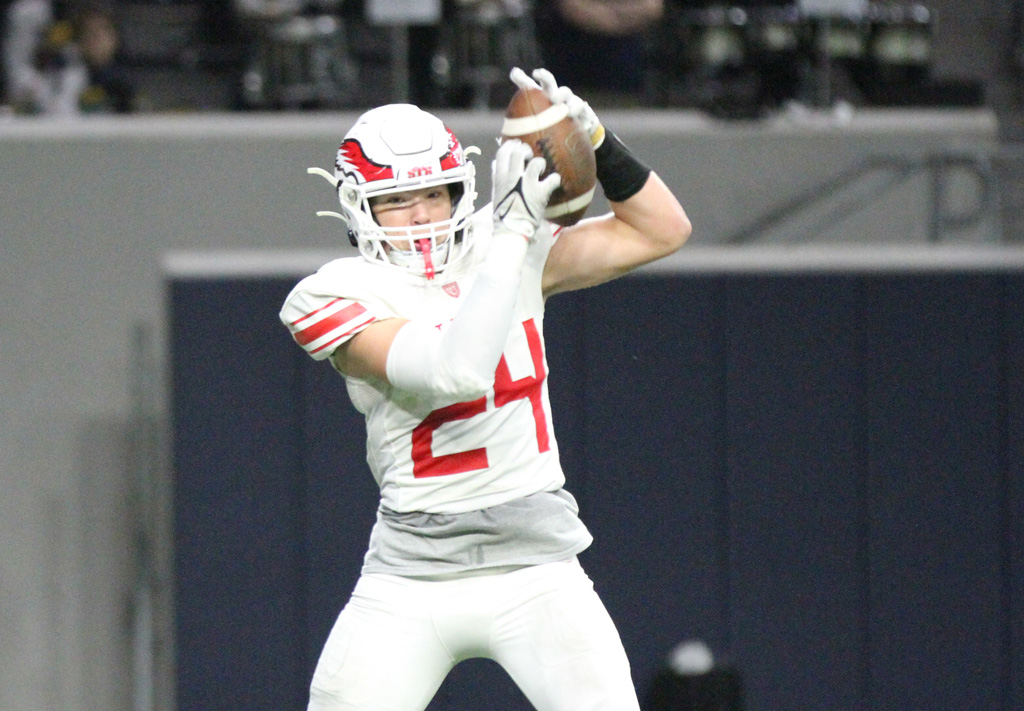 FRIDAY NIGHT FIVE
1. St. Thomas trailed 20-10 in the final 3:00 of the first half when quarterback Jake Wright '22 (13-19, 216 passing yards) bought time in the pocket, rolled comfortably to his right, and confidently found Price who turned and bolted up the near sideline for a 25-yard touchdown to shrink the deficit to three.
2. The Eagles continued their major mojo in the second half when Cardenas (20-103 rushing yards and 181 all-purpose) finished a 10-play touchdown drive with his second short-range score to give St. Thomas a 24-23 advantage.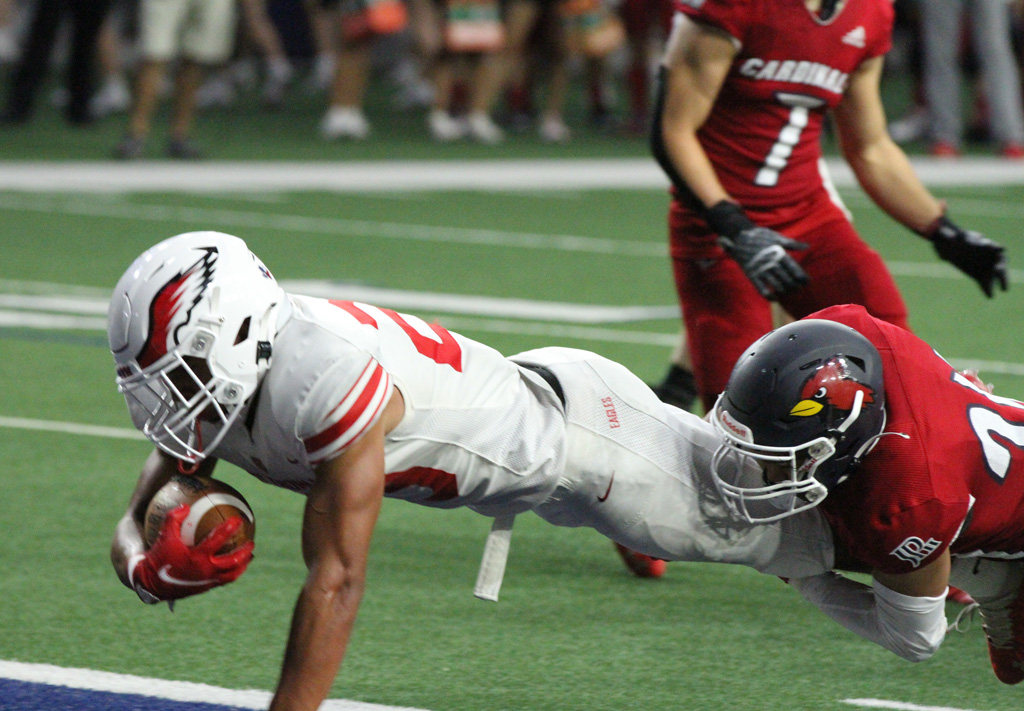 3. In the next Eagle series, Wright dialed up Price alone deep in the left seam. He twisted and adjusted to the ball for a dazzling two-handed grab worth 38 yards. Five plays later, Wright crashed a read option through the left side to push the count to 31-23 with 1:18 left in the third quarter.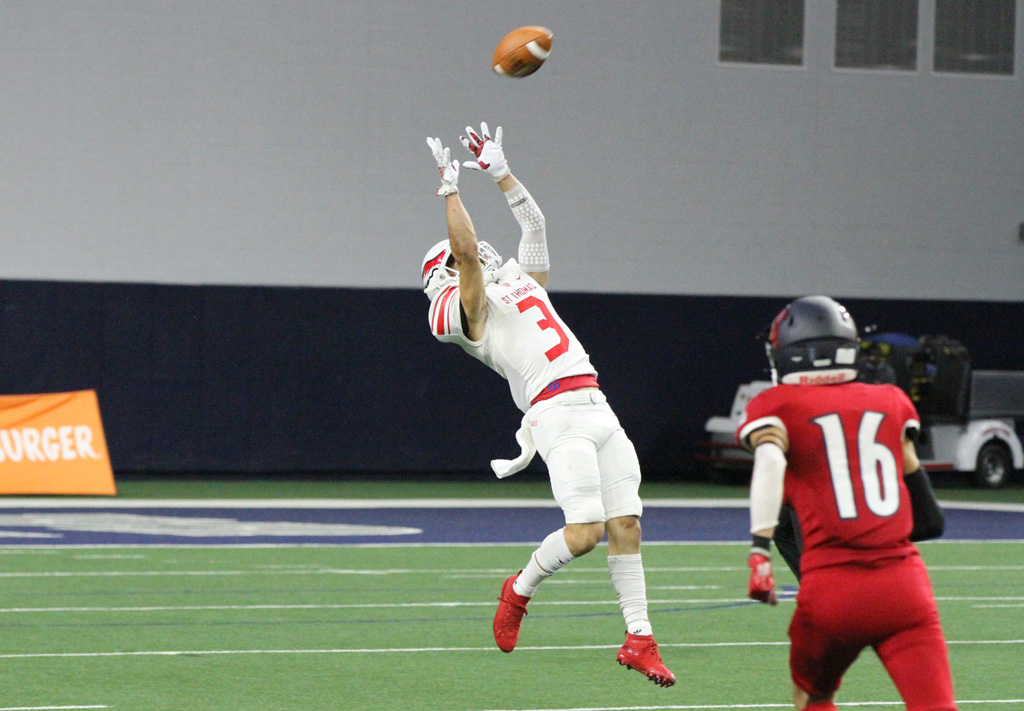 4. After JPII knotted the score in the final stanza with a time crushing possession that bled nearly 9:00 of game time, Price injected his third crucial adrenaline shot, igniting the final comeback with an explosive 56-yard kickoff return to the Cardinals 33-yard line. Five touches from Cardenas carried to the brink of the end zone. Wright plunged in for the game-winning margin with 1:44 remaining.
5. The menacing performances from linebackers Zach Rocha '23 (14 tackles) and Tegan Spencer '22 (11 tackles) again led a demolition crew marauding as if auditioning for the next set of Cowboy Bebop bounty hunters. Ward's bad intentions included 10 takedowns before his magnified late-game moment. Linebacker Tommy D'Onofrio '24 is proving to be an agent of chaos including gale-force impact on special teams.
FAITH FREEDOM FOOTBALL
The Catholic Bowl debuted with the Eagles' spirited competition with PJII followed by Fort Worth Nolan's triple overtime thriller over Little Rock Catholic. Football served as the fulcrum for cultural exchange and authentic Catholic identity between three rising powers within the highest TAPPS ranks and an out-of-state college preparatory institution founded in 1930.
The joint venture was the genius of event organizer Patrick Steenberge, founder and president of Global Football Ltd, an acclaimed exporter and producer of American football and marquee matchups for U.S. colleges and high schools to play internationally.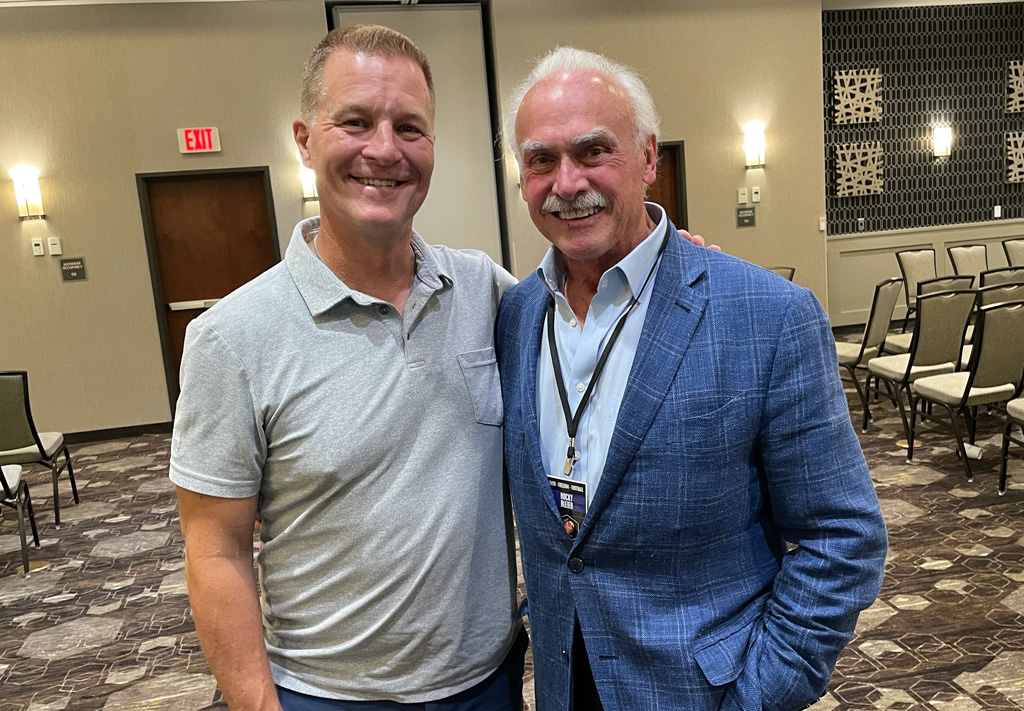 Four-time Pittsburgh Steeler Super Bowl champion and United States Army veteran Rocky Bleier was the Catholic Bowl honorary chairman and provided a stirring, powerful testimonial to Eagle student-athletes and coaches at the team hotel on Friday.
The Notre Dame captain and member of the 1966 national champions was drafted into the Army after his rookie season with the Steelers. Three months into his deployment to Vietnam, Bleier was shot through the thigh while on patrol in the Hiep Duc district and suffered a grenade blast to his foot, more than 100 pieces of shrapnel maiming his legs and right foot. Doctors told him that he would be lucky to walk properly again. But Bleier then defied even greater odds, returning as a star running back with the iconic Steel Curtain teams of the 1970s.
STATE OF PLAY
The type of energy, hope, and optimism that comes with a showcase event hosted by the Dallas Cowboys at their state-of-the-art indoor stadium came uncorked at the opening kick. And for the second time in nine days, Eagle Football discovered a way to close out a tight game as if standard operating procedure.
Several key stakeholders showed up as advertised.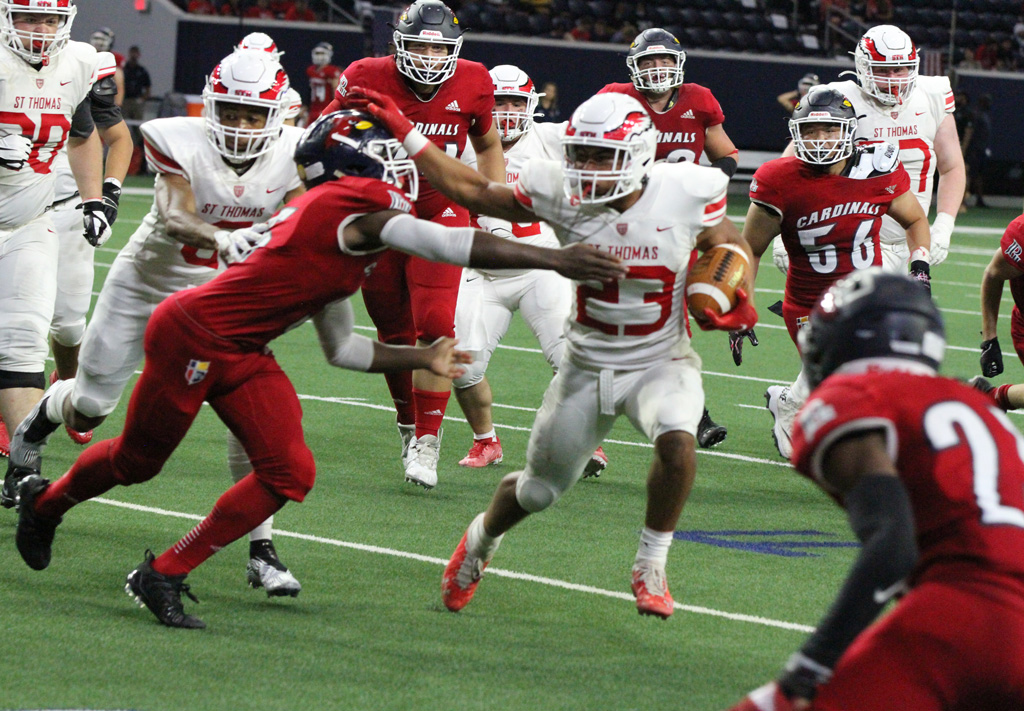 Cardenas continues to flash a vision, patience, and physicality beyond his years. He racks relentless yards after contact, shakes the unblocked defender, and jumps inside or out to reach the second level seemingly with ease. And that success on the ground and in the underneath passing games is part of a larger dominance in the trenches behind tackles Wyatt Green '22 and transfer Patrick Wallace '22.
Price possesses acrobatic jump-ball artistry, fluid movement, an elevated football IQ, and all with the ability to catch from basically any platform, sometimes with a single hand. Equally important, he plays with an attitude that can infect the roster in the best possible ways.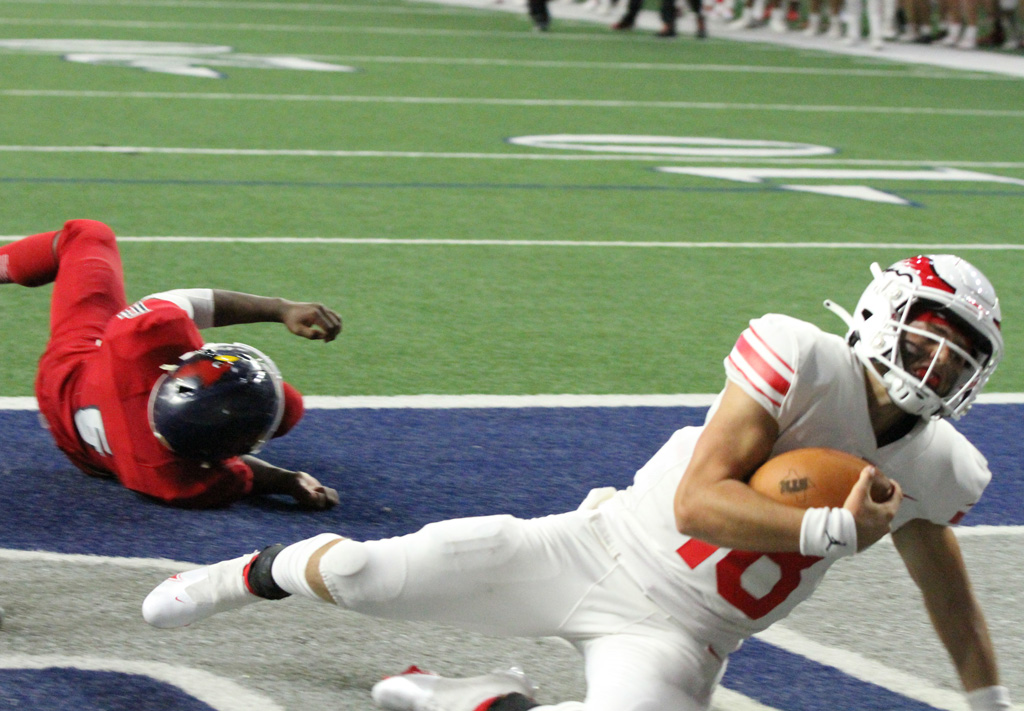 And in only his second St. Thomas start, Wright displayed poise and resilience without a single slice of panic despite trailing by double digits. With the senior transfer at the controls, the Eagles converted third downs, didn't turn the ball over, thrived in the red zone, and didn't squander opportunities.
McGuire recognizes a building-block win that will provide opportunities to keep his team grounded. St. Thomas was out-gained while surrendering 16, 12, and 21-play marathon marches for points. There was a fumbled punt that handed JPII a first-period touchdown and a defensive bust that served up a chip shot field goal to close the first half. The Eagles allowed 27 completions on 34 passing attempts and a near disastrous 48-yard kickoff return that fueled JPII's failed last gasp rally. In essence, an ideal win because McGuire can use those errors to keep his team hungry.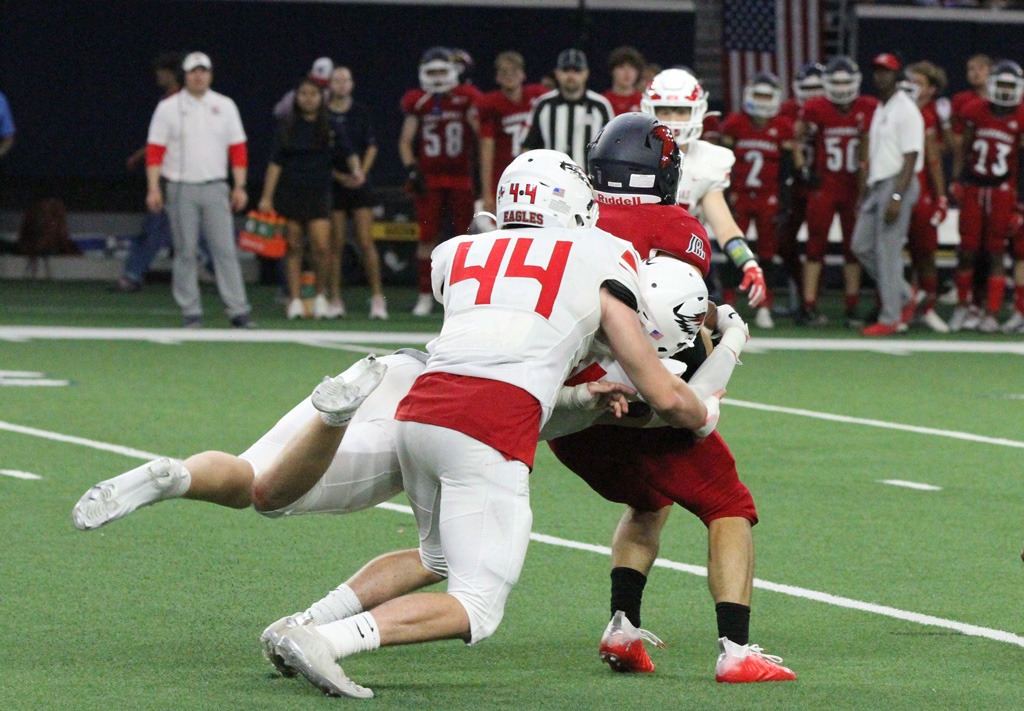 As they rebuild and reload at the same time, the Eagles are hardly perfect even though their record may be. They figure to benefit greatly moving forward from the high-profile challenge in a postseason-type environment, getting out alive while also learning plenty about themselves in the process. Even with the unblemished beginning, much work must still be done. And if the opening two weeks are any kind of preview, this latest edition will be blockbuster entertainment as they try to figure it all out.
¡UNO!, ¡DOS!, ¡TRÉ!
Eagle Football began Week Two ranked No. 4 in the Houston Chronicle media poll and No. 7 in the VYPE Houston private rankings.
Wright is the son of Brian Wright who is in his second season as head coach at Division II Pittsburg State in Kansas. Previously he was the offensive coordinator and quarterbacks coach at Toledo for four seasons and the offensive coordinator at Florida Atlantic from 2012-15.
D'Onofrio's father Mark was a standout linebacker and the 1992 team captain at Penn St., then selected in the second round of the NFL Draft by the Green Bay Packers. His acclaimed college coaching career included defensive coordinator positions at Temple, Miami (FL), and Houston.
PREVIOUSLY
GameDay Central || New Look Eagle Football Sizzles in Season Opening Thriller
UPCOMING
Eagle Football travels to Kinkaid September 10 where the private school programs will meet for the sixth time in eight years (interruptions courtesy Hurricane Harvey in 2017 and COVID-19 in 2020). In that mix, St. Thomas posted three consecutive season-opening victories over the Knights by a combined margin of 109-51.
In 2019, quarterback Maddox Kopp '21 (Houston) threw for 244 yards and two touchdowns, receiver Cameron Bonner '21 (Baylor) grabbed two scores, and a rejuvenated Eagle defense rarely bent and never broke in a 27-10 victory at Barnhart Stadium.
Eagle Fight Never Dies!