GAMEDAY CENTRAL
Week Four – Hotze Field inside Granger Stadium

Houston Christian 0
Eagle Football 42
WHAT YOU NEED TO KNOW
Sizzling transfer quarterback Jake Wright '22 struck for 339 yards and three touchdowns, dived in for a fourth, and a seawall of defenders notched the first St. Thomas shutout since 2016 in a 42-0 curb-stomping of Houston Christian.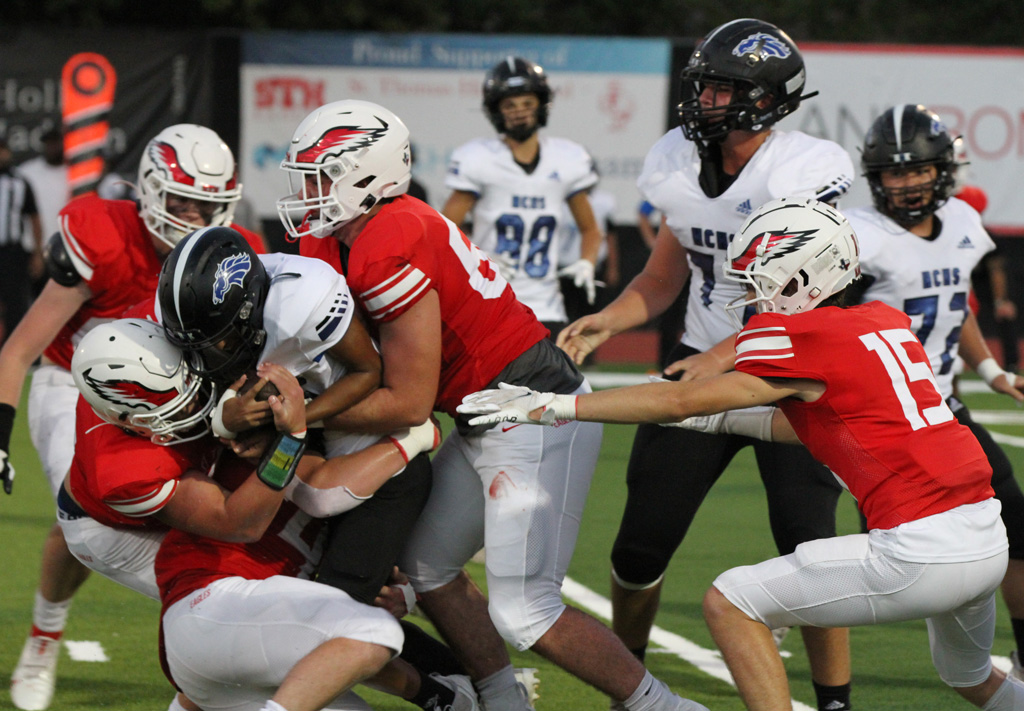 The Eagles' fifth straight home win raises their record to 3-1, matching the mark in the 2015 campaign that ended the regular season 9-1 and finished with a second consecutive TAPPS state semifinal appearance. That season also witnessed the most recent shutout at Granger Stadium, St. Thomas blanking St. John Paul II 40-0 and Tomball Concordia 42-0 in a three-week stretch of demolition. The following year the Eagles blanked Pasadena on the road 50-0.
FRIDAY NIGHT FIVE
1. Eagle Football bolted in front 7-0 when man-child running back Johann Cardenas '24 (15-155 rushing and 179 all-purpose) romped 56 yards to the end zone on the third play from scrimmage. The bulge was 21 at halftime, expanded to 28 after the first St. Thomas series of the second half, 35 following its next offensive snap, and 42 when Caleb Davis '23 returned an interception 46 yards on the next play following the kickoff.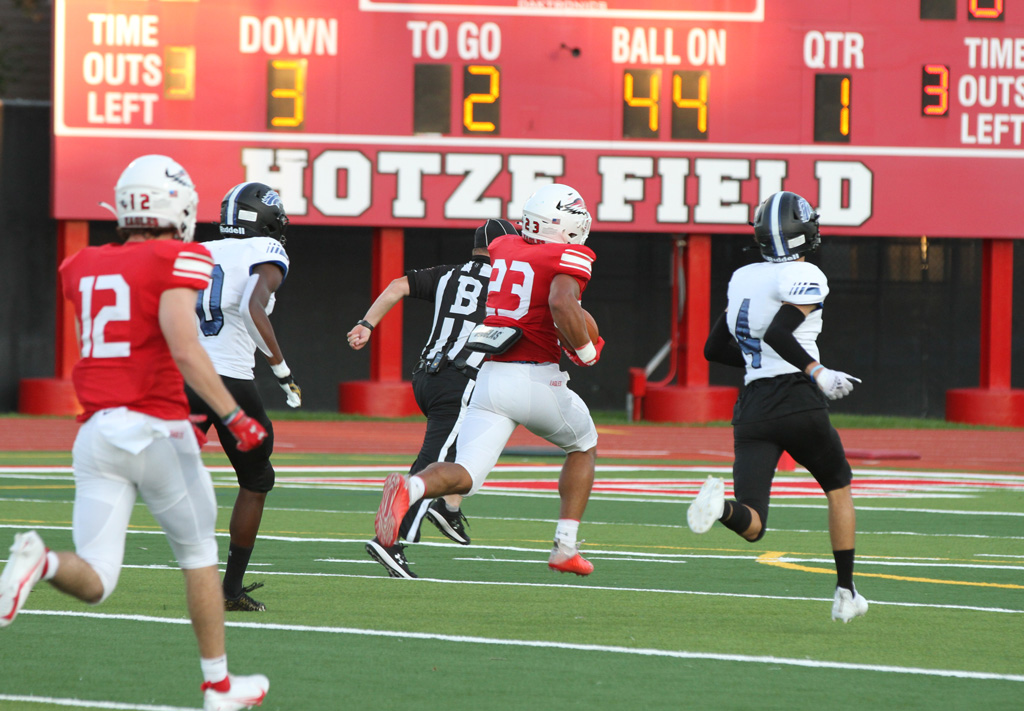 2. Wright tag-teamed with receiver Cameron Price '22 for a 39-yard score midway first period, found Joe Rick Madden '22 in the left flat for a nine-yard touchdown in the second quarter, and pulled the trigger with Henderson breaking alone through the Houston Christian secondary for an 80-yard catch-and-run to open the second half stampede.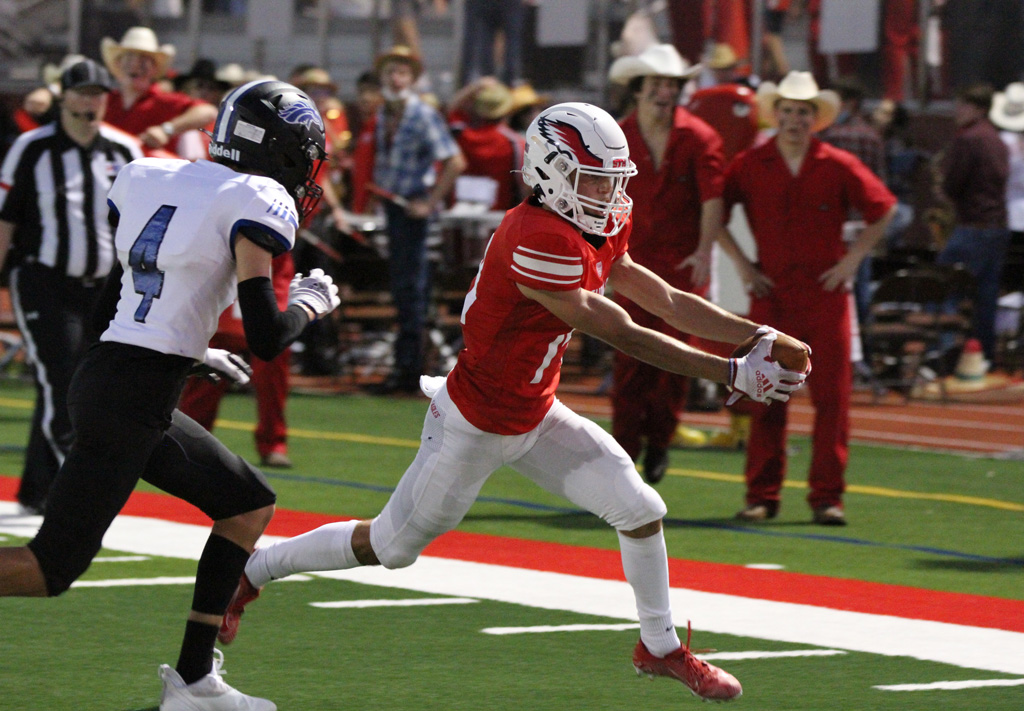 3. When the outcome remained reasonably in doubt, the Eagle defense operated with a make my day machismo, delighting in their opponent's demise and despair. In the seven first-half stands, St. Thomas forced a series of punts with a Jack Ward '22 interception and fourth-down stops, allowing less than 50 total yards until surrendering a late completion that only resulted in the clock reaching triple zeroes.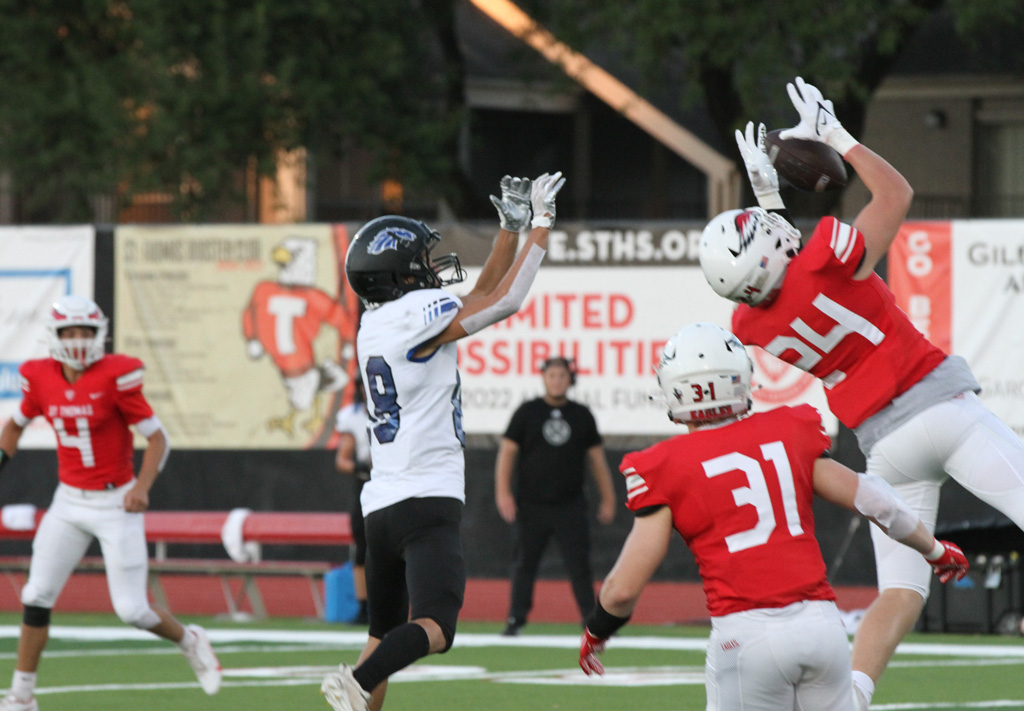 4. Headhunting linebackers Ward (11 tackles) and Spencer Tegan '22 (13 tackles) continued to front a frenzied effort that caused menace and mayhem without resorting to reckless emotional blitzing.
5. At kickoff the Eagles were ranked as the number three private in the Houston Chronicle media poll and number six by VYPE Houston.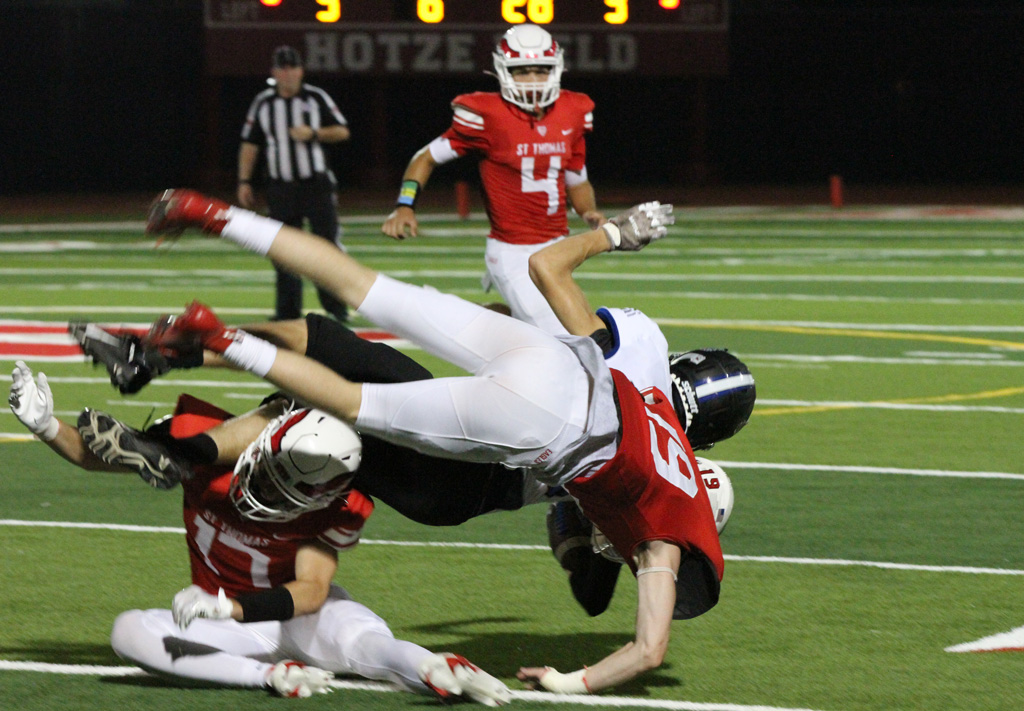 ROCKIN' THE FILLMORE
In four career starts, Wright has now tossed for 1,309 yards in three victories, completing 72% with a rating of 148.7. He's registered 12 scoring throws, and rushed for another four while throwing but one single solitary interception.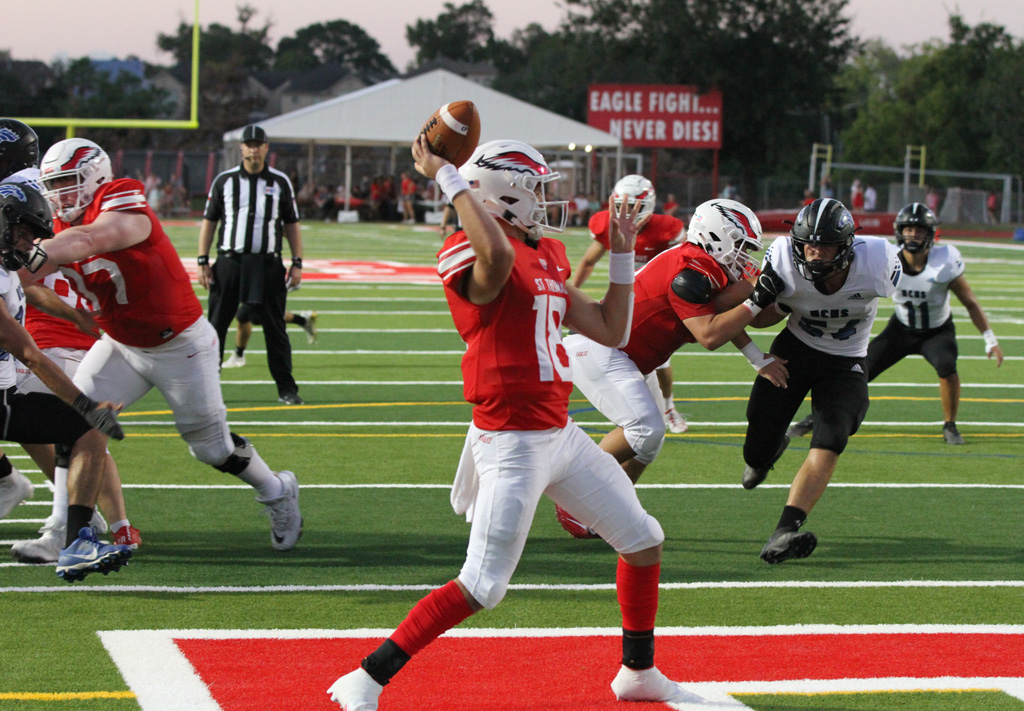 https://twitter.com/STHCatholic/status/1439059030014676994?s=20
STATE OF PLAY
The blitzkrieg bop offered plenty of pop to embrace for Eagle Football. This felt like the closing scene in the first act of the St. Thomas season before setting aim on a fourth consecutive undefeated district title, a chance to make good on some early promise without having perfected any of it. And for the first time all season, St. Thomas seemed content with that because the Eagles were a better version of themselves than what showed in escapes against Needville and Plano John Paul II, and the final tick setback at Kinkaid.
The overhauled roster was on full display.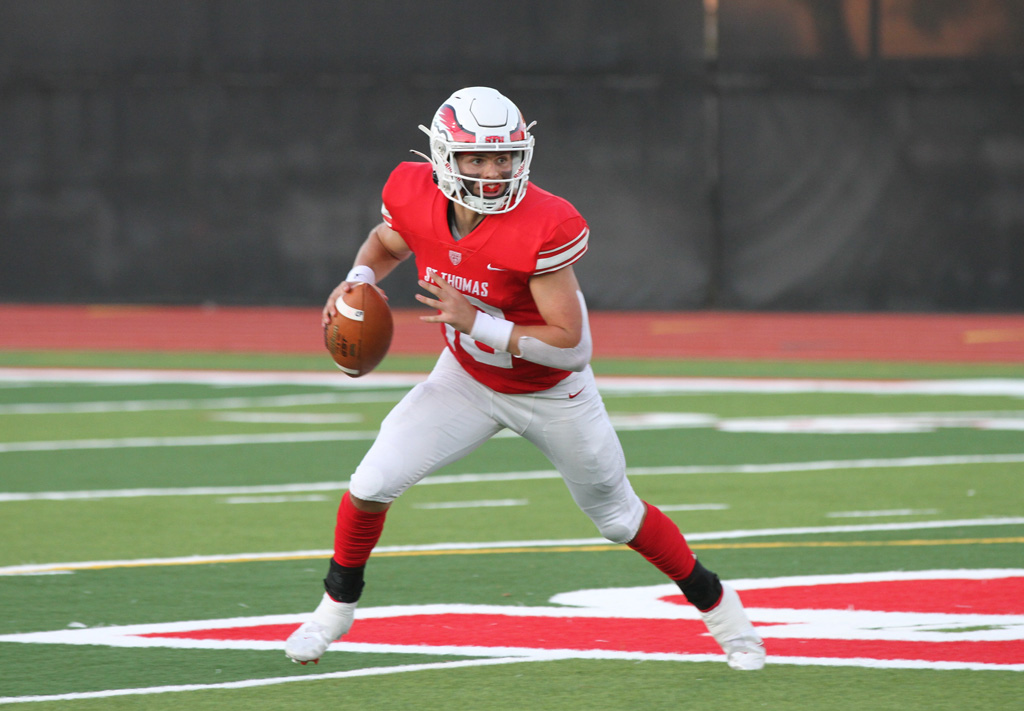 In back-to-back-to-back heart-pounders, Wright capitalized on built-for-success plans that leaned on quick screens and short slants. He now appears to possess a broader grasp of the offense and affords coordinator Matt Hudson more play-calling variations.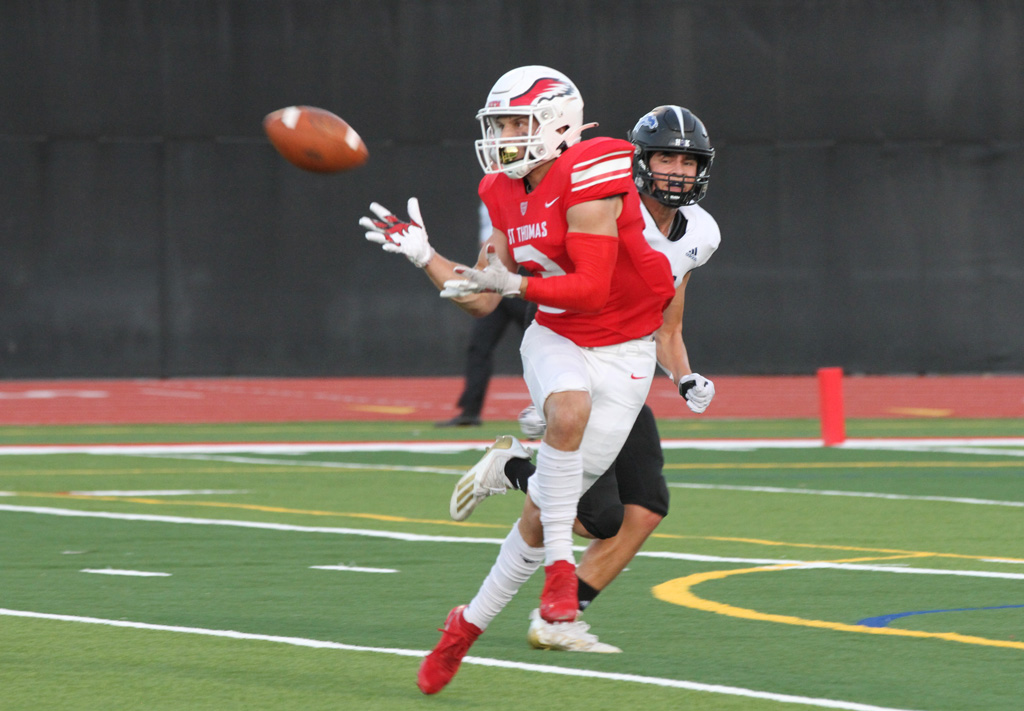 Peerless Price plays with futon-like flexibility that allows the Eagle offense to morph into fresh identities. Through four games, he is among the most productive receivers in Texas high school football with 29 grabs for 529 yards and five touchdowns. He's emerged as a primary target, splitting coverage in the vertical game, leveraging the edge or space in jet sweep action, and separating from overmatched coverage for explosive gains after the catch.
McGuire continues to witness more young players developing. That trend needs to accelerate in the offensive front where the unit must blossom physically and improve at spotting defensive indicators.
This wasn't a game that stood out in the preseason and St. Thomas quickly proved that assumption correct. The Eagles emphatically seized another step forward but continued to look more like a work in progress than a finished product.
TIES THAT BIND
Wright is the son of Brian Wright who is in his second season as head coach at Division II Pittsburg State in Kansas. Previously he was the offensive coordinator and quarterbacks coach at Toledo for four seasons and the offensive coordinator at Florida Atlantic from 2012-15.
The father of linebacker Tommy D'Onofrio '24 is Mark D'Onofrio, a standout linebacker and the 1992 team captain at Penn St. who was then selected in the second round of the NFL Draft by the Green Bay Packers. His acclaimed college coaching career included defensive coordinator positions at Temple, Miami (FL), and Houston.
¡UNO!, ¡DOS!, ¡TRÉ!
The one-time district series with Houston Christian was renewed for the first time since 2011 when Eagle Football settled for a split of district games after a 50-0 runaway on the road. St. Thomas enjoyed a sweep in 2010, first 24-21 and then 17-7.
The summer of 2021 celebrated the next step toward the latest phase in an extended plan to upgrade the expanded facilities for Eagle Athletics. Hellas Turf with the patented Helix Technology was installed at Granger Stadium. The system provides optimal shock absorption and excellent control in all weather conditions. Surface temperatures on a synthetic turf field with the Hellas organic infill will be up to 40 degrees cooler than a regular synthetic turf field.
Former Eagle headliners and record-smashers Lorenzo Neal '16 (Purdue), Maddox Kopp '21 (Houston), and Cameron Bonner '21 (Baylor) were in attendance.
PREVIOUSLY
GameDay Central || New Look Eagle Football Sizzles in Season Opening Thriller
Inaugural Catholic Bowl || Faith, Freedom, Football Celebrates Authentic Religious Identity
UPCOMING
The three-time undefeated district champions begin their title defense at home September 24 with SJXXIII, resuming a brief mismatched series that flashed a 49-0 Red & White rout in 2014 followed by the 40-point wipeout the next season. The Eagles collected a forfeit victory in 2020 when the game was canceled for non-pandemic reasons. St. Thomas is aiming for its 15th consecutive district victory.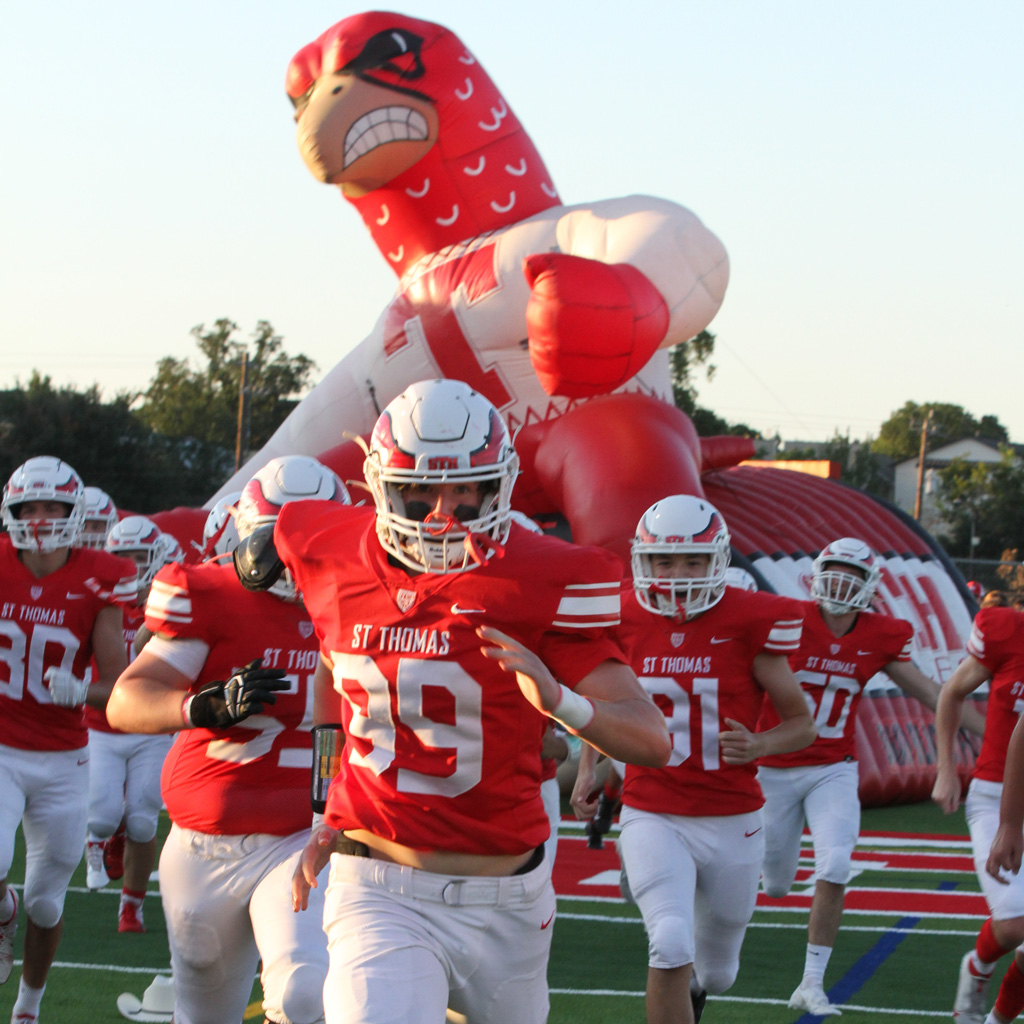 Eagle Fight Night Never Dies!