Brett Koehn '22 capped an acclaimed career with a sizzling close to his significant senior season and paced St. Thomas to a fifth-place finish at the TAPPS 6A cross country state meet at Cottonwood Creek Golf Course in Waco.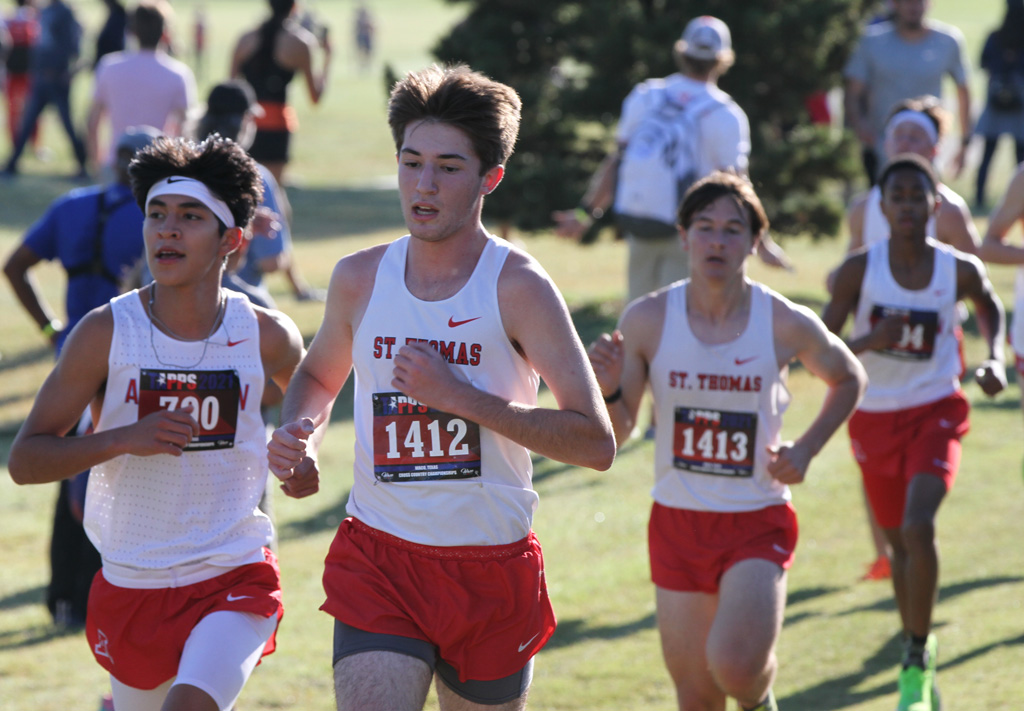 Koehn earned All-State and Academic All-State distinction with his second consecutive 10th-place clocking, completing the 5,000 meters in 17:20.7. Ben Lauzon '24 (17:40.3), Ryan Bordas '25 (18:11.2), Alex Ostrom '22 (18:13.0), and Luis Sanchez '24 (18:19.9) contributed to a balanced showing in leading the Eagles to 127 team points, closing behind state champion San Antonio Central Catholic (35), San Antonio Antonian (50), El Paso Cathedral (69), and San Antonio Christian (120).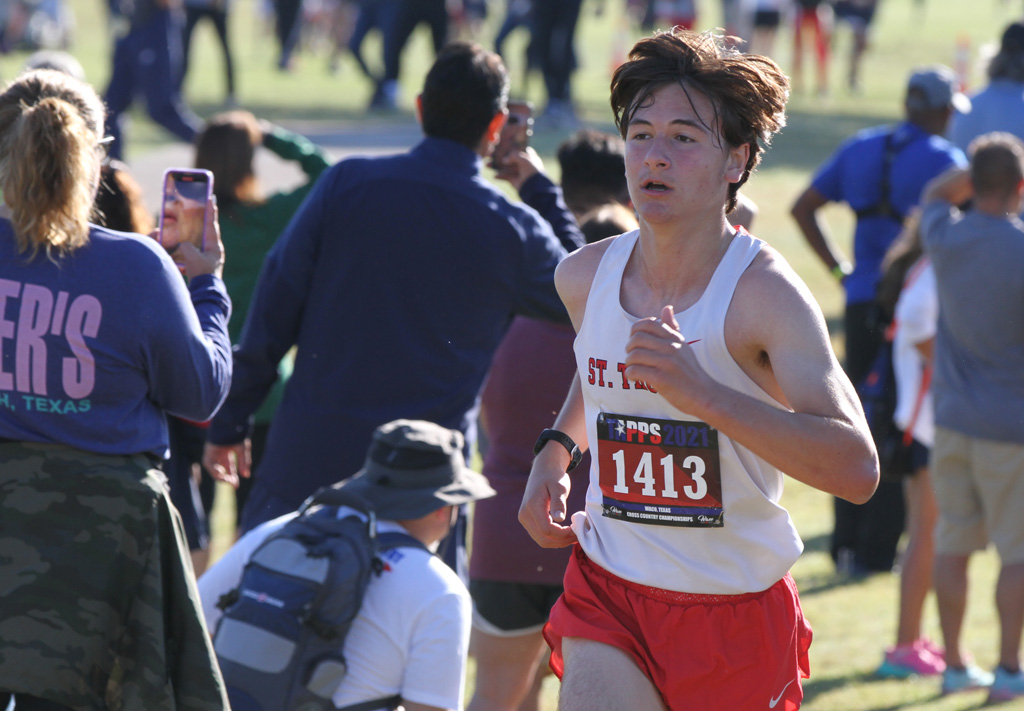 Koehn and Lauzon were the fulcrum throughout an impressive series of season-long outcomes for head coach Nathan Laubus. They teamed with the hard-charging Ostrom to front the District 4 champions at Spring Creek Park. Lauzon blistered the top time over 5K in 16:15.33 while Koehn (16:36.38) and Ostrom (16:54.52) added essential third and fourth-place finishes.
St. Thomas totaled 26 points to easily separate from Tomball Concordia Lutheran (53), The Village (70), and St. John XXIII (85). Bordas (17:20.60) and Sanchez (18:00.64) provided top-10 times while Mark Cheek '22 crossed in 18:27.00 for 12th.
Previously, Lauzon and Koehn both blazed in staking St. Thomas to seventh place at the 40th St. John's Maverick Ramble. The titanic pair also racked top-20 results at the Nike South Invitational at Bear Branch Park in The Woodlands, plus top-12 times as St. Thomas seized third at the two-mile Cooper Dragon Invitational.
Koehn (17:01.0) and Lauzon (17:17.4) fueled the Eagles to a ninth-place effort at the Brenham Hillacious 5K Invitational and 11th at the Texas A&M High School 5K Invitational.
The campaign launched with the Eagles capturing the team title in the 12th Annual IWA Invitational at Houston's Willow Waterhole Greenway. Koehn raced the 3,200 meters in 10:15 to clinch the top slot by two seconds.
Labus led Eagle Cross Country to three consecutive state runner-up results in 2018, '19 and '20.
Eagle Fight Never Dies!