GameDay Central
Week 11 – Hotze Field inside Granger Stadium
Tomball Concordia Lutheran 0
Eagle Football 45
WHAT YOU NEED TO KNOW
Flame-throwing Jake Wright '22 blistered Tomball Concordia Lutheran for four touchdown passes to cap a record-smashing regular season while Johann Cardenas '24 battered and bruised for three scores in a 45-0 stomping to earn the three-time defending undefeated district champions a share of the title.
The Eagles posted their 19th district win in 20 games and third shutout in seven outings to close 8-2, 5-1. They cruised to an eighth straight victory at Hotze Field inside Granger Stadium.
And as the rock & roll gridworld is here to remind … the house is a rockin' don't bother knockin', yeah the house is a rockin' don't bother knockin', yeah the house is a rockin' don't bother come on in.
The Morning After @STHCatholic 45-0 > TCL

💥 8-2, 5-1, area bye #TAPPS playoffs
💥 22 plays = 6 TDs
💥 Wright 4 TDs | 38 new single-season school record
💥 Cardenas 56-yd catch-&-run TD + 25 & 63-yd scores | 14 TDs
💥 Price 68 & 39-yd TDs | 14 TDs

HC Rich McGuire ⤵️ pic.twitter.com/BH3l7RjjjW

— St. Thomas High School (@STHCatholic) November 6, 2021
TURNING POINT
Eagle Football administered a stop, rip, and roll to make J Roddy Walston & The Business rock with approval. Only 22 plays were needed in the first six St. Thomas possessions on Senior a night to produce an avalanche of points.
The perfectly-timed shock-slash ingenuity instilled enough fear and fright to rival a Laurie Strode and Michael Myers freak-out ("Sleep tight, kids.")
FRIDAY NIGHT FIVE
1. Wright and his peak wideout weapon Cameron Price '22 split the TCL secondary for a 68-yard touchdown strike to finish a 21-point first quarter.
2. On the next series, Wright dumped a short toss to Cardenas who weaved from left to the middle and slightly to the right for a 56-yard catch-and-romp score, the 36th of Wright's scintillating one-and-done rodeo to break the all-time single-season St. Thomas standard. In abbreviated snaps, he closed out the Crusaders completing 11-13 for 226 yards as the Eagles rode a running clock from the middle of the third quarter to triple zeroes.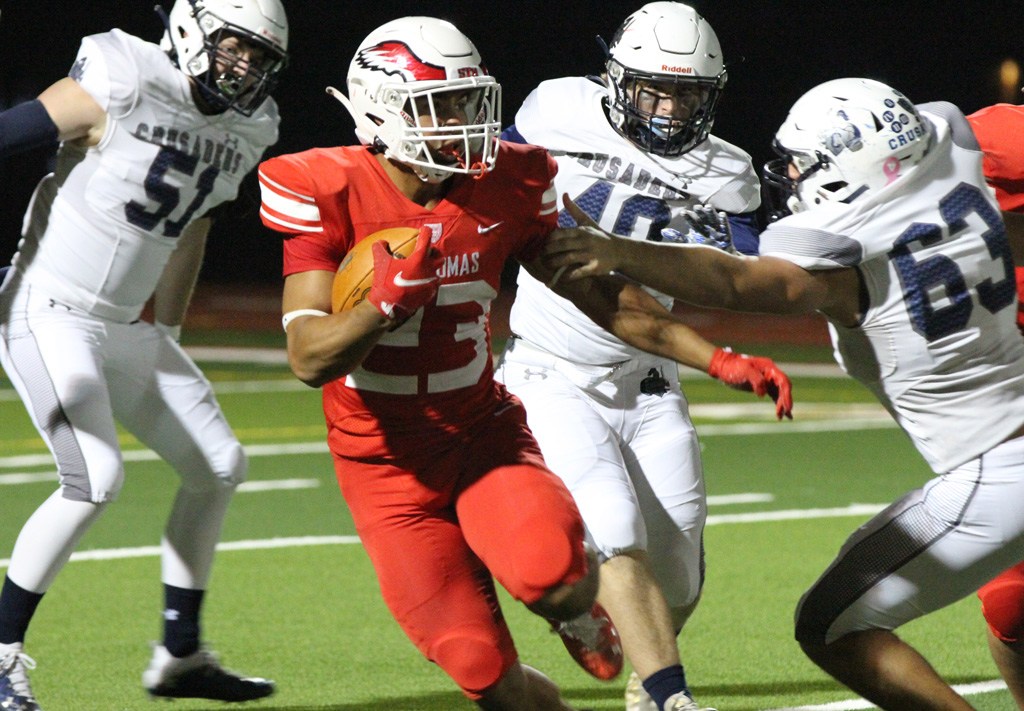 3. Wright wasted no time upping the mark in the follow-up possession, rolling left and delivering a dart to Price who pivoted up the sideline and completed a 39-yard scoot for his 14th touchdown and 35-0 43 seconds before halftime.
4. TCL was crushed over, under, sideways, down in a manner that necessitated a blazing Jeff Beck riff from his '54 Fender Esquire, audacious if not experimental. Defenders seemingly lost their will every time Humvee of a running back Cardenas rambled through the line of scrimmage. Four straight touches were worth 64 yards in the opening minutes, including a 25-yard bolt to the end zone for 7-0.
Cardenas (10-153 yards, 218 all-purpose) required but one carry to double the margin. He tore through the left side, shed two tacklers in the second tier, and roared 63 yards for his eighth rushing touchdown.
5. The carnage all but concluded with the first series of the second half.  An interception from Andrew Cantoni '22 positioned the Eagles at the TCL 34-yard line.  Six plays later and facing his first third down of the night, Wright dial up Joe Rick Madden '22 on a short-range slant for his ninth touchdown grab, moving the count to 42-0.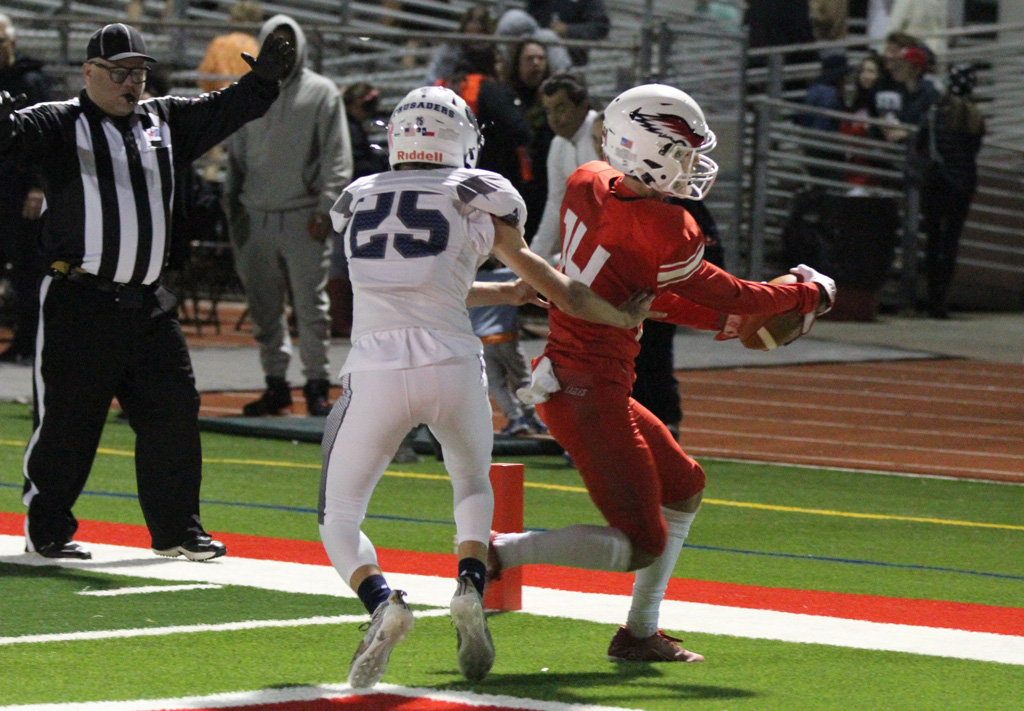 ROCKIN' THE FILLMORE
St. Thomas has enjoyed a season-long stay among the schoolboy upper crust, entering Week 11 as the No. 3 private in the Houston Chronicle media poll and the No. 2 tote by VYPE Houston.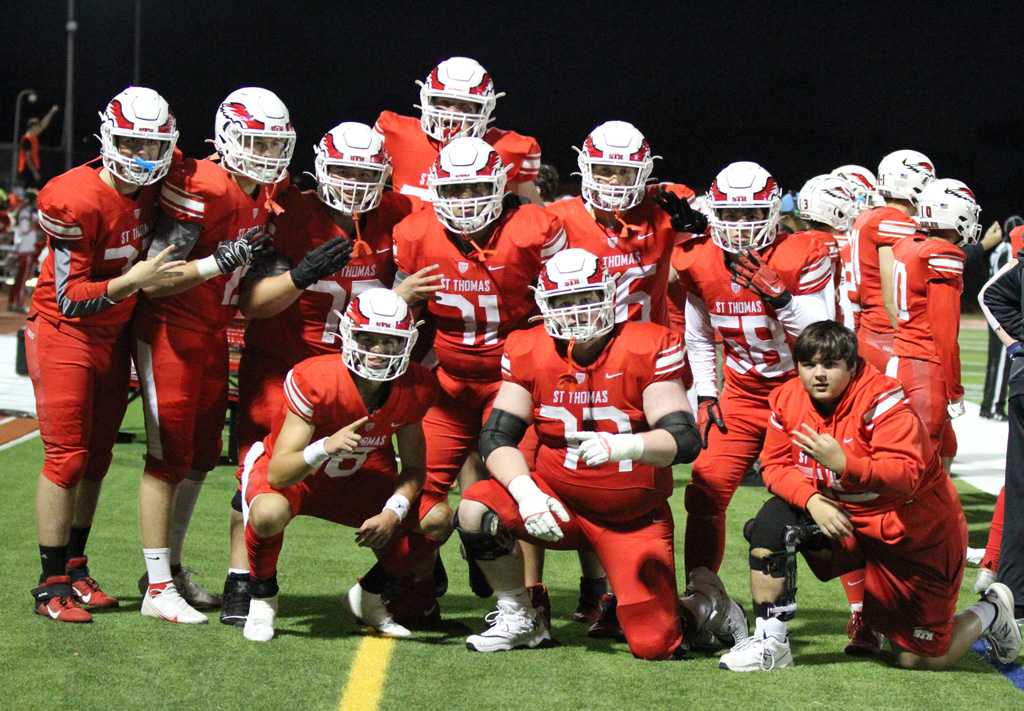 TRILL TWINS
Wright and Price displayed another startling installment of their new-age passing pyro with OG sensibilities. Trill – a mashup of the words true and real – was minted by Houston rapper Bun B who was often reluctant to apply the moniker with quick judgment. Wise logic from the truly trill one. But Bun would no doubt certify the stamp for the Eagles sizzling, season-long stat-stuffers. He fully understands the power of two, just as he was never meant to be a solo artist, and achieved his greatest success when paired in the great Texas rap duo UGK.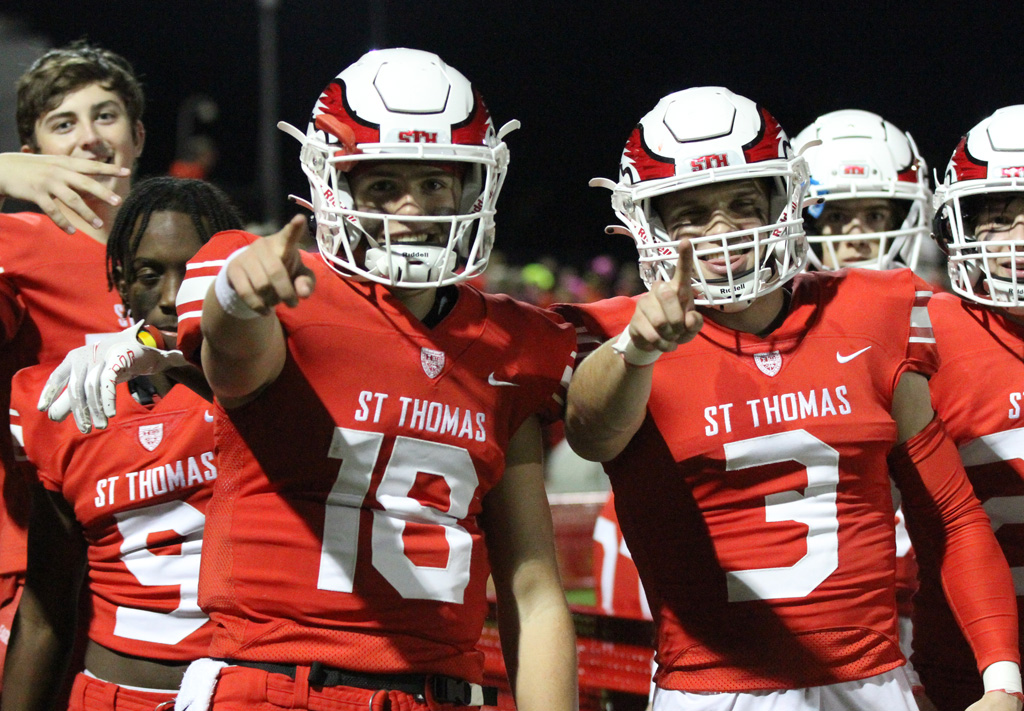 Wright and Price operate as a pair without parallel in Texas high school football. QB1 finished the regular season topping the state's passing charts with 3,326 yards while peerless Price was third in the Great State in receiving yards with 1,317 on 72 catches.
Wright's jaw-dropping production was against one single solitary interception in what developed into a better than fiction one-and-done rampage. He connected on 73% with a rating of 150.7.
In recent weeks, Wright was recognized on Bally Sports Southwest as the Built Ford Tough Player of the Week for private schools in Texas and by H-Town High School Sports with Todd Freed.
Price was highlighted during Week 9 as the KPRC 2 & UTMB Health Athlete of the Week.
Wright is the son of Brian Wright who is in his second season as head coach at Division II Pittsburg State in Kansas. He was the offensive coordinator and quarterbacks coach at Toledo for four seasons and the offensive coordinator at Florida Atlantic from 2012-15.
STATE OF PLAY
St. Thomas continued to put forth the best version of itself fans have seen this season. And now the activities turn serious.
The ballistic offensive outfit is capable of beating you in multiple ways. It's aggressive and balanced, and it's ascending. The Eagles bulldozed six of their last seven opponents by a margin of 236-38. The defense has stabilized since a shaky start, but the truth is that it needs to be only so good to complement an uber attack that looks as though it could plaster points on any team.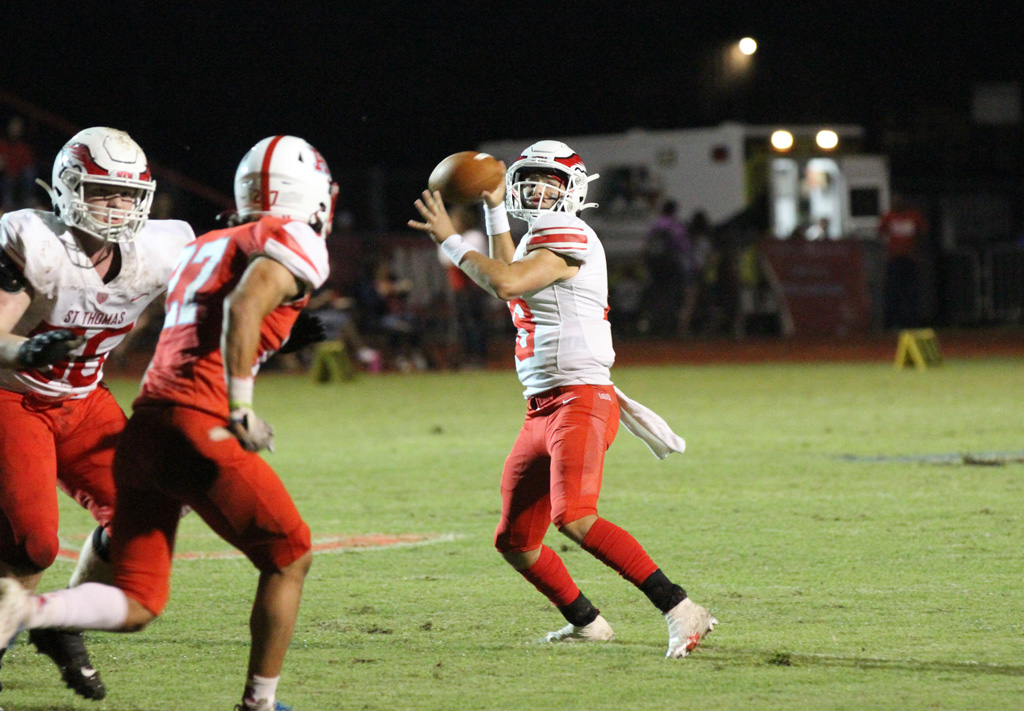 Wright is delivering doses of statistical dominance and staking his claim even louder for having not only the best season of any quarterback within the TAPPS hierarchy but also among the elite anywhere in Texas high school football. He was nearly flawless for the 10th consecutive start.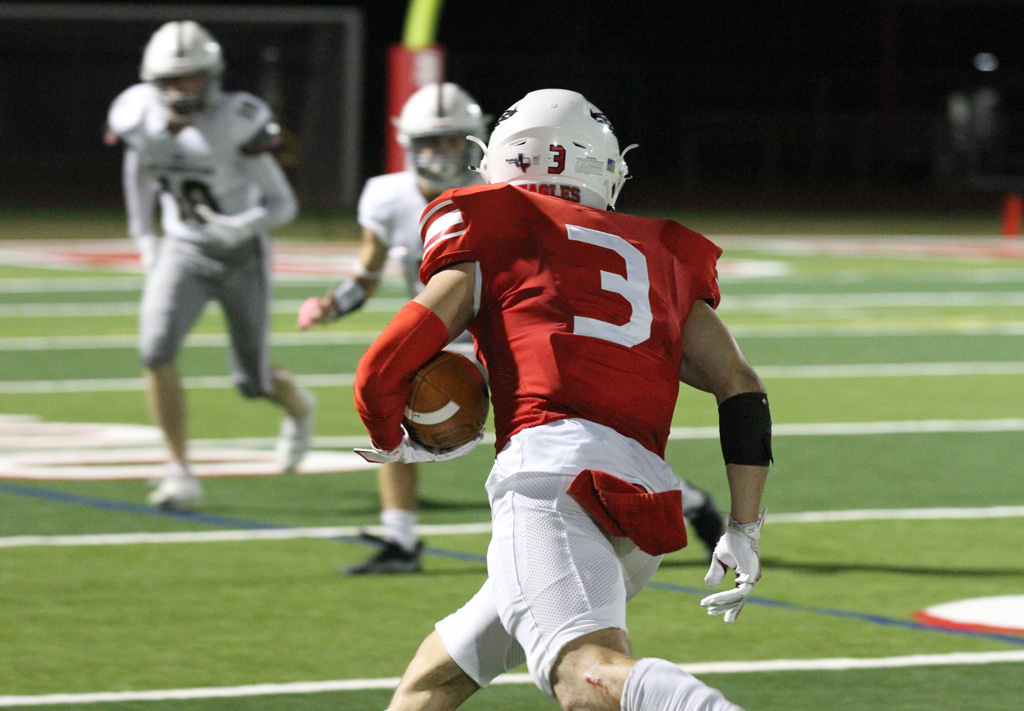 Price is a boundless, glue-grip receiving craftsman exploiting underneath against combo zones, relentless in the screen game, and a matchup nightmare when facing man coverages regardless of the technique to win slants, back shoulders, whip routes, and go balls. He breaks through and past frailing defensive backs for yards all over the field after contact or the catch.
Price headlines a deep, resolute receiving corps that includes the steady Madden (33-496 yards, 9 touchdowns), Sam Mahlberg '22, emerging Shaffer Henderson '23 and Luke Edgecomb '24, along with Trey Robinson '24, all of whom have displayed breakout moments.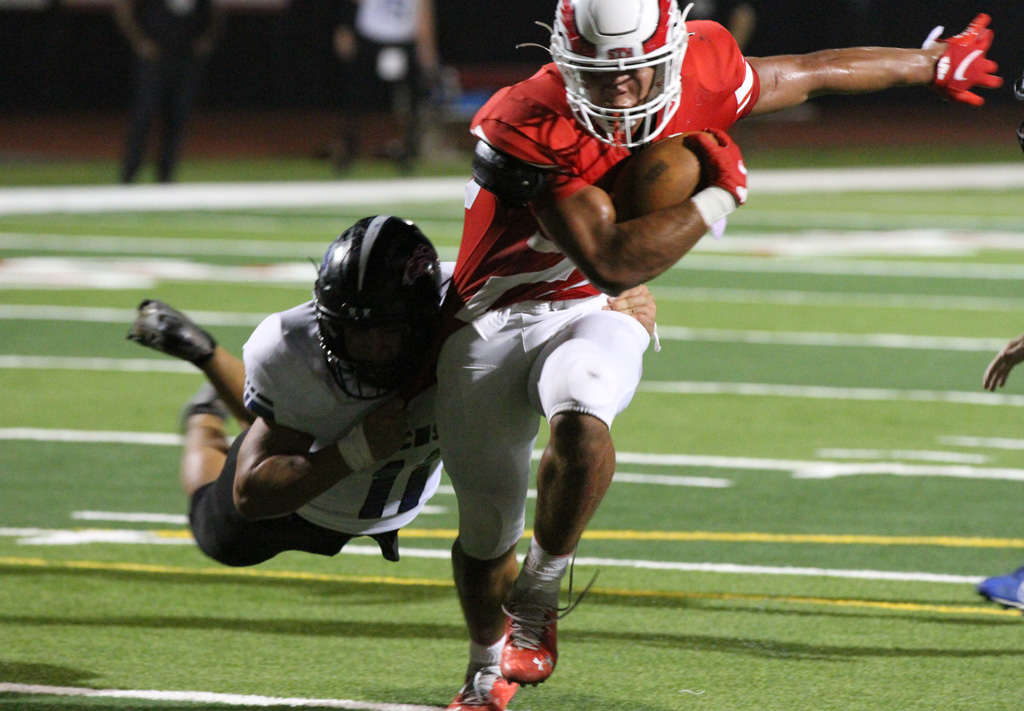 Cardenas bludgeons when not bursting as a dynamic all-purpose run-catch threat essential to the season-long plan. He averaged seven rib-crushing yards a carry for an 891 total and piled 1,435 all-purpose yards with 14 touchdowns.
The offensive front anchored by Wyatt Green '22, Matthew Villafranca '23, and Patrick Wallace '22 is stacking season-best consistency with a physical presence from the inside out in springing the ground game and providing clean pocket protection for Wright to slice and dice as if sushi master Jiro Ono were creating an omakase tasting menu.
Sledgehammer linebackers Zach Rocha '23 and Tegan Spencer '22 are agents of chaos, combining for 52 individual tackles and taking part in 182. Charlie Batterson '22 and linebacker Tommy D'Onofrio '24 racked 4.5 of the team's 15 sacks but as a unit, the Eagles collected only nine turnovers, including two fumble recoveries.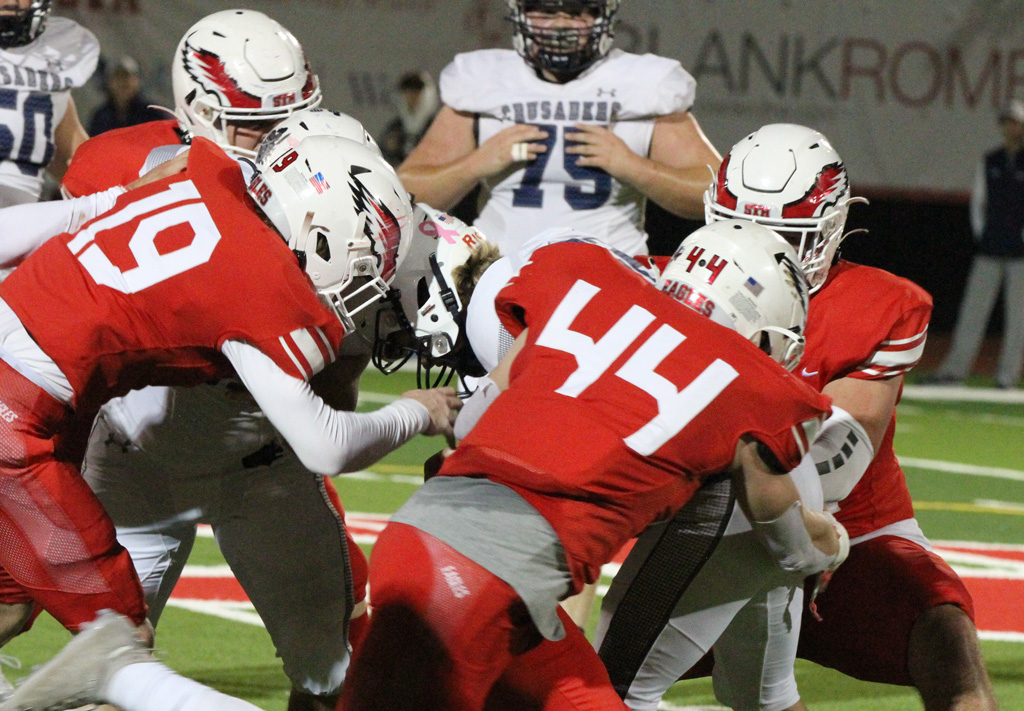 Over the next five weeks of the Division I playoffs, there will be a gauntlet of games of significant consequence and one trophy lifted by the team that prevails through the money month of November. There will be hundreds of first downs and second guesses, assorted dazzling displays of amazement, and countless spikes on the misery index – all of which will help crown a champion.
The mantra moving forward is simple in theory, demanding in execution – survive and advance. Style points are a non-negotiable currency. Winning ugly is still winning. Merely escaping in the end is increasingly acceptable.
St. Thomas has been nothing if not consistent in overwhelming the teams it should beat and falling but twice by single-score outcomes determined in the final, frantic minute. The Eagles have seen what is possible. Now the weekly standard upgrades to what is required. And they are too talented, too credible to hinge deep title contention on human sacrifice, dogs and cats living together, and mass hysteria.
Since suffering their first district defeat in 16 games and surrendering single status as guardians of their galaxy for the first time in four years, the Eagles appear to again know exactly who they are.
Just in time.
¡UNO!, ¡DOS!, ¡TRÉ!
The Eagles continue to dominate the TCL duel with 11 knocks in 12 tries by a combined margin of 385-117.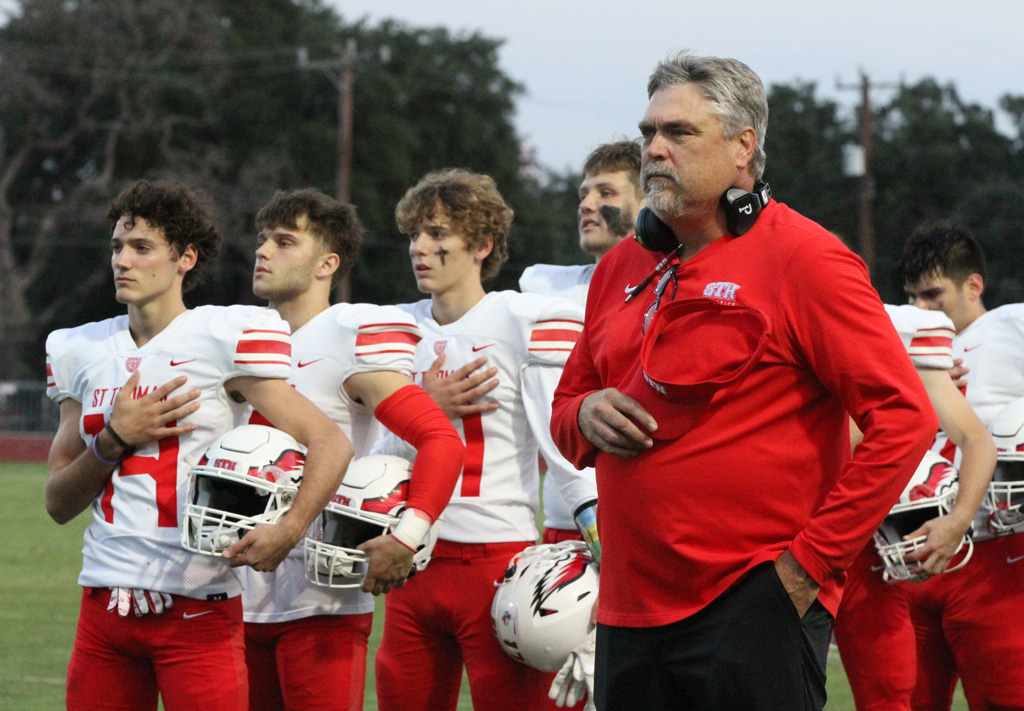 McGuire has stabilized the program and provided consistent development in his five seasons since being promoted to head coach in 2017. The Eagles have reduced their loss total each of the last four years while staking 30 wins.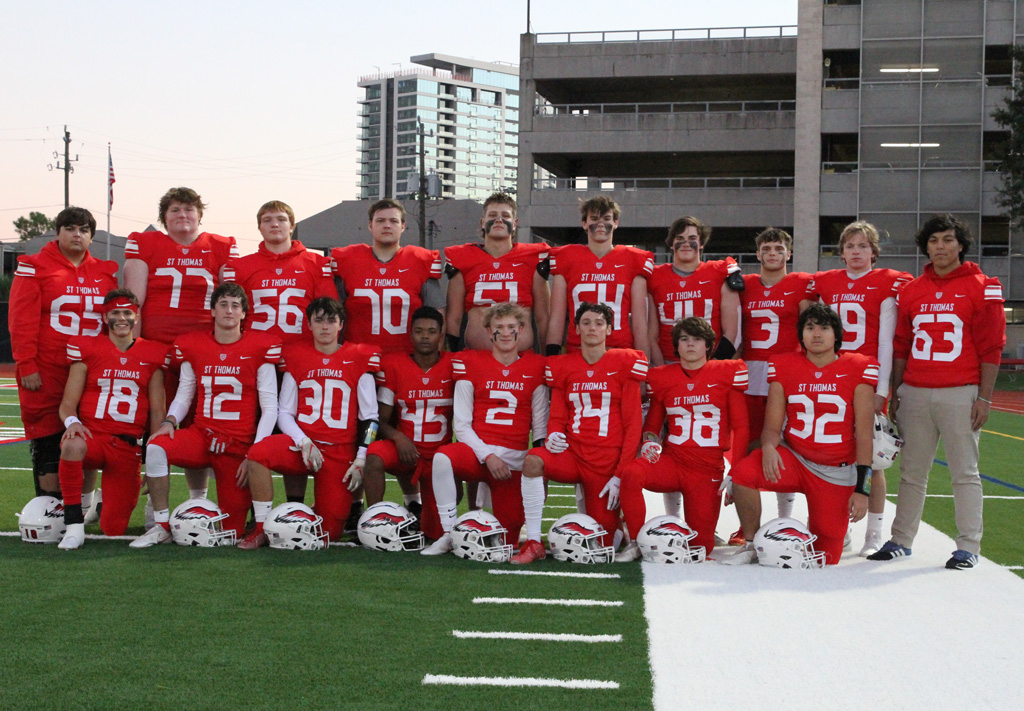 The Senior Night salute for the Class of 2022 celebrated a group that has propelled Eagle Football to 23 victories (and counting), two district titles with a share of a third, and the 2019 state semifinals. Embracing the ethic. Maintaining the standard. Continuing the tradition. The best is yet to come.
PREVIOUSLY
GameDay Central || Eagle Football Maintains Slamdance Dominance in SPX Series
GameDay Central || Eagle Football Most Complete in Roaring Red & White Road Show
GameDay Central || Homecoming Shutout Gives Eagles Seventh Straight Win at Granger Stadium
GameDay Central || Eagle Football Romps and Stomps to 15th Straight District Win
GameDay Central || Eagle Football Dominates for First Shutout since 2016
Inaugural Catholic Bowl || Faith, Freedom, Football Celebrates Authentic Religious Identity
GameDay Central || New Look Eagle Football Sizzles in Season Opening Thriller
UPCOMING
The Eagles banked a bye in the area round of the Division I playoffs for the second consecutive season and will advance to the regional final on November 20 against TCL or Dallas Bishop Lynch at a neutral site. St. Thomas is aiming for its fourth state semifinal berth in eight years.
Eagle Fight Never Dies!